The HDMI format is ubiquitous. It's not only used by televisions, but laptops, PC monitors, gaming consoles, projectors, and so on. Everybody uses HDMI. Before too long, USB-C will probably become as ubiquitous as the HDMI format. But for the time being, USB-C is still pretty new.
And that means many people need adapter cables to make their legacy devices work. Though there's always new technology coming along, and nobody seems able to predict the future very well, it does seem that both the HDMI and USB-C formats are positioned for the long haul.
Choosing an HDMI Adapter Cable
Consequently, it really makes sense to choose an adapter that you'd like to have around in ten years. Finding the right HDMI adapter cable can be broken into three simple categories.
Quality of Construction
How much mobile use will the adapter see? If you're going to plug it in once and forget about it, then you don't have to think further. As long as the adapter isn't totally made of glass, the quality of its construction won't really concern you. Though you might have more interest in its aesthetic if it's going to be visible, or if you're going to drag it along with you into the world.
If you're using the adapter in a highly mobile fashion, then you're going to want to take a closer look at sturdiness. An aluminum body holds up far better than plastic, and is still very lightweight. Using a metallic body is actually far better for heating as well because these types of adapters can run warm. And because it's better at heating, it means the physical HDMI adapter box can be smaller.
Additionally, you want to look at the cabling. Nylon cabling is becoming increasingly popular because nylon is both inexpensive and effective at protecting wires from a variety of potentially damaging forces. Unfortunately, few adapters are taking advantage of this currently. But a nylon construction can be worth seeking for someone interested in mobile use.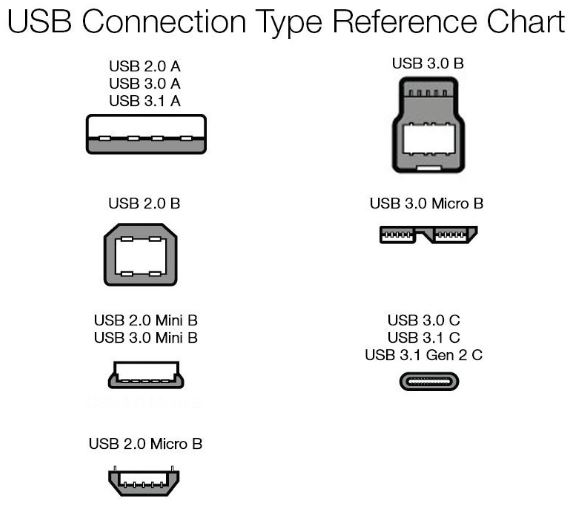 USB/HDMI Format Support
At various times, adapters will point out they're capable of supporting UHD content. If you're concerned about things like resolution support, those issues are wrapped up inside questions about the HDMI and USB-C formats.
Because the adapter cable uses USB-C, most people won't have to think further about USB requirements. Though if you have some special requirements for your adapter, you may want to know if the cable uses USB 3.1 Gen 1 or USB 3.1 Gen 2. The second generation offers twice as much bandwidth, a total of 10Gbps. Whether that matters or is irrelevant depends entirely on the applications you have in mind for your adapter.
The HDMI side of the adapter is only slightly more complicated than its USB-C side. You don't want the adapter to utilize a lower version of HDMI than the rest of your system. Having at least HDMI 1.4 is a good starting point, though most people should seriously consider selecting an HDMI 2.0 adapter.
Even if you're not currently using ultra-high definition content, or taking advantage of similar HDMI 2.0 features, having an adapter that's equipped for HDMI 2.0 is futureproofing that will cost essentially the same as the older format.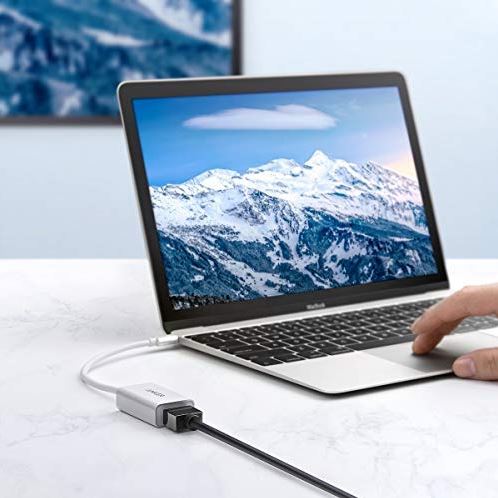 Reversibility
Can the adapter be reversed, or does the signal only run one way? Most people probably won't need to make use of a reversible adapter, but the USB-C and HDMI are both easy to reverse, nearly all adapters ought to be able to accommodate reversibility. But it's always a good idea to keep an eye out, just in case.
Cable Length and Adapter Size
How far do you need to reach between the adapter and the devices that it connects? Lengthier cables are usually better, at least within reason. Shorter cables tend to cause problems more than they solve. Anything more than two inches is a good place to start your search. Anything less, and you're begging to encounter small issues and annoyances.
Nothing about the USB-C or HDMI format requires your cables be made particularly short. In fact, these cables can be run nearly 25-feet before length becomes a serious issue. When it comes to size, your only concern is finding an adapter that matches your general sense of effective portability.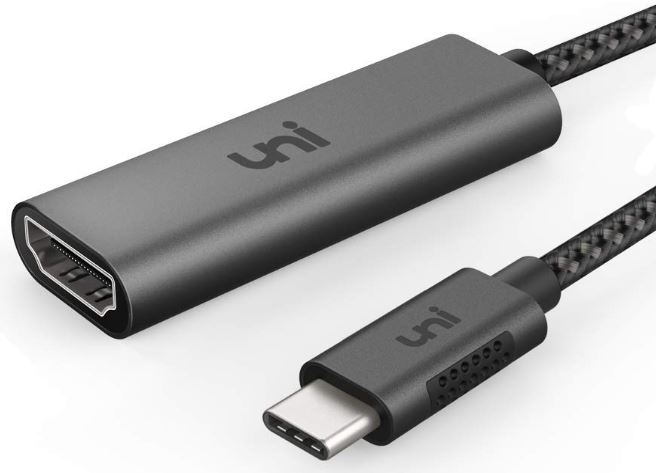 Uni USB C to HDMI Adapter
The Uni USB C to HDMI Adapter looks smart, it's reliable, and it provides everything that most people are looking for from an adapter. It's also seems to be one of the more popular adapters on the market. It's pretty easy to see why. The cable terminates in an HDMI 2.0 port, and can consequently support 4K resolution with a full 60Hz refresh rate.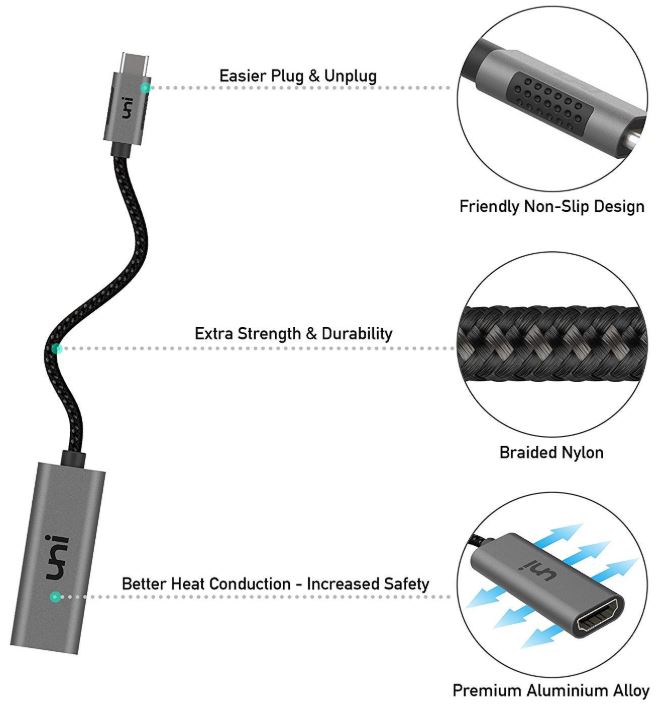 Build & Design
In photographs, this adapter can look much longer than it really is. The length of the adapter comes to precisely six inches, which is pretty much the perfect size. It's large enough to ensure that the size of the adapter is never going to be a problem for connecting devices, and it's small enough to ensure transportation and storage are still simple.
Uni USB-C to HDMI Adapter cables are available in space-gray and silver. The space-gray is a stylish substitute to a neutral black cable, while the silver matches the aesthetic of Apple products. The cable is built from braided nylon, giving it a non-slip design which helps make it a bit easier to both plug and unplug. That nylon also makes the cable sensationally well protected, especially compared to naked plastic jackets.
On the USB-C side of the adapter, there are a number of texturized bumps to help provide grip while plugging and unplugging it. You don't find those bumps on the larger HDMI portion of the cable, but they're really not necessary because of the larger size of the HDMI adapter.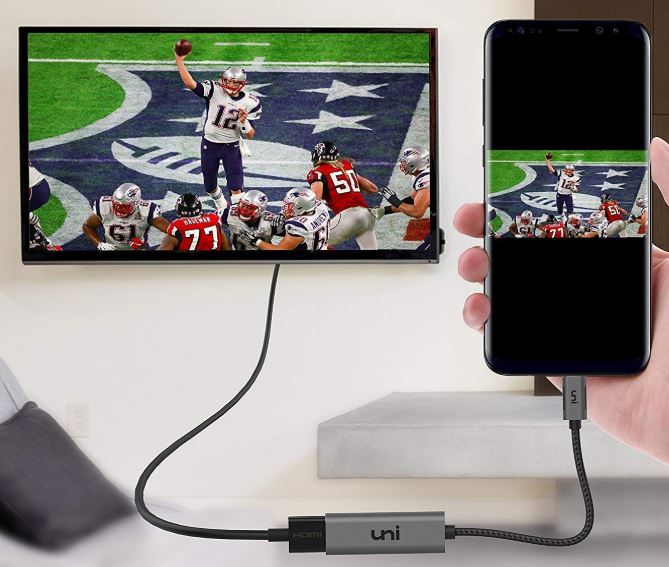 Other Considerations
The Uni USB C to HDMI Adapter is ideal for the Samsung Galaxy, Note, Surface Book, HP Envy, Chromebook, and so forth. Basically, any device with a USB-C port. And it's HDCP 2.2 compatible, making it ready to be used for iTunes and Netflix content streaming without encountering copyright issues.
This adapter cable only works with a device that can support DP Alt Mode. That sounds intimidating, but it basically means any USB-C device. You just can't use a second adapter to try and connect this device to something that doesn't support USB-C.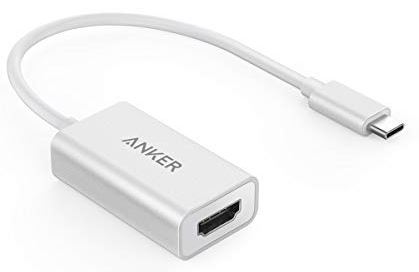 Anker USB C to HDMI Adapter
Anker makes a variety of adapters that could be described as competent and cost effective. It's hard to imagine people falling in love with one of these adapters, but they certainly won't let you down. Offering both USB 3.1 and HDMI 2.0, Anker's adapter is capable of carrying 4K content. It's also capable of delivering the fastest bandwidth speeds you can pull through either format.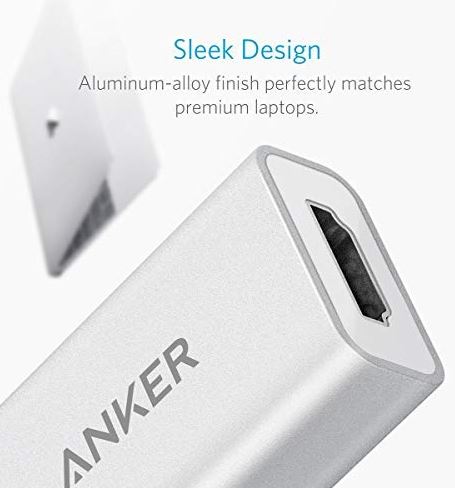 Build & Design
This plain white adapter doesn't draw much visual interest. The combination of sand-sprayed aluminum and white plastic makes the Anker USB-C to HDMI Adapter look as though it were designed for Apple devices, which is an aesthetic some people may enjoy. If nothing else, it's nice they used aluminum instead of plastic. It's also what allows the HDMI adapter to stay about 1" in length.
The cable runs an additional six inches, leading to a total length of roughly seven. In the interests of portability, it's worth noting the adapter weighs about one ounce. You can hardly tell it's on you when you're carrying it. It may also be worth noting the Anker name is printed across the top of the HDMI portion of the adapter, which makes it easier to tell which side needs to be facing upwards when plugging in the cable.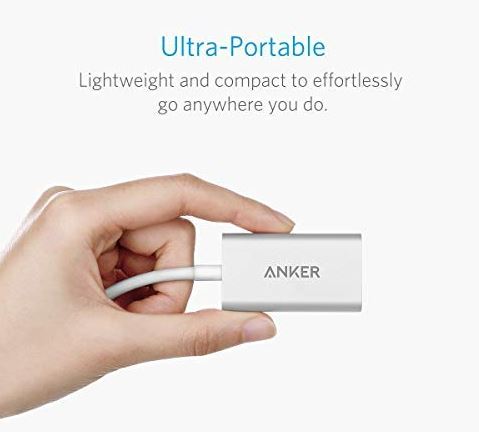 Other Considerations
Like most of these adapters, this one runs a little warm when placed under load. Not so hot that it should become a concern, but it's something to keep in mind.
The Anker USB-C to HDMI Adapter has reversible input capabilities, and includes an 18-month warranty from Anker. If this adapter ultimately falls to ruin, the most likely cause will be damage to the cable. Cables like this are intended to survive through thousands of bends, but wear-and-tear can accumulate over time, especially if you're using your equipment in a mobile manner.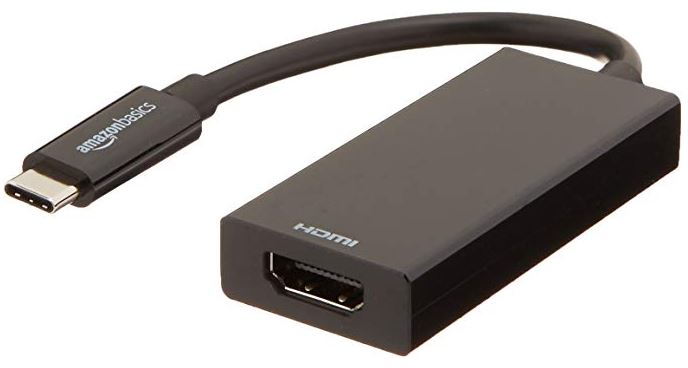 AmazonBasics USB Type-C to HDMI Adapter
Sometimes it feels like every AmazonBasics product looks the same. It certainly seems that way when looking at their cables and adapters. But the underlying product is often a good value, and that's certainly the case with their USB Type-C to HDMI Adapter.
This adapter provides a USB 3.1 connection on one end, and an HDMI 2.0 port on the other. It can support 4K content running at 30Hz, as well as standard HD content. Though that doesn't make it the strongest adapter on this list, its price to performance ratio is incredible.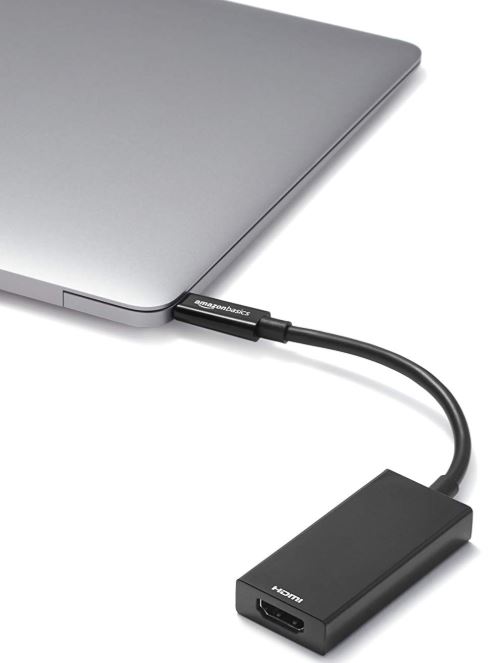 Build & Design
The AmazonBasics USB Type-C to HDMI Adapter measures 7.9 x 1.1 x 0.5 inches. Nearly half of that length belongs to the HDMI portion of the adapter, which uses a large square connection terminal. This leaves about four inches of cable to connect your devices. The short nature of this cable is certain to cause issues for someone.
The adapter is much larger than similar adapters because it's not an aluminum design, but ABS plastic. The plastic is impact resistant and great at dissipating heat, but not nearly as effective as a primarily aluminum build. The extra size of the HDMI portion of this adapter also means this could be considered the least portable adapter on this list, though only by a slim margin.
The AmazonBasics USB Type-C to HDMI Adapter is available in both black and white. Two options are certainly better than one, though neither option is very stylish.

Other Considerations
The reversible design of this adapter means you can insert the Type-C connection into any USB-C enabled device. The AmazonBasics adapter includes backwards compatibility for previous version of USB formats.
Turning to operating system support, the AmazonBasics USB-C/HDMI Adapter has native support for Windows, Mac OS, and Chrome. But that's really something that can be said about any of the adapters on this list.
It may be worth noting these adapters are also available in a five pack, for someone who needs several. The five pack is actually really economical. Additionally, each adapter includes a one-year warranty.
Choosing Between 3 of the Best USB-C to HDMI Adapter Cables
The Anker USB C to HDMI Adapter is near-perfect. It has a rugged aluminum construction that's ready to be taken on the go. It's got full support for modern HDMI and USB formats. Even the length of the cable is ideal. Though the jacket used around the wire isn't nylon, it shouldn't be a concern given how infrequently these cables are touched once they're plugged in. That makes this cable a great choice for almost anyone, with a slight emphasis on stationary use.
The Uni USB-C to HDMI Adapter has a lengthy eight-inch cable. It has the slimmest HDMI connection terminal of any of these adapters. It's the only cable on this list to make use of a nylon braided cable for added durability. It costs about the same as many adapters that are designed far worse. And like the AmazonBasics adapter, it has two color options. All of this makes the Uni adapter a good choice for someone who prioritizes portability and durability.
The AmazonBasics USB Type-C to HDMI Adapter is a fairly safe, budget oriented choice. The plastic jacket which protects the wire isn't as good as a nylon braided jacket. But the cable is extra thick, which does suggest you can rely on it and still saving a few bucks. This adapter is the best choice for someone who doesn't want to end up with junk, but is looking for a budget option.
Meet Derek, "TechGuru," a 34-year-old technology enthusiast with a deep passion for tech innovations. With extensive experience, he specializes in gaming hardware and software, and has expertise in gadgets, custom PCs, and audio.
Besides writing about tech and reviewing new products, Derek enjoys traveling, hiking, and photography. Committed to keeping up with the latest industry trends, he aims to guide readers in making informed tech decisions.