In today's interconnected world, you're almost inevitably going to need to communicate in a second or third language at some point. Whether you're a tourist, a business traveler, or even a customer service representative, a pocket translator can provide several benefits. The most obvious advantage is that you can communicate in a variety of languages. But there are plenty of apps that do that. The larger advantage is increased accuracy, when compared to apps of dubious quality.
Today, we'll be looking at a pair of translators that are designed for everyday use. We'll look at both the CM Smart and the WT2, and take account of all their features and benefits. Then, we'll compare them to each-other, and see how they stack up. Let's begin!
Note: At no extra cost to you, we may earn a commission for purchases using our links. Learn more.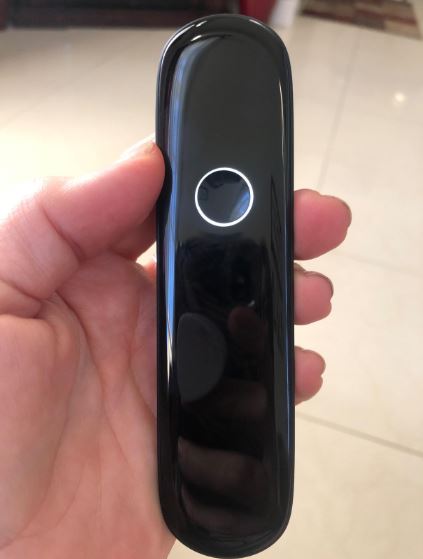 CM Smart
The CM Smart is a small, handheld device that's compact enough to carry in your pocket. It measures 5.3 inches in length, 1.3 inches in width, and only 0.3 inches in thickness. At only 2.08 ounces in weight, it's easy to carry anywhere. For travel, you can throw it in your carry-on bag without any serious concerns. The only downside is that you might forget you're even carrying it.
The bottom of the CM Smart is a flat, black ABS plastic that's scratch-resistant and durable. The front is a glossy, smart glass screen with a single, soft touch button for activating the device. So, how does a translator work with only a single button? Simply press the button, speak into it, and let go. In 2 or 3 seconds, the CM Smart will repeat your words in the language you've selected. To carry on a conversation with another person, simply pass the device back and forth. Because operation is so easy, you won't need to worry about wasting time explaining how the device works.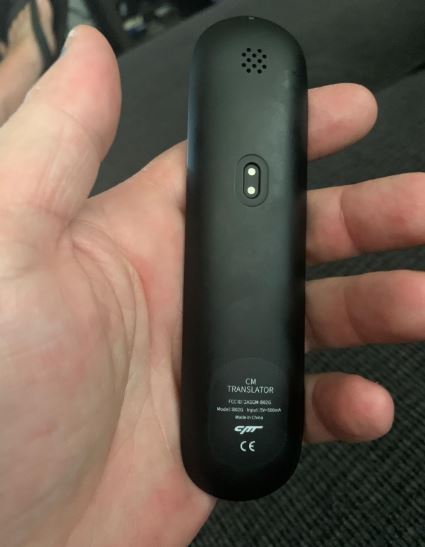 Underneath the button, you'll find a 4-bar LED battery meter, so you'll never run out of juice by surprise. Speaking of which, the battery is very powerful. It's rated for 24 hours of continuous use, which is impressive by just about any standard. It's also rated for 180 days of standby time, so you can store it for 6 months and it will still have a charge. That said, keep in mind that the battery will continue to deplete throughout this period. If you want your CM Smart to have a full charge, plug it in for a bit before you pack. One thing that disappointed us is that the charger isn't USB. It uses a non-standard tip, which is necessary because of the Smart's slim thickness. However, it means you'll have to pack an additional charger, since your phone charger won't be compatible.
Language Library and Online Features
The CM Smart uses a Microsoft AI translation engine, which works very efficiently. It will make translations in just 2 or 3 seconds, so you won't have to wait long for processing. The AI engine is based in the cloud, and is constantly updated in real time with experience-based improvements. As a result, its performance improves on a daily basis. It will also adjust to your own personal speech patterns, so it gets better the more you use it.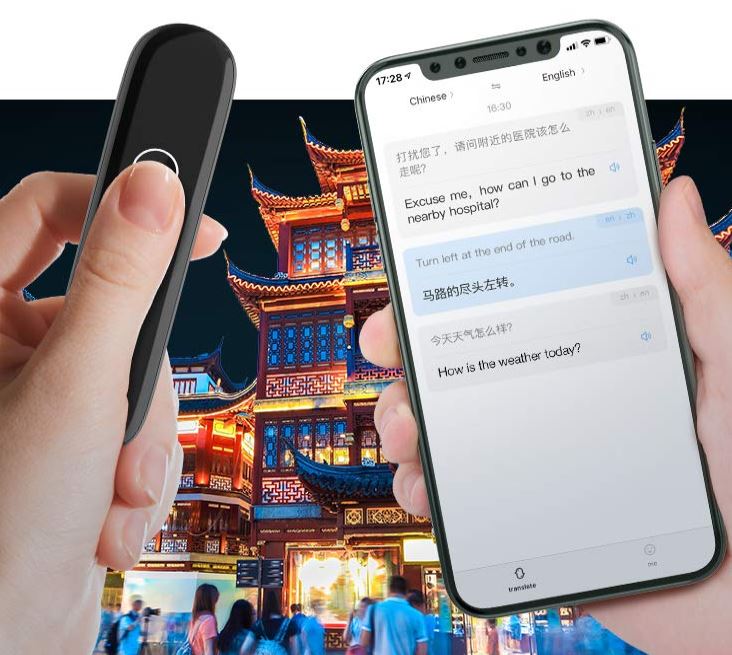 In all, the Microsoft AI engine provides support for a total of 42 languages. These include all of the most common languages, including English, Spanish, Mandarin and Cantonese Chinese, French, Hindi, and Arabic. That said, keep in mind that this is an AI engine, and AI sometimes struggles with syntax. The problem here is that AI likes to speak in complete, grammatically-correct sentences. Meanwhile, in everyday speech, most people don't speak that way. Besides umms and errs, we oftentimes use sentence fragments, run-on sentences, and so on. The AI engine deals with these reasonably well. But at the end of the day, you're still asking a computer to do a human's job. This isn't a criticism of the CM Smart, per se. It's an unfortunate drawback of any current AI translation engine.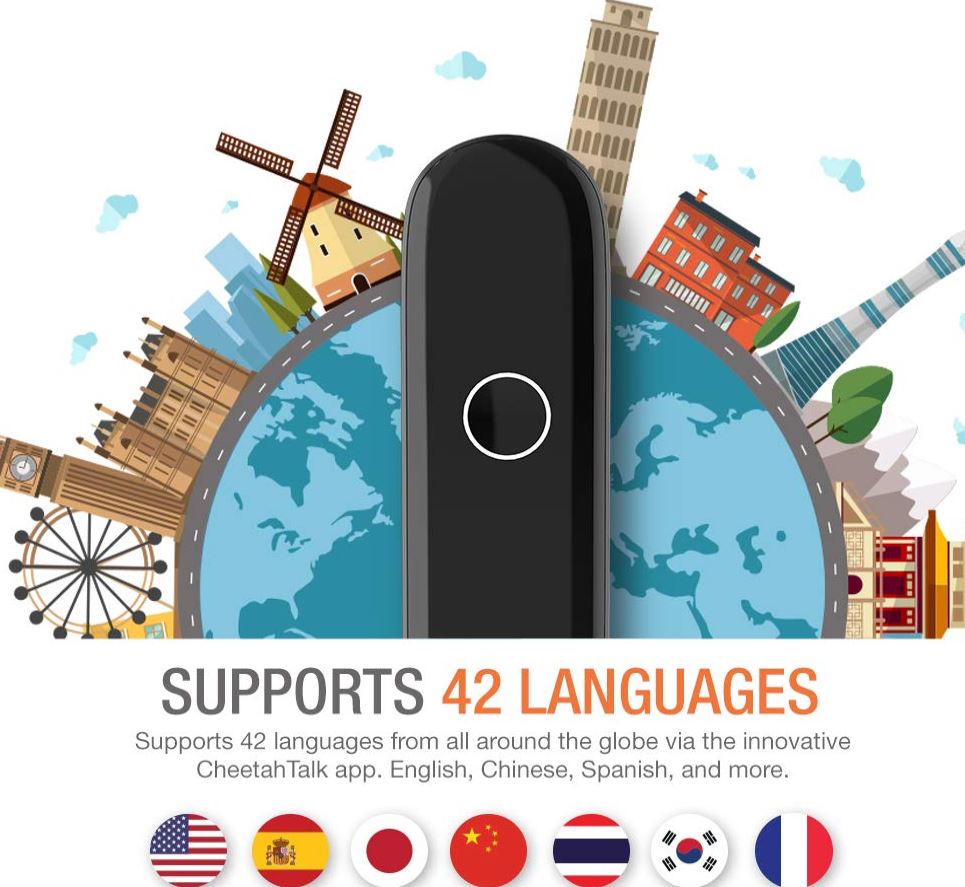 To use the CM Smart, you'll need to pair it with your smartphone via Bluetooth. This is because the translation engine is online, not on the device itself. Otherwise, you'd need a lot more powerful hardware, which would increase the size of the device. In addition to pairing the translator with your smartphone, you'll also need to install CM's CheetahTalk app. To run the app, you'll need a reasonably current phone, one that runs either iOS 9.0 or Android 5.0. The app is free, and it's easy to download. The CM Smart's manual contains a QR code, which will take you directly to the app.
If you need to translate into less common languages, there are more versatile translators on the market. For example, we recently reviewed the Langogo Genesis Pocket AI Translator, which can translate between 105 languages. However, it requires its own WiFi connection for all but the four most common languages.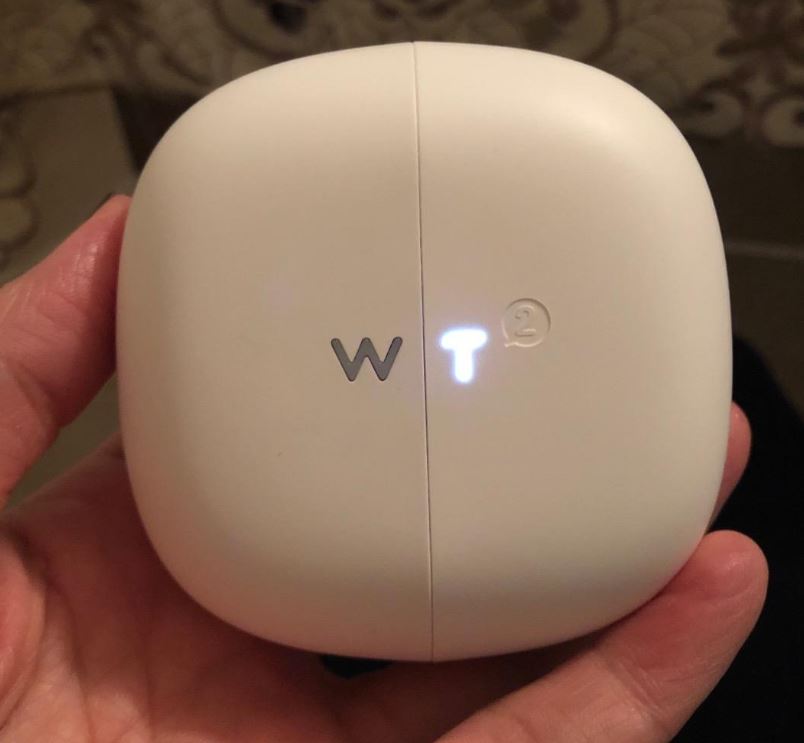 WT2 Language Translator
The WT2 is a truly unique translator, which has one of the most outstanding designs on the market. Instead of a single unit, it consists of a pair of long earbuds and a charging case. When the earbuds are stored in the charging case, the unit is fairly bulky. It measures 7.4 inches in width, 4.2 inches in depth, and 2 inches tall. It also weighs 10.6 ounces. However, this includes the case, which is most of the bulk. In reality, the WT2 earbuds themselves are small enough to carry in your pocket when you're on an outing. Just keep in mind that the entire unit will add a bit of weight to your carry-on bag.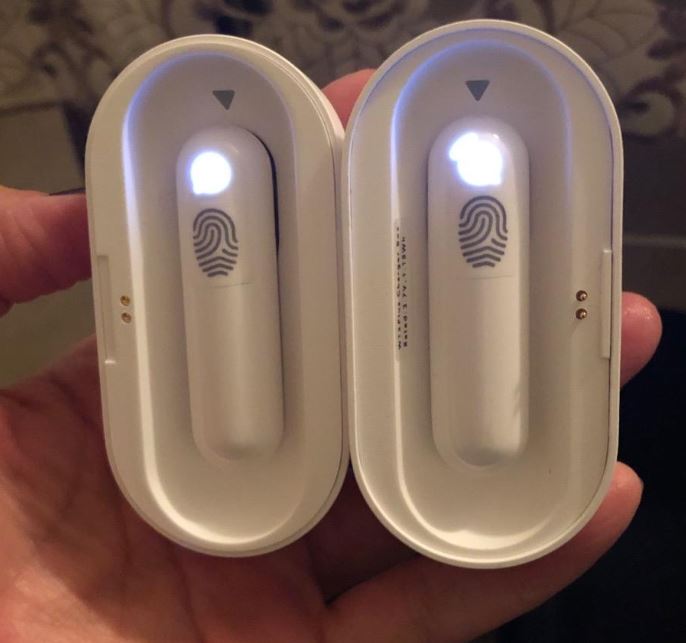 One downside of this design is the relatively limited battery life. The earbuds are limited to 5 hours of continuous use. On the other hand, the charging case can carry 15 hours' worth of extra use. Recharging either the earbuds or the case takes about 90 minutes, and the case charges via Micro USB. The advantage of this design is that you can hand an earbud to the person you're talking to. After that, you can converse effortlessly and fluently. There are also other methods of operation, which we'll talk about in a second.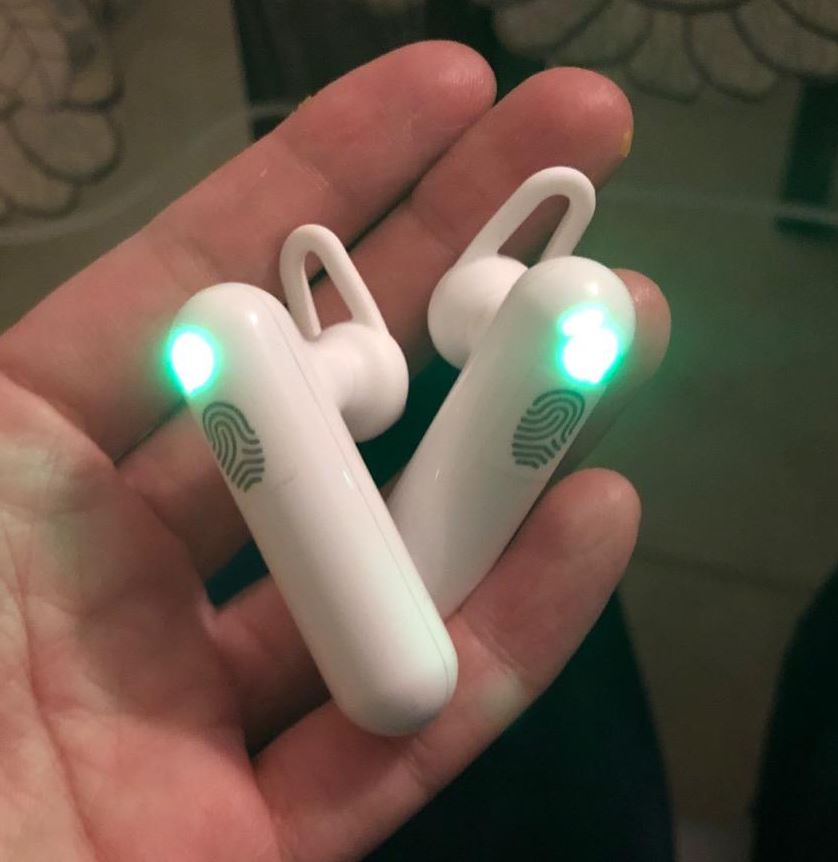 The overall sound quality is good, and you can hear the AI clearly while you're talking. The WT2 uses an adaptive beamforming algorithm and active noise cancellation. This ensures clear translation that doesn't get garbled. That said, don't confuse these for an ordinary set of wireless earbuds. They won't play music, and they won't allow you to make or receive phone calls. This is purely a translator, despite the earbud-like appearance.
Like the last translator we looked at, the WT2 needs to be paired with a smartphone in order to function. Simply download the app, pair your WT2 with your phone, and you're ready to go. The app is free to download, but it requires iOS 11, Android 7, or newer operating systems. It uses the Bluetooth 4.2 protocol, which has an impressive 66-foot range.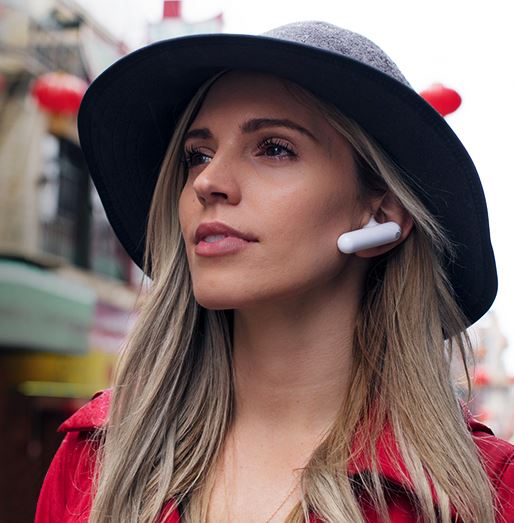 Language Library and Online Features
The WT2 uses an online language library, which supports 40 different languages. Among these are English, Mexican and Castilian Spanish, Mandarin and Cantonese Chinese, French, Portuguese, and many others. All in all, you'll be able to converse with 85 percent of the world's population. In addition, the AI translator has been trained on an impressive 88 accents. So if you're talking to someone with a regional accent, you're not going to experience any serious problems.
The WT2 allows for three different translation modes. The first, default mode is "Simul Mode". In this mode, you simply select 2 languages in the app, hand someone the other earbud, and start talking. In general, this is the easiest method to use, since it allows for free, natural conversation. However, in noisy, crowded environments, it can lead to confusing cross-talk.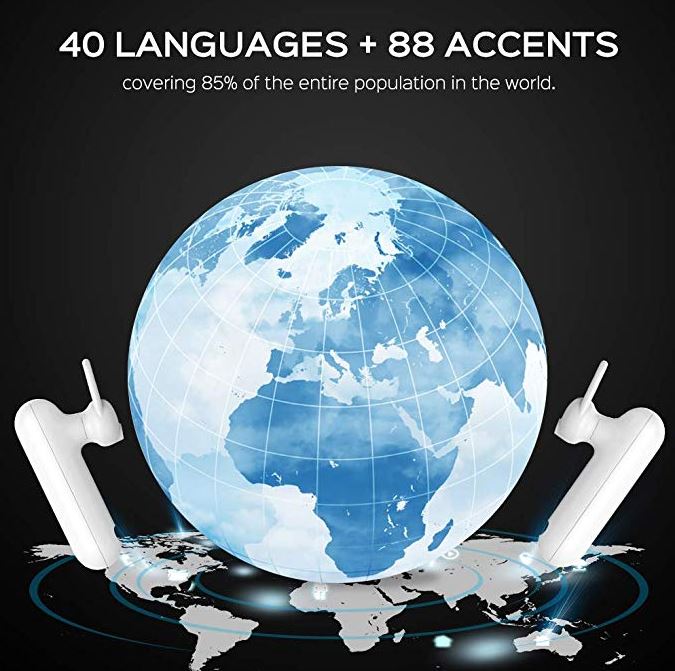 The second mode is called "Touch Mode", and is designed for noisy environments. In this mode, you have to press the soft touch button on the top of the earbud. As long as you're holding the button, the WT2 will translate. When you let go, it will ignore anything it picks up. This is still very efficient, although it's a bit slower than Simul Mode.
The third mode is "Speaker Mode". In this mode, your smartphone replaces one of the earbuds. This is a great choice if the person you're talking to isn't excited about wearing a – possibly – shared earbud. However, it does require you to hand over your smartphone, so it's not ideal for all situations.
For an even more accurate translator, consider the Langogo Minutes. Not only does it translate, but it can provide PDF transcripts of speeches or business conferences. Keep in mind, though, that the transcription service requires a monthly subscription.
Final Verdict
So, which one of these translators is the best? At the end of the day, it depends on what you need. For pure convenience, the CM Smart is an ideal choice. The one button operation is very easy to use, and passing the device back and forth feels natural. The translation engine is reasonably effective, and it's constantly updating and improving itself. However, the non-standard charging cable is a bit annoying. Not to mention, for some interactions, you might not want to hand your device to a total stranger. That said, the 24-hour battery life is long enough for almost any application.
The WT2, meanwhile, also provides natural conversation. In crowded environments, it falls short. This is mostly because you'll need to explain to someone, in a foreign language, how to use it. However, for personal interactions in a quiet space, it's very natural. Just put the earbuds in, and talk just as you would with one of your friends. The real downside is the limited battery life, which won't even last all day.
At the end of the day, no AI translator can replace an actual, professional, flesh and blood human translator. The technology just isn't there yet. That said, unless you can afford a human translator, they're really the only option outside of pantomime. And with cloud-based, AI engines, you can get continuous, ongoing improvement from the same device.
Note: At no extra cost to you, we may earn a commission for purchases using our links. Learn more.