If you frequently travel abroad for business or pleasure, you've probably found yourself in need of a good translator. And with the growth of international trade, you're liable to be in this situation with increasing frequency. But an actual human translator costs money. A lot of money. And they can't follow you around 24/7. At some point, they're going to need to sleep, or eat, or go to the bathroom. Sure, your tour guide can help you understand a museum plaque or menu item. But what are you going to do if you're at a business conference and the presenter is speaking Mandarin? For that matter, what about going through customs, or dealing with a foreign business client?
In that case, a portable pocket translator is an ideal solution. These Star Trek-like devices can instantly translate from one language to another. And today, we'll be looking at the Langogo Minutes. The Minutes, as its name implies, is primarily designed for meetings and business conferences. But it's also suitable for tourists as well. We took a deep dive into its features to see what works, what doesn't, and who should use this device. Let's dig in!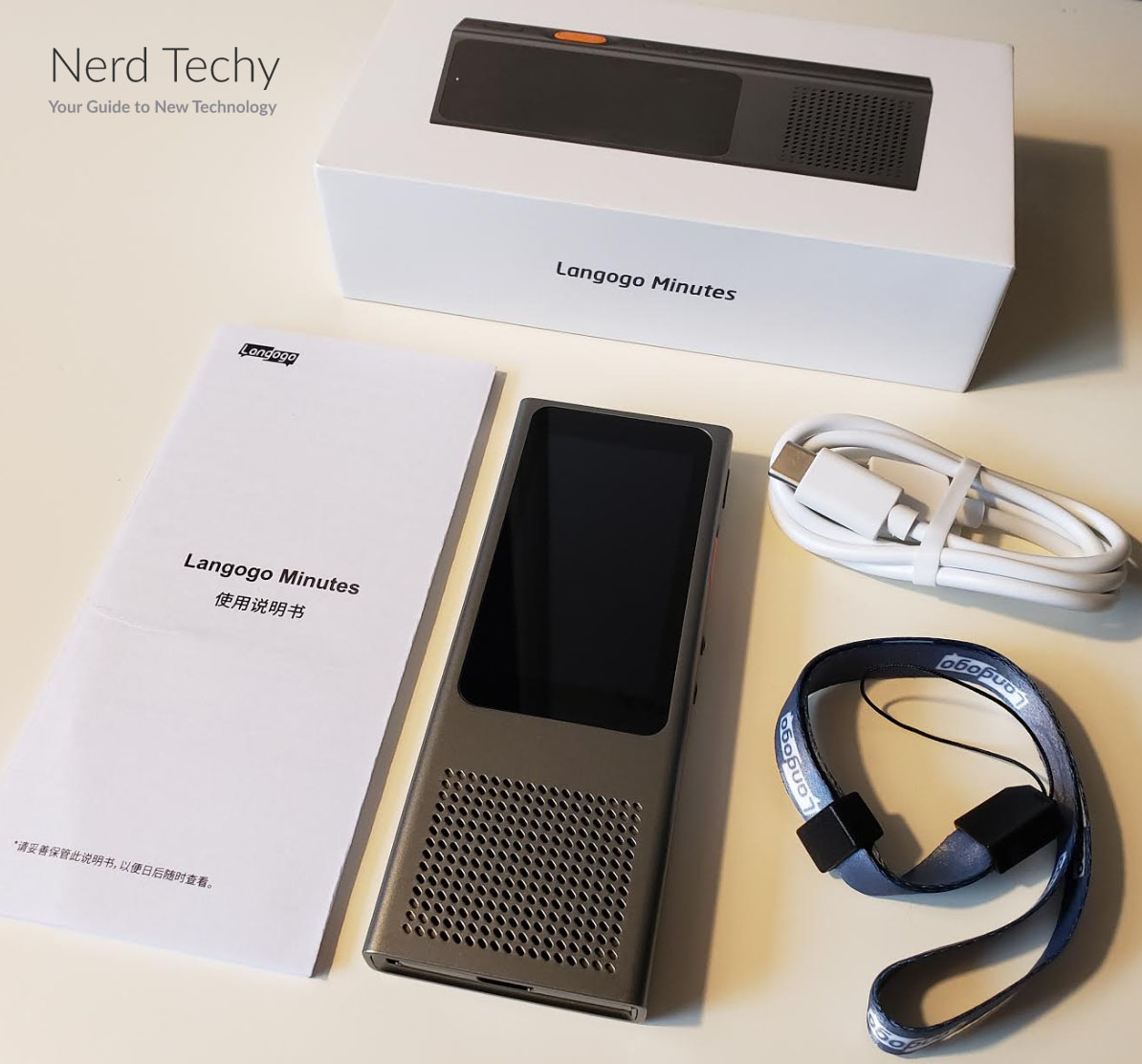 Overall Design
At first glance, the Langogo Minutes looks like an old-school pocket recorder. It measures 4.5 inches in length, 1.8 inches in width, and is half an inch thick. And at just under 3 ounces, it's relatively lightweight. It has a gray ABS plastic case, with small microphone slots in the top left. The bottom third of the front panel is occupied by a speaker, which allows for immediate playback. The upper portion of the front, rather than featuring a tape cassette deck, has a built-in 2.45-inch touchscreen. The display has a dark theme, which improves battery life, with large, easy-to-read icons for plenty of visibility.
On the right side of the Minutes, you'll find a row of control buttons. At the top is the power button, and the volume buttons are located at the bottom. In between, there's a high-visibility orange button that activates the translator. The bottom of the unit features a USB Type-C slot that can be used for charging. The kit includes a charging cable, as well as a lanyard that makes it virtually impossible to drop.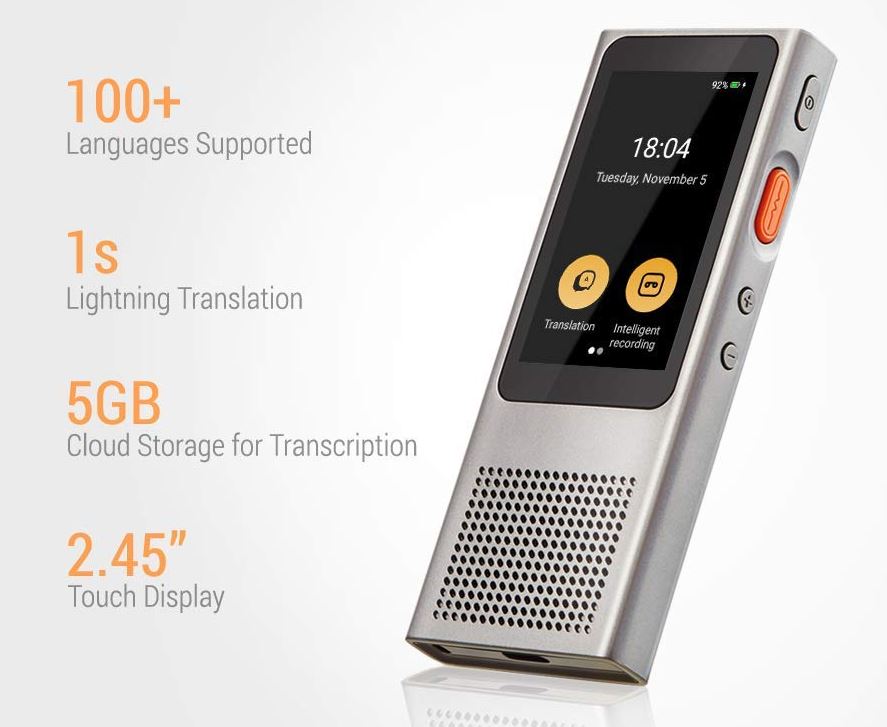 Everyday Operation
Many translators, including popular choices like Google Translate, require you to tell them what language is being spoken. As a result, you'll find yourself constantly hitting buttons to switch from one language to another. The Langogo Minutes only needs you to enter the languages a single time. Once you've done that, it will automatically detect which language is being spoken. As a result, you'll spend less time pressing buttons, and more time having a conversation.
The Minutes utilizes 20 different translation engines, with a powerful AI that determines the best translation. This allows for far more accuracy than other translators, which typically use only a single engine. This allows for clearer, more precise communication, with less risk of confusion. All in all, it supports more than 100 languages. That's enough to talk with the vast majority of people worldwide.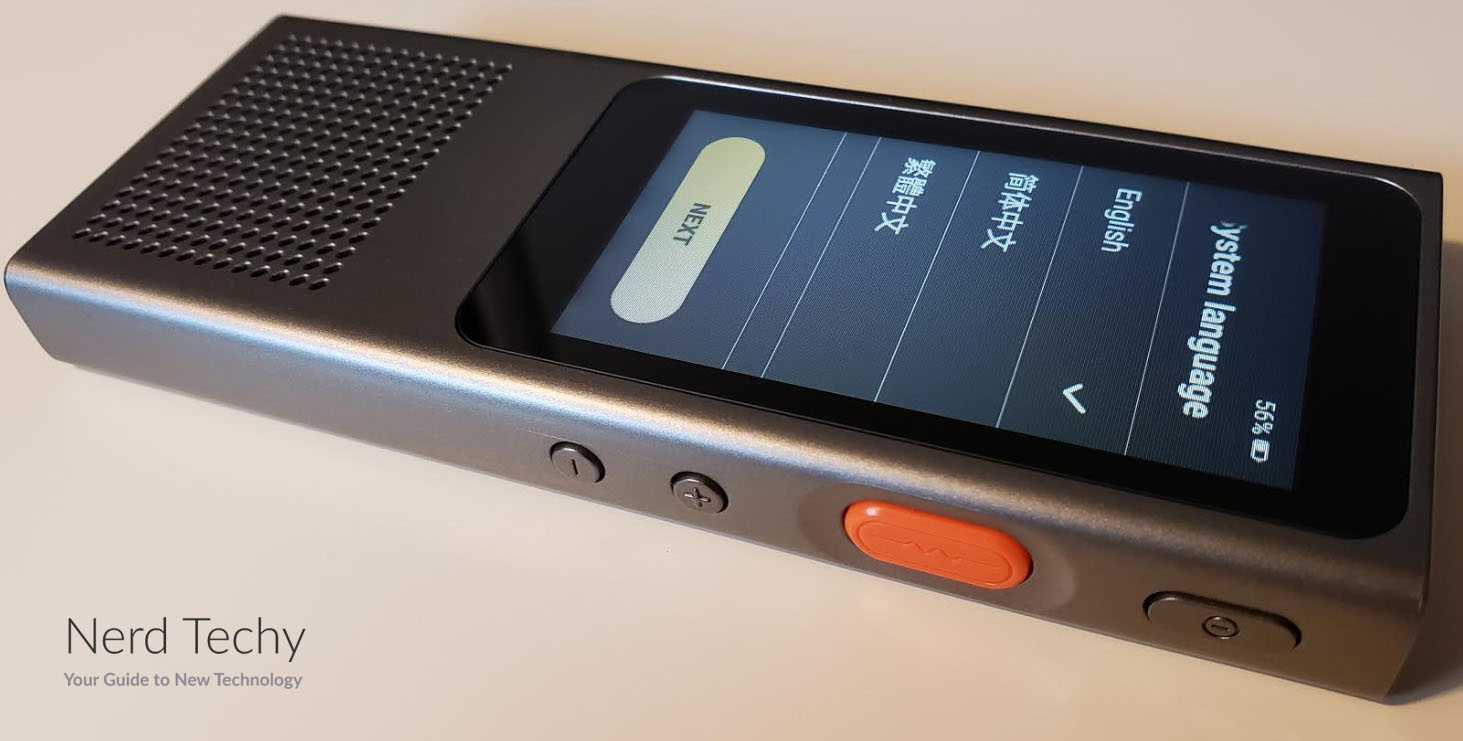 There are two different modes on the Langogo Minutes: translation mode and transcription mode. The translation mode should be familiar to most users, since other devices and smartphone apps already do the same thing. Just enter the languages you need to translate between, hold down the orange button, and start conversing. It will display a written translation on the screen, and also speak the translated phrase out loud. This makes it extremely easy to communicate quickly, without any hitches.
More impressive is the transcription mode. In this mode, you can record extended audio and produce a written transcription. Watching a presentation in a foreign language can be challenging, even if there's a translator present. Yes, you can understand what's being said. But it can be difficult to pay attention and take notes at the same time.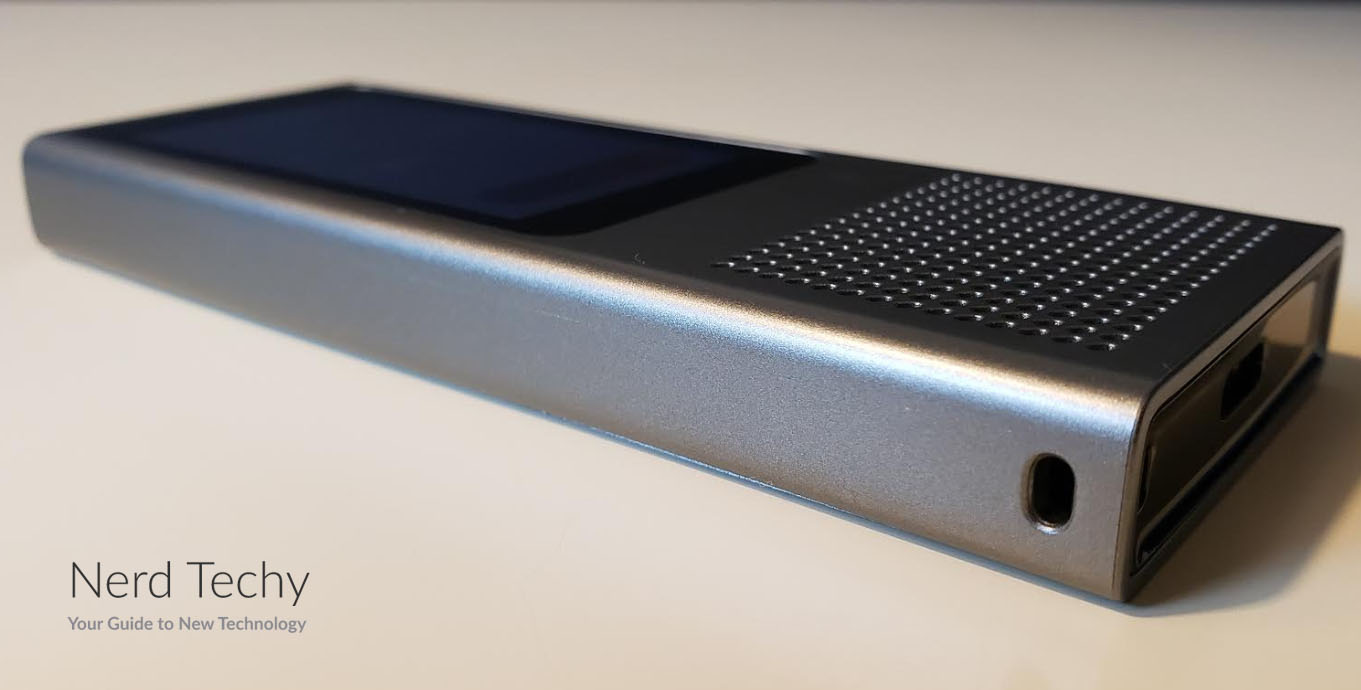 The Langogo Minutes frees you from note taking, so you can focus on what's being said. It can record up to four hours at a shot, and 13 hours total. When transcription mode is active, it will automatically create a PDF file of the speech. This file is then sent to your email, so you can read it again at your leisure. Be aware that there is a monthly charge for this feature, so some users may prefer sticking with translate mode. That said, transcription service is free for English-language transcripts up through December 31st, 2020. Even better, it's free for Chinese language for a lifetime.
Use code "nerdtechyMN" on Amazon.com for 10% Off!
Connectivity
As we've mentioned, the Minutes operates with a whopping 20 translation engines in over 100 languages. In order to use this feature, you'll need to have a WiFi connection. When you think about it, this makes sense. There's simply no way to pack that much capacity into a small, pocket-sized device. That said, you do have a few options for offline translation. In offline mode, you'll get support for English, Japanese, Korean, and Chinese (only Mandarin).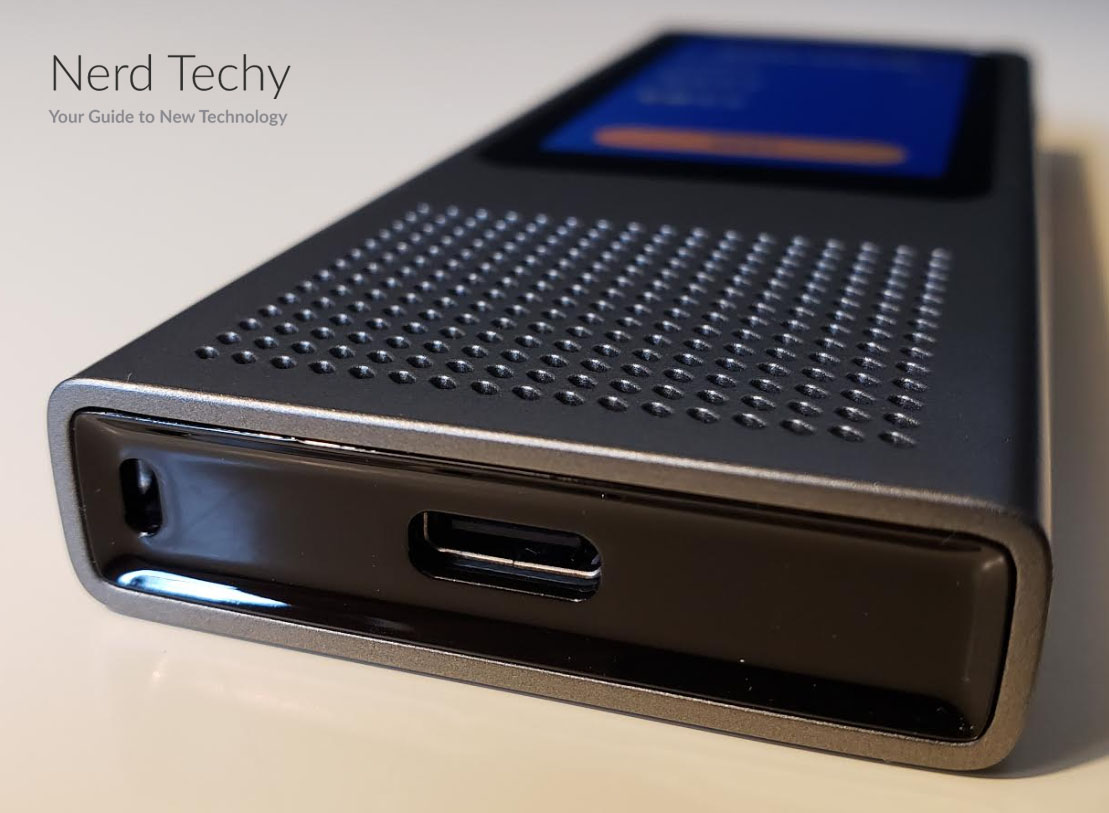 Needless to say, you'll also need a WiFi connection to take advantage of the Minutes' transcription mode. In addition to sending your transcription via email, after clicking "transcribe" it will also be stored in Langogo's cloud service. Your documents will be saved on the Amazon Cloud, one of the most secure cloud services there is. This keeps your documents as safe as possible from hackers and other bad actors. While your Minutes is connected to the internet, you also get access to free lifetime updates. This feature is free, and ensures that you'll always have Langogo's latest performance and security features.
Quality of Performance
In practice, the Langogo Minutes' performance depends on the languages spoken and the ambient noise. It works very well with common languages, especially those that are available in offline mode. With some less common languages, such as Lithuanian and Zulu, the translations can be awkward. They're still accurate, but the grammar and syntax sometimes seems "off".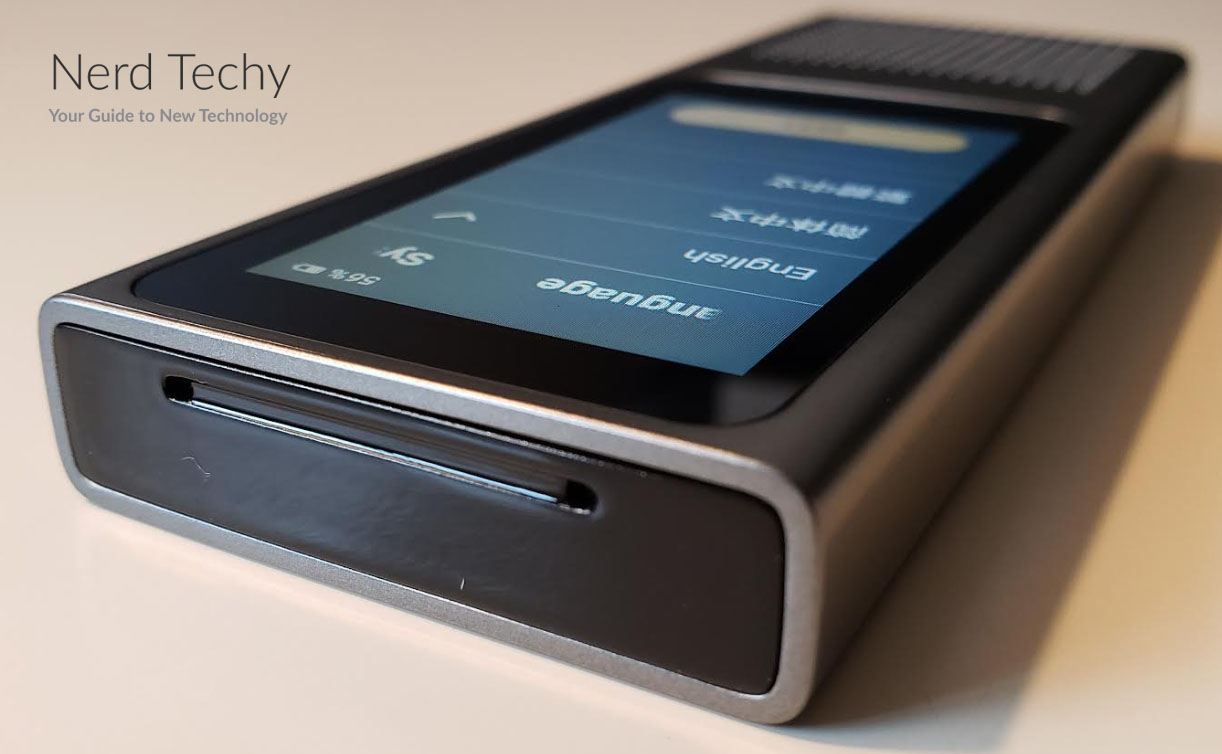 This can sometimes be a problem even for more common languages. The problem here isn't the software. It's that AI still isn't advanced enough to translate natural, human speech. It tries to form complete sentences, which isn't how most people actually speak. Most people pause, say "um", or use sentence fragments instead of using proper grammar. As a result, the Langogo Minutes will sometimes try to take these fragments and make them grammatically correct. The results can look a bit odd, but they're always intelligible.
If all of this sounds vaguely familiar, you're not wrong. We recently reviewed the Langogo Genesis, which is the Minutes' big brother. These two devices use the same AI technology, so you'll get very similar results. The main difference between the two is that the Langogo Genesis has a better microphone with better noise cancelling. The Minutes, on the other hand, can sometimes get confused if it's used in a noisy environment. But as long as the environment is quiet and the WiFi connection is stable, the two devices are comparable.
But why not use a smartphone app? Apps like Google Translate are free, and are generally pretty effective. But they rely on a single engine, which limits their effectiveness. They also don't have the same AI as the Langogo Minutes. It can actually adjust to your individual speech patterns the more you use it. This is a feature you just won't see on a smartphone app. In addition, holding your smartphone in the air in public is a good way to get robbed in some countries. Obviously, this depends on what country and neighborhood you're in. But unless you're familiar with the area, do you really want to risk getting robbed? On the other hand, the Minutes' lanyard makes it difficult to steal. And even if it does get stolen, you won't lose your vacation photos and means of communication.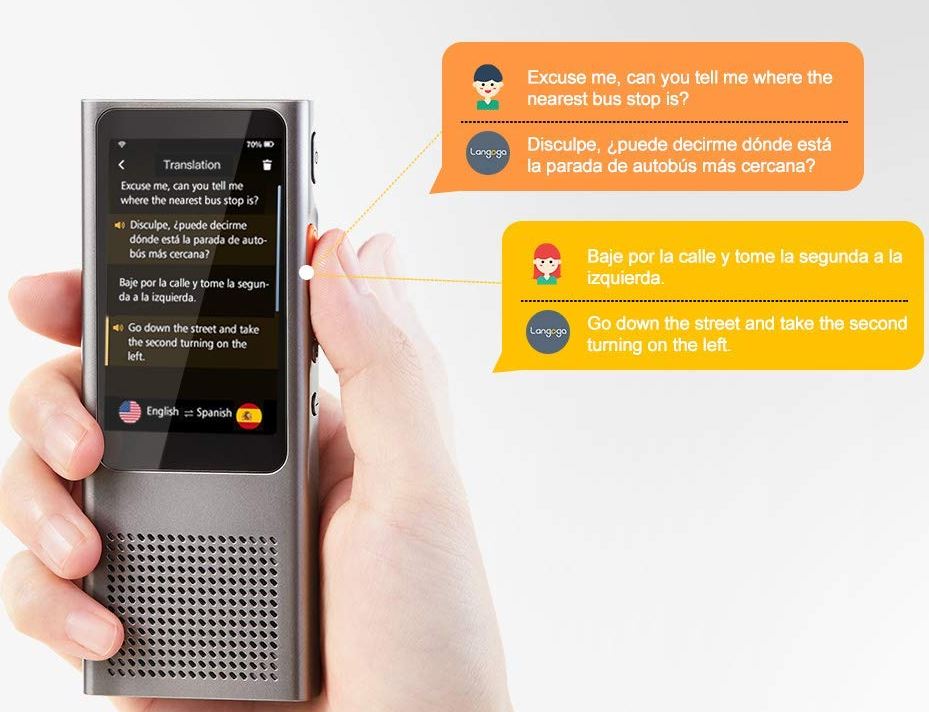 Technical Specifications
Before we wrap up, let's go over the basic specifications of the Langogo Minutes. If you were looking for a quick summary, this is it.
13-hour storage capacity
4-hour maximum single recording time
1510 mAh battery
10-hour battery life
14 to 104-degree operating temperature
2.45-inch touchscreen
Includes a 23.6-inch USB Type-C cable, lanyard, and owner's manual
Measures 4.5 x 1.8 x 0.5 inches
Weighs 2.82 ounces
Use code "nerdtechyMN" on Amazon.com for 10% Off!
Final Verdict
The Langogo Minutes is an effective device for breaking down the language barrier between people. With this handy pocket translator, you'll never feel like a total stranger just because you don't speak the language. The only downside is that you need a WiFi connection to get the most out of it. This won't be a problem in most public places, but you may run into trouble if you're out an about. In this case, you can always configure your smartphone as a mobile hotspot.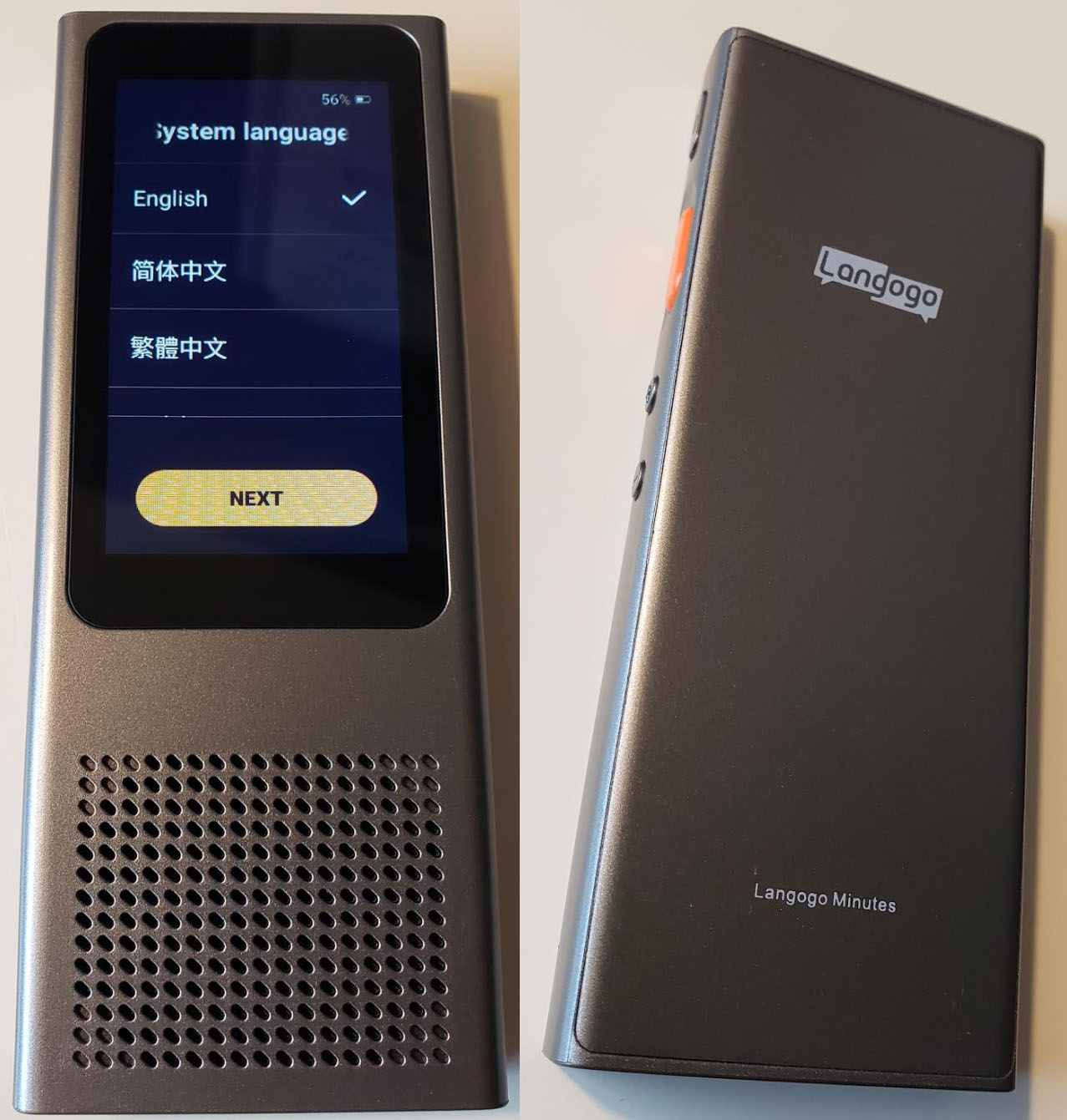 Other than that, the Minutes is a top-notch translator. We especially appreciated the AI, which makes it significantly smarter than the competition. If you want to travel the world without any language barriers, the Minutes will get you there.