With more companies relying on cell phones for everyday communication, there are few reasons to use an office landline. One of these applications is for conference calls. Your company cell phone is all well and good, but do you really want it sitting on a conference table? At the minimum, this is inefficient, since most smartphones aren't designed for conference use. At the worst, it can look unprofessional. Relying on a cell phone for conference calls doesn't give your company a good with clients in the room.
One solution to this problem is to use a Bluetooth speakerphone. We're about to look at the eMeet M2 Bluetooth Speakerphone. This device lets you use your smartphone as a standard office speakerphone. But is it a surefire win, or is it just another neat concept that's doomed to fizzle out? We did the research, so you don't have to. Here's what we learned.
Physical Design
The eMeet M2 is the second generation of eMeet's popular M1 speakerphone. The original was beloved for its sound quality, as well as for its ease of use. But the M2 is a significant upgrade, adding a touch-sensitive interface and a longer Bluetooth range. Its design is understated yet formal, perfect for matching modern office décor. It's designed as a small cylinder, like a hockey puck, with a domed top for the speaker and controls. It measures 4.92 inches in diameter and 1.38 inches in thickness, with three rubber feet to keep it from sliding. These feet also isolate it from vibrations and other interference.
The M2 is available in three colors: black, gray, and white. The first two designs both have an identical black base, while the white version has a black base. Oddly, the white version's base still has a black port cover, which isn't particularly attractive. Other than that, all three versions are cosmetically appealing, and will look just fine on your conference table.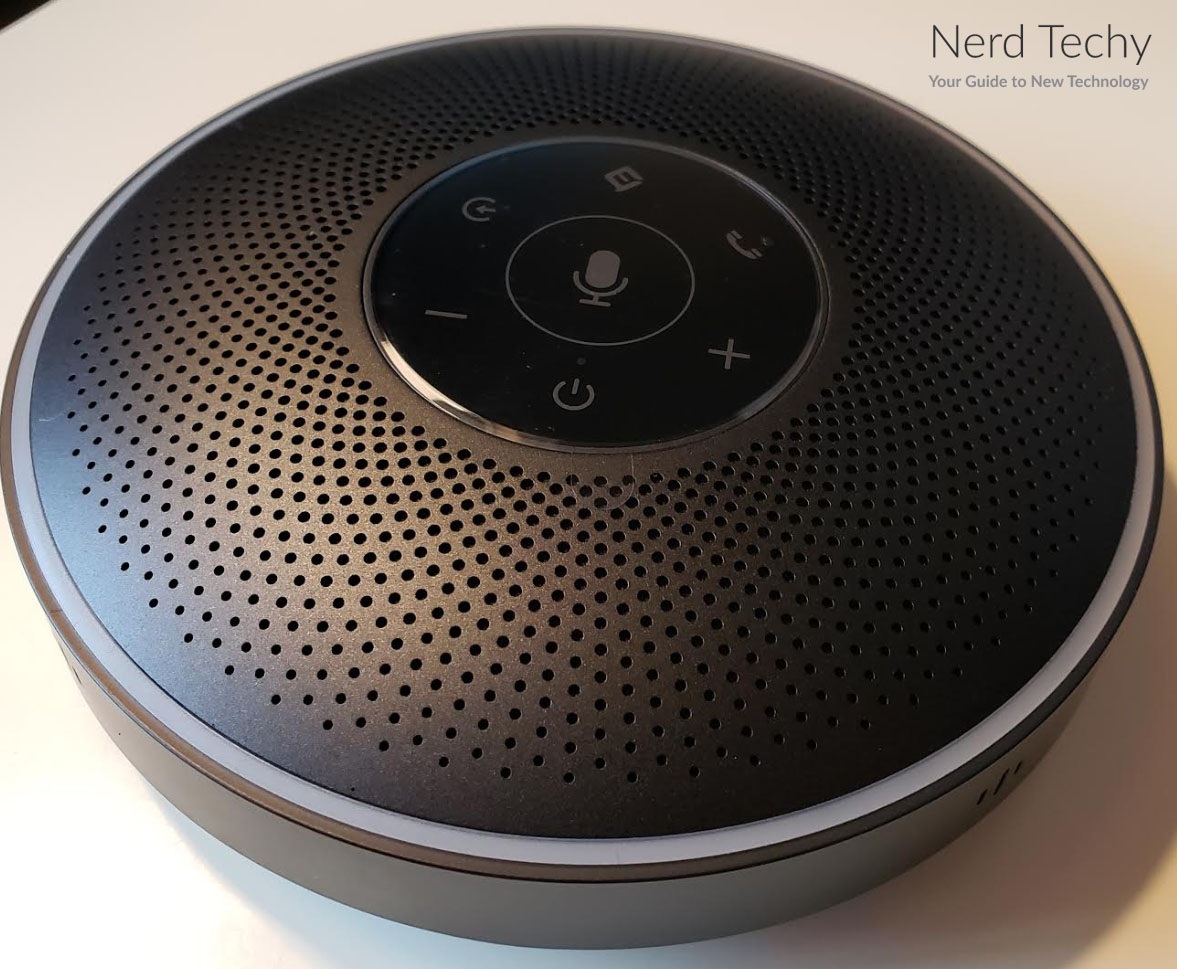 The domed top has a donut-shaped speaker grill, with the controls located in the center. Around the outer edge, a blue LED ring illuminates when the unit is powered on. In the very center, the control panel houses a set of soft-touch buttons. They're very easy to operate, but they do have a tendency to attract fingerprints.
There are six control buttons, surrounding a central mute button. The mute button is designed to be very large, which makes it easy to press when reaching across a table. However, you'll still want to be careful, because it's easy to hit the wrong button by mistake. The outer buttons allow you to activate a voice assistant such as Google Assistant, Siri, or Cortana. There's also a button for hanging up and answering calls, as well as a power button. You'll also find volume buttons, as well as a button to cycle through different sources and another to check the battery.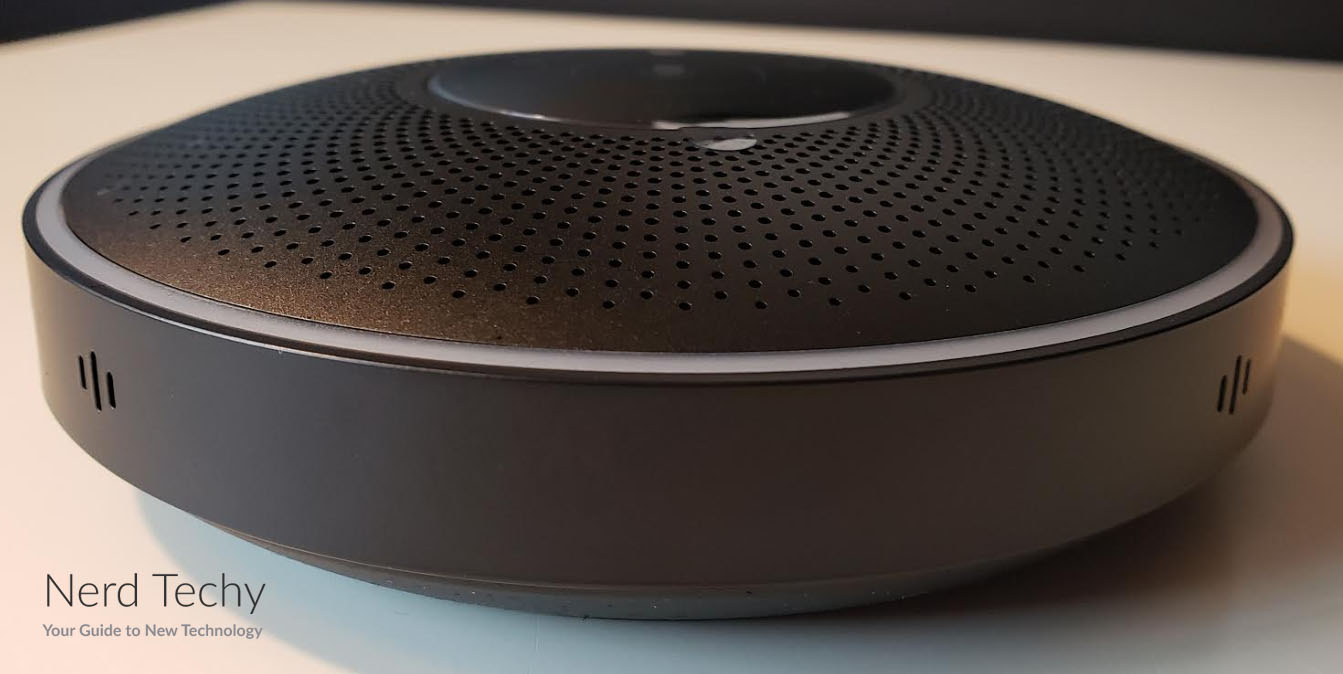 While the top of the unit is ABS plastic, the outer edge is anodized aluminum. There are four microphones positioned around the perimeter, which allows for 360-degree sound pickup from around the conference table. There's also a series of ports, including a micro USB port, as well as audio out/audio in 3.5mm aux ports. When not in use, the ports are covered by a rubber plug, which keeps them safe from dust and spills. A single aux cable is included with the kit, so you can connect an outside audio source if needed.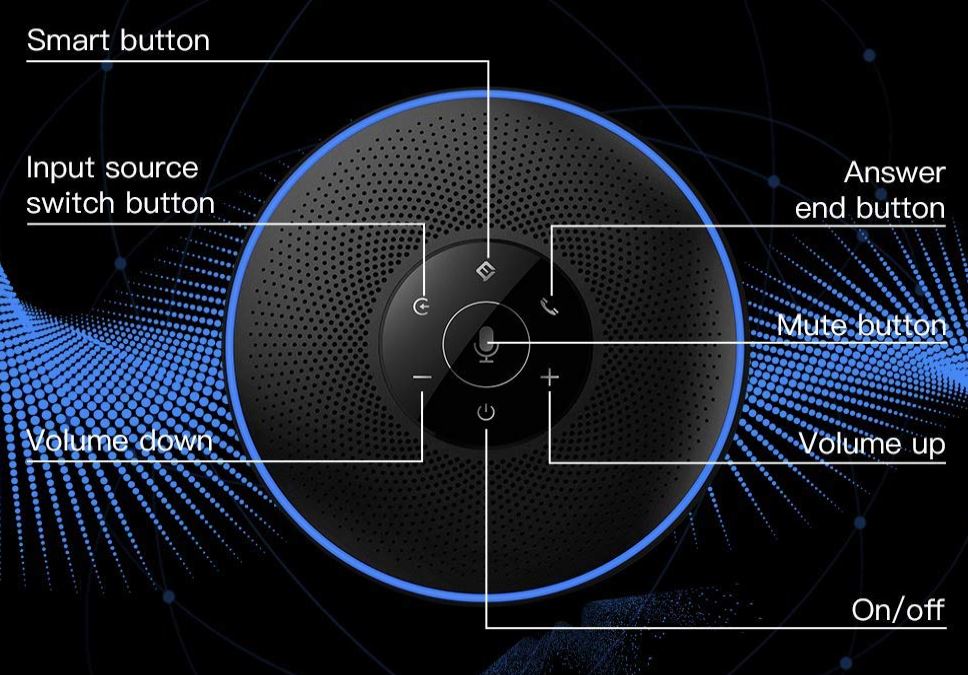 The entire unit weighs only 10.23 ounces, or about half of the original M1. However, the original M1 had a built-in power bank. Still, the M2's 2,500mAh battery is powerful enough to last for about 12 hours of use. As long as you remember to charge it at the end of the day, you'll have plenty of capacity. If the unit is inactive for 30 minutes, it will automatically shut off to save the battery.
The one place the M2 won't work well is inside a car. We recently reviewed the best Bluetooth car visor speakerphones. If you need a solid automotive option, you'll find one there.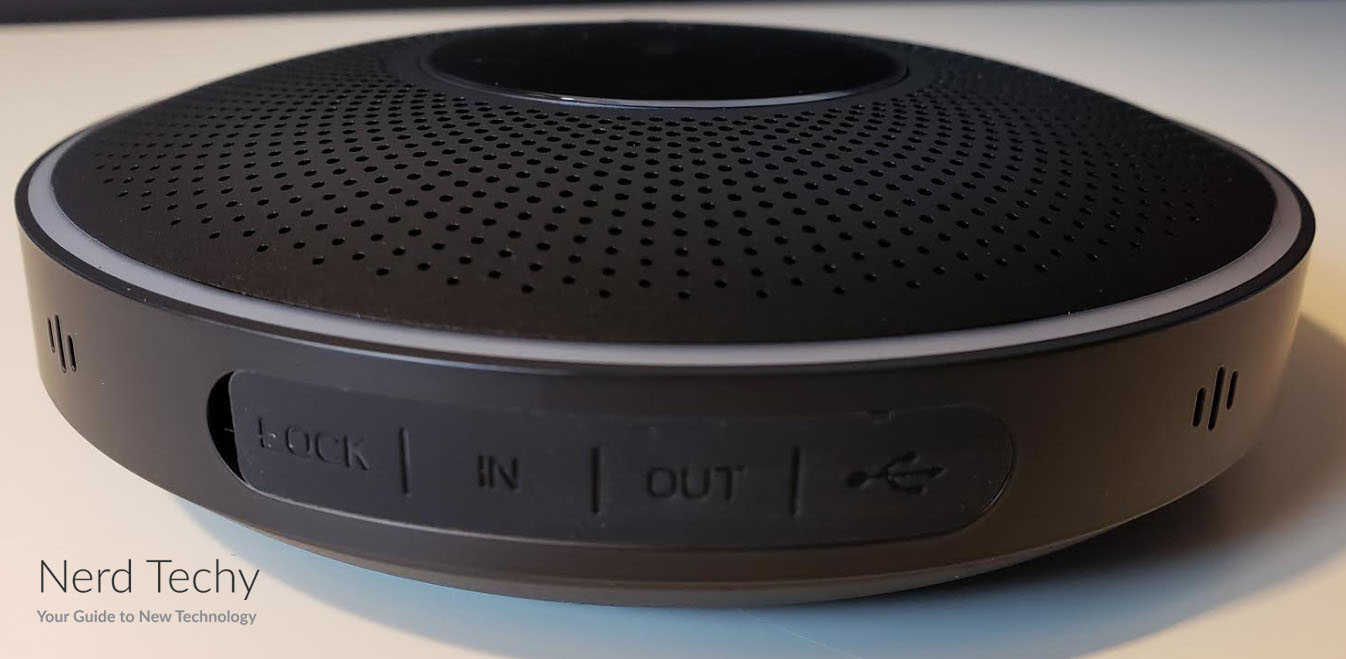 Connectivity & Compatibility
To start using the eMeet M2, you'll first want to hold down the power button for a full 3 seconds. When the unit is turned on, the LED ring on the top will light up. At this point, you'll hear a tone from the speaker, which provides auditory confirmation. At that point, an LED will light up above the power button. It will cycle through possible input sources. First, the light will turn green, for a USB connection. If there's no USB source, the light will turn white, indicating that the M2 is searching for 3.5mm audio. If there's no 3.5mm input, the light will then turn blue for Bluetooth.
Once the light has turned blue, the M2 is in pairing mode. The light will blink, along with a rhythmic beep from the speaker. At this point, you can open your phone's Bluetooth menu to pair it. Once the unit is paired, the blinking blue light will turn solid. Once that happens, you're ready to make your call. The M2 is capable of connecting to multiple devices. However, it can only be paired with one device at a time. To cycle through devices, simply press the source button to choose between them.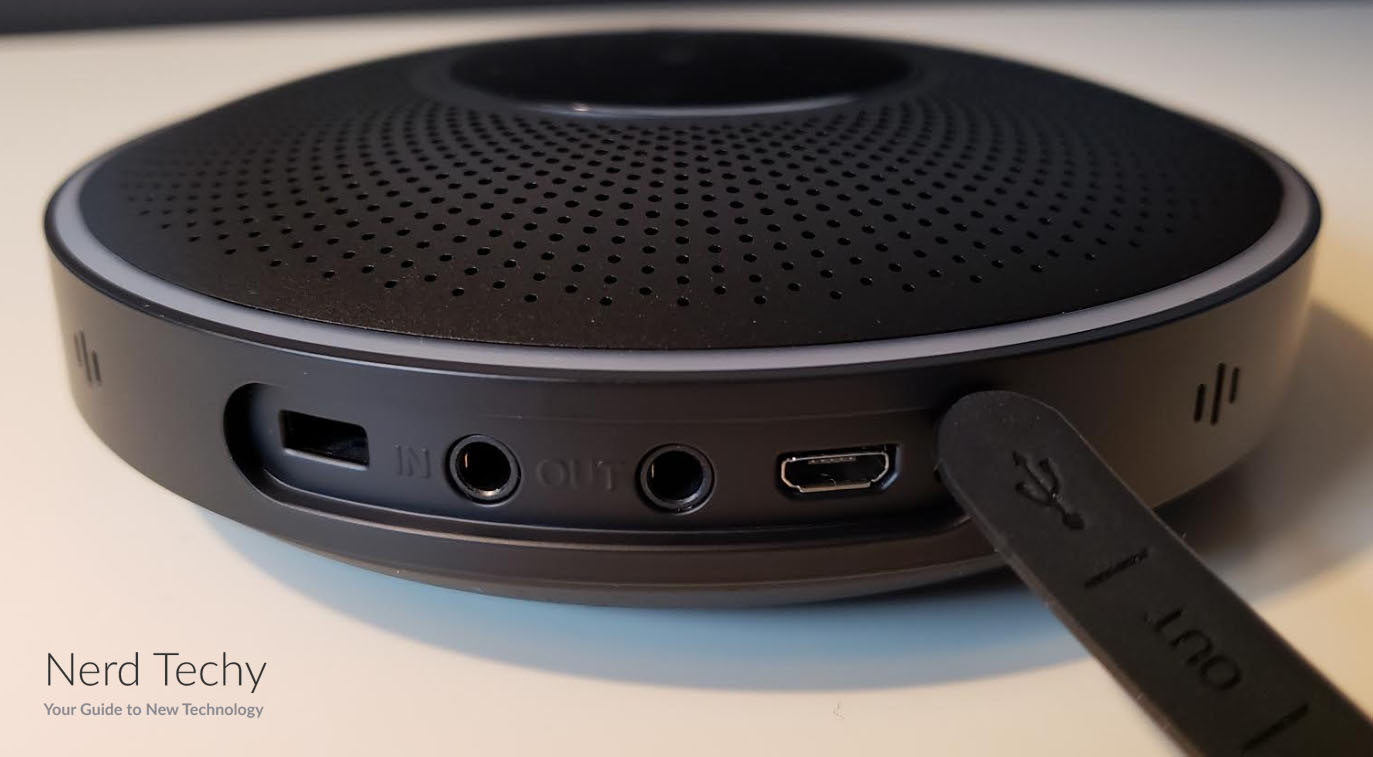 The M2 uses the Bluetooth 4.2 protocol, which has slightly more latency than the newer 5.0 protocol. However, it has almost twice the range. It will remain paired at a distance of 20 meters (about 66 feet). If you're on a conference call and receive another call, your phone will ring. However, the M2 will not interrupt your audio. Instead, it will blink blue. Press the phone button to answer the call, or hold it for 3 seconds to reject. Pressing the eMeet logo button will activate your phone's voice assistant. This allows you to easily make calls while you're in a meeting. You can also use the M2 for Skype calls while you're connected to a PC. This is easy to do, although you may need to mess with your output settings if you're not using a Mac.
In addition, the M2 includes a free mobile app. You'll need to grant it all the permissions it asks for, though, some of which are a bit sketchy. In addition, the app really doesn't offer many features. It makes Bluetooth connections a bit easier, and displays the current battery life. It also allows for over-the-air updates, which eMeet does offer from time to time.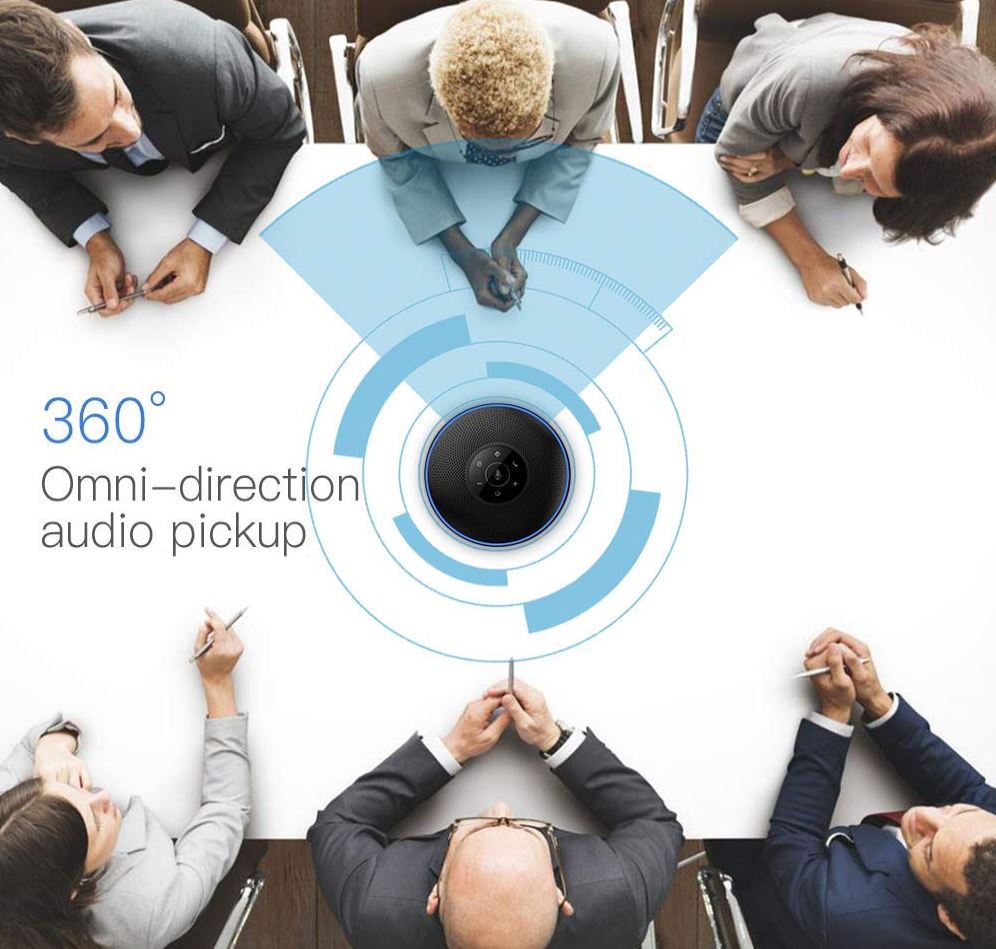 Call Quality
In terms of audio quality, the M2 is about what you'd expect from a conference phone. It sometimes leaves artifacts, but the VoiceIA signal processing does a good job of eliminating most background noise. It picks up audio from at least 15 feet away, so people at the end of the table can be heard clearly. As we've mentioned, the microphones also provide 360-degree coverage. This ensures that everyone can be heard clearly. When there's a lot of crosstalk, the outer blue LED will turn white. This indicates that the VoiceIA signal processing is having trouble determining what's what. Try to avoid crosstalk if at all possible. Indeed, this is good advice with just about any speakerphone.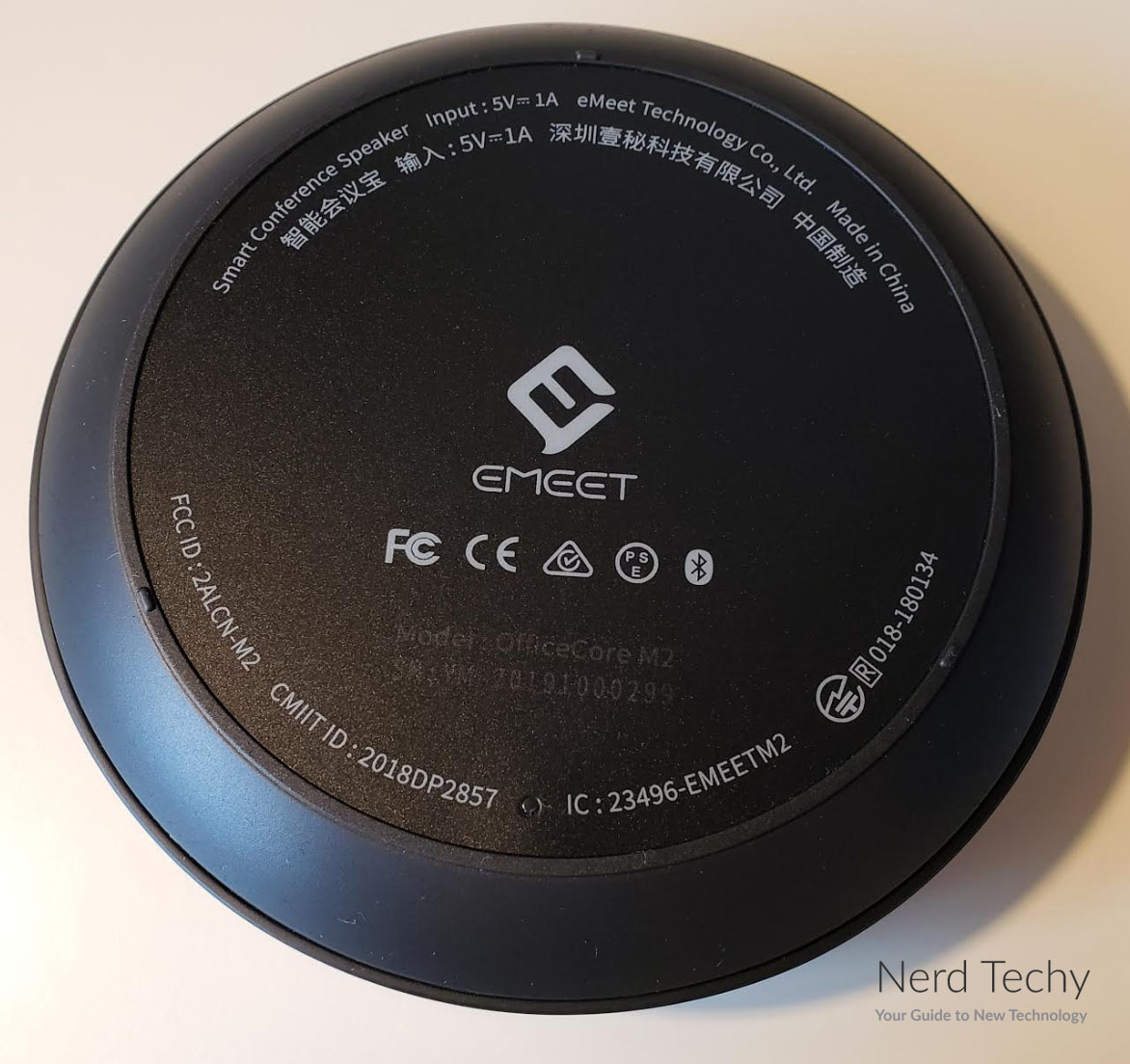 If you need to extend the M2's range, it's possible to daisy chain several units together. If you need to do this, there's a daisy chain cable available to perform this function. You can also use the M2 as a standalone Bluetooth speaker. We wouldn't recommend this, since the audio is hollow and tinny. There's not much bass response, because this is not the M2's primary function. Still, it's better than nothing if you're in a pinch, and it's nice to have the option.
If you're looking primarily for a Bluetooth speaker, you should consider the Cowin DiDa. This speaker, which we've already reviewed, provides excellent sound quality as well as Alexa support. However, you can't use it to make or receive phone calls.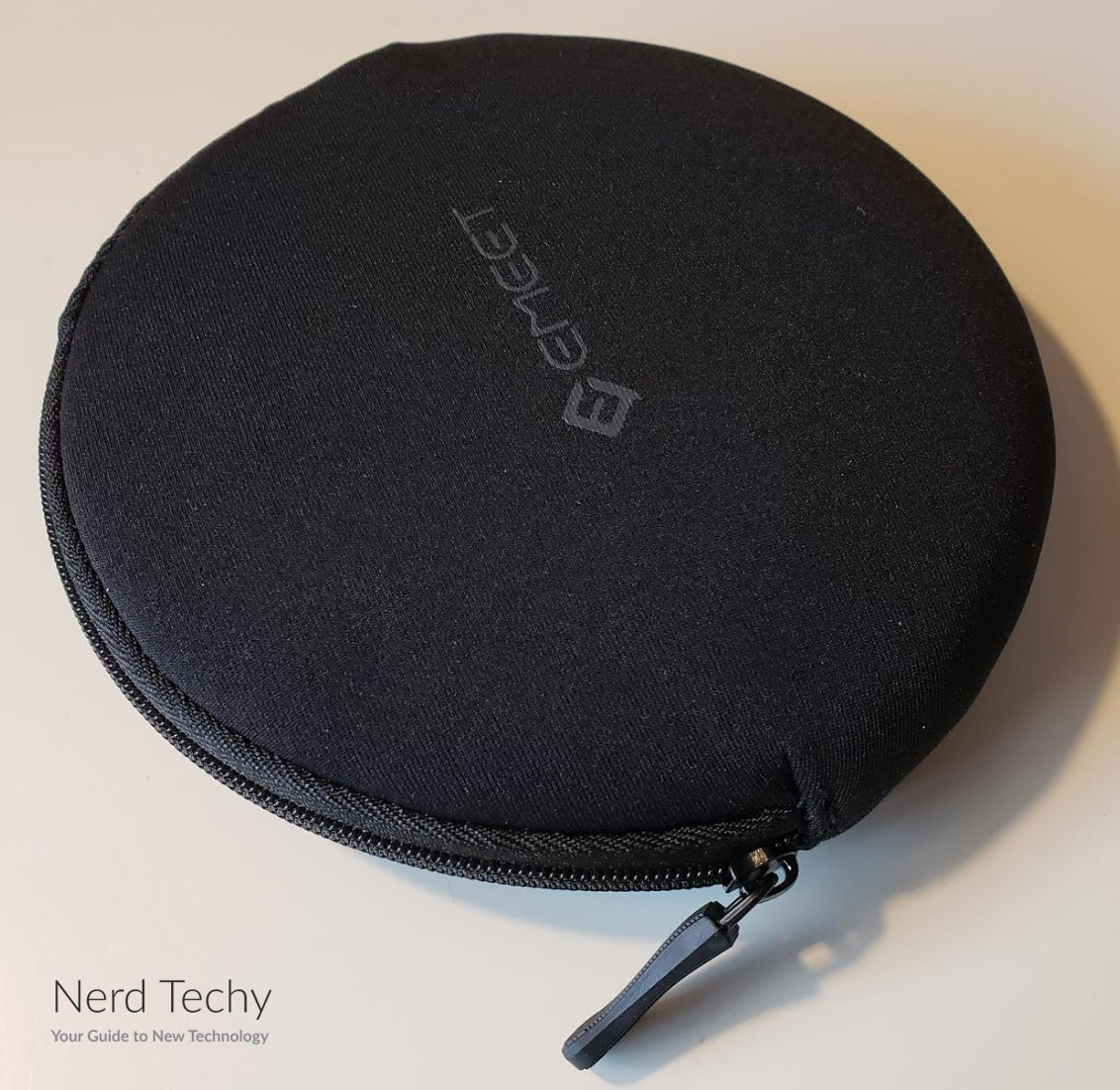 Final Verdict
The eMeet M2 does exactly what it's designed to do. It frees you up to make professional conference calls with your speakerphone. The sound quality is only so-so, but you don't buy a speakerphone because you expect crystal clear audio. You expect to be able to understand the person on the other end of the call. In that regard, the M2 is more than adequate. We particularly appreciated the long range. It's sufficient to cover even the largest conference table. And if you need even more range, you can always daisy chain multiple units together.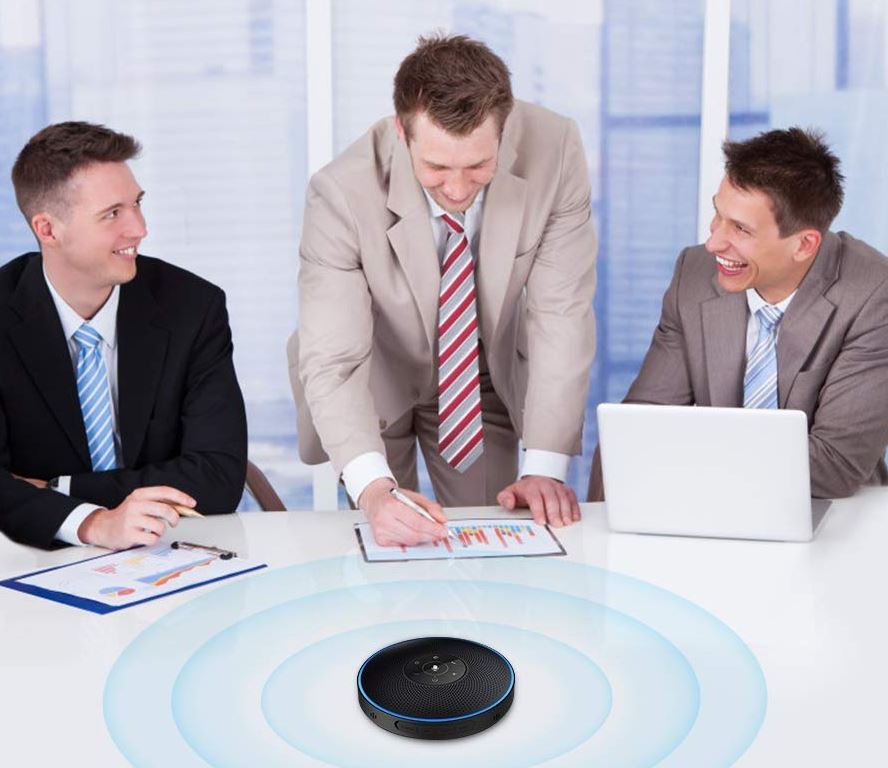 In addition, the M2 is easy to connect with a variety of devices. While it's designed primarily for smartphones, it will also connect to PCs, speakers, and other sources. If you want to conference over Skype, this is a great way to do it. Besides which, you can use the M2 as a Bluetooth speaker in a pinch. This isn't ideal for long-term use, but it's a great value added for making presentations.