Using your phone in your car can be a frustrating experience. Not only is it illegal to touch your phone while operating a vehicle, but police have been cracking down significantly on this problem. While it's true that many manufacturers are including Bluetooth functionality in their vehicles, many of us know that this can be a frustrating and challenging experience. Unless you've got a brand-new car, the call quality is often not as good as we'd like it to be, and trying to fiddle around with a confusing array of buttons on your steering wheel takes some getting used to.
Bluetooth Visor Speakerphones are a great way to solve this problem. We can upgrade our existing vehicles with modern technology, and answering or hanging up calls is a snap. Best part of all? Using them is both safe and legal. The question is, which one do you choose? We've gone through dozens of competing speakerphones and picked the best three models. We'll show you what they can do, how they operate, and help you find the model that is right for you.
SuperTooth Buddy
SuperTooth isn't one of the most well-known manufacturers on the market, because they don't exactly have a wide range of products. That being said, they know the Bluetooth business and they make very high quality products. SuperTooth is one of the best reviewed manufacturers of hands-free devices, the the Buddy is the latest generation of their highly-respected line.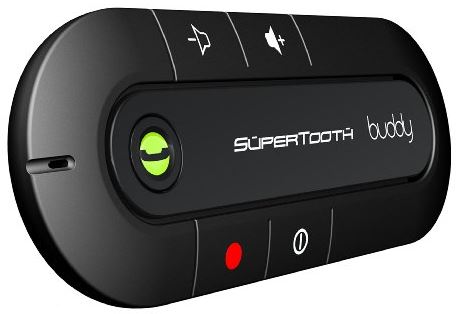 Ease of Use
One of the main things we looked for when selecting the best speakerphones was a simple to use system. The objective is to keep your eyes on the road, so anything that requires a lot of thought to use can be dangerous. Fortunately, ease of use is one of the areas that the SuperTooth Buddy excels. While driving, all you have to do is reach up and touch the giant green button to answer a call, just like many other models we recommended.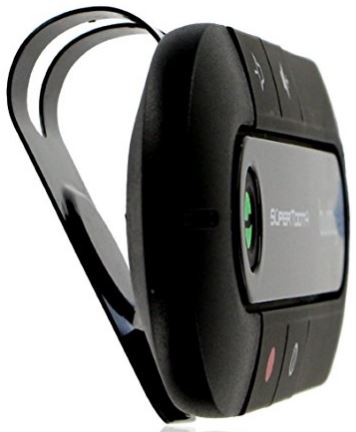 But it's not just this one area that impressed us, the Buddy is easy to use from the day you open the box until the day you retire it. Pairing it with our phone was very straightforward. We just held down the large green button for 30 seconds until the "ready to pair" notification played over the built-in speaker, then we searched for Bluetooth devices from our phone. You can actually pair the Buddy with multiple phones at the same time, so both you and your passenger can answer calls while on the road, or you can use it with your work phone.
The two buttons on the top allow single touch adjustment of the volume. You can press it once, or hold the button to smoothly increase or decrease the volume. The power button is located on the bottom in the center, and to the left of it is the big red record button that activates voice commands. It's compatible with both Android and Siri, and is generally useful for voice dialing.
The battery was also very impressive. With 20 hours of talk time and 1000 hours of standby time, you're not going to have to spend a lot of time charging it up. When the battery does run low, you can slap it on a charger and have it juiced up in as little as 3 hours.

Design
Of all the Bluetooth speakerphones we've reviewed, the SuperTooth buddy is one of the most compact models available. It doesn't take up much space on your visor, which is especially important if you have a large mirror or pockets built in. The design is reasonably plain, but still suitably modernized. What we liked about it was that there are no distracting features. The only two things that stand out are the green answer button and the red voice command button, so you know what to push even if you're only looking at it out of the corner of your eye.
The design isn't just attractive, it's also highly functional. There is a large internal metal frame, with a heavy-duty metal clip bonded to it. This allows the speakerphone to bind tightly to your mirror, reducing the risk of it falling off. All of the buttons have a very firm click to them, so you don't have to worry about them wearing out.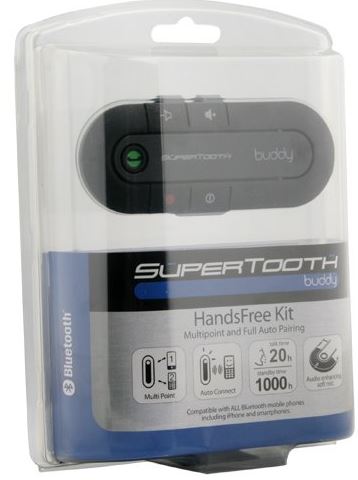 Audio Quality
The speakers inside the SuperTooth buddy are very large, and have slightly exaggerated bass and rolled off highs. We actually really enjoyed this sound. Call quality is typically not very good, and can create a harsh sound. The way these speakers are designed seem to smooth out the audio, and compensate for the internal noise in the car. On the other end of the spectrum, the microphone is also quite good. It's an omnidirectional mic, so it picks up all noise around it. This means that if you have passengers, they will also be able to speak into the mic and still be heard.
Motorola Roadster 2
When it comes to mobility, Motorola is one of the best known brands in the industry. Starting with their high end cellphones, their Bluetooth earbuds, and now their hands-free devices, they've got a proven track record of producing high end products. This particular model is several generations in, so you're buying it a tried and true line of speakerphones.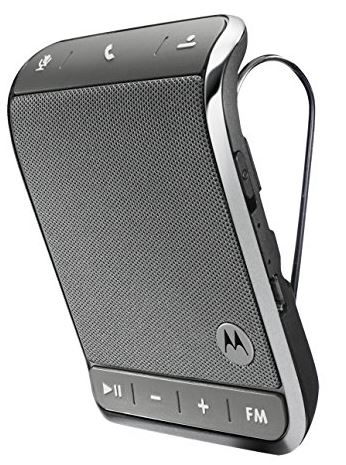 Ease of Use
Although core functionality is still very simple, they've managed to cram a whole lot of additional functionality into the Motorola Roadster 2 that can make your life easier. For starters, there is the FM transmitter function. This allows the audio from your phone to be pumped through the car stereo, and can broadcast Bluetooth music as well. The "answer call" button is located front and center along the top of the speaker, so it's very easy to push. Right next to it is a mute button, so you can temporarily mute the mic to speak to your passenger. There are also volume controls as well as a play or pause button located on the bottom, in case you want to stop music while accessing that feature.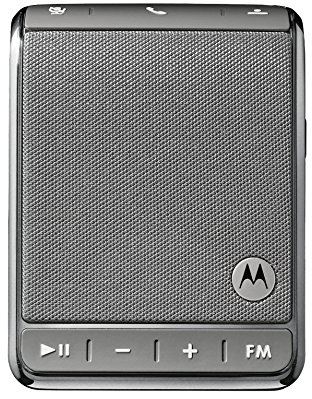 To help you keep your eyes on the road, the Roadster 2 has a built in speech generator. It will announce the names of the callers, so you don't have to look at your phone to use caller ID. The names are pulled directly from your cellphone contacts list, which is ideal for many phones.
The Roadster has an ultra-low power mode available, which allows it to run on standby for thousands of hours. When your phone is in range, it automatically turns itself on. When you leave range, it's shut off again. This makes it a truly hands-free speaker, so you don't even have to think about using it.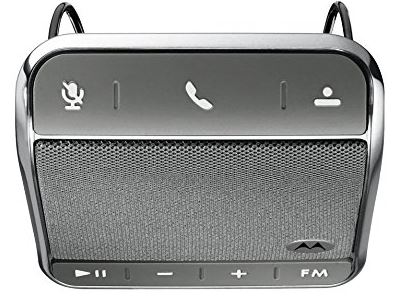 Appearance
This compact speaker definitely has a very professional and sleek appearance. The entire speaker is gently curved, accenting its modern appearance. This curve also ensures that it's easy to see the primary controls, whether your visor is down or in the upright position. Around the frame of the speaker is a polished metal bezel, employing the same design elements used in many modern cars and cellphones. It's squared-off look is still very compact, but helps to stand out in your vehicle.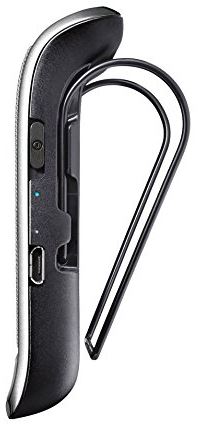 Audio Quality
this is the one area where this speaker really excels. The included two watt speaker is powerful, producing a sound that seems much larger than you'd expect from such a compact speaker. That being said, if you take advantage of the built in FM transmitter, you'll be able to use the existing stereo installed in your car. Typically, this is much better than anything produced by a portable speaker, allowing the audio quality to extend beyond the limitations of this form factor.
Just as the speaker quality is above average, the microphone is also very impressive. Motorola employs an advanced noise-cancellation system they call "Crystal Talk." This allows the microphone to effectively cancel out all of the road noise, and home in on the voice of the person that is speaking. While you're talking, chatter in the background from your passengers won't be very audible. But when you stop, another passenger can chime in and still be heard loud and clear.
Avantree 10BP
Avantree's products follow along with the "keep it simple" principal. This is one of the most affordable Bluetooth Speakerphones on the market, but still offers surprising performance for the price.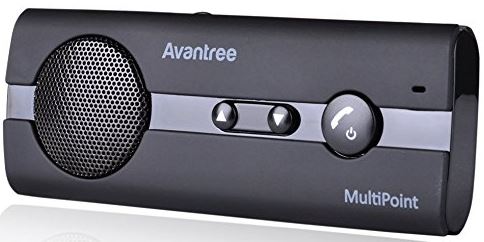 Ease of Use
Since the Avantree 10BP sticks to the basics, it's incredibly simple to use. There is one big button to answer a call, and the same button ends the call. A compact rocker switch makes it easy to turn the volume up and down. Because you might be doing this without looking at the speakerphone, the ends of the rocker switch are beveled so you can feel where to push.
The built-in battery supports 12 hours of talk time. This can last quite a while for most users, but anyone who loves to chat while they're driving will want to take advantage of the included charger. It plugs right into your cigarette lighter, so you'll never run low on battery.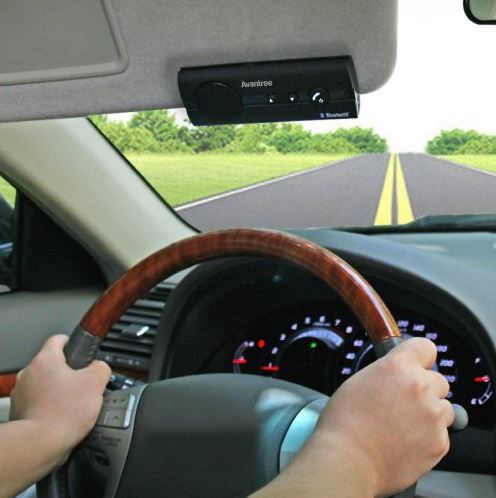 Appearance
The Avantree Visor Car Kit has as simple, yet appealing design. It has a matte black exterior, with a single polished line running down the center. This helps to draw your eye towards the buttons, making it quick and easy to find the controls you're looking for. For the most part, the design elements are more for durability than for looks. The metal enclosure around the speaker keeps it protected from damage, and the rubberized exterior prevents scratches or fingerprints from ruining the look or damaging the exterior.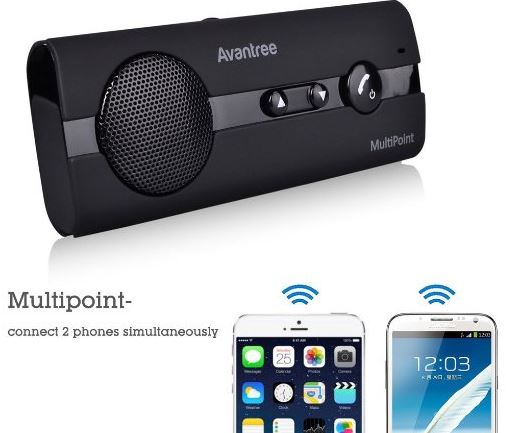 Audio Quality
Although you don't get a lot of fancy audio features, the sound quality was much better than we expected for the price. The speaker can get quite loud if you need it, and doesn't distort at high volumes. This is ideal for anyone driving a truck or van that tends to be louder on the highway. When in a call, we found that the built in microphone sounds just as good as the speakerphone built right into your smartphone.
Which Bluetooth Visor Speakerphone is Right for Me?
Where basic use is concerned, any one of these models will allow you to take calls without putting yourself at risk. But the small differences between these units can have a pretty big impact on their functionality.
If you're looking for something simple at an affordable price, the Avantree 10BP is a great choice. The call quality is the best we've found in this price range, and you're not going to find a more affordable model without making some serious compromises. We'd certainly consider this a great entry point.
If you're looking for a longer battery life and improved audio quality, the SuperTooth Buddy is the next step up. The lithium ion battery should last at least a week of common use, and it only takes a few hours to get it fully back to charge. The speakers are designed to reduce the harshness of your phone call, making them more enjoyable to listen too.
But if you really want the best audio quality, you should definitely consider the Motorola Roadster 2. It's not the internal speaker that makes this model great, but its ability to broadcast Bluetooth audio over FM frequencies. This lets you take your calls over the speakers built into your vehicle, and when not in use you can use it to play back some music. It's not much more expensive than competing models, but these additional features make it a great buy in our eyes.