When you're on the go, you sometimes need to take a phone call. It's just one of those realities of life, but it's important to use a safe solution. Simply talking on the phone can be distracting, and increases your risk of being in an accident. Not only that, but it's illegal in most states. If you want to talk on the phone without risking your life or your money, hands-free calling is a must. You could use your phone's speaker option, but this won't get you the best sound. Your mic will pick up a ton of traffic noise, and you'll need to shout to be heard. Moreover, you still need to touch your phone a lot, so it's not entirely "hands-free".
A better solution is to use your car's hands-free calling function. In many cars, you can simply connect via Bluetooth, and talk to the other person through your dashboard. You can usually call via voice commands, or via a dashboard control. But not all cars come with this function, and others have it as one of many options. For instance, you might be able to get hands-free calling or on-board GPS, but not both. Depending on what options you need, this could make a hands-free calling function impossible. But that doesn't mean you're out of luck. With a Bluetooth car visor speakerphone, you can take advantage of safe, hands-free calling in any vehicle.
We're about to look at three of today's best car visor speakerphones. We'll begin with the Jabra Freeway. This speakerphone offers great audio quality and a long battery life, in an easy-to-use package. Next, we'll review the Avantree CK11. This affordable speakerphone sports a built-in motion sensor, and turns on and off when you enter or exit the vehicle. Finally, we'll check out the VeoPulse B-Pro 2. This is also a motion sensing phone, but it has better audio quality. But which one of these is the right choice for you? Let's take a closer look, and see how each of them stacks up.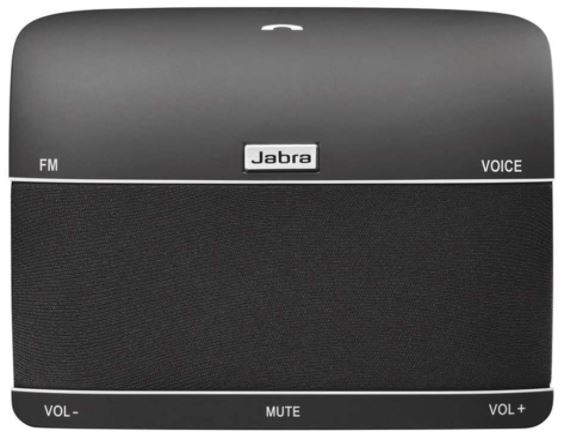 Jabra Freeway
Jabra is a respected manufacturer of audio equipment. Among other offerings, they produce the Elite 75T True Wireless Earbuds, among the best on the market. Because of their sterling reputation, we were excited to get a look at the Jabra Freeway.
The Jabra Freeway is a black rectangular unit that measures 4.7 inches wide, 3.9 high and 0.7 thick. It has a curved profile, with plastic at the top and bottom, and a cloth speaker cover down the center. The plastic portions include the controls, which have a simple touch operation. Here, you can adjust the volume, or switch between phone and radio mode. You can also mute the unit with the touch of a button. The whole thing clips easily onto your sun visor, and weighs only five ounces. Along with the unit itself, you get a USB to Micro USB charging cable and a DC power adapter. That's everything you need to get started.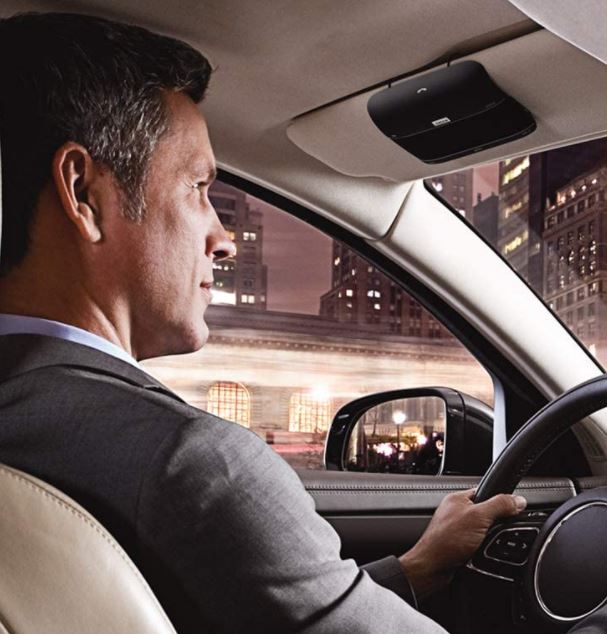 Ease of Use
The Jabra Freeway boasts a powerful battery, which allows for up to 40 days of standby time. Keep in mind, this is not the same as 40 days of operation. The battery will need to be charged after about 14 hours of actual use. Still, you're looking at some exceptional performance. And since the battery takes only two hours to charge, it can effectively be used indefinitely. Simply leave the unit plugged in all the time.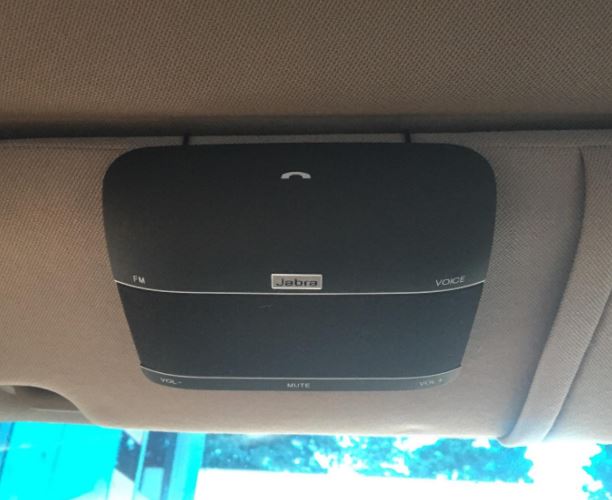 You can connect up to two devices simultaneously, so you can share the speakerphone with a passenger. You can also use a separate device, like an MP3 player, for music as opposed to calling. After you've paired a device, it will automatically connect to the Freeway when it's in range. This can be both a good thing and a bad thing. On the one hand, when you get in the car, you'll automatically be connected. If you're already on a call, the call will transfer seamlessly to the speakerphone. On the other hand, if you're parked near your house, your phone may inadvertently connect when you're inside the house. Your call can suddenly jump to the car speakerphone, even while you're standing in your kitchen. In that case, you can simply turn the unit off when you get out of your car.
The Freeway accepts voice commands for hands-free calling. Simply tap the voice button and call up your contacts or even send a text. In addition to all that, there's also a built-in FM receiver. You can listen to your favorite terrestrial radio stations just as if you were using your ordinary car radio.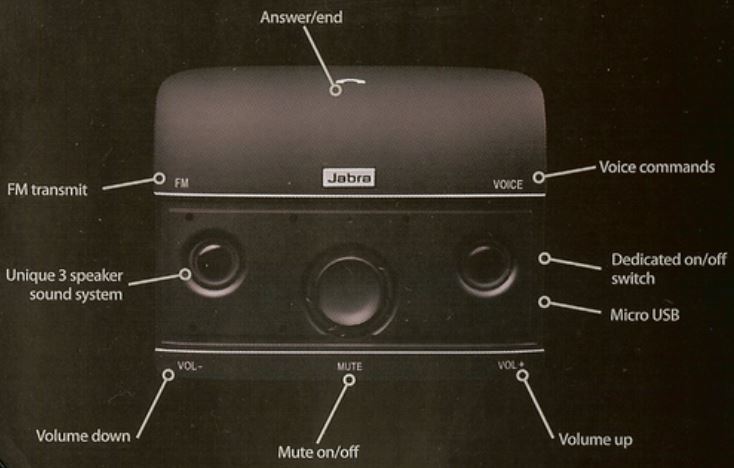 Audio Quality
The main attraction of the Freeway is its exceptionally rich audio. It uses three speakers instead of two, and supports virtual surround sound. This is by no means a complete replacement for your car's audio system. But compared to the music quality on most speakerphones, the difference is night and day.
Call quality is also excellent. With its dual mics, the Freeway does a great job at eliminating background noise. Rumbling tractor trailers and roaring motorcycles won't intrude too much on your conversation. The other person will hear you just fine under almost any conditions.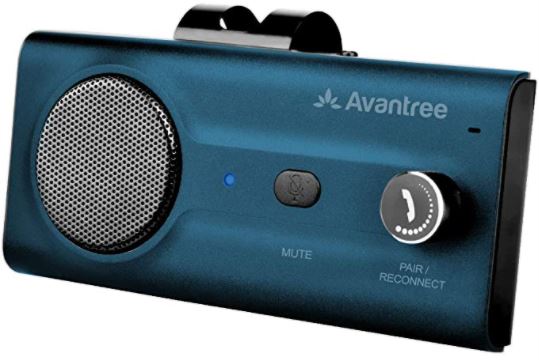 Avantree CK11
Avantree is another manufacturer you might already be familiar with. In the past, we reviewed their Aria Pro ANC Headphones, and they met with our approval. Now, we're going to review the Avantree CK11, their car visor speakerphone.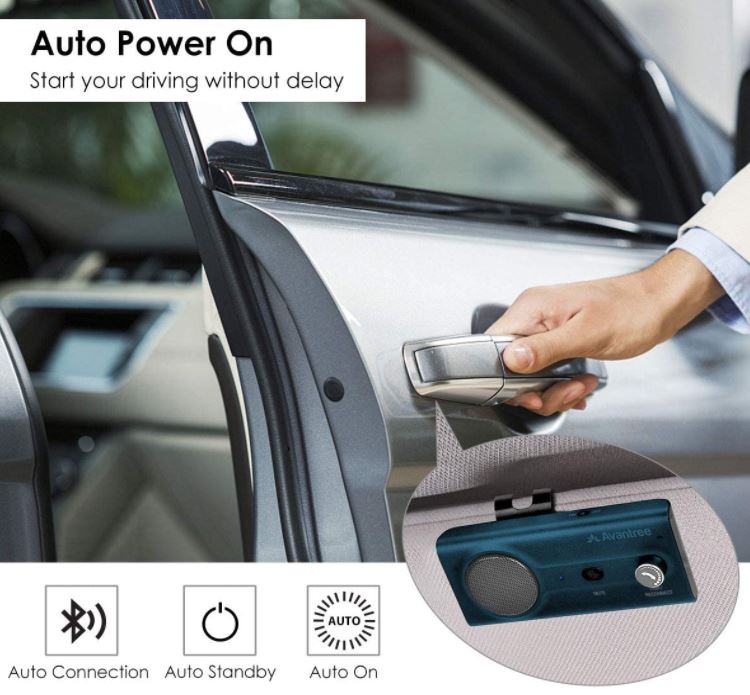 This is a bit beefier than Jabra's offering, measuring 5.12 x 2.36 x 1.18 inches. It has a metallic finish rather than plastic, and is available in black, blue, or titanium finishes. The aesthetic has an old-school appeal with a mechanical volume adjustment knob on the right, rather than buttons. The speaker to the left also has a vintage look, with a perforated metal cover rather than cloth. There's a mute button in between, one of the CK11's few concessions to a more modern aesthetic.
The kit includes a separate mounting clip, which is used to attach the speakerphone to your visor. It also has a USB to Micro USB cable and a car charger for your cigarette lighter. Plug it in, let it charge, and you're ready to go.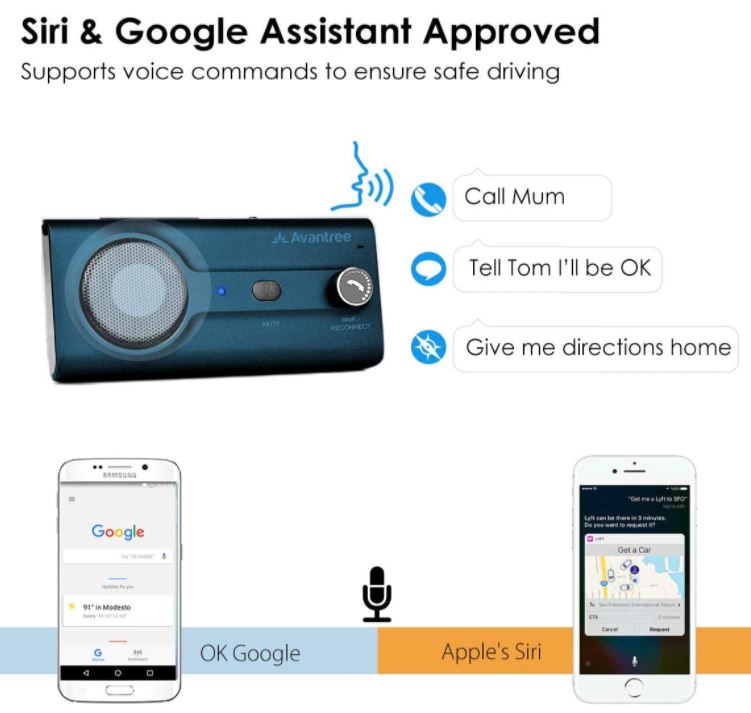 Ease of Use
The CK11's main feature is its built-in motion sensor. When you get into the car, the speakerphone will automatically turn on. When you leave the car, it will automatically turn off. This helps you to save battery life, since the unit remains off most of the time. In this mode, its battery will provide more than 25 days of standby power. When actually in use, that number drops to 22 hours, but that's more than you'll ever be driving in one shot. The battery also recharges in three hours at most, so it can also be left plugged in all the time.
Like the Freeway, the CK11 can connect to two devices simultaneously. You can easily switch between a phone and an MP3 player, or two different phones. You can't connect with smart watches, however. You also don't get the same voice control functionality as the Freeway. You can use Siri or Google Assistant, but there are no on-board commands in the CK11 itself.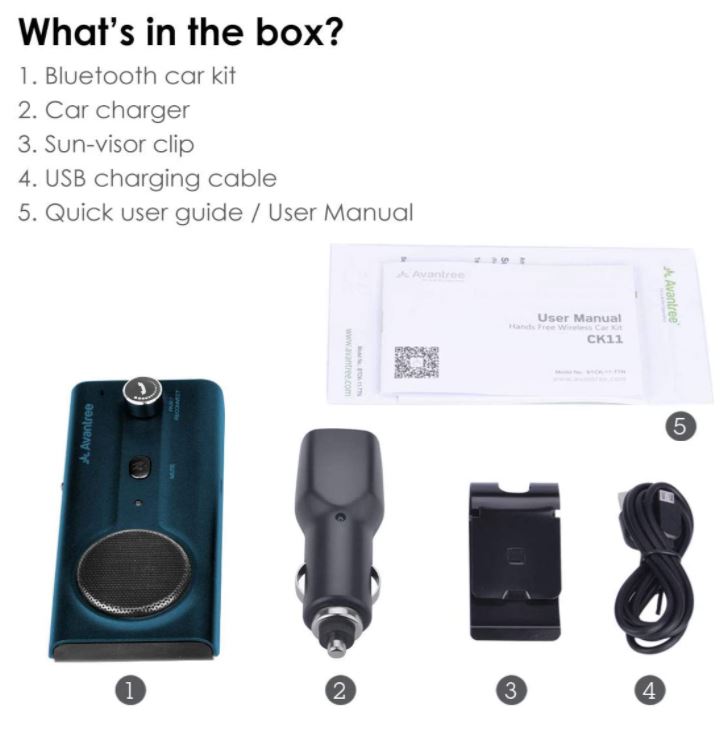 Audio Quality
The main drawback of the CK11 is the fact that its speakers are relatively small. They're only two watts, so you're not getting a ton of power. They're clearly designed with music only as a secondary consideration, and that's just fine. They're still powerful enough for listening on your own. But if you've got kids in the back seat, they'll have a hard time hearing anything. Then again, considering the low price and the quality of the overall build, we weren't disappointed.
The noise-reduction function is reasonably effective. It eliminates most background noise during conversation. However, it seems to get overly-aggressive at times. If there's a particularly loud background noise, the CK11 can sometimes cut off your speech entirely. This doesn't happen often, but it's frequent enough to be worth mentioning.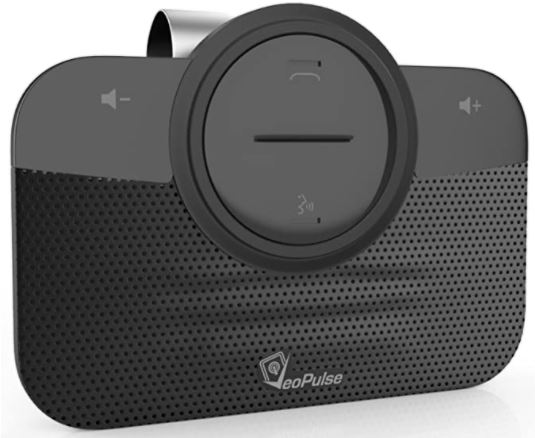 VeoPulse B-Pro 2
The VeoPulse B-Pro 2 has an entirely different look altogether from the last two. Instead of a cloth or retro vibe, VeoPulse has opted to go with an office decor look. The housing is sleek and black, with an attractive glossy finish. It's well-sized for most visors, at 6.81 inches wide, 5.94 inches high, and 1.34 thick. At just under 10 ounces, it's the heaviest speakerphone on our list, but it's still fairly lightweight. Your visor's supports should keep it firmly in the closed position.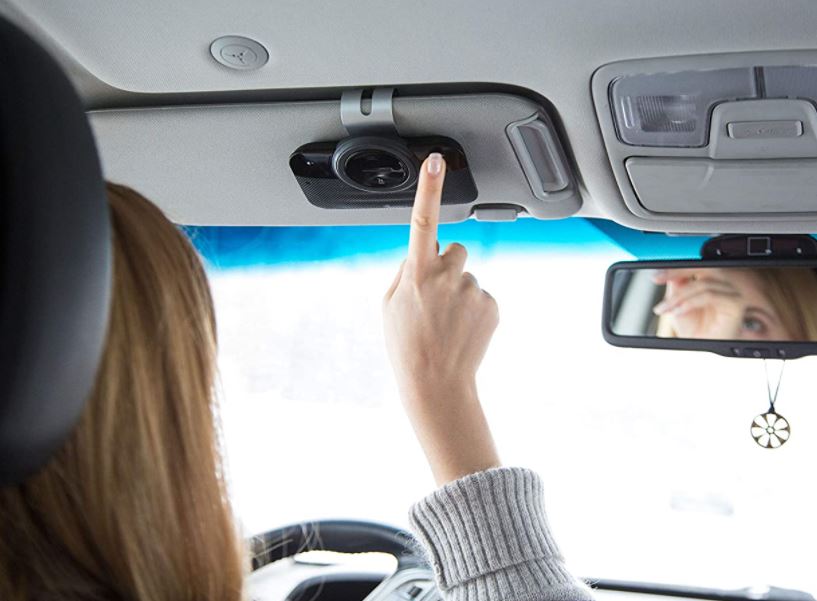 The control buttons are located on the top and center, and are large enough for easy operation while driving. You won't have to fumble around or take your eyes off the road to operate basic functions. Like the other two speakerphones we looked at, the B-Pro 2 comes with a charging cable and DC power adapter.
Ease of Use
The B-Pro 2 has a motion sensor function, much like the CK11. This allows it to save batteries, although VeoPulse doesn't provide an actual battery rating. We can confirm that it lasts for at least a week on standby, though. This should be more than enough for most people. It will also run all day, so you don't have to worry about it dying in the middle of your drive.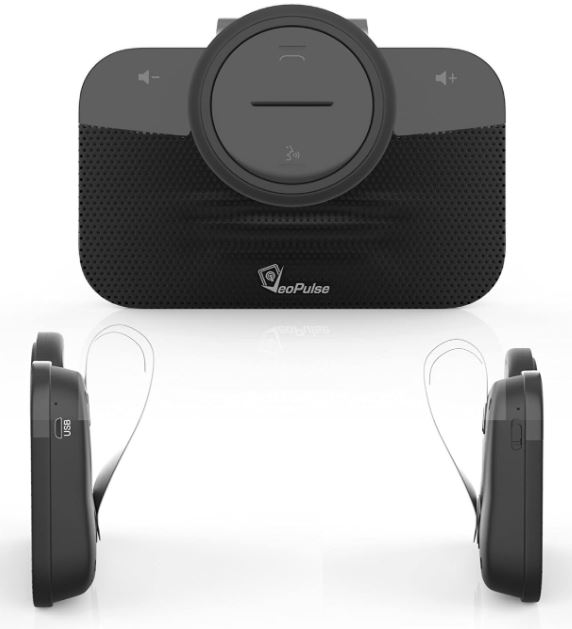 The B-Pro 2 does not have any native voice commands. However, it will accept your phone's voice commands without the need to press any button. You can keep your eyes on the road instead of messing around with your speakerphone. And, as with the other speakerphones we reviewed, you can connect two devices at the same time.
Audio Quality
The pair of three-watt speakers put the B-Pro 2 firmly in the middle of the pack in terms of volume. You can hear them clearly in both halves of the front seat, but passengers in the rear might not. They're also in the middle of the pack in terms of quality. You won't get the richness of the Freeway, but you'll get a more well-rounded audio experience than the CK11. At the end of the day, though, this is a phone and not a stereo system. If you want premium audio quality, you'll need to pay more.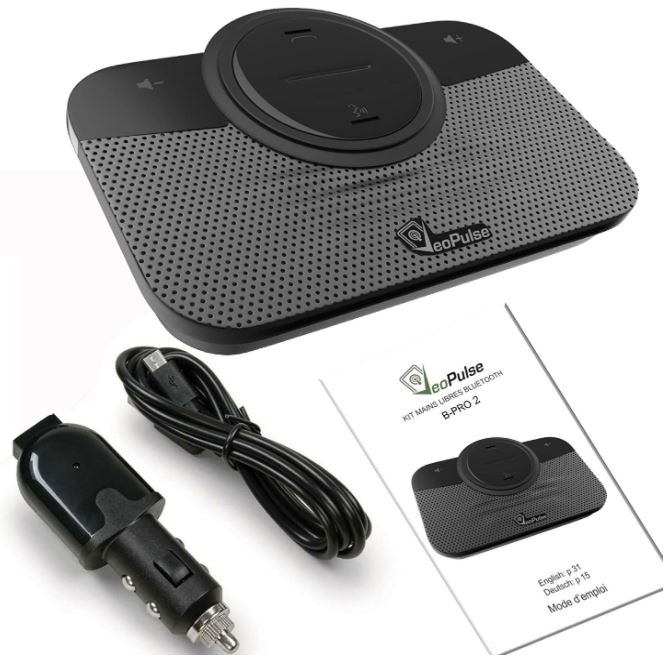 When it comes to call quality, you shouldn't have any issues. The speaker is loud enough that you can clearly hear the person on the other end of the call. The noise reduction is also reasonably effective. The other person may hear some minor road noise, but nothing that will make it hard to communicate.
Final Verdict
So, which one of these car visor speakerphones is the best of the bunch? It depends in part on what you need. If you're concerned about the best possible audio quality, the Jabra Freeway is the obvious choice. Its virtual surround sound fills the car with music as well as any iPhone dock. Not only that, but the battery life is exceptional. With 40 days' standby time, you can leave it running during a month-long vacation, and it will still keep running. So not only does it give you the best possible audio, but you also get the best battery life.
On the downside, this level of performance comes at a price. If you want a more affordable option, consider the Avantree CK11. It has all the same speakerphone functions as the Freeway, as well as a motion-sensing controller. This means it saves battery life by shutting off when you're not in the vehicle. The downside of the CK11 is its speakers, which are underpowered. They're fine for driving on your own, but they won't fill the whole car like the Freeway's will.
The VeoPulse B-Pro 2 falls squarely in the middle both in terms of quality and of price. It has three watt speakers for passable volume, and effective noise isolation. Not only that, but it has a motion-sensing controller like the CK11's. All in all, it's a nice speakerphone at the right price.