Nowadays, wireless headphones are everywhere. But this wasn't always the case. Just a few years back, Apple's Tim Cook announced that the iPhone 7 would be wireless only. And people thought he was crazy. No wired earbuds? No wired headphones? What was he thinking? The fact is that Apple had recognized that True Wireless Stereo was an industry game-changer. It allowed for high-quality audio, which had previously been impossible in a wireless connection. You could get higher bitrates, and you wouldn't be limited to a flat, mono signal. This has led to a large number of wireless headphones flooding the market. Some of them are great, some are good, and some are garbage.
Today, we're reviewing the Avantree Aria Pro. This isn't some chintzy set of earbuds. It's a full set of over-the-ear headphones. Since we've reviewed several Avantree products in the past, we thought we'd give them a shot. So, are they any good? To find out, we're going to need to take a closer look. We'll talk about the comfort and ergonomics. We'll talk about the connectivity and the battery life. And, of course, we're going to discuss the sound quality. We'll also talk about the control scheme and extra features. After evaluating all of these things, we'll be able to render a final verdict. Let's dig in!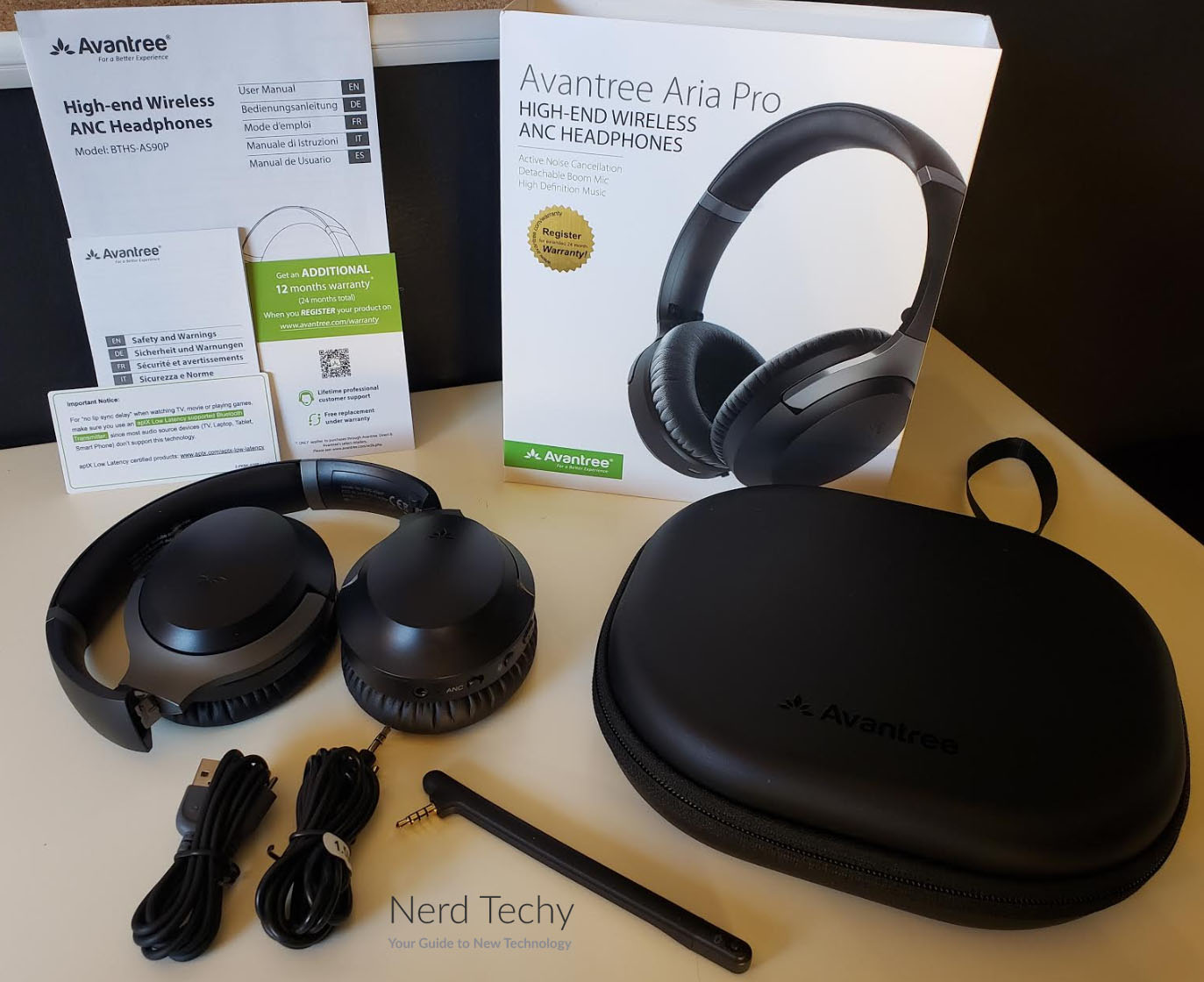 Design & Construction
The Avantree Aria Pro screams quality as soon as you take it out of the box. At 8 ounces, it's a bit heavier than some other pairs of headphones. But the weight isn't excessive, and it reassures us that we're looking at a well-engineered piece of technology. The case is constructed from black ABS plastic, which has an attractive, easy-to-clean satin finish. The ear cup brackets are a very dark grey, forming a pleasing contrast. The headband itself is adjustable, with grey rings that surround the extension points. It's also well padded, with a PU leather cushion that rests comfortably against the top of your head.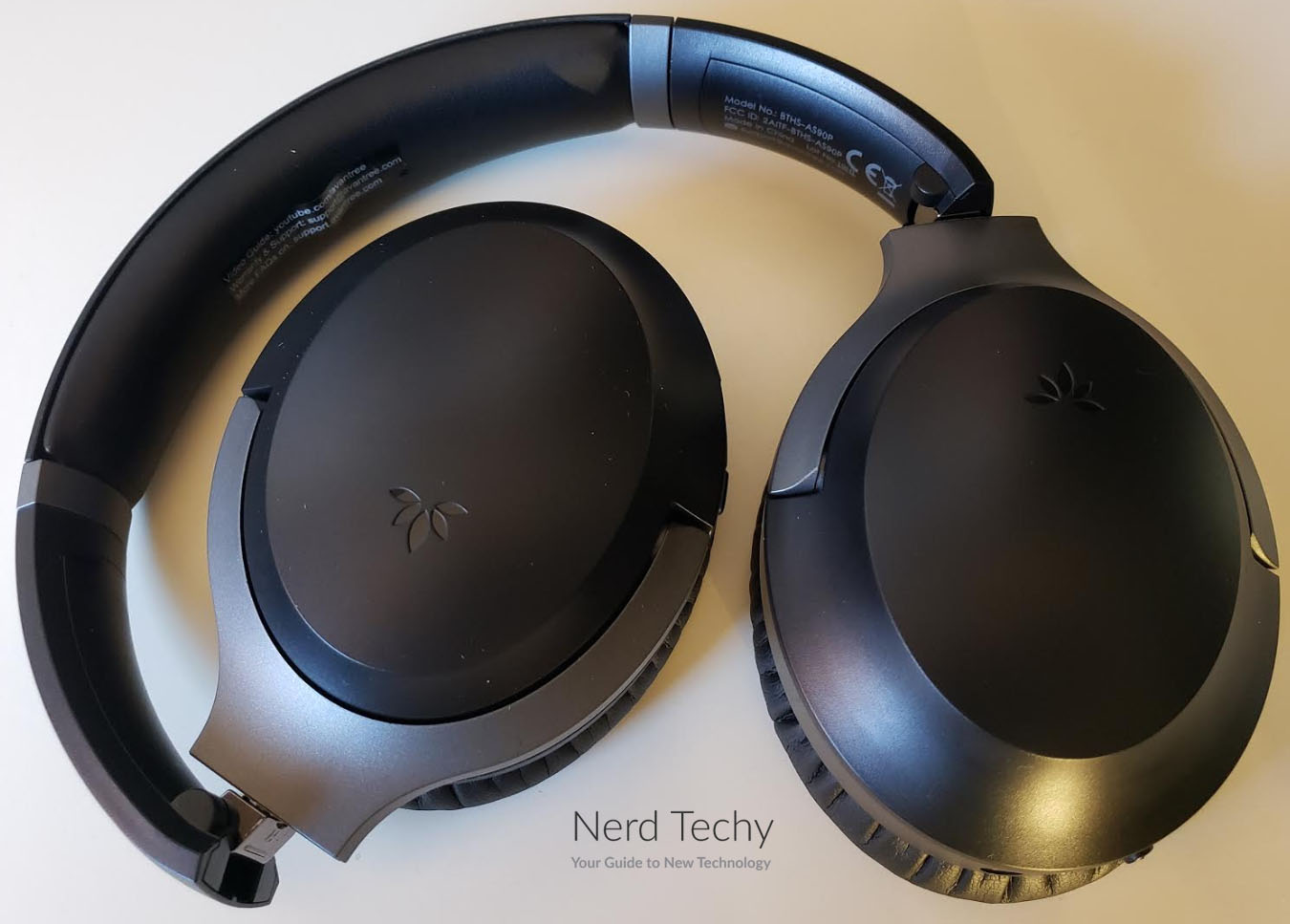 The ear cups are also adjustable. They can swivel and pivot freely, allowing them to conform to just about any size or shape of head. In addition, the ear pads are made of a soft protein leather. This type of leather is both softer and more breathable than ordinary leather. Even if you're working up a sweat, you won't have to worry about them sticking to your face. Sweat will wick away easily, leaving your cheeks and temples comfortably dry. The fit is comfortable, with a moderate clamping force. It's enough to ensure that the headphones stay on your head, but not enough to give you a headache.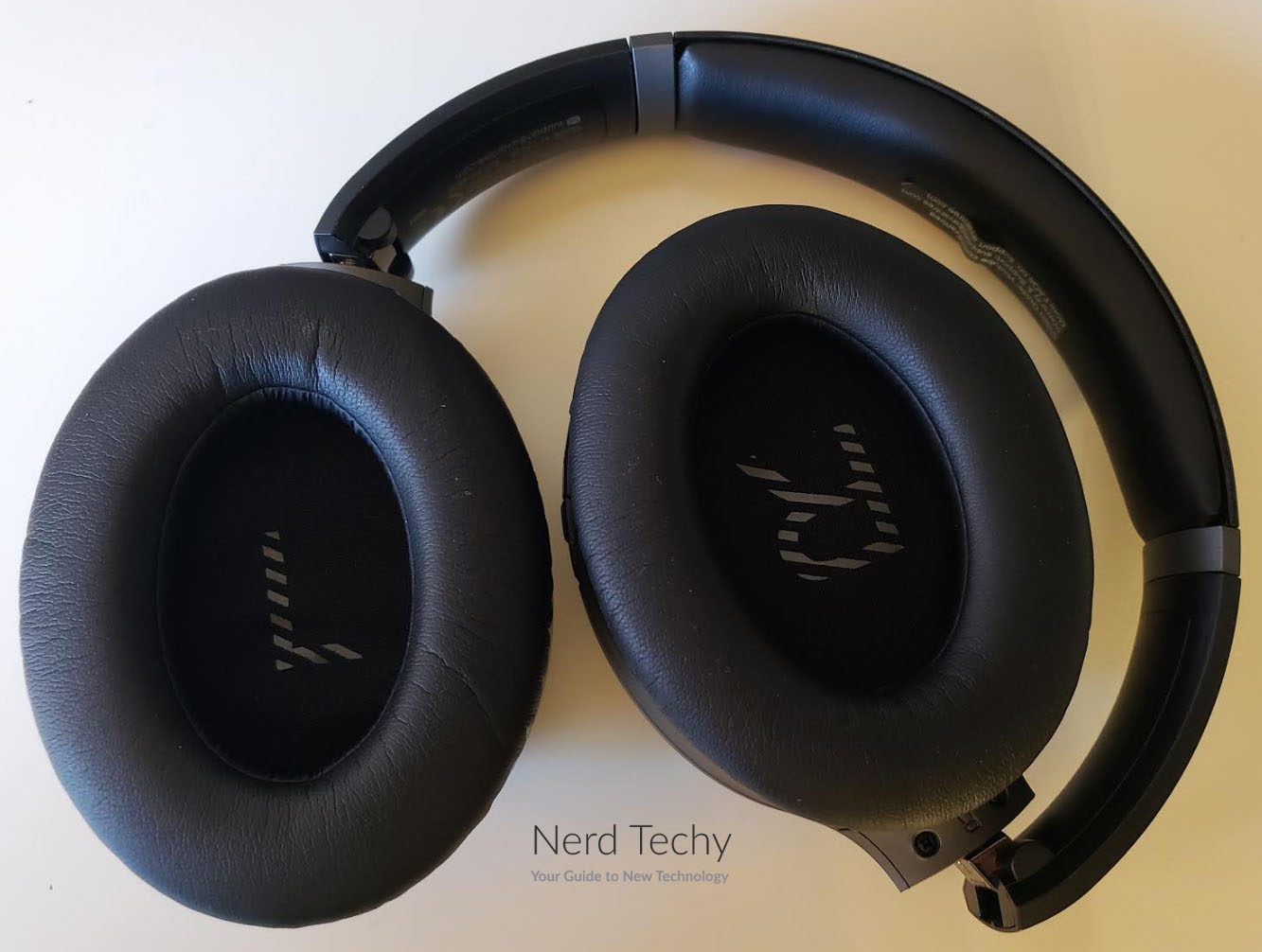 On the left ear cup, you'll find a micro USB charging port. You'll also find an answer/end call button, a mute button, and a button for toggling the active noise cancelling (ANC). The answer/end call button can also be used to activate Siri or Google Assistant. On the right ear cup, you'll find a power switch, a play/pause button, and volume buttons. For hands-free calling, you also get a removable boom mic. This plugs into the 3.5mm audio jack on the right ear cup. If you prefer not to use a boom mic, you can still take advantage of hands-free calling. There are dual microphones built into both the left and the right ear cups.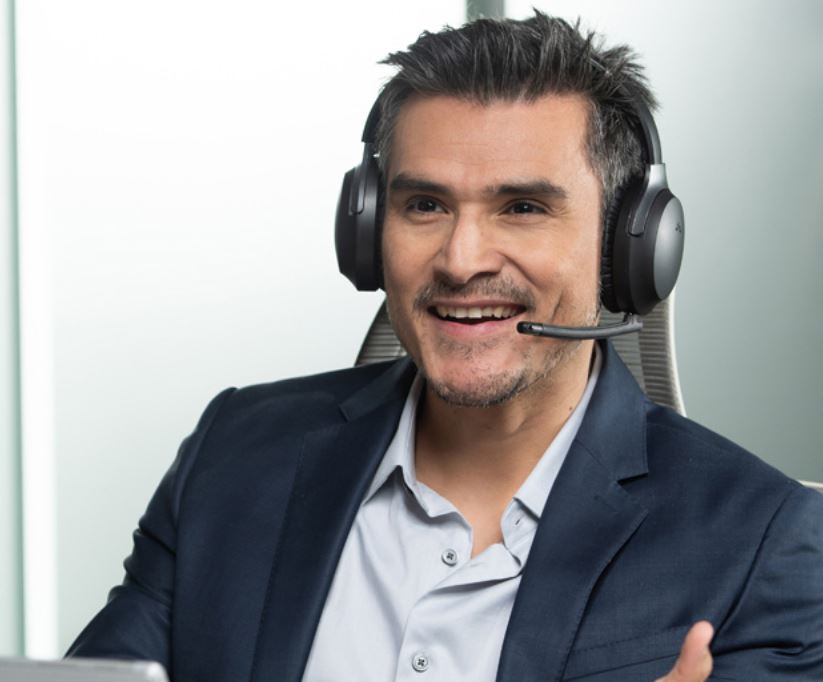 The Aria Pro is designed specifically for travel. The ear cups swivel 90 degrees, which makes the headphones totally flat. And there's a hard carrying case included in the kit for transport. The case is tough and durable, with an attractive black leather finish. It's easy to zip open and shut, and tough enough to stand up to the demands of travel. In addition to the traveling case, you also get a 3.5mm audio cable and a USB charging cable. Literally everything you need to get started is included. Everything is protected by an impressive 24-month warranty. This is twice as long as the industry standard 12-month warranty.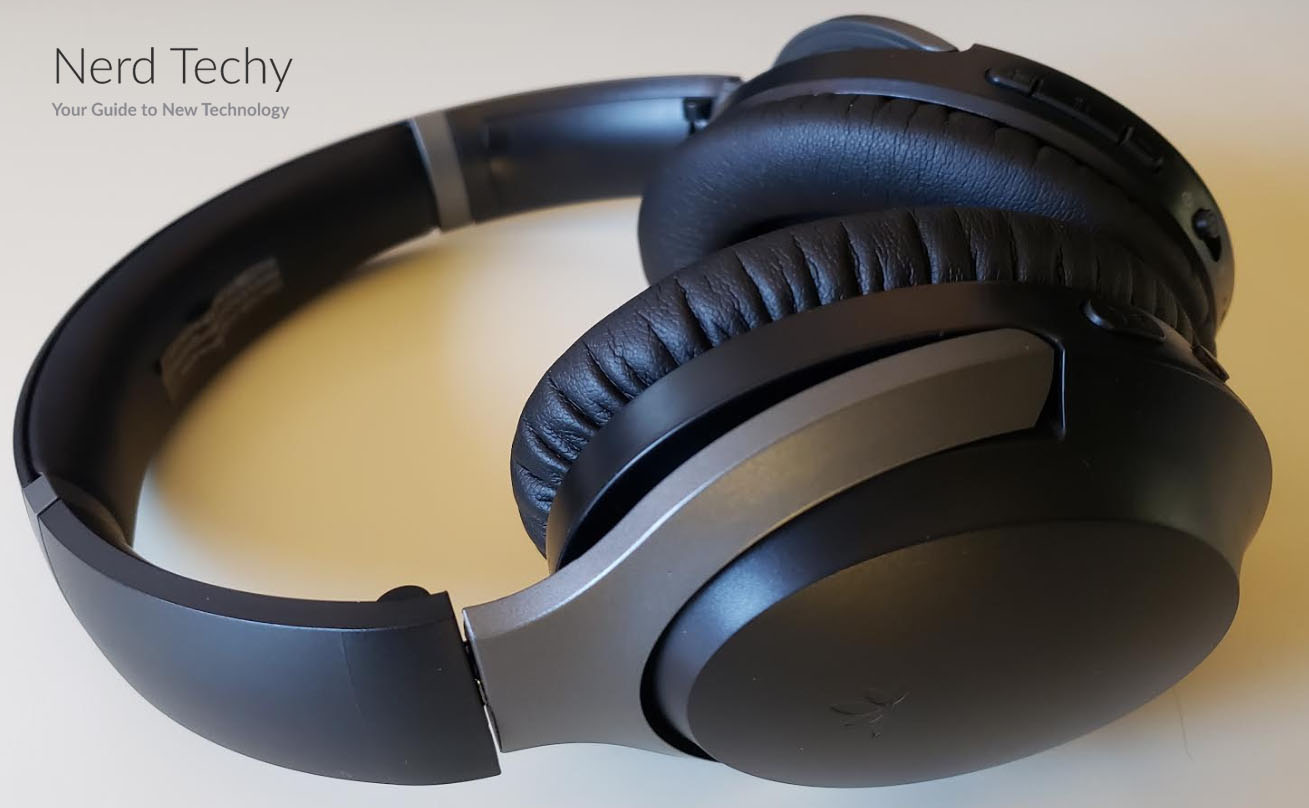 Battery & Connectivity
The Avantree Aria Pro (10% Discount Code: H2JPF6H4D) connects to your phone or MP3 player via the Bluetooth 5.0 protocol. This is the latest version of the Bluetooth protocol, and offers significant advantages over earlier versions. To begin with, you can take advantage of high-bitrate audio. As a result, you can enjoy even better audio quality than you would with older protocols. You can also take advantage of ultra low latency. With older protocols, you couldn't watch a movie because the audio would be out of sync. With Bluetooth 5.0, the audio will be very well synced.
In addition to Bluetooth, you can connect to newer Android phones using Near Field Communication (NFC). NFC is a newer connection type, which allows you to pair your headphones just by tapping them against your phone. The audio quality won't be as good as Bluetooth, so this isn't ideal for music. But if you need to place a quick, hands-free phone call, it's a convenient alternative.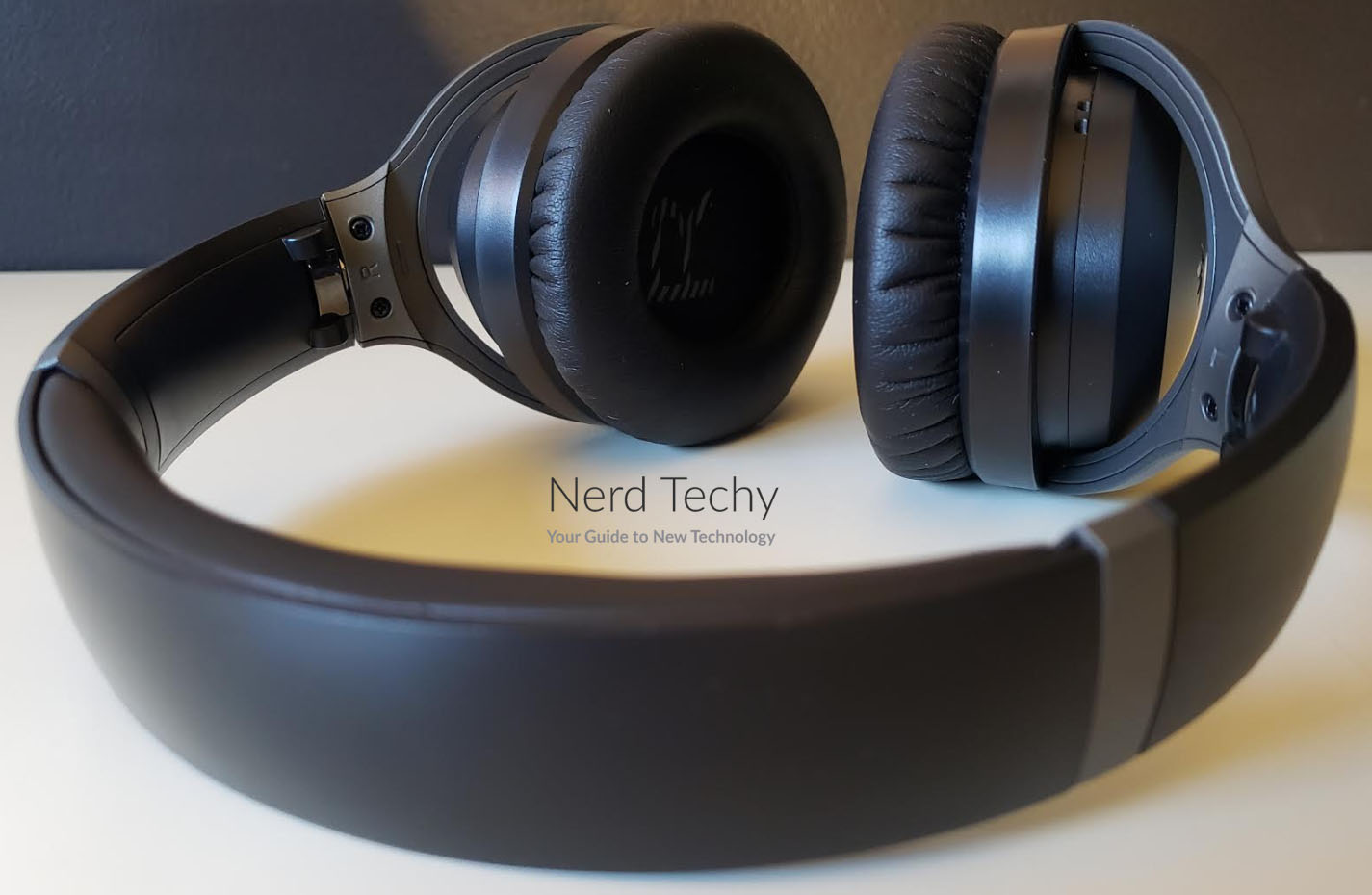 The Aria Pro can operate for 24 hours on a full charge. However, there are a couple of caveats to this. First, this measurement is based on manufacturer testing at medium volume. Your results will vary based on volume, bitrate, and even the ambient temperature. Furthermore, you'll only get 24 hours if you're not using the ANC feature. With ANC, the rating drops to 18 hours. This is fairly standard on ANC headphones. And no matter how you cut it, the battery life is still pretty good.
When your battery is dead, you can recharge it in 2 hours via micro USB. Alternatively, you can use the 3.5mm audio cable to extend your battery life with compatible phones. In effect, if you're an Android user, you don't even have to worry about battery life. That said, there are a couple of limitations to using the Aria Pro in wired mode. First off, you won't be able to use the boom mic, since it connects through the same 3.5mm jack. Secondly, the control buttons won't work. You'll have to adjust the volume and answer or end calls using your phone screen.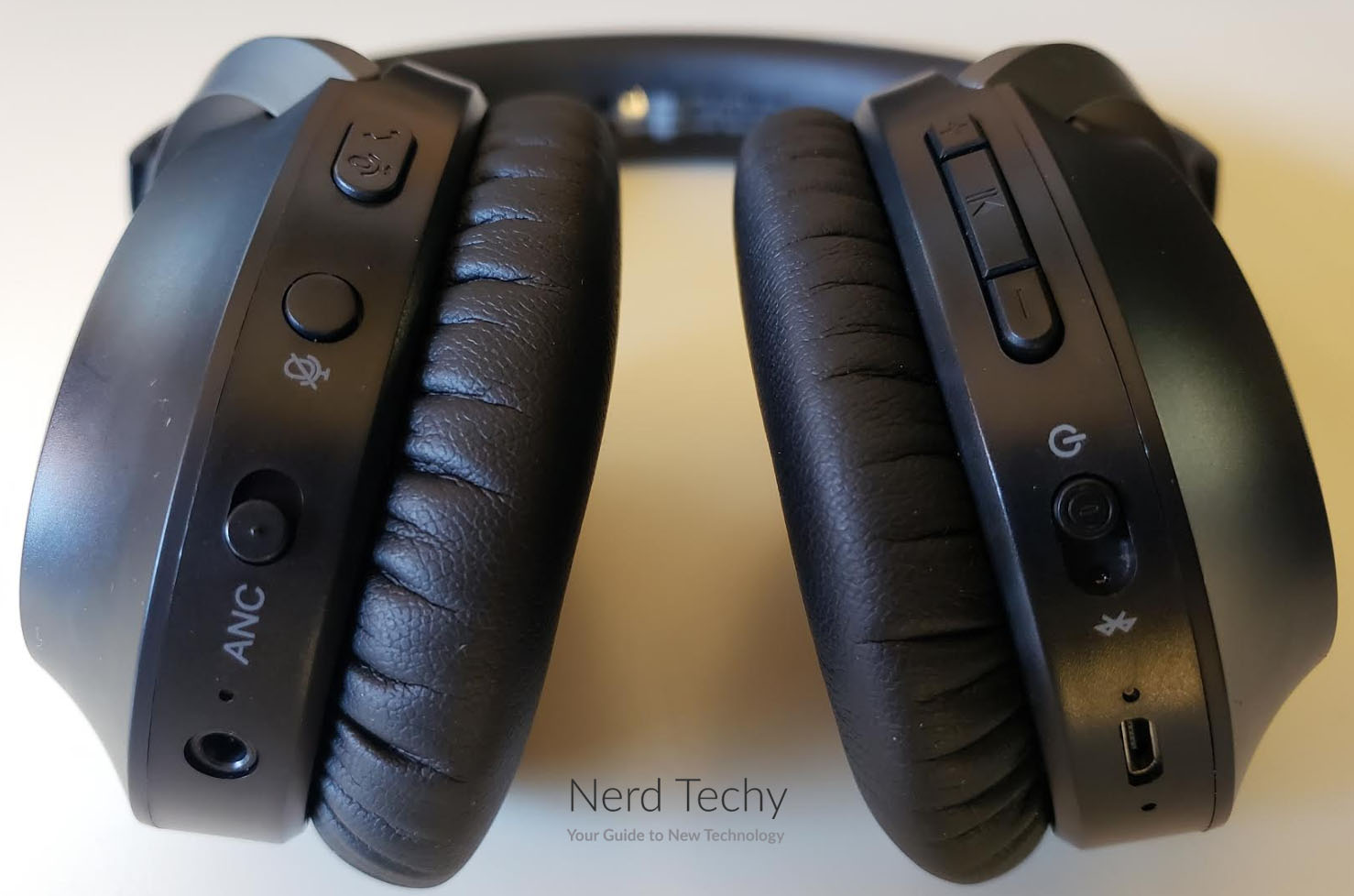 If battery life is your primary concern, that's understandable. This is particularly true if you have an iPhone and spend a lot of time on the road. In that case, consider the Avantree Aria 2020 Bluetooth ANC Headphones. They offer an impressive 48 hours of battery life, but the sound quality isn't as good as the Aria Pro.
Sound Quality
The Avantree Aria Pro comes enabled with not one but two aptX protocols. By default, it uses the aptX Low Latency protocol. This ensures a lag-free connection, and is ideal for watching movies and videos. The audio quality is also very good. Alternatively, audiophiles might prefer to use the aptX-HD protocol. This is a newer protocol that's designed specifically to maximize audio quality. If you want better than CD audio quality, you'll want to use this protocol. You can take full advantage of high-bitrate .wav files in this mode. Keep in mind, though, that it will increase your latency to about 200 milliseconds. This makes it annoying to watch movies or videos. Either way, you'll have your bases covered.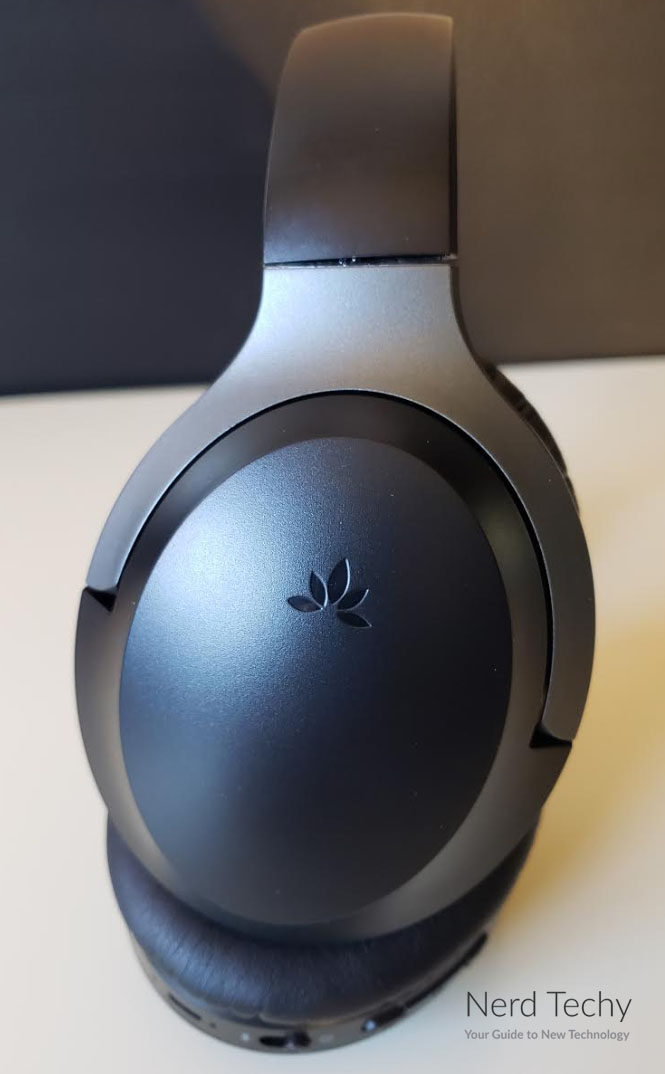 The sound quality on the Aria Pro is comparable to what you'll hear on high-end Sony or Anker headphones. The EQ is relatively flat, which means you'll hear the audio as it was originally intended. Highs, mids, and bass all come through clearly, without any interference, rattle, or muddiness. Furthermore, the sound stage is very wide. The instruments and vocals all have plenty of separation, so you can clearly distinguish them. Audiophiles will love the sound quality.
That said, if you're a big fan of dance music or hip hop, you might want some headphones with punchier bass. If that's what you want, check out our review of the Strauss & Wagner ANCBT501 ANC Wireless Headphones. The bass is significantly more powerful, but the mids and highs do suffer a bit.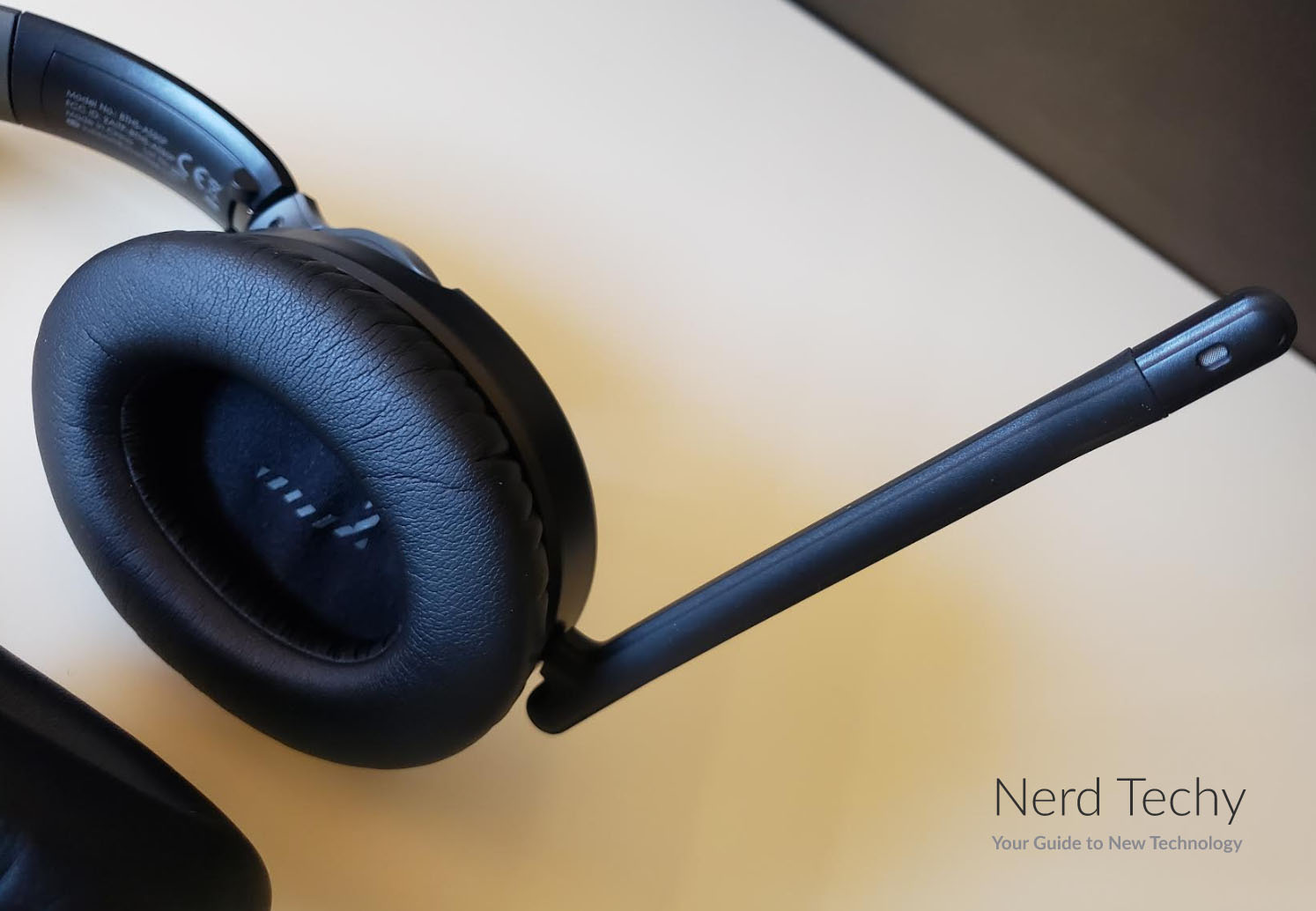 The one thing that can interfere with the Aria Pro's audio quality is if you're using the ANC function. In this case, you might find that some frequencies, particularly the low ones, experience some interference. Most people won't notice this, but it might irritate some audiophiles. This is the nature of a mid-priced set of ANC headphones. To get superior ANC sound quality, you'll need to spend a bit more. To find a good pair, read our Mu6 Space 2 Hybrid ANC Headphones review. They offer nearly studio quality sound, but you'll pay a bit more for the experience.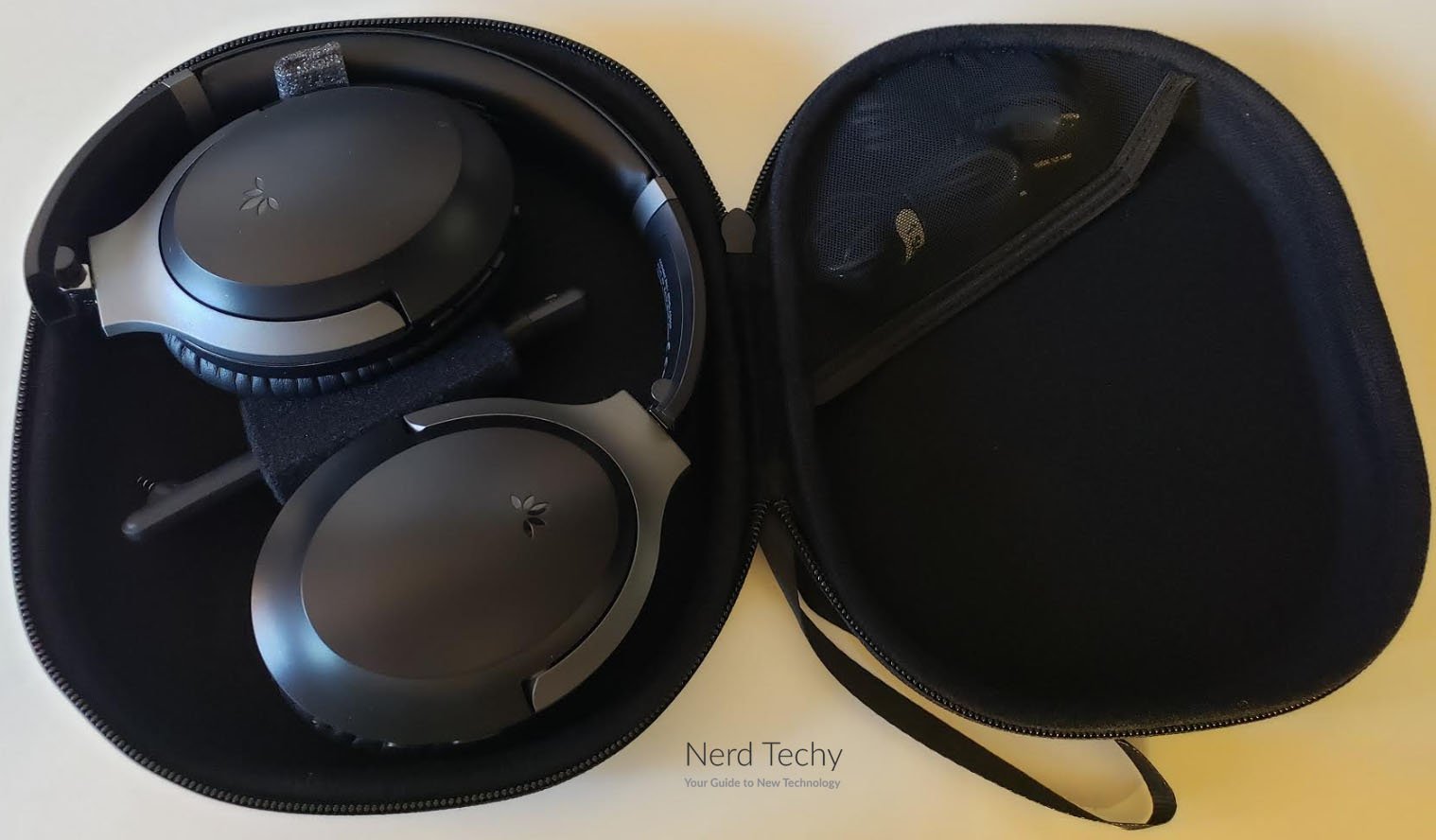 Final Verdict
So, how does the Avantree Aria Pro compare to other headphones in its class? In general, it stacks up very well. The comfort factor is its main attraction. The ear cups are exceptionally soft, and are also breathable. Combine this with a moderate clamping force and easy adjustments, and they're more comfortable than most. The travel case is also very well-engineered.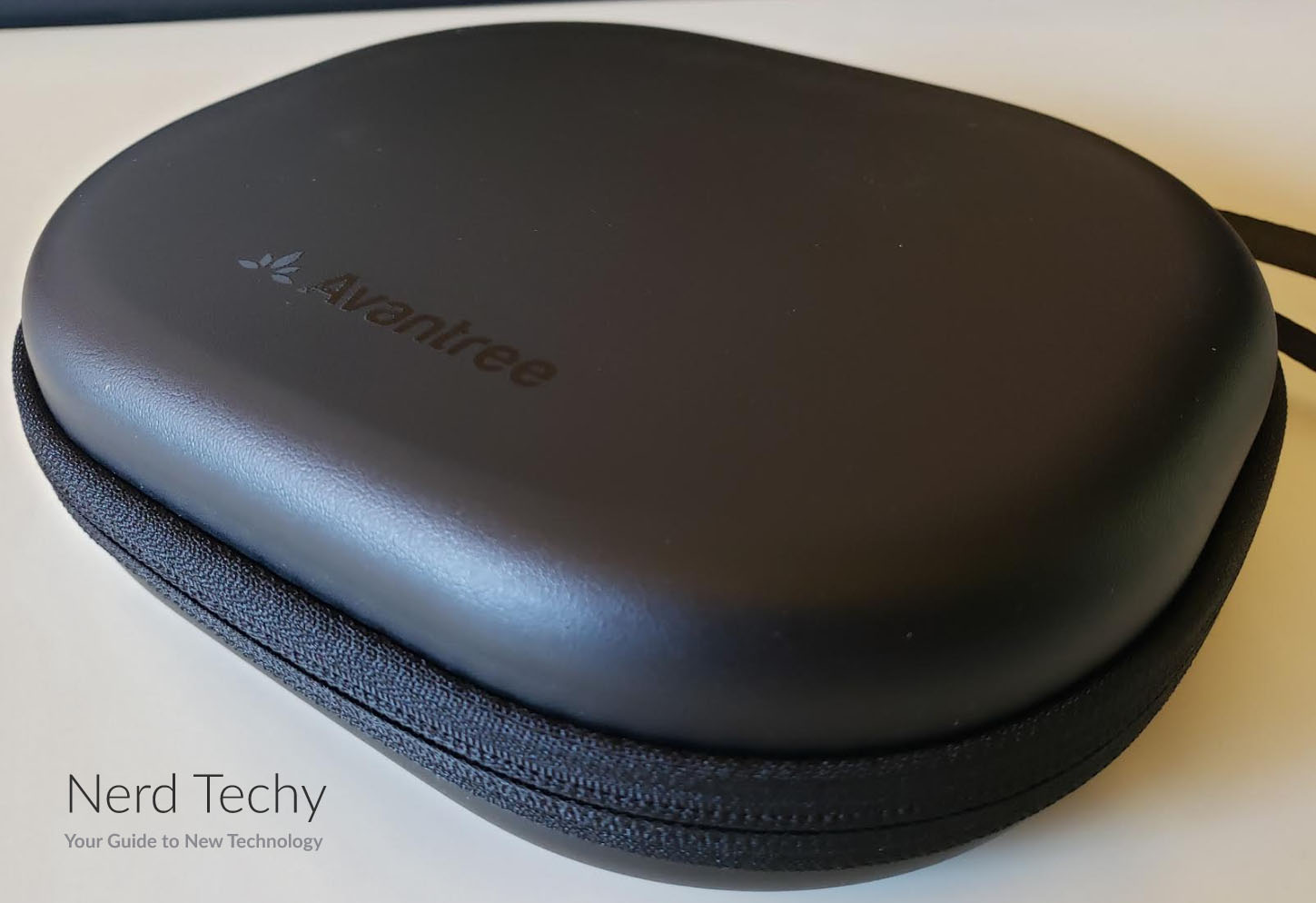 In addition, you get some of the best audio quality in this price tier. The balanced EQ sounds very good, and you can always adjust the EQ on your device. The battery life is good, but not excellent. Still, it's good enough to get the job done for most situations. Finally, the choice of two audio protocols is a nice touch. Whether you want the best quality or the lowest latency, the Aria Pro has got you covered.