AirSoap
Pros
Removes smaller particles than any HEPA filter.
Also removes bacteria and viruses.
Easy to clean.
Simple, single-button operation.
Cons
Does not remove odors.
Does not ship until June 25th.
A bit expensive for some.
If you're looking for better indoor air quality, you've got plenty of options. You could use an air purifier, an ozone machine, or an ionizer. All of these devices have their own benefits and drawbacks. An ozone machine, for example, will destroy odors, but will not remove particulates. A HEPA filter, meanwhile, will remove particulates, but not odors. But what if you're concerned about airborne viruses and bacteria? In today's world, that's not a hypothetical concern. Now more than ever, you need to make sure that your indoor air is clean. One way to do that is to use an air sanitizer.
Wait, did we just say "air sanitizer"? Yes. Yes we did. We're about to review the AirSoap, a powerful, innovative device that kills 99.99 percent of airborne viruses and bacteria. This is an impressive claim, equivalent to the performance you'll get from hospital-grade UV air cleaners. And it comes at a much more reasonable price than these industrial machines. But how easy is it to use? And how durable is it? The AirSoap doesn't ship until June 25th, but it's not too early to place a pre-order. Let's take a closer look at this machine, and see if it's worth your hard-earned cash.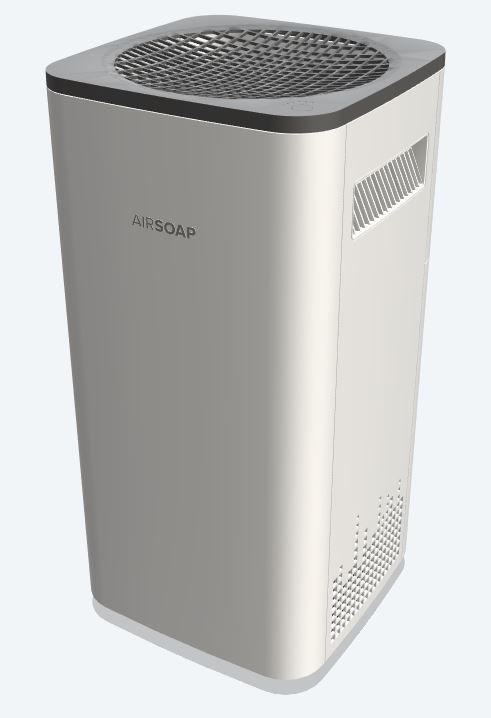 Overall Design
The AirSoap is about the size and shape of a standard mid-sized air purifier. It measures 21.06 inches tall, 10.25 inches wide, and 10.6 inches deep. The air intakes are located on the sides and back, and have a unique, bar graph-style design. The bulk of the construction is durable ABS plastic, with a matte white finish that's easy to keep clean. On both sides, you'll find handles that make the AirSoap easy to carry around. Not that you should need to do that very often, but it's nice to have the option when it's necessary.
On the back of the unit, there's a removable panel that allows you to access the AirSoap's filtration system. Rather than using a traditional HEPA filter, the AirSoap uses filterless graphene plates to collect your contaminants. These plates can be removed and washed easily. The filtration system itself works by creating an electrified plasma field. This field kills bacteria and viruses. It also ionizes dead germs and particles. Because these particles are ionized, they cling to the graphene plates. In this sense, the AirSoap works similarly to a traditional ionizer. It's also very energy efficient, so you won't have to waste a lot of power to keep your air clean.
The bottom of the unit features a series of rubber feet. These help elevate it above the ground, so it won't overheat even when it's running at high speeds. They also ensure that it won't slide around if it's sitting on a smooth surface. If you're concerned about putting an electronic device on your deep pile carpet, the feet make that a non-issue.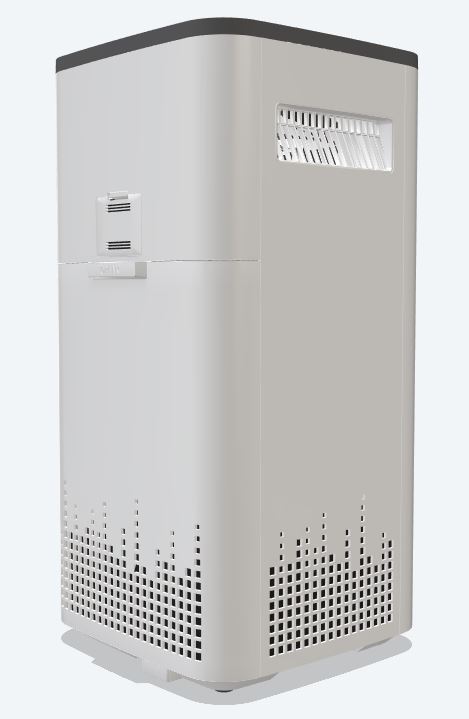 The top of the AirSoap has a grid-style outflow vent. This ensures that clean air gets evenly distributed throughout your room. To get the best performance, you're obviously going to want to position the AirSoap in an open area. This ensures that the inflow vents will remain unobstructed. It also ensures that the outflow vent will provide you with the best possible air distribution. The top panel is black, which creates a nice contrast to the rest of the unit. In addition, there's a single control button that makes operation easy. Next to the button, there are a series of LED lights that let you know the unit's status. There are four lights that indicate the operating mode: auto, low, medium, or high. The last button lets you know when the unit is locked.
The AirSoap does a great job of sanitizing your air. But many viruses and bacteria can also be spread through surface contact. To have the most sanitary possible space, you'll also want to sanitize your electronic devices. In that case, consider a UV smartphone sanitizer. That will ensure that you're not spreading and catching germs from your phone.
Everyday Use
The AirSoap is very easy to operate. It has a single button that allows you to cycle through four different modes. In Auto mode, the fan speed will adjust based on your air quality. If your air quality is bad, the fan will speed up. If your air quality is good, it will slow down. This provides a good balance between energy efficiency and effectiveness. If you prefer manual control, you can set the fan speed to low, medium, or high. Holding down the button for 5 seconds will activate the AirSoap's child lock. This will prevent any controls from being activated by mistake, or by an inquisitive child. To reactivate the controls, simply hold the lock button again for 5 seconds.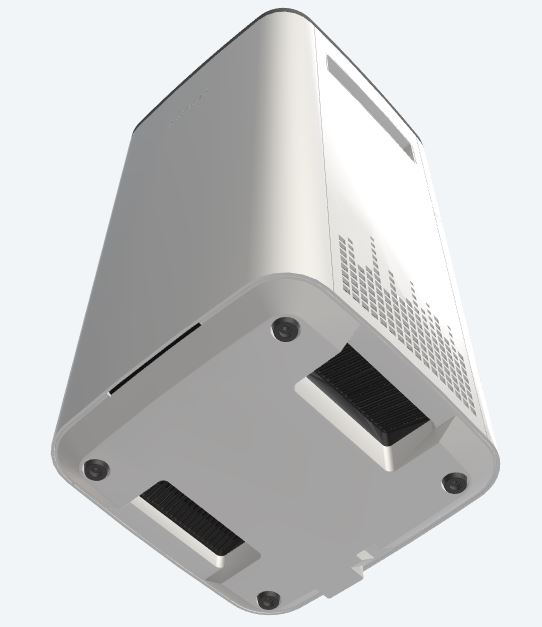 The AirSoap can treat up to 600 square feet of space, assuming a standard 8-foot ceiling height. This is sufficient to cover a few rooms. Ideally, you'll want to run it in high-use rooms like your living room. But you can also move it around your house as needed if you so desire. When in operation, the noise level varies based on speed. The maximum speed produces 58dB of noise. That's slightly less than normal indoor speech. On the lowest speed, the AirSoap produces 33dB of sound, slightly louder than a whisper. Use it while you're sleeping, and it will produce a comforting, quiet background whir.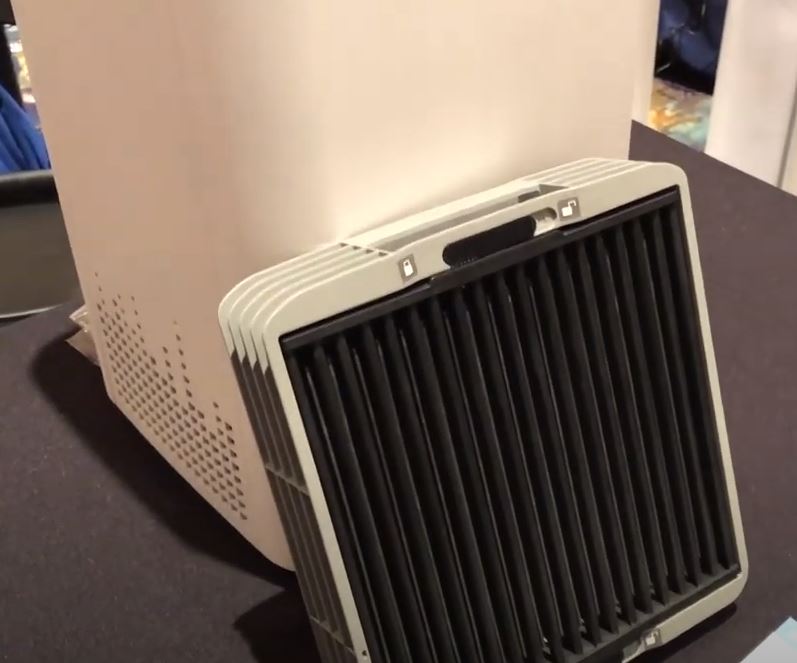 The AirSoap is exceptionally powerful, but it's very safe to use. It produces only 10 parts per billion of ozone. This makes it much safer than some other, traditional ionizers, which can produce large quantities of ozone. In addition, the graphene plates are very efficient. Because they're washable, you don't need to worry about frequent replacements. In other words, you're going to save money over the long term. The initial price tag is higher than most HEPA filters. But with all the savings from filters, you'll come out ahead after awhile. Cleaning the graphene plates is easy. Simply remove them from the back of the unit and wipe them down with a damp paper towel. Throw the paper towel in the trash, dry off the plates, and re-insert them. It's pretty simple.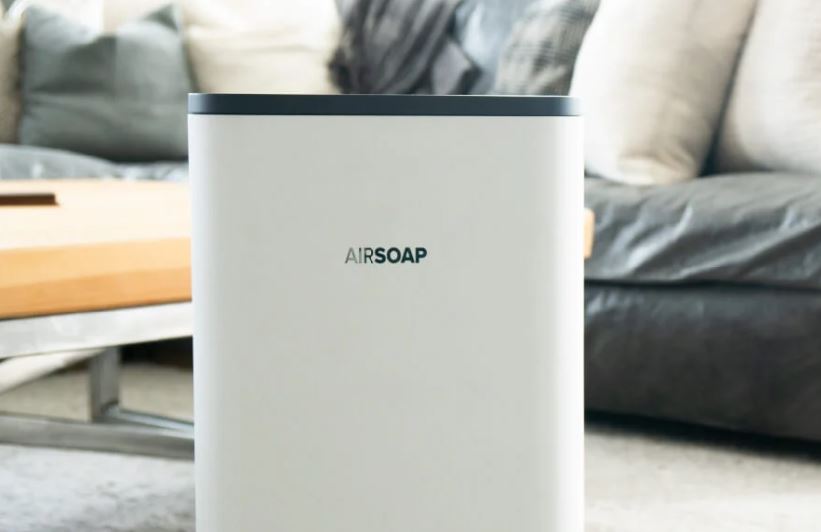 We already talked about sanitizing your smartphone. But what about your other electronic devices, like your laptop or keyboard? If you want a germ-free house, it's important to keep them clean as well. In that case, you might want to consider a UV light wand. You can even use them to sanitize other high-contact surfaces, such as pillows.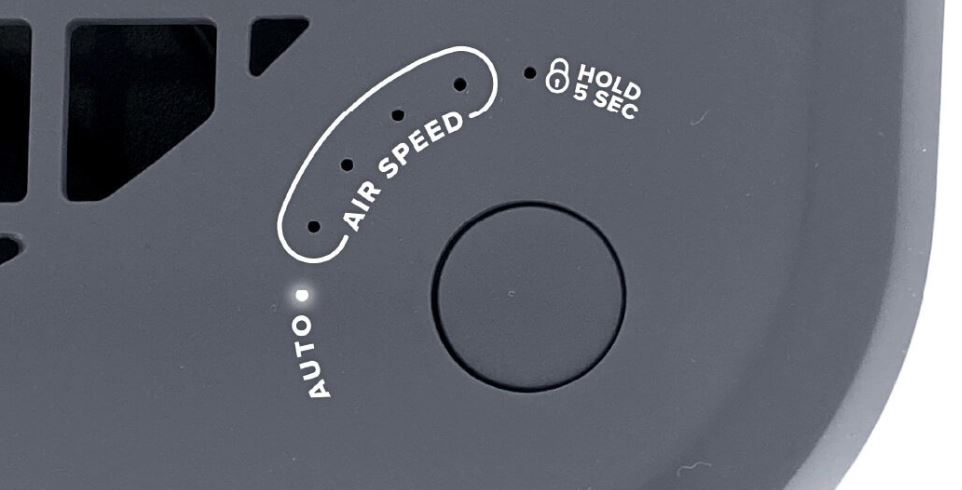 What Does the AirSoap Remove?
The beauty of the AirSoap is that it doesn't just eliminate particulates. It also kills bacteria and viruses. This is a significant benefit when compared to most HEPA filters. A HEPA filter will remove bacteria and some viruses, but it won't kill them. This can turn your HEPA filter into a bacteria colony. And if a HEPA filter gets wet, it can turn into a colony for mold from the spores it catches. When this goes badly, it can create dirty air. That's exactly the opposite of what you're trying to achieve. Because the AirSoap kills viruses and bacteria before it catches them, you won't get sick from cleaning the graphene plates.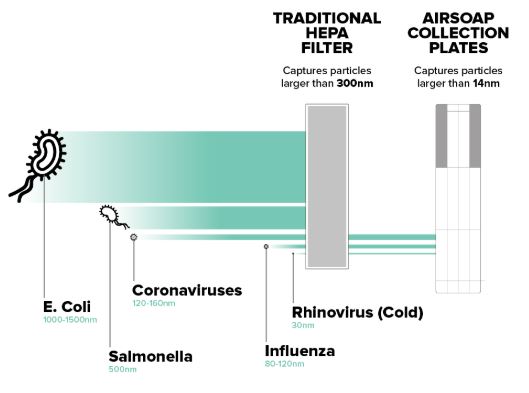 Most HEPA filters will trap particles as small as 300nm. This is sufficient for catching most bacteria. But some viruses, such as the influenza virus and SARS-CoV-2 are smaller than that. In other words, the HEPA filter isn't going to do much to remove them from your air. The AirSoap has been tested, and will remove particles as small as 14nm. This includes even the smallest viruses. Full disclosure: SARS-CoV-2 – the virus that causes COVID-19 – is not yet available for this kind of testing. But the AirSoap has been tested with Influenza A-H3N2, an even smaller virus. In those tests, it killed over 99.99 percent of the virus.
In addition to bacteria and viruses, the AirSoap will also remove other particles like pollen and mold spores. In this regard, it works like a traditional ionizer. It imparts an electrical charge to these particles, and they end up clinging to the graphene plates. Provided you clean the plates regularly, you'll enjoy clean air for many years. Finally, the AirSoap will remove 99 percent of VOCs. Chemicals like formaldehyde will break down and get trapped on the plates. About the only thing the AirSoap won't remove is some unpleasant odors. So pet urine and food smells might remain an issue.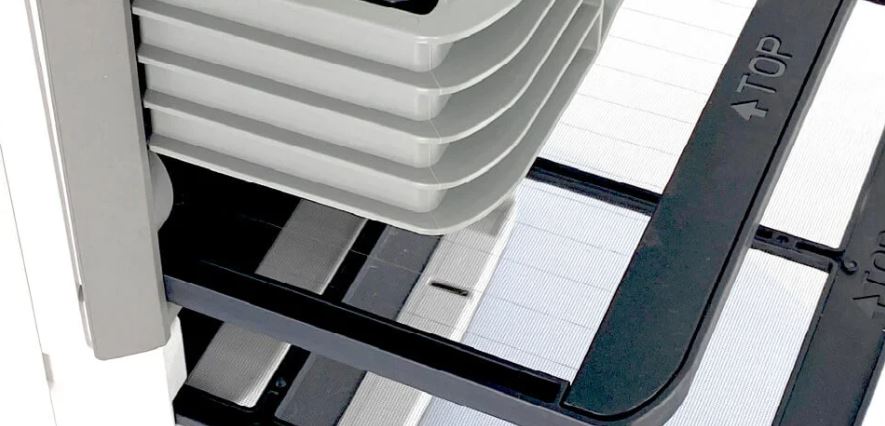 If you aren't concerned about viruses and bacteria, you might prefer a simple HEPA filter. Some HEPA filters, those with activated carbon filters, will even absorb odors. If that's what you need, check out our review of the Elechomes A3B Pro Series Air Purifier. It's a mid-sized air purifier that can treat up to 210 square feet.
Final Verdict
So, is the AirSoap worth your money? As with most electronics, it depends on what you need. If you want to clean viruses and bacteria out of the air, it's tough to beat. Unless you want to spend a small fortune on a hospital-grade air purifier, it should be right in your wheelhouse. It can purify up to 600 square feet, and considering the power, it's relatively compact. It's also easy on the eyes. Since it's going to sit out in the middle of your floor, it's going to look just fine.
When it comes to performance, the AirSoap does very well. To be fair, it's not going to remove some unpleasant odors. But in terms of things that actually endanger your health, it does very well. Not only does it kill germs, it also removes mold spores, pollen, and most VOCs. In addition, operation is very easy. Many air purifiers have complex control panels that look like something out of Star Trek. The AirSoap is operated by a single button. Keep those graphene plates clean, and the rest of operation is as easy as it gets.