Human hands aren't clean. Over the course of an ordinary day, our hands shed skin, produce natural oils, and interact with hundreds of dirty surfaces. That's why regular contact with human hands produces grime. You can find visible layers of that filth on essentially any surface that has repeated touch, like computer mice.
And with the amount of time we interact with our smartphones, those devices tend to end up being a petri-dish of potentially infectious bacteria. But it can be tricky to clean your phone. Using harsh chemicals is almost always a bad idea. Even something as seemingly mild as isopropyl alcohol has the potential to permanently damage your phone. It would only take a tiny quantity to seep into the bezel to cause visible damage, and its residue can wear down plastics with only a few applications.
Where does that leave you? Most manufacturers will tell you to use a lightly dampened cloth to clean your phone. To their credit, doing some cleaning is certainly better than doing none. But a lightly dampened cloth isn't reliable for removing bacteria. If you were cleaning a plate that had come into contact with raw meat, would you accept gently washing it with a lightly dampened cloth?
And that's where UV sanitizers come in. Smartphone UV sanitizers are made to help kill bacteria on your phone, even in the smallest creases of the device. They provide a level of cleanliness that you otherwise can't get. They save you time on cleaning while remaining nearly as effective as dunking your phone in bleach, and what more could you ask?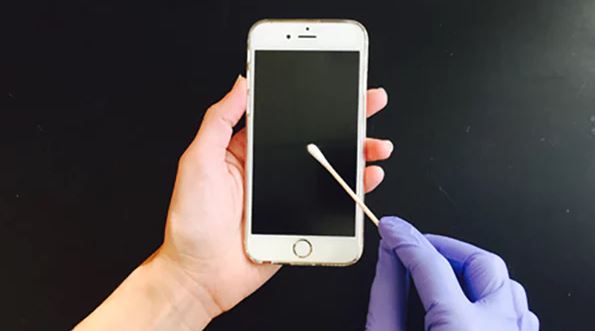 Choosing a Smartphone UV Sanitizer
Fortunately, picking the right smartphone sanitizer is fairly simple. You won't have to learn anything about specific wavelengths of light, or types of bacteria that you need to watch out for. But one thing you do want to consider is how many things you actually want to sanitize. If you're serious about cleanliness, then you'll probably want to end up using a UV sanitizer on your keys, wallet, credit cards, and similar surfaces.
Enclosed vs. Wand Design
That means for most people, the biggest concern will be the body of their smartphone sanitizer. Most sanitizers that are specifically designed for smartphones will make use of a large enclosure, which can be sealed with your phone inside. This design allows you to set-and-forget your phone inside the sanitizer as it's cleaned. Obviously, that requires little time or effort on your part. And most of those enclosures are built large enough to handle big smartphones, and even smaller tablets.
But enclosure designs can only clean what will fit inside of them. If you're willing to hold the sanitizer in your hand and apply ultraviolet light over an area manually, it means you'll be able to apply the sanitizer on a much wider range of objects. On the other hand, you'll also end up spending more time directly involved in the cleaning process.
The design you choose is also a matter of safety because UV smartphone sanitizers have the potential to be dangerous. They work by bombarding your devices with ultraviolet radiation, which wipes out most common forms of microbial life. However, the UV-C radiation used in these devices is believed to cause skin cancer, which is why many people will prefer the safety of sealed smartphone sanitizers. And people who select wand-type sterilizers should remember to look for safety features that help reduce or prevent accidental exposure.
Cleaning Time
Unfortunately, it's not easy to determine the amount of time you need to use UV light for sanitation purposes. A huge number of factors contribute to how long it takes for UV light to be effective at killing off various strains of bacteria. Different bacteria have varied levels of resistance to varied ranges of UV light. The timers employed by UV sanitizer manufacturers are what could be called best guesses, aimed at killing the most common forms of bacteria.
In other words, you don't need to obsess over how long one device sanitizes compared to another. Some manufacturers use a five-minute cleaning cycle, while others run three times as long. But with any reasonably strong UV lamp, about five or ten minutes is enough to wipe out nearly all common bacteria. And if you find yourself looking for a little extra cleaning, there's nothing stopping you from running your smartphone through a UV cleaning cycle twice.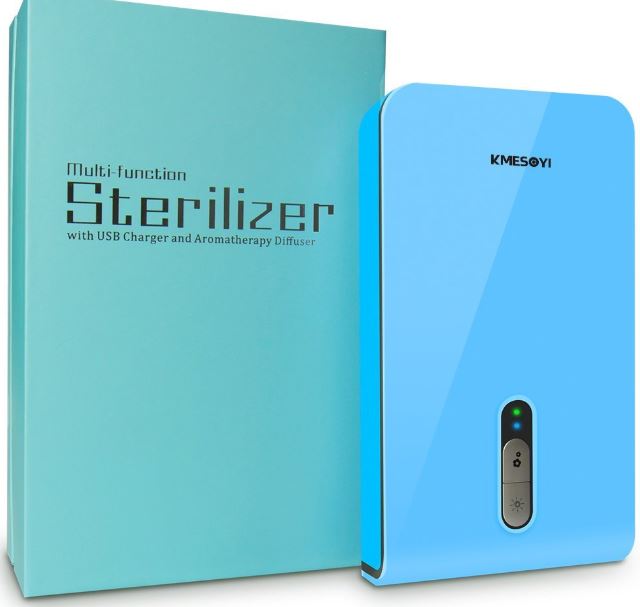 Kmesoyi UV Smartphone Sanitizer
Being clean is good, but being clean and smelling fresh is better. The Kmesoyi sanitizer has the strength to destroy 99.9% of bacteria, and the smart design to help freshen your phone after each cleaning. Using an enclosed design, the Kmesoyi UV Smartphone Sanitizer allows you to simultaneously kill bacteria on every side of your possessions. And it just takes six minutes of exposure for this sanitizer to offer an effective cleansing.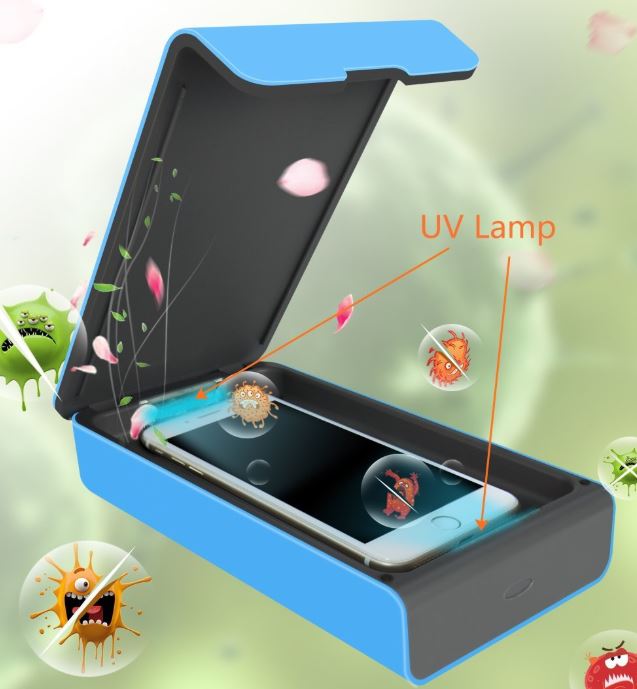 Build & Design
The physical build of this sanitizer is essentially a small rectangular box. The sterilizer's inner dimensions are 7 x 4 x 0.78-inches, making it compatible with even lengthy 7-inch smartphones. That includes some of the largest phones on the market, like the notoriously gigantic iPhone 7s Plus. Those inner dimensions are also large enough to handle smaller tablets, Bluetooth headsets, toothbrushes, keys, toys, and similarly small objects.
Kmesoyi's design provides excellent ease of use. Just place the phone in the charger and press the start button. It'll shut off automatically after six minutes of use, after which point you can unplug the cleanser. There's an on/off switch you can use instead of unplugging the device, which might be useful depending on how often you end up sanitizing your phone.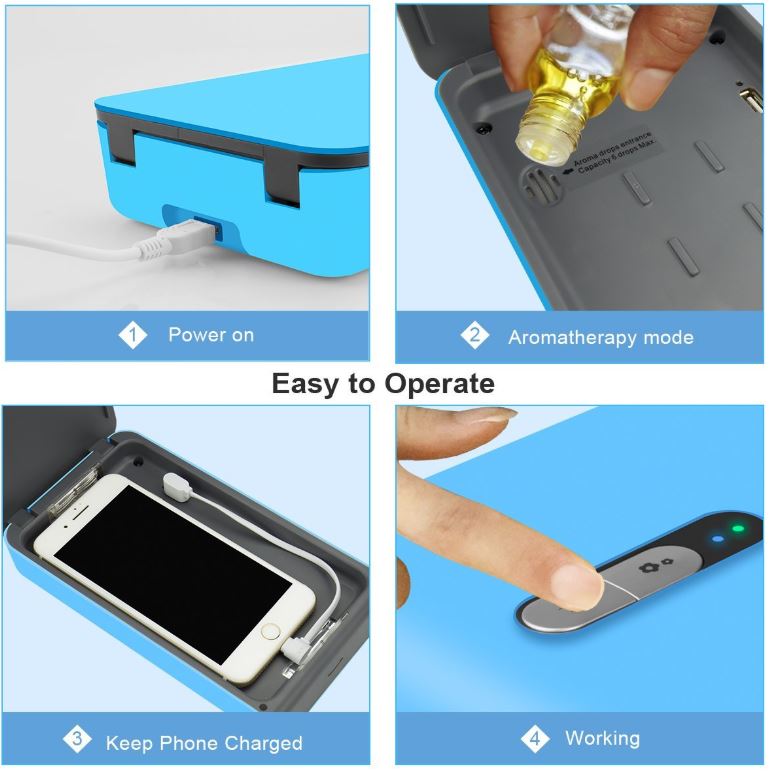 Other Considerations
When you put your phone under a light for cleaning, even if you know it's working, it can be hard to appreciate. After all, your phone won't visible look cleaner because you're killing bacteria that's totally invisible to the naked human eye. Interestingly, the Kmesoyi sanitizer allows you to adding a couple of drops of aromatic oil to small ventilation holes the underside of the device. You can select amongst your favorite scents, and change on a whim, allowing you to give your phone a fresh scent that lets you know it's clean.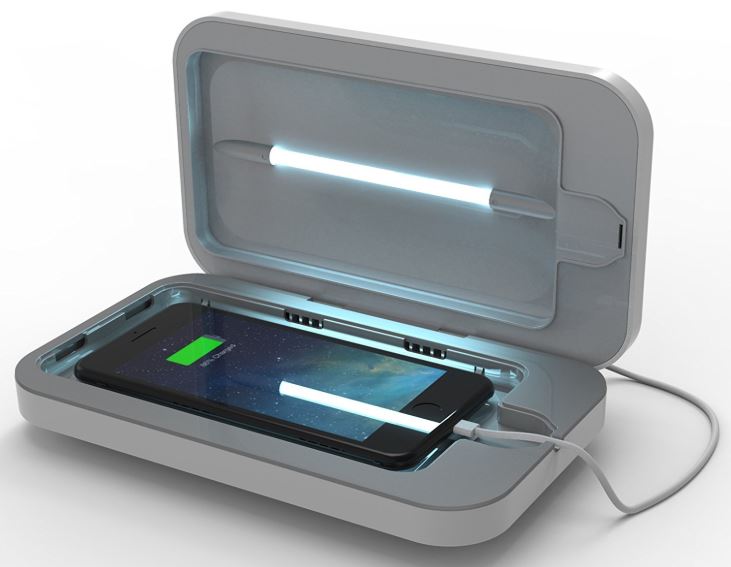 PhoneSoap 3
If you're going to sanitizer your smartphone, you want to do it as part of a regular routine. There's little point in sanitizing your phone on only a monthly basis. What better time to clean your phone than when it's charging at night? The PhoneSoap 3 uses a two-in-one design that charges as it disinfects. Like any decent UV sanitizer, the PhoneSoap 3 is equipped to kill 99.99% of bacteria. And like the Kmesoyi sanitizer, it uses a patented design that allows you to sanitize all sides of your stuff with one cleaning.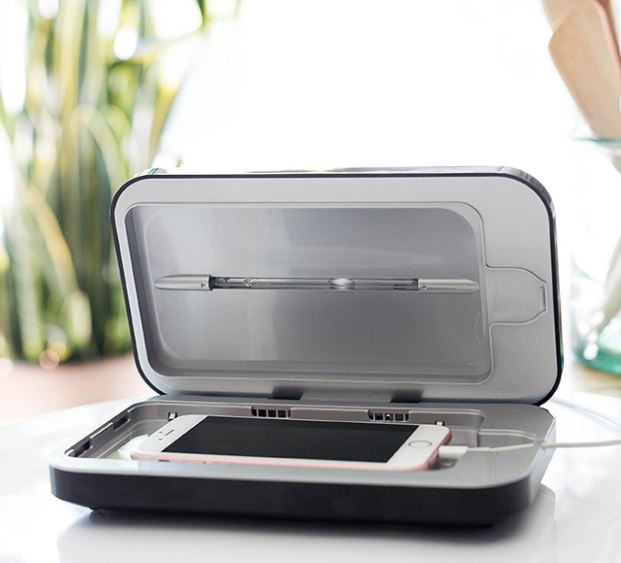 Build & Design
With the sealed enclosure, you'll find a plate that's transparent to UV radiation. You can then rest your phone on that plate, allowing both sides to be bombarded in UVC light. After you insert your phone and close the lid, the UV cycle begins and runs for 10 minutes. While the cycle is in process, a blue LED blows to signify the sanitation process is underway. By the end of the cycle, your phone comes out clean as new.
PhoneSoap 3 uses an exceptionally large body that's made to fit any smartphone. The broad 8 x 6 x 2-inch build is clearly suitable for far more than cleaning phones. Keys, ID cards, wallets, and similar objects will comfortably fit inside. That particularly large design means even phones with their cases on will be no issue. Although you won't be fitting full-sized tablets inside, smaller devices will have no issue.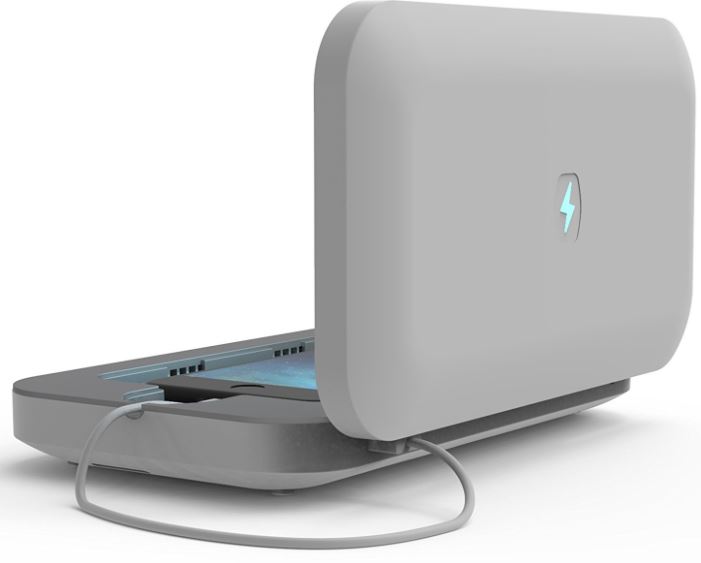 Other Considerations
Although this might seem a bit odd, there's actually no on/off switch on this device. When you remove your phone after you've had it cleaned, the PhoneSoap 3 will begin running its cycle for another 10-minutes the moment you close it up. If you don't want to keep it open and plugged in, then you'll end up micromanaging the power cable after every use.
But the most important thing to remember about this device is the two extra charging ports on its backside, for USB and USB-C. That allows you to charge and sanitize your phone simultaneously, and have space for charging a second device. In other words, many people will end up using the PhoneSoap 3 on a nightstand or otherwise near their bed, where it may not be an issue to keep the PhoneSoap 3 open and plugged in.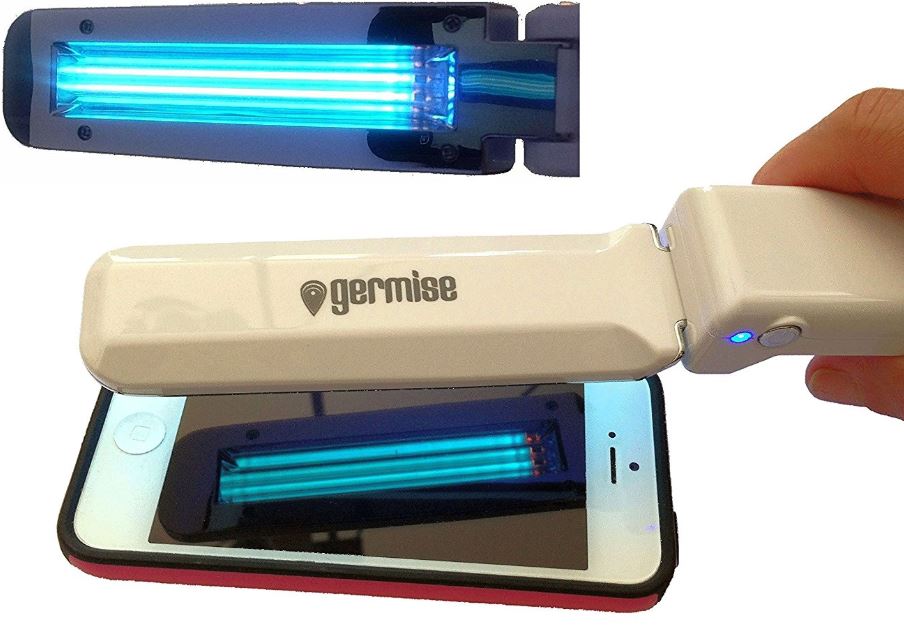 Germise Smartphone Sanitizer
As opposed to the sealed enclosures most smartphone sanitizers use, this Germise sanitizer makes use of a folding wand design. It's readily equipped for handling smartphones, but unlike many other sanitizers, it's not at all limited to small objects. The ultraviolet UV-C lamp is ready to sterilize essentially any surface you can get within reaching distance. As a result, surfaces that would never fit inside smartphone enclosures, like shoes and keyboards, can easily be disinfected.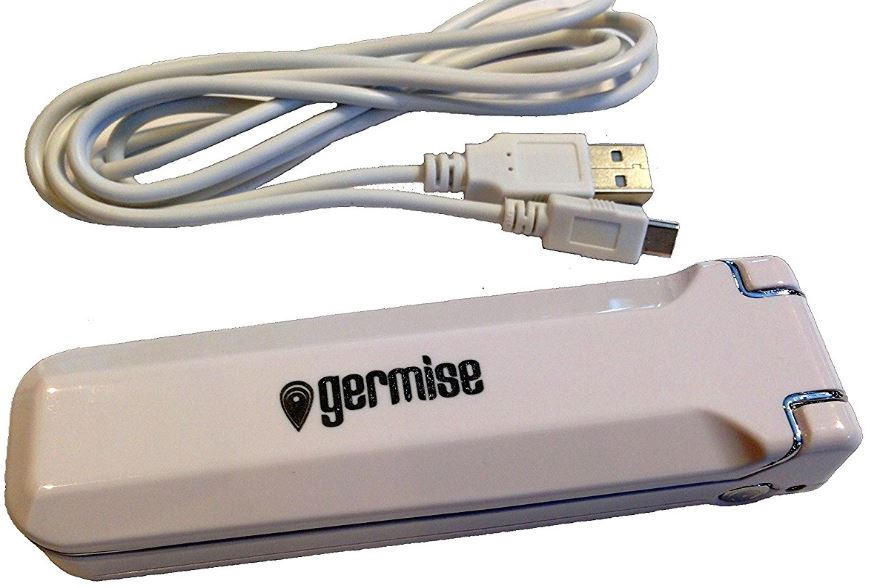 Build & Design
When it's folded up, this handheld design is approximately 5 x 1.4 x 1-inches, making it highly compact for carrying or storing. Before you add batteries, the lightweight design only weighs about 4 ounces. After you extend the wand, its original length roughly doubles, providing an effective handle to keep your hand away from UV exposure. Although the design is compact, the included bulb is powerful enough to help you disinfect an area from as far away as 8-inches.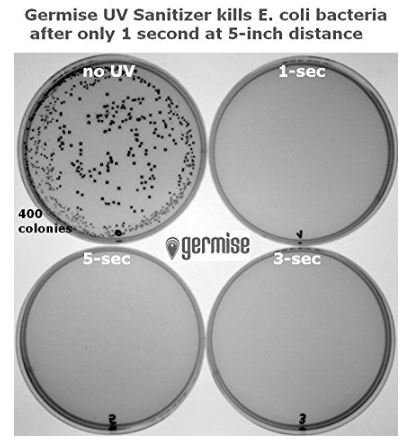 Other Considerations
Ease of use is exceptionally strong. All you've got to do is flip the wand open, hold down the on-switch for three seconds, and scan over the area you want to sanitize. The three-second design is primarily there as a childproof safety feature. But the more important safety feature is an internal mechanism that shuts the wand down when the UV lamp aims upwards, which can protect both you and the sanitizer from damage. You can power the wand through the included USB cable, or 4 AAA batteries which are not included.
Choosing Between 3 Effective Smartphone Sanitizers
The Kmesoyi smartphone sanitizer is a good choice for something inexpensive, simple, and effective. Its most impressive feature is the ability to create a unique clean scent for your phone. If you've got a handful of favorite scents or essential oils, you can add a customized scent profile to your devices. From lavender to leather, the options are endless. That makes this sanitizer a good choice for someone who doesn't just want to clean their smartphone, but wants to freshen it as well.
PhoneSoap 3 won't make your phone smell nice, but it has a slightly larger enclosure than Kmesoyi's UV sanitizer. Although either UV sanitizer can handle the largest smartphones you'll see in common use, PhoneSoap 3's larger space makes it more versatile. Moreover, it offers USB ports that allow you to disinfect as you charge. Pricewise, it's more of an investment than the inexpensive Kmesoyi sanitizer, but it provides more functionality in return. If you're not looking to get involved with adding essential oils, PhoneSoap 3 is a great alternative.
Finally, the Germise smartphone sanitizer is for people who want to sanitize more than small objects. Computer keyboards, door handles, bedsheets, virtually anything you can get within your reach can be cleaned with this wand. The fact it doesn't use an enclosed design means you'll need to be cautious when using it. And you'll have to be ready to spending a couple of minutes physically holding the wand over surfaces you want to clean. But in exchange for your caution and effort, this design provides the versatility to clean nearly any surface.