With everything that's going on in the world, people are taking a new interest in sanitation. Walk into the grocery store, and everyone is wiping down their carts with wipes before they use them. Given what's going on, this is just common sense. But it's easy to get comfortable with objects we're familiar with. Electronics and other personal items belong to us and keep us connected to friends and family. But they can also harbor viruses and bacteria that might make us sick.
One of these possible hidden sources of disease is your smartphone. As a matter of fact, the average smartphone has 10 times as many germs as a toilet seat. And the average person touches their phone 80 times a day. You wash your hands after using the bathroom, so it only makes sense that you want a clean phone. But a phone is even more personal. Think about it; you actually hold it up to your face. You wouldn't press your face against a toilet seat. So shouldn't you want your phone to be as clean as possible?
One way to do that is to use a UV smartphone sanitizer. With one of these devices, you can easily clean your phone in just a few minutes, multiple times a day. First, we'll be looking at the HoMedics UV-Clean Phone Sanitizer. This is a convenient, pop-up device that's designed to be carried in your pocket. Next up is the PhoneSoap 3. The PhoneSoap 3 is a desktop device, with a hard case that's well-suited for travel. Finally, we'll look at the Lai Fion UV Smartphone Sanitizer. This tool can add a scented touch to your phone as well as keep it clean. Let's take a closer look at each of these options.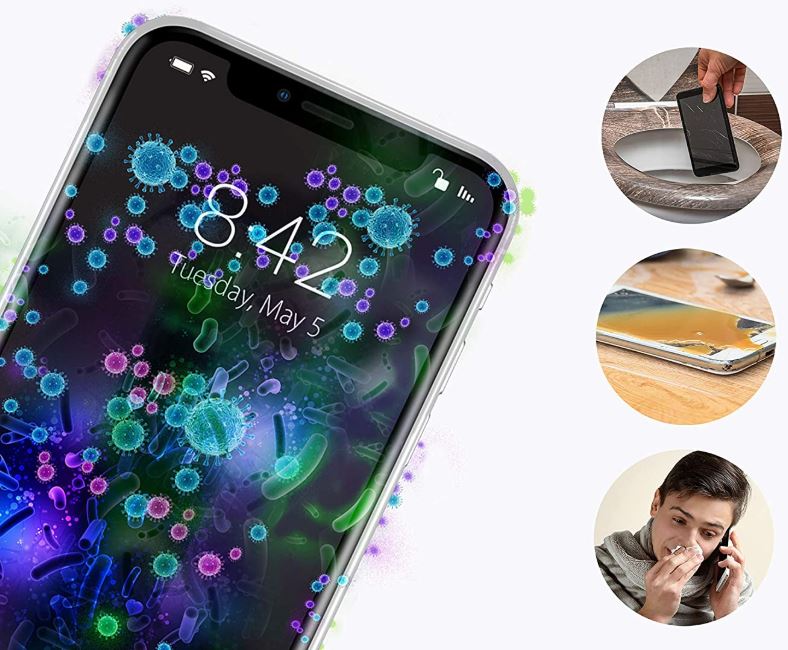 Why Use a UV Smartphone Sanitizer?
Cleaning your smartphone is a tricky business. You can clean your doorknob or your desk with soap and water. But this isn't a great way to clean any piece of electronics. Alcohol can potentially be effective for electronics, but it's tough to get into grooves and slots. Do you really want to have to use a bunch of Q-tips just to clean your smartphone? With a UV sanitizer, you just put your phone into the case, press a button, and wait for it to be finished. A UV smartphone sanitizer isn't just limited to phones, either. You can use it to clean key fobs, remote controls, or anything else that fits into the enclosure.
Some UV sanitizers have a wand-style design. For cleaning larger objects, they can be very effective. However, they also come with some significant risks. When used incorrectly, you can inadvertently expose yourself to radiation. This can result in burns, or even cause cancer. Because a smartphone sanitizer is enclosed, you don't have to worry about this problem. In addition, a wand-style sanitizer is very hands-on. You have to hold it and move it around while you're using it. With a dedicated, enclosed smartphone sanitizer, you can do something else while your phone is getting clean.
There are two things we should point out before we begin. Most sanitizers advertise that they kill 99.9 percent of viruses and bacteria. Why not 100 percent? The fact is that we're talking about tens or hundreds of thousands of tiny bacteria. In the case of viruses, we're talking about billions or even trillions. The fact is that there is no way to guarantee that every single one of those creatures has been destroyed. The good news is that your odds of getting sick depend on the number of viruses or bacteria you come in contact with. For almost any purpose, killing 99 percent of microorganisms is good enough.
The other thing we need to talk about is light color and exposure time. Some UV sanitizers advertise a particular wavelength of UV light. They also recommend a particular exposure time. This is because the light intensity is tied to exposure time. The more powerful the light, the less exposure you need. The reason manufacturers will talk about this is because a manual sanitizer requires you to operate it yourself. With an enclosed cleaner, this isn't really a problem. You press the button and it does its thing. If you're really concerned about exposure time with one of these cleaners, there's a simple solution. Just run two or even three cycles. In the best case scenario, you'll get better results. In the worst case scenario, you'll be wasting battery life. Now that we've covered our bases, it's time to get started!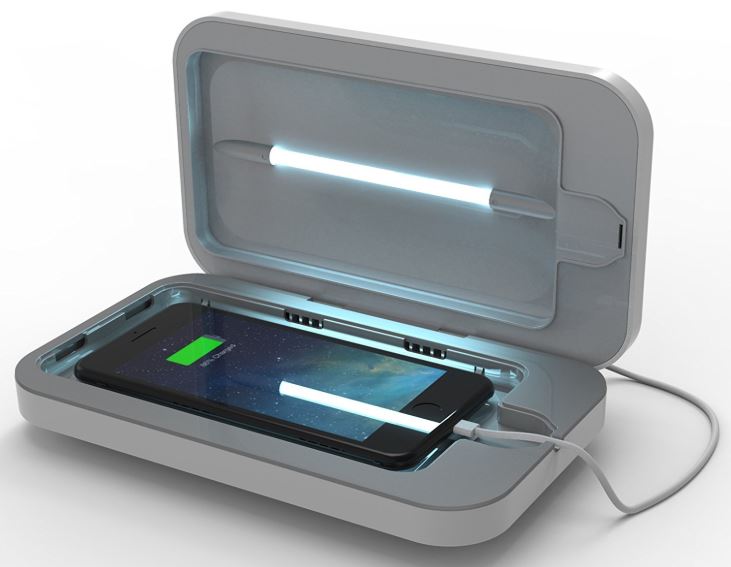 PhoneSoap 3
The first thing you'll notice about the PhoneSoap 3 is just how sturdy it is. With a rugged plastic shell, it's a solid choice for travel, or even for throwing in your camping backpack. The overall build measures 8 inches long, 6 inches wide, and 2 inches thick. This is fairly large, so you might not want to commute with it every day. That said, if you're looking for a desktop unit, this isn't a bad choice. The inside dimensions are large enough to clean any modern smartphone.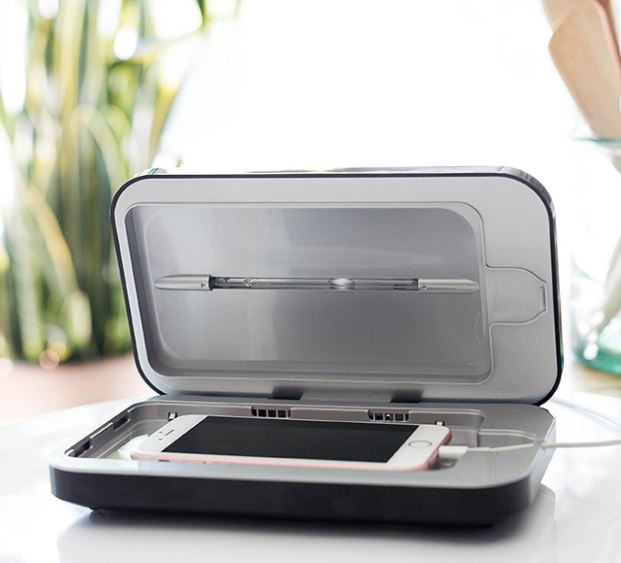 The unusual thing about the PhoneSoap 3 is that there's no actual on/off switch. Instead, when you close it, it automatically starts a 10-minute cleaning cycle. At this point, it will automatically shut off. While the PhoneSoap is in operation, a blue lightning-bolt-shaped LED on the lid will illuminate. The rest of the case is a glossy black, which makes it an attractive accessory on your desk or nightstand.
How it Works
While the PhoneSoap 3 runs for a bit longer than the HoMedics cleaner, it has one distinct advantage. It disinfects both sides of your phone simultaneously. This makes it a truly hands-free unit, without the need for any further input. If you're going to leave your phone inside for the full 10 minutes, you might want to charge it simultaneously. Thankfully, the manufacturer has taken this into account. There's a small groove in one side, which allows you to leave your phone plugged in while it charges.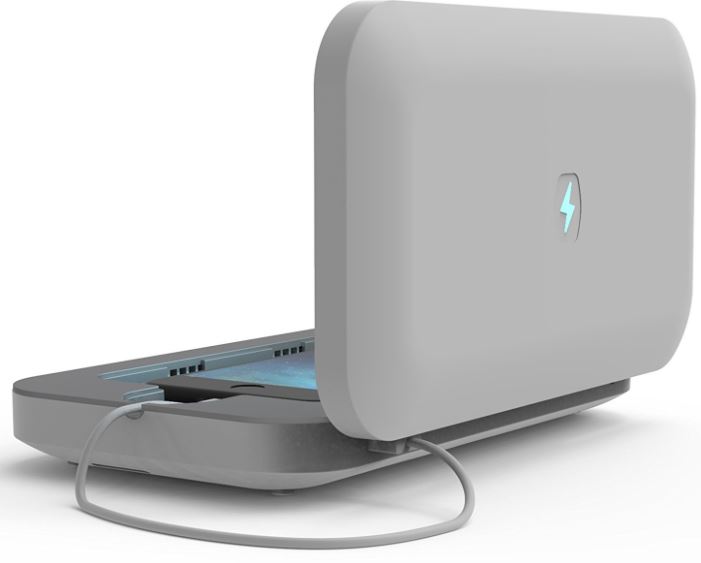 The PhoneSoap 3 doesn't have a built-in battery. It needs to be plugged in to work. This means it's designed to be left in place most of the time. That said, it has a pair of 5-volt USB ports on the back. You can plug your phone directly into the unit while it cleans. You can even plug a second device into the PhoneSoap 3 and charge both of them simultaneously. This is a very useful feature if you need a second USB port for charging a tablet or a second phone.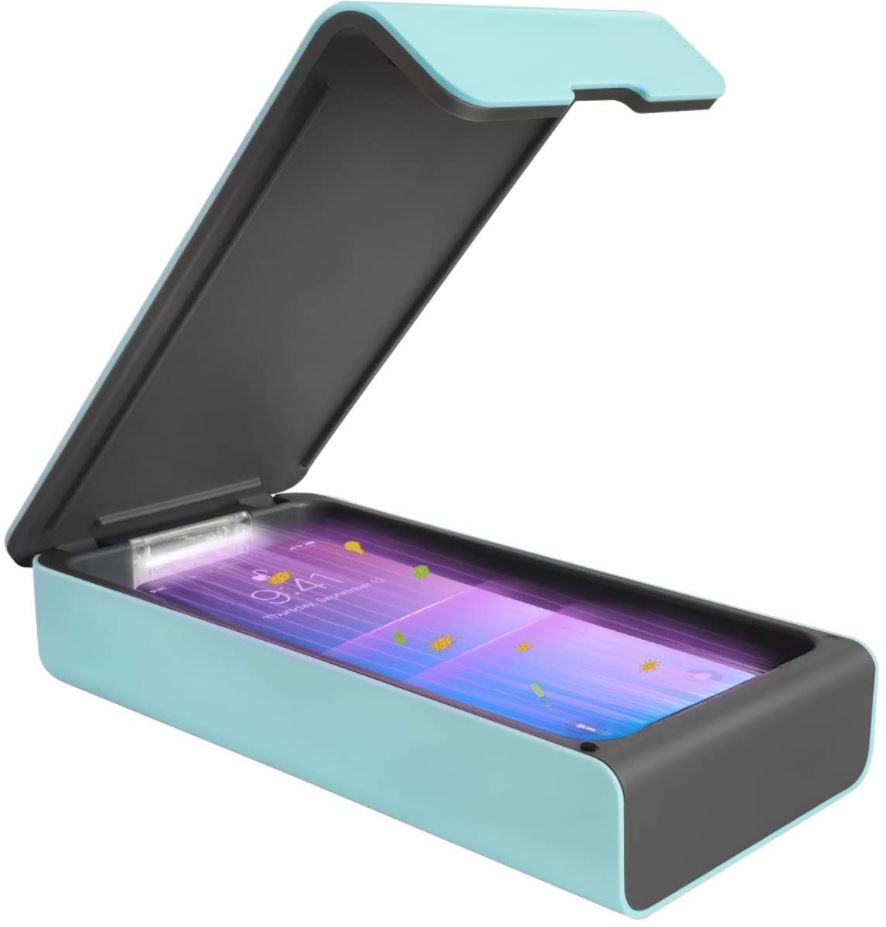 DJROLL UV Smartphone Sanitizer
The DJROLL UV Smartphone Sanitizer is a bit more compact than the PhoneSoap. It measures 8.2 inches long, 4.6 inches wide, and 1.5 inches thick. That said, it still provides ample internal space for your device. At 7 inches long, 4 inches wide, and 0.78 inches thick, it will support even very large smartphones. As with any UV smartphone sanitizer, it's also large enough to accommodate other types of devices. Bluetooth earbuds, key fobs, and other small objects are just as easy to clean as your phone.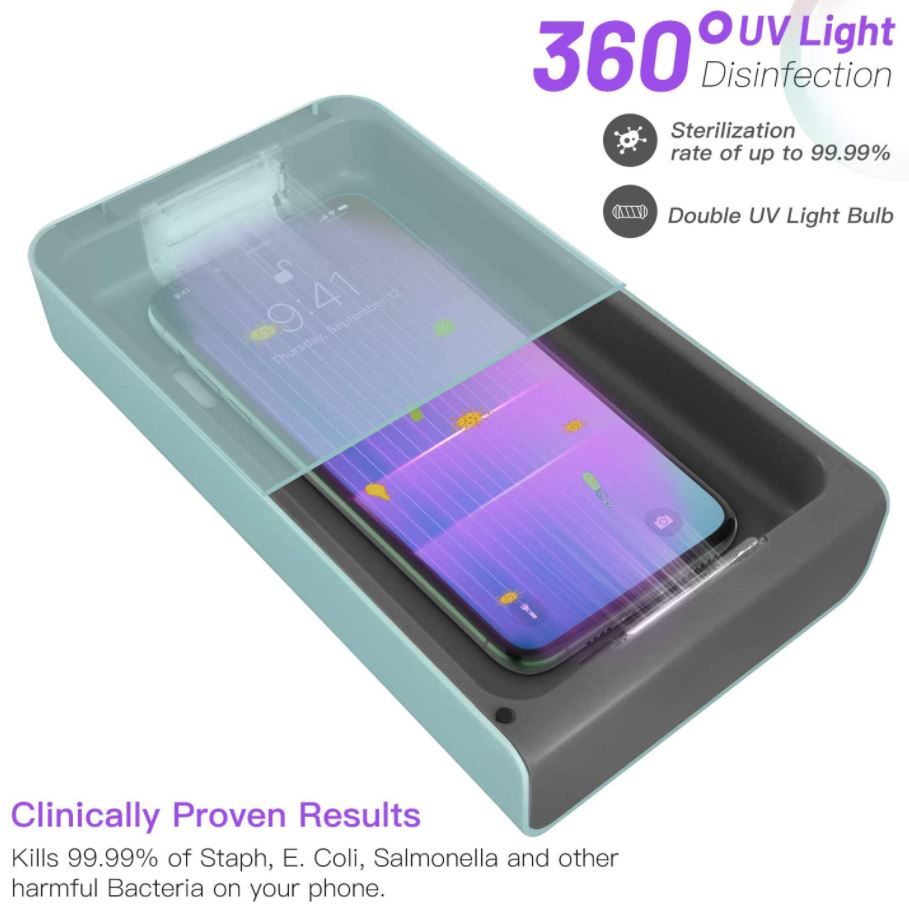 The unit itself has a clamshell-style design, and looks more like a gift box than an electronic device. It's available in four different colors: black, white, blue, and pink. All four are attractive to look at, although they don't have the same professional look as the PhoneSoap 3. The top of the lid features two buttons, one for activating the UV lights, and another for activating the atomizer. There are small LED lights just beneath the buttons, to let you know when the unit is in operation.
How it Works
Like the PhoneSoap 3, the DJROLL UV Smartphone Sanitizer uses a DC power adapter to operate. It also has a built-in universal USB cable, which lets you charge your phone while it's sanitizing. The cleaning cycle itself lasts for 6 minutes, and cleans both sides of the phone at once. Since the DJROLL UV Smartphone Sanitizer has an actual power button, it's not going to waste energy. Unless you're intentionally using it, it's not going to run every time you close the lid.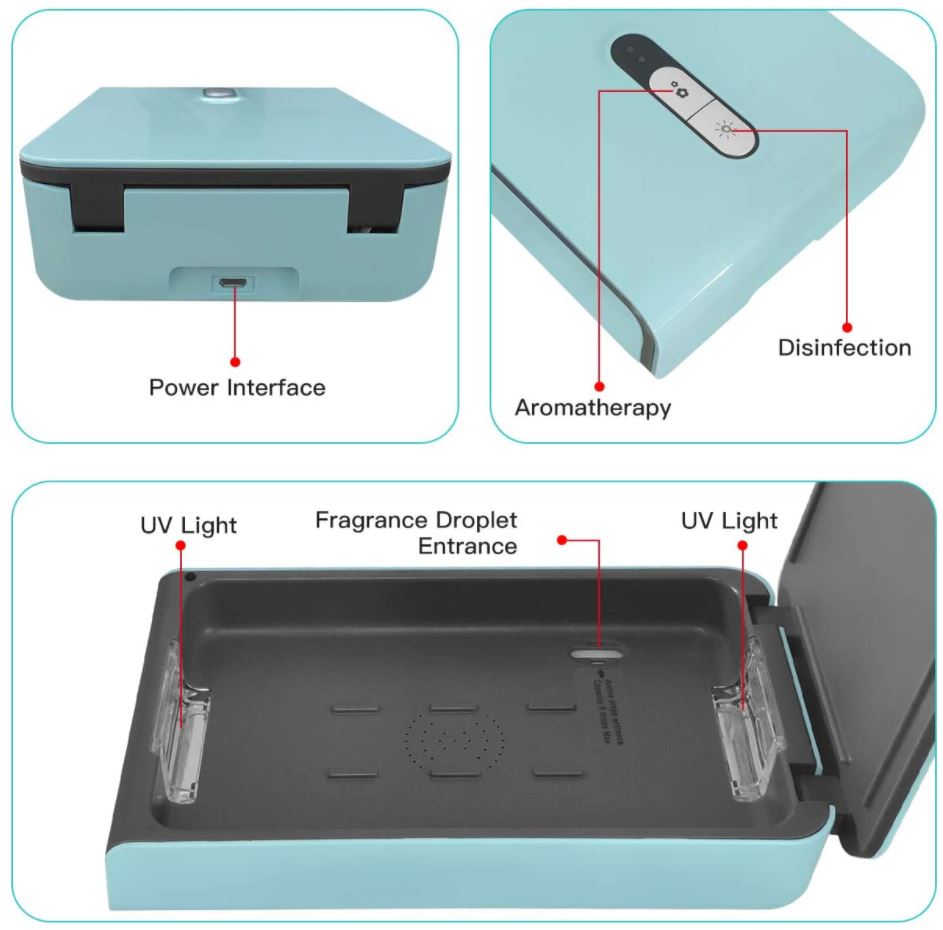 In addition to sanitizing your phone, the DJROLL sanitizer also lets you add some aromatic oil. This is the same kind of oil you would use in a traditional diffuser. There's a small screen under your phone where you add the oil before beginning a cycle. Put a few drops of your favorite oil into the screen, then press the atomizer button when you're finished sanitizing. This won't actually make your phone any cleaner. But it will make it smell cleaner, providing relaxation and peace of mind.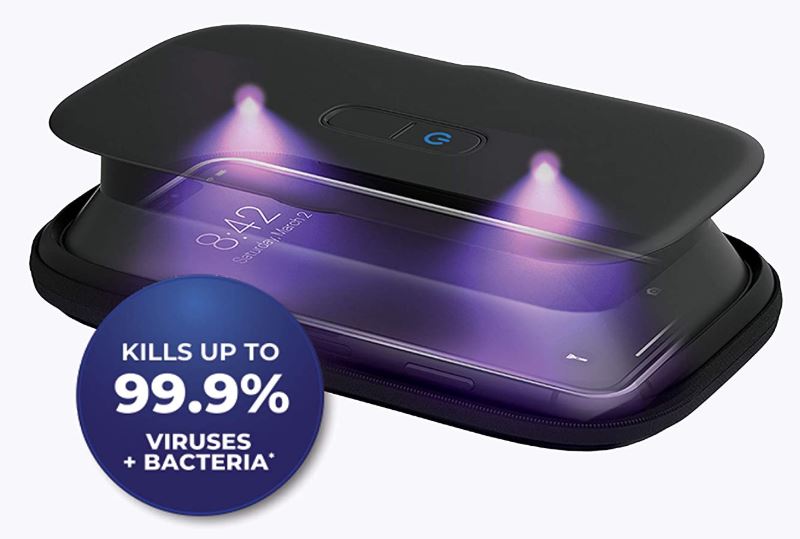 HoMedics UV-Clean Phone Sanitizer
The HoMedics UV-Clean Phone Sanitizer has a unique pop-up design that's easy to transport. At first glance, it looks like a simple phone carrying case. The sides are an attractive nylon mesh, with a zipper opening that's very easy to use. It's available in three different colors: black, purple, and red. Whatever your personal aesthetic, you'll have an option to match. The overall size is 7.3 inches long, 4.6 inches wide, and 1.1 inches thick. This makes it a bit large for your pocket, but small enough to put in a laptop bag's side pocket. The interior size is 6.5 inches long, 3.5 inches wide, and 1 inch thick. This is more than sufficient even for the largest modern smartphones, such as the Google Pixel 3.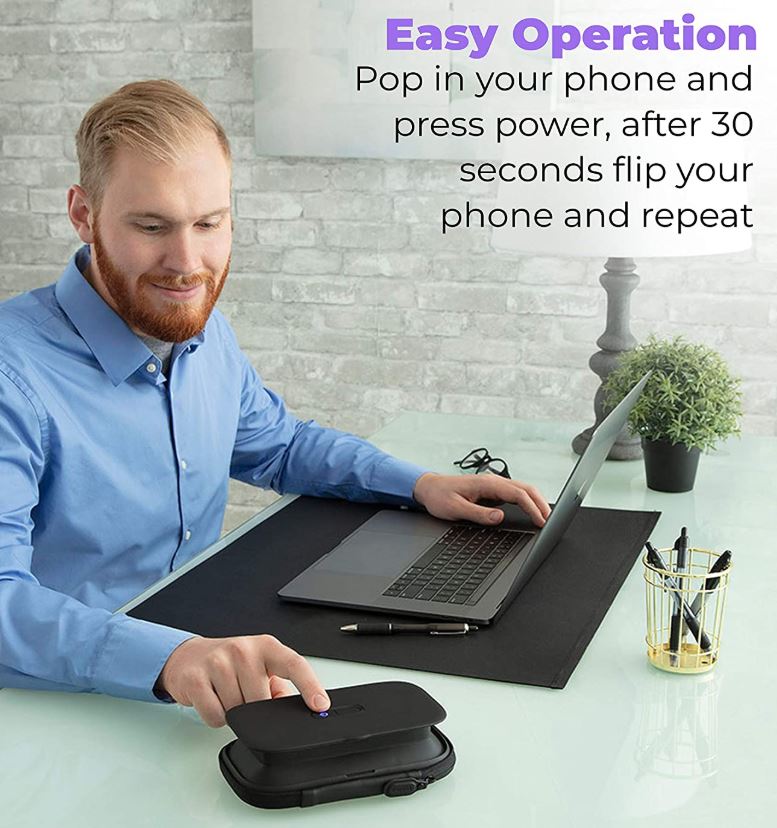 When it's time to use the HoMedic sanitizer, just insert your phone and press the pop-up button. When this happens, there's an inner lock that will close and prevent you from accidentally opening the case while operating. This feature will prevent inadvertent exposure to harmful UV radiation.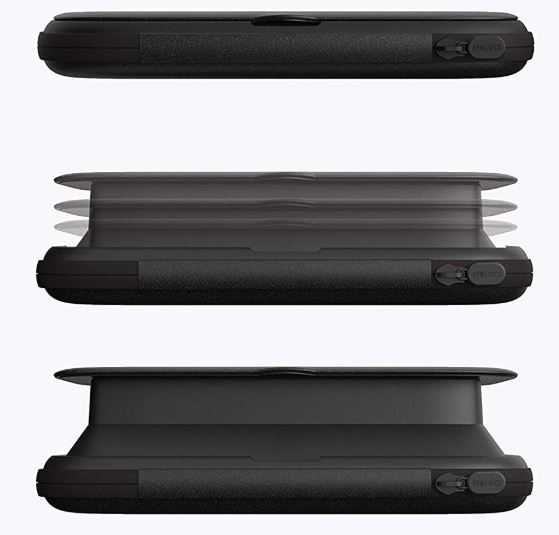 How it Works
The HoMedics UV-Clean Phone Sanitizer uses a pair of UV-C germicidal LEDs to sanitize your phone. It will sanitize one side of your phone at a shot, and gets the job done in 30 seconds. Press the button, wait for the cycle to run, flip your phone over, and repeat. The lights will cover the entire surface of your phone, ensuring maximum cleaning. There's enough battery charge for 70 cycles, or 35 total cleanings. If that's not enough, HoMedics also includes a Micro USB charging cable in the kit. This cable allows you to recharge the UV-Clean Phone Sanitizer in about 2 hours.
Final Verdict
So, which one of these UV smartphone sanitizers is best for you? Let's start with the HoMedics UV-Clean Phone Sanitizer. This is a well-engineered unit that's attractive to look at and easy to carry. It's also ideal for travelers. With a built-in battery and 70 cycles per charge, you can make a weeklong trip and still have a sanitizer. It's also very fast. In about a minute, you can fully clean your phone, without waiting around for a longer cycle. That said, having to flip your phone over in the middle of the cycle is a bit of a pain.
The PhoneSoap 3, meanwhile, is an ideal choice if you want a tough, durable unit. It's a bit pricey, but it's built like a brick. It also cleans both sides of your phone in only 10 minutes. The built-in charging dongle is also a great feature, so you can keep your phone juiced up while you're sanitizing. On the other hand, it can be bit of a power hog, since it will run a cycle every time you close it.
Finally, there's the DJROLL UV Smartphone Sanitizer. It's not as rugged as the PhoneSoap 3, but it has a similar built-in charger at a lower price. It also has a faster cycle, sanitizing your entire phone in only six minutes. And with the atomizer, your phone will smell as fresh as it actually is.