For most people, the Nintendo Switch's control scheme is part of the attraction. Indeed, it's one of the Switch's most innovative features. You can detach the controls and use them as a traditional console controller. Or you can mount them on the Switch itself and use it as a handheld gaming platform. This is just as innovative as the famous Wii control scheme, if a bit different. And the versatility is one of the reasons the Nintendo Switch has become so popular.
But for some gamers, there's a significant attraction to an old-school arcade-style controller. Obviously, these aren't for everybody. They're big and bulky, and not as easy to transport as the standard Switch controller. That said, for some games, particularly fighting games, there's a charm to an arcade controller. The joystick is more fun to operate than a thumbstick, and provides more control over your character. And a set of turbo buttons makes it a snap to throw down a quick series of attacks.
We're about to review three of the best Nintendo Switch arcade sticks on the market. First we'll check out the HORI Nintendo Switch Real Arcade Pro V Hayabusa Fight Stick. This is a sturdy, no-nonsense control stick that's designed specifically for intense, furious fighting. Next up is the Mayflash F300. This has a more affordable, plastic design, but plenty of extra features. Rounding out our list is the Mayflash F500. It has similar extra features to the F300, but is upgraded with a rugged metal case. Once we've talked about all of them, we'll decide which one is the best. Let's begin!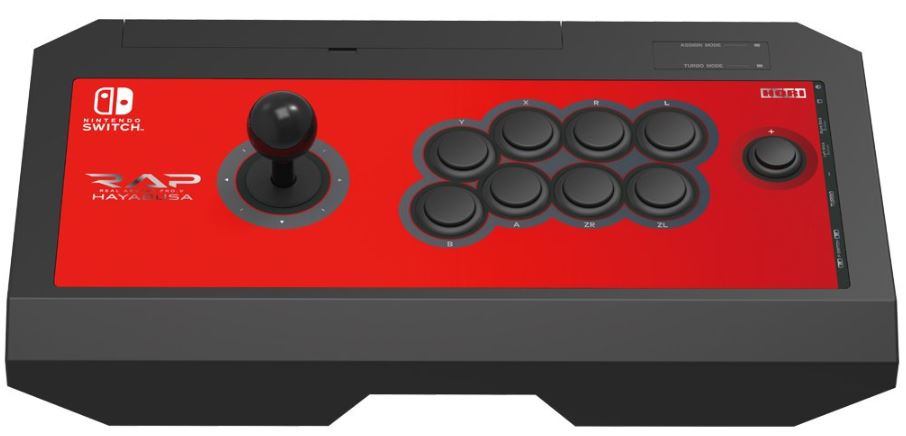 HORI Real Arcade Pro V Hayabusa Fight Stick
The HORI Real Arcade Pro V Hayabusa Fight Stick might look familiar if you're a joystick enthusiast. This is because it's based on HORI's original Hayabusa joystick, with an old-school arcade design. The joystick has a traditional Japanese design, with a square, Japanese-style restrictor plate. The word "fight" might be in the name, indicating the Hayabusa's primary purpose. But the square restrictor is also ideal for classic arcade games. It's perfect for enjoying a game of Pac Man with the same feel as a classic arcade cabinet.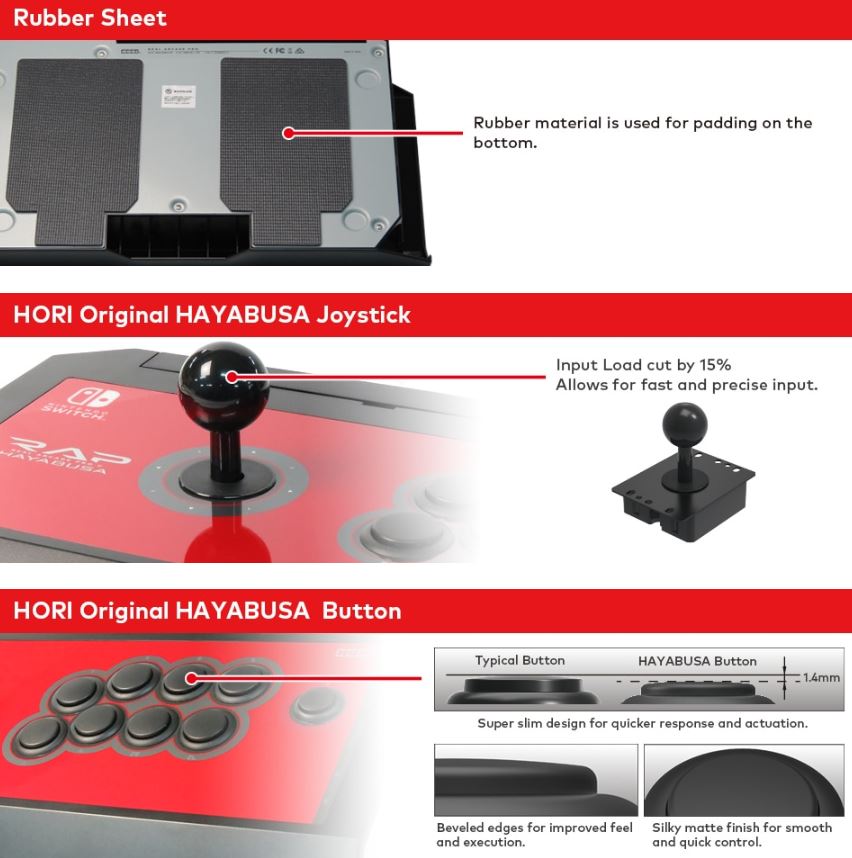 The Pro V Hayabusa is officially licensed by Nintendo, and has the quality to match. The buttons have a low profile and beveled edges, which makes them easy to strike in quick succession. And the matte finish ensures that your fingers won't slip, even if you're sweating your way through a grueling level. To the right of the main buttons, there's a turbo button. It works as a simple toggle switch. Tap it once to activate turbo mode, and tap it again to return to regular mode. A light on the top right of the cabinet indicates when turbo mode is active.
The cabinet itself is exceptionally sturdy. Forget about aluminum; this monster is constructed from heavy-duty black steel. It measures 18.4 inches wide, 11.2 inches deep, and 5.7 inches thick. It tips the scales at 6.5 pounds, which is more than a brick, but commensurate with the overall quality. The top panel is painted red, with a HORI logo, as well as an official Nintendo Switch logo. On the bottom, you'll find rubber padding that prevents sliding and protects your table. HORI ties it all together with a 10-foot cable, which is long enough for just about any gaming setup.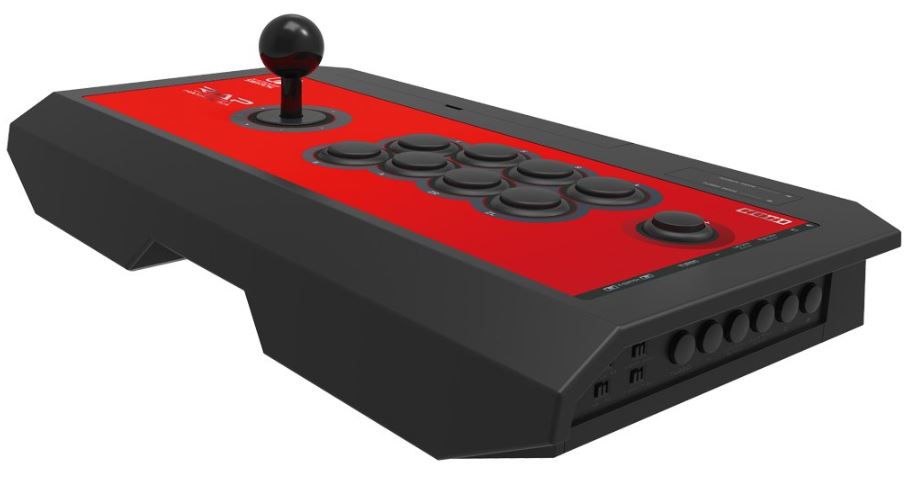 Compatibility & Extras
The HORI Nintendo Switch Real Arcade Pro V Hayabusa Fight Stick isn't just for the Nintendo Switch. It's also compatible with your PC. When connecting to your PC or your Switch, it uses the fast, responsive Xinput protocol. This makes it even more responsive than the stock Nintendo Switch controller. You can also connect it to your PlayStation 4, PlayStation 3, Xbox One, or Xbox 360. However, it isn't compatible with these systems right out of the box. To use it with these systems, you'll need a Cronusmax Plus gaming adapter. Plug the Hayabusa into the Cronusmax USB hub, connect the dongle to your controller, and you're good to go. Just make sure to do all this before you power on your console. When it's set up correctly, your console will automatically detect the Hayabusa.
In addition to being compatible with any gaming system, the Pro V Hayabusa also has some upgrades from the original. The most important of these is the joystick resistance. The resistance has been reduced 15 percent from the original Hayabusa. At first glance, this might seem like a bad choice, but it's not. Many gamers felt that the original Hayabusa joystick was overly sensitive. This made it less precise than others for many games. By reducing the sensitivity, HORI has made it easier to gain precision control over your game.
If you're serious about gaming, you'll also be serious about protecting your gear. To keep your Switch in top condition for the long haul, you're going to want a screen protector. Check out our list of the best tempered glass screen protectors to find a solid option.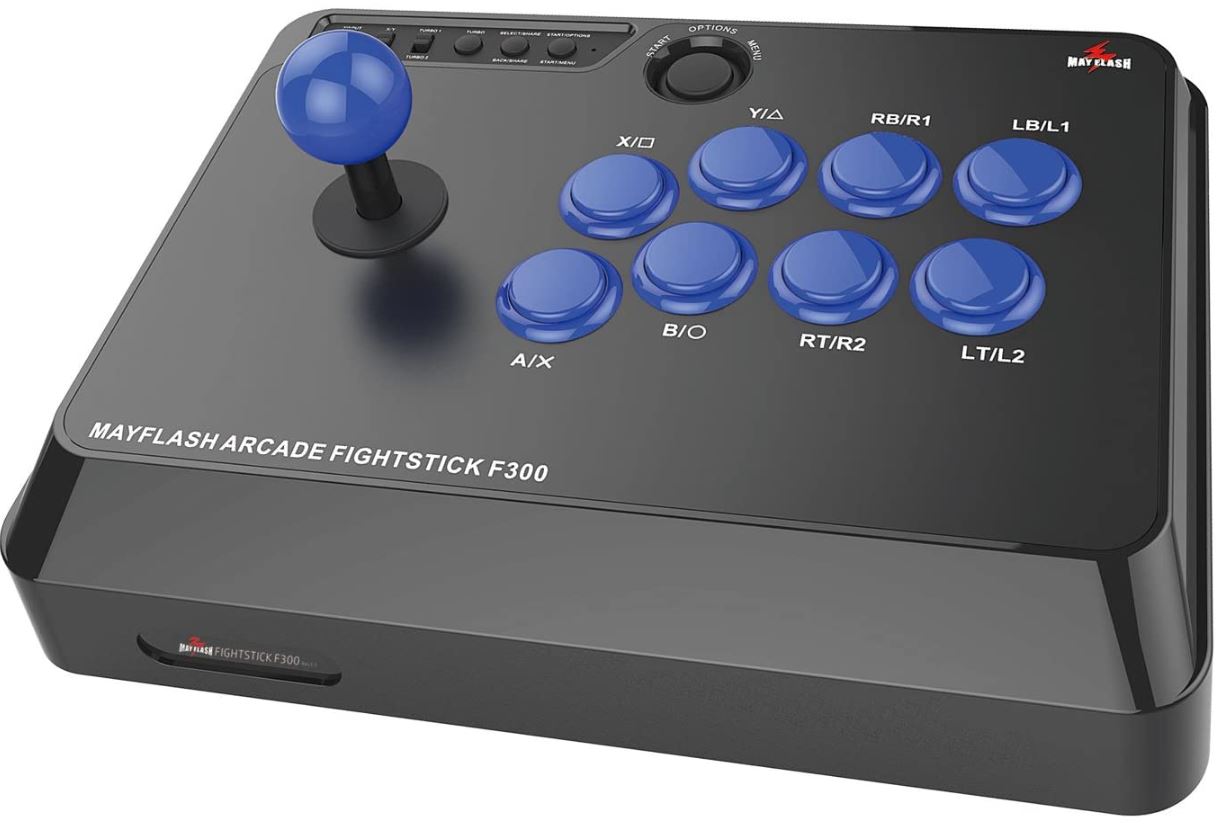 Mayflash F300
If you're looking for a more affordable arcade stick, the Mayflash F300 is a good choice. It's not as sturdy as the HORI, but it also comes at a significantly lower price point. The plastic case is big and bulky, measuring 22 inches wide, 13 inches deep, and 11 inches thick. That said, it only weighs 4 pounds. This makes it easier to move around from place to place. The entire case has an understated gloss black finish, with only a Mayflash logo and button letters adorning the surface.
The buttons and joystick have a traditional arcade layout. The buttons are labeled with Xbox and PlayStation letters, so it's easy to use with a variety of gaming systems. Like the HORI, the joystick is designed with a traditional square restrictor plate. This makes the F300 suitable for use with many old-school arcade games. If you're looking for a quality Japanese design, you'll find it with the F300.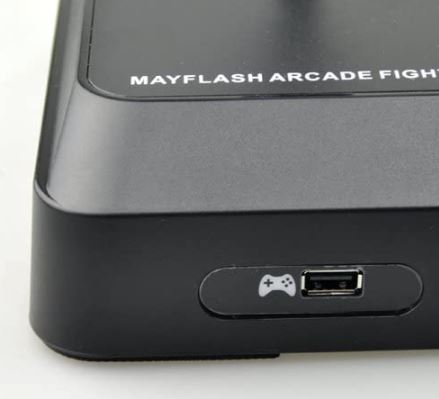 On the top left portion of the case, you'll see a variety of controls. The most basic of these is a simple toggle button for the turbo function. But there are also a few other options you can play with. One of these is a speed selector for the turbo function. This lets you choose between a slow and a fast option for different types of games. You can also reverse the joystick axis. This might not be a traditional choice, but it's a nice touch for old-school flight games. Finally, you can use the joystick as a D-pad. For many games, this would just be awkward. But for games that use a D-pad input, you won't have to worry about the lack of a D-pad.
Compatibility & Extras
The Mayflash F300 can be used with just about any game system. However, it doesn't use the same input format for all of them. To switch between different systems, you'll need to use the three-way selector switch at the top left of the case. For Nintendo Switch, make sure the input switch is set to Xinput. For PC, you can use either the Xinput or the Dinput setting. It really makes no difference, but some PCs may only be compatible with one or the other. Play around with the setting to find out what works for you. To connect to a PlayStation 4, PlayStation 3, Xbox 360 or Xbox One, simply connect through your controller. Set the input switch to the controller option, and you're good to go. No need to worry about any ancillary hardware.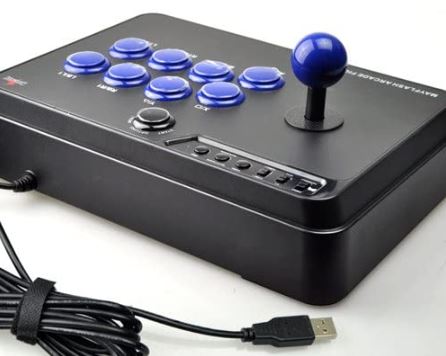 The existing matte blue buttons are already easy to use. But suppose you want an upgrade? In that case, the F300 is compatible with Sanwa Denshi buttons. These provide better tactile feedback, and you may prefer them for some kinds of games. Similarly, you can even upgrade the joystick with a Sanwa Denshi stick. This makes the F300 a great choice if you're on a tight budget. You can buy this affordable arcade stick, then upgrade it later as you earn more money.
If you want to connect even more accessories to your Switch, a Bluetooth connection is a solid option. Since the Switch doesn't include any native Bluetooth support, you'll need an adapter for this purpose. Check out our list of the best Nintendo Switch Bluetooth adapters to find one that works for you!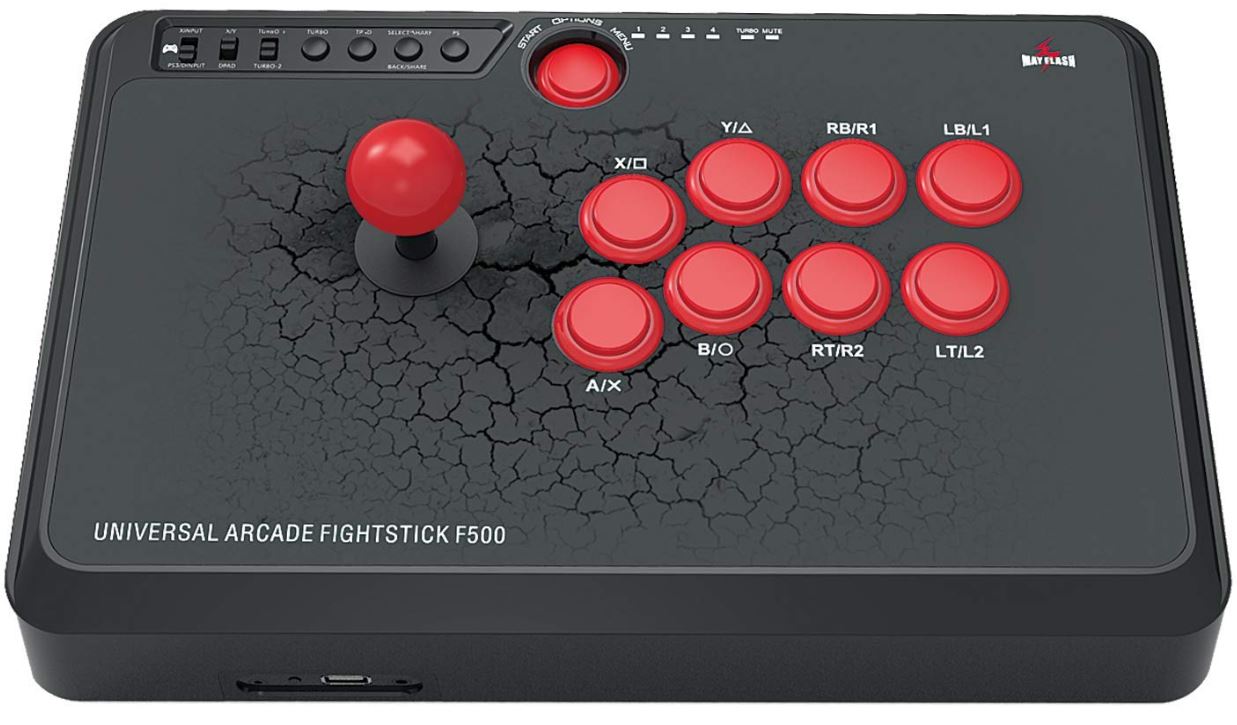 Mayflash F500
The Mayflash F500 is similar in function to the F300, but it's significantly beefier. With a solid metal case, it can take a beating that the F300 just couldn't handle. And with a rubberized anti-skid base, it protects your table or desk from getting scratched. The case measures 14.2 inches wide, 9.2 inches deep, and a slim 2.4 inches in thickness. This makes it significantly smaller than the F300. Nonetheless, it weighs 6 pounds, which is a necessary side effect of its durability. The top of the case even has a paint job that looks like a cracked rock slab. This is a nice attractive touch on an otherwise Spartan matte black design.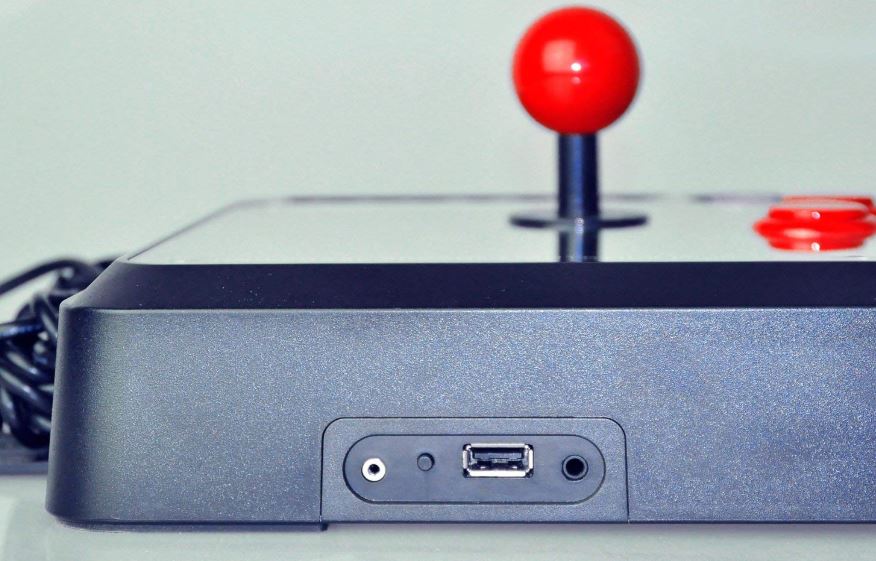 Like the F300, the Mayflash F500 includes several different settings that allow for customization. In fact, the top left control panel is more or less identical. In case you skipped the F300 review, let's do a quick recap. There's a turbo toggle button, which lets you activate or deactivate turbo mode with a single tap. The turbo mode also has a selector switch, so you can choose between different speeds. You can even flip a switch to make the joystick act as a D-pad. All in all, you can play just about any game without any issues.
That said, the Mayflash F500 does offer one feature that the F300 doesn't: a vibrate function. This provides plenty of tactile feedback on games with a rumble function. This feature works best when you use the Mayflash F500 wristband, which is sold separately. Even so, it's an affordable attachment, and adds tactile feedback that other arcade sticks lack.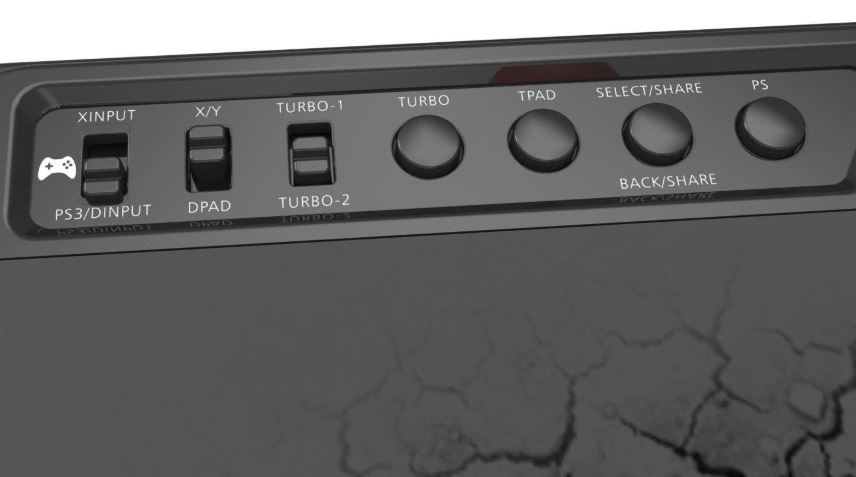 Compatibility & Extras
Like the F300, the Mayflash F500 is compatible with just about any game system. With the selector switch, you can choose between inputs for the Xbox, PlayStation, Switch, and PC. You can even play on Android systems. There's also a 3.5mm audio jack for connecting a headset. If you want to engage in team chat, you won't have any issues. The F500 is also compatible with Sanwa Denshi buttons and joysticks. If you want to upgrade your rig at a later date, you'll have that option.
By default, the Switch allows you to connect to your home network over WiFi. But suppose you want to connect with a faster Ethernet connection? What then? In that case, you'll need a Nintendo Switch Ethernet adapter. Check out our Nintendo Switch Ethernet adapter review to find the best options.
Final Verdict
So, which one of these Nintendo Switch arcade sticks is the best? Depending on what you need, any one of them could be. Let's start with the HORI Real Arcade Pro V Hayabusa Fight Stick. This is a rugged, durable arcade setup, the toughest on our list. It also has the most finely-tuned joystick. On the other hand, it's expensive, and it's tough to upgrade after the fact.
Next up, we looked at the Mayflash F300. This isn't as durable of an option, with a plastic case instead of metal. That said, it's very affordable. It's also easy to upgrade, with plenty of aftermarket parts. And it has several settings that allow you to easily tweak your input options. Finally, there was the Mayflash F500. This has many of the same options as the F300, including the ability to upgrade your buttons and joystick. It also has a vibrate function with an optional wrist strap. Throw in a durable metal case, and you've got yourself a beast of an arcade stick.