Not long ago, buying a stereo system was one of the rites of passage for becoming adult. It was like buying your own TV, VCR, or your first car. Nowadays, many of those same stereo systems are sitting around unused. The reason? Everybody is listening to music on their phones. Unless you're a serious audiophile, it's probably been years since you listened to a CD. But what do you do when you're going to have a party? One solution is simply to run an aux cable from your phone to your stereo system. But why use old technology when there are better options available? For example, a Bluetooth speaker system.
One way to find a good Bluetooth speaker is to look for manufacturers you know and trust. EarFun is a relatively new manufacturer, but we've reviewed some of their products in the past. Until now, they've been known for their wireless earbuds. But now, they're expanding their offerings, and we're excited to review the EarFun UBOOM 24W Portable Bluetooth Speaker. So, is it any good? Or is the UBOOM just a UBUST? We took a close look at all the features, from the physical design to the battery life. Now, we'll tell you what we learned. And, of course, we'll also talk about the sound quality. Let's get started!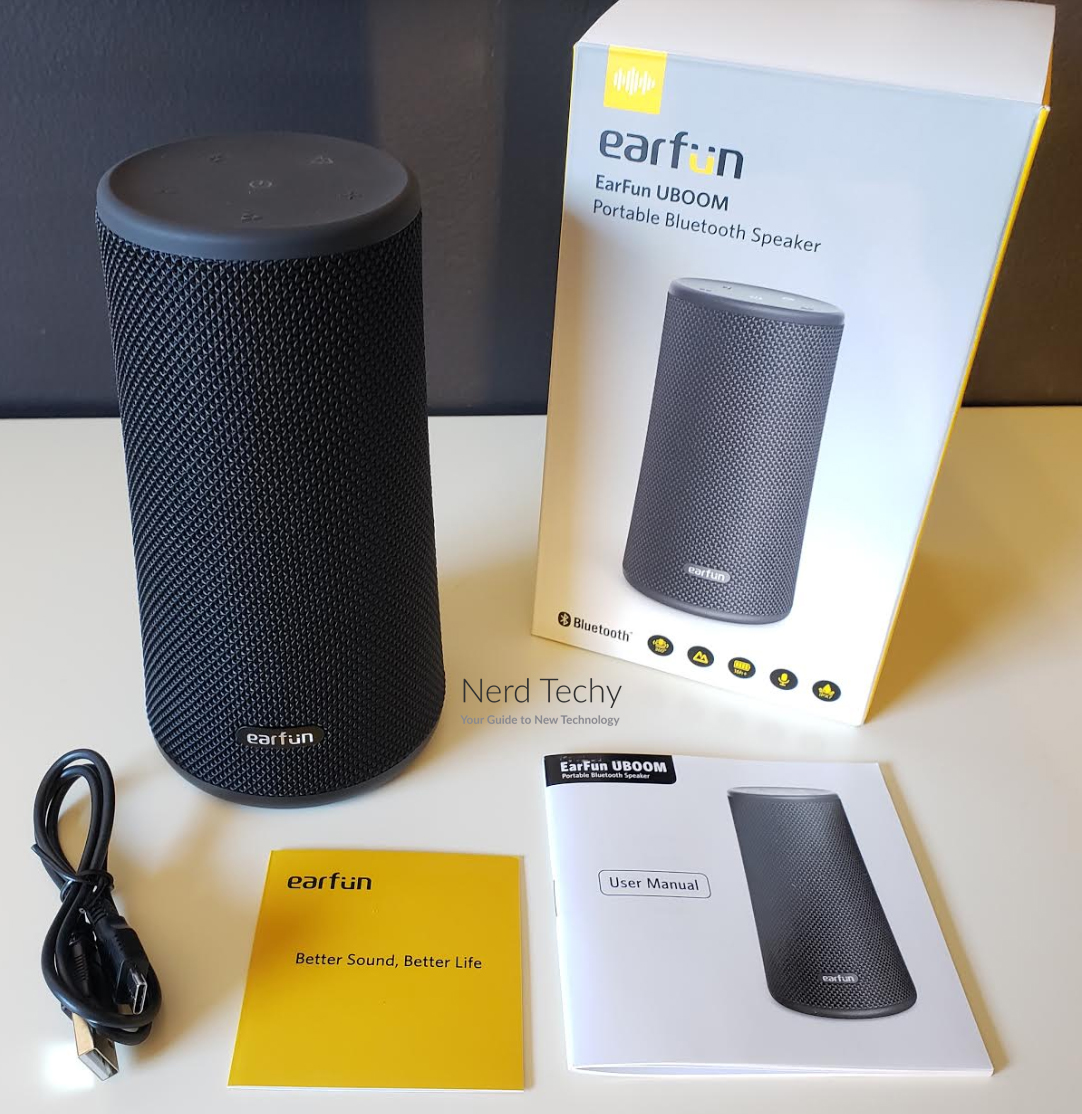 Design & Construction
The Earfun UBOOM 24W Portable Bluetooth Speaker has a fun, conical shape. It measures 6.6 inches tall and 3.5 inches wide at the base, and narrows as you get to the top. The overall weight is fairly light, at only 1.29 pounds. This makes it easy to move from room to room as needed. If the light weight isn't enough, there's also a yellow nylon finger loop attached to the top. Just slip your finger through the loop, and you can easily carry the UBOOM around.
The top and bottom of the UBOOM are molded from a glossy black ABS plastic. However, the bulk of the surface consists of a dense black nylon weave. This is the speaker cover, which shields the entire 360-degree speaker. On the front, there's a silver EarFun logo, but it's relatively small and unobtrusive. The rest of the design is relatively plain, without any additional decoration. The UBOOM speaker is all about the sound, not about appearance. On the back of the speaker, at the bottom, there's a small rubber plug. This plug covers the USB Type-C charging port, as well as the 3.5mm aux jack.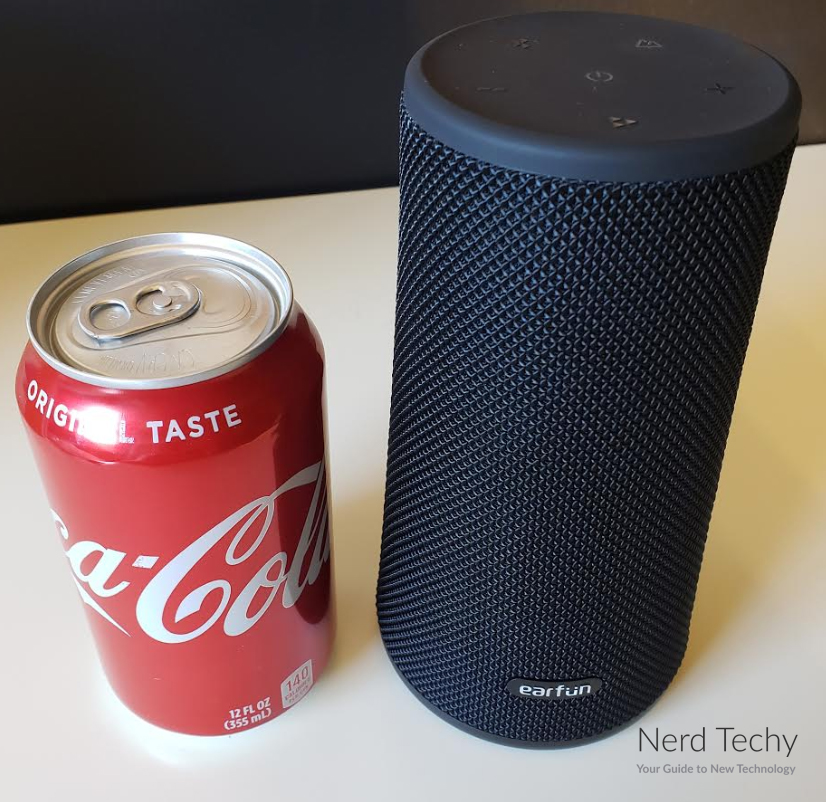 It's also surprisingly durable. The UBOOM speaker has a water-resistance rating of IPX7. This means it can withstand full submersion at a depth of 3 feet for up to 30 minutes. This makes it a solid choice for poolside use, since it's no big deal if it gets knocked in. Similarly, it won't get damaged by rain, and it's even a good bathroom speaker. Pretty much wherever you want to take your UBOOM, it's going to be just fine. If you do end up having any issues, you'll be protected by EarFun's 18-month manufacturer's warranty. In addition, EarFun also offers a 30-day money back guarantee. During this time period, you can simply return the UBOOM for a full refund. This can be for any reason, even if you just decide you don't like it.
On the top of the UBOOM, you'll find all of the controls you need to operate the unit. Right in the center, you'll see the power button, which is normally flat black. However, when the UBOOM is powered on, it glows bright blue. Moving clockwise from the top left, there's a button for Bluetooth pairing. Next, there's a button for switching between the two sound modes, which lights up depending on the mode. We'll talk about those more later. Next, there's a volume up button, which can be held down to double as a skip forward button. At the bottom, there's the play/pause button. Finally, at the left, there's a volume down button. When you hold this button down, it doubles as a skip backwards button. With the exception of the mode and power buttons, all of the buttons are embossed and rubbery.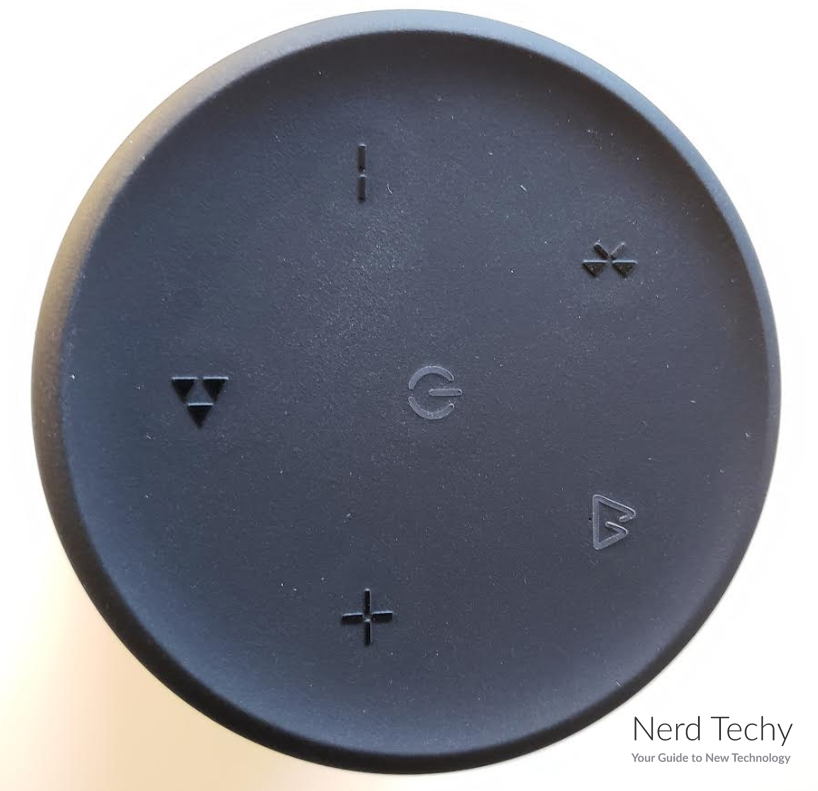 Battery & Connectivity
The EarFun UBOOM will provide up to 16 hours of playtime on a single charge. As with most of these ratings, this is provided by the manufacturer, based on testing at medium volume. Your actual performance is going to vary depending on what volume you're listening at. If you're just playing quiet background music, you may do better. If you're pumping out loud party music, you'll end up a bit shorter. Performance can also vary based on temperature. If it's cold outside, the battery just isn't going to do as well. Regardless, you're looking at enough playtime to get you through a full day. And you can recharge from zero to full in four hours with the USB Type-C cable.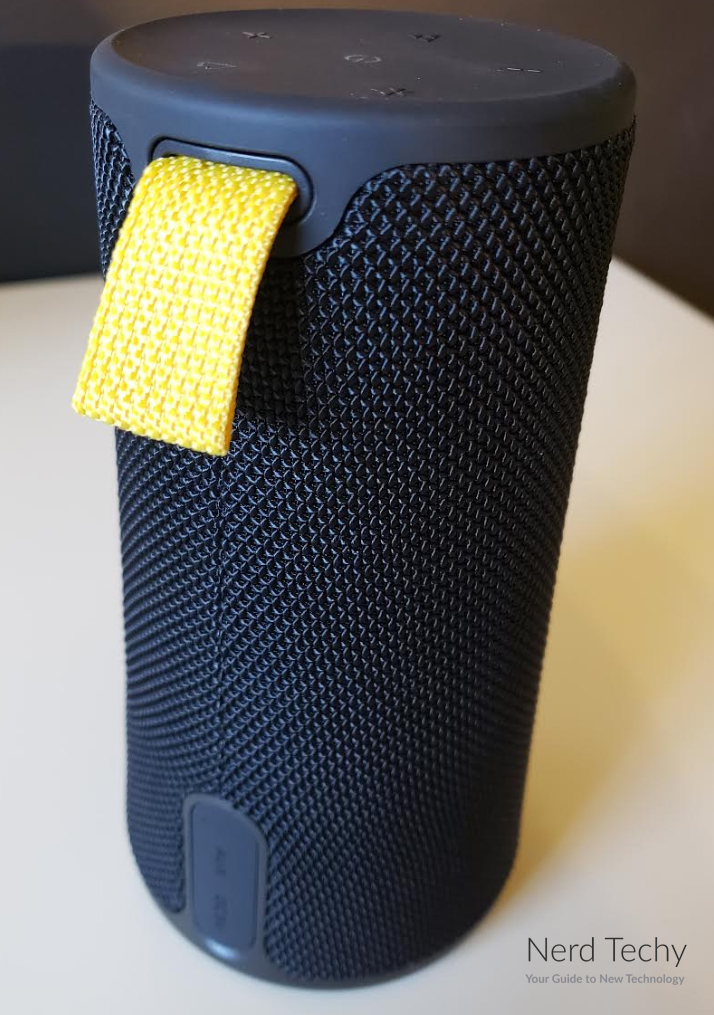 The UBOOM connects to your phone via Bluetooth 5.0. This is the latest version of the Bluetooth protocol, and supports the highest bitrate audio. If you listen to FLAC or MP3s with more than 256k, you're looking at the best possible quality. You also get lower latency than older Bluetooth protocols. Typically, you're probably not going to use the UBOOM for watching movies. But if you want to, you're not looking at any lag between the video and the audio. The overall range of the signal is 100 feet, better than most Bluetooth connections. This makes it easy to roam around your house or yard during a party, without being tethered to the speaker.
Alternatively, you can connect to the UBOOM using a 3.5mm aux cable, although none is included in the box. The downside here is obvious; you'll have to leave your phone next to the speaker. On the upside, you don't have to worry about battery life in this mode. So if you forget to charge your speaker, it's a good backup option.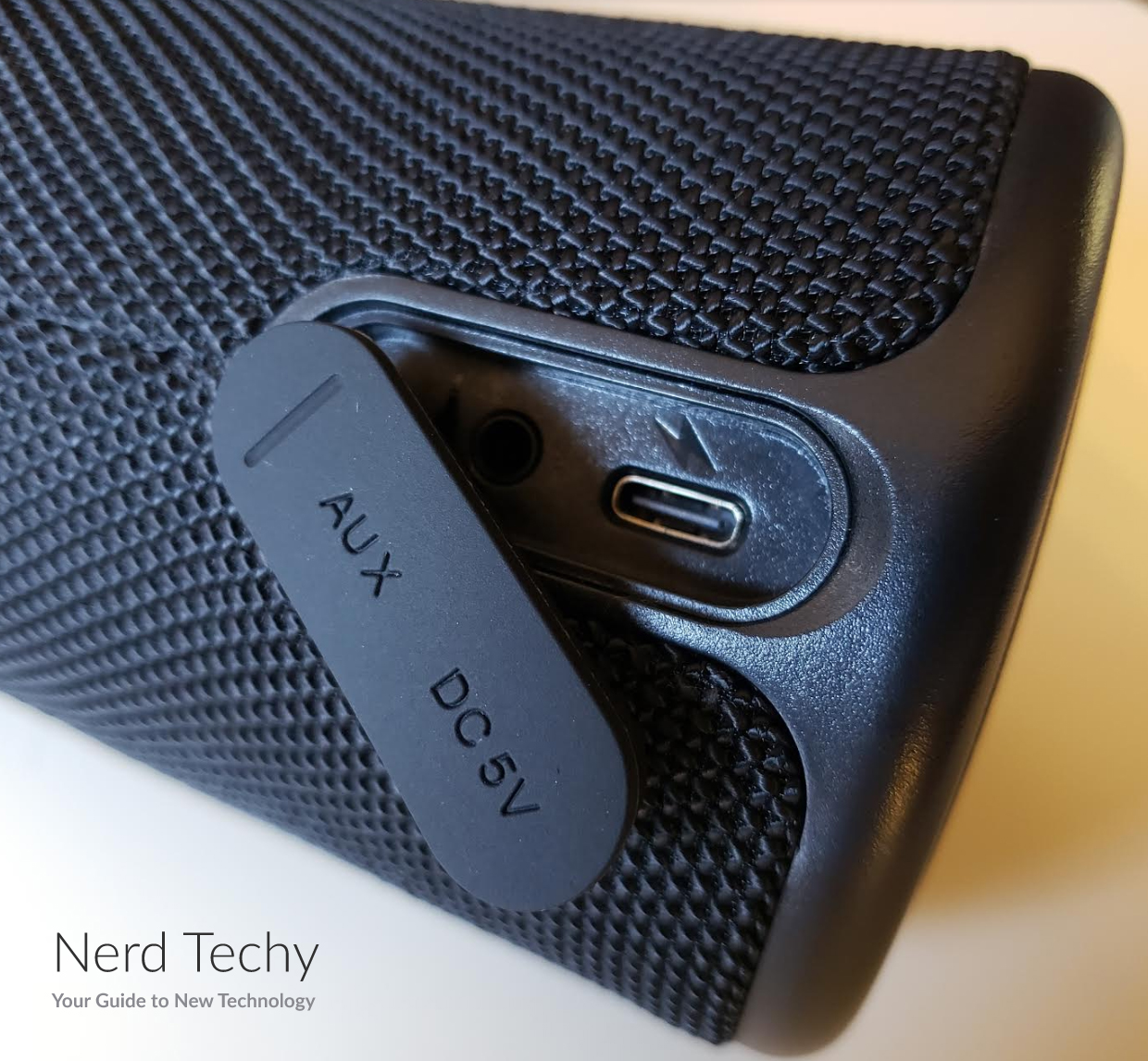 Many Bluetooth speakers support input from USB flash drives or SD cards. Unfortunately, the UBOOM does not offer this feature. For most people, this shouldn't be a significant problem. But for some, it might be a deal-breaker. In that case, check out our review of the Tronsmart T6 Plus (Upgraded Edition). It's a similar speaker to the UBOOM in most regards. But for a few extra bucks, you also get the ability to use a flash drive or SD card.
In addition to its use as a speaker, the UBOOM is compatible with Siri, Alexa, and Google Assistant. This is obviously a secondary function, but it's nice to have the option. If you need to order pizza or ask Siri a question, you don't need to worry about disconnecting your phone. Just talk to your speaker, and your music will resume when you're done.
Sound Quality
As we said, the UBOOM has a 360-degree speaker. This allows it to fill a room with ease. Set it near the center of your space, and you'll get full, immersive sound. The 24-watt drivers produce plenty of volume, so the volume level is not going to be an issue.
As its name implies, the UBOOM puts a lot of emphasis on the bass end of the spectrum. This makes it an excellent choice for parties and dance music. No issues here. Unfortunately, the high and middle frequencies definitely suffer. The mids in particular seem to get squeezed out, which can cause some muddiness in vocals. It's not terrible, but if you're a serious audiophile, it's going to bother you.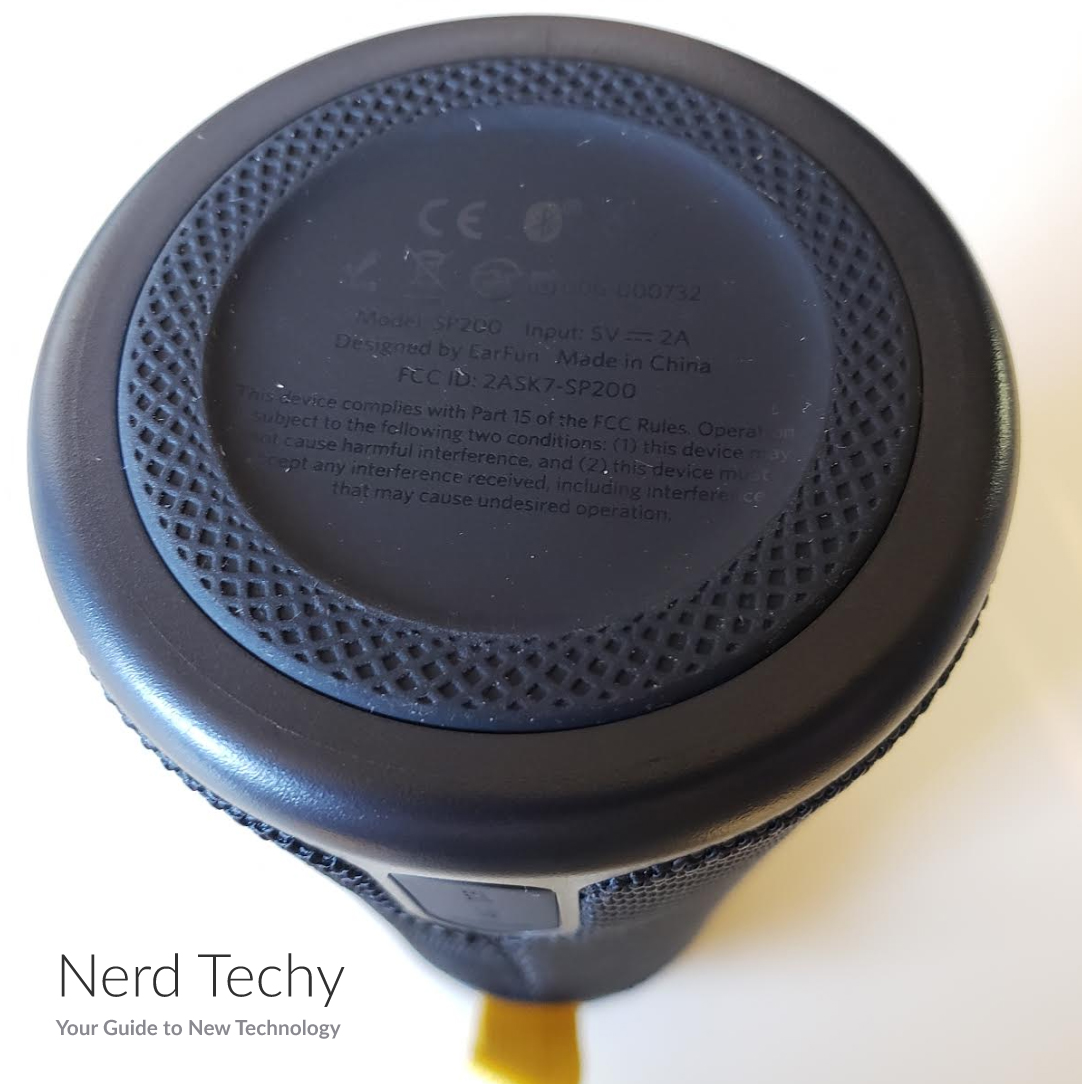 One way to mitigate this is to ensure that you're using the right sound mode. In the indoor mode, the bass gets boosted, which is designed for parties. This makes the mids and highs a bit weaker. On the other hand, the outdoor mode broadens the sound, providing a better balance. It's easy to tell which mode you're in. The "mode" button will be black when it's in indoor mode, and white when it's in outdoor mode.
If a bass-heavy EQ is a deal-breaker for you, you might be better off choosing a different speaker. If that sounds like you, consider the Tribit StormBox Bluetooth Speaker. It has a similar design to the UBOOM, but a flatter EQ. On the flip side, the bass is not as powerful.
If you demand a stereo experience, the UBOOM gives you that option. You can pair two speakers and use them as left/right channels. To do this, first connect one UBOOM speaker with your device. Next, turn on the second UBOOM speaker, then hold down the Bluetooth buttons on both speakers for 5 seconds. Presto! Both speakers are now paired, and will operate in stereo mode. To return to normal mode, simply power off the second speaker, and the first will remain paired.
In addition to working as a speaker, the UBOOM also allows for hands-free calling. The built-in microphone is clear and powerful, and you can easily walk around the room while you're using it. Needless to say, you'll have a bit of a room echo, but this is an issue with all speakerphones. The other person's voice will sound just fine.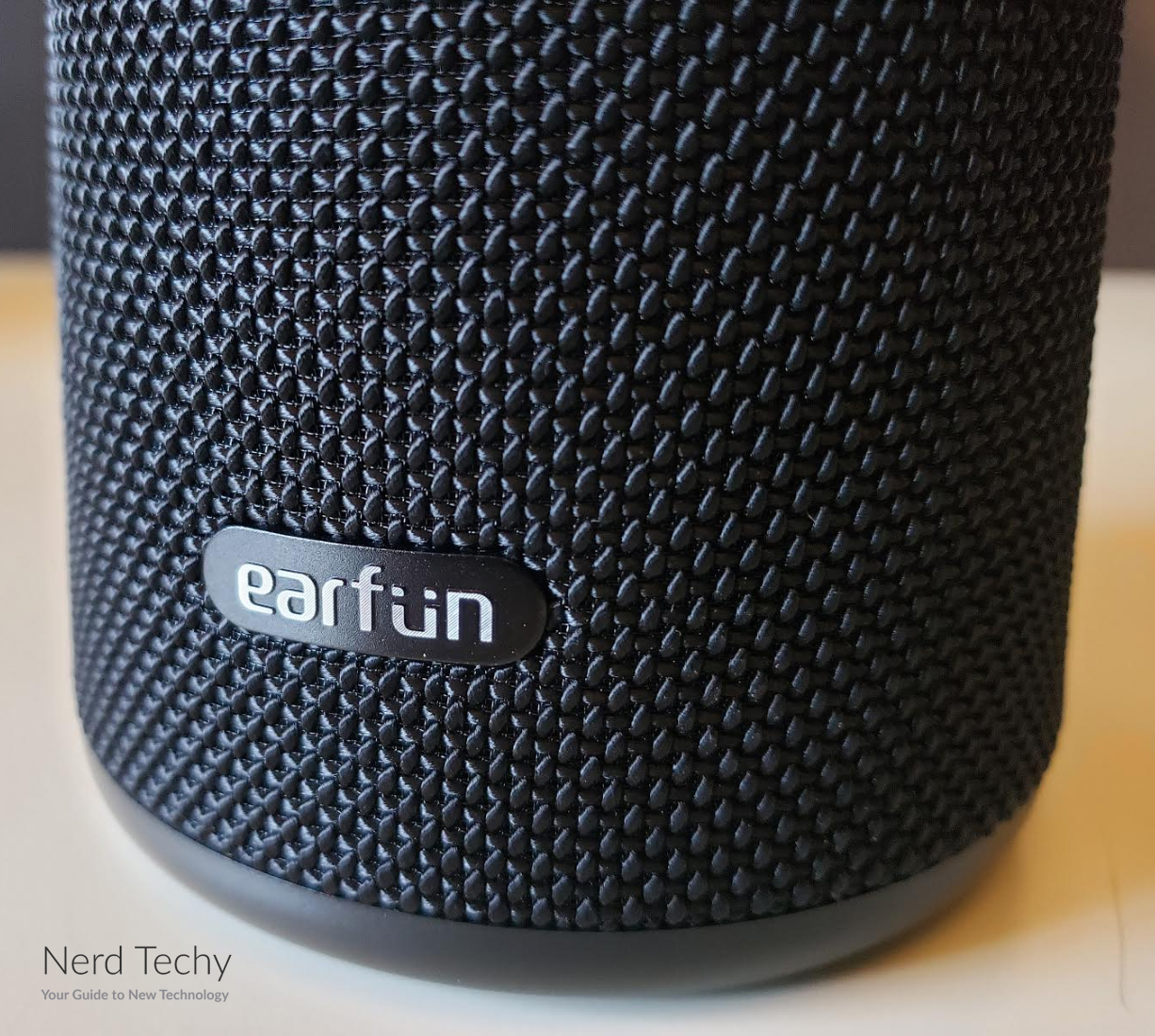 Final Verdict
At the end of the day, the EarFun UBOOM is a solid first effort from and up and coming audio manufacturer. If you host a lot of parties, you'll particularly appreciate the bass performance. To be fair, if you're a fan of country or classical music, you might be disappointed. But for bass-heavy genres, the performance is excellent, and the volume will easily fill a room. The overall design is also very well conceived. We would have liked to see a USB input, but the waterproof construction is unusual in this price range. The buttons are easy to see and easy to operate, and the little finger loop was a nice extra touch. All in all, the UBOOM has us excited to see what EarFun comes up with next.