These days, there's no reason to remain tethered to an old-school stereo system. With Bluetooth speakers, you can get the same audio quality anywhere you go. Simply pair your phone with the speaker, and you'll get full quality audio, with the freedom to move around. This can be a significant boost to your phone's built-in speakers. Boost the volume, improve the quality, and save your phone's battery life. In the past few years, it seems like every audio equipment manufacturer is making their own Bluetooth speakers. This only makes sense. It's a new market, and everybody wants a piece of the action.
But this rush to market has resulted in some duds along with the most worthwhile options. The best way to find a good Bluetooth speaker is to look for a reliable manufacturer. One of these is Axloie, who are known for some pro-grade audio equipment as well as wireless earbuds. Now, they're expanding their offerings to include Bluetooth speakers. Today, we'll be reviewing the Axloie Mega Portable Bluetooth Speaker. This is an entry-level speaker, with a low price tag to match. But is it worth buying? We're about to take a look at all of its features, as well as the construction and sound quality. Let's see how it stacks up!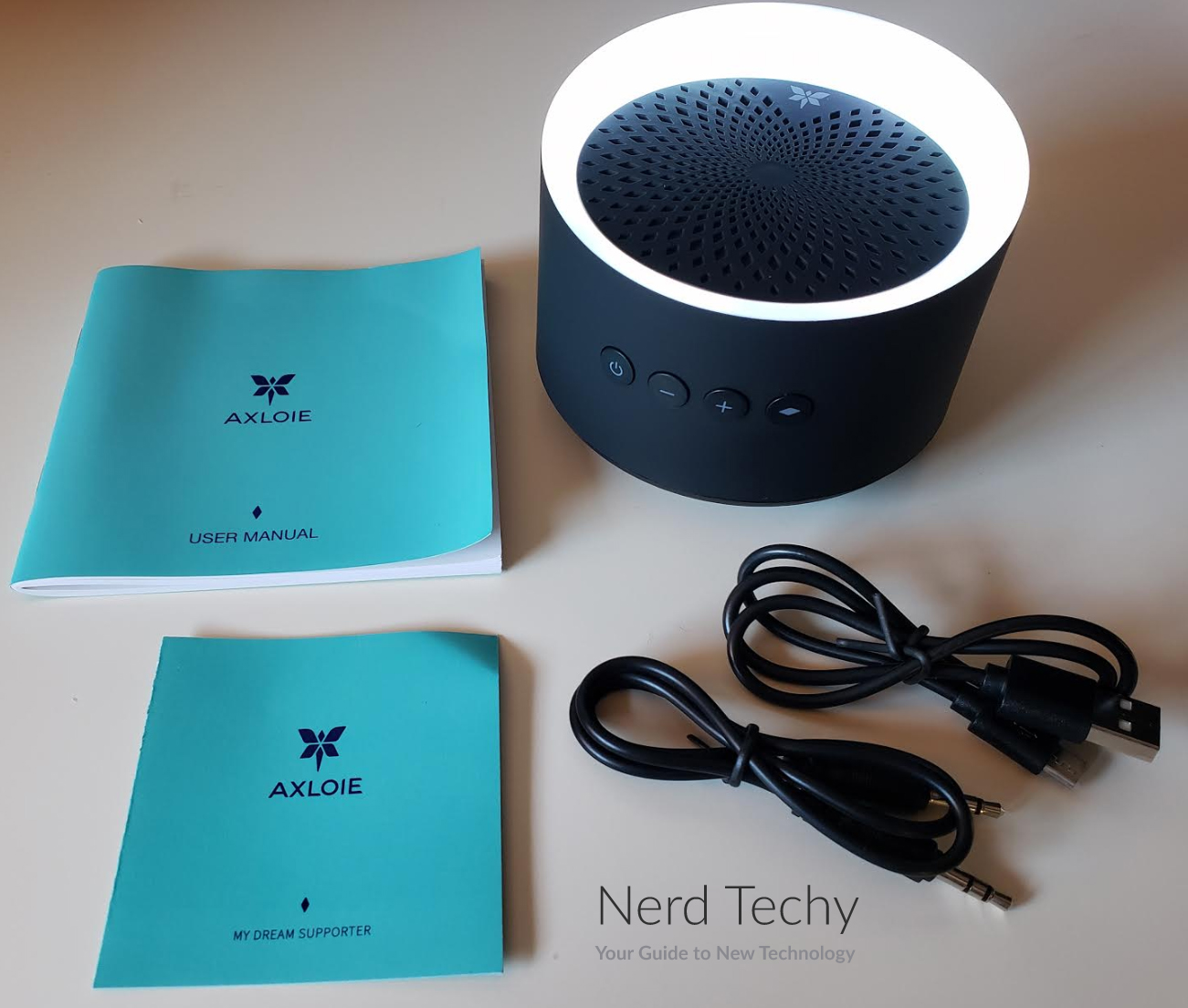 Design & Construction
As the Axloie Mega Portable's name implies, it has a compact, portable design. It's shaped like a squat cylinder, measuring 3.9 inches in diameter and 2.5 inches high. So it's not quite pocket sized, but it's easy to carry in a backpack. And at only 10.4 ounces in weight, you'll barely notice that you're even carrying it. The bulk of the case is constructed from smooth ABS plastic, and is available in black or white. Axloie calls this "anti-oxidation ABS", but this is a bit silly. All ABS is oxidation-free, because plastic, by definition, can't rust. On the bottom, you'll find a non-skid rubber pad, which prevents the speaker from sliding or slipping.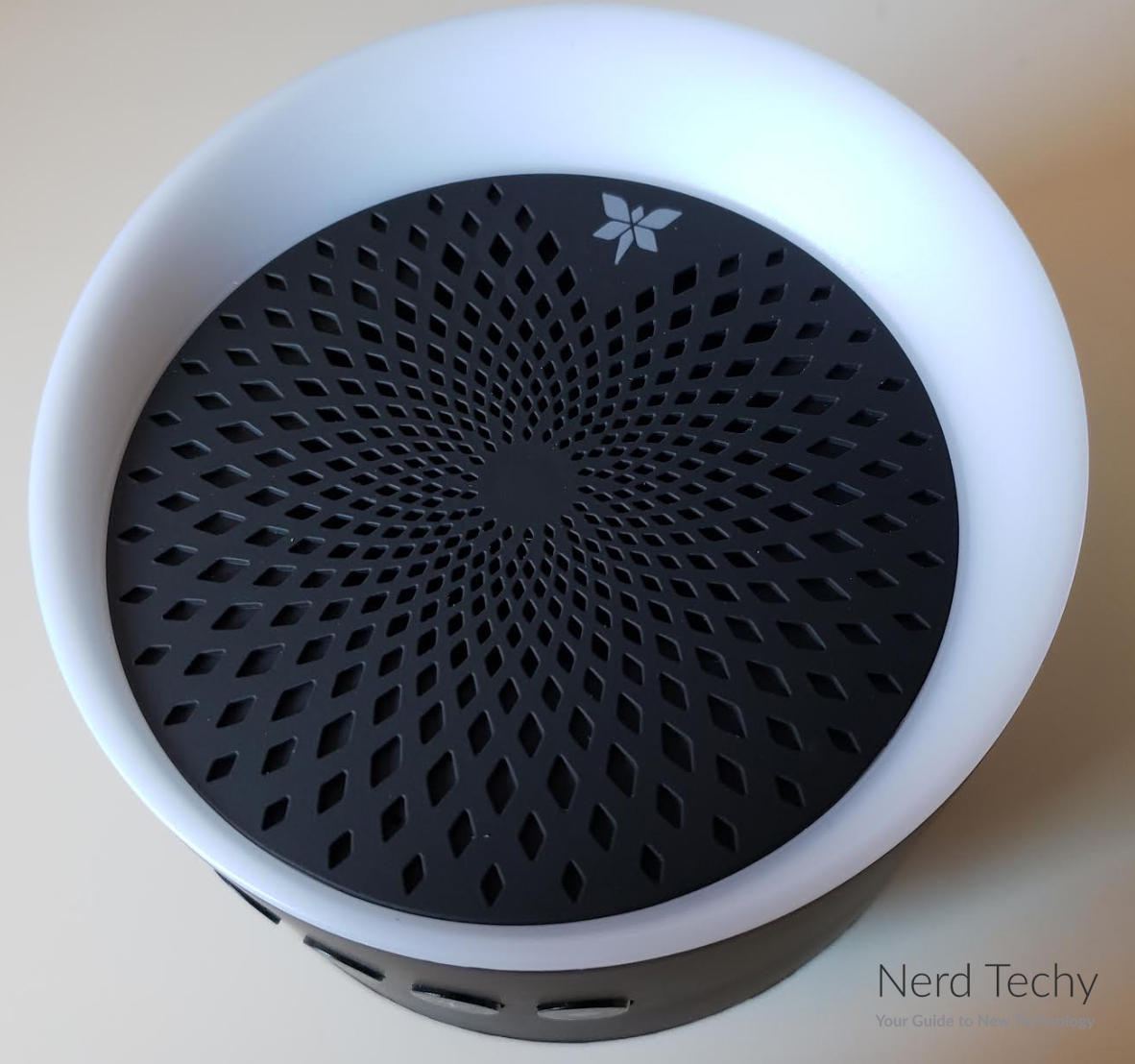 The top of the Mega Portable houses the actual speaker grill, which has an attractive spiral pattern. This effectively ensures 360-degree sound. At one edge of the speaker, you'll see a small grey Axloie logo. But the real decoration of the top of the speaker consists of a sloped LED light ring. This LED ring has five different modes. The first, and most obvious mode is "off", which will save batteries. The second and third are breathing and constant moonlight. Moonlight is simply a soft white light. In breathing mode, it slowly fades in and out. In constant mode, it's always on. Similarly, there are breathing and constant rainbow light modes.
On the front of the Mega Portable, you'll find all of the control buttons. In fact, there are only four, but that's all you really need. From left to right, they're a power button, volume up and down buttons, and a play/pause button. There's no Bluetooth pairing button. When the Mega Portable is powered on, it automatically becomes available for pairing. Similarly, there are no dedicated buttons for skipping tracks. Just hold the volume up and down buttons down to skip forward or backward respectively. On the back of the cylinder, you'll see the Micro USB power plug, the 3.5mm aux jack, and the SD slot. Both a Micro USB cable and an aux cable are included in the kit. You won't need to provide any of your own supplies.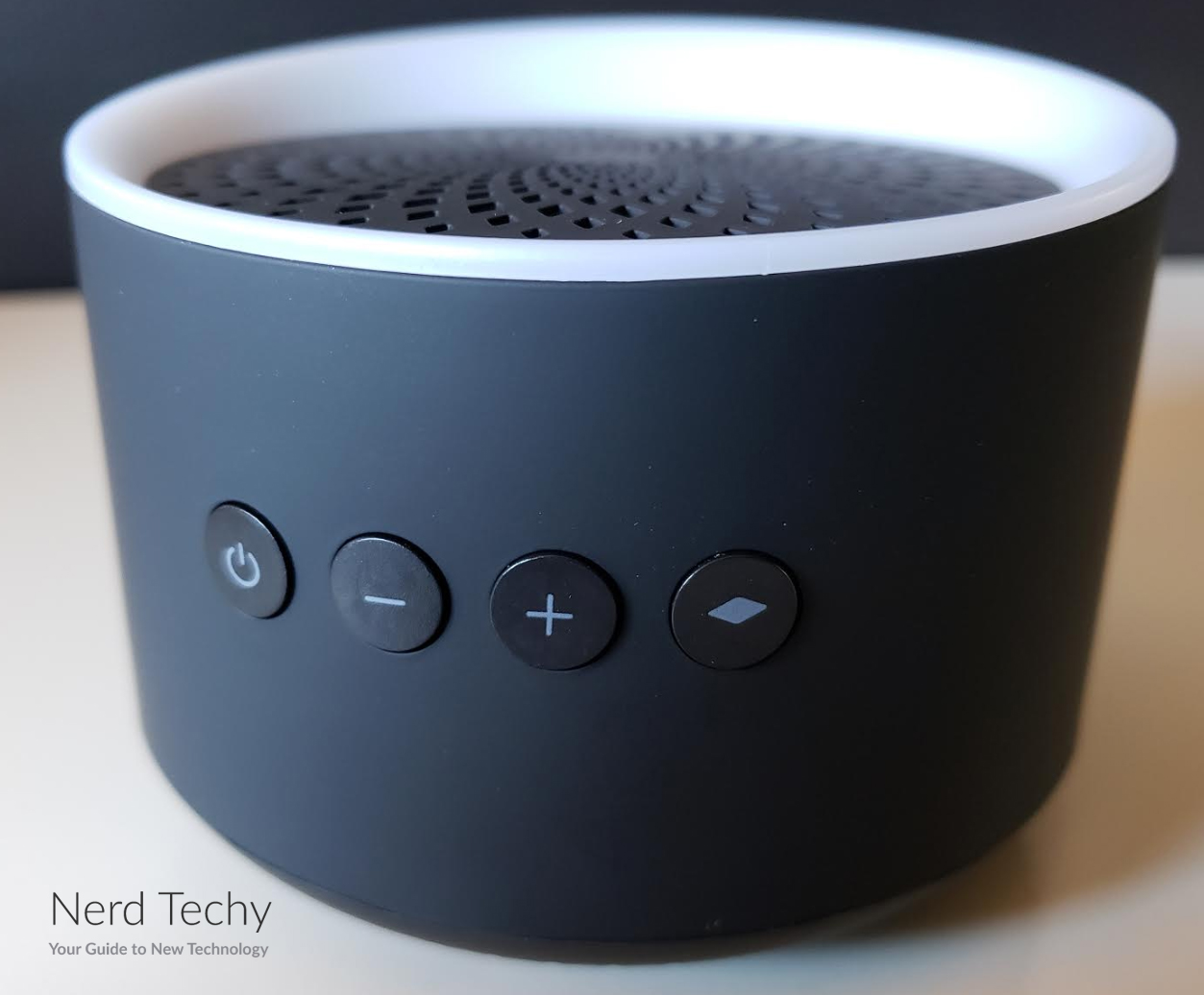 One thing the Mega Portable does not offer is water resistance. You'll need to be careful if you're using it near the swimming pool or in the bathroom. That being said, the Mega Portable doesn't leave you hung out to dry. Axloie provides an 18-month manufacturer's warranty. This covers any defects in material or workmanship, and comes with the backing of Axloie's reliable customer service. If you need a water-resistant speaker, consider the Bugani M99, which we recently reviewed. It's rugged and water-resistant, but the battery life is relatively short.
Battery Life & Connectivity
The Axloie Mega Portable Bluetooth Speaker comes with a built-in 1,000mAh rechargeable battery. This battery provides up to 12 hours of playtime, according to manufacturer testing. Keep in minds that this testing is based on playback at moderate volume. If you've got the volume pumped up to the max, you're going to experience some drop-off. Similarly, if you're playing at lower volumes, you're going to get better performance. Similarly, turning off the LED lights will extend the battery life somewhat. Regardless of your situation, the battery is sufficient to get you through a day of listening. And if it's sitting in one place, playing while charging is perfectly viable. When the battery does die, it will fully recharge from a dead state in 2 ½ hours.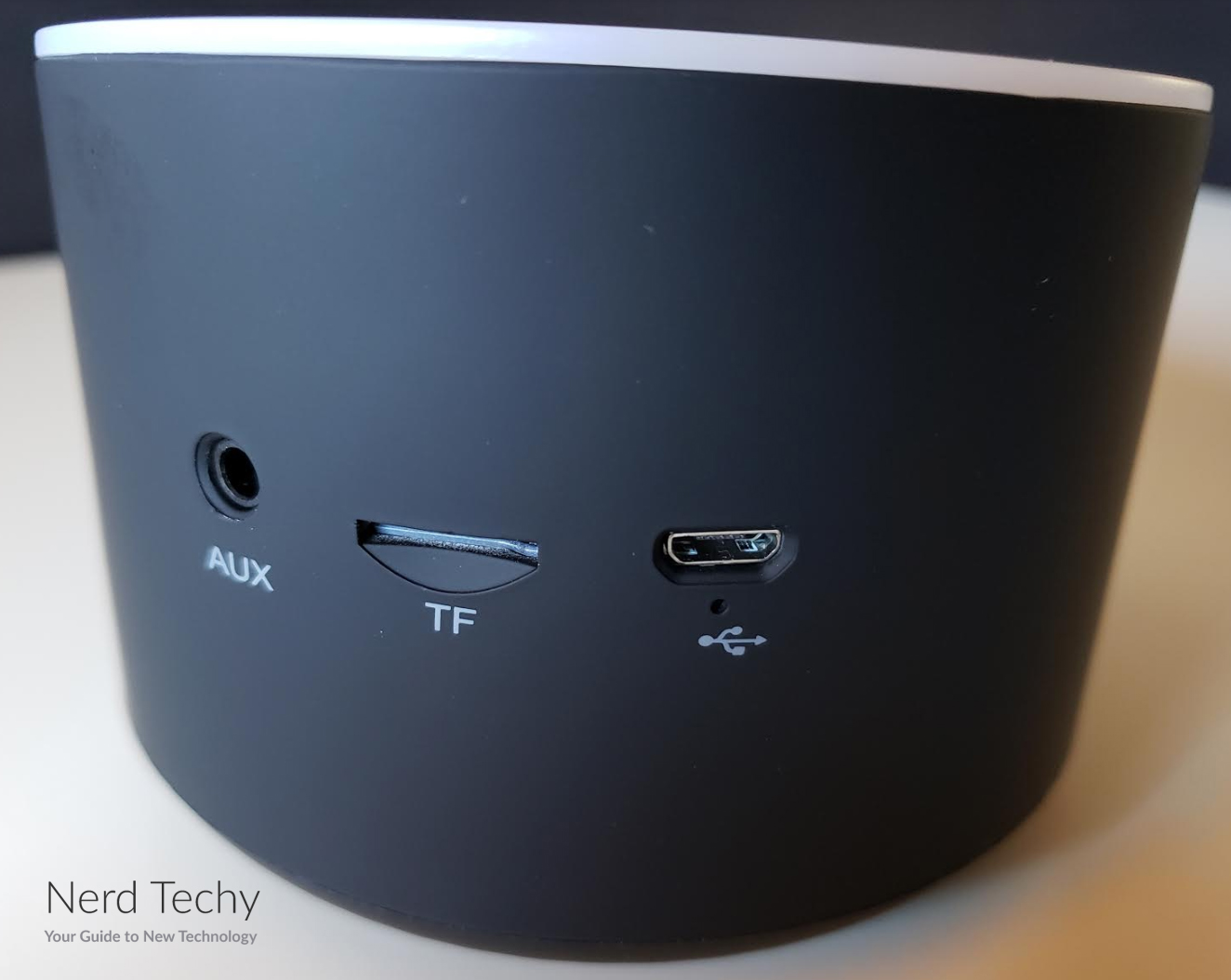 The Mega Portable utilizes the latest Bluetooth 5.0 protocol. This protocol allows for higher bitrates than older Bluetooth protocols. You can listen to 256k MP3s and even .wav files without any drop-off in quality. It also allows for a more stable connection. You can enjoy your music without any skipping or stuttering due to connection issues. Finally, you get reduced lag, so the speaker is suitable for watching videos as well as listening to music. The overall range of the signal is 33 feet, which is standard on most Bluetooth 5.0 devices.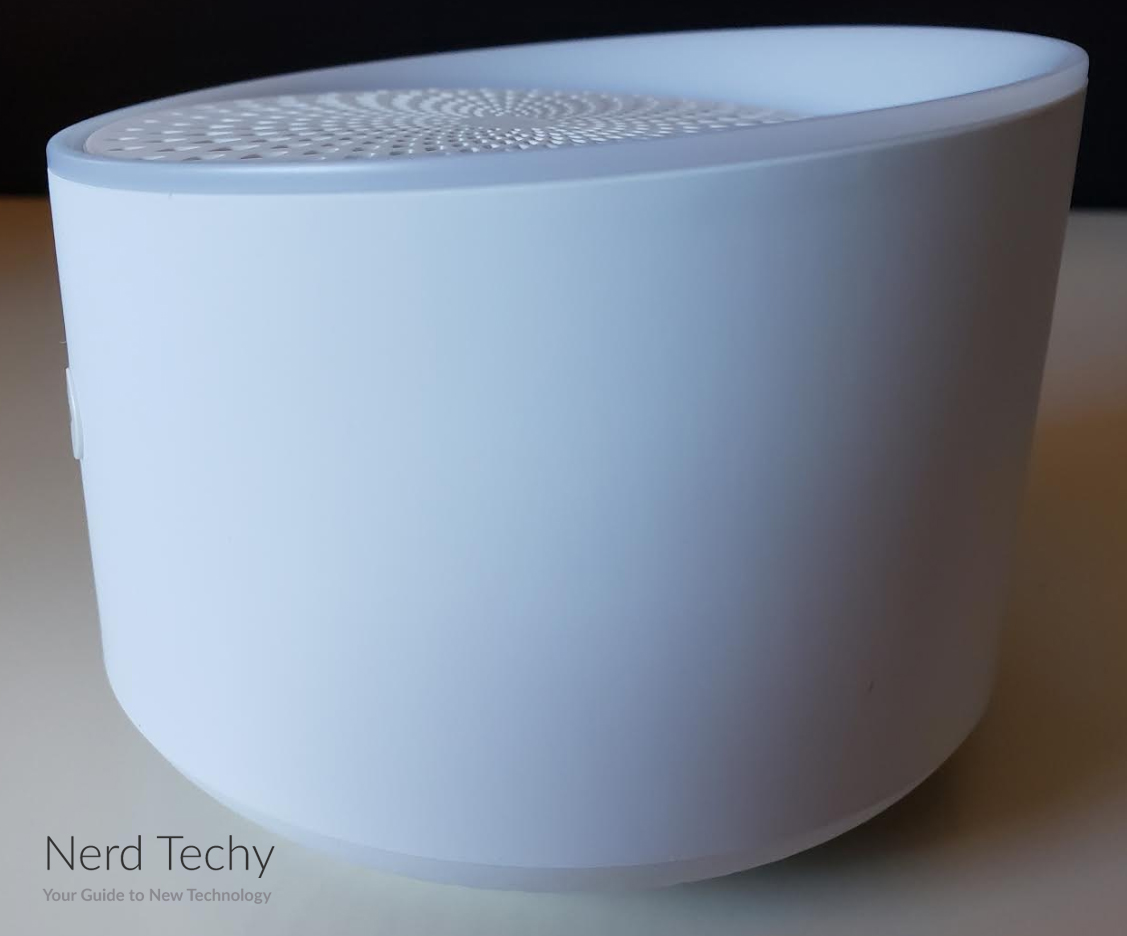 In addition to connecting via Bluetooth, you can also listen to your music over the 3.5mm aux cable. This negates the need for the battery, so you can keep on listening even after the battery is dead. It also allows you to listen to music from non-Bluetooth sources like turntables and older stereos. Keep in mind that the volume buttons will only work if the battery is charged. In addition, the aux cable will not provide power to the LED lights. But still, it's nice to have the option. You can also listen to music from an SD card. Simply copy your MP3 or .wav files to the card, pop it in the back of the speaker, and press play. Unlike some other Bluetooth speakers, though, the Mega Portable does not support flash drives. There's no USB Type-A port to plug them into.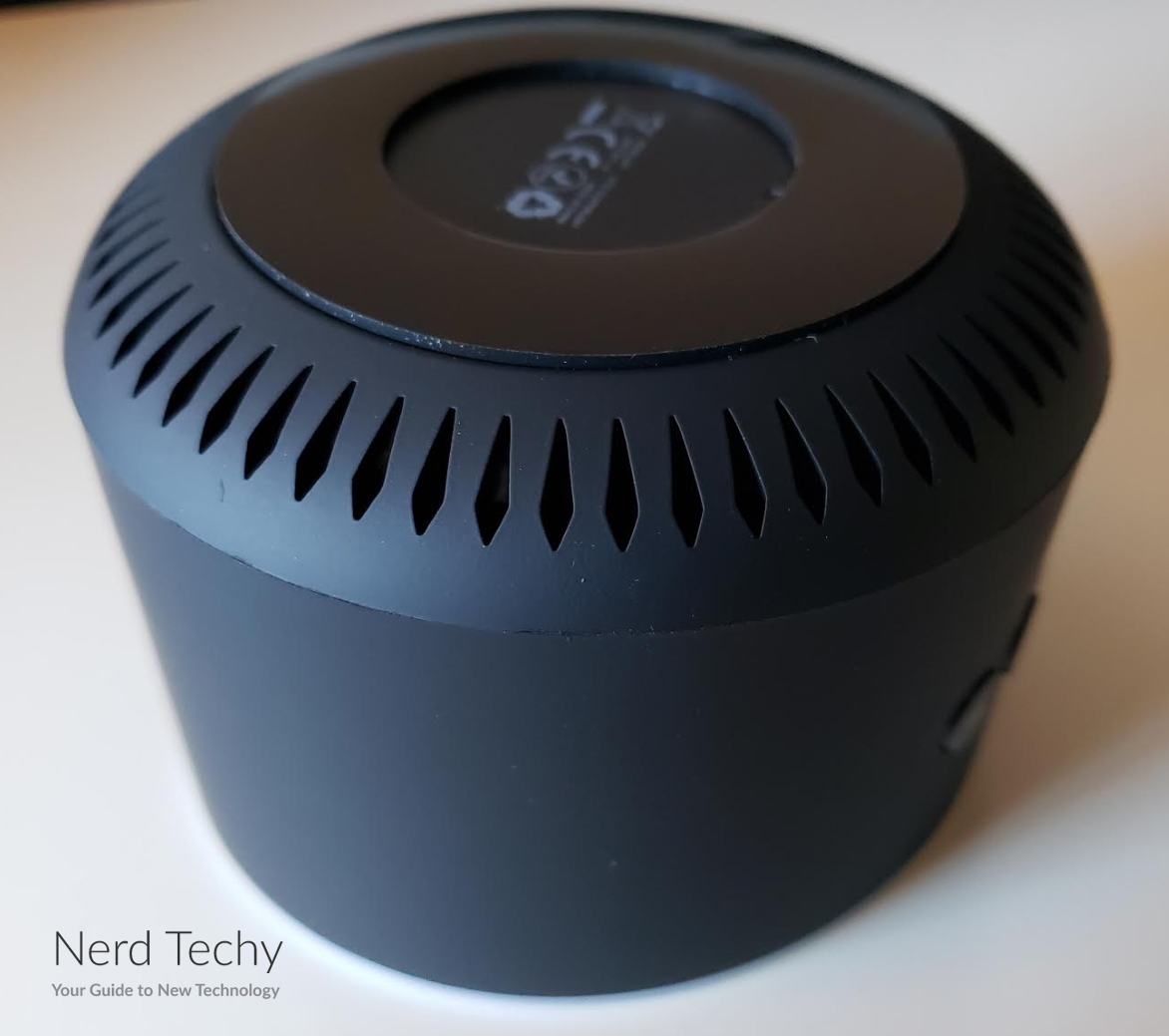 By default, the Mega Portable acts as a standalone mono speaker. However, you can pair two speakers together to get a true stereo experience. To do this, you'll first need to make sure that your speakers are not paired with any Bluetooth device. Check your phone's Bluetooth menu or turn off Bluetooth to make sure you're good to go. Once that's done, press and hold the power and volume up buttons on one of the speakers. This will pair the two speakers together, and put them into stereo mode. Now you can pair your phone with both speakers. Simply open the Bluetooth menu and select "Axloie Mega".
Sound Quality
When it comes to sound quality, the Axloie Mega Portable Bluetooth Speaker is a bit of a mixed bag. On the one hand, the sound quality itself is excellent. The 45mm 10-watt speaker punches well above its weight. The highs are crisp, clear, and shimmery. Fans of country and classical music will love the sound of stringed instruments. The mids have a similar quality, with plenty of separation. They don't get crowded out by the bass and treble like on some other inexpensive speakers. You'll be able to hear vocals just fine, in any genre of music.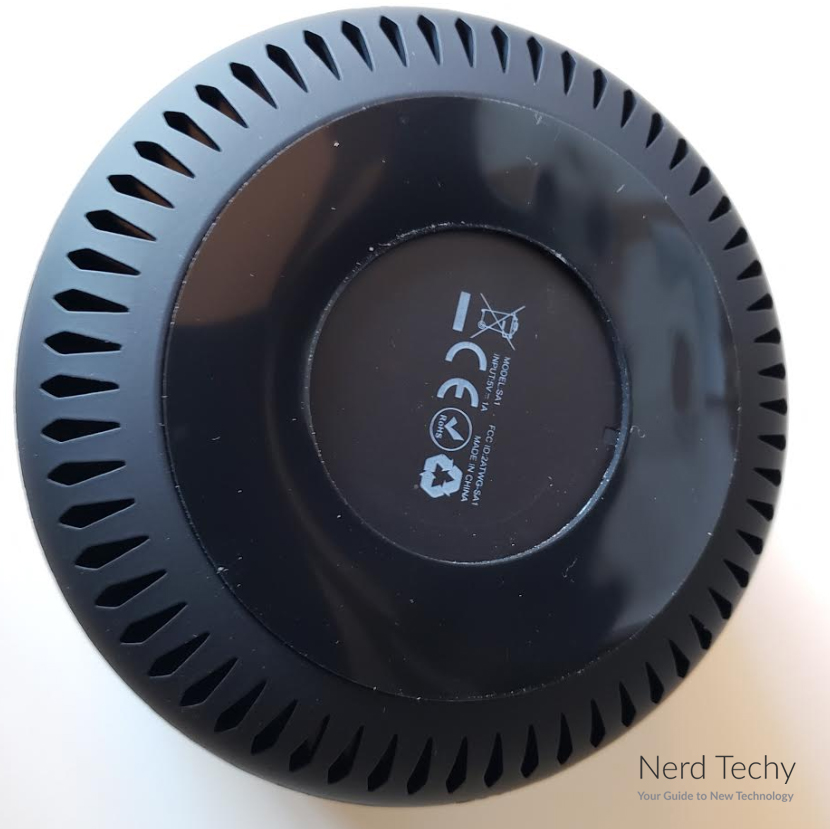 Perhaps the most impressive feature of the Mega Portable is the quality of the bass. It's nice and punchy, and doesn't get muddy like on most smaller speakers. It comes through very clearly, and won't get distorted even at maximum volume. Dance music and other bass-heavy genres are going to sound just fine. Unfortunately, the max volume isn't terribly high. In a sense, this is predictable. You're looking at a small, 10-watt speaker. However, the Mega Portable isn't ideal for parties or other large gatherings. It's better suited for sitting quietly in your living room and enjoying some background music. That said, since large gatherings are off the table for the foreseeable future, this might not be a major drawback.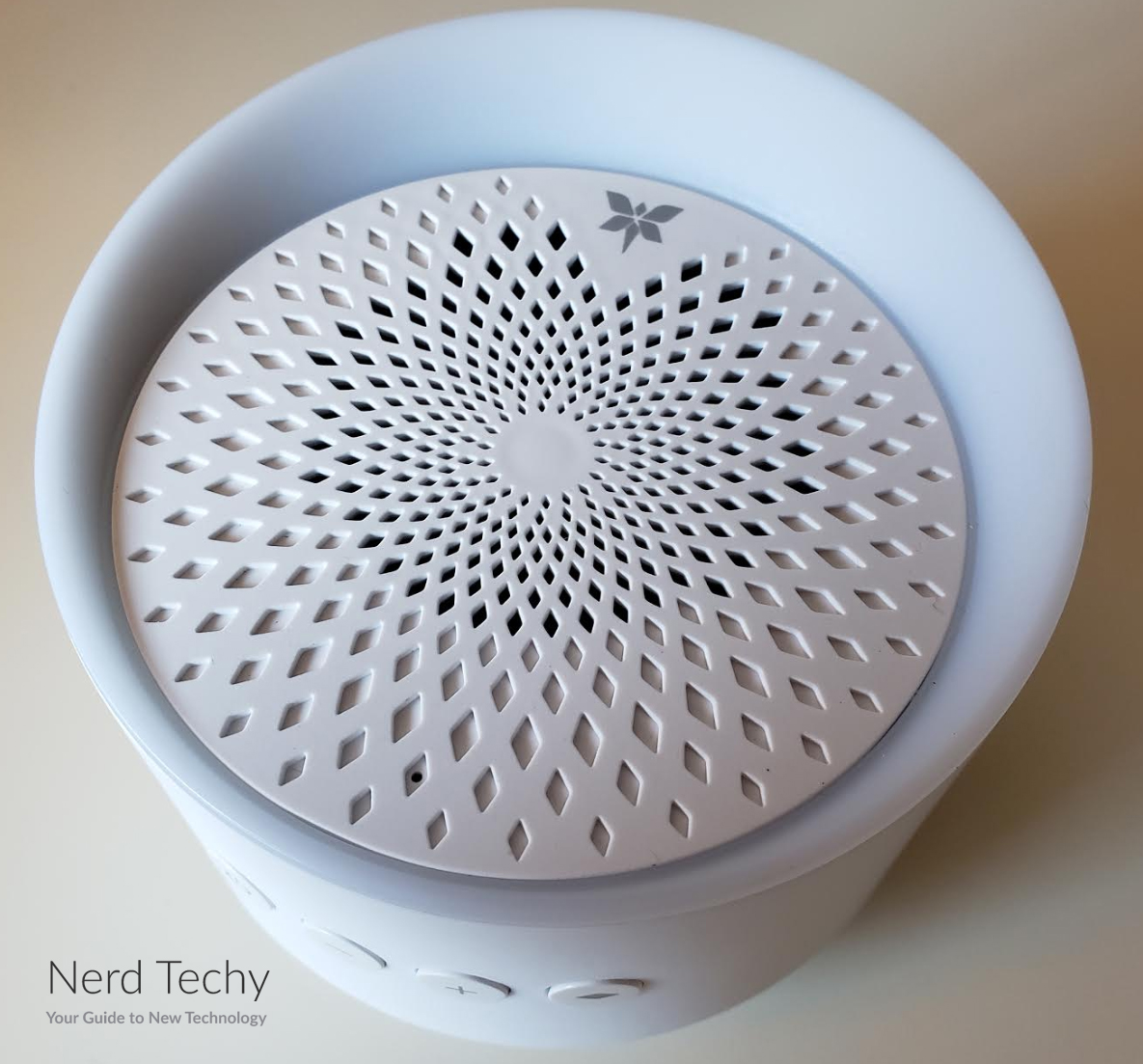 If you need higher volume, you're going to need to spend a few more bucks on a more powerful speaker. In that case, the Tronsmart T6 Plus (Upgraded Edition) is an excellent option. Not only is it louder than the Mega Portable, it's also water-resistant for outdoor use.
The Mega Portable isn't just a speaker for music. It can also be used for hands-free calling. Admittedly, this isn't the primary purpose of the device, but it still performs quite well. The built-in mic is surprisingly good, and won't distort your voice while you're talking on the phone. The speaker also doesn't have any issues reproducing the other person's voice. The volume isn't a limiting factor, since you ultimately want to be relatively close to the speaker while you're talking.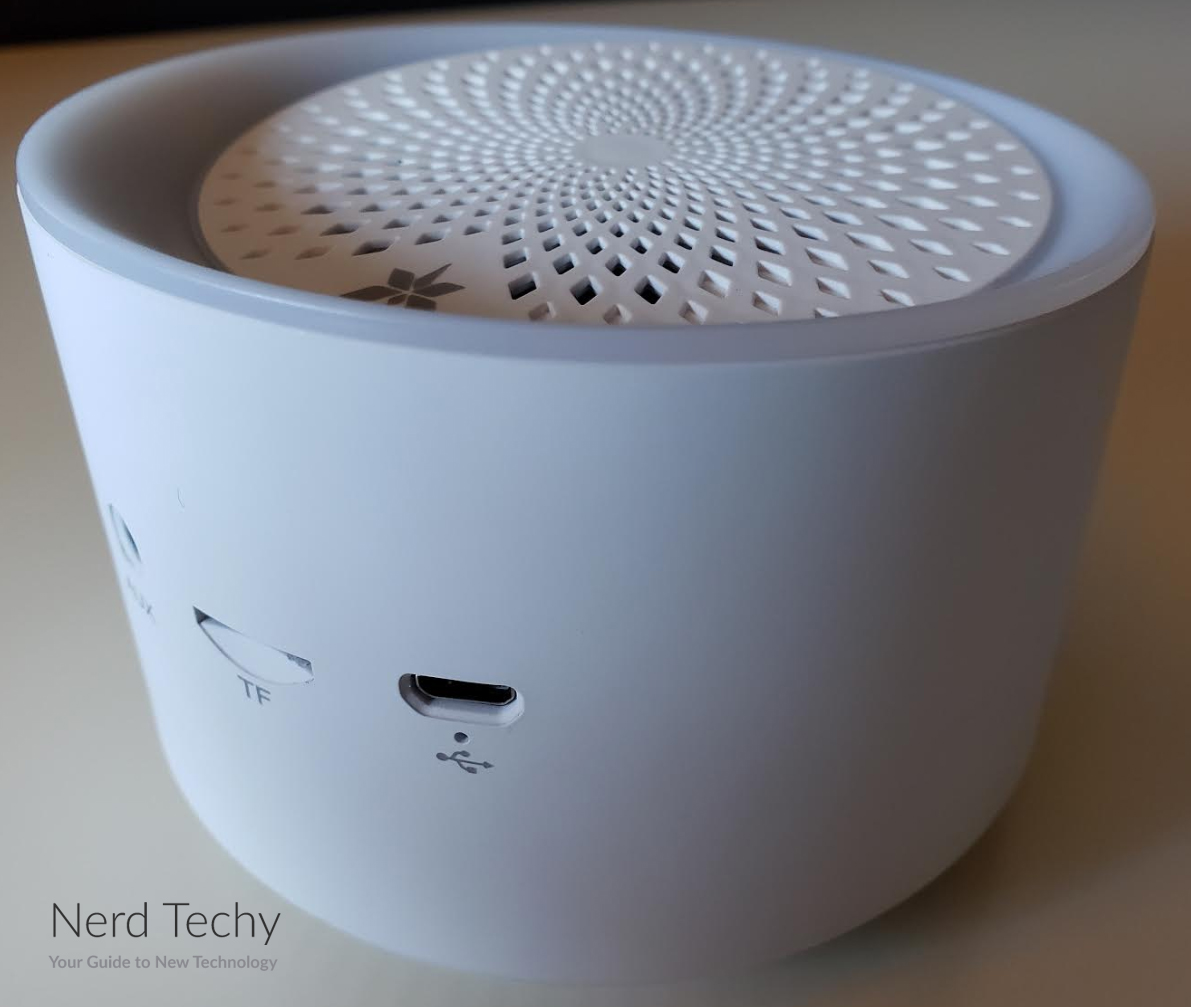 Final Verdict
So, how does the Axloie Mega Portable Bluetooth Speaker stack up to the competition? To begin with, we need to be clear about exactly who "the competition" is. This is not a top-grade, premium speaker. This is an entry level speaker, designed for a bedroom or a dorm room. It's not a replacement for your stereo system. And as an entry level speaker, it performs very well.
Let's start with the sound quality. The volume might be lacking, but there's plenty of clarity. Axloie has lived up to their reputation, and delivered excellent audio quality for the price. The overall design is also very appealing. It's compact, so travel and transport aren't an issue. And the LED lights are a nice touch, supplying an appealing accent at the expense of some battery life. The top speaker grills provide a balance around the room, so the Mega Portable works well on a coffee table. If you're looking to get your hands on an affordable speaker that punches above its weight, you could do worse. The Axloie Mega Portable is an excellent choice in this price range.