If you want a good outdoor speaker, Bluetooth is just about your only option. Sure, you could go wired, but you lose portability. Not to mention, if you want a weatherproof wired speaker, you're going to be spending beaucoup bucks. Bluetooth speakers, meanwhile, fall into a reasonable price range for the quality. Not only that, but Bluetooth speakers are versatile. Want to use one in your kitchen as a voice assistant? You can do it. Want to set one up outside for your barbecue? Just bring it outside. No need to futz around with a bunch of wires.
A few months ago, we reviewed the Tronsmart T6 Plus. This was a second-generation version of Tronsmart's original T6, which was a respected speaker in its own right. It was a popular speaker with a lot of great speakers. But there's no such thing as a perfect speaker. You can always make it better. Tronsmart has taken this to heart, and released the Tronsmart T6 Plus (Upgraded Edition). This speaker keeps many of the great features we know and love about the T6 Plus. However, the Upgraded Edition has several important upgrades that make it even better. We're about to go over the entire package, from top to bottom. We'll talk about the build quality, the connectivity options, the battery, and, of course, the sound quality. Let's take a closer look!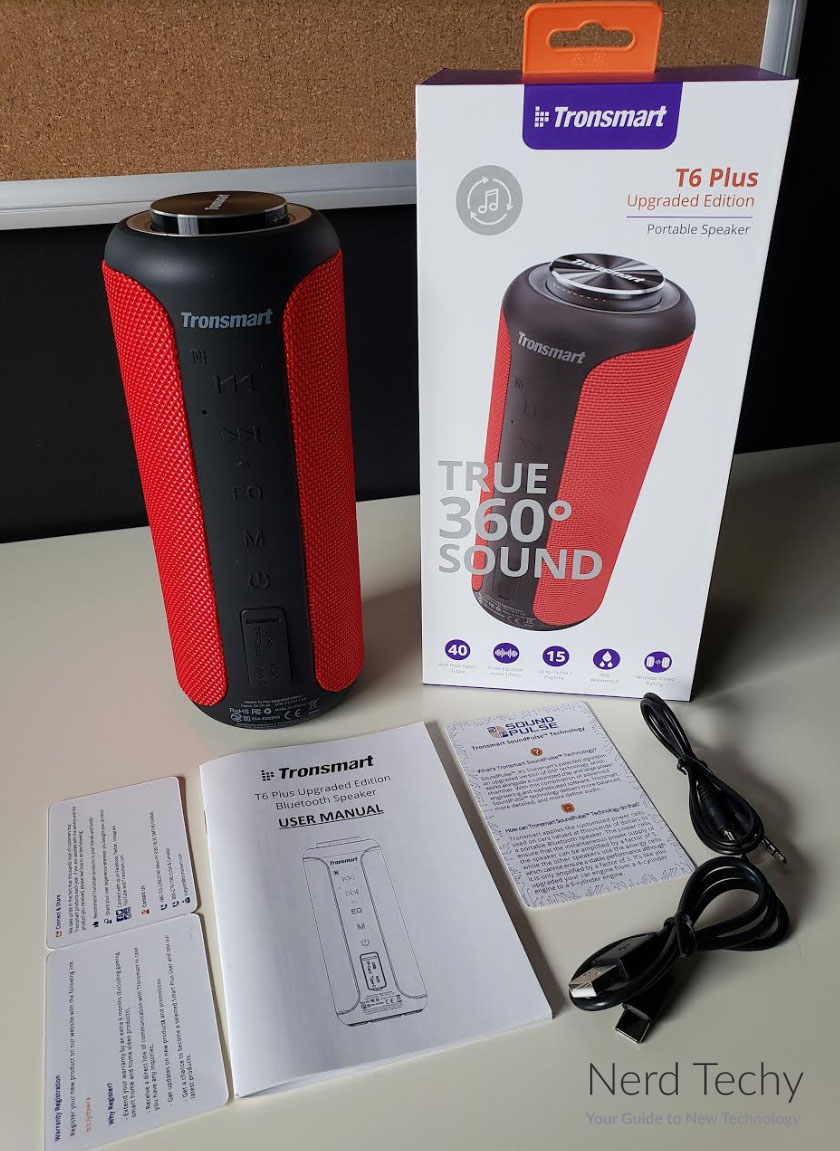 Design & Build
The first major improvement with the Upgraded Edition is the shape. The first T6 Plus was shaped like a cylinder with a bulge on one side for the control panel. It was generally easy to carry, but it was tough to carry in a water bottle holster or similar contraption. The Upgraded Edition is a true cylinder, measuring 3.31 inches in diameter and 8.27 inches high. This is a convenient shape and size for carrying and transport. It tips the scales at 26.5 ounces, or just over 1 ½ pounds. That's a reasonable weight for the size, less than we originally expected.
The body of the speaker is constructed from black ABS plastic, with an internal aluminum frame. This makes it fairly sturdy for the weight. The bulk of the sides are covered with a soft speaker mesh, which is available in black or red. The control panel is rubberized, and the whole thing is comfortable and grippy when you hold it in your hand. On top of the speaker, you'll find an aluminum dial that controls the volume. Turn it clockwise to increase the volume, or counterclockwise to lower the volume. Tapping the dial operates the play/pause function. This is another area where the Upgraded Edition has been improved. The earlier edition had a sharp edge on the dial, which some people felt was uncomfortable to operate. The upgraded volume dial has a softer edge, so it won't dig into your fingers when you're turning it.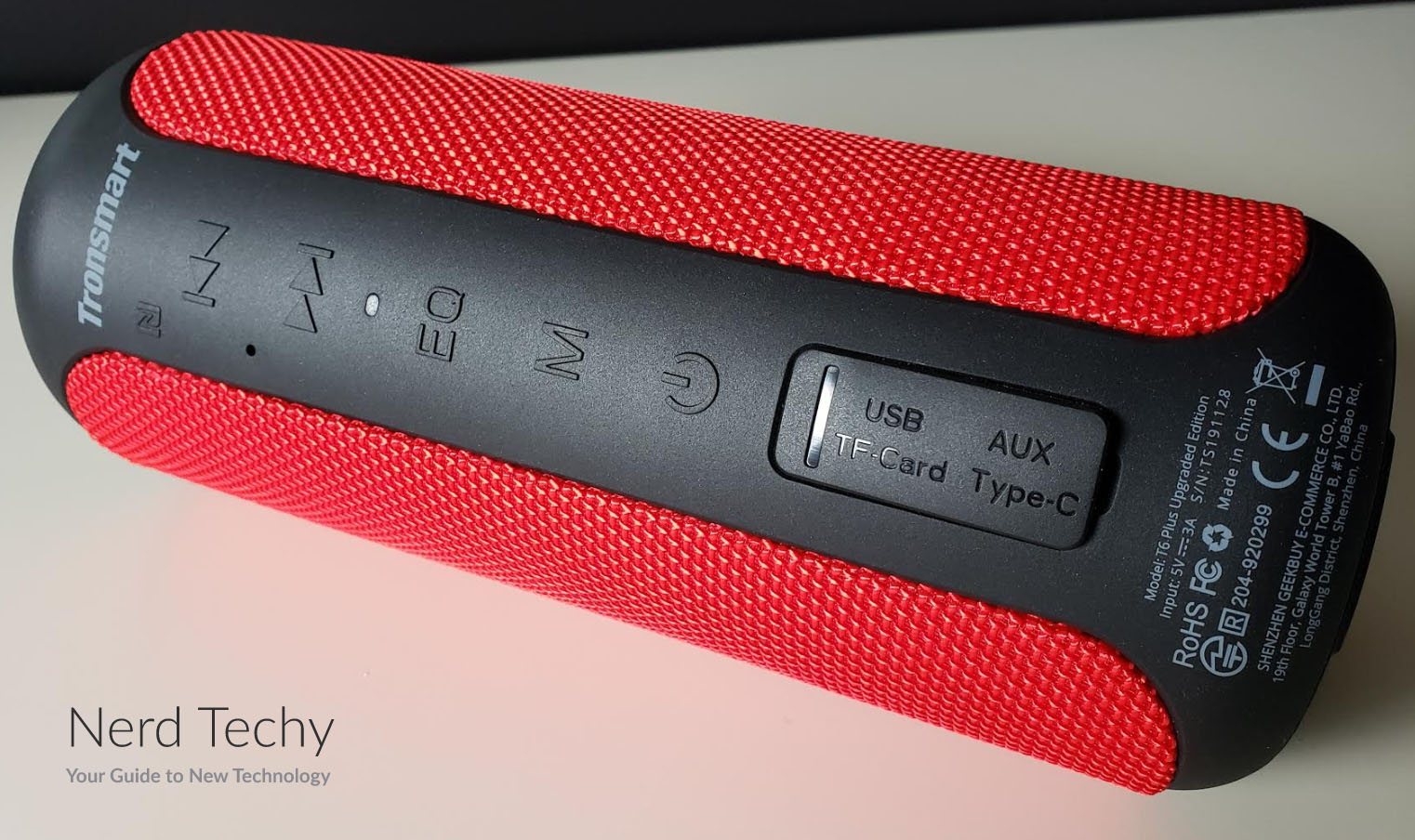 The remaining controls are located on the front panel. Here, you can skip tracks, change the EQ options, switch inputs, and turn it on and off. There's also a pairing button for True Wireless Stereo mode, which we'll talk about more in a minute. Here, again, you'll notice a difference between the Upgraded Edition and the original T6 Plus. Whereas the old buttons were a bit squishy, the new buttons offer a little bit better tactile response. Beneath the buttons, you'll find a rubber flap that covers the USB Type-C and Type-A ports. Under the same flap, there's also an SD card slot and a 3.5mm aux port.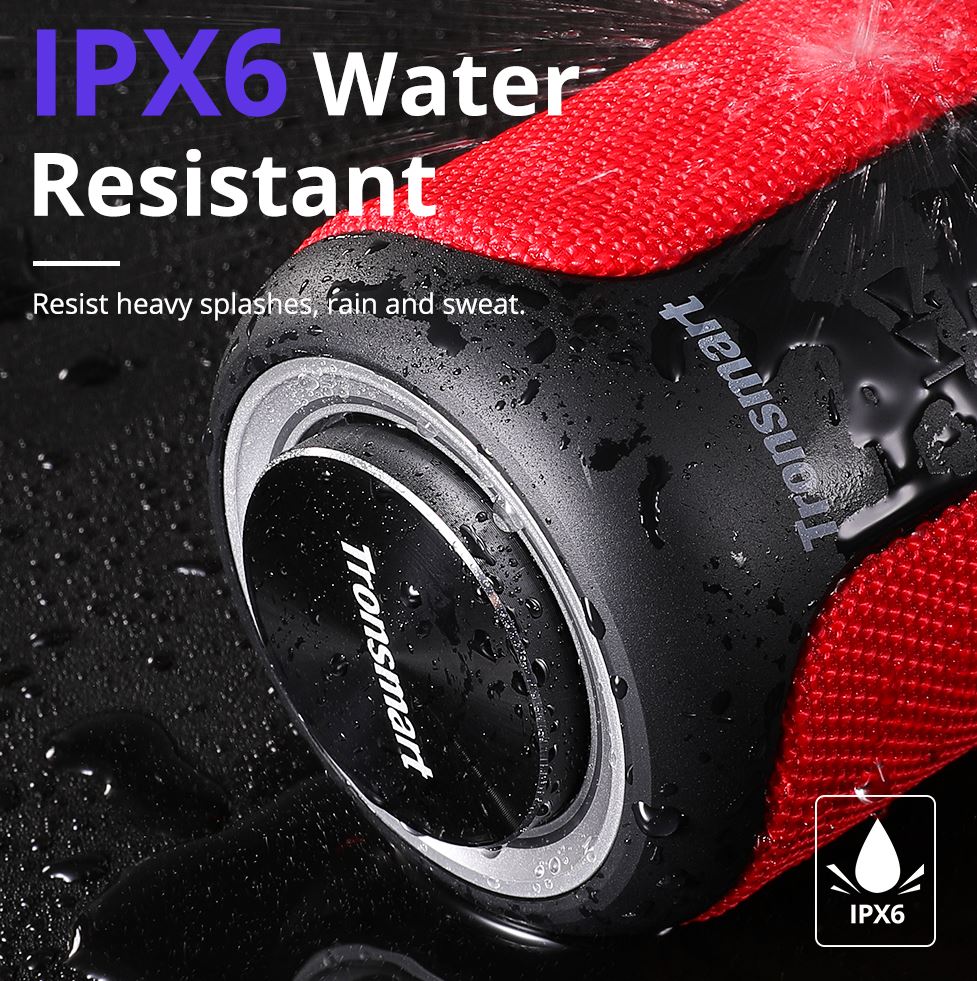 The T6 Plus (Upgraded Edition) is part of Tronsmart's "The Element" series of speakers. This refers to their outdoorsy nature, with a rugged frame and water-resistant design. They're perfectly suited for home use, but they really shine when you take them out into the world. These speakers have a water-resistance rating of IPX6. At this water-resistance level, they're capable of standing up to a sustained stream of water. Now, we wouldn't go and hose one down. But if your kids are running around spraying water guns, you don't have to worry about them getting shorted out.
Even if something should happen to go wrong, Tronsmart has you covered. The T6 Plus (Upgraded Edition) comes with a one-year manufacturer's warranty. Just make sure to send in the warranty card to get your coverage. There's also a 30-day money back guarantee. If whatever reason you don't like your speaker, you can send it back for a refund within this period. In addition, the kit also includes a user's manual, a USB-C charging cable, and a 3.5mm aux cable.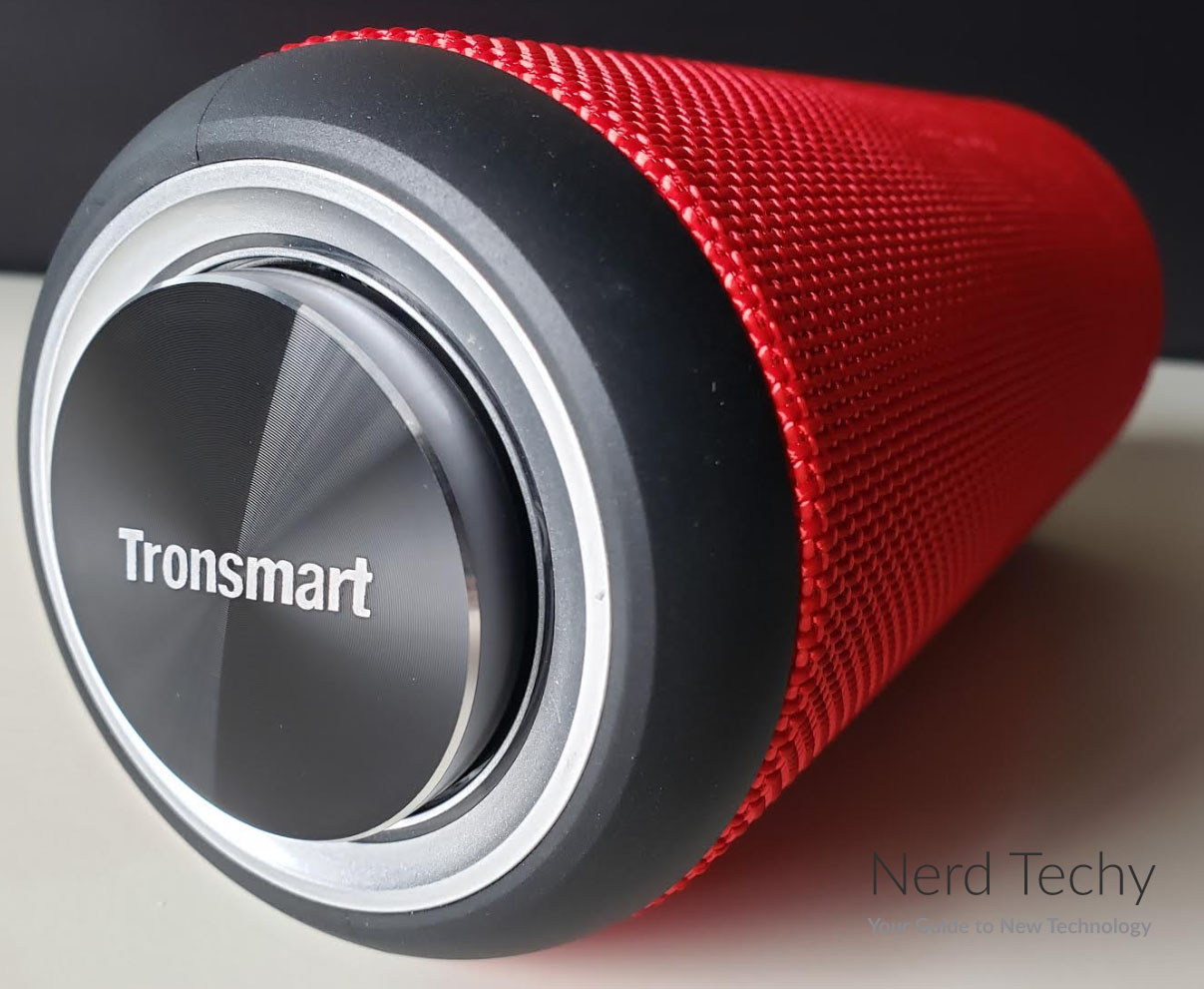 If you like the build quality, but you need a smaller speaker, there are other options in the T6 line. The T6 Mini is an excellent choice. It's just as durable as the full-sized speakers, but it's literally half the size. That said, it also has half the battery life and half the speaker power.
Battery Life & Connectivity
The T6 Plus (Upgraded Edition) has a battery life of 15 hours. All in all, that's okay, but not terribly impressive, especially considering that this is a manufacturer rating. In practice, at full volume, you're looking at more like 10 to 12 hours. That said, charging is easy, with a USB Type-C charging cable. From a dead state, the battery will fully charge in about 90 minutes. In addition, there's also an auto-off feature. If the speaker is left on for an hour without pairing, or without any music playing, it shuts off. This will prevent it from running dead by accident. You can also use the T6 Plus (Upgraded Edition) as a power bank. Plug your smartphone into the USB Type-A port, and it will start charging.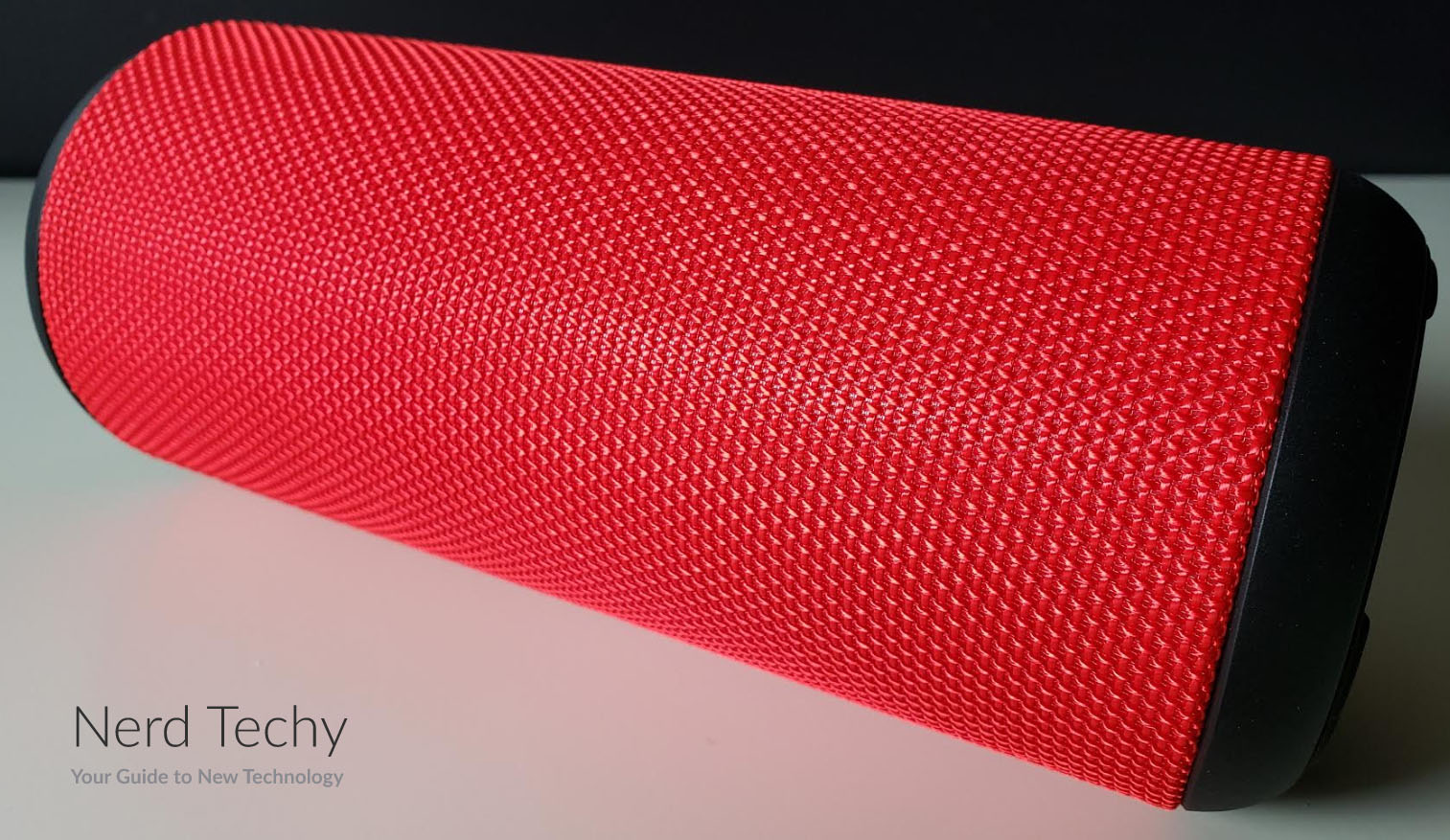 For better battery life and similar build quality, consider the Tronsmart Element T2 Plus. It sports a powerful, 24-hour battery and an impressive IPX7 water-resistance rating. On the other hand, it only has a 20-watt speaker.
The T6 Plus (Upgraded Edition) uses Bluetooth 5.0 technology. This allows for a very stable connection, as well as quality, high-bitrate audio. Unlike many Bluetooth 5.0 devices, it has an extended range, as far as 66 feet under good conditions. That's good enough for just about any backyard event. In addition to playing audio from Bluetooth, you can use the 3.5mm aux port. In this mode, you don't need any batteries, so you don't have to worry about time limitations. You can also play music from an SD card, or insert a flash drive into the USB port and play from there.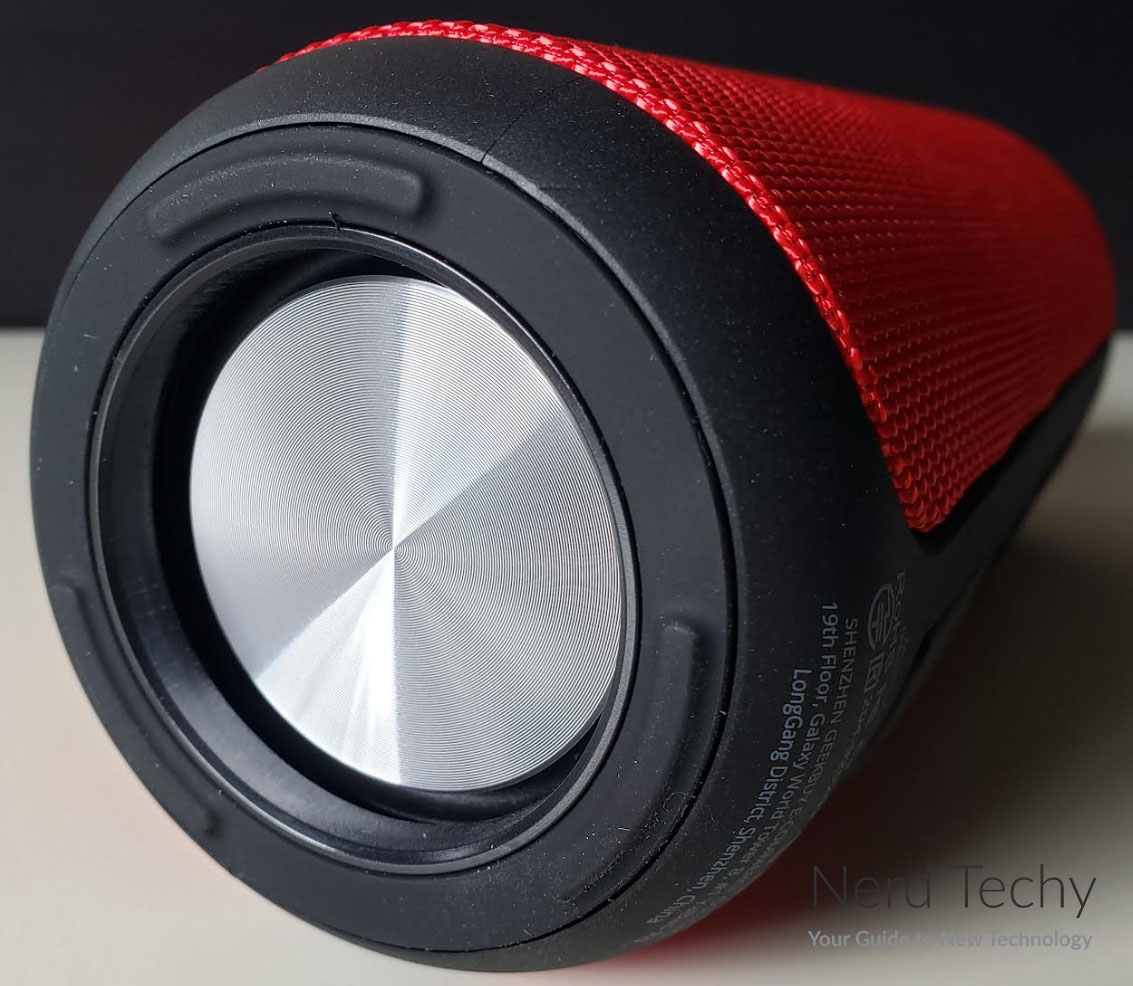 There's yet another option that's been added on the new T6 Plus. The Upgraded Edition supports Near Field Connection (NFC). This technology allows you to play audio directly from your device, or even from online storage like Google Drive. To use this feature, just tap your smartphone to the top of the control panel, and your devices will pair.
If you want stereo audio, it's easy to achieve. Simply pair two T6 Plus (Upgraded Edition) speakers together, and they'll automatically go into stereo mode. Un-pair them, and you can once again use them independently.
In addition to all of these other features, you can also use the Upgraded Edition with your voice assistant. Pair it with your Google Assistant or Siri, and you can use the speaker's mic to interact with it. You can also pair the Upgraded Edition with your Alexa Dot. Obviously, this isn't the speaker's primary purpose, but it's a great added value.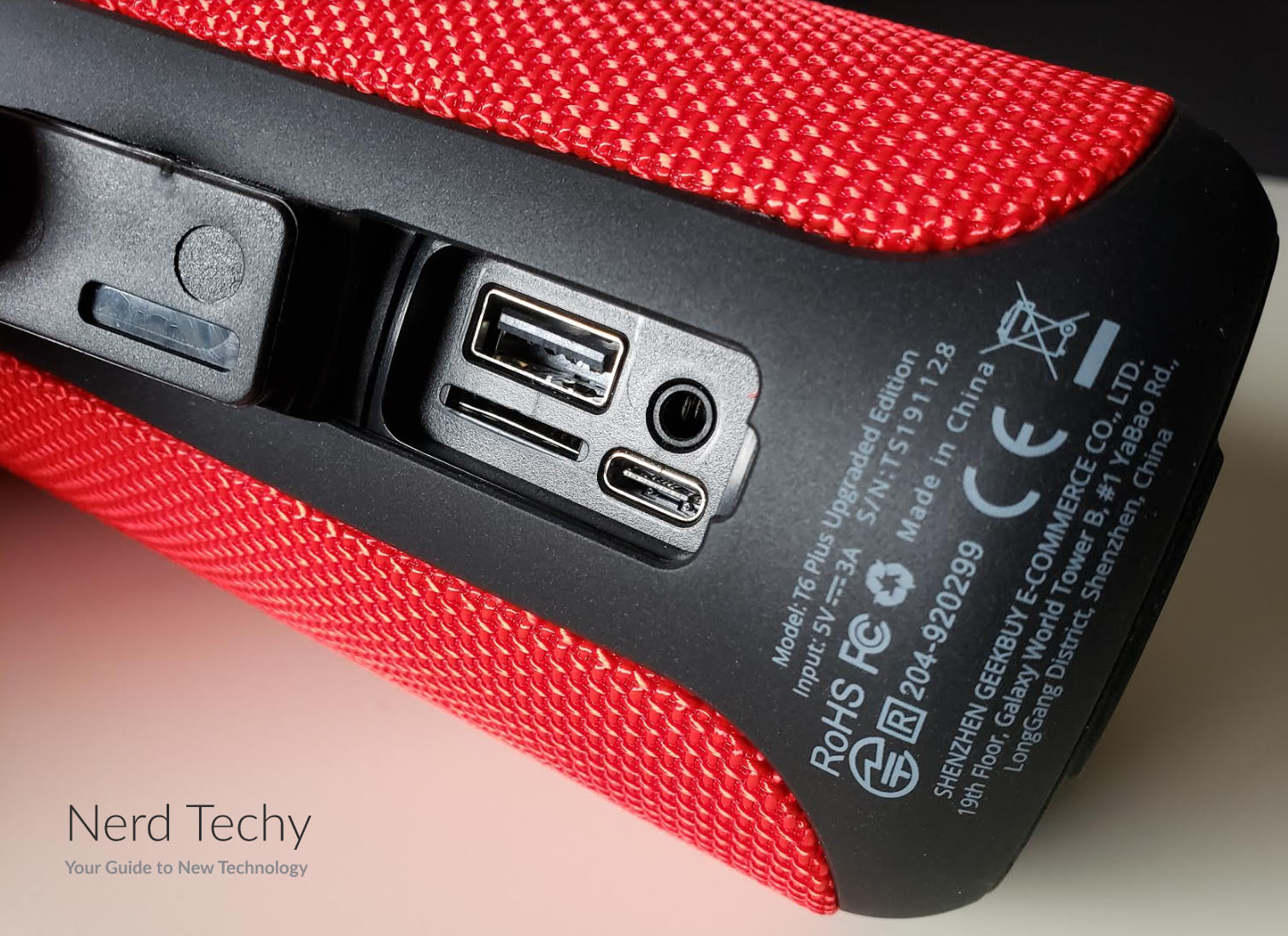 Sound Quality
Like previous iterations of the T6 speakers, the Upgraded Edition uses Tronsmart's SoundPulse technology. The SoundPulse technology works primarily by processing different audio ranges separately. This ensures better separation between different parts of the spectrum. This technology is used to increase the sense of space and bring out vocals and bass. SoundPulse technology scales with the volume, providing the same audio quality regardless of loudness.
When it comes to actual performance, you won't experience any issues with the Upgraded Edition. The highs are crisp and clean, suitable for all genres of music. The mids are also very well-defined, providing clear, warm vocals. Whether you're listening to hip-hop, rock, or opera, you'll notice the quality of the vocals. Bass is also very good. It has a surprising amount of punch for the speaker size, which is a great feature for dance music.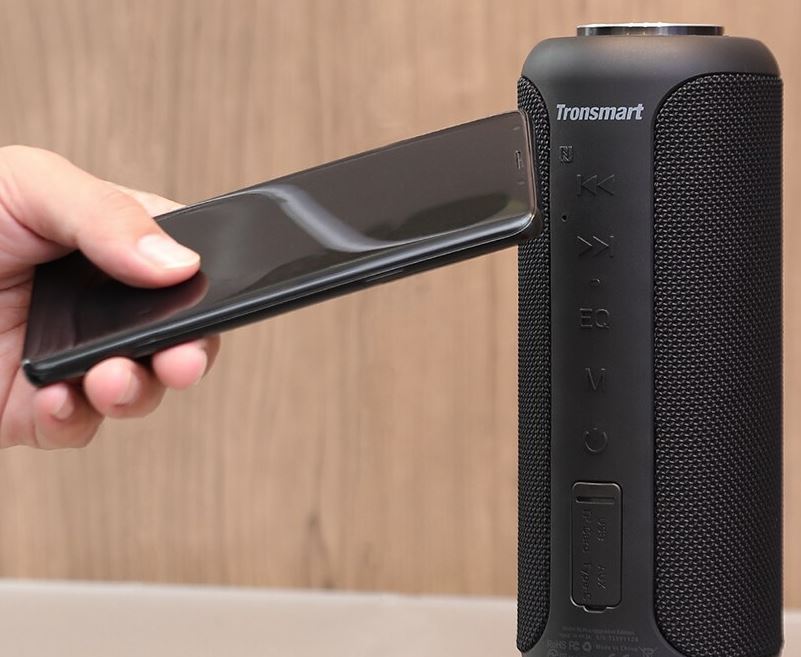 With the EQ adjustment, you can choose between three different levels of bass. The first option is a basic, balanced EQ. The second is 3D mode, which should be considered the default mode for most genres. If you want even more bass, you can use "deep bass" mode to pump up the beat.
Here we come to the final improvement Tronsmart made with the Upgraded Edition, and it's a big one. The original T6 Plus had a pair of 20-watt speakers in one side of the unit. This produced plenty of sound in a single direction. However, it wasn't the best choice for filling a room or permeating a patio. In the Upgraded Edition, the speakers are positioned on opposite sides of the cylinder. This allows for true 360-degree sound.
In addition to listening to music, you can use the T6 Plus Upgraded Edition for hands-free calling. This isn't its primary purpose, but it still works well. Call quality is good, without any noticeable lag or latency.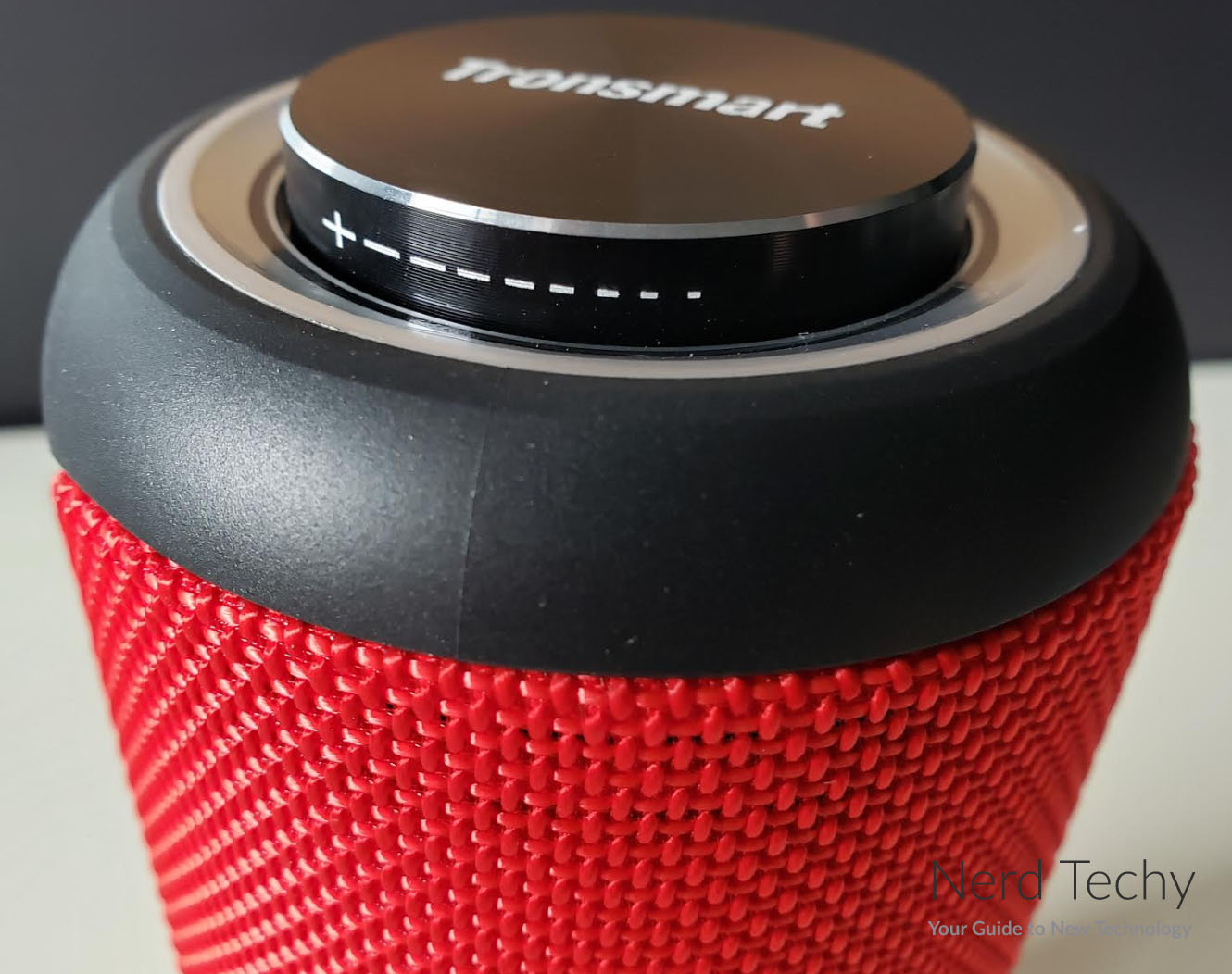 Final Verdict
The Tronsmart T6 Plus (Upgraded Edition) is a notable improvement over the original version. To begin with, we loved the new shape. It's easier to transport, and it's easier to hold in your hand. The new volume wheel was a less noticeable improvement, but it's still a nice touch.
Probably the most important improvement is the repositioning of the speakers. By putting them on opposite sides of the unit, the sound disperses better through a larger space. Considering the cylindrical shape of the original, we would have expected 360-degree sound to begin with. Finally, the NFC connection was a great bonus. Not many people use it, but for those who do, it's a good value.