Security cameras are made in different types, intended for different purposes. Mostly, it really varies by location. Are you trying to record a huge parking lot, an area spanning 300 yards or more? Or are you only interested in capturing a narrow alley? How much night vision do you need in those areas?
Going wireless and powering everything with solar can be pretty convenient. It means a good IP camera is capable of operating with almost zero oversight or micromanagement. With everything setup, it's usually possible to have to interact with the camera when it has something worth reporting.
Picking the Best Battery-Operated Solar Powered Wireless IP Cameras
But achieving convenience depends on matching a camera along with your own needs. For picking the right IP camera, there are really three things you'll want to think about above all else.
Night Vision Capacity
Vision in the dark is more difficult than day vision, even for a sophisticated lens. Nearly any decent night vison camera will support at least 30ft of viewing distance. Stronger kits can see between 30ft and 50ft, while the strongest cameras out there will be able to see for hundreds of yards.
However, night vision sensors can be terribly expensive. So you really only want to choose a camera with capacities that match your needs rather than grossly exceeding them. If 30ft will do, you're better off picking a camera with roughly that range of support.
Network Connectivity
Any decent IP camera will let you get connected to the net. Most of the better cameras will do that through a 2.4G Wi-Fi connection. That means unless you want to rely entirely on SD card storage, you'll have to position the camera within the radius of a wireless network.
SD card storage is almost unanimously the storage option used by these cameras now, though you can still find a few that have onboard storage capacity of some kind. There are also a couple IP cameras that allow you to record through their own branded app, acting as an intermediary between onsite storage and mobile data storage.
Solar Power and Batteries
The size of the solar paneling will invariably be made to match the battery capacity and energy needs of the device. So you don't need to worry about the size of the panels, beyond thinking about whether they'll be challenging to install.
For some types of use-cases, it can be helpful to be able to swap batteries in the camera. In others, you're better off choosing a camera that has an enormous battery capacity. That way, even if the weather is doing poorly on a regular basis, the camera won't struggle to remain active.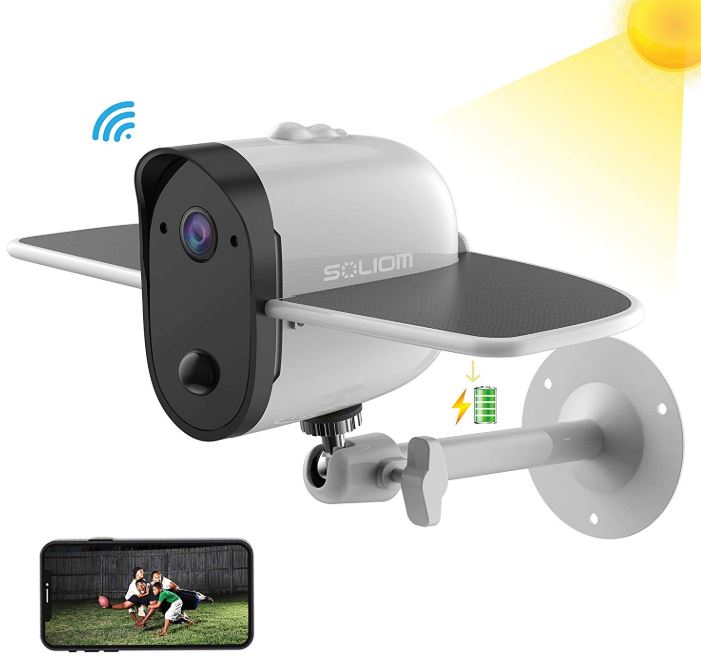 Soliom S60
Part of what makes the Soliom S60 special is how it's been constructed with two separate motion detection sensors. One is RADAR based, the other is infrared. Working together, they provide fantastic night vision, too. A 0.7 second trigger response time allows the S60 to respond to motion in an instant, too. That response will both save the video, and alert you through a mobile device.
With respect to recording, the S60's camera captures in full 1080p HD, and has a fairly impressive 5-layer lens. The lens allows for you to choose the best LED light to enhance night vision. The S60 has a maximum viewing distance of about 50 ft. for the night vision.
Build & Design
The dimensions of the S60 are actually tough to measure precisely because it's shaped so weirdly. It's similar to a regular camera, except there's a large disc of solar paneling running through either side. With all the odd angles in account, the S60 measures about 6.8 x 7.3 x 4 inches, and weighs ten ounces.
Much of that weight is the result of the S60 being constructed around a 4000mAh lithium ion battery. It's pretty hefty little battery for such a small camera. And all of those components are protected with an IP66 weatherproof chassis, intended to with stand temperatures as low as -4°F, and as high as 140°F. The only serious limitation to keep in mind is that this chassis is not intended to protected the S60 from prolonged submersion in water. You'd want to pull it out of a flooded area.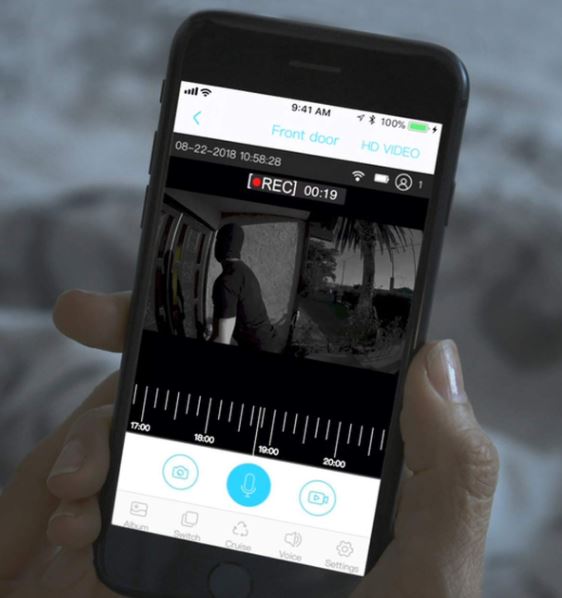 Other Considerations
The ability to save an unlimited amount of storage is pretty compelling. That's exactly what you get when you're using an SD card device like this. You can also connect with as many as eight separate devices through their app, so everyone in a family is able to access the camera as needed. Their app is reasonably intuitive to use, and it's functional on both iOS and Android devices.
You don't get a microSD card included with this camera. The downside of that is clear — you need to bring your own storage solutions to the table. The upside is equally clear; you don't have to pay for having an SD card packaged into the cost of this device. Which is great if you already have a card laying around. In either case, it would be a good idea to get an endurance card for a device like this.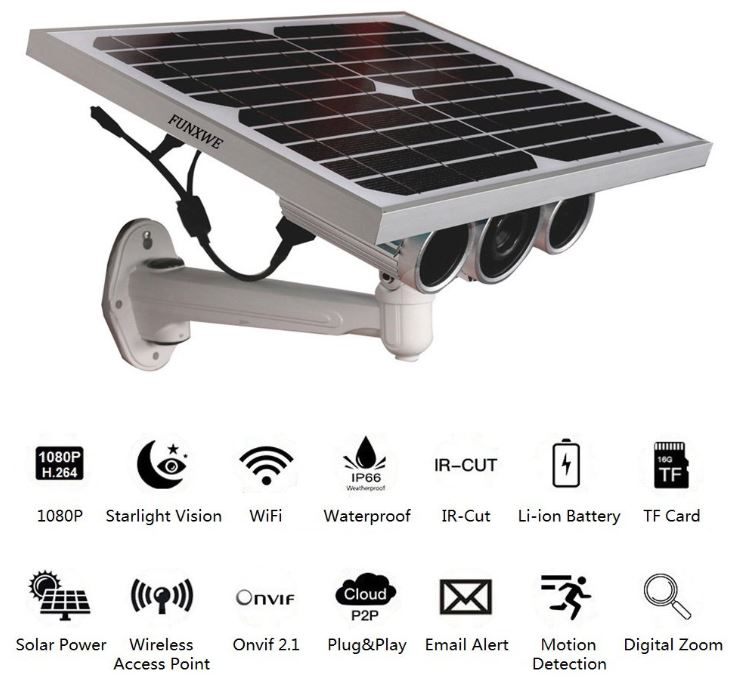 Funxwe 1080P Solar Powered WiFi Security IP Camera
The Funxwe 1080p Solar Powered WiFi Security IP Camera is stunningly powerful. In spite of its somewhat low-average megapixel count, this camera really steps up to the plate when it comes to seeing in the dark. That's entirely thanks to its starlight sensor, which is capable of capturing excellent clarity in night conditions.
In fact, you can get about 300 feet of night vision, which is virtually unparalleled at this price point. That great vision is then paired with equally great motion detection, which can be used to issue photo alerts and video snapshots of whatever has set off the camera. That's great for helping decide if it's necessary to view the footage or not.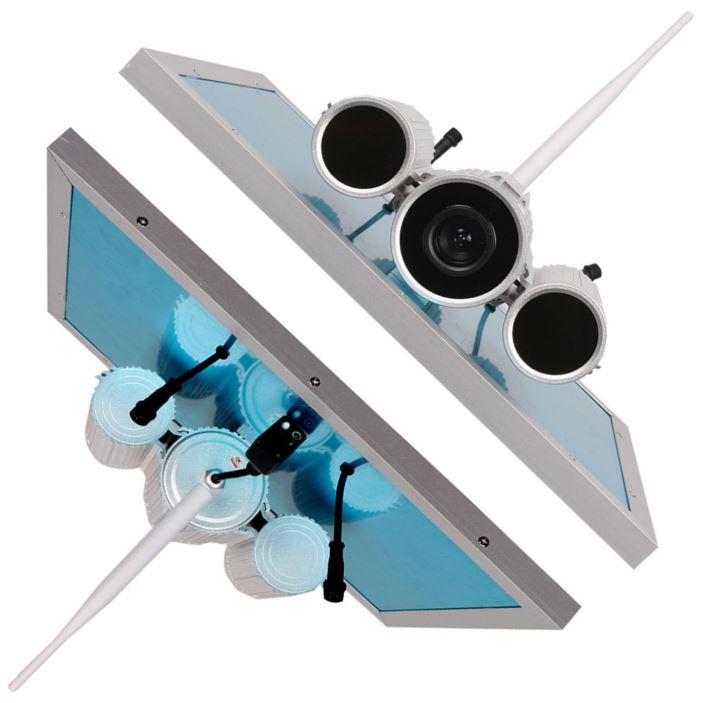 Build & Design
The outer shell is made largely of aluminum, allowing for an effectively waterproof design. Consequently, this device is made for an IP66 waterproof certification, indicating it's ready for almost everything except submersion. Installation is reasonably simple, too. The included mounting hardware gives you everything you need to get started.
The recording modes can be scheduled, based on snapshots, or even loop recording. It supports 4 independent detection areas, as well as adjustable sensitivity. Using their free IPCView software, you can access your footage and your settings, which allows for remote access anywhere you've got a browser. For that program, there is full support for Android, iOS, PC, etc.
For management, their app lets you move between three different levels of user accounts, each type with their own authority. For instance, some accounts may only be able to view footage, while you might need the highest authority for actually deleting content.
How can you draw data from the device? Peer-to-peer connection with Wi-Fi is your best option, which is why this kit can serve as a wireless access point. The Wi-Fi is actually served over the 2.4GHz band, which means you're able to bounce a connection to this camera with ease. This camera records straight to a 16GB card that's built-in to the device. For further storage options, you can add a 128GB SD card through the included microSD slot.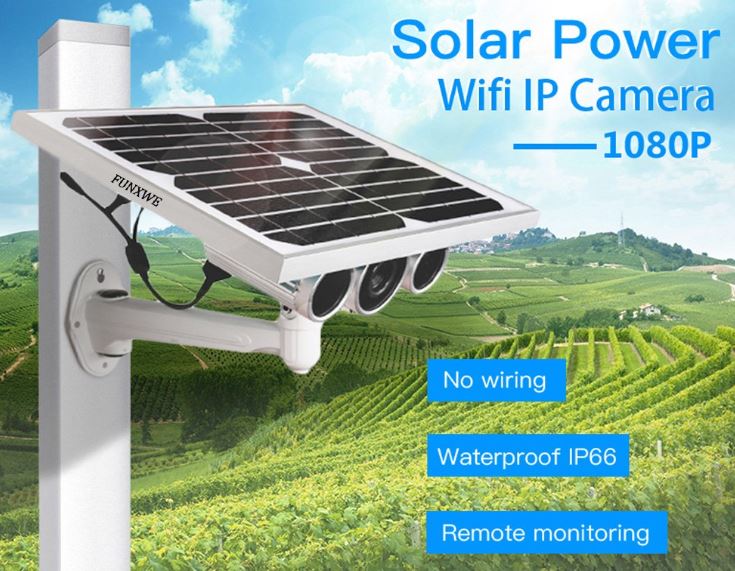 Other Considerations
The lens is capable of 3x digital zoom. Of course, as you zoom in, your resolution effectively decreases and you approach 720p clarity. In either case, the camera shoots between 25 and 30 frames per second, which is pretty unremarkable, but sufficient for the kind of recording it intends to do.
These somewhat bulky solar panels are constructed around a 11600mAh lithium-ion batteries. The battery life for these units is about five years. After that, you'll need to replace them. Once you've got it fully charged, the standby time for this unit is about two full days.
One more note about the battery. The Funxwe 1080p Solar Powered WiFi Security IP Camera includes a two-year warranty, but that warranty does not include the battery. Because batteries are basically consumables.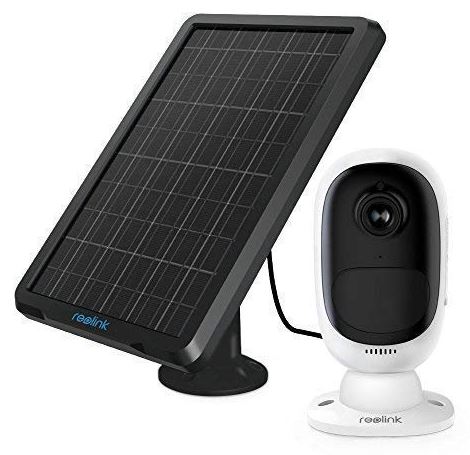 Reolink Argus 2 + Solar Panel
The Reolink Argus 2 is a little more adaptable than the Soliom S60, but it's otherwise it's a terribly similar device. What helps make it more adaptable is being able to separately position your solar panels from the camera, which can be a boom in many installation circumstances.
The camera shoots in full HD, which is comes through crystal clear, and its night vision extends about 36-feet into the darkness. Once again, that's about average for a security camera because it's all that most people need. And it matches up nicely with the viewing angle of this device. The lens shoots in a wide 130-degree viewing angle, which is great for covering a near-panoramic view.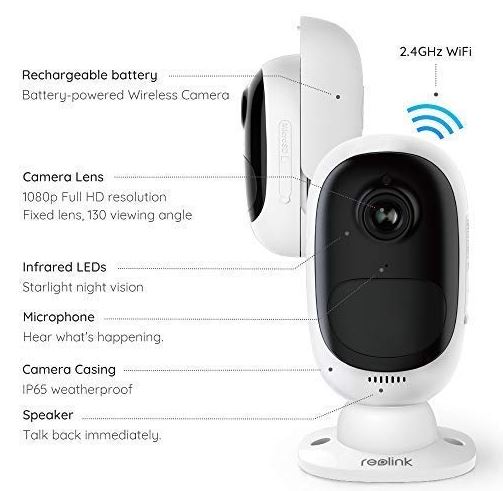 Build & Design
Both the camera and its conjoined solar paneling come to a total weight of about 2lbs. The solar paneling is scarcely any larger than the camera, with its platform extending roughly 6" x 4", that's attached to a circular stand with a 1" diameter. The camera hardly stands 5" tall, making it pretty subtle as well. Additionally, the default faceplate on the Reolink Argus 2 is black, it can be swapped over to a white plate to help it blend in better.
The chassis is IP65 waterproof, allowing it to endure outdoor conditions throughout the course of a year. Rain is no issue, snow is no issue, but these cameras aren't made for submersion, nor temperatures that are far below freezing. Once you're in sub-freezing temperatures, or flood waters are licking at the camera, that's when you'll want to help it retreat to safer ground.
The built-in PIR motion detection system is pretty effective, but the distance setting is something that will cause disagreement. Because the detection distance reaches about as far as the night vision. If you're trying to get a shot from more than 30-feet out, this camera isn't quite sensitive enough for it.
Similar to the other cameras on this list, the Argus 2 is powered by a rechargeable battery, so there's no need to go drilling a bunch of holes in your wall. In fact, there's no complex installation necessary at all. The battery hooks up with a solar panel, allowing you to recharge the camera continuously. If you have a few days of terrible weather conditions, you can recharge the battery using a micro USB connector as well.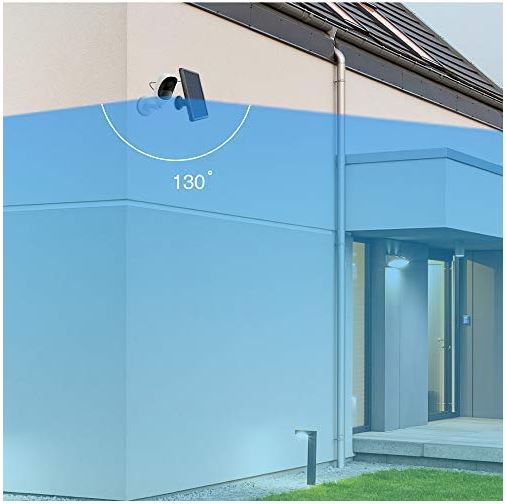 Other Considerations
This camera does not support 5G wireless connections, and it does not support continuous recording. Recording needs to be either manually initiated, or triggered through the motion detection sensors.
Like you'd hope, there's a micro SD card slot that can keep your camera recording while you're not around. The card slot maxes out around 64GB. Unfortunately, there isn't any onboard memory storage, and there isn't an SD card that comes with this camera.
You can make use of the Reolink camera app, which lets you access your recordings anywhere you've got a browser. Because the Reolink Argus 2 can connect with a Wi-Fi network using the 2.4G band. Setting things up isn't instant, you have to take a couple of moments to poke around through their app. But once you've got it done, it's done. There's no additional fees or signups necessary to get started.
This kit includes the solar panel, a 12ft connection cable, rechargeable battery, surveillance sign, and wall mounting kit. It also includes a hook and loop strap, both are pretty handy for getting the camera and solar paneling in position, and a couple of screws for permanent installation options.
Choosing the Best Battery-Operated Solar Powered Wireless IP Cameras
The Soliom S60 is basically an introductory IP camera that's been given a series of upgrades. Similar to the Reolink Argus 2, the S60 has a really clever design. In the case of the S60, that cleverness mostly has to do with how they've incorporated the solar paneling so smoothly into the camera, so you don't have to install two separate components. If you're looking for a smooth installation, look no further.
The Funxwe 1080P Solar Powered Wi-Fi Security IP Camera isn't for someone looking for the bare basics. This camera operates with a starlight sensor, giving it fantastic vision in the dark. It has an enormous storage capacity, and an equally enormous battery capacity. For set-and-forget installations that can withstand any variety of environmental circumstances, you can hardly do better than the Fuxwe Solar Powered IP Camera. Certainly not in the dark.
The Reolink Argus 2 + Solar Panel was smartly designed, so even people who don't have reliable energy from the sun can ensure their camera is always working. The 130° view of the lens is perfect for surveillance; the night vision is more than adequate for its price. Running Wi-Fi means this camera can also be truly independent, if you get it positioned properly. Though it doesn't include an SD card, this is otherwise a flawless kit.