Not long ago, wireless earbuds were the butt of a bad joke. The battery technology didn't allow them to last very long, and the sound quality was downright awful. With the invention of True Wireless Stereo, all of that changed. Suddenly, you were able to get quality audio from a pair of wireless earbuds. Apple was the first major company to jump on board, when they made wireless earbuds mandatory on the iPhone 7. Others quickly jumped on board, recognizing the potential of this amazing new technology. Nowadays, pretty much everybody is rocking one set of wireless earbuds or another.
On the one hand, this widespread availability has been a good thing. It means that you have a ton of options to choose from to get that perfect set of buds. On the other hand, it means that for every good pair of earbuds, there's another that's not up to snuff. Thankfully, we're here to help you sort out the good from the bad. We're about to review the Strauss & Wagner SPW301 Wireless Sport Earbuds. Strauss & Wagner is a relatively new wireless earbud manufacturer, so we were excited to check these out. Now, we'll tell you everything you need to know about these brand new wireless buds.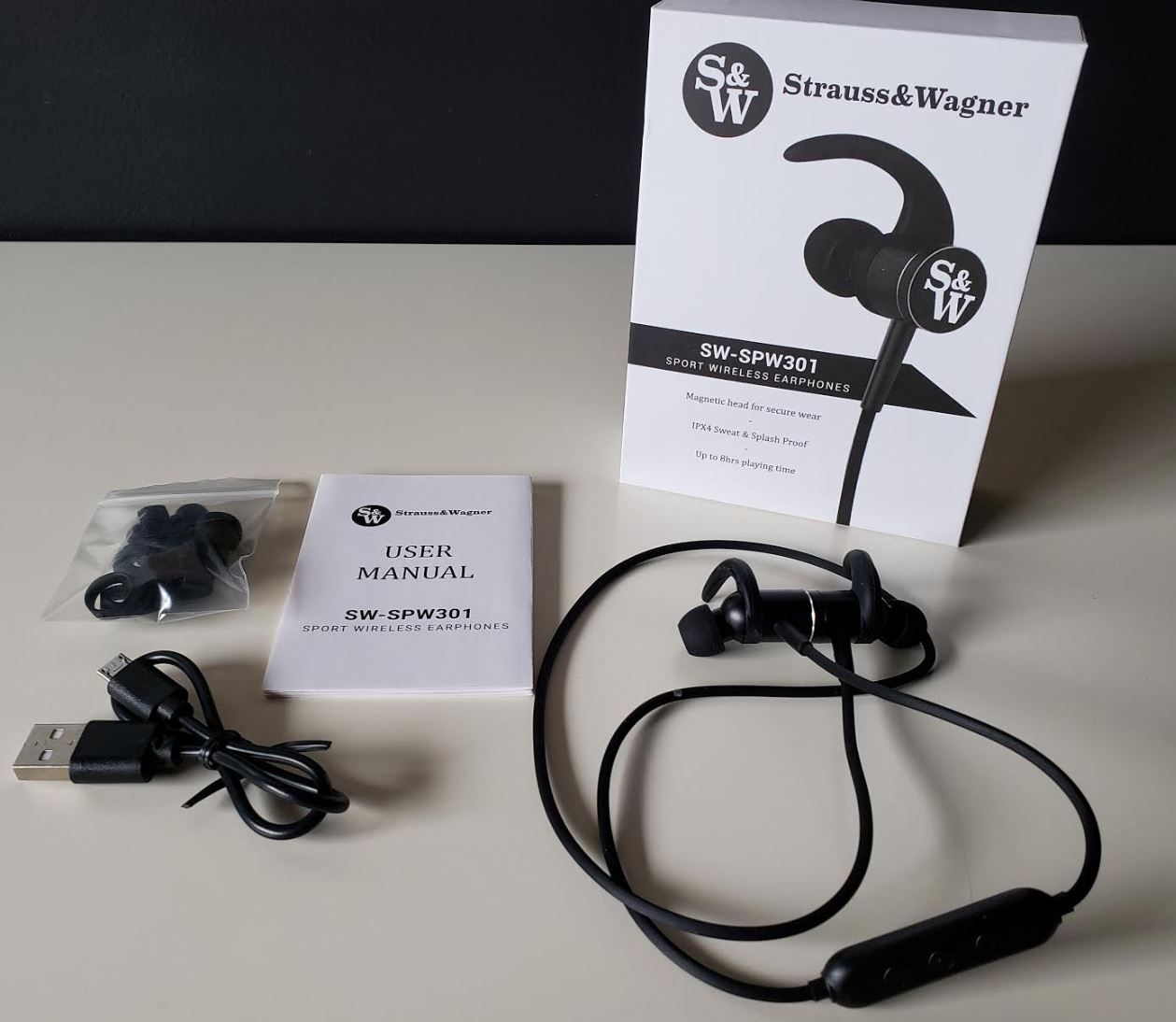 Overall Design
The Strauss & Wagner SPW301 Wireless Sport Earbuds are built from the ground up for an active lifestyle. They have a neck band design, which means they have a wire running between them. This means they won't easily fall off during physical activity like running, cycling, or CrossFit. The earbuds themselves have an aluminum shell, which makes them extra durable in the event of droppage. However, droppage shouldn't really be a significant issue. If one falls out, it will just hang over your shoulder instead of hitting the ground. The total weight of the system is 4 ounces, which is heavier than you might expect. That said, it shouldn't cause any discomfort. And part of that weight comes from the heavy-duty cable, which is tougher than many similar cables.
The SPW301 earbuds are designed to be as ergonomic as possible. They fit loosely in your ear canals, with small ear hooks that sit in your outer ear. This is great for people who have small ear canals, since it shouldn't cause any irritation. If the default ear tips and hooks aren't right for you, Strauss & Wagner offers additional options. There are 2 sets of ear tips and hooks in the package, in a larger and smaller size respectively.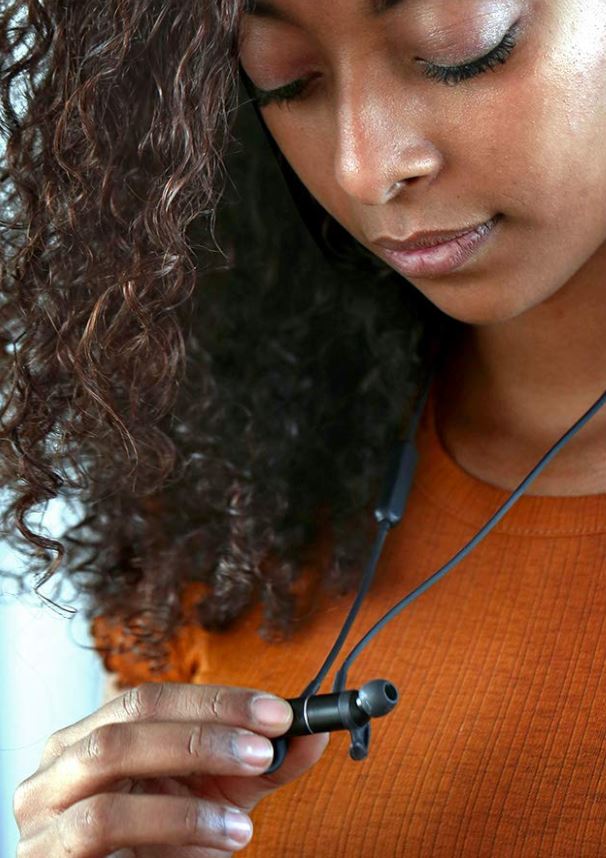 In addition, the earbuds are easy to carry when you're not actually using them. The backs of the buds are magnetized, so they can be linked together like a necklace. No need to stuff them in your pocket. Take them out and snap them together for a quick social interaction. Then pull them apart when it's time to put them back in. The earbud backs also feature an attractive Strauss & Wagner logo, which adds a pleasing touch.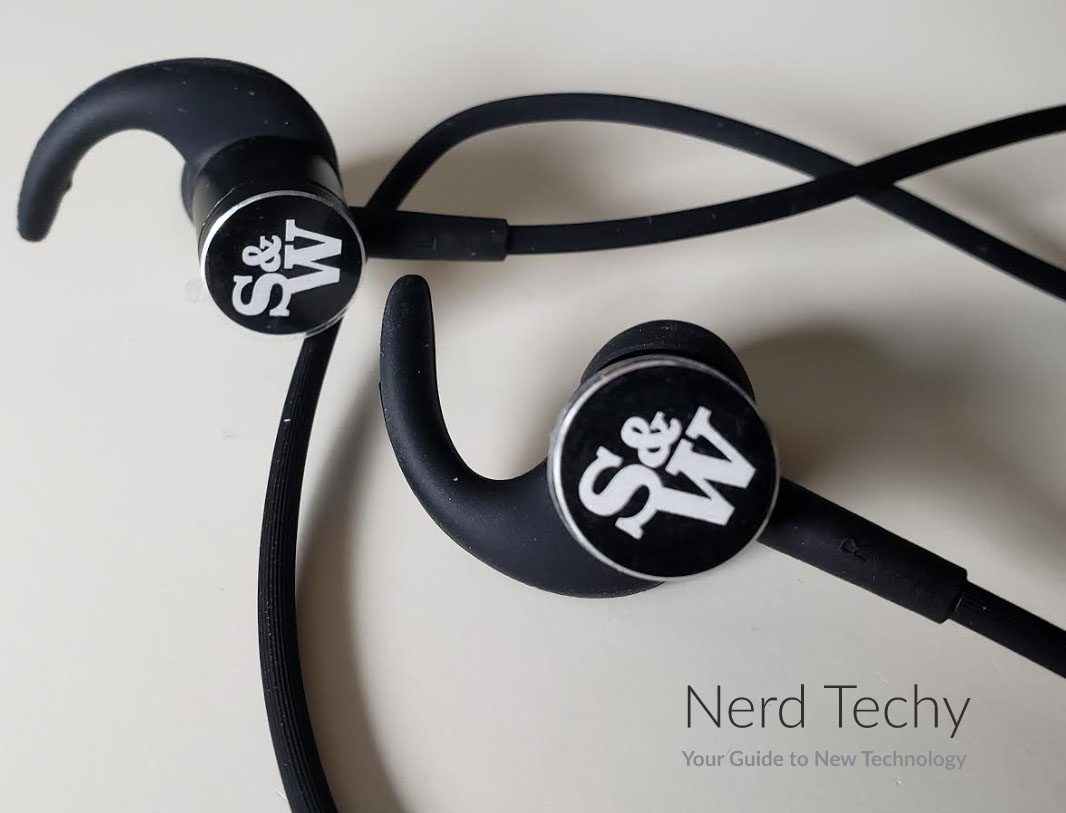 Unlike many wireless earbuds, the controls aren't located on the buds themselves. Instead, they're located on a small fob in the right half of the cord. These controls allow you to adjust the volume, turn them on and off, change tracks, and answer and end calls. They're also easier to operate than most earbud controls. Because they're located on the fob, you get three buttons instead of two. You also get plenty of tactile response, as opposed to the soft touch buttons find on many wireless buds. The battery is also located inside the fob, which allows the earbuds themselves to be more compact.
In keeping with their workout-friendly design, the SPW301 earbuds have a water-resistance rating of IPX4. This equates to being sweat-proof and splash-proof. In other words, they're safe to wear during an intense workout, even out in the rain. However, you shouldn't wear them in the shower. This is liable to cause failure. Then again, these earbuds aren't designed for showering to begin with, so that's not a major issue.
If you're looking for a traditional set of earbuds, you might want to choose a different option. The Aukey Key Series T18NC is an excellent choice. These earbuds are a bit pricier than the SPW301. However, they provide premium sound quality, far and above the average wireless buds on the market.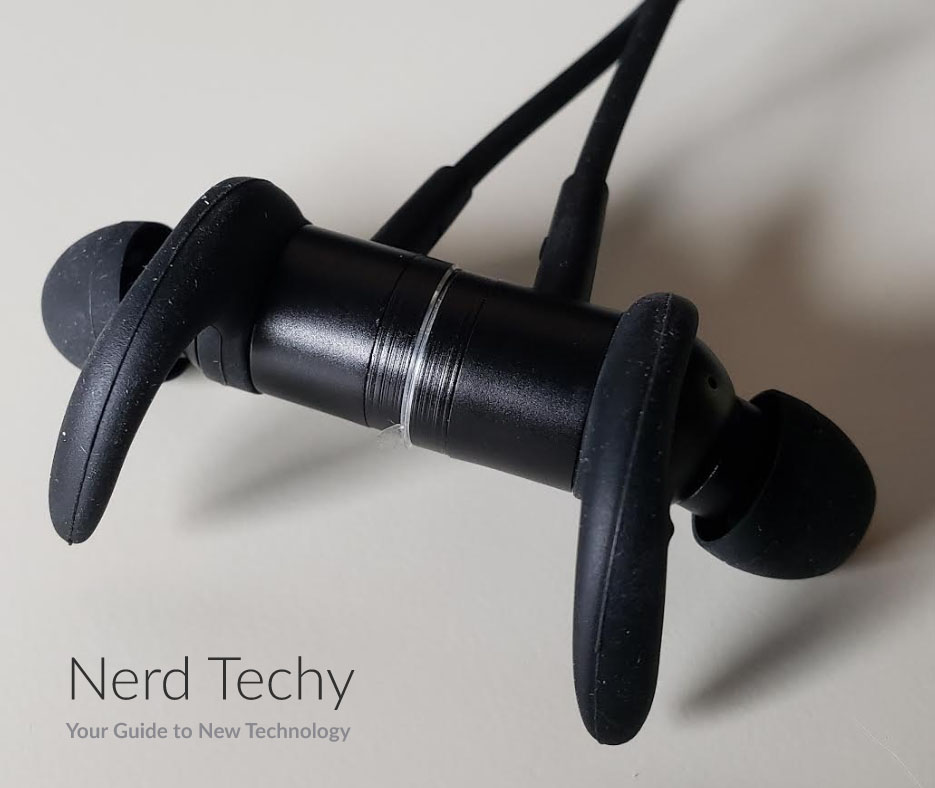 Battery & Connectivity
We've talked about the overall design, and so far the SPW301 earbuds are an excellent choice. But design is only one part of the equation. Another significant consideration is the battery life. Even the most well-engineered earbuds aren't going to do you much good if they die quickly.
In this regard, the SPW301 earbuds fall short of our expectations. They offer only 7 to 9 hours of battery life at 80 percent volume. At full volume, they'll provide even less. Obviously, this depends on a variety of factors. Higher-bitrate audio is going to chew up your battery faster, while low-bitrate audio will use less juice. Similarly, your earbuds will last longer in warm weather than they will in cold weather. Now, to be fair, many wireless earbuds have a similar battery life. But most models come with a charging case with a built-in battery. With the SPW301, you don't have that option. You have to plug it into a power outlet.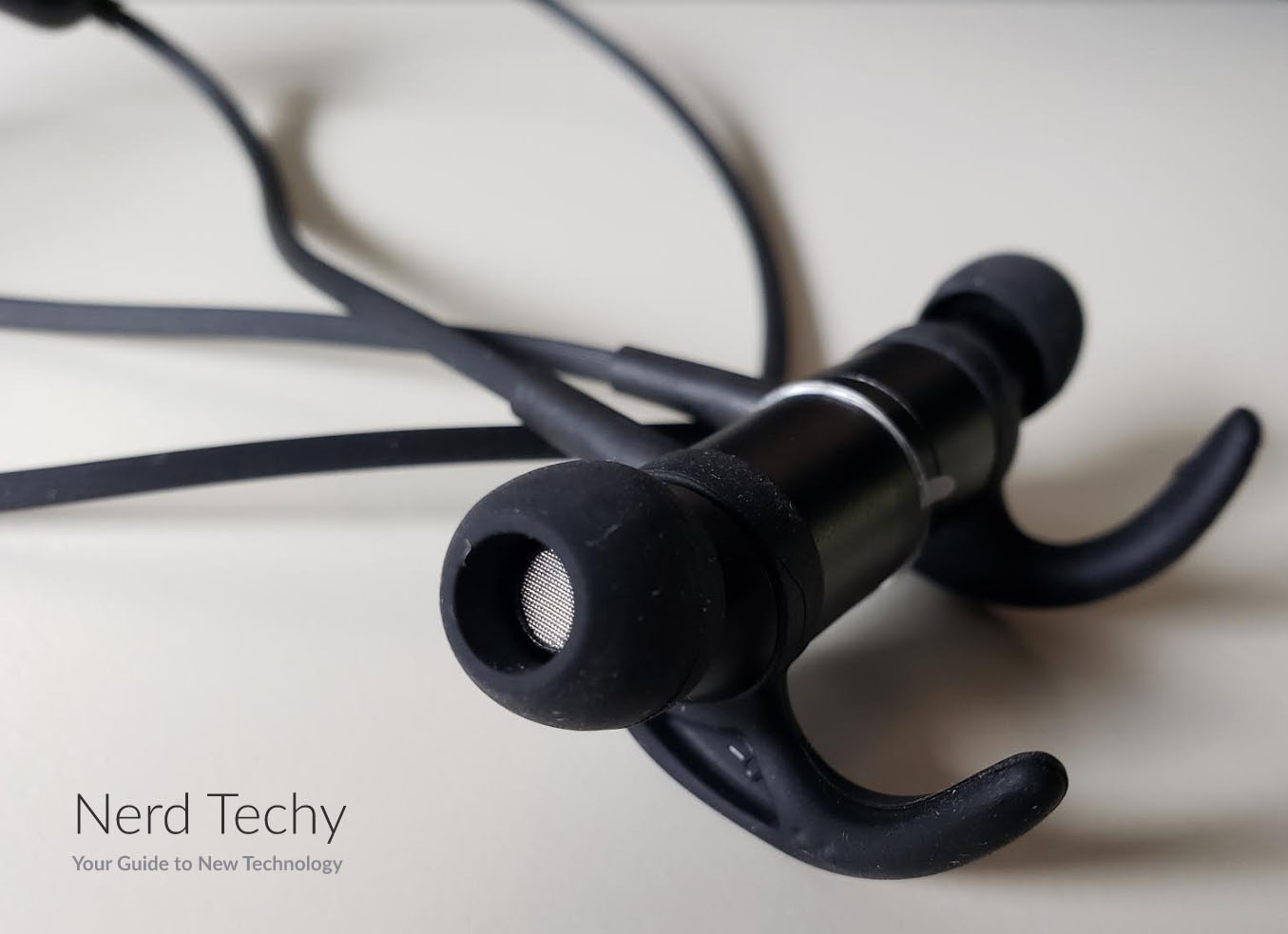 The charging time and standby time aren't much better. Charging via Micro USB takes 2 hours. This would be impressive with a 24 or 30-hour charging case. But for a small built-in battery, we'd expect a maximum of 30 to 45 minutes for a full charge. Standby time is limited to 180 hours. In other words, if you leave your earbuds in a drawer for 8 days, they'll be totally dead. By comparison, we've reviewed devices with six months of standby time. Frankly, this is unacceptable.
The SPW301 earbuds connect to your device via Bluetooth 5.0. This is a newer, upgraded protocol that's an improvement over the older Bluetooth 4.2 protocol. It's faster and more stable, which means you can listen to higher-bitrate music that sounds much better. It also means that you're not going to drop phone calls or experience a lot of latency with your connection. The SPW301 buds also allow for dual connection. This lets you connect two different devices. For example, if you have a work phone and a business phone, you can use them both. Similarly, you can listen to music on your iPod, then take a call on your smartphone.
One thing we did appreciate about the SPW301 is that it allows you to monitor your battery on your phone. This won't make your battery last any longer. However, it at least allows you to keep tabs on the status of your battery. You might run dead, but at least you won't run dead by surprise.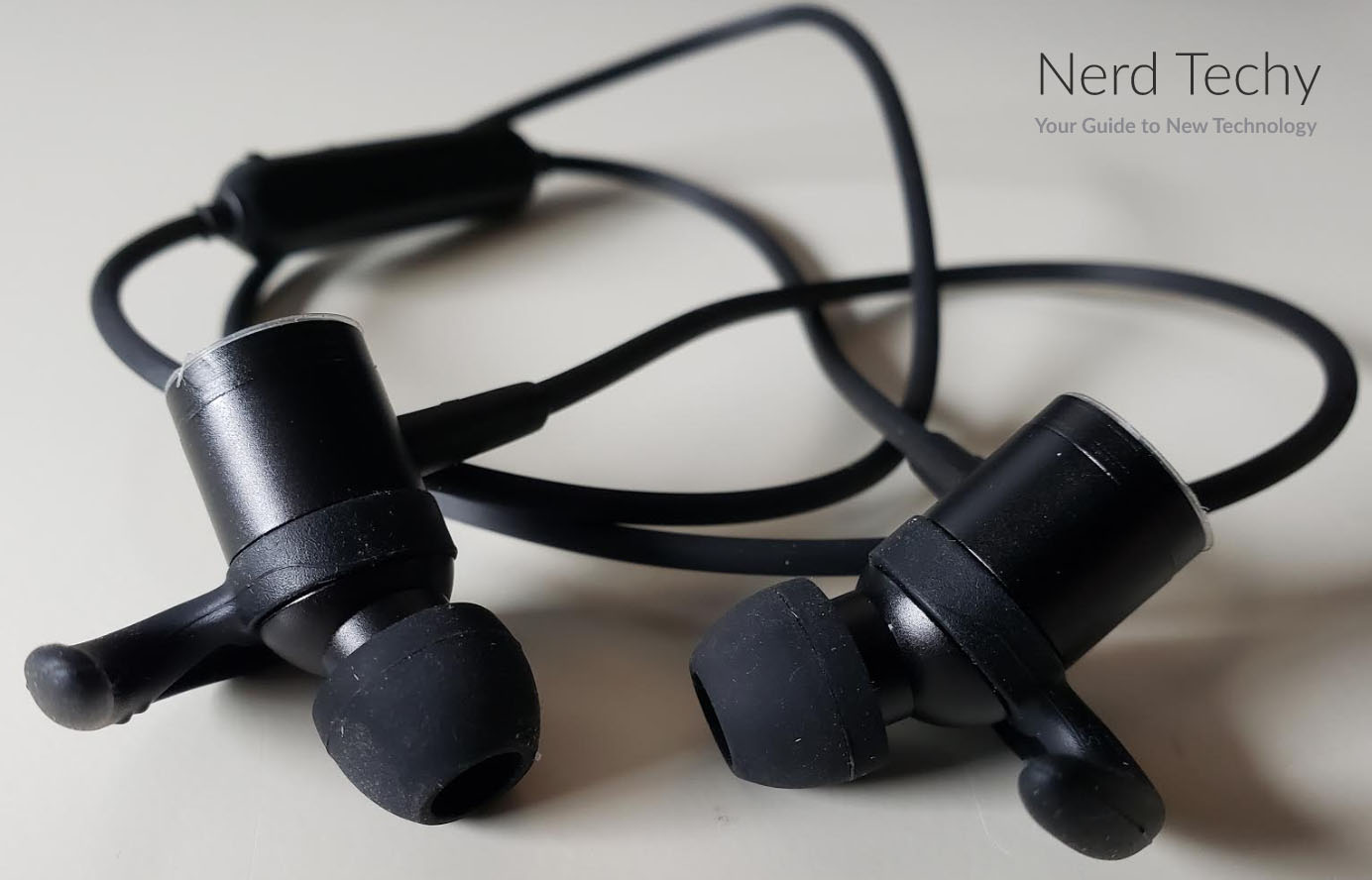 If the SPW301's battery life is a deal-breaker, why not look for a longer-lasting set of earbuds? We recently reviewed the Enacfire Future Plus, which offer an insane 104 hours of battery life. The charging case also functions as a power bank, so you can even use it to top off your smartphone.
Sound Quality
Now that we've covered battery life, it's time to talk about sound quality. Here, you're looking at a bit of a mixed bag. The main issue was the separation, sometimes called the "sound stage". This means whether or not the earbuds give you a sense of space. Simply put, there's hardly any separation at all. This leads to a somewhat muddy mix, with instruments and vocals too close together. You can still generally distinguish the sound, but a modern pair of earbuds should do better.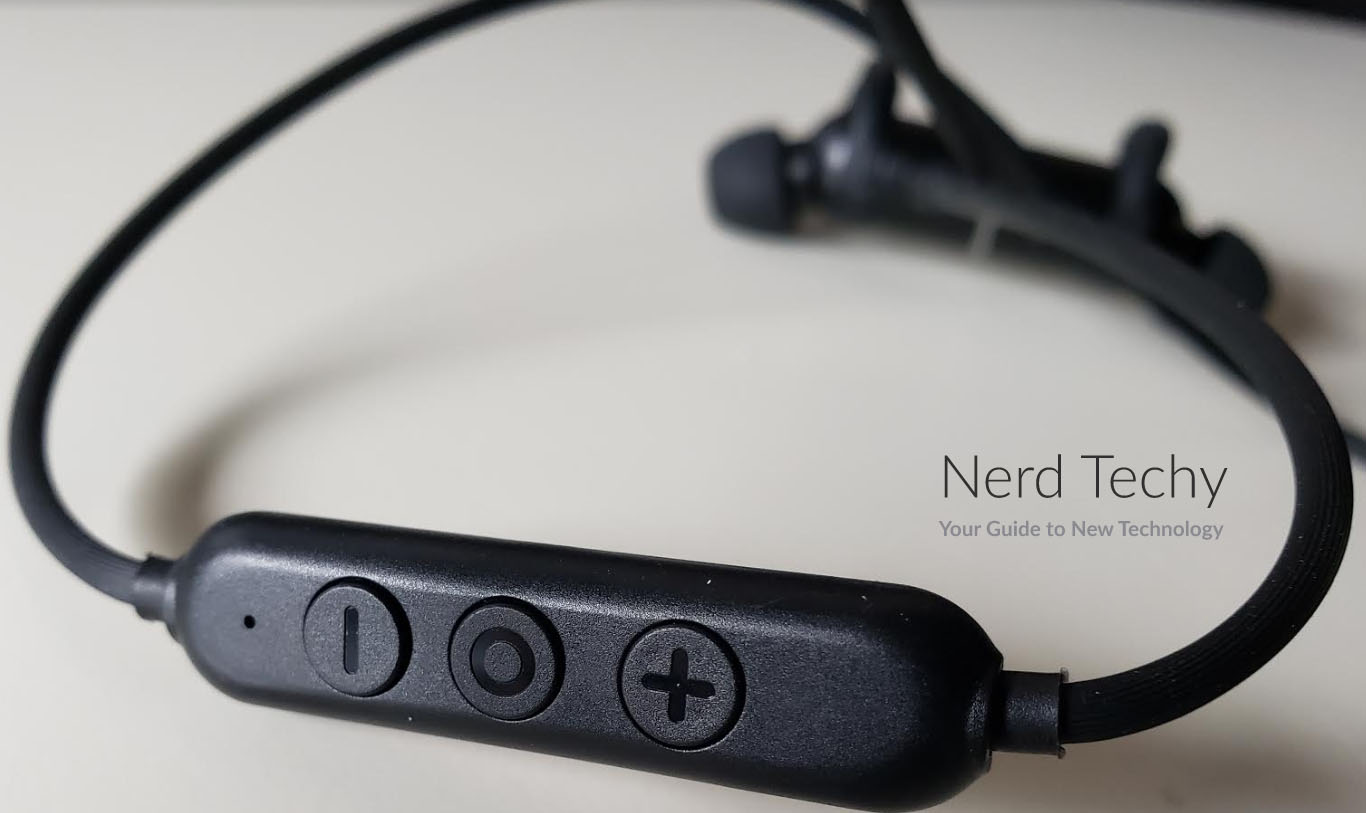 As far as different frequencies go, the highs are actually relatively good. They have plenty of shimmer, providing for clear strings, synths, and cymbals. They're somewhat lacking in clarity, so classical music buffs might want to look elsewhere. That said, if you're a fan of pop music or electronica, you won't have any issues here. The mids are present and smooth, definitely the best frequency range of the bunch. Vocals are crisp and clear, and don't sound terribly sharp or muddy. Generally, they're front and center, which is just how vocals should be.
The bass frequency is where you most commonly run into issues with mid-priced earbuds. Here, once again, the SPW301 earbuds are a mixed bag. On the one hand, there's plenty of impact and punch. In and of itself, this would be impressive, since it's lacking on many earbuds. However, the bass is muddy and not very clear. In other words, you'll hear it, but all the detail is lacking. If all you care about is a thumping beat, you'll be just fine. But if you're a bass enthusiast, you're going to feel unsatisfied.
When it comes to call quality, you're not going to have any issues. The mic is located on the fob, so the other person will hear you just fine. Latency is also fairly low, and the connection is stable.
Strauss & Wagner has made some much better earbuds already. For instance, the Strauss & Wagner SW-TW401 earbuds offer much better bass response. They also have a smaller profile, as well as a longer battery life.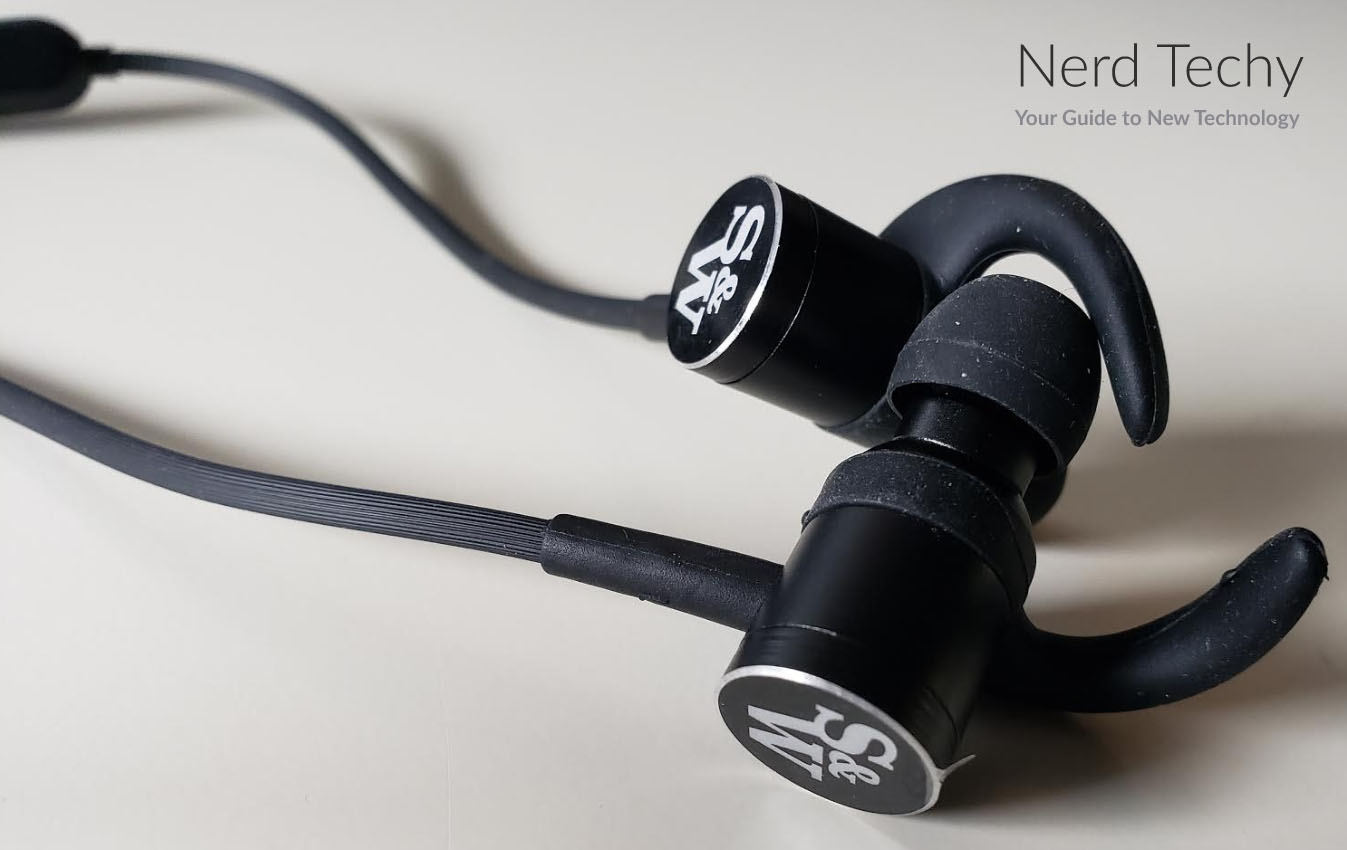 Final Verdict
As you can see, the Strauss & Wagner SPW301 Wireless Sport Earbuds have some good points and some bad points. On the plus side, you've got an ergonomic, durable design. All in all, the body of the earbuds are built perfectly for workout enthusiasts. The connectivity is also very good. On the other hand, the battery life is lacking, and the sound quality is middling at best. There are much better earbuds available at this price point. That said, Strauss & Wagner is a relatively new manufacturer. They've come up with a good design, and we're sure they can improve on it in the future. We look forward to reviewing their future offerings.