It's easy to lose a key. You could forget to carry it with you, misplace it, or even have it stolen. Whatever the case may be, with a typical padlock, you're only one accident away from being locked out. That's no small part of the reason why people turn to biometric fingerprint locks.
In the distant past, fingerprint locks were a little sketchy. The rate at which they gave off false positives or false negatives was heinous. But as the technology has improved, these days, fingerprint locks can be every bit as reliable as traditional padlocks. Provided you know how to pick the lock most appropriate for your circumstances.
Picking the Best Biometric Fingerprint Padlock
Finding the right biometric fingerprint lock is really about three things. Size, security, and access. Balancing those three elements can help you narrow down your selection rather quickly.
Size of the Lock
This mostly comes down to size and weight. Larger locks can be more difficult to fit in small spaces. That can prevent you from using the lock on certain types of lockers, for instance. The size and weight of the lock also has a rough correlation with the amount of protection it provides, since heavier locks tend to be made from sturdier materials.
Security Issues
Is the lock resistant to smashing forces? How about smaller bolt cutters? The gold standard for a padlock, fingerprint lock or otherwise, is typically stainless steel. It's strong enough to hold up to anything except fairly large bolt cutters wielded by someone with enough strength to squeeze through a quarter-inch of steel.
When it comes to digital security, you can pretty much rest easy. Though you might want to know whether or not the lock you choose has any wireless functionality which may add another dimension to security concerns.
Sharing Access
Speaking of wireless connections, how many ways are there to open the lock? Some locks allow you to open or close them using an app connected over Bluetooth. And how many users can you have on the network? At least ten is quite common, but some locks can go much further. How do you add or revoke access from people? This is mostly a matter of understanding how many people you expect to share access.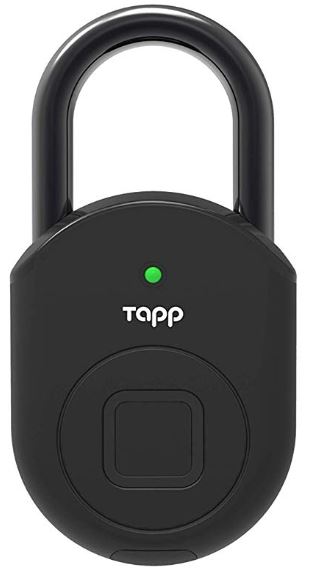 Tapplock Lite
The Tapplock Lite combines a classic design with cutting edge consumer-grade fingerprint tech. The result is supposed to provide two things: easy access, and sharable protection. The lightweight and portable design is a compromise between creating a heavy security lock that's more secure, and a less secure lock that's more portable.
Additionally, there's a total of three ways to use the lock. That includes fingerprints, Bluetooth connections, and a backup option using Morse code. Having more than one way to unlock the lock is a good idea for a number of reasons. Convenience is the most important one. But whether or not you're worried about alternatives to opening the lock, multiple access points can provide you with some peace of mind.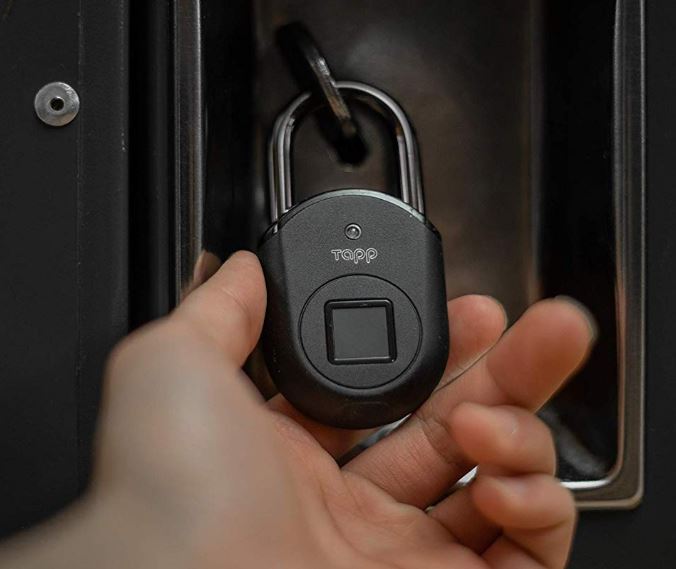 Design & Layout
The Tapplock Lite measures 3.1 x 2.2 x 0.7 inches, and it weighs just over two ounces. The black chassis of the lock is made from hardened plastics. But those plastics are only responsible for covering the locking mechanism and securing the fingerprint reader. The actual locking mechanism and locking loop are made from hardened steel, so they're as effective as any padlock ought to be.
However, this design is not truly waterproofed. Which means you really don't want to use it for outdoor installations, lest you take extra protections to ensure moisture doesn't get into the locking mechanism. But for the indoors, you don't have to think twice about its durability.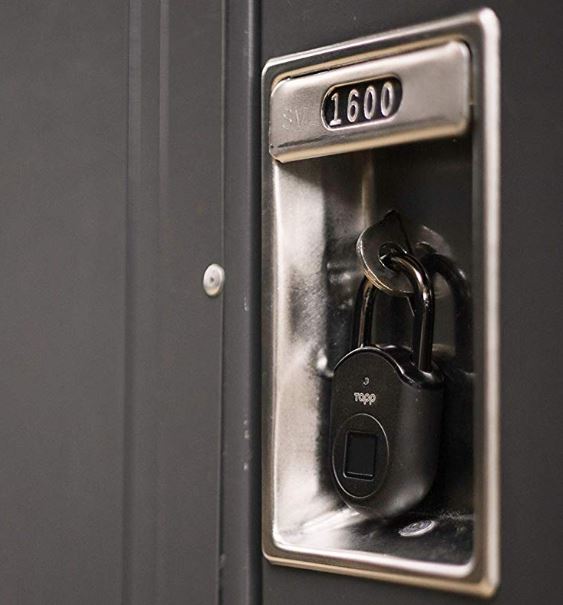 Notably, after it's scanned a finger, the lock takes less than one second to determine whether access is going to be granted or denied. And the Tapplock Lite is able to store a total of 100 fingerprints in its memory. That could include all ten fingers from one person, or 1 finger from 100 people. So capacity limits aren't something to worry about, either.
Battery & User Control
The battery is supposed to last for 8-months. Whether or not you reach 8-months will partially depend on how often that you open and shut the lock. Admittedly, the 8-month figure is low average for a lock like this one. But the Bluetooth connection does end up draining a little more battery life than locks without Bluetooth. Provided that you want to keep the Bluetooth feature, you have to grin and bear the slightly reduced battery times.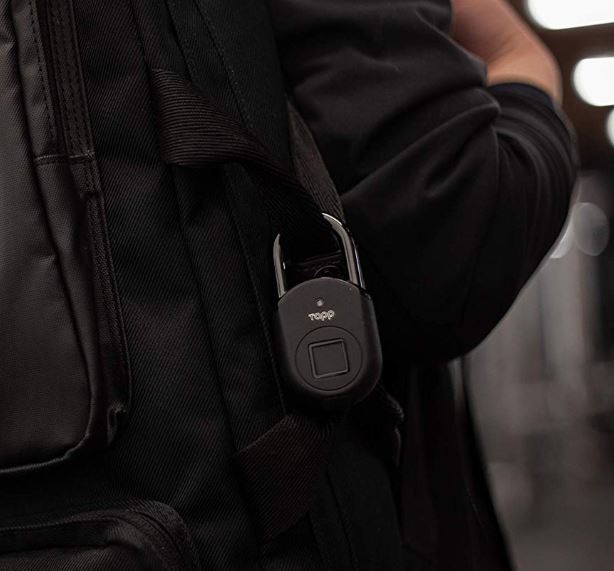 That aside, it takes a total of two hours to recharge the battery. So as long as you don't forget to do it, it's not long keeping the lock in action is difficult. Since there's a wireless connection, Tapplock uses it to let you share access. The app lets you keep tabs on who is opening the lock, as well as when. That way, you know who's been accessing the lock at all times, which can be useful for people who are really connecting 10-100 people onto the network.
Other Considerations
The setup process is a little tedious because first you've got to get the app. Then you need to make the app and lock recognize each other. After that, you've got to start inputting fingerprint data. So it's not a totally smooth and intuitive process, but it's something you can figure out if you follow the user guide.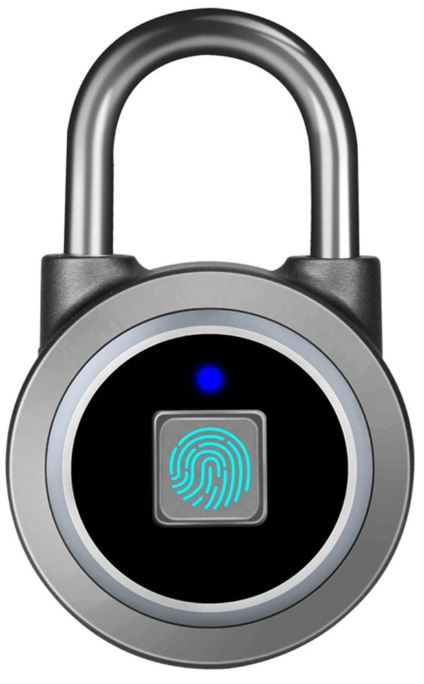 Megafeis Fingerprint Padlock
Giving you a little less room for growth, the Megafeis Fingerprint Padlock allows you to register a maximum of 15 prints. That's certainly a bit limiting compared to the Tapplock Lite. But outside of that, this lock is quite impressive in some other ways. It's got a water resistant design, and it's actually quite intuitive to use. As long as you don't expect 50 people to be accessing your lock, Megafeis' lock's limitations shouldn't be a concern.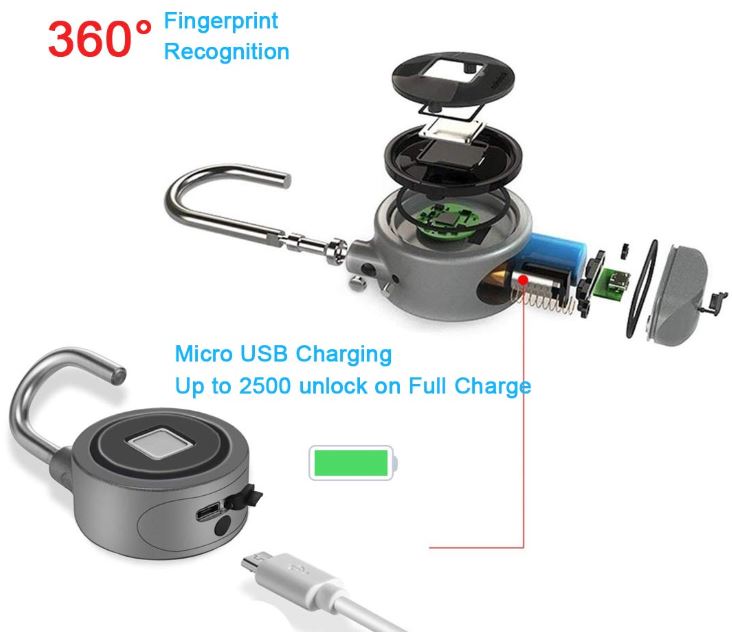 Design & Layout
This lock is made from a combination of stainless steel and aluminum alloy. The aluminum is mostly for the chassis of the device, helping keep it light weight, and the steel is for the locking mechanism. The stainless steel is for the locking mechanism itself. And the lock measure 3.1 x 0.9 x 2 inches, making it pretty compact compared to similar padlocks.
The IP65 water resistance rating will protect you against water and dust. Since this is one of the lighter water resistance ratings, you wouldn't want this padlock in extreme weather conditions. Freezing weather would be bad for the battery, and the materials themselves aren't going to hold up well against constant exposure to water. So think of this lock as resisting water rather than being immune against it.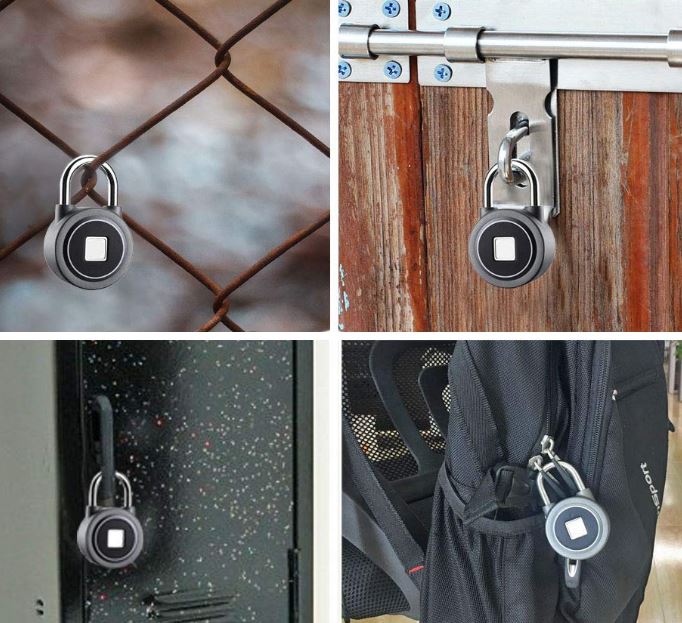 Battery & User Control
The 150mAh lithium-ion battery can run for six months on standby. It goes about 2-months while it's seeing active use. Or in more practical terms, it's possible to open and close the lock about 2,500 times off one charge. After the battery expires, the lock remains locked, requiring you to connect a USB power supply to recharge it before opening once more.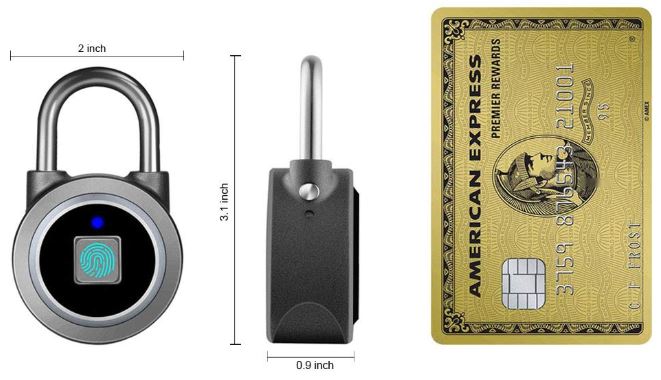 The front fingerprint surface has 360-degree detection. So you don't need a special orientation for your fingerprint in order to touch the pad – you just tap it and go. Once again, the Bluetooth function is part of the reason why this lock has been given a reduced battery capacity. But having Bluetooth connectivity means you can use their app to create a list of authorized users, monitor the previous 1,000 locking activities, and register new fingerprints.
Other Considerations
Megafeis Fingerprint Padlocks don't come with a bunch of extras. But they include a one-year warranty, a micro USB charging cable, and a user manual. In other words, just about everything you need to get started with the lock.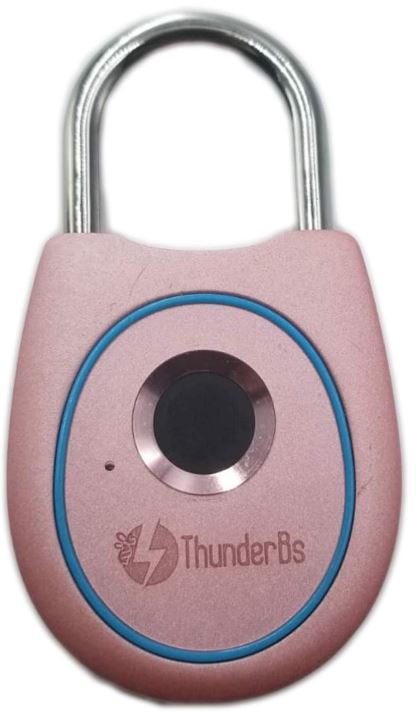 ThunderBs Smart Padlock
What if you don't have a smartphone? What if you don't want to use mobile devices to interact with your lock? The distinctive appeal behind the ThunderBs Smart Padlock is that you don't have to get any app support involved. You can do 100% of the customization and maintenance of the lock from the single button interface on the lock itself. That makes this lock pretty straightforward and convenient, at least, for people who want to avoid apps.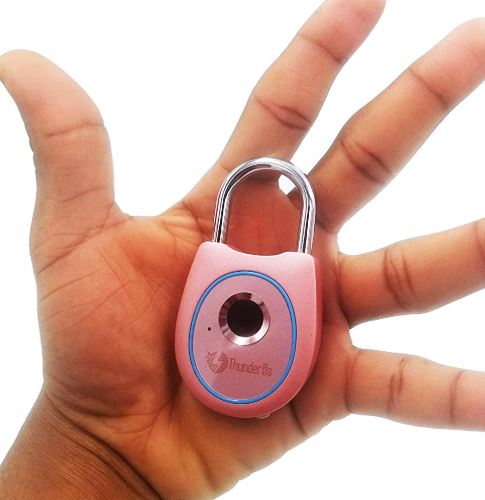 Additionally, the lock can decide to open in about half of a second, making it the most responsive of any lock on this list. Though the difference between the ThunderBs Smart Padlock and the others is so small that few people will form a preference over this particular criterion.
Design & Layout
This lock measures 1.8 x 0.4 x 2.9 inches, and it weighs about 3.5 ounces. That makes it the smallest yet heaviest lock on this list. Interestingly, the soft pink chassis also stands out compared to similar fingerprint locks. It looks a bit friendlier and approachable, though the topside still makes use of a stainless steel latching mechanism.
Another thing to like about this lock is that the fingerprint mechanism doesn't look very much like a fingerprint mechanism. That helps make this lock harder to identify to someone who doesn't know anything about it. Still, pink coloration does not imply this lock is soft.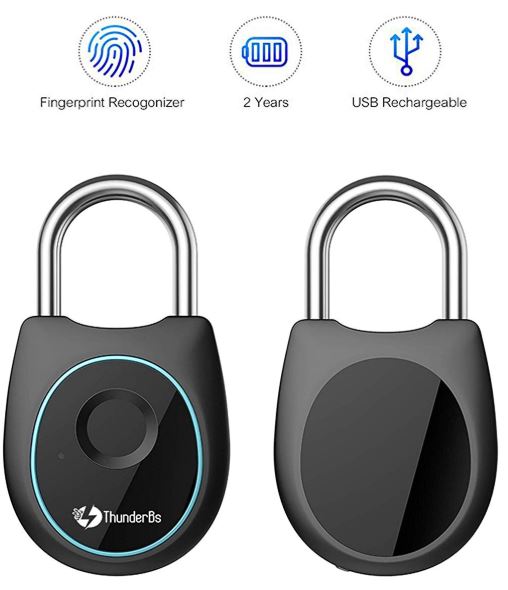 For instance, it has the same IP65 water resistant design as the Megafeis lock. You could think of this lock as drizzle resistant, but in a serious downpour you'd want to think twice about having the lock out. Because it's not supposed to withstand water that's being sprayed at it with any degree of force, nor submersion in water.
Battery & User Control
Due to its smart-screen design, the ThunderBs Smart Padlock can support a total of 10 fingerprints inside its memory. That's low-average for a lock like this one. But that makes it a good choice for cabinets, bikes, gym lockers, backpacks, and so forth.
Additionally, the 250mAh battery is a little above average for a lock of this size. That battery is quite robust, potentially supporting as much as 2-years of standby time. In more practical terms, you can get around 2,500 uses out of the lock before you need to think about a recharge. However, it does take the better part of two hours to finish recharging it after use.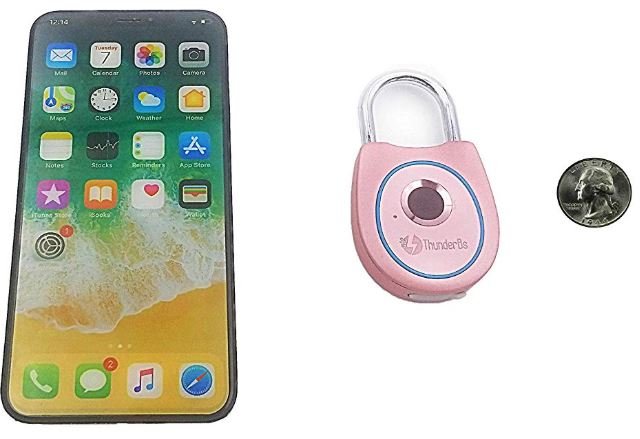 Other Considerations
In order to add or delete fingerprints, you hold the reader for 10 seconds on the lock sensors. It's a pretty simple and almost foolproof setup process. Though you will need to follow along with the included user guide in order to get it done right the first time. Once you get a hang for it, adding fingerprints only takes a few seconds.
In order to delete fingerprints, you press and hold the fingerprint button for ten seconds. A red LED will blink, and then you'll need to verify that you're the owner of the lock through the app. From there, all fingerprints will be deleted, and a green light will let you know you've finished the process successfully. Sadly, you can't remove only one or two fingerprints from the lock. All prints end up getting deleted if you decide to go through this process, which is mildly inconvenient in some kinds of multiple-user situations.
Picking Between 3 of the Best Biometric Fingerprint Padlocks
Tapplock Lite is a little fancier than the other locks on this list. It uses much of the same fingerprint technology, but the design was made much more in the interests of remaining lightweight. It also stands out because there are three ways to open the lock – Bluetooth connections, Morse code, and your fingerprints. The battery is a little run of the mill, but if you want versatility, this lock is your best bet.
Looking for something cheap and simple? The best value on this list is arguably the Megafeis Fingerprint Padlock. This lock has battery lifespans that are a little on the low side, sure. But the actual material construction of the lock is rock solid. Plus, it has essentially the same access features as the Tapplock Lite.
Last but not least, the ThunderBs Smart Padlock is going to be the right choice for someone who wants to avoid app connectivity. Some people are going to end up with a more convenient setup when they're able to do everything they need from the lock itself. This lock is built well, it's got the best warranty on the list, and it keeps things simple by eliminating the need to interact with apps.