Water is essential to life. From the smallest bacteria all the way up to us humans, all living creatures need water to survive. That's why it's so important to stay hydrated. But staying hydrated isn't always easy to do. In today's world, it's easy to keep rushing from one task to another, and forgetting to drink some water. It's even easier to get dehydrated if you work out a lot. When you're running or lifting weights, your body gets flooded with endorphins. These feel-good chemicals are your body's natural reward for getting exercise. But when you're feeling fantastic, it's easy to forget to take a drink.
Worse, modern people are practically addicted to coffee. And while caffeine is a great way to get going in the morning, it's a diuretic. This means it removes more water from your body than it adds. And if you fancy a beer or another adult beverage in the evening, we've got some bad news. Alcohol is also a diuretic. So how do you make sure you're getting enough water for your body's needs?
One solution is to use a smart water bottle. These bottles help you keep track of how much water you're drinking. They also offer helpful reminders to ensure that you take a drink when you need to. Today, we'll be looking at two of these: the LifeFuels Smart Bottle, and the Hidrate Spark 3 Smart Water Bottle. Both of these bottles have a lot to offer. However, there are important differences between the two. Let's take a quick look at both of them.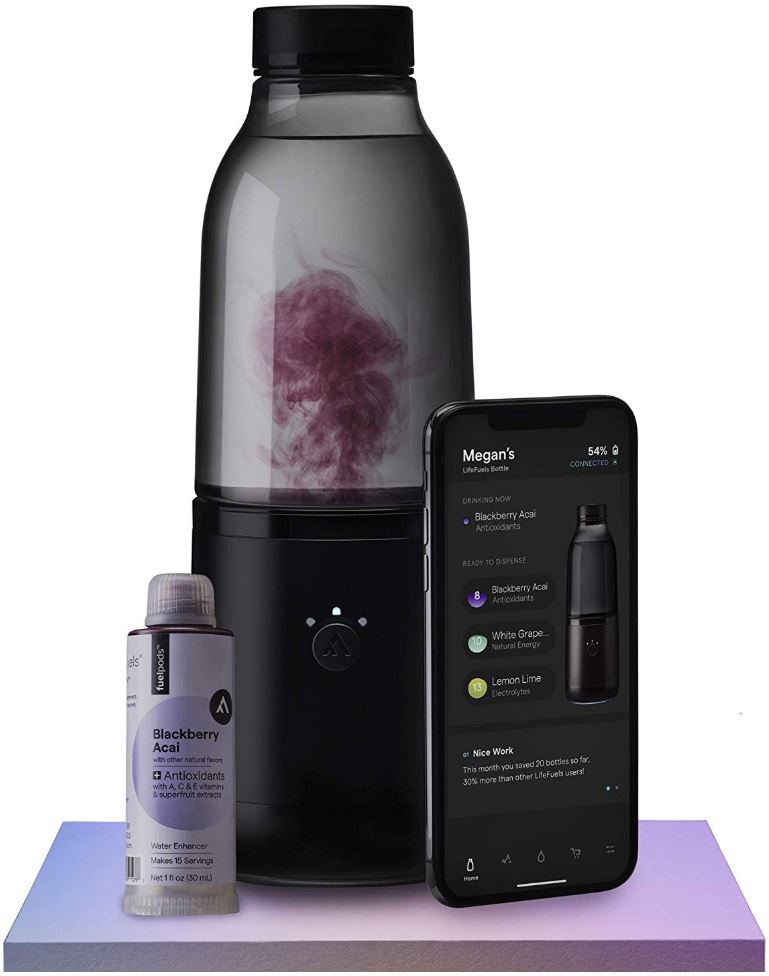 LifeFuels Smart Bottle
The LifeFuels Smart Bottle has a unique, 2-part construction that really catches the eye. The top portion is a clear, plastic water bottle that looks like many you'll see on the market. It has a black screw top, with a fairly wide mouth opening that makes it easy to drink from. The overall volume is 16.9 fluid ounces. That's slightly smaller than your average 20-ounce soda bottle, but right in line with smaller water bottles.
That said, the overall size of the unit is anything but small. This is because of the black plastic base, which houses the Smart Bottle's main attraction: the FuelPods. These pods are similar to the single-serving flavor packs you'll see for retail water bottles. However, they have a significantly large capacity. Each pod can make 10, 15, or 30 beverages depending on your settings. The base can house 3 fuel pods, which allows for up to 90 beverages overall. The base also houses a battery, which has an overall life of about 4 days. Not bad! All in all, the entire Smart Bottle measures 3 inches in diameter, and stands 12 inches high. It weighs in at 3 pounds empty, which rises to 4 pounds when it's full of water.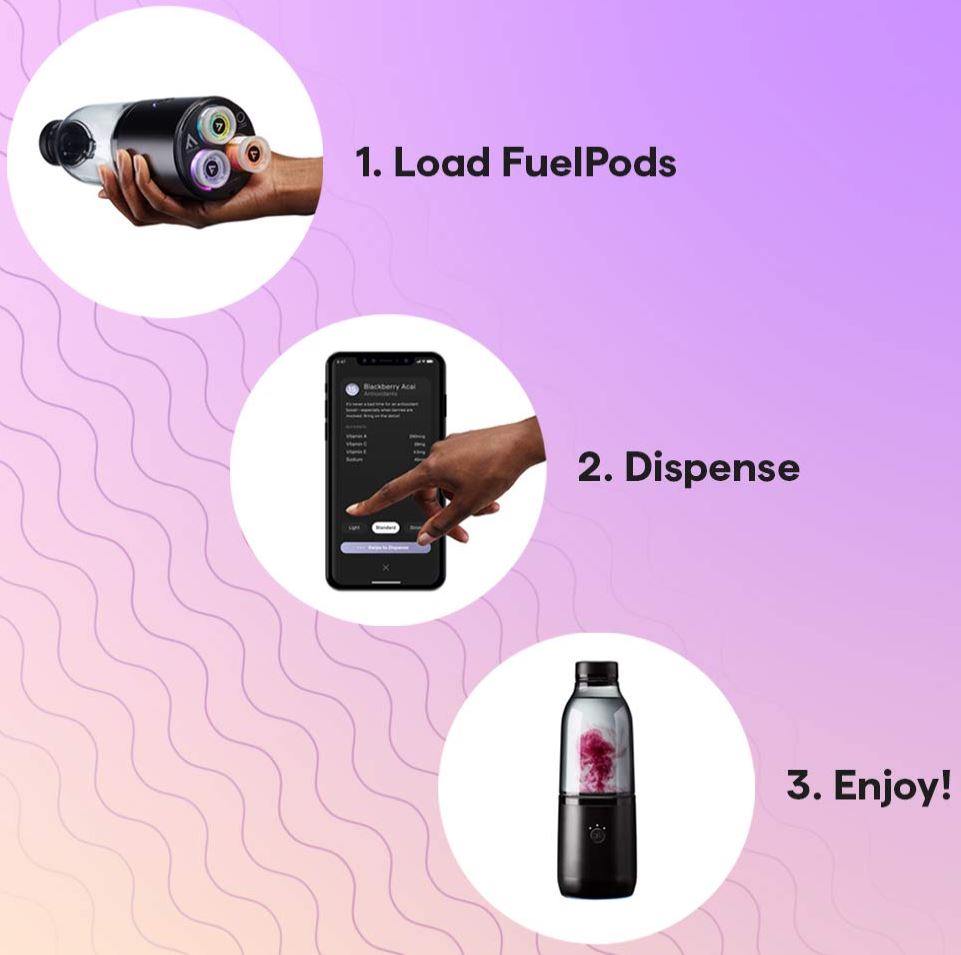 Mixing the flavors is easy. Simply fill the bottle with water, press the button on the front, and shake it up. Alternatively, you can also use the app to dispense your flavors, which we'll talk about more in a minute. The Smart Bottle ships with 3 flavors: peach, lemon lime, and blackberry acai. However, there are 7 additional flavors available. These include sweetened peach, ginger citrus, white grapefruit citrus, kiwi strawberry lemonade, cranberry raspberry, strawberry mango, and blackberry lime. All of the flavors are sugar-free, so they're totally safe for diabetics or keto dieters. The sweetened flavors use stevia, an herbal sweetener with a glycemic index of 0.
The Smart Bottle doubles as a source of nutrition. For example, many flavors come with antioxidants, such as Vitamins A, C, and E. Others deliver a multivitamin dose with vitamins A, B, C, and E. Still others provide an electrolyte dose, perfect for people who enjoy a good workout. The FuelPods are also environmentally friendly. LifeFuel offers a send-back program, where they'll take care of recycling for you.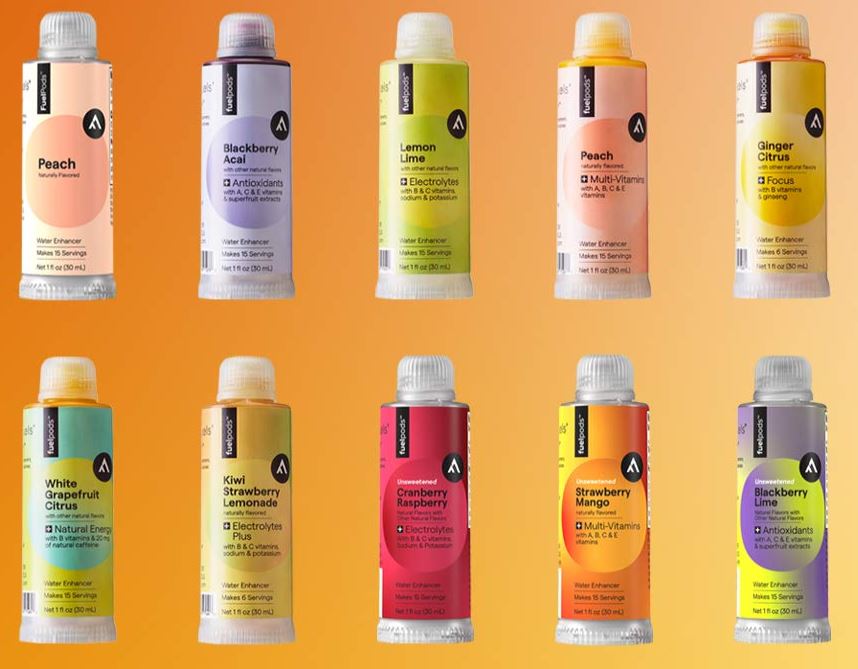 The Smart Bottle comes with a handful of accessories to make it more functional. First off, there's a Micro USB charging cable. This is to be expected with any rechargeable device. It recharges the battery in about 90 minutes, which isn't bad at all. You also get a cleaning brush, which you're going to want to use regularly. It also comes with a carrying lanyard. This is a welcome addition, since the Smart Bottle is clearly designed for people who live an active lifestyle.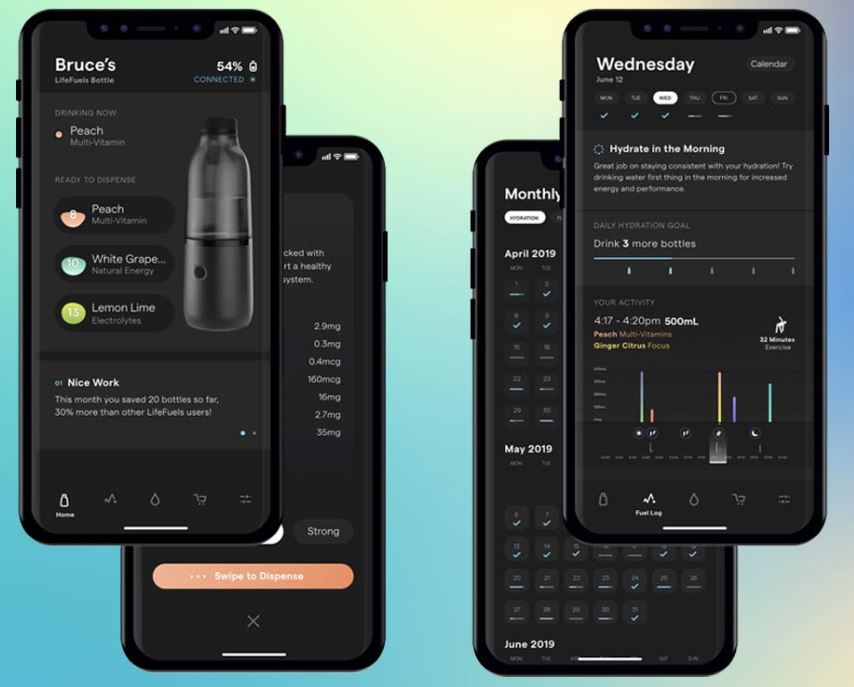 App & Smart Features
Of course, the Smart Bottle wouldn't be "smart" if it didn't come with an app. The LifeFuels app is free to download on iOS and Android. Install it on your phone, and pair your phone with the Smart Bottle via Bluetooth. Keep in mind that modern Bluetooth connections require you to be within 33 feet. Considering the nature of this device, that shouldn't be an issue.
The most basic app function allows you to adjust the flavor and strength. Choose between any of the three flavors in the base, and select how much flavor you want to experience. At low concentrations, the flavor adds a mild accent. At medium concentrations, it's similar to the powdered additives you can buy in stores. At high concentrations, it's a powerful flavor. Swipe to dispense, or just use the button on the front of the bottle.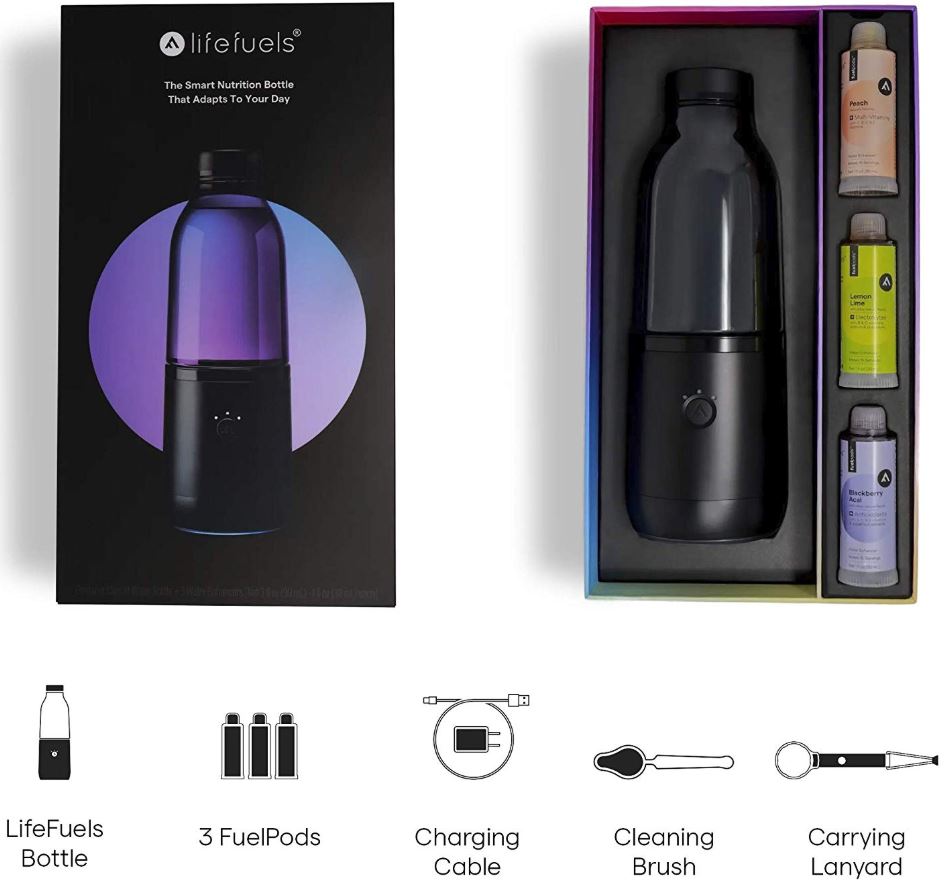 The app also allows you to set and track your own hydration goals. If you drink a lot of coffee or get a lot of exercise, you'll want to drink more. If you live a relatively sedentary life, you can get away with drinking less. The LifeFuels app includes insights and tutorials to help you decide how much you need to drink. Within the app, you can also review the remaining flavor in each FuelPod. This way, you won't run out of flavor by surprise. You can even sync the Smart Bottle with wearable devices such as a FitBit. With this feature, your Smart Bottle will adjust your hydration recommendations based on your exercise level. If you take a day off, you won't have to lower your hydration profile. Similarly, you won't have to manually ramp things up if you have an extra-intense workout section.
If you like the idea of a smart water bottle but you're looking for different features, there are other options. We recently reviewed the LARQ bottle, an opaque, rugged smart bottle. It doesn't flavor your water, but it's self-cleaning, and it includes a built-in water purifier.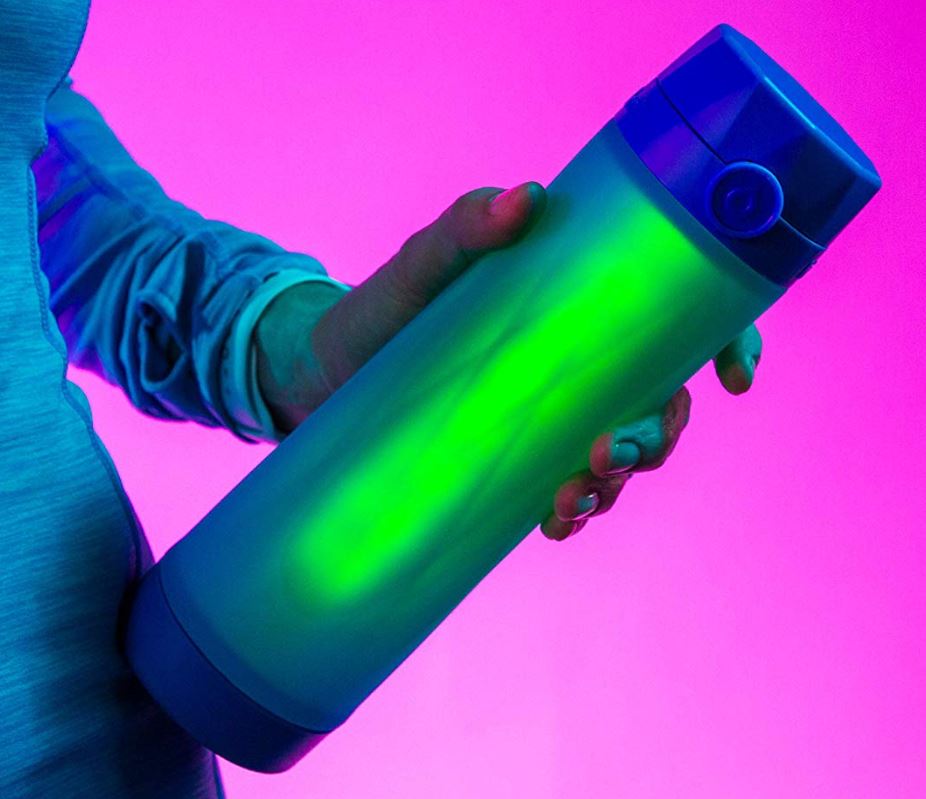 HidrateSpark 3 Smart Water Bottle
The Hidrate Spark 3 Smart Water Bottle is an attractive bottle that blends a classic and modern design. It's available in 6 colors: berry, scuba, royal, storm, coral, and black. Inside, there's a glowing rod that will illuminate when it's time to take a drink while meticulously tracking your water intake. The bottle has a very slight hourglass taper, which makes it easy to grip. The outer layer is also constructed from silicone, which prevents condensation. The silicone is nice and rubbery, and has a built-in finger loop. This makes it a great choice for carrying on a run, or during other physical activities.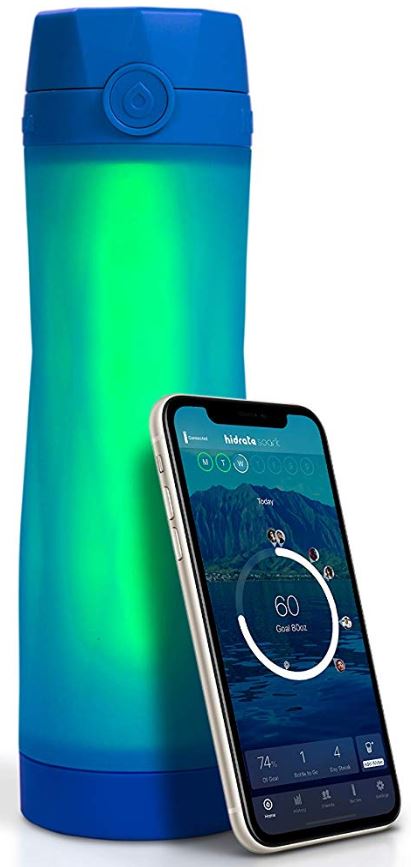 The bottle itself is constructed from polypropylene and Tritan plastic, which means that it's BPA-free. This makes it safe for expecting mothers, as well as for anyone who's otherwise concerned about BPA. However, the technology within the sensor stick could be damaged by the dishwasher. As a result, you should hand wash the bottle, as well as the sensor stick.
The overall height of the HidrateSpark 3 is about 12 inches, and it weighs 13.6 ounces empty. When filled to capacity with 20 ounces of water, the total weight will be just over 2 pounds. The diameter is just under 4 inches. It's designed to fit in most car cup holders, as well as bike bottle cages. It also fits in backpack water bottle pockets, which makes it a great choice for hiking and backpacking.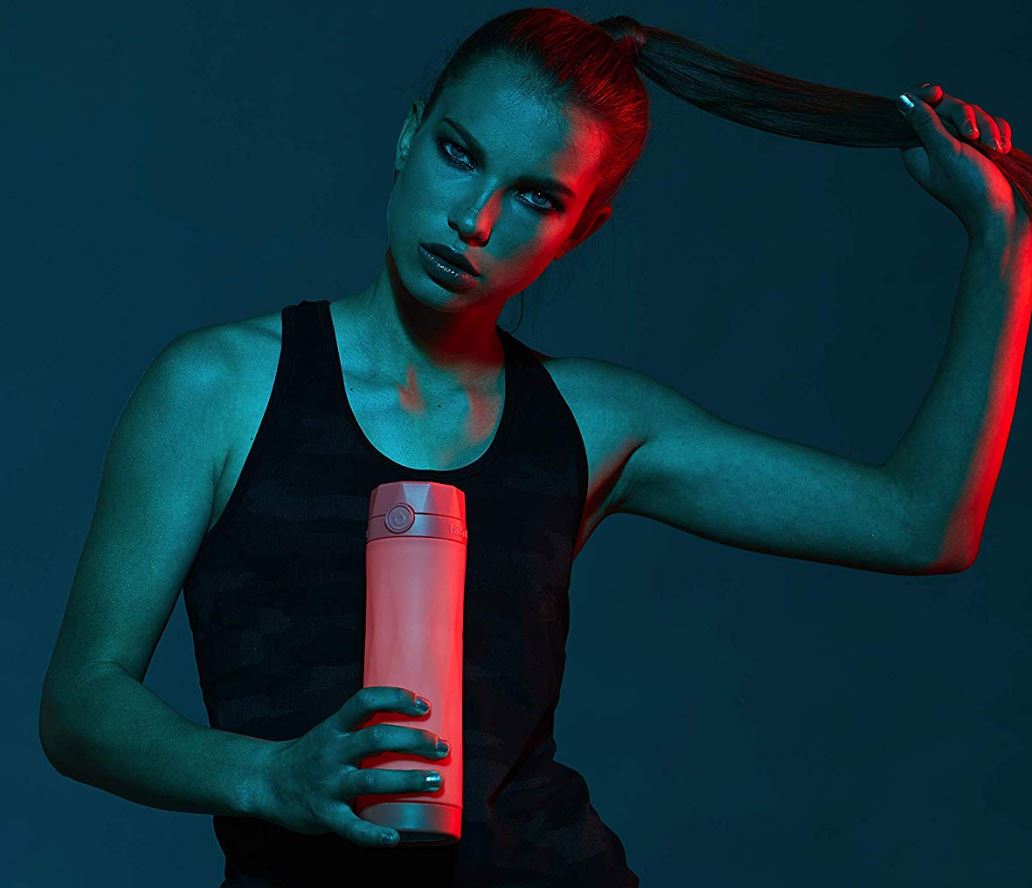 The battery is housed in the base as you might expect. It's not rechargeable, so you'll need to change it from time to time as it runs dry. That said, it lasts for about 2 months of continuous use, which makes this less of an issue than you'd expect. The battery itself is a 3-volt CR2477H, which is an oversized watch battery. It's not generally available in convenience stores, but home improvement stores and some drug stores carry it. Changing the battery is relatively easy. However, you'll need to ensure that the battery cover is securely screwed down when you're done. Otherwise, water can get inside and corrode the contacts.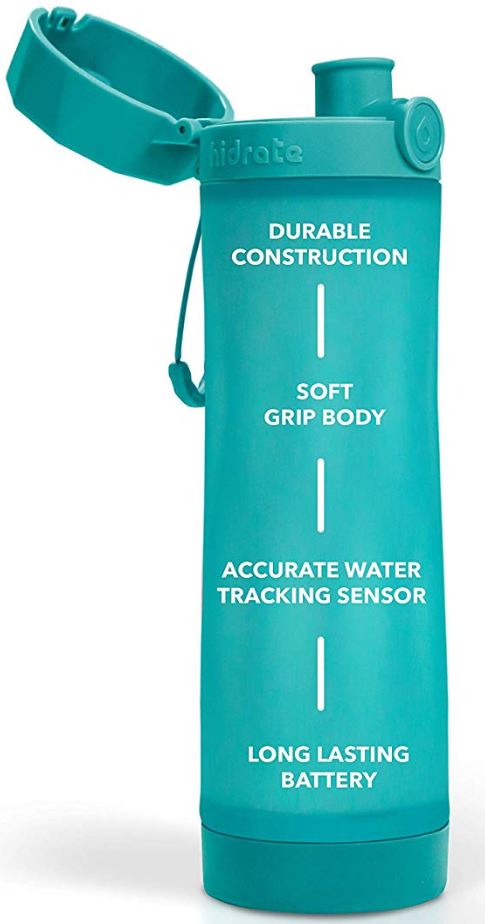 App & Smart Features
Like the LifeFuels Smart Bottle, the HidrateSpark 3 also comes with a free companion app. It's available on Google Play and the Apple Store for free. Download it and connect to the bottle via Bluetooth, and you'll have access to a variety of fun, useful tools. Once it's paired, the app will track your water consumption via a sensor inside the bottle.
When it's time to take a drink, the light rod inside the bottle will blink. You can choose between 3 different patterns, which change the rate and intensity of the blinking. You can set the reminder either to display at set intervals, or only when you need a drink. It will also adjust based on your personal needs. Tell the app your weight and activity level, and it will adjust your hydration needs accordingly. It also communicates with connected devices like FitBit. The more exercise you get, the more water it will tell you to drink.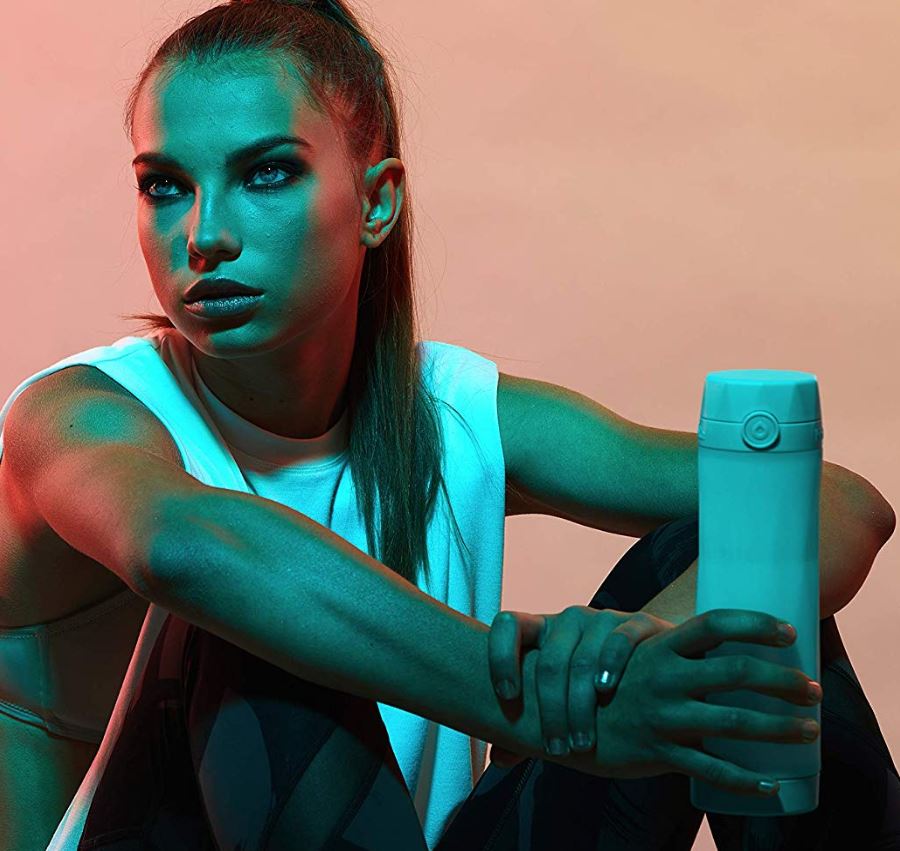 The HidrateSpark 3 might not offer all the flavor or nutrition options of the Smart Bottle. However, it offers a lot of connected options that make it uniquely interesting. First off, it keeps track of your hydration history. Going through the app, you can view how much water you've consumed in the past. This is a great feature if you want to experiment by lowering or increasing your hydration level. There are also some fun social features. If your friends are using the HidrateSpark 3, you can check up on each others' progress. You can also enable location tracking. This makes it a great choice if you have an accountability buddy. Your buddy will know whether or not you've actually taken your morning jog, and you can hold them accountable, too.
Final Verdict
Clearly, these are two unique smart water bottles that each has its own advantage. Let's quickly recap which one you'll prefer under what circumstances. First off, the LifeFuels Smart Bottle is a solid choice if you want hydration and nutrition. The FuelPods are a nice bonus feature, since they supply electrolytes, antioxidants, or vitamins. They also taste great, and the wide variety of flavors ensures that you'll enjoy at least a few of them. Besides which, the pods are environmentally friendly. And the app integration is very effective, allowing for easy operation.
That said, the HidrateSpark 3 has a larger capacity, lighter weight, and a more traditional shape. The silicone sleeve makes it almost impossible to drop, and the glow rod is very attractive. In addition, there are more app features available. It's a great choice for running buddies, or for cyclists who need a bottle that fits in their bike cage.