For serious racing enthusiasts, there's no replacement for a good set of pedals. Sure, you can use your controller or keyboard, and for casual gamers, that's probably good enough. After all, you'll still get the same array of controls. But even a vibrating console controller can only offer so much feedback. On the other hand, a set of pedals can offer excellent tactile feedback, providing a more immersive experience.
Pedals also make it feel like you're driving an actual car. You don't drive a racecar with your thumbs. So why would you play a racing game the same way? Use your feet, just as you would in real life. Today, we'll be looking at ThrustMaster T-LCM Pedals. These pedals are set to release on March 26th, and looks to be one of their most exciting options in years. We got a look under the hood, so now we can tell you all the spicy details. We'll get into all the features, the quality of construction, and all the ways you can customize it.
Just to be clear, these are racing pedals, not flight simulator pedals. That said, ThrustMaster is known for producing a variety of flight sim controls as well as racing controllers. One of these is their set of TPR pedals for flight simulators. They're rugged, they're responsive, and they're easy to customize.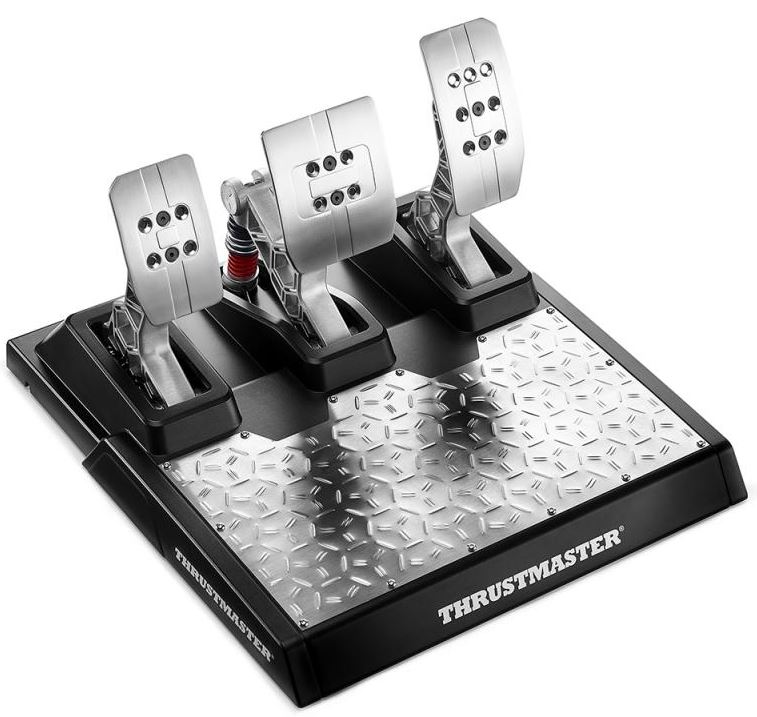 Design & Construction
The ThrustMaster T-LCM pedals are a full set of three pedals: an accelerator, brake, and clutch. This allows for a full set of controls, so you can drive your Formula One car in realistic manual transmission. Perhaps their most impressive feature is that they're incredibly durable. They're constructed entirely from steel and aluminum. The pedal heads and pedal arms are constructed from stainless steel, ensuring years' worth of durability. Each pedal head is secured with six thick Allen bolts, offering plenty of added security and eliminating any wobble.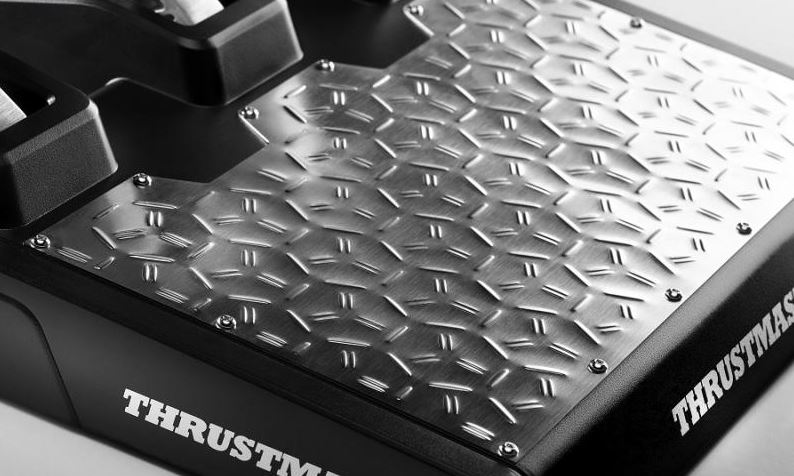 The pedal housing is black anodized aluminum, which helps reduce the weight versus all-steel construction. The bulk of the base is also constructed from aluminum. However, it has a textured steel top plate, which ensures that your heels don't slip while you're driving. Race as aggressively as you like, and you're not going to have any issues with slippage. The bottom of the housing has several rubber pads, further reducing the risk of slippage. The pads also protect your floor. Even if your desk or game console is located on a hardwood floor, you won't have to worry about scratching. On the front, you'll find three different ports. There's a DC adapter for providing power. There's a USB Type-B port for the connecting cable, which is included in the kit. Finally, there's an XLR port for connecting to a ThrustMaster hub.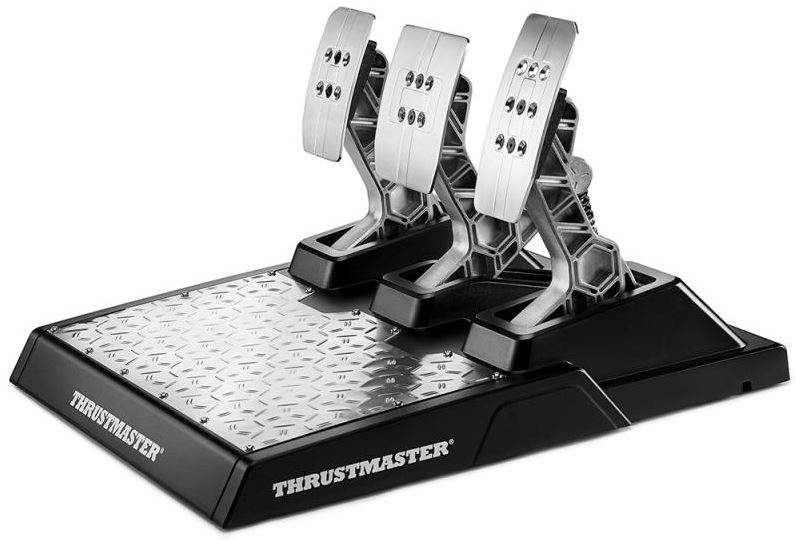 The pedals are all spring-loaded, which gives them a nice responsive feel. When you press down on them, they don't feel like cheap ABS plastic pedal units. They feel like real automobile pedals. We really appreciated the realism of the T-LCM pedals, right down to the way they're mounted. Between the heads and the arms, there's a fat rubber gasket. This provides a little bit of cushion when you press down and release. The total weight is fairly heavy, at 11 pounds. This gives us further confidence in the overall quality and durability.
Responsiveness & Customizability
When it comes to responsiveness, the T-LCM pedals are in the top of their class. They utilize a contactless technology called H.E.A.R.T. H.E.A.R.T. stands for Hall Effect AccuRate Technology. There are two factors that make this technology superior to traditional sensors. The first is that it has a virtually unlimited lifespan. Without any physical contacts, there aren't any physical sensor components that can break down. The other advantage is exceptional accuracy. The T-LCM's sensors offer up to 16-bit resolution. This means they can distinguish 65,536 different pedal positions. That's as close as it gets to a real-world analog pedal.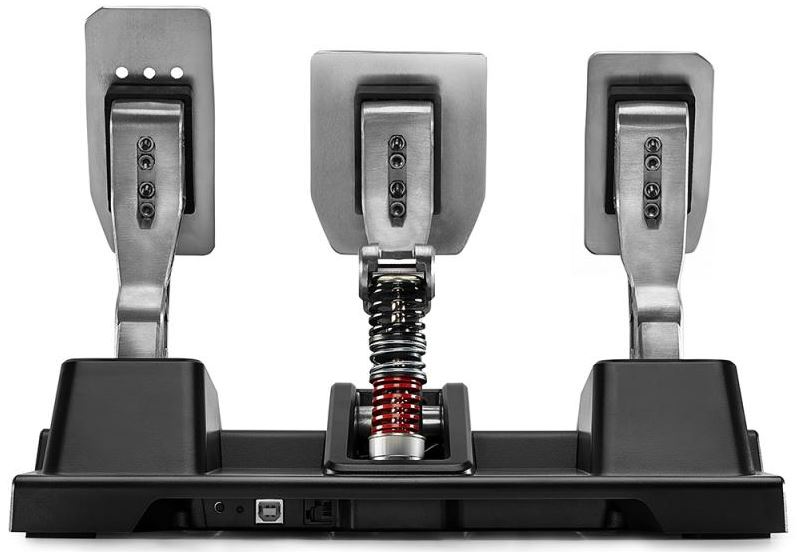 All three pedals can be adjusted. You can tweak the individual heights, angle of incline, and even the spacing. For the clutch and the brake, this work is done at the base. This is also true for the accelerator. However, the accelerator also has a third row of screw holes. This allows you to move the accelerator up or down by about an inch. Not bad! One adjustment you can't perform is to invert the pedals completely. ThrustMaster's T3PA Pros were designed with this feature. However, it came with some downsides when it comes to durability. For that reason, ThrustMaster decided not to make the T-LCM pedals capable of inversion.
Another thing you'll notice is that the T-LCM's brake pedal has a set of fat, chunky springs. While all the pedals are spring loaded, the brake pedal is exceptionally well supported. It can accept up to 220 pounds of pressure, which is more than most people are capable of applying. However, it's a great feature. It ensures that you can adjust the sensitivity to your individual driving style. Want a more relaxed feeling? Calibrate the pedal for light force. Do you tend to drive with maximum intensity? Calibrate the brake for a heavier foot. You've got plenty of options.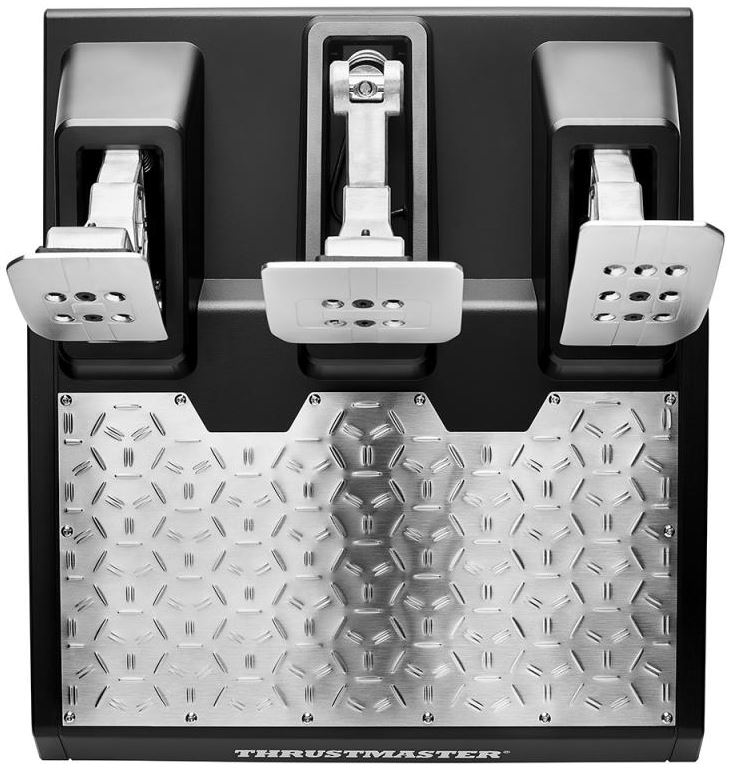 In addition to software calibration, you can also adjust the physical resistance. The kit includes a set of six springs, which can be swapped in and out as you desire. The pedal mount itself has a two-part design, with two sets of plungers with springs between them. You can adjust the springs on both sides, which gives a truly customized feel. You can put a light spring on top and a heavier spring on the bottom, or vice-versa. You can also use heavy or light springs in both positions.
Either way, you've got a variety of options, to adjust based on your gaming style and racing setup. If you sit low to the ground, you'll probably want a lighter resistance. If you sit higher up, you'll want a heavier resistance. From heaviest to lightest, the springs are color-coded in red, black, white, and silver. This makes it easy to keep track of which ones are which.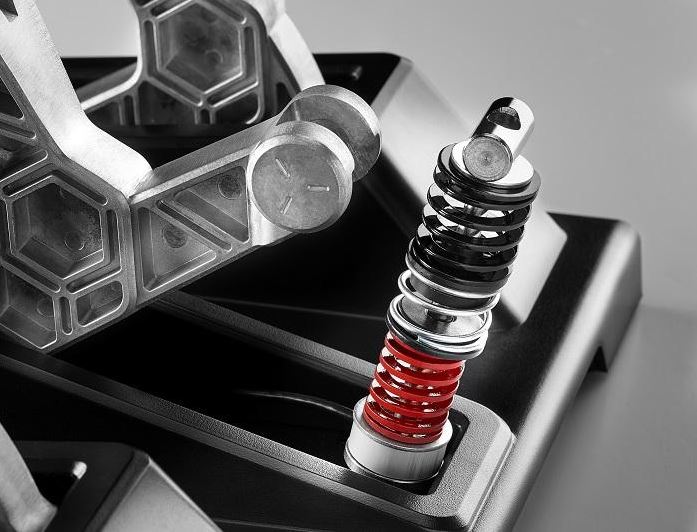 Compatibility & Extras
The ThrustMaster T-LCM is compatible with PCs, as well as with Xbox One and PlayStation 4 consoles. It connects via USB, which makes it very easy to plug in. It's compatible with virtually every racing game on the market, so you can enjoy a variety of games. Want to race in Formula One? You're all set. Want to race in NASCAR? You can do that, too. Pretty much any game will work.
In addition, you can also connect to third-party steering wheels like the Logitech G27 or G29. Simply plug into the USB port, and daisy-chain the steering wheel to your computer. You don't have to worry about any voltage issues, since the T-LCM uses its own power supply. Alternatively, you can use an XLR cable to connect to the ThrustMaster Hub. With the hub, you can connect a variety of other accessories. For example, you could connect the ThrustMaster TSS Sequential Shifter and Handbrake. This way, all your parts are guaranteed to be compatible. Throw in other ThrustMaster components like a steering wheel, and you'll be all set.
We've already touched on the fact that the ThrustMaster T-LCM comes with calibration software. As we mentioned, you can use the software to set the intensity of the brake force. But why stop there? You can also adjust the dead zones for all 3 pedals. This allows for exceptional control. If you have a bit of a lead foot, you can expand the dead zone on the accelerator to compensate. If you like to slip the clutch, you can reduce the clutch dead zone to a bare minimum. Whatever your racing style, you can make plenty of adjustments to compensate.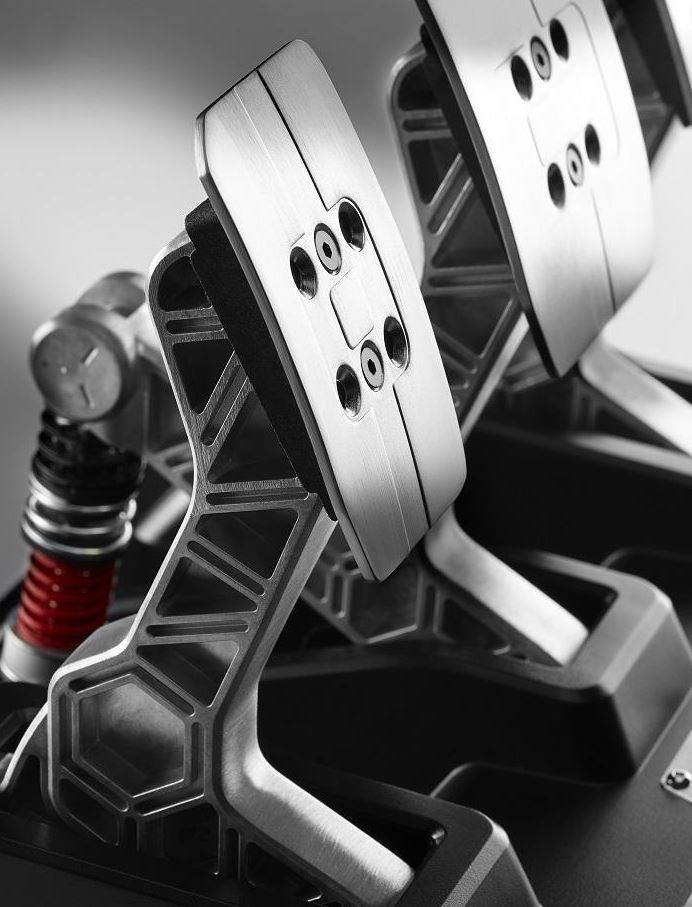 Final Verdict
So, how does the ThrustMaster T-LCM compare to other similar pedals? For our part, we're excited to see it hit shelves. Let's start with the build quality. To put it mildly, we were impressed. Most pedal sets utilize at least some plastic in their construction. This is understandable, both to reduce the weight and to keep costs down. But if you're paying for a premium set of pedals, you expect them to last. The all-metal construction of the T-LCM ensures that it's going to last for many years.
In addition, we loved the customization options. The ability to adjust the pedals on all 3 axes was much appreciated. But the spring options on the brake pedal really took the cake. These little monsters allow for plenty of customization, both for comfort and to match your racing style. Finally, you can use the T-LCM with virtually any game and system. And the ability to plug into the ThrustMaster Hub means it's easy to pair with other ThrustMaster controllers.
Meet Derek, "TechGuru," a 34-year-old technology enthusiast with a deep passion for tech innovations. With extensive experience, he specializes in gaming hardware and software, and has expertise in gadgets, custom PCs, and audio.
Besides writing about tech and reviewing new products, Derek enjoys traveling, hiking, and photography. Committed to keeping up with the latest industry trends, he aims to guide readers in making informed tech decisions.