In recent years, solid state drives (SSD) have become more and more popular. What was once an expensive technology, designed only for high-end systems, is now nearly as affordable as a traditional HDD drive. Now that anyone can own one of these drives, manufacturers have been rolling out more advanced versions.
Today, we'll be looking at military grade external SSD drives, which are the latest trend in this evolving technology. They're built to be as rugged as possible, resisting shock far better than a traditional external HDD. But which ones are the best? And how do you know if you're getting a good deal? We're about to find out!
Why Use a Tactical SSD?
So, why would you want to use a military grade external SSD drive? Why not a thumb drive, a traditional HDD, or an internal drive? Here are a few reasons this kind of drive is a solid choice.
To begin with, external storage offers portability. This is perhaps its most obvious advantage over an internal drive, but there are other reasons, too. For one thing, you may not feel comfortable installing a new internal drive, which requires you to mess around with SATA cables and install a physical part inside your machine. An external drive plugs into your USB or Thunderbolt port, just like any other peripheral. In addition, it's virtually impossible to upgrade a laptop hard drive, and upgrading your console hard drive will turn your game system into an expensive doorstop. An external drive can be used with any of these systems.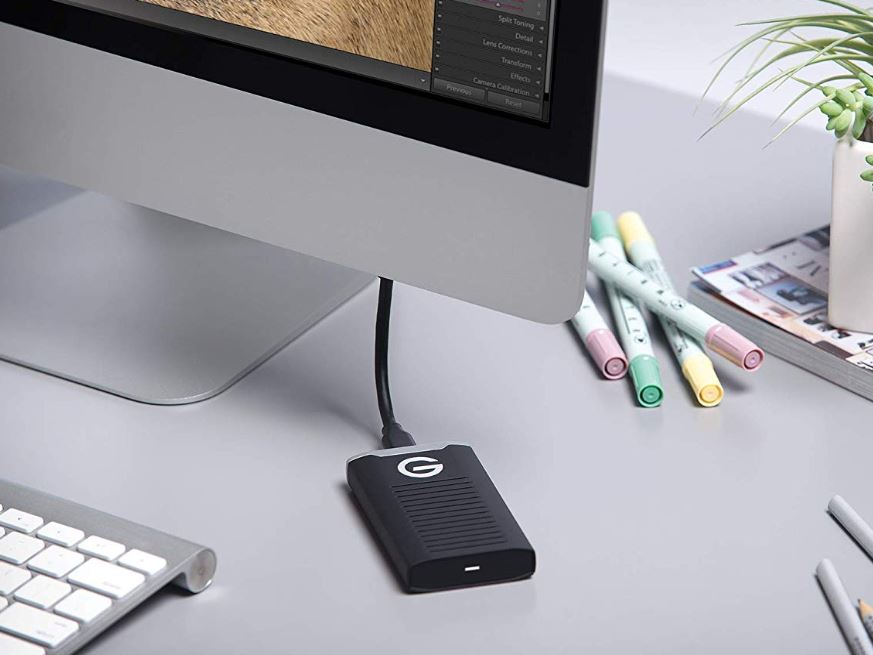 But why not just use a thumb drive, or an HDD? These are both fine ways of storing your data, but at the end of the day they're not suitable for all purposes. A thumb drive is very easy to carry, even easier than an external drive. But thumb drives, even the most advanced options, aren't yet approaching Terabyte levels of storage, so you can only transfer so much data at a time. On the other hand, HDD drives offer a lot of capacity, but the physical components are far more vulnerable to shock. They also offer limited read/write speeds, so you might have trouble streaming 4K video from one.
That's not to say that external SSDs are invulnerable. Many models can also be damaged by drops, bumps, or a splash of water. So we'll be reviewing military grade drives, which are made to handle a lot of abuse.
How to Choose the Best Military Grade External SSD
So, you've decided to take the plunge and buy a military grade external SSD. What features should you look for, and what should you avoid? Here, we'll spill the beans on everything you need to know.
First, you need to consider how much storage space you need. Are you looking to back up important documents, store your music library, or stream 4K video? Each of those functions will require a different amount of storage capacity. For example, if you're just backing up your tax returns and your resume, 250GB will be more than enough. But if you're trying to save a lot of audio files, you'll need more space. In that case, a 500GB drive is going to be more up your alley. The 500GB to 1TB range is also ideal for photo editors and other creative professionals, since it gives you enough capacity to store an enormous number of images.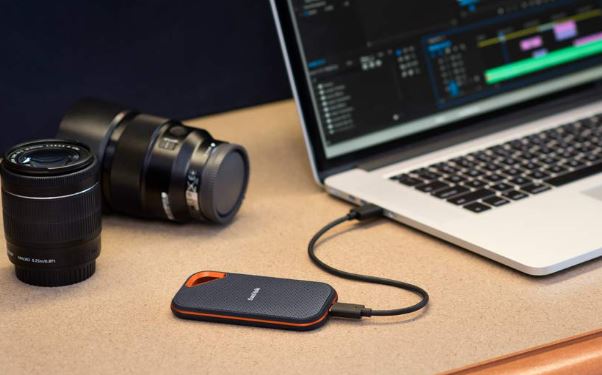 Finally, if you want to stream 4K video, look for a bare minimum of 1TB. And if you want to store a lot of video, look for 2TB or even more. This range is also great if you're looking to add capacity to your game console. With a 2TB or larger drive, you can store dozens of games, which means you won't have to decide what to delete every time you want to download a new game. That said, higher capacity drives tend to be significantly more expensive, since it costs money to pack that much capacity into the same size case.
Once you know how much storage space you need, you'll need to consider durability. Look for water resistance, dust resistance, and shock resistance. This is what separates a military grade drive from a more standard drive. Generally, we'd expect a minimum of 6.6 feet (2 meters) of drop resistance, since this means that even a very tall person can drop the drive on the ground without you losing any data. And while you're looking at durability, look for a good warranty. This won't necessarily tell you anything about how good the drive is, but it will tell you whether or not the manufacturer is willing to back their claims with action.
Also, consider the physical size. Do you need to carry your external SSD in your pocket? A briefcase? A backpack? Depending on how much portability you need, you may need a smaller drive. That said, this always involves a trade-off. As we've already mentioned, the more capacity you get in a smaller package, the more you're going to pay for the quality of engineering. So if money is a concern, a less compact drive may be a better choice. Weigh your options carefully.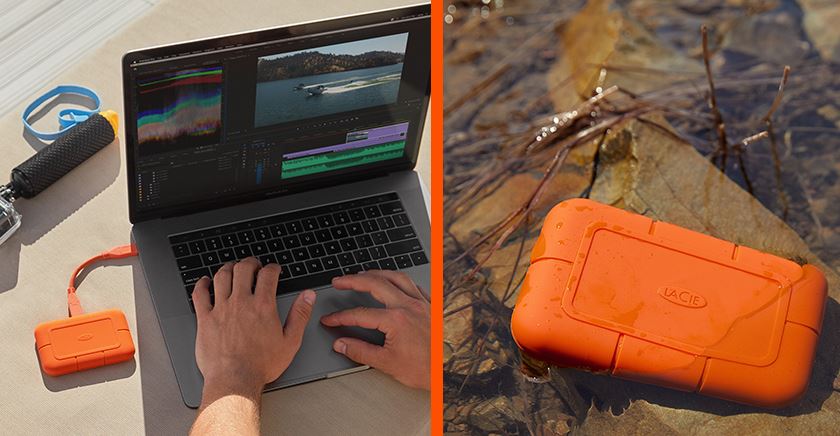 You'll also need to think about what kind of connectivity you need. There are two main types: USB and Thunderbolt. USB 3.0 comes in several varieties, including USB Type-A and Type-C. Type-C is a smaller plug, and offers slightly higher rates of data transfer. Type-A is your traditional USB port, and is slightly slower. That said, while Type-C offers an advantage for certain types of devices, Type-A is fast enough to keep up with the read/write speeds of all but the speediest drives.
Thunderbolt is a slightly different technology. It was originally developed for Mac, and offers exceptionally fast transfer speeds. Older Thunderbolt 2 connectors transferred at a rate of up to 20GBps, as opposed to 5GBps for USB 3.0 Type-A and 10GBPS for USB 3.0 Type-C. And newer Thunderbolt 3 cables operate at an absurdly fast 40GBps. Even 5GBps is far faster than any SSD can read or write, so there's no limitation in terms of connectivity.
Now, here's where things get weird. Thunderbolt 3 and USB 3.0 Type-C actually have identical plugs, whereas older variations of Thunderbolt used an entirely different plug. As a result, a Thunderbolt cable can be plugged into a USB Type-C port and will work just fine, although it will be limited to 10GBps. On the other hand, a Thunderbolt 3 cable will not work in an older Thunderbolt 2 port. So if you have an older Mac machine with USB and Thunderbolt 2 ports, you'll need to use the USB connection for any of these devices. Conversely, if you have a newer PC with USB Type-C ports, a Thunderbolt 3 drive will work just fine.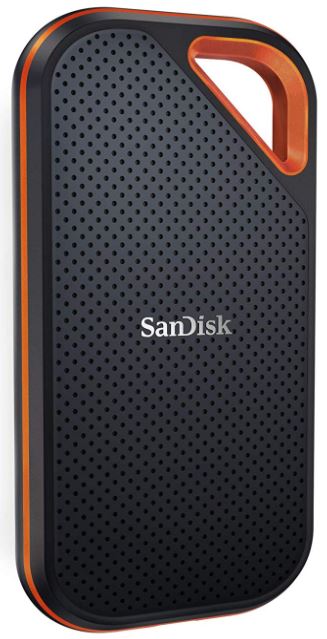 SanDisk Extreme PRO
The SanDisk Extreme PRO is a slim external SSD drive that features a cutout on one corner. The cutout isn't just a stylistic choice; it's practical. This SSD can be carried on a lanyard or clipped into a carabineer, making it possibly the most portable model on the market. A forged aluminum body provides plenty of strength and rigidity, while a textured rubber coating on the front and back ensures that it won't slide around on your desk. The shell is IP55 rated for water and dust resistance. However, be careful about the USB port. If it gets wet, you'll want to make sure it dries out completely before you plug the drive into your computer. The drive is also shock resistant, rated to withstand a 6.6-foot (2-meter) drop onto a concrete slab.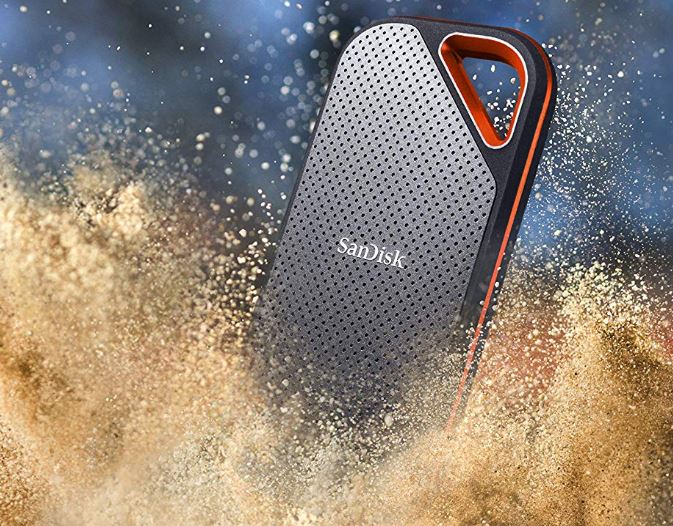 The Extreme PRO connects to your computer with a USB Type-C port, and includes a pair of cables. When connected into a USB Type-C port, it can transfer data at 550MBps and write at 256MBps. If you use the Type-A adapter to plug it into a Type-A port, you'll get slightly slower performance, with a 526MBps read speed and a write speed of 256MBps. Be aware that the adapter is small, so it's easy to lose if you're not careful.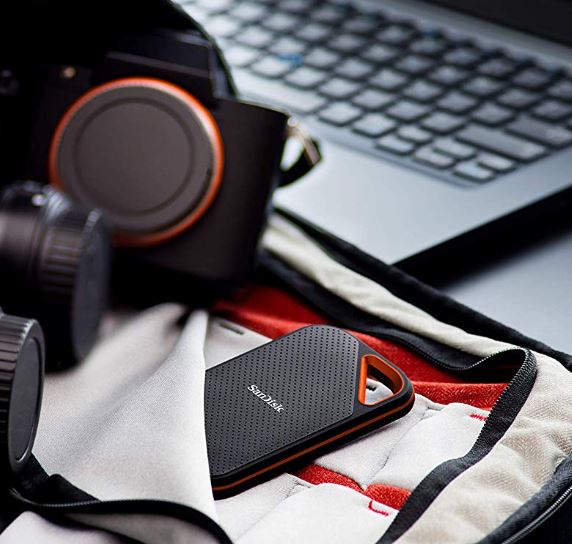 This drive comes formatted with the exFAT file system, which allows it to connect to both Windows and Mac machines – and transfer files between these systems – without the need for reformatting. That said, NTFS is a more stable file system, so if you're using your Extreme PRO exclusively with Windows machines, you might want to consider reformatting it. If you want security, this drive also offers it. It includes SanDisk's SecureAccess encryption software, which allows you to set up a protected folder, or even a protected partition, which will secure your data with 128-bit encryption. The Extreme PRO comes in four capacities: 250GB, 500GB, 1TB, and 2TB.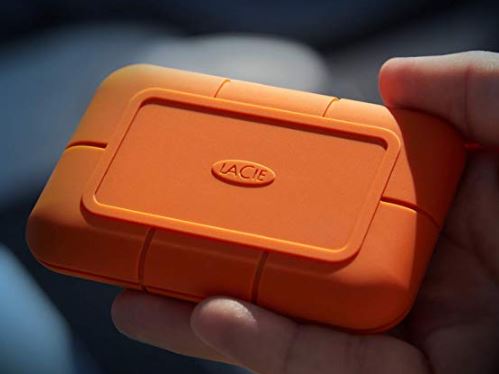 LaCie Rugged SSD
LaCie's Rugged SSD was designed in Paris, so you can expect style as well as function. It has a heavy-duty orange case, with a rubberized finish that's comfortable to grip and durable to scratches and drops. The top of the shell is open, with a gray display that can show your battery level, your remaining memory, and progress on file transfers. The display is recessed, though, so even if you drop the drive right on its face, the rubberized shell will absorb all of the impact. There's also a small storage slot in one side, which is designed to hold both the Thunderbolt and the USB Type-C charging cords.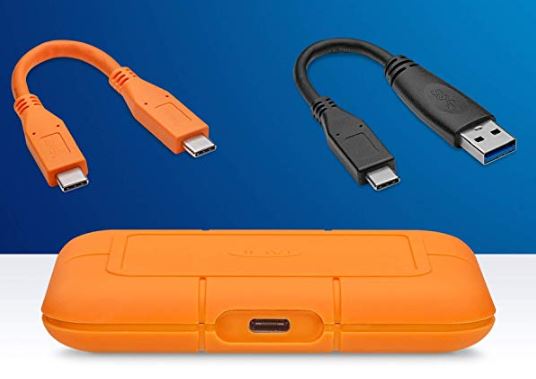 In terms of protection, your data is remarkably safe. The drive is encrypted with 256-bit encryption. That's a truly military grade specification, with such powerful protection that even the US government is unable to hack it. And your data is also well protected from physical damage. The shell is rated IP54 for water and dust resistance, so you won't have to worry about taking it out in the rain. And it's shock resistant too, capable of withstanding a drop of 6.6 feet (2 meters) without losing any of your data.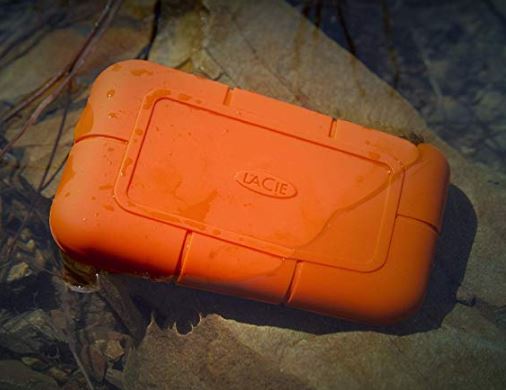 Regardless of whether you connect via Thunderbolt – Mac only – or USB, you'll get the same read/write speed of 385.5MBps and 354MBps respectively. While Thunderbolt is faster in theory, the real limit of the drive is the SSD itself, which is on the slow side for an SSD, but still faster than any HDD on the market. Be aware, though, that the LaCie Rugged comes formatted in the HFS+ format, which is designed for Mac. That said, the drive comes with software that can be used to easily reformat it just a few minutes, so you can use it on any system with ease. It comes in five capacities: 500GB, 1TB, 2TB, 4TB, and an impressive 5TB.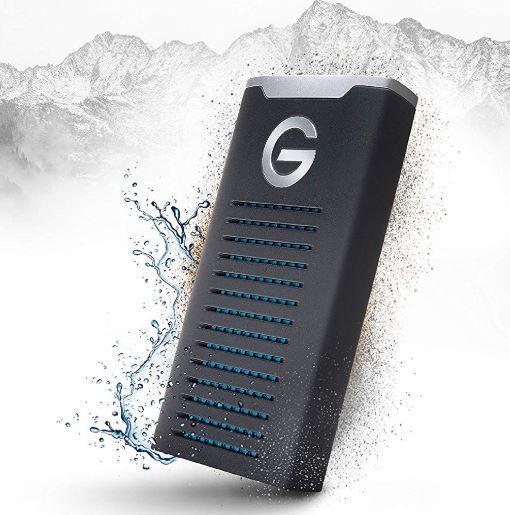 G-Technology G-DRIVE
The G-Technology G-DRIVE has a compact design, at only 2 inches wide, 3.7 inches long, and 0.7 inches thick. It's larger than a thumb drive, but it's smaller than your typical SSD. The case is constructed from forged aluminum, although the entire outside is coated with durable, non-slip rubber. The only exception is the back of the unit, where some aluminum is exposed around the USB Type-C port. There are slits throughout the top and bottom of the drive, which allows it to remain cool even when you're reading and writing a lot of data in a short period of time.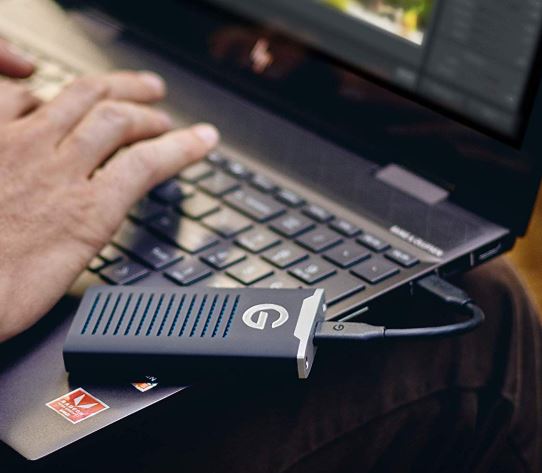 The case of this drive features IP67 environmental protection. Not only does this make it virtually waterproof and dust-proof, but it's also shock resistant to 9.9 feet (3 meters). So even if you drop it off a small ladder onto a concrete pad, it will work just fine. It's also crush resistant, capable of withstanding up to 1,000 pounds of pressure. Even if it gets driven over by a car, your data will still be there. And even considering this level of durability, it's impressive that G-Technology offers a 5-year warranty. That said, there's no encryption on the G-DRIVE. To encrypt your data, you'll need to install third-party software. Thankfully, there are plenty of options for that, so you'll have your choice of software.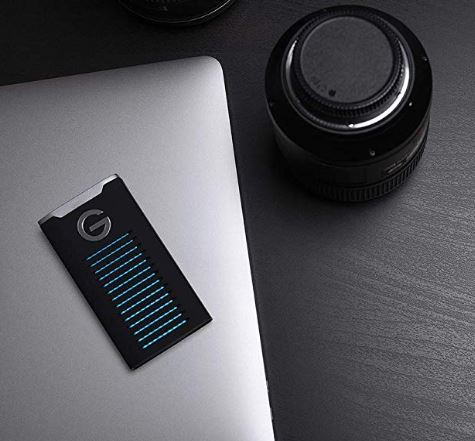 This drive is available in 500GB, 1TB, and 2TB variants. All of them connect via USB 3.0, which allows for up to 10GBps data transfer speeds. Of course, that's more than any drive will actually achieve. In reality, you're looking at read speeds of 560 MBPS and write speeds of 430MBps. That's still blazing fast, and you won't be disappointed. Keep in mind, though, that the G-DRIVE arrives formatted for Mac. If you're intending to use it with a Windows machine, you'll need to reformat it in NTFS. Alternatively, you could reformat it in exFAT, which is compatible with both Windows and Mac.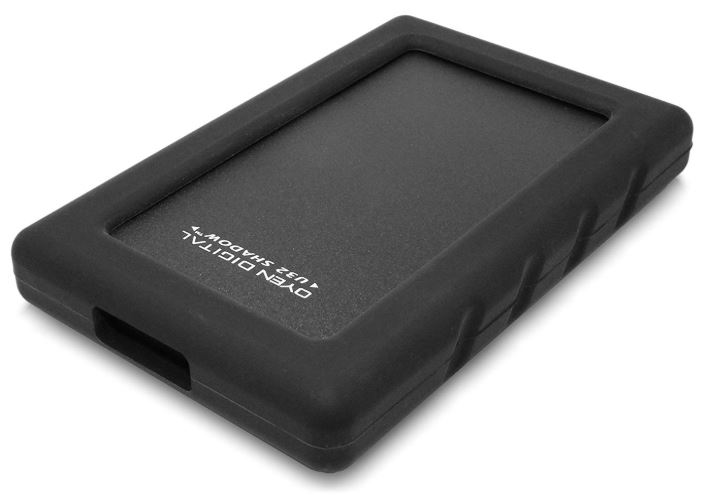 Oyen Digital U32 Shadow Dura
The Oyen Digital U32 Shadow Dura is a new and improved version of Oyen's earlier U32 Shadow. It's been upgraded with a heavy-duty black rubber case, which is water, dust, and shock-resistant. We were a little concerned by the fact that this drive does not have an IP rating, because it means it hasn't been officially certified. But the fact that Oyen Digital offers a 3-year manufacturer's warranty reassures us that they're willing to stand behind their product. The edges of the case are slightly raised, which protects the top and bottom from absorbing the brunt of any kind of impact. Be warned that this drive is expensive, more so than the others on our list.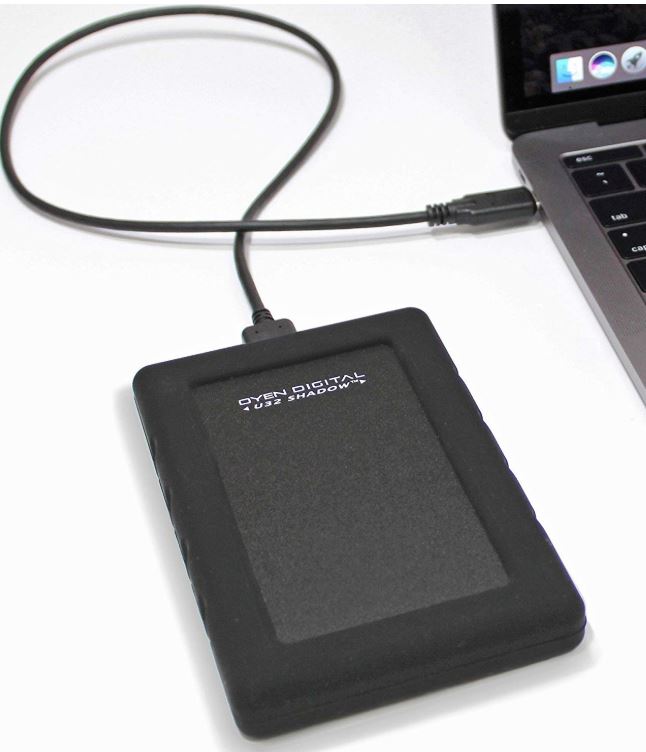 The U32 Shadow Dura connects with the latest USB technology, 3.1, Gen 2, Type-C, which allows for blazing fast transfer speeds of up to 10GBps. Much like with the G-DRIVE, no hard drive can realistically transfer data at anywhere near that speed. Still, you're looking at a maximum transfer rate of 575MBps, which is nothing to sneeze at. Alternatively, you can use the Type-C to Type-A adapter for connecting to a traditional USB drive. You'll experience only a negligible drop in performance.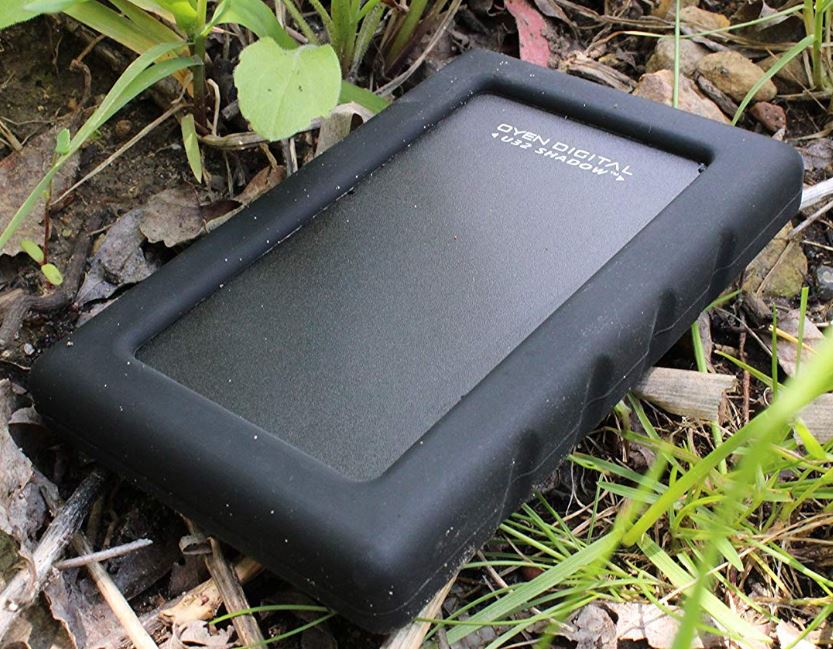 This drive arrives formatted in exFAT format, which will work with both Mac and Windows machines. This gives you plug and play capability on virtually any system. There are five different capacities available: 250GB, 500GB, 1TB, 2TB, and 4TB. And if you're concerned about the appearance matching your other hardware, an alternate white case is available.
Wrapping Up
Now that we've looked at all of these fine external SSD drives, it's time for you to make a decision. Obviously, which one you end up choosing is going to depend on what you're trying to get out of your external drive.
The SanDisk Extreme PRO is our top choice for portability. With its slim design, and with the ability to connect it to a lanyard or a carabineer, you can take it anywhere without any worries.
The LaCie Rugged SSD is a great choice if you want a drive with a display. The battery meter, memory meter, and other features allow you to keep tabs on your drive's status even when it's not plugged into a computer. It also comes in a 5GB variant, which is impressive.
The G-Technology G-DRIVE is ideal for carrying in your pocket. It's nearly as compact as a thumb drive, although you'll also get slightly lower memory capacity. That said, the transfer speeds are very good.
The Oyen Digital U32 Shadow Dura offers even faster transfer speeds, so you can move large files quickly and even stream 4K video from your drive. And it has a slick, stylish design.