Quick Analysis
Pros
Rugged, durable design, look and feel.
Impressive wireless range.
Very affordable, inexpensive.
Simple pairing process and very easy to use.
Decent battery life.
Cons
Sound quality degrades above 90% volume.
Utilizes outdated micro-USB connection.
Listening to music through your very own portable speaker is one of the best ways to delve into your favorite songs. Sure, you could always play through your smartphone's speaker, but what fun is that? Often times, smartphones and small devices aren't equipped with acoustics in mind. They might sound enough, but the crispness and clarity of your tunes will surely suffer.
We're not saying you have to spend half of your paycheck on a high-end wireless speaker. Even just a small investment in something ultra-portable will often make a huge difference in your listening experience. Take the Bugani M99 for instance. It's a compact, fully-wireless Bluetooth speaker that's quite inexpensive but capable of producing enjoyable tones. Well, that's at least how it's advertised.
Note: At no extra cost to you, we may earn a commission for purchases using our links. Learn more.
Today, we're taking a close and critical look at this affordable speaker to see what it truly has to offer. We'll dive into each feature and go in-depth on how exactly it performs. Does it live up to the hype, or does it simply fall short?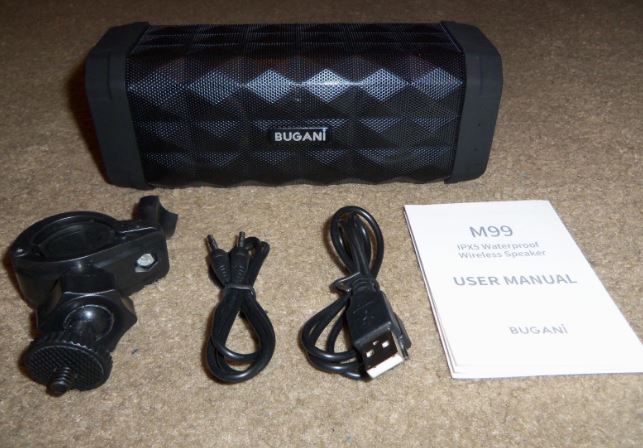 First Look
By taking one quick look at the Bugani M99, you'll notice it boasts a sleek black and silvery appearance. Built from rigid plastic and wrapped in a metal outter grille, it's apparent that they were going for a rugged yet attractive look. Measuring approximately 6.3 inches in length and 2.5 x 2.7 in height and depth, they specially crafted it to fit comfortably in your hand. The compact size is a nice addition, keeping it small and unobtrusive in the overall design. It's not tiny, but it's not huge either – seems to be the right balance.
Taking it out of the box, you'll see that Bugani's included a 3.5mm auxiliary cable, micro USB charging cable, bike handlebar mount, user manual and of course – the M99 itself. Holding it in your hand, it feels rigid and stiff – built for action. In fact, we're a big fan of how solid it feels. There aren't any clunky or loose parts – everything feels stiff and rigid.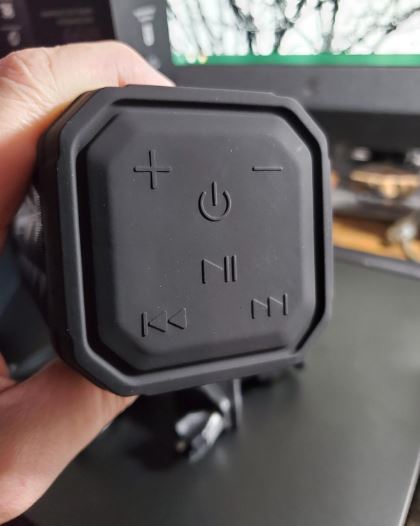 On one end of the speaker, you have all of the functional buttons that control your music and device. You'll find the power button, volume controls, skip track, play/pause right next to a small LED indicator and the tiny built-in microphone. Close to all this on the opposite side is a small rubber flap. Open it up and you'll expose the micro USB charging port, auxiliary input and a memory card slot. Last but not least, along the base you'll see a threaded input that allows you to attach the bike handlebar mount (included) or your very own tripod (not included).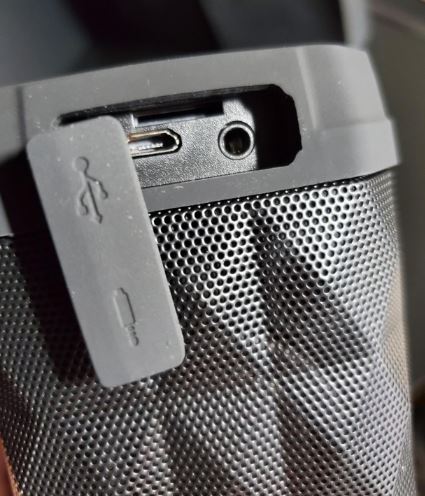 Wireless Pairing
Setting up the speaker for first-time use is actually quite simple. We highly recommend giving it a fresh, full-charge right out of the box. However, first time users will be pleased to know that it comes shipped with a partial charge so you can immediately enjoy it upon it arriving to your doorstep. Either way, press and hold the power button and it'll automatically go into "pairing" mode. At this time, make sure Bluetooth is enabled on your smartphone. Once you've verified that, scroll down the list of available Bluetooth connections. You should see "M99 – Bugani" appear. Tap-click it and give it a few seconds. It should effortlessly pair and automatically begin emitting sound that's played on your smartphone. At this time, open up Spotify, Apple iTunes or whichever music-service you prefer. That's it!
Sound Quality
Now that the Bugani M99 is paired to your device, it's time to give listening a try. We immediately fired up Spotify and played a wide range of tunes. Everything from hip hop to classical rock and roll. We wanted to see what it was capable of. Right from the get go, it seemed to deliver more power than we initially imagined would be possible. Since it's advertised as a 16 watt speaker, we didn't think much of it. However, this thing is pretty loud, given the compact size.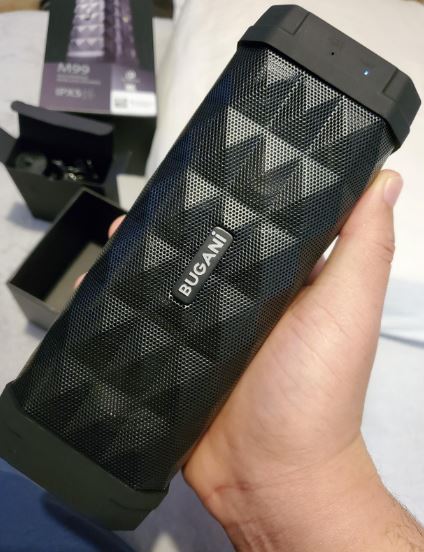 Internally, there are two 8 watt precision stereo drivers that work in conjunction with a bass radiator. Bugani included a strong neodymium magnet inside the dual drivers in order to pack it full of as much bass capability and volume as possible. To put it frankly, we were quite amazed at how powerful it seemed to be. The highs and mids come across as clear and coherent while being backed up by a strong bass effect, thanks to the included bass radiator. The lows were deep and interesting and showcased their best effects with songs that included a healthy amount of bass. At virtually all volume levels, it seemed to adequately emit great sound, until you maxed it out to its very limit.
Although Bugani claims that there isn't any distortion, even at the highest volume, we couldn't quite agree with that. Don't get us wrong – the bass was nice. But once you maxed out the volume, its weaknesses were obvious. The bass began to give out a subtle crackle during certain songs, but once we backed off the volume by 5 or 10 percent, it began to be much more manageable. We'd highly recommend keeping the volume away from the absolute maximum if you don't want to degrade your listening experience.
Don't get us wrong, there's plenty of good quality sound that comes out of this little speaker. But if you want to get a higher quality listening experience, you're definitely going to need to spend a bit more. Try the DOSS SoundBox Pro+ for example. It's a bit larger in design and flashier in appearance, but the oomph and power is much more rich.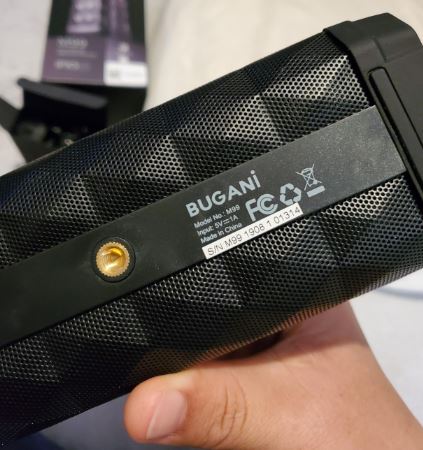 Wireless Range
Since the Bugani M99 uses the latest Bluetooth 5.0 protocol, it boasts a massive wireless range of up to 100 feet. At least that's what they claim. We knew we had to test out the range to see if this was true or just a marketing tactic. Given than almost all wireless speakers prior to 2019 cap out at around 33 to 50 feet, this range seemed a bit generous to us.
Once our smartphone was paired and the speaker was playing music, we began to walk further apart. At 40 feet, everything was great – crystal clear and zero lag or choppiness. This held true up until around 85 feet where we began experiencing lag and other issues. We performed this test outside in a wide open area. When we did this same test in a house with solid walls, we began to experience issues at around 70 feet. Obviously this has to do with obstructions that walls, insulation and other interference creates with the wireless transmission. While the 100 foot wireless range sounds great, in reality, you'll likely want to keep it under 75 feet or so. Realistically, you'll probably never need this far of range anyways. Most people like keeping their smartphone or paired device much closer.
Durability
One thing we immediately noticed about the M99 was the fact that Bugani equipped it with IPX5 waterproofing. It's definitely a nice feature to have. Rated for resistance against splashes of water and dust/dirt ingress, it's effectively adequate for keeping it safe from outside elements like rain or snow. You wouldn't want to go and throw it into a pool of water, but you can rest assured knowing that it's fully able to be outdoors without issue.
As we mentioned previously, the ruggedness is quite apparent right from unboxing. It's beefy enough to feel sturdy and secure, but not too bulky that it causes issues that effect portability.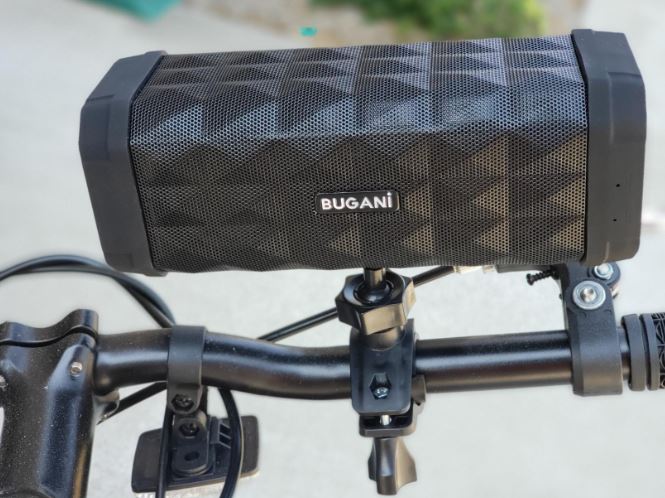 Battery Life
While it seems that they don't list the battery life in any obvious manner, we found out through our research that it's rated for 9 hours of continuous use. We cranked up the volume to around 70% and gave the internal rechargeable battery a good test. During this time we didn't change the tracks, adjust the volume or even move its position. We left it alone and wanted to see how long it could play music for in one long session.
At around 7 and a half hours, we experienced a low battery warning. 20 minutes later, it was dead. While this isn't quite the 9 hours they claimed, it's still pretty great. We're fairly certain that if we lowered the volume to around 50%, we likely could have achieved a full 9 hours of playtime. Of course this is just a bit of speculation, but it does make logical sense. At lower volumes the drivers require less power. Therefore, it only makes sense that it would be true. Unfortunately we didn't quite have the time to run this test again at a lower volume, but needless to say, we feel the battery life is fully adequate.
Charging it up from completely empty to fully charged took almost 3 hours. This seemed about right to us. After all, in our experience, it's typical of a wireless speaker to charge-up in about a third of the battery life duration.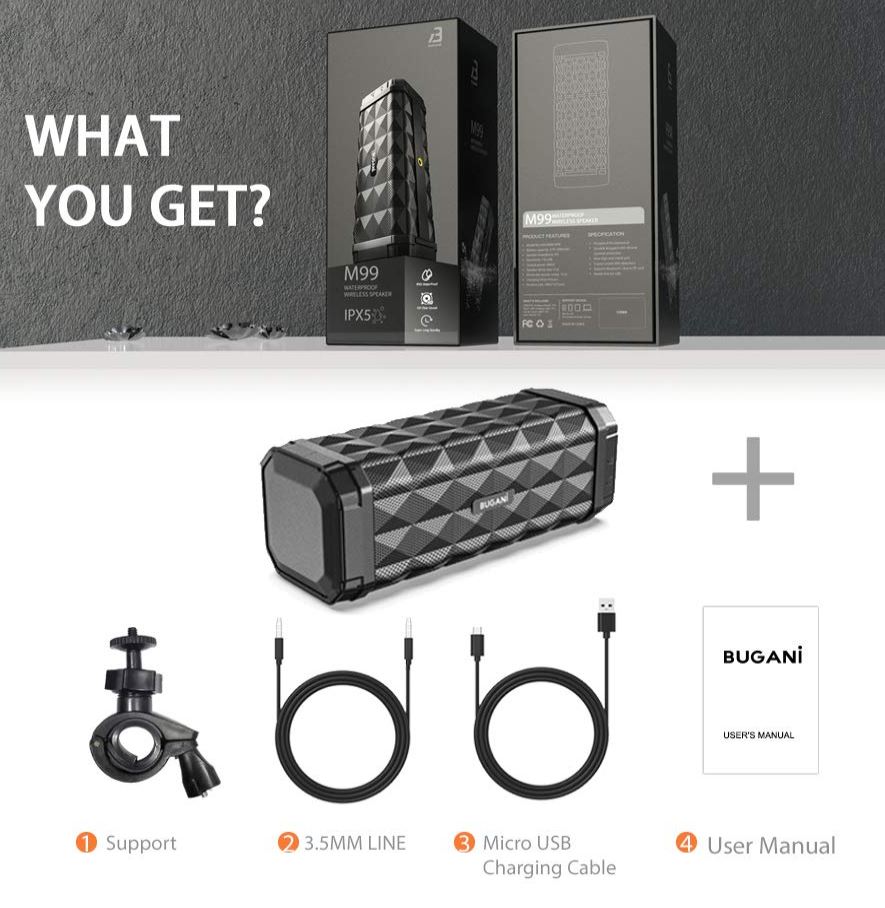 Final Words
To put it bluntly, we really do appreciate the Bugani M99. It's packed with some really exciting, useful features including an impressive wireless range and a decent battery life. The sound quality is acceptable, although it's definitely not quite audiophile or studio-grade sound. It's durable for most applications and built in a way that boasts ruggedness and peace of mind.
Although the Bugani M99 is a fine entry-level speaker for most individuals, those who desire more oomph, power and depth may be happier spending a tad more and trying out a speaker like the Tronsmart Element T2 Plus or the ZENBRE Z8Plus. Both are a bit pricier, but not by much. You're trading a bit of portability for higher-end sound, but that's just how it goes sometimes.
Please consider sharing:
Note: At no extra cost to you, we may earn a commission for purchases using our links. Learn more.