In today's world, you can't be too careful about your home's indoor air quality. Heavy-duty insulation, double-paned windows, and hermetically-sealed doors can keep your energy bill lower than ever. But they don't allow for a lot of fresh air. This is particularly true in winter and summer months, when you're trying to maintain a controlled climate. Dust, mold, and pet dander can build to irritating levels, even in the most well-cleaned home. And if you suffer from asthma or allergies, these times can be miserable for your lungs and sinuses.
The most obvious solution is to buy a home air purifier. This can keep your air clean, particularly in rooms where you spend a lot of time. For example, your bedroom and living room are prime candidates for a small filter. Today, we'll be reviewing the Elechomes EPI 236, one of the most popular models on the market. We'll take a close look at its features, its benefits, and its drawbacks. After that, you'll need to make your own decision. Let's get started!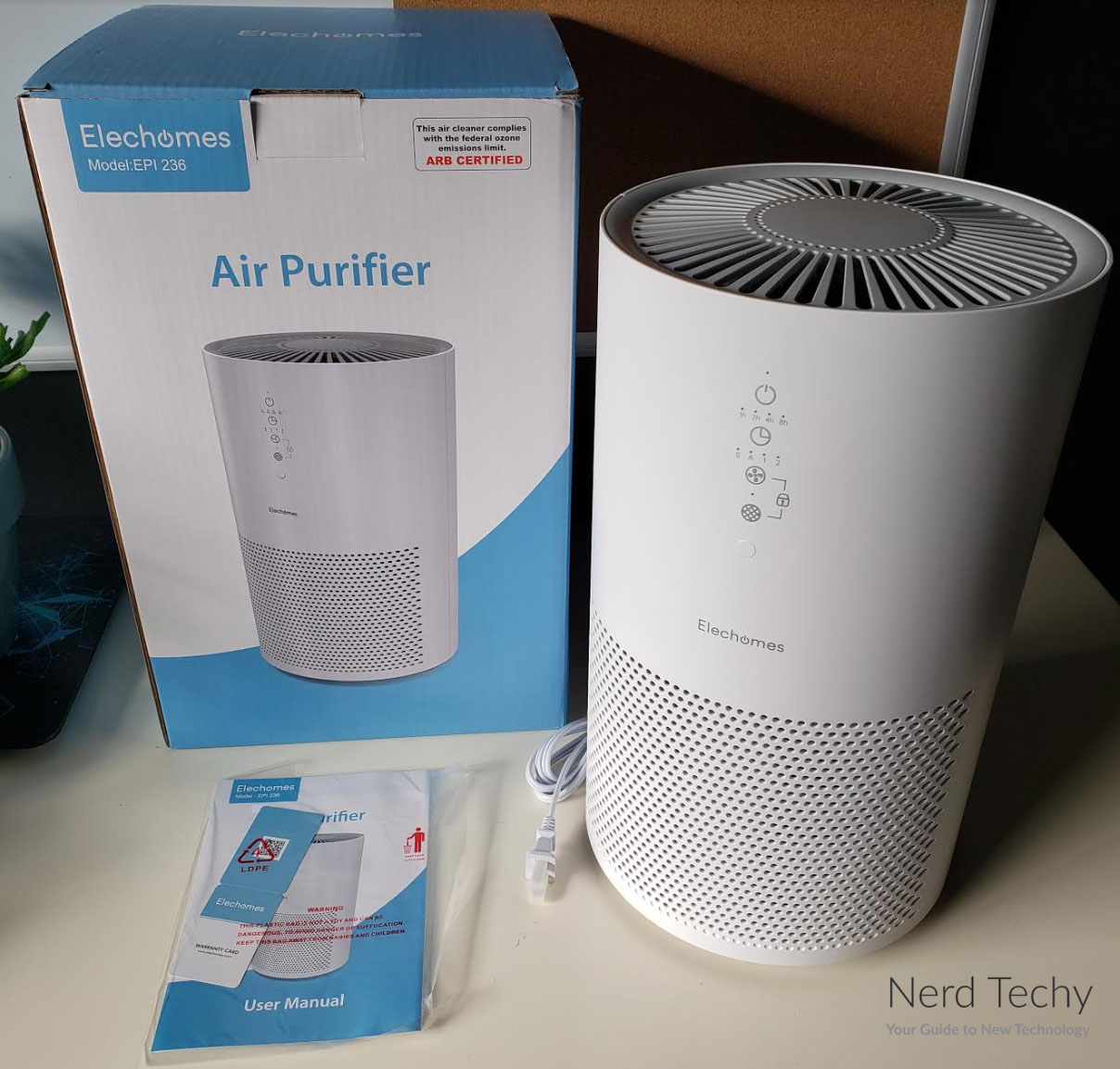 Design & Construction
The Elechomes EPI-236 is a cylinder that measures 15.5 inches tall and 8.5 inches in diameter. Many cylindrical air filters draw air in from all 360 degrees. This can be useful if it's located in the middle of a room. It's certainly an efficient method of operation. But it also prevents you from positioning your filter near a wall, or on a shelf with other objects. The EPI-236 resolves this issue by drawing air in from the front only. As a result, you'll have much more freedom as to where you position it. The front of the unit has a large intake grill, which occupies the bottom half of the case. It allows for plenty of air flow, without limiting your placement. The grill also catches large debris like animal hair, so it won't clog up the pre-filter or primary filter. And if you need to re-position it, that's also easy. The total weight is only 7.7 pounds.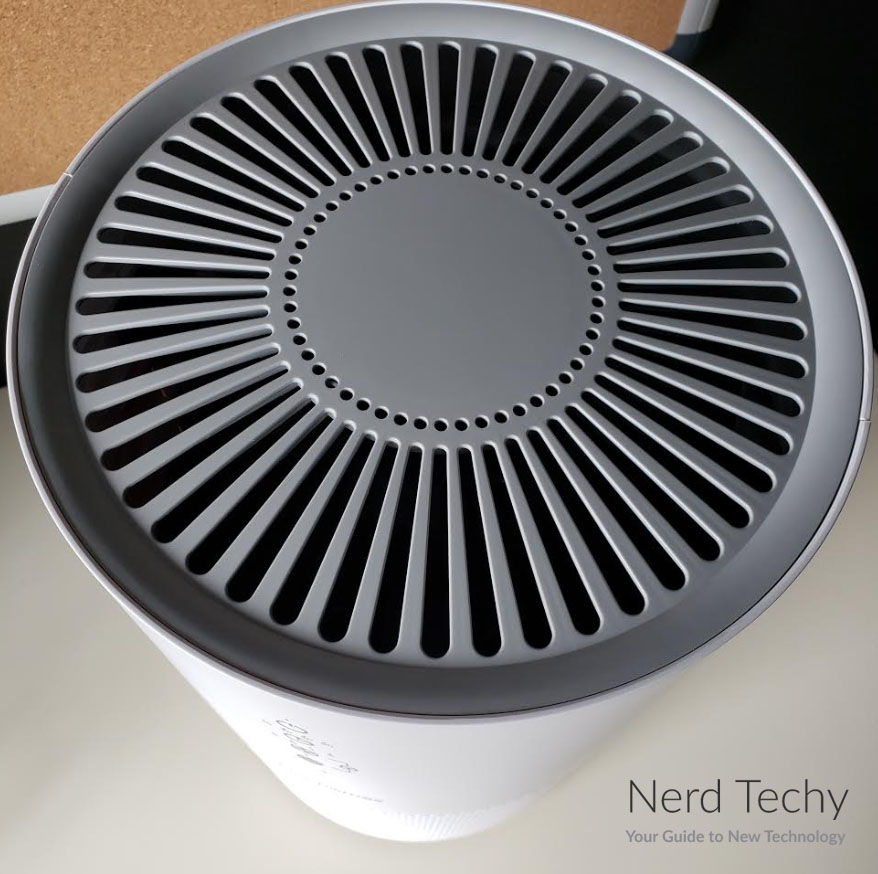 The top of the EPI-236 has a 360-degree outflow vent. Air is drawn in the front of the unit, then cycles through the inside and passes through the filter from all sides. From there, it's expelled through the top, and disperses naturally throughout the room. The case itself is constructed from white ABS plastic, with a scratch and scuff-resistant finish. It's also attractive to look at, without any ugly protrusions or garish markings.
The four control buttons are located on the front, just above the intake grill. From top to bottom, they control the power, the timer, the fan mode, and the filter reset. All of them are LED-lit, which ensures that you'll know which functions are active. They also have a soft-touch design. No need to press firmly. Just brush the buttons, and you'll be in business.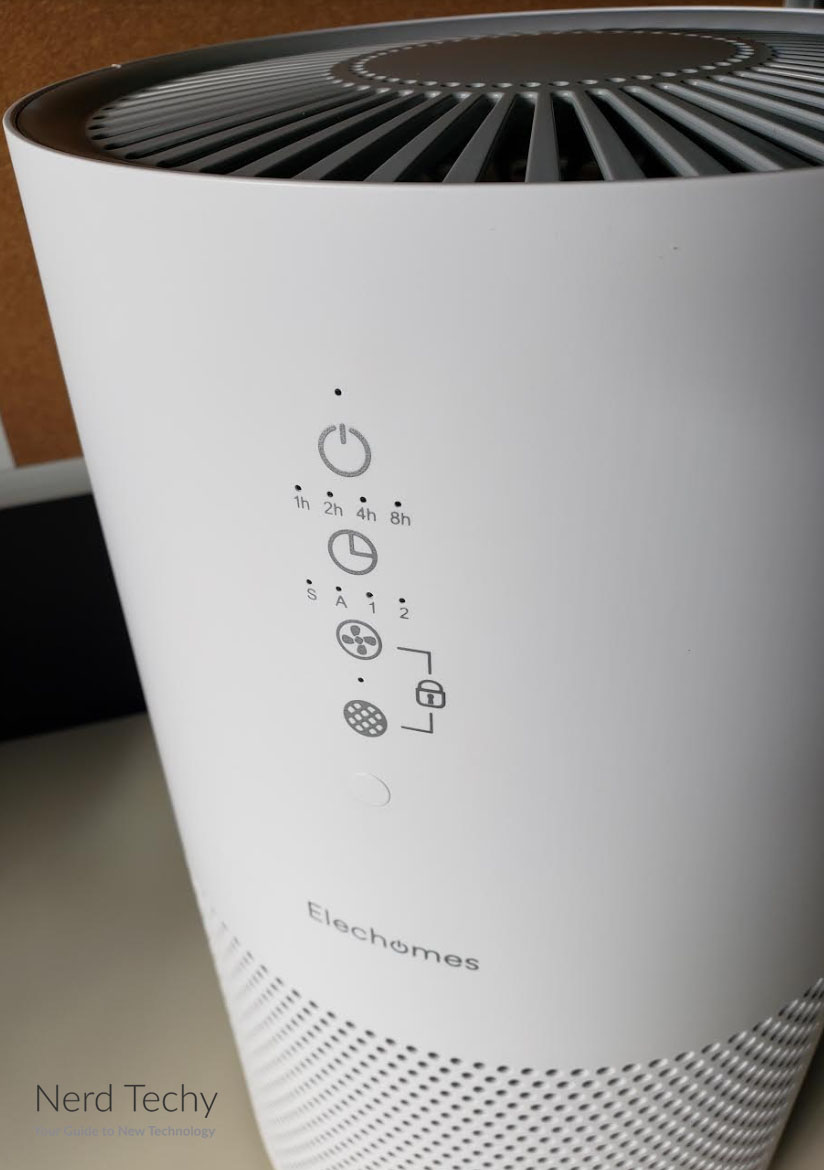 At the bottom of the EPI-236, you'll notice a brightly-lit LED ring. At first, this might look like a purely cosmetic feature. However, it's actually highly functional; it indicates the current quality of your air. Green indicates clean air, while yellow means the air is slightly dirty, and red means it's very bad. This is based on readings from a built-in dust sensor. As a result, it doesn't warn you about chemical contaminants or odors. But for most particulates, it provides an accurate reading.
All of that being said, it's fairly large for a single-room filter. Given the overall small size, this shouldn't be a problem for most people. However, you might need a smaller filter if you have limited space. In that case, check out our review of the Elechomes EPI081. It offers most of the same features as the EPI-236, but it's more compact.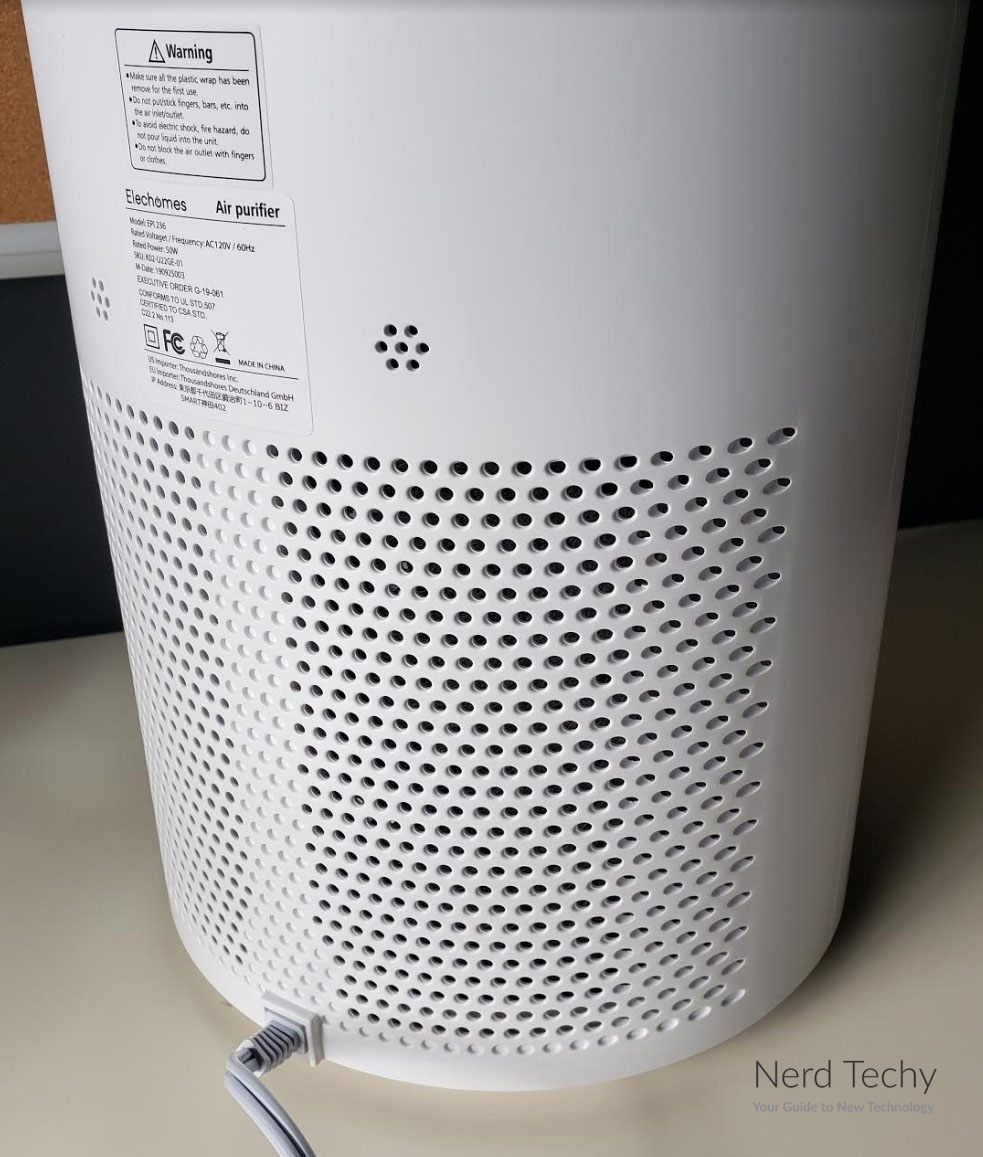 Everyday Operation
Operating the EPI-236 is relatively straightforward. At the top, there's a simple power button for turning it on and off. The third button, meanwhile allows you to adjust the fan settings. There are two primary power modes, depending on how much filtration you want and how much electricity you're willing to use. The third power mode is the sleep mode. This isn't as powerful as the other modes, but it's exceptionally quiet.
You can literally whisper to your partner in bed, and your voice will be louder than the filter. The second button allows you to use the optional timer function. With this button, the filter will automatically shut off after 1, 2, 4, or 8 hours. A set of indicator LEDs let you know how long the timer is set for. This is great for power saving. Set your filter to run while you're at work, and it will power down when the timer runs out.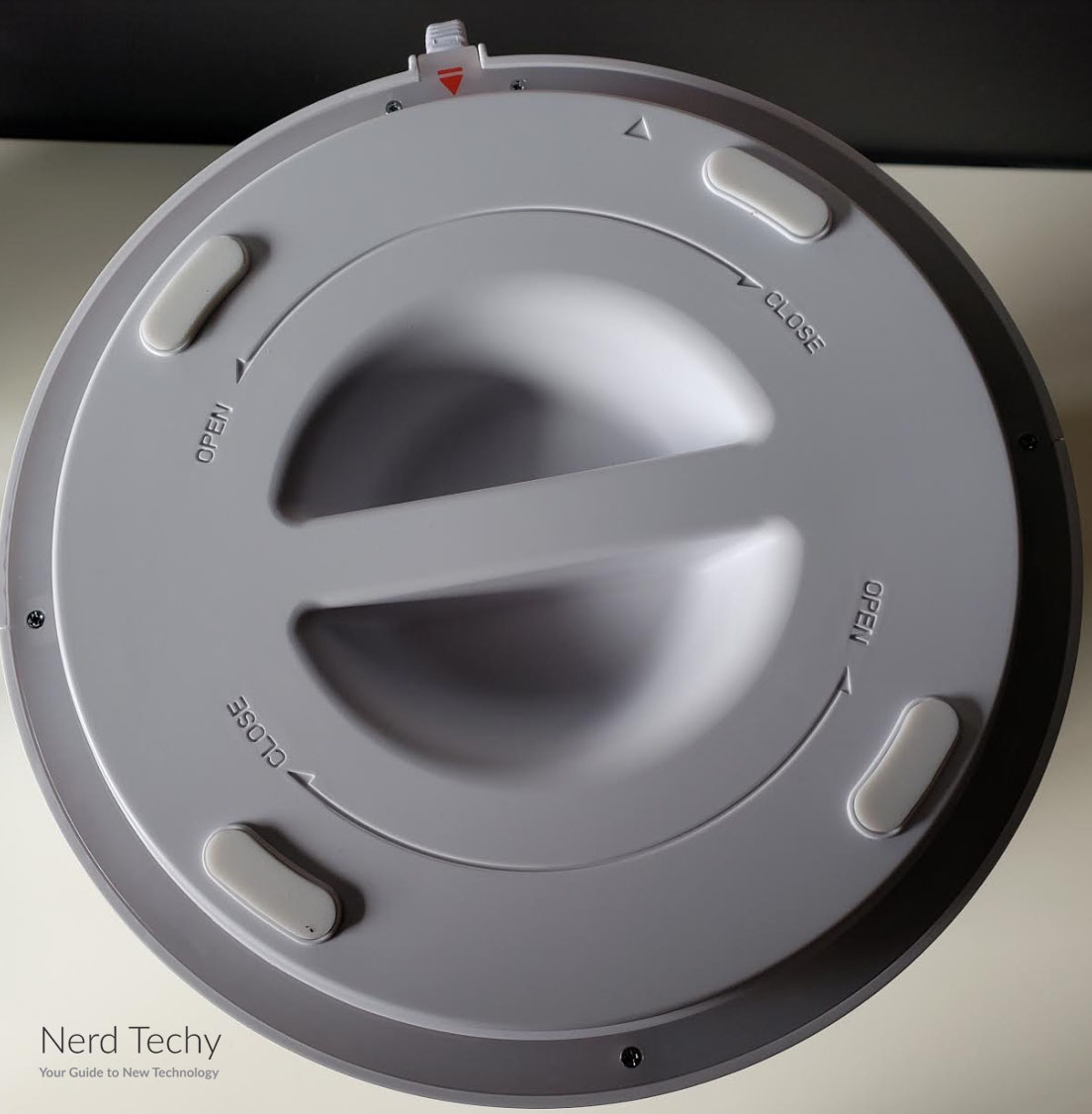 The EPI-236 is rated to treat up to 280 square feet of space. As with most filter ratings, this assumes a standard 8-foot ceiling. To put things in perspective, most American bedrooms measure between 12 and 14 feet on a side. This works out to between 144 and 196 square feet. If your rooms are relatively small, you can even treat two rooms at once. More to the point, this large capacity allows you to tackle larger rooms, such as kitchen/living room combos.
Finally, there's an indicator light that lets you know when your filter needs to be replaced. For more visibility, it's not a solid light. Instead, it blinks. Once you've replaced your filter, simply hold down the filter button for 3 seconds. That will reset the EPI-236's sensor, letting it know that there's a new, clean filter in place.
If silence is what you crave, the EPI-236 is certainly one of the best filters that money can buy. Still, there are quieter options on the market. For example, the Okaysou AirMax8L. Its 28dB sleep mode is so quiet, you'll need to look at the LEDs to know whether it's running or not.
Filtration System
Like many home air filtration systems, the EPI-236 Pro Series uses a 3-stage filter. The outer layer is a basic mesh pre-filter, which captures larger debris. Hair, pet dander, dust, and larger particles that snuck through the front grill will get caught in this stage. Unfortunately, the pre-filter is not removable and washable. This is regrettable, since a clogged pre-filter can cause your primary filter to foul before its time. Then again, it also makes operation easier. You won't need to worry about wrapping a new pre-filter around the primary, or cutting it to fit.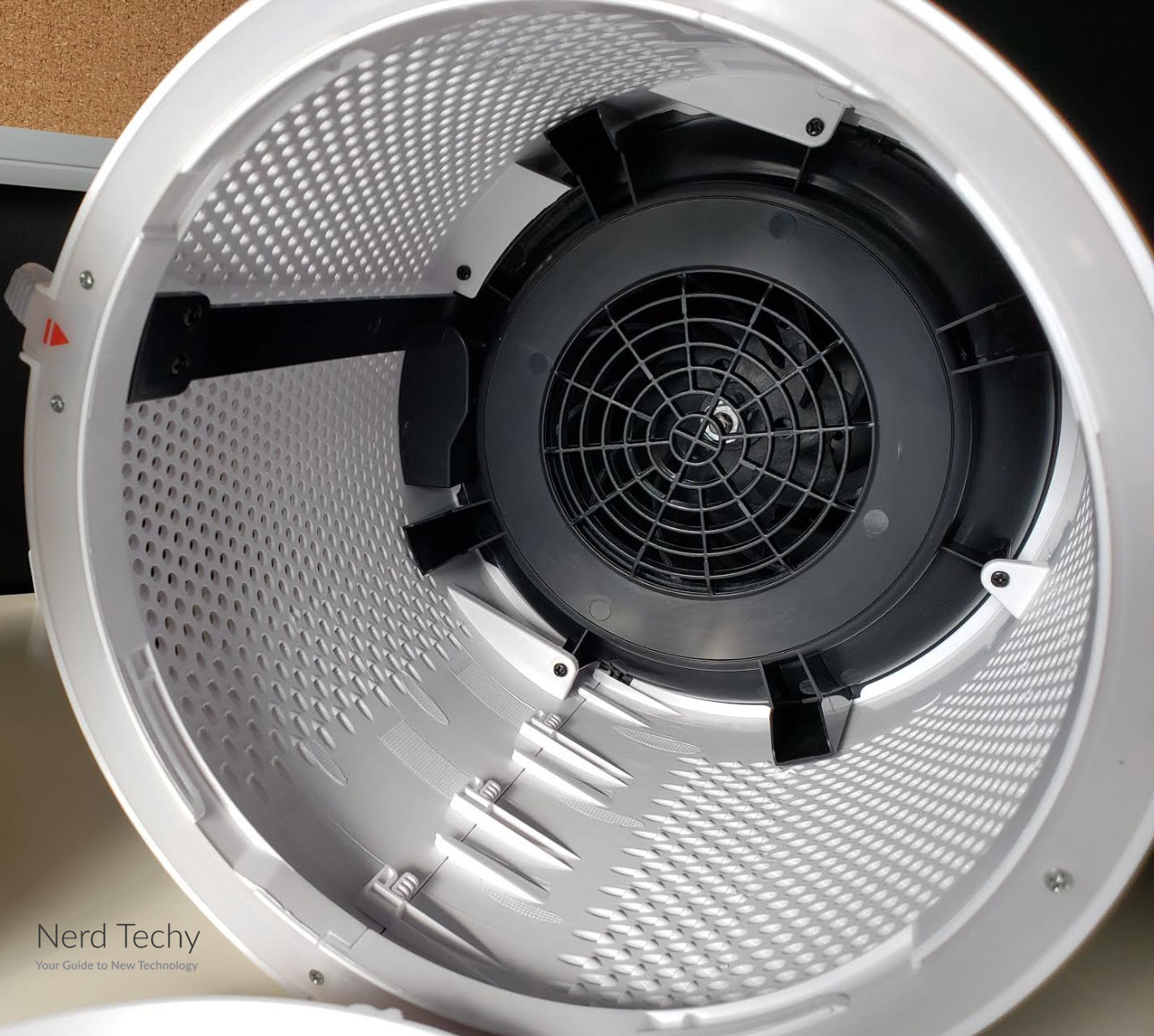 Inside the pre-filter is where the real work gets done. Here, there's an accordion-style HEPA filter that removes 99.97 percent of airborne particles. It captures everything down to 0.3 microns, which is the HEPA standard. On the one hand, this is in no way outstanding. On the other hand, it's just as good as most home air filters. Finally, an inner activated charcoal filter helps remove chemical contaminants and foul odors.
The entire filter comes as a single, cylindrical canister which is replaced all at once. On the top and bottom, a foam rubber seal prevents air leakage. This ensures that dirty air isn't able to sneak through without getting filtered. Replacement canisters are readily available online.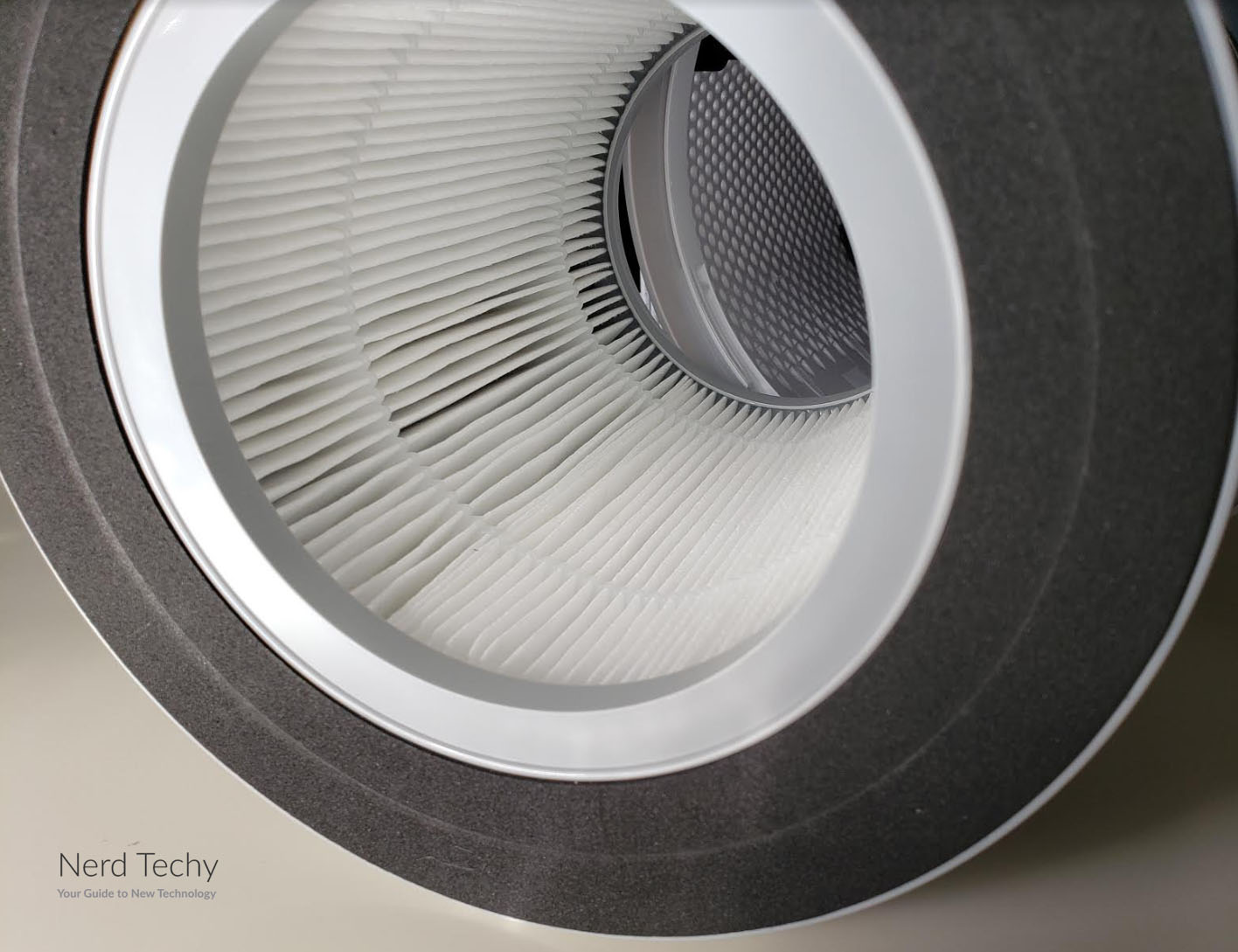 Suppose you need similar filter power, but you're looking for a smaller size. In that case, consider the Levoit LV-H132. It's compact, and it covers less square footage, but it's just as effective as the EPI-236.
What Does the EPI-236 Remove?
The EPI-236 will effectively remove most household air contaminants. Large particles like dust and animal hair will be removed by the outer pre-filter. The inner HEPA filter, meanwhile does the heavy lifting. As we've mentioned, it removes particles as small as 0.3 microns. This includes mold spores, pollen, and even most airborne bacteria. It even removes the majority of contamination from cigarette or cooking grease smoke.
The charcoal filter goes even further. It will absorb almost all smoke particles. But it also removes contaminants like chemical fumes from upholstery or wood finishes. Formaldehyde and other chemicals will be absorbed into the activated charcoal, leaving you with clean, clear air. The charcoal filter even removes some airborne viruses, which can help keep you from getting sick during cold winter months.
Final Verdict
At the end of the day, whether or not the Elechomes EPI-236 is a good choice is going to depend on your needs. That said, it should be effective for most people. The 99.97 percent efficiency is right in line with HEPA standards, and removes almost all airborne irritants. One feature that really stood out to us was the LED air quality indicator. To be sure, this is hardly a deciding factor. But it's a nice touch on a filter that's already very well designed.