EarFun is a relatively new earbud manufacturer, and they've quickly made a splash with some of their early offerings. On May 9th, 2019, they launched an Indiegogo campaign to create their Free Wireless Earbuds, and the campaign hit 145 percent of its fundraising goal in the first 24 hours. There are a lot of crowdfunding campaigns for wireless headphones, and it's sometimes hard to pick which ones are worthwhile. We'd say that EarFun's previous customers have spoken loud and clear.
That said, you can't always trust early reviews from tech sites. And this isn't just some conspiracy theory that they're talking up the headphones because they got early access. In fact, tech sites oftentimes receive early prototypes for testing, and sometimes the final design is significantly different than the prototype. To really know what's good and what's not, you need to get your hands on the final product.
The EarFun Free Wireless Earbuds are built to the latest Bluetooth 5.0 specs, which gives you fast, easy pairing and seamless transmission of quality sound. At first glance, they don't look any different than many wireless buds on the market. So, we put them to the test to see how good they really are. Here's what we found.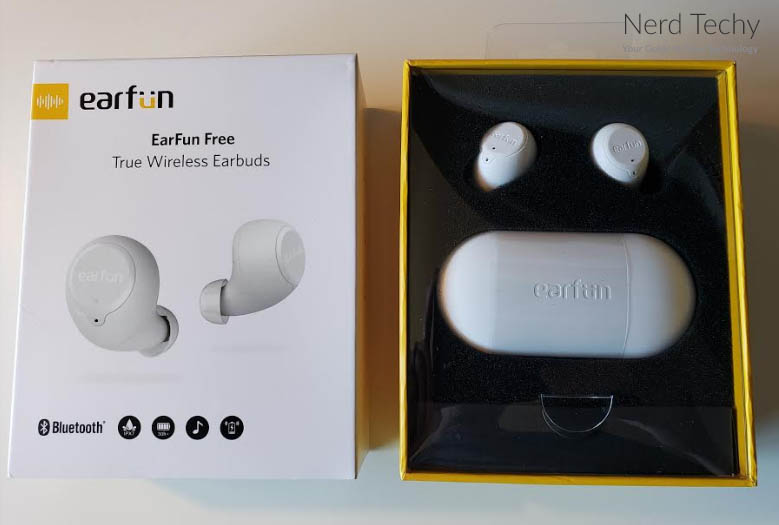 Design & Features
From the moment we opened the EarFun Free Wireless Earbuds, we were impressed with the quality of the packaging. The box is very sturdy, and did not get crushed in shipping, and the paperwork and instruction manual were printed on sturdy stock. The two spare pairs of ear tips are also mounted on a plastic strip instead of a small bag, which makes them harder to lose. None of this has anything to do with the earbuds themselves, but it reassured us that EarFun does not skimp on quality.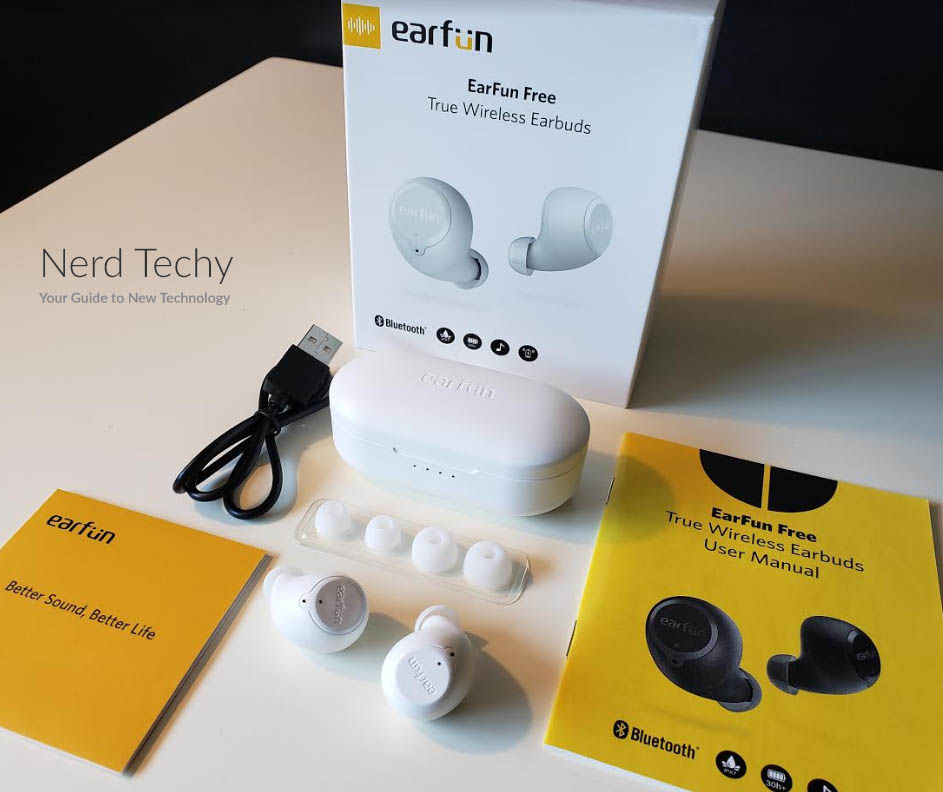 The travel case is rugged black plastic, with a smooth matte finish that perfectly matches the earbuds. In addition to functioning as a case, it also works as a backup battery, which will discuss more in a bit. On the front, there's a 4-light LED battery meter, and the opening itself fastens magnetically, so you can operate it one-handed without the need to mess around with a zipper. The USB charging port is on the back, conveniently out of sight.
The case is also well-designed for getting the earbuds in and out. The buds themselves have plenty of space between them, and you simply have to push them towards the outside of the case to remove them. Once again, EarFun is keeping one-handed operation first and foremost.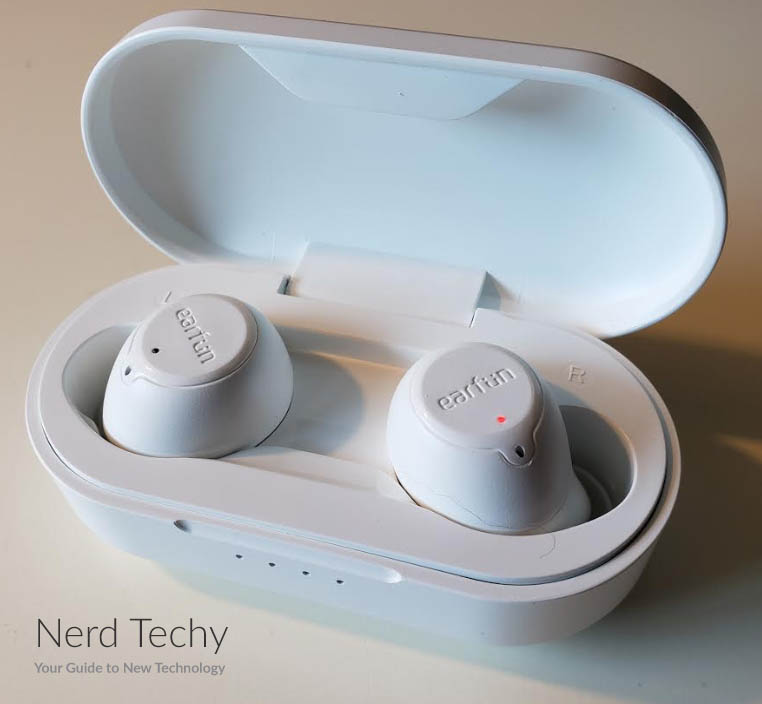 These earbuds are easy to pair. Simply turn off the right earbud, then hold the button down for three seconds. This will sync it with any electronic device you desire, and the left earbud will sync automatically. On the downside, these buds don't operate independently. On the other hand, you don't have to mess around with pairing two separate earbuds.
Controlling the Earfun Free is easy. The left earbud is used for track changes and volume, while the right earbud is used for the voice assistant, which allows you to make phone calls, use Siri/Alexa, and even send texts with voice-to-text. Both sets of buttons are easy to press. They're constructed from soft silicone rather than rigid plastic, which makes them forgiving and easy to press, perfect for when you're focused on another job like working out, and need simple, easy operation.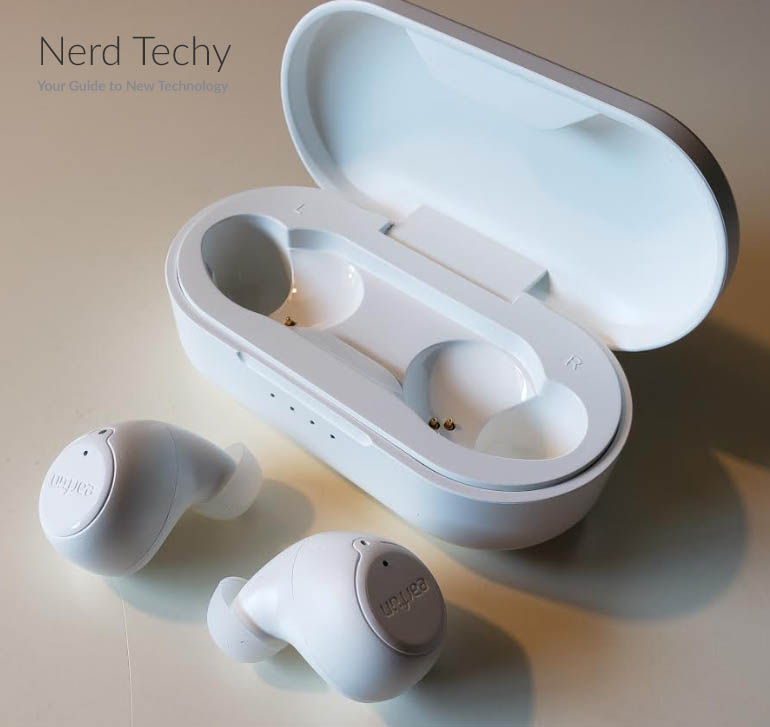 These earbuds will fit snugly in most ears. If they're too loose or too tight, consider switching to one of the spare tip sets, which are included in the kit. With a proper fit, the Earfun Free is well balanced, and the buds don't put undue stress on your ears while they're inserted. That said, they're still liable to drop out of your ears during intense exercise, so you may want to go a size large on the tips if you're a jogging enthusiast. The upside of a tight seal is that you get plenty of noise resistance, so you won't have your listening experience constantly interrupted by outside noises.
EarFun Free Wireless Earbuds are IPX7 rated, which means they're waterproof enough for rain, sweat, and even showers, but not for complete immersion. If you decide to go swimming with these earbuds, expect them to experience damage after extended exposure to water. That said, they float, so if you accidentally drop them in water, they'll be easy to retrieve.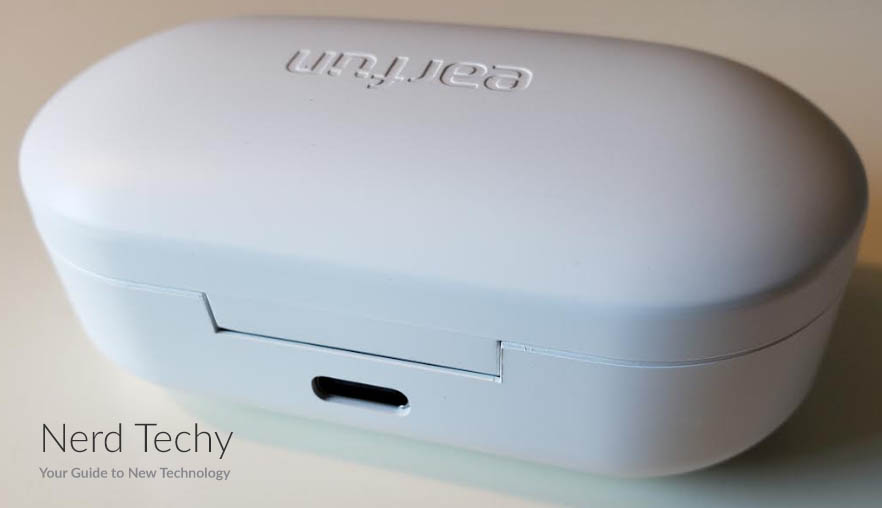 Accessories and Battery
In terms of battery life, Earfun Free Wireless Earbuds are a bit of a mixed bag. On the one hand, they offer 6 hours of battery life when carried on their own. That's enough for casual use, but not enough to last for more than an afternoon without recharging. That said, the charge case offers an additional 24 hours of battery life, along with wireless charging. If you're within 3 feet of the case and the case is plugged in, your battery level will recharge.
When it's time to recharge, they gain juice quickly. You can put a dead pair of buds on the charger and have them at full volume in 90 minutes. That said, be careful about trusting the LED battery indicators on the case. The last light represents far less than a quarter of the charge, just a few minutes' worth. Long story short, when you're down to two lights, plan on charging your charge case in the near future.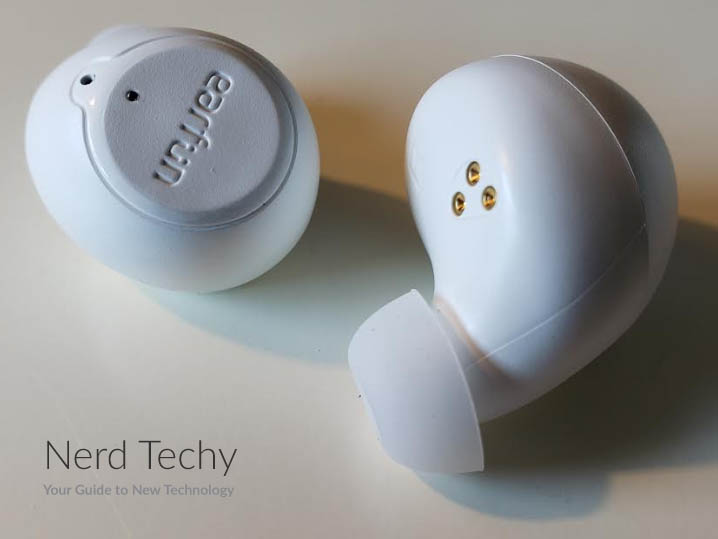 Another downside of these earbuds is that they seem to have a slow rate of battery loss under all conditions. If they're fully charged and you put them in a drawer for a week or two, you can fully expect them to discharge by 25 percent or more. This is common with Bluetooth devices, particularly small devices like earbuds that are technically always on. But it's disappointing, considering the fact that you may not want to use your earbuds every single day.
On the plus size, Earfun Free Wireless Earbuds don't just charge quickly – so does their case. It charges within two hours on a fast, 5-volt USB port. These earbuds use USB-C, so 5-volt charging is perfectly realistic. But even on a slow, old-school 1-volt port, you'll get a charge overnight, which is more than enough for most people's needs. After all, if you need more than 30 hours of battery in 24 hours, you're living in an alternate universe where math has no meaning.
The end result of this slick charging system is that you can use your earbuds all day, charge them all night, and never run out of juice. That's as much as anybody could ask from any pair of earbuds.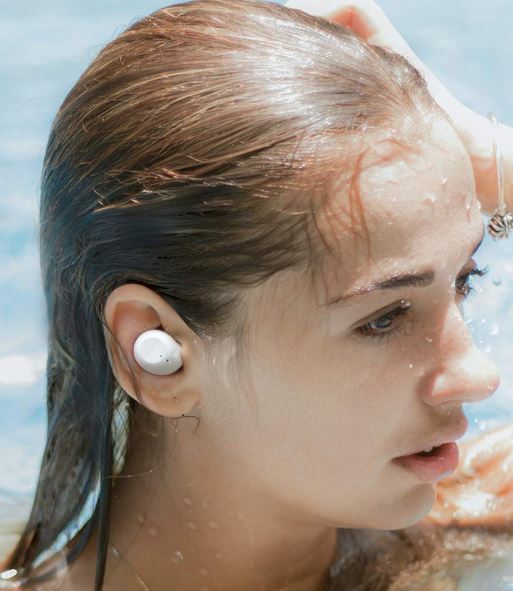 One odd quirk of the Earfun Free is that the right earbud seems to have slightly longer battery life. The left bud quits about 10 minutes beforehand. On the one hand, we can't for the life of us think of a reason why this would be the case. On the other hand, it gives you a convenient last-minute warning if you're using the earbuds for hands-free calling, since you'll have 10 minutes to wrap up your call, get near a charger, or switch over to using your regular phone speaker.
At the end of the day, much of your battery performance is going to come down to how you use your earbuds. After all, volume and wireless usage make a big difference when it comes to battery life. For example, we said the battery lasts six hours, but that's six hours of continuous listening. If you're spending most of your day at a desk, not playing music but simply keeping your earbuds in because your phone may ring, you'll be fine for almost 24 hours of being turned on but not being used.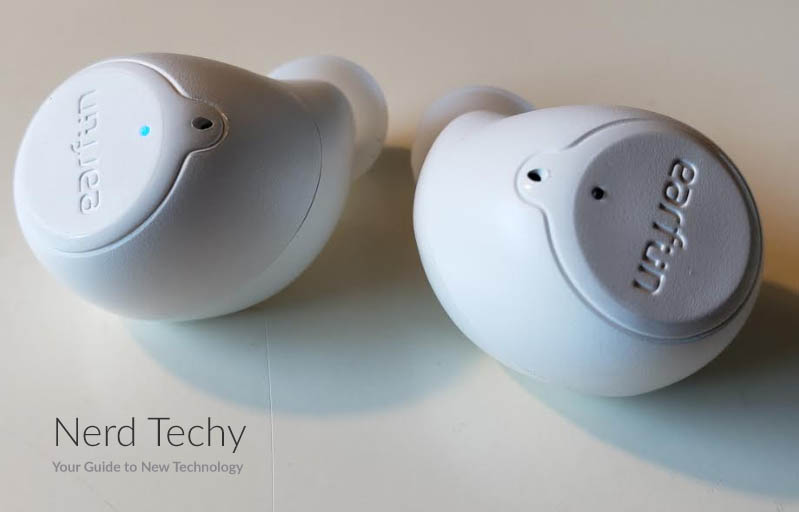 One more thing we should note about these batteries. Many wireless earbuds have an audible low battery warning. But the EarFun free just stops dead in its tracks when it dies. On the one hand, this means fewer annoyances in your listening. On the other hand, it also means your left earbud can suddenly die without warning.
Sound Quality
Finally, we come to sound quality, the true test of any sound system. The EarFun Free provides good sound quality for the price, which is especially impressive considering that it only supports the outdated SBC codec. Even with this relatively old codec, sound quality is smooth and consistent, without any weird defects that can sometimes creep in when you're using an older codec.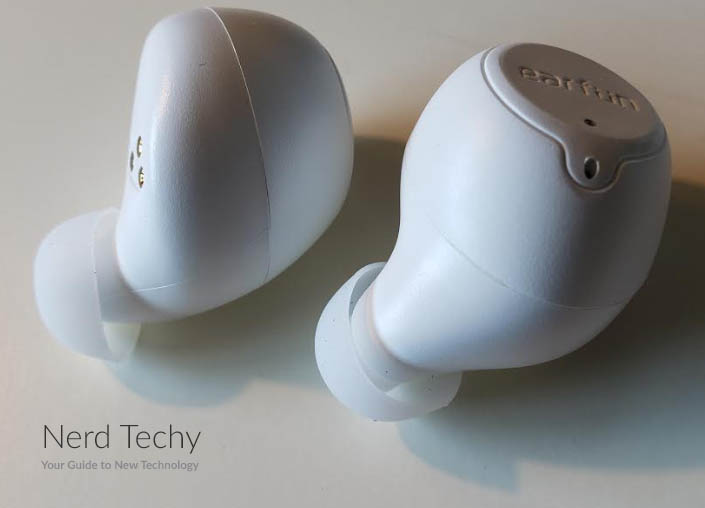 The bass response is heavy and punchy, but not exactly top-tier. At the end of the day, 90 percent of earbuds have some limitations on bass output, and these are no exception. That said, the bass leaves plenty of room in the mix for the treble. Even if you have the bass cranked all the way up, the highs will be more than clear enough.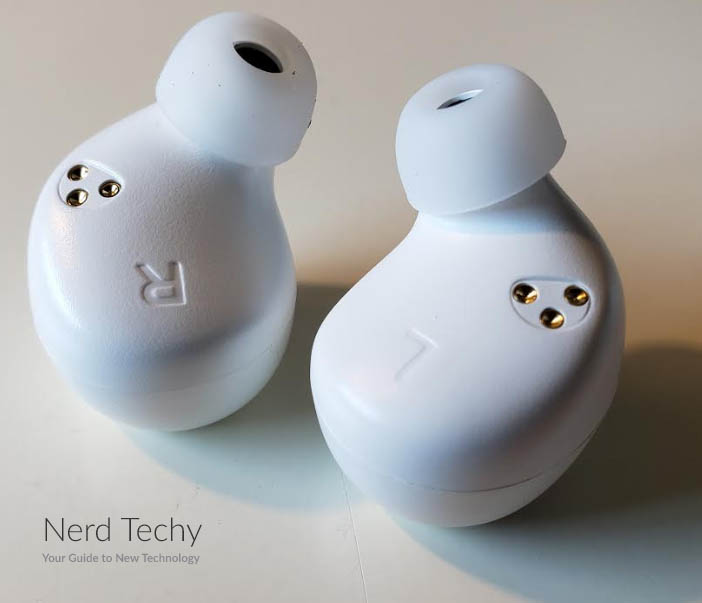 The quality bass and trebles both augment the mid range, which means you're getting clear, crisp vocals that don't end up getting muddied by the mix. Another thing we liked about the Earfun Free Wireless Earbuds is that the treble doesn't pop immediately to the forefront like it does in a lot of mid-priced earbuds. Instead, you get a truly well-balanced sound, although there's still plenty of detail present in the treble.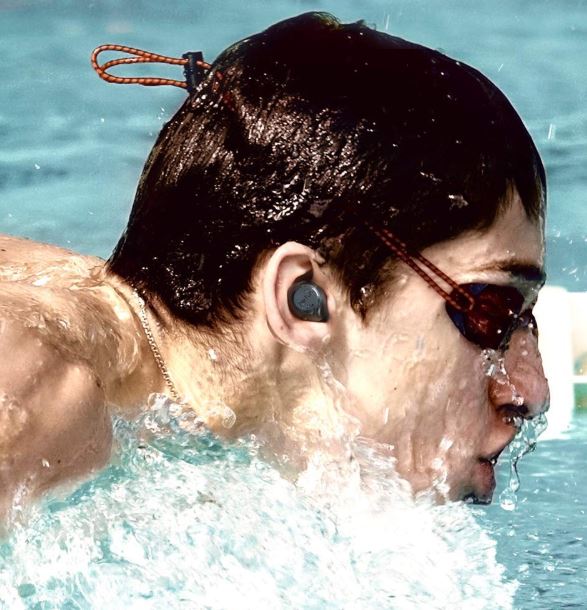 Ultimately, these earbuds are a great choice for classical music, or for any music where vocals are front and center. If you're looking for a ton of bass response for dance music, though, you're baring up the wrong tree. That said, the overall quality is excellent, with a solid balance that delivers reasonable performance across the spectrum. Volume adjustment is also near-perfect, and you'll have plenty of headspace available. We never even had to turn the EarFun Free any higher than three-quarters to drown out background noise. That's not bad for a mid-priced pair of earbuds.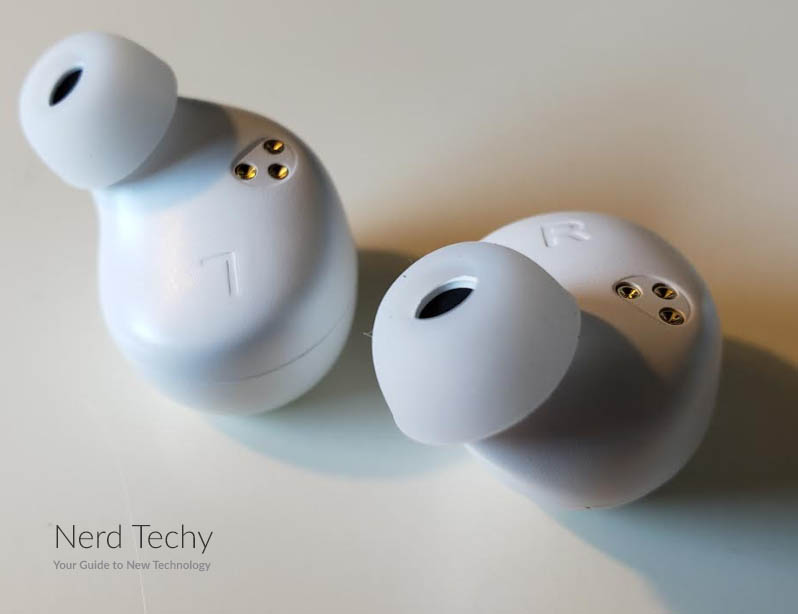 The Final Verdict
So how good are these earbuds? As with many audio products, much of this depends on your personal preferences. If you're looking for booming bass, you may want to invest in a quality pair of over-the-ear headphones. But if you're looking for reasonable earbud quality, easy portability, and clear vocals and highs, it's hard to argue against EarFun Free Wireless Earbuds. All in all, they're a great value for the price.