Though most of the pictures we take will remain within the safety of our phones, with some of them being picked as being adequate enough to share on social media, having a physical photo is still an emotional experience.
In all the movies you see families with photos of their kids hanging on their refrigerators which is becoming a bit more difficult in our modern times as we no longer have to print every picture we take. Hooking your phone to your fridge for the nostalgic photos isn't really cost effective or safe for your phone.
There has always been the option to print photos from a large desktop printer with photo printing functionality. The issue with that is not everyone wants to dish out the cash for a big photo printer. You cannot really take them with you if you want to use it somewhere other than your home, and if you want to print a single small photo you will waste an entire sheet of photo paper, which isn't cheap.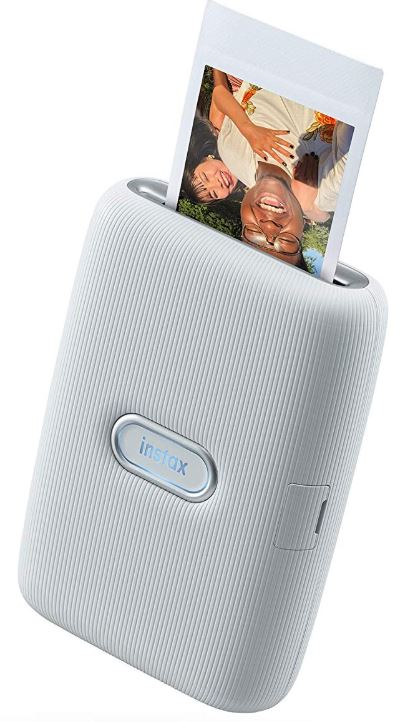 This is why smartphone photo printers exist, they fill the gap in functionality allowing you to have mobile printing that is much more convenient and cost effective than a desktop printer.
Plus when you look at a physical photo there is just something more impactful about it than when you look at one on the screen of your computer or phone. The phone is used for everything from calling and texting, to browsing the internet and watching movies. That multi-use is wonderful but it also does not anchor itself to a specific emotional response in us, we can feel happy at the cat videos and annoyed at the troll comments all at the same time.
With a physical photo you cannot swipe passed it to the next one, you cannot scroll down to the comments to see what other people think. You are left just looking at that moment capture in time and experiencing the emotional reaction that the moment is anchored to in your mind.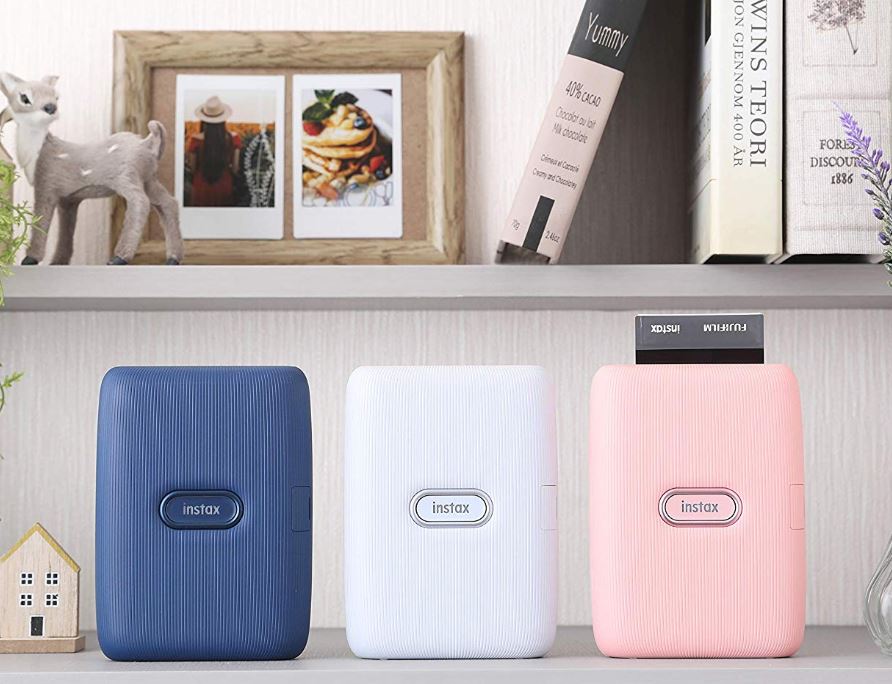 You can have a love for modern technology and still want to experience life with the classic things like light exposure photography. The human brain was not meant to consume as much raw, constantly fluctuating data input as we are exposed to on a daily basis. So, when we are exposed to a single powerful input the experience is often transformational and taps into a deep emotional fountain that we do not get from our computer screens.
This is demonstrated quite clearly when you step away from the city and spend time outdoors in nature. When you walk through the trees and see a serene lake completely undisturbed by any other human, you feel a sense of internal serenity that reflects the stillness of the waters surface.
This is the type of experience that we have when we focus on one single thing at a time. When we are taking in a single moment as completely as we can is when we begin to utilize our various senses in harmony and as a complete systematic whole. There are many songs about how a smell will cause someone to have flashes of a certain room in a certain house from their childhood.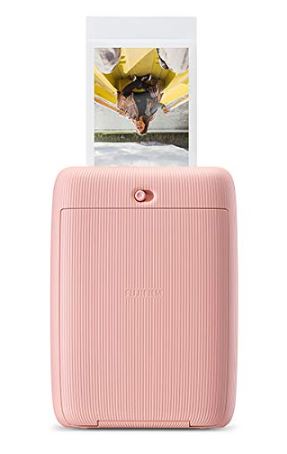 That only happens because their exposure was vivid enough, with enough exposure to ingrain itself into their mind. Looking at one photograph, in one moment, without the option to scroll to the next input source, can reinvigorate the emotional experience of a photograph.
With a portable photo printer you can bring back those impactful moments and then give that gift to your friends and family. Todays photo printer in question is the Instax Mini Link Smartphone Printer. This photo printer is a great fusion between the classic photo printing technology and the modern era of fun filters and animations. We will discuss the features and functionality, and why you should either grab one immediately or hold off for something else.
Design
The design is fun and simple, it has a texture with ridges and the Instax logo on the top center. The front face is where the photo paper will exit upon selecting a photo to print from the Instax Mini Link mobile app. The printer is 6.7 inches long, 4.1 inches wide, and about 2.1 inches thick, so it can be held comfortably within a single hand.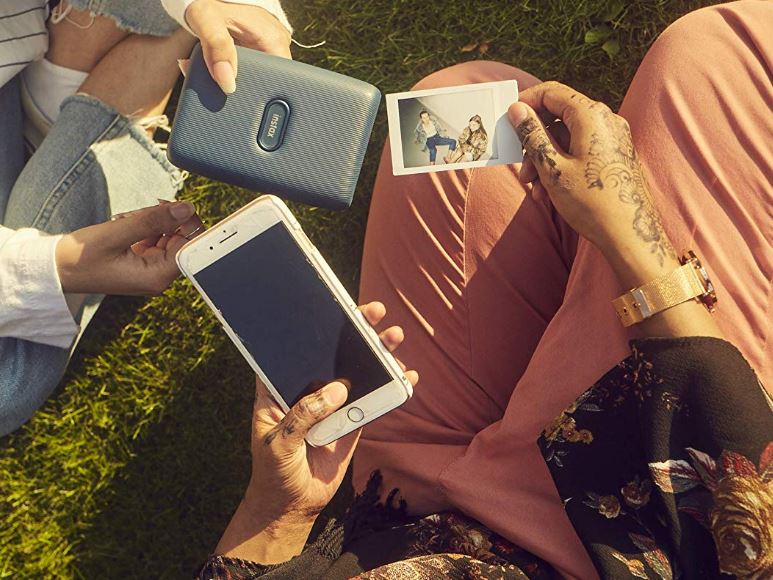 There are three different color options including the default white, black and then pink. That way you can pick the color to suit your personal style preference.
The logo doubles as an LED indicator light that will turn blue when in print mode and turn orange when in their proprietary 'Fun Mode'. On the bottom of the printer there is a switch you use to insert additional photo paper. On the side of the printer there is a cover that you can pull out to display the charging port which is a micro USB.
Thought specifically a physical design feature, if you lay the printer down it enters the 'Fun Mode' automatically and if you stand the printer upright, it will enter "Print Mode". If you turn the printer upside down and press the center button it will reprint your previous photo.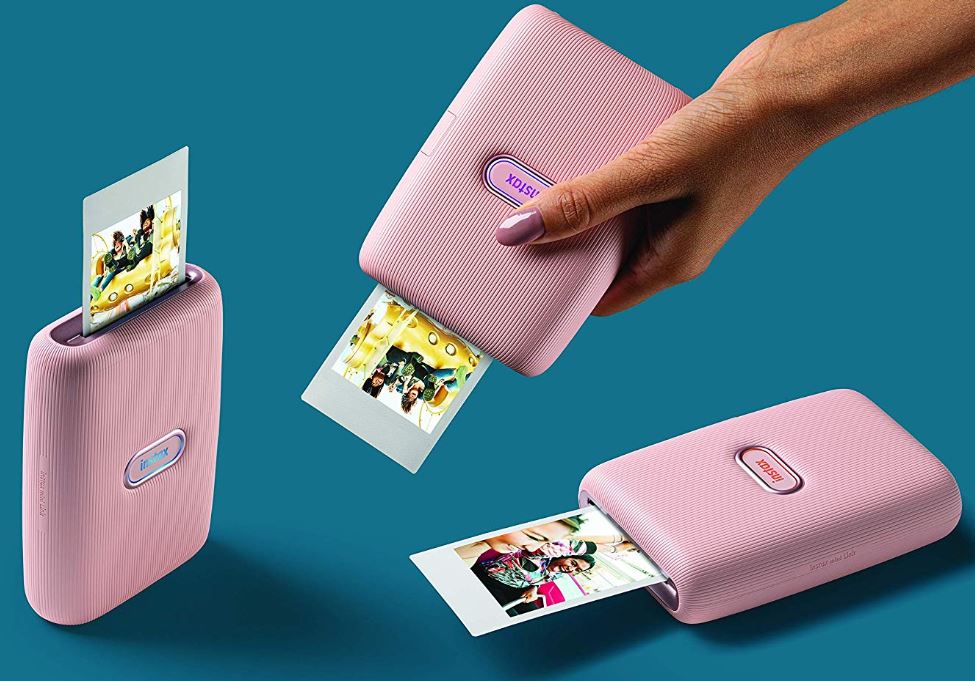 Wireless Connection
This printer utilizes a Bluetooth connection to connect to your phone. It is able to connect to 5 phones at a time so you and your friends can all print photos. When multiple individuals are connected, and you enter "Fun Mode" you can print out single photos that have all 5 images from each user on the one print.
Battery Power
The battery lasts around 10 packs of film or 100 photo prints. This printing capacity on a single charge is actually a lot more than some direct competitors. The Kodak Smile Classic for example can only print 35 photos before needing to recharge. We can however forgive Kodak for the low print count due to the fact that the Smile Classic also doubles as the camera itself instead of requiring you to use your phone as the camera.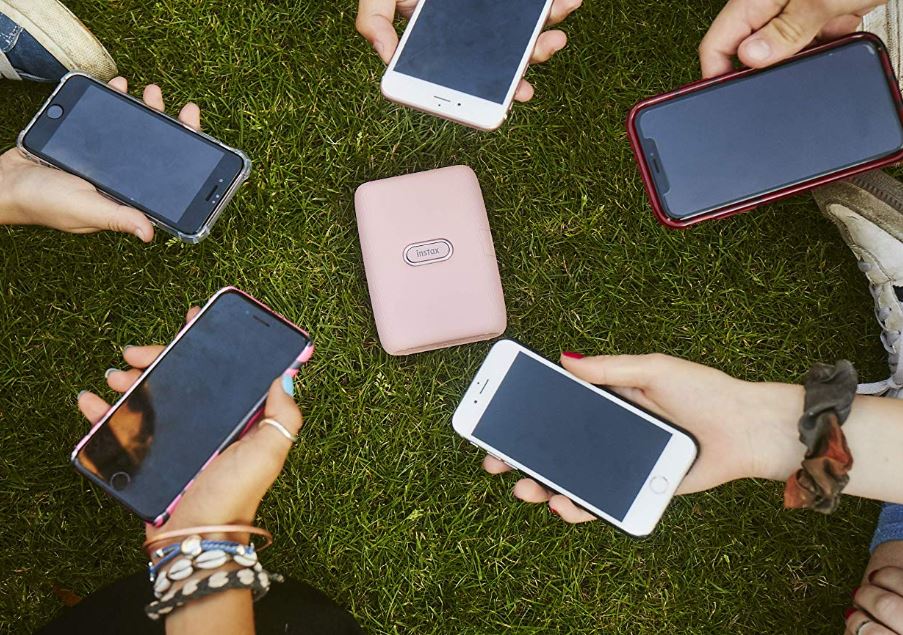 With a more direct competitor however there is less to forgive, the Kodak Mini 2 HD instant printer is solely a photo printer yet it only gets around twenty prints before requiring you to charge the battery which takes around 1 and a half hours.
As you can see the print capacity (which is how we measure the printers battery capacity) is much greater than some direct competitors making it a more reliable printer. The charging time after usage is between 80 and 120 minutes so once you power through 100 photos you will have to take a bit of a break.
The App
The Instax Mini Link app is a new way to enjoy photography. It is available on both the iPhone app store and Android play store for free. With the app you can record videos and then scroll through the video for the perfect shot and then print that shot by simply swiping up. You can also set your phone down in the camera mode within the application, take the printer and lean the camera forward or backward to zoom in and out then press the center button to take the photo, essentially utilizing your printer as the remote for your phones camera.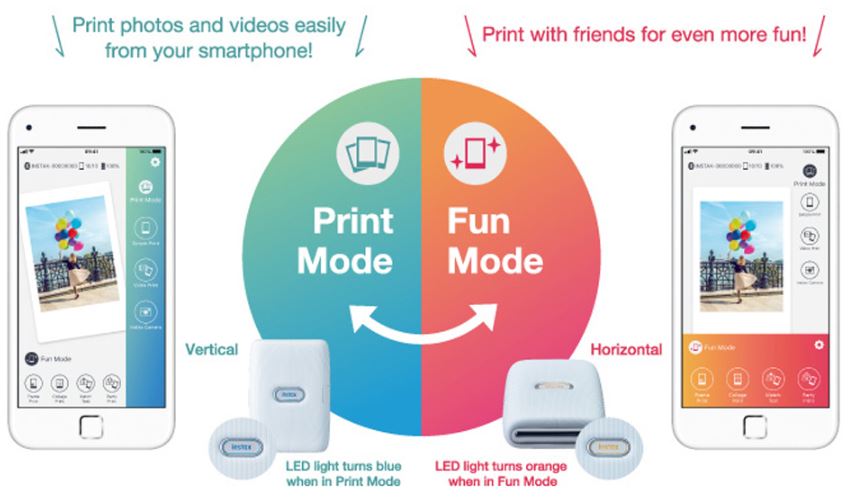 With the party print mode you and your friends can combine photos. One example is if you all took face shots the app would take the top portion of one persons face, the center portion of another's, and the bottom of the last and then combine them to make a single face and print it out. There are many other neat social features like this for you to explore in the app. This includes quiz games that can overlay a photo with the results of various quizzes and a random mode that generates surprise effects.
There are also an assortment of filters you can apply to your pictures prior to printing. This includes a frame print mode where you can choose from more than 26 different frame designs. Within the app there are also 14 different collage styles that you can use to make your pictures a bit more stylish.
Printing & Photo Quality
Printing is incredibly easy once you have the app installed. From the app, as we mentioned before, you can simply swipe upward to print. You are also able to use the center button on the printer to print as well. The Instax Mini prints on FujiFilm's Instax Mini Instant Film which as you can tell from the name was made specifically for these printers.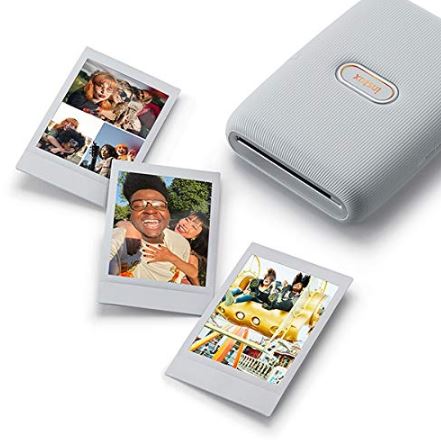 The print film comes in packs of 10 and they are 86 mm by 54 mm though the actual image size is 62 mm by 46 mm. The printer supports a total image size of 800 x 600 dots and has a 12.5 dots/mm which is 318 dots per inch. The average print time is just around 12 seconds with a print level of 256 levels per RGP color.
Obviously this is not what many would call a super high resolution however it is important to note that due to the smaller photo size the higher dots per inch is unnecessary as the DPI matches the resolution of the image.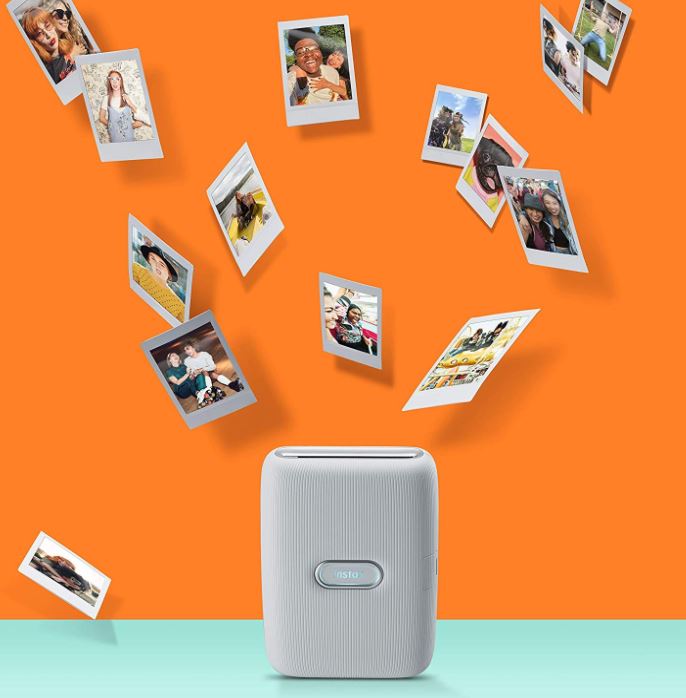 Drawbacks
There are a few drawbacks that we found including a lack of options for the photo paper. You must purchase the single option of photo paper from the single manufacturer so there is no shopping around for price or quality.
Obviously you cannot increase the size of the printer so you are unable to print pictures bigger than the 2.4 inches by 1.8 inches mentioned earlier. This is however a factor you should be aware of prior to purchasing the printer and therefore wouldn't really be a complaint once you own it.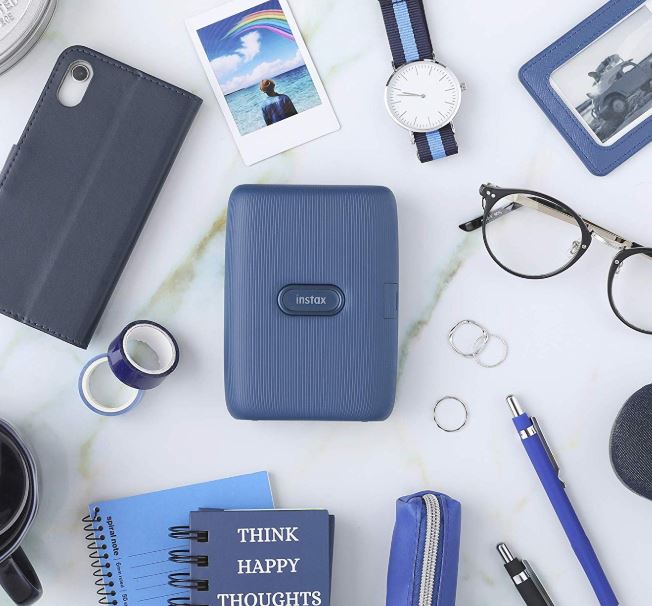 Final Thoughts
This is a wonderful printer that takes the joy of physical photos and brings great new features for the modern world. The social printing options make for a fun time at any gathering and is a wonderful way to immortalize the good times you spend with friends and family. If you love making memories as much as us you should definitely check out the Fujifilm Instax Mini Link Smartphone Printer.
Meet Derek, "TechGuru," a 34-year-old technology enthusiast with a deep passion for tech innovations. With extensive experience, he specializes in gaming hardware and software, and has expertise in gadgets, custom PCs, and audio.
Besides writing about tech and reviewing new products, Derek enjoys traveling, hiking, and photography. Committed to keeping up with the latest industry trends, he aims to guide readers in making informed tech decisions.