Photography isn't what it used to be. The way we capture and develop photos, like most forms of technology, has continued to evolve and get easier over time. For many years, the only way you could take a photo was with a bulky camera. Then, to develop that photo, you either needed to take your film somewhere to have it processed, or work in your own darkroom.
It seems crazy to think about nowadays, especially since most of us have high-definition cameras built right into our cell phones. Taking great photos on the go has become effortless, convenient and less cumbersome due to the size of most cameras and phones. However, there is still the issue of processing, printing or viewing these photos after taking them.
Sure, for some people it's enough to have them saved on their cell phone's camera roll or computer, but others may still long for the feel of a glossy, printed version they can keep in their wallet or in a small frame. Certainly you can take the image file to be developed and printed, but this still takes more time than it should.
Luckily, many photo accessory companies have begun releasing portable, wireless mini-printers that yield stunning results. Most are a little larger than a smartphone, and can print pocket-sized photos over WiFi with incredible color and detail. While this is still a fascinating new way to approach taking pictures, there are still some devices that do the job better than others.
In this review we're going to be checking out the newly released Kodak Mini 2 HD Wireless Photo Printer. This new device is geared toward beginners and amateur photographers who want a quick printing solution that they can use anywhere. We'll be looking at the design, features, usability and photo quality to see if this new gadget really has a place among budding photographers or those looking for an easy way to print photos on the move.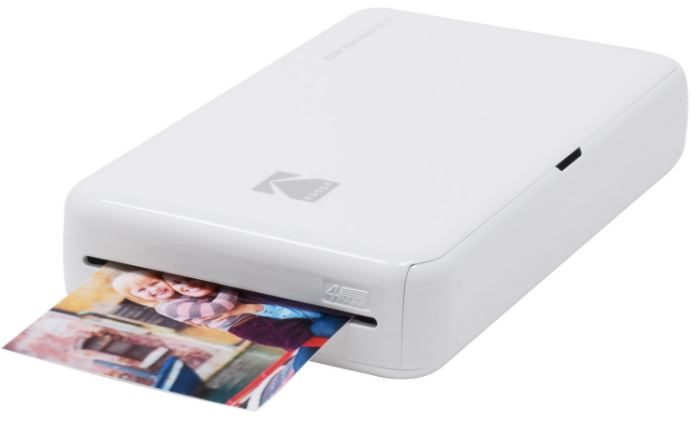 Design
The Kodak Mini 2 HD Printer has a really sleek, futuristic design. It has a rectangular shape, with smooth edges, easy access to the power button, charging port and photo slot, as well as a small door for changing cartridges. On the top you'll find the Kodak logo in a light grey color, along with the model printed on the top right side. Near the printing slot, you'll also find a "4-Pass" logo, indicating the process the printer uses to complete printing a photo.
It also comes in both white and black, so you won't have any trouble matching it to your smartphone if you really want to keep things consistent. It's also incredibly portable, measuring at 3 x 5.2 x 1 inches and weighing in at only 8.4 ounces. It could easily fit in a backpack, purse or even the pocket next to your smartphone.
The biggest selling point when it came to the layout of the printer was its obvious simplicity. This is certainly an impressive device, but it isn't quite a piece of professional photography gear, either. It's more of a gadget for those who are looking for an easy to use way to print small photos and its design made that very clear. Just by looking at it, we got the impression that it would be up and running fairly quickly, and would be a snap to use.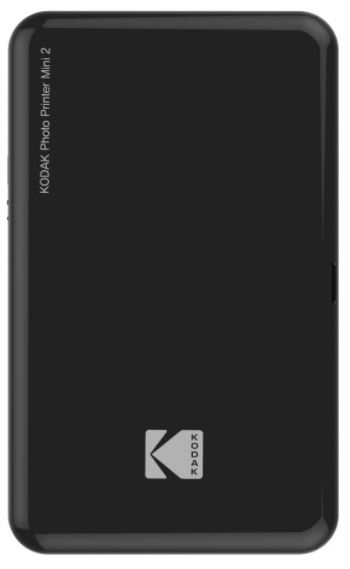 Wireless Capabilities
The Kodak Mini 2 HD Printer is at the cutting-edge when it comes to wireless capabilities. It's both NFC compatible as well as Bluetooth enabled. NFC stands for Near Field Communication. It's a wireless capability that has become extremely common in Android devices. All you'll have to do is tap your Android device on the printer and you'll be instantly connected.
It doesn't get much simpler than that when it comes to wireless connectivity, but for those who have an iPhone, the printer can also connect easily through Bluetooth. Like most devices, once the printer is on, you'll just have to select it from your Apple device's Bluetooth menu to connect. That being said, if you'd still prefer to use Bluetooth with your Android device, this remains an option as well.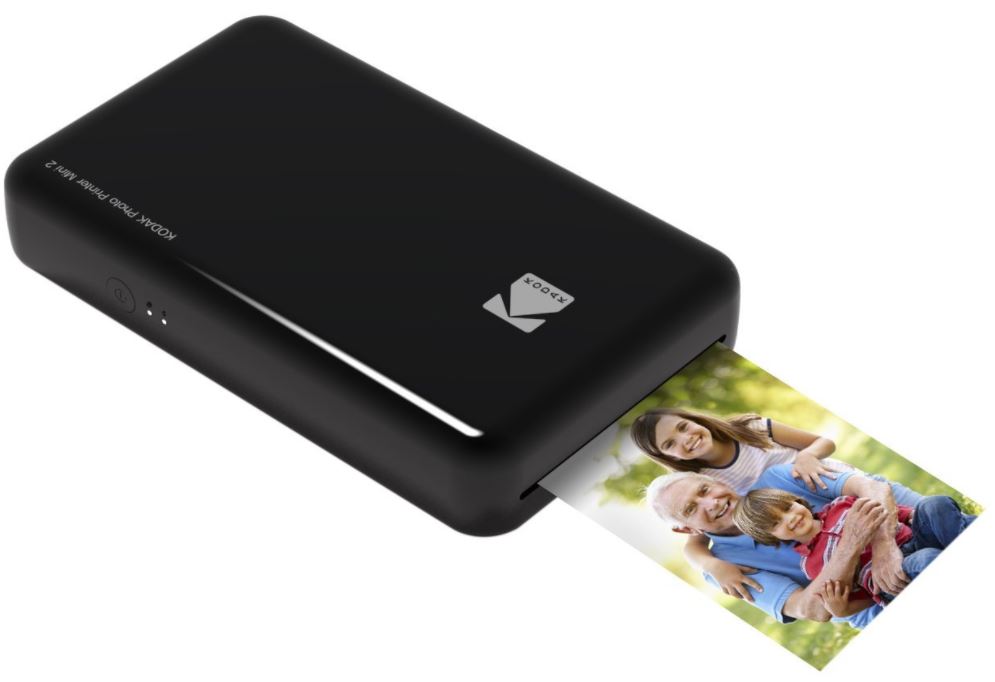 Power and Charging
The printer contains a built-in 620 mAh lithium polymer battery that's fully rechargeable. It'll take about 1.5 hours to charge, and can print about twenty photos until the battery is depleted again. This struck us as a little bit inefficient, especially for those that want to take the mini-printer traveling. Twenty photos didn't seem like all that many for someone who might be exploring a new city, attending a concert or event.
We were also a little disappointed, considering that Kodak's ink cartridges come in either 20, 30 or 50 sheet options. Considering that a cartridge could print 50 sheets at a time, it would have been nice for the printer to be able to keep up. That being said, the 1.5 hour charge time was somewhat fast, and as long as you have the charging cable, powering it up on the go for another batch of photos didn't seem that implausible.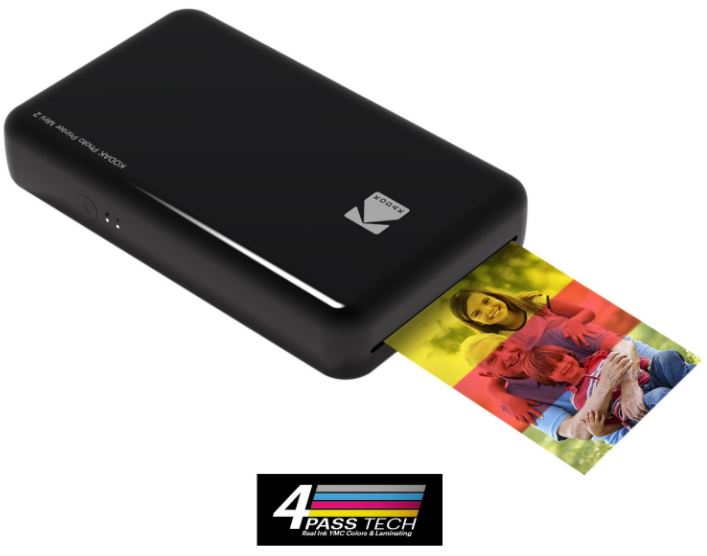 Printing
Printing a single photo is relatively fast and, in general, will take about 50 seconds. Considering that the printer uses such a sophisticated printing process, this was totally justified. It utilizes something called 4Pass printing technology, or dye sublimation transfer, and is capable of printing up to 256 gradations or 16.7 million colors. The compatible Kodak cartridges come with both color and black ink, and the paper is completely water and fingerprint-proof.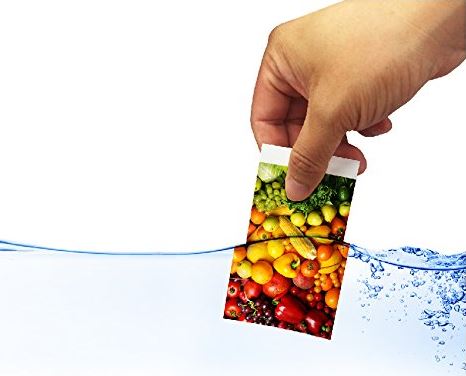 We really liked the high-quality of the material, mainly because it made the photos feel like they weren't the kind of images someone would want to just throw away after a few weeks. The actual physical material was strong, durable and made us think that these photos could be used for small collections or collages. Each print is about the size of a credit card, but this is a portable printer; for a device this size, a 2.1 x 3.4 sized, high-quality photo is exactly what you'd expect.
The App
The Kodak Mini Printer App is a real treat to use. The interface was intuitive, easy to understand and made using the printer a piece of cake. It's available on both the iTunes App Store as well as Google Play under the name Kodak Printer Mini. It doesn't require you to make an account or sign in like some other integrated apps, and is ready to use as soon as you download it.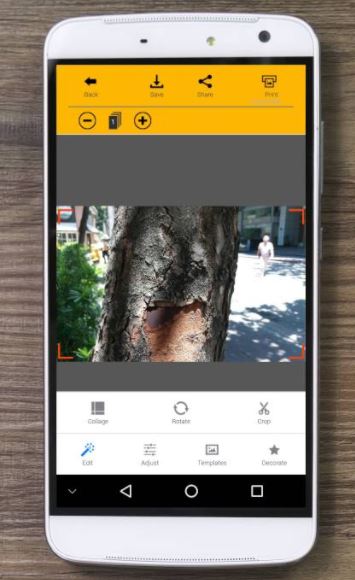 All you have to do is let it access your smartphone or tablet camera, and you can start printing or editing photos right away. You can resize, crop, decorate or edit colors and brightness on photos before you send them to the printer. You can even modify existing photos on your camera roll. Even more impressive, the app allows you to print photos from the web. By pressing the SEARCH button, you'll be taken to your device's search engine where you can choose a photo from any page to be printed. All in all, the integrated app was very well-designed and offers a ton of options for printing photos from a variety of different places.
Photo Quality
The image quality that the Kodak Mini Printer 2 yields is definitely a step up from its predecessor, but still about what you would expect from a mini photo printer. That doesn't mean the photos are of poor quality, but are still not as vibrant or sharp as prints that you might get from a professional photographer or larger printer.
In comparison, the image sharpness on the Kodak Mini Printer 2 was much higher than that of the older Kodak Mini Portable Photo Printer. The colors were a lot brighter as were the fine details in the photos we printed. There was also a noticeable gloss on each photo that added to the sharpness and saturation of each color.
In some instances, there was some slight variation in the colors we saw on our tablet while adjusting photos and what actually came out of the printer, but it wasn't so much of a difference that we felt our photos had been severely altered. It was a little frustrating at times, but also could have been the result of the brightness or color display on our smart devices. For the most part, it was only a small issue.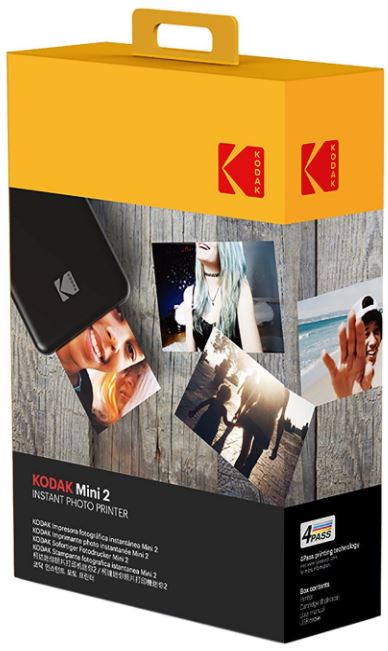 Drawbacks
This printer does a lot for a device so small, and the image quality that it yielded was nothing to sneeze at. However, there were two things we felt could have been improved upon. We would have loved for the battery life to match with capacity of some of the larger printer cartridges. Twenty photos per charge just didn't seem that impressive, especially when the largest compatible cartridge can hold significantly more sheets.
Furthermore, most photographers know that not every photo is going to be perfect, meaning that there could arise a situation where you print a photo and decide you aren't happy with it. It's possible that battery life could be easily wasted in scenarios like this, which left us wanting just a little bit more.
We also would have liked for the printer to come with a full charger, rather than just a USB cable. Considering that the battery didn't have the greatest capacity, it would have been nice for Kodak to include a wall-charger so that users could power up at a coffee shop or restaurant without the need for a laptop or computer. The idea behind a device like this is to have to carry less gear, and we felt that its charging parameters should meet the same standard.
Final Thoughts
Overall, we really liked the Kodak Mini 2 HD Wireless Mobile Printer. It packed a lot of power and capability into a small package, was a cinch to use, and yielded some great results when we tested it out. It had a few minor things about it that we felt could have been improved upon, but its positive attributes far outweighed the few negatives we found.
If you're a beginner, a traveler, or just someone who's been waxing nostalgic about the old days of print photos, the Kodak Mini 2 is definitely worth checking out.
Meet Derek, "TechGuru," a 34-year-old technology enthusiast with a deep passion for tech innovations. With extensive experience, he specializes in gaming hardware and software, and has expertise in gadgets, custom PCs, and audio.
Besides writing about tech and reviewing new products, Derek enjoys traveling, hiking, and photography. Committed to keeping up with the latest industry trends, he aims to guide readers in making informed tech decisions.