If you're looking for a quick and easy way to print digital photos on the go, a mini photo printer could be a good solution. With products like the HP Sprocket and the Polaroid Snap Touch flying off store shelves, consumers have made it clear that they love having the ability to create tiny little keepsakes wherever they are.
While mini photo printers have proven themselves to be extremely fun, they've historically been a little light on functionality. Most mini photo printers use a technology called Zink, which stands for zero ink. They use tiny pieces of photo paper that have invisible dyes embedded, requiring a special heat transfer to take place in order to activate them. Although this makes for great looking pictures, the detail and resolution isn't there when compared with traditionally printed images.
Kodak's mini mobile photo printer was designed to alleviate some of these concerns. It uses Kodak's very own patented dye transfer technology that promises to produce higher quality prints at a lower price. But can this first-generation technology stand up to the solutions that are already on the market? We went hands on to find out.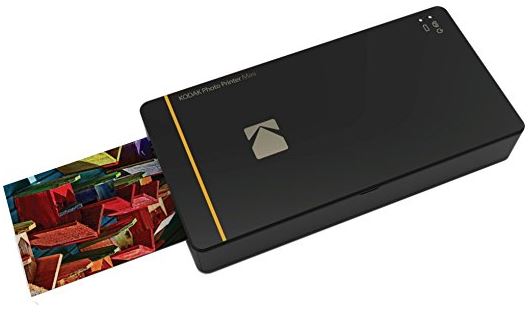 First Look
The Kodak Mini Mobile Photo Printer is a surprisingly compact device that fits in the palm of your hand. It's designed to be controlled from your Apple or Android based mobile device. You connect to it wirelessly, open up the free companion app, and transfer your digital photos to be printed.
Thanks to the included Companion App, the printer can do much more than just print your digital images. It's got a fully functional editing suite built right in that allows you to crop, filter, or add stickers to your images. If you've used a mini photo printer before, you'll feel as if you are already familiar with the Kodak model. But once we started to familiarize ourselves with it, we found a few things that appear to offer a pretty solid improvement.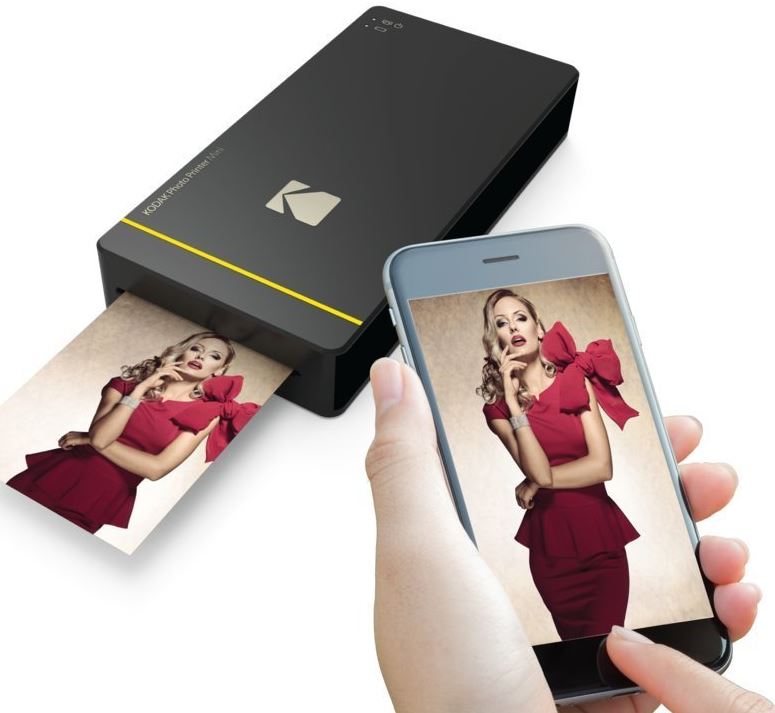 Design
While most printers are designed to appear fun and engaging, Kodak went strictly professional with the appearance of the Mini Mobile Printer. It's sleek plastic exterior has a metallic look to it, and could easily be mistaken for aluminum. It's available in three colors: Black, gold, and white. The black and gold ones are the most metallic of the bunch, while the white model has more of a glossy feel to it.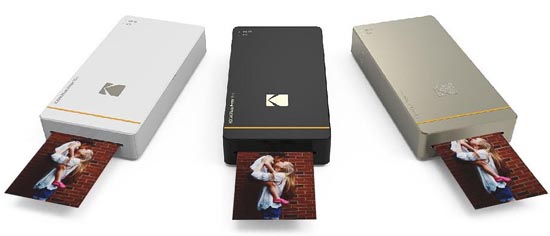 Despite the fact that this printer uses ink, you don't have to change the ink cartridges like with a standard printer. Both the ink and the paper are combined into an all in one cartridge. To change it out, you have to pull on the little tab on the side to open the door. You can then grab on to the little handle and pull it out. It feels a lot like changing the toner on a laser printer, but not quite as fiddly. The cartridges click firmly into place, so there's no question as to whether you've installed it correctly or not.
There are two LEDs in the upper right corner that indicate whether the printer is on, and whether it has an active WiFi connection. Other than the power button on the top right, the interface is pretty straightforward. The bulk of the control takes place from your phone.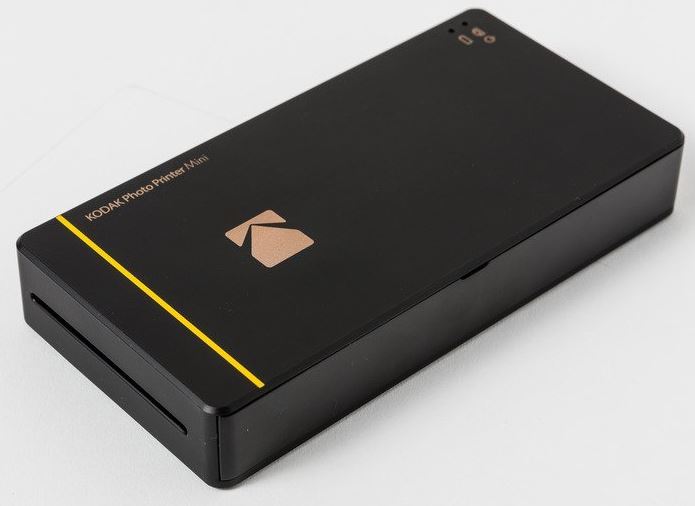 Functionality
Getting your photos printed is pretty straightforward. You open up the companion app, and connect to the printer. For the most part, connecting is automatic. But you may be asked to turn WiFi on, if it isn't already. If the connection is taking longer than expected, you can tap your phone against the top of the printer. This uses NFC to quickly pair them, making for a quick process.
You can tell that the device is paired by a small icon of the printer that appears in the upper right corner. Once everything is ready to go, you can browse through your camera roll or downloaded photos to begin a print. Upon selection, a large preview window appears with the print area highlighted by a red square. You can pinch to zoom, rotate, or move the photo around until you've got it looking how you want. From there, just hit the print button to start the process.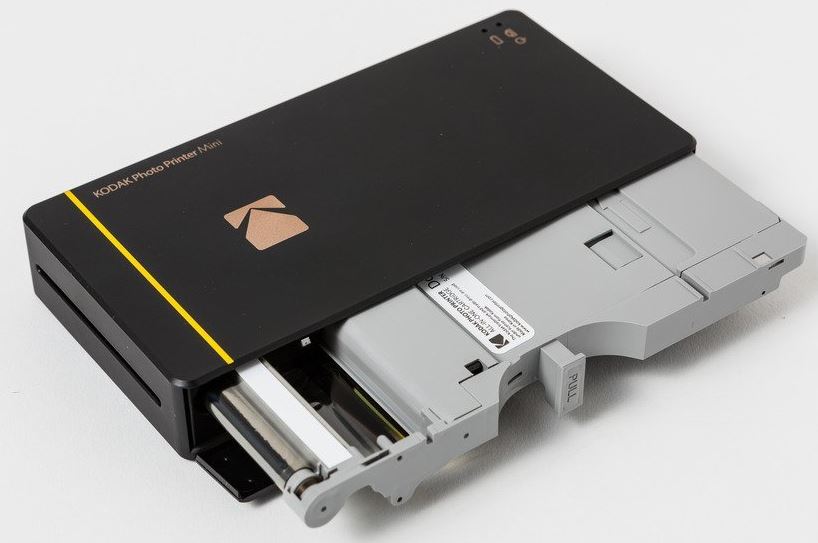 Unlike other photo printers that make you wait for up to 30 seconds before the photo comes out, the page starts slowly making its way out of the printer almost immediately. At first, we thought our printer was broken, as the image appeared only in yellow. In reality, what's happening is that the printer is doing one color at a time. Just as it's almost out of the printer, it gets sucked back in to print the next layer.
Once complete, the printer spits out the final photo on to your desk. There is a small white bar across the top. This isn't an unprintable area, but rather a paper tab that needs to be ripped off. The purpose of this tab is so that the printer has something to grab onto while feeding the paper. The nice thing about the tab is that it means that you get complete edge to edge printing, with no borders at all.
Print Quality
The printed photos are slightly larger than the 2×3 inch Zink prints, measuring 3.1 x 3.4 inches. Dimensionally, the prints look to be almost the same size. But if you were to hold the two prints in your hand, you'd definitely be able to appreciate the small increase in size.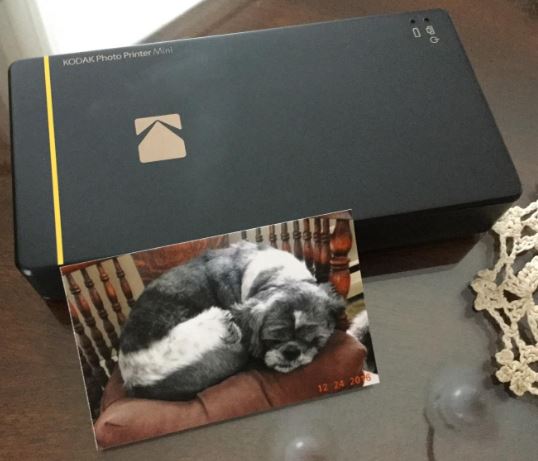 Even if the prints were the exact same size as the other printers we've tested, we'd still be impressed with the quality. This is one of the first we've tried that creates truly lab-grade prints. Colors are rich and vibrant, yet smooth. You don't get any banding or gradients that you see with cheap inkjets, and colors stay true to life without looking overblown.
The printer is capable of making edge to edge prints, so you don't have to crop them. If you're looking for the Polaroid style border, you can always add that back in the image editor, but we prefer to use as much of the printable area as possible.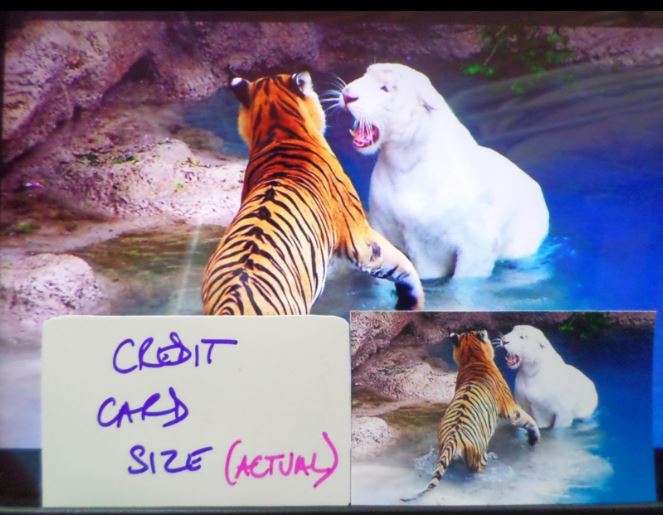 One of the main things we noticed about the prints made from Kodak's printer was the feel. Zink prints have a very smooth, glossy feel to them – almost like a plastic. But Kodak's prints feel exactly like a professionally printed one.
Color wise, the accurate neutral look of the Kodak prints might not be for everyone. If you like Instagram style filters, it's worthwhile to spend some time with Kodak's companion app. It allows you to choose from a list of pre-set filters, getting exactly the type of color you're looking for. For us, we found that a small bump in the saturation created the vibrancy that we wanted, but you're able to play around with all of the colors manually to experiment. We found that the printer very accurately reproduces what you see on the display of your mobile device, so there is very little chance of a print coming out with unexpected results.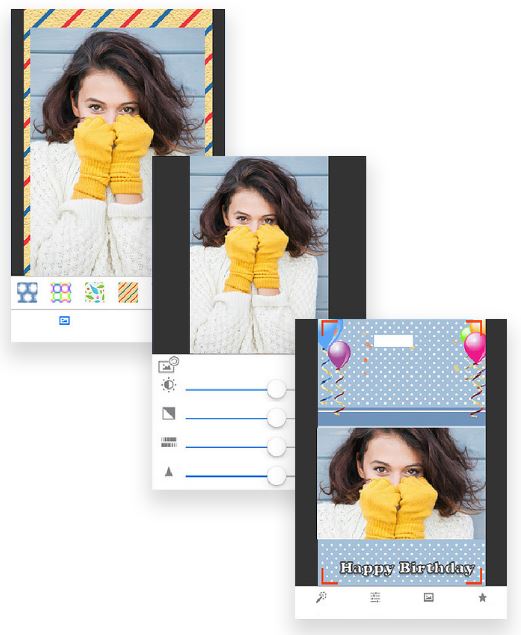 Durability
Kodak's Dye Transfer printing system produces an image that can withstand many years of use. It's completely fade-proof, allowing one of these photos to last for up to 10 years. This is the same grade as professionally printed photos achieve. If you're looking for archival quality photos, you can store them away from sources of heat and light (such as a photo album) to drastically extend the life.
Disadvantages
Although this is the cheapest mini photo printer on the market, you do have to pay a little more for the high-quality dye-sublimation ink. In a 20-sheet package, you're looking at a rough cost of 80 cents per page, compared to the 50 cents per page of Zink prints. If you're a high-volume user, you can save a little money by purchasing the 50 print packages.
Final Verdict
If quality is your number one concern, the Kodak Mini Mobile Photo Printer is one of the best options on the market. The prints it produces are comparable to professional prints, helping you to create keepsakes that can stand the test of time.
If you're not too concerned with quality, or you plan to print a large volume of photos, you might want to consider the HP Sprocket. This printer doesn't quite have the same quality as Kodak's offering, but you're able to save a little bit of money with the low-price Zink paper.
If you're looking for full size prints, a mobile photo printer might not be the best option. A full size printer like the Epson XP-640 will allow you to print lab grade photos from the comfort of your own home, saving you quite a bit of money in the long run.