40 years ago, Polaroid cameras were everywhere. They were the first company to bring an instant camera to market. In the original design, Polaroid cameras required the use of a special film. You'd take your shot, wait for the photo to be ejected from the front of the camera, and watch intently as your picture gradually faded in. The film was far from the best on the market. When it was first released, critics slammed the camera for having a washed out, hazy look. But it wasn't long before the cameras flaws became its main selling point. When Polaroid released an updated film with more accurate color reproduction, the company found that consumers actually preferred the older style. They even had trouble keeping inventories in stock. Today, the unique visual appeal of the vintage Polaroid camera lives on through Instagram.
In 2001 Polaroid filed for chapter 11 bankruptcy. Their assets were quickly sold off to cover their debts, and the Polaroid name was purchased by a company previously known as the OEP Imaging Corporation. With the iconic analog camera brand now owned by a digital imaging company, fans had high hopes for what was to come next. Unfortunately, the first line of "new" Polaroid products released cheaply manufactured Chinese DVD players re-branded with the Polaroid name. For years, consumers simply assumed that the Polaroid we knew and loved was gone forever.
But just when we had started to forget about the brand, Polaroid decided to modernize the brand. The company announced that they were developing a digital version of the classic camera, having tastefully updated it with modern technology. Today, we'll be taking a look at the latest iteration of the classic camera. Let's take a peek and see if the Polaroid Snap Touch is the revitalization of a photography giant, or simply another gimmicky way for the new Polaroid to make a quick buck.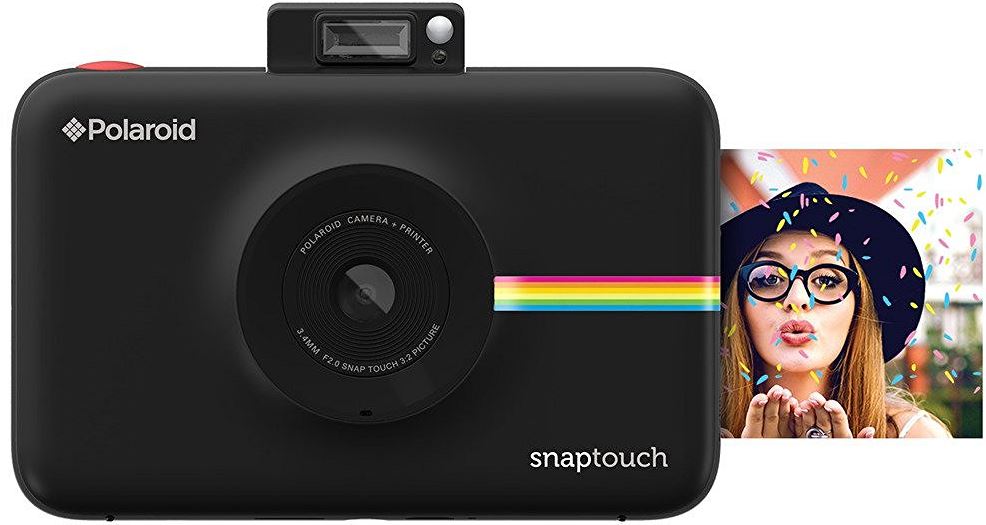 First Looks
The Polaroid Snap Touch seems to be the perfect fusion of old and new. Despite having a form factor similar to the consumer grade digital cameras of today, the Snap Touch still has a distinctly retro feel to it. Between the prominent front lens and the iconic rainbow stripe, almost everyone is going to recognize this camera the second you pull it out. The camera is certainly fashionable, but for it to really take off it has to perform better than the cameras we already have on our phones. Let's take a peek and see how it does.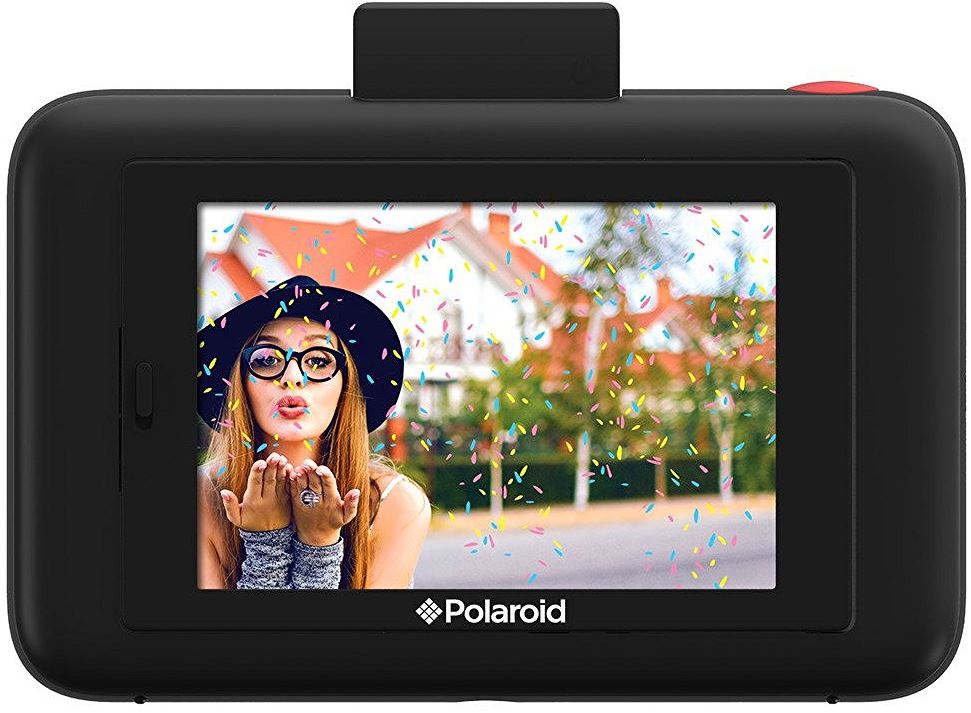 Ease of Use
The first Polaroid cameras were popular due to how easy they were to use. There were no complicated dials to change film settings, no shutter, aperture, or focus knobs to tweak. Instead, all you'd have to do was push the big red button. While the Snap Touch has a few optional features, using the camera is still just as easy as it was 40 years ago.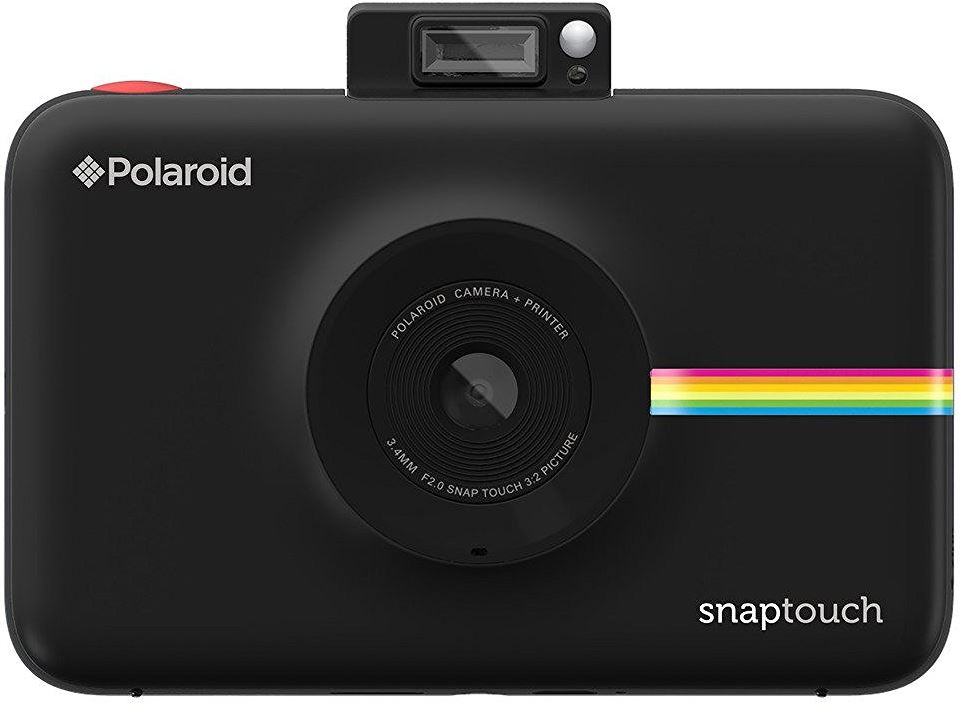 The original Snap's viewfinder has a retro vibe to it, but it caused a number of complaints. Many consumers found it hard to use and wound up wasting prints on poorly composed shots. With the Snap Touch, this is no longer a problem. It's now sporting a large 3.5″ display on the back, making it easy and intuitive to take well composed shots. Having grown up in the digital generation, it's hard to wrap your head around the fact that you only have a limited supply of prints. But with the large display, you're able to make sure that every shot counts.
Even if you run out of prints, you can still use the camera. It comes with a MicroSD slot, allowing you to save a digital copy for your social media profile. By sliding the back open, you'll be able to load it with up to 10 sheets of Polaroids ZINK paper, which should be enough to keep you going for a little while.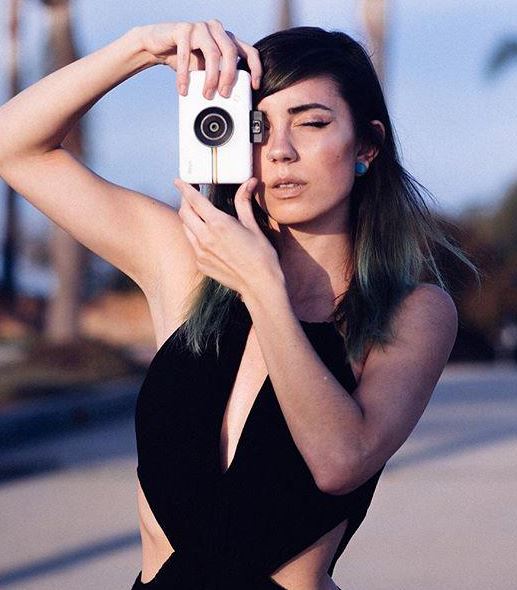 Image Quality
For the price, Polaroid gives you a pretty decent little camera. You've got a 13 MP sensor that takes photos at a pretty respectable resolution. If you wanted to, you could easily have full size prints made. Keep in mind the price bracket the camera is selling in. Image quality is a little better than higher end smartphones, but a little lower than some modern point and shoots. But the Snap Touch is not a camera you buy for its accuracy, it's a camera you buy to replicate that famous Polaroid look. That's where the images really shine.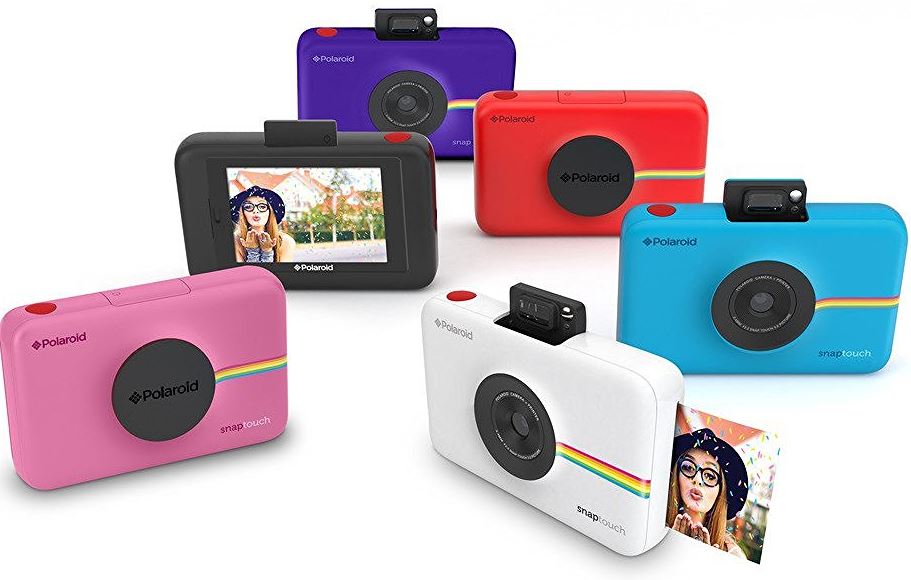 Filters
When composing your shot, the touchscreen on the rear of the camera gives you access to filters, borders, and digital stickers. The filters prove you with the most accurate representation of the Polaroid aesthetic we've seen. You can browse by the type of film, or you can simply flip through the different color options to see what's best for you. This doesn't have to be done before the photo is taken either. If you have an SD card installed, you can take the photo in advance, then take your time playing around with the settings. The appearance to these filters is much more subdued than what you'd get with something like Instagram. All of the detail and clarity remain in your photo, but the tone and hue are ever so slightly tweaked. Not enough to visually disturb the image, but more than enough to set the mood.

The filters can make your photos stylish, but the borders will make them straight up retro. The most popular border is sure to be the classic one. This puts white bars around your image in the exact ratios as the instant film.
If want to create a unique memory that you can share online, the Digital Stickers feature allows you to make images of your shots that look a more like cutouts than photos. This is certainly fun to play around with, but has a very limited use.
Printing
The filters are certainly a great add on, but what truly separates the Snap Touch from every other compact camera on the market is the printer. Polaroid fuels it's printer with a unique type of paper called ZINK, which stands for "zero-ink". These little sheets actually contain three separate layers of chemically bonded dye. You can't see it at first, but once the dye is exposed to heat it changes color. It's also very fast. Once you take a photo, you'll have it in your hands in a few seconds.
The photos also double as stickers. Just peel off the back, and place them wherever you like. The prints actually look quite a bit better than you'd expect. The colors are vibrant and the details are sharp. If you're printing an unfiltered photo, they definitely lack the dynamic range that you'd get with an expensive SLR camera. But when you print photos that have been filtered, the hazy look of the print becomes part of the charm. At 2 inches by 3 inches, they're not exactly the type of pictures that you'd scrutinize. If you want photos that document rather than express, you're better off getting full size prints made from photos stored on the SD card. The 13MP sensor is more than capable of producing higher resolution prints, but you can't take full advantage of this with the built in printer.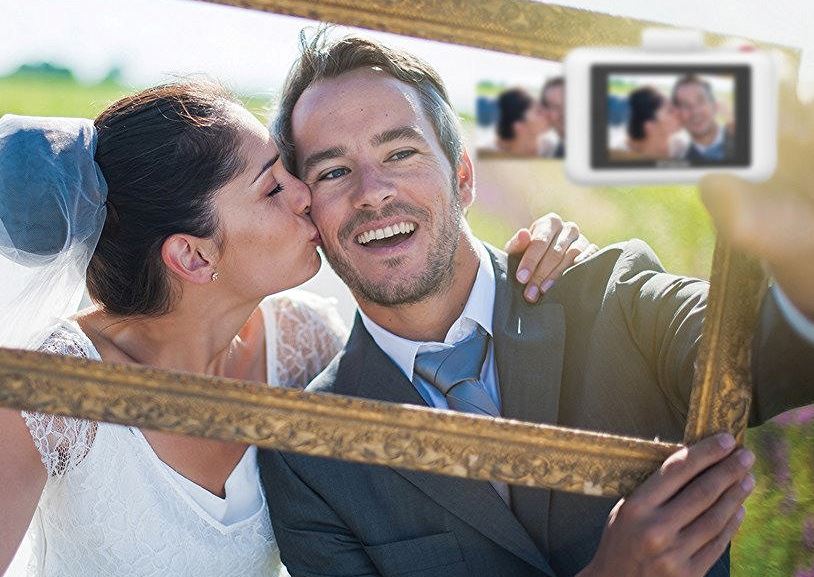 So, Should I Get the Polaroid Snap Touch?
The purpose of these reviews is to validate manufacturer claims. There are a lot of products on the market that were clearly designed to look good on paper, but fall on their face in real world tests. Tech companies, more than in any other industry, seem to be stuck in a constant rat race. Instead of focusing on building a product which is truly unique, they just try to make something which performs marginally better than their competition.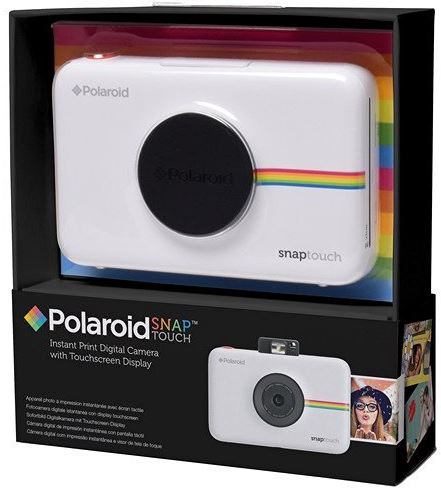 In a sea of copycats, the Polaroid Snap Touch is a breath of fresh air. Polaroid didn't set out to make the next best point and shoot. They set out to design a camera that was fun to use, and put a cultural icon in the hands of a new generation. In this regard, they absolutely nailed it. You could compare it's photos against one that outpaced it in every technical measure possible. We'd bet that you'd still find the Polaroids more pleasing to look at.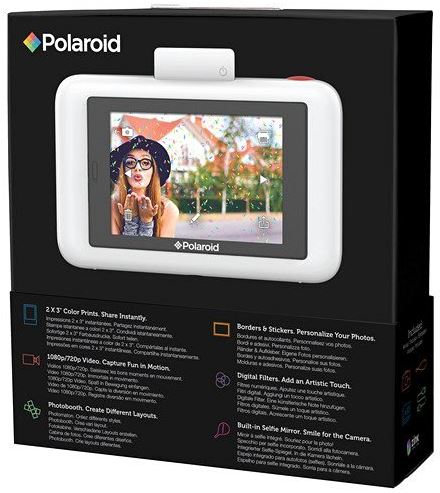 Obviously, this isn't going to be everyone's cup of tea. If you're looking to take high quality photos to document the most important moments of your life, you might be happier with a DxO ONE. If you want to take photos that have your own artistic twist, you'll get more control with a camera like the Fujifilm X-A3. The Polaroid Snap Touch is for people who want a fun, affordable way to create unique keepsakes that document the best parts of their lives. If you regularly find yourself posting to Instagram, we can't recommend this camera enough.