If you think that photo printing is dead, just head down to your local Wal Mart. You're bound to see at least one person hanging out at the DIY photo printing booth. Are these the same kind of people who still read the newspaper and write letters to each other? Perhaps, but if you look closely you'll notice that there is a clear resurgence in the popularity of photo printers.
Take a look at the Polaroid Snap Touch, for example (yes, we said Polaroid). This handy little printer camera combo is not only a blast from the past, but it's a bestselling product. Initially, digital sharing made physical media almost obsolete. But we're starting to wake up and realize that the longevity of these formats is cripplingly short.
Ever look at your Facebook photos from 2008? Even worse, the camera in the original iPhone that was once hailed as a miracle now looks worse than your average webcam. Today, people have realized that there is no point in documenting life's greatest memories if you can't go back and enjoy them in a few years. But in order to do so, you're stuck driving down to some mall to use an out of date printing kiosk that costs an arm and a leg. That's where the HP Sprocket Portable Photo Printer comes in to save the day.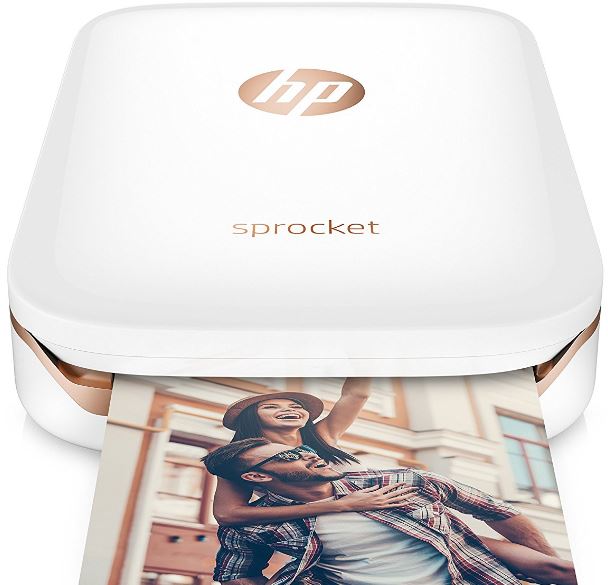 First Look
The HP Sprocket is shockingly small. It looks similar to a portable hard drive, or maybe a really thick phone. It's not just compact, however, it's also incredibly sleek. A sharp metal band traces around the edge of the printer, eventually opening up into a little mouth where your photos can eject from. Aside from the USB charging port and a little loop strap to carry it, there is not much else on the printer. Let's take a look at see how it performs.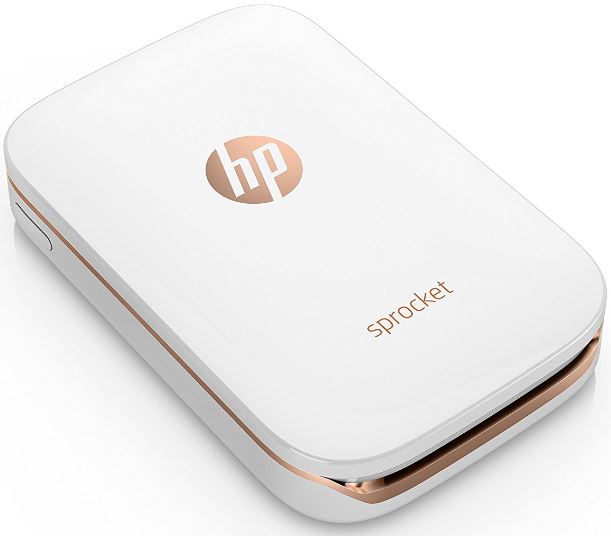 Ease of Use
The printer requires virtually no set up or configuration. Just download the Sprocket App from the App store and you'll be good to go. But you don't even need the app for it to work. Open your Bluetooth menu, search for devices, and then pair to the Sprocket. Anytime you view your photo library on your IOS or Android device, you'll be able to share your photo directly to the printer and watch it come out.
If pairing seems like a pain to you, then the Sprocket app will take care of everything for you.
Changing the paper is as simple as lifting the top and placing a new pack of HPs special Zink sticky-backed paper.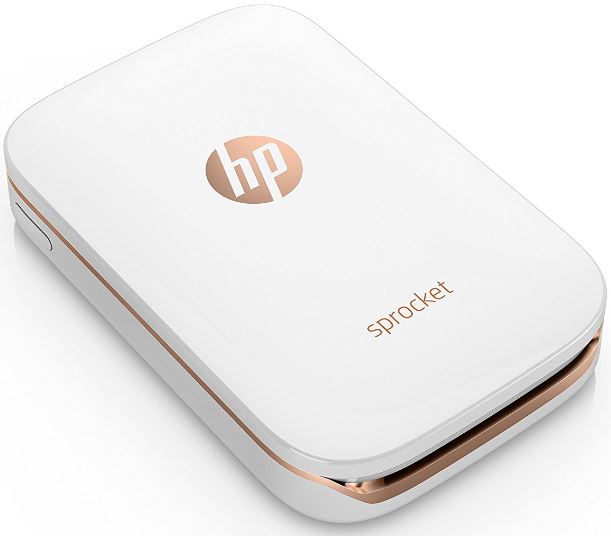 Portability
The HP Sprocket was designed to follow you anywhere, and the design backs this up. It's very light, weighing in at only 6.1 ounces. It can also hold up to 30 prints, so you'll never run out. The battery is capable of printing 50 separate photos, so you're unlikely run out of juice during a single outing. In the event you do need a quick little top up, you can charge it with any Micro USB cable (one is included).
Photo Quality
The Zink technology is identical to the one used in the Polaroid Snap line of cameras. It prints little 2″ x 3″ photos that you can quickly turn into a sticker, if you like. The photos are clear, vibrant, and easy to see. The best part is that, unlike ink based printers, you don't have to wait for them to dry.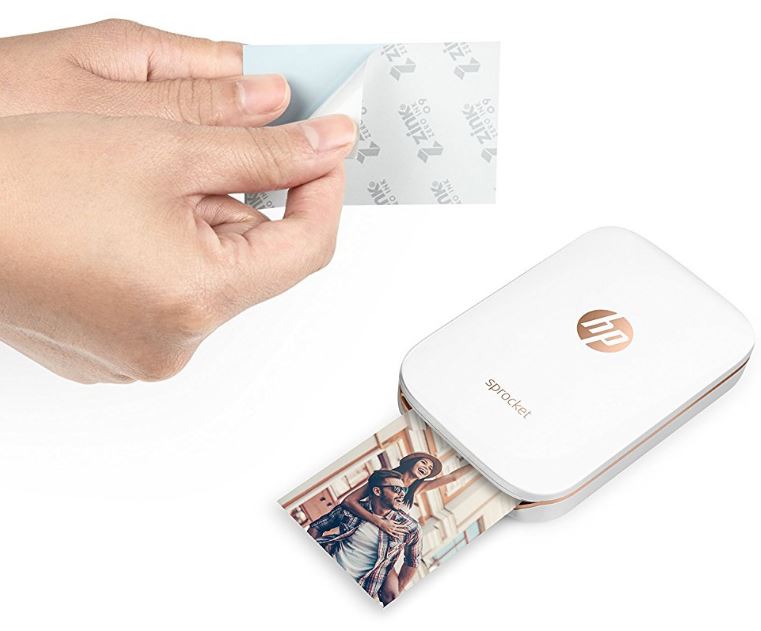 Generally, once a photo is printed you'll have to wait up to 5 minutes before you touch it, at the risk of smudging the print. Plus, photo ink can be quite expensive. Zink uses an entirely new type of technology. The pigments are already located in the paper, although they are invisible to the human eye. They are each activated at a different temperature. The Zink printer uses a special print head that accurately heats up different parts of the paper to produce the desired look.
However, it's worth noting that these are still pretty small prints. 2″ x 3″ is a great size when you're looking to make a little keepsake, or something that you can look back to a smile. But it's not exactly an analytical print. You're probably not going to want to shoot your wedding with a smartphone.
Unlike the "all in one" printer and camera combinations, you still have the full size image saved on your phone. So you'll always be able to go back to it and get a full size print made up, if that's what you want.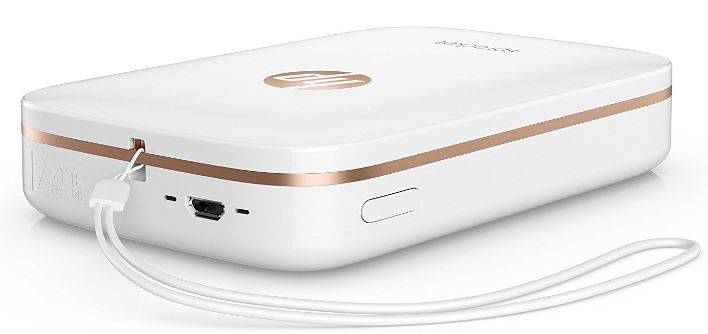 Image Editing
Using the bundled HP Sprocket app, you're able to add a ton of fun little features to the print. The most popular is the borders. You can choose a simple black border, or the classic white one that makes the image look like the instant photos of yore.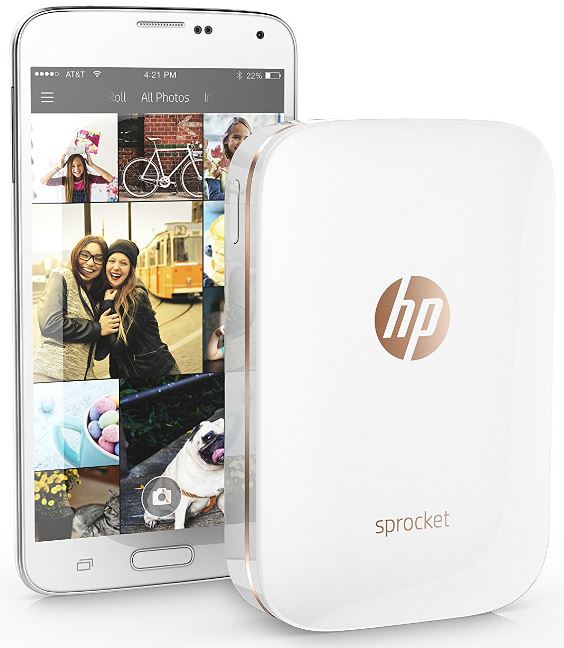 You also have the ability to add text. This can be simple descriptive text or a date, or you can use the app to create expressive statements that add a pop of personality to the photo.
The app is also compatible with emoji's. You can place them wherever you want, however you want, and in any size you want. HP's also included a number of custom emoji's they call "stickers" that are a little more detailed, and plenty of fun.
You're not restricted to using any one of these features. You can use them all, or none at all. Whatever you feel looks best on the photo.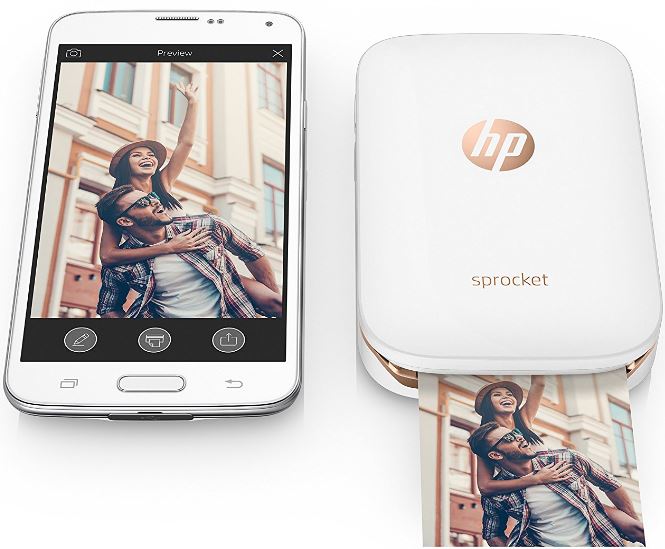 Durability
The HP Sprocket was designed to go anywhere, so it follows that it should be able to hold up to everyday life. The entire package feels incredibly solid. The lid closes with a solid feeling "click" and locks into place. This way, it will be unlikely to open, spilling your paper everywhere. The glossy finish does look like it could be scratched easily, so we'd probably recommend being conscious of throwing it in your pocket along with a set of keys. However, this would be purely cosmetic and unlikely to affect the performance.
As for the Zink prints, they are also incredibly durable. The ink won't smudge, as we mentioned, but there are a ton of other ways that they can withstand abuse better than a standard print. They're "tear resistant", which really just means that you can't rip them unless you really try. Even peeling one off the wall after you've made it into a sticker is unlikely to damage it. The photos are designed to be shared, so you'll never have to worry about passing them around.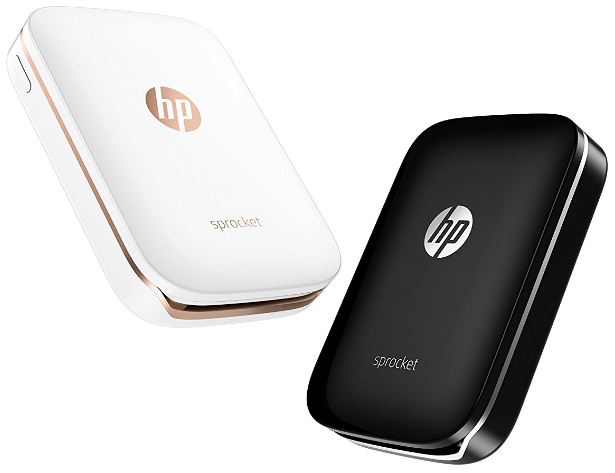 Social Media
One of the features that separates this printer from any other can be found in HP's Sprocket app. It's capable of linking up to your Facebook, Instagram, Twitter, and many other social networks. Not only does this allow you to share your customized photos with all of your friends, but you'll be able to print directly from these networks as well. This way, you're not restricted to only the photos you've taken. You can print that perfect shot your friend took of your camp-out, or go back in time and print off your favorite memories that were shared before you got the printer.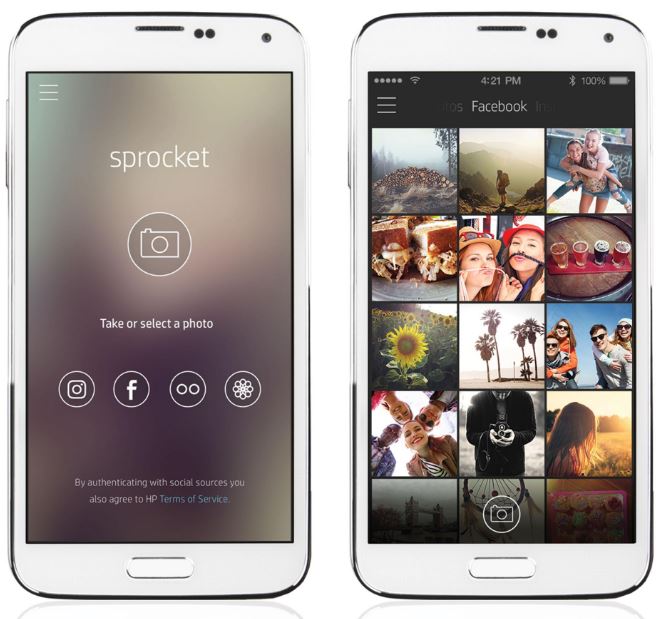 This also opens up a lot of opportunities for you to edit the photos. Want a cool retro look in your prints? Use Instagram to apply a filter, then go directly to the Sprocket! The possibilities are endless.
So, Should I Get It?
The HP Sprocket is a fun, portable way to make tangible copies of all your favorite memories. It's fun to use, and lets you customize your photos exactly the way you want. If you already have a smartphone, you'll save a bit of money purchasing something like this instead of a combination camera and printer. Plus, HP is a well-established hardware company so you'll feel confident that it will be compatible with all of your mobile devices.
The only downside is the cost of the paper. You're looking at about 30 cents per print. However, this is still quite a bit cheaper when you factor in the cost of ink for a full size photo printer. However, if the 2″ x 3″ size is too small for you, it may be worth it to consider spending the extra money on a wireless color photo printer.
For everyone else, the Sprocket both affordable and fun. If you're looking for a fun way to watch your photos come to live, you should definitely check it out.