If you're looking for a gaming keyboard, you've got hundreds of different models to choose from. But for those in-the-know, mechanical keyboards are the only way to go. The additional tactile benefits of mechanical switches are revered by many, providing you with a faster response time and more accurate game play. The only disadvantage to mechanical keyboards is that they can be expensive. You're stuck either buying some off-market brand with questionably produced switches, or you can buy name brand and pay 300% more.
Kingston seems to have come up with a solution. They've just released a keyboard that doesn't skimp on quality. They use name brand Cherry switches, and the same Kingston quality you've come to expect. But the biggest surprise is the price. It's cheaper than almost all name brand keyboards. This may very well be the best bang for your buck, but first we'll have to make sure it performs.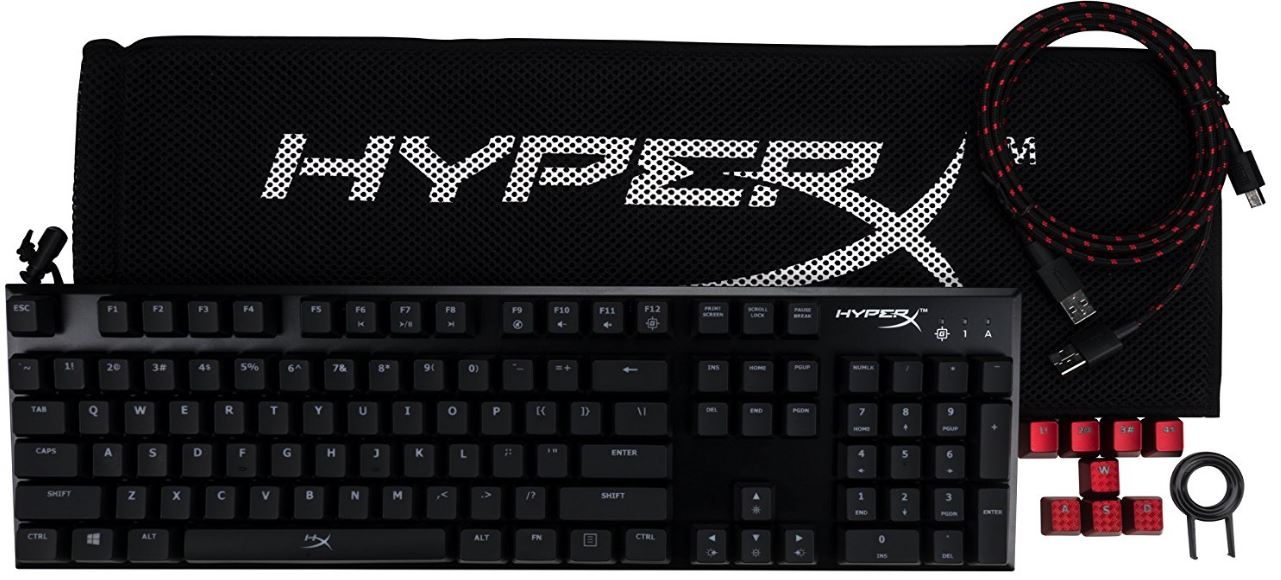 First Look
Gaming products are made to stand out, and the Kingston HyperX Alloy FPS Mechanical Gaming Keyboard is no different. Although this time, they took a subtle approach. At first glance, it doesn't look like much more than a regular keyboard. But once you get up close, you'll notice that the Alloy base, elevated keybed, and sharp red lighting work to make it evident that this is a premium keyboard. Despite all of the flash, they know that gamers are on the go. They cut out all of the unnecessary plastic bezels and fancy logos to make this unit as compact as possible. Let's take a closer look at this elite keyboard and see how it performs.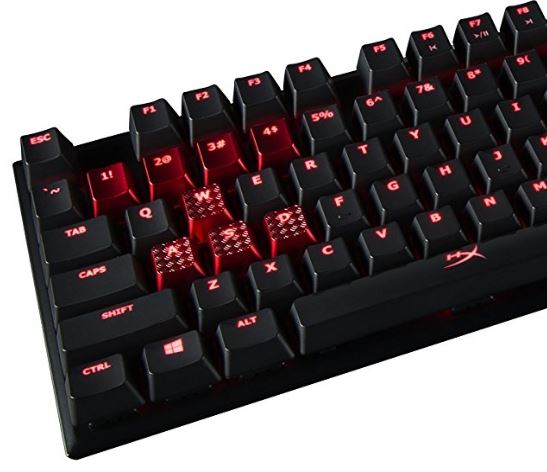 Mechanical Switches
The most important feature of any keyboard is how the keys perform. When it comes to mechanical switches, Cherry MX is the one to have. They pioneered the technology back in the 80s when the IBM model M was popular. Lately, they've modernized the format to suit different purposes.
Cherry MX switches are available in a variety of styles. The Blue switches are popular for typists, as they let out a firm and loud "click" so you know the key was properly depressed. Black gets rid of the annoying click noise and focuses on offering a liner response, so each press takes an equal amount of force. Red is similar to this switch, but specially designed for gaming. It only needs 45 cN of force to actuate, giving you a faster response time than any other keyboard. This change may seem subtle, but it will make a huge improvement in your game.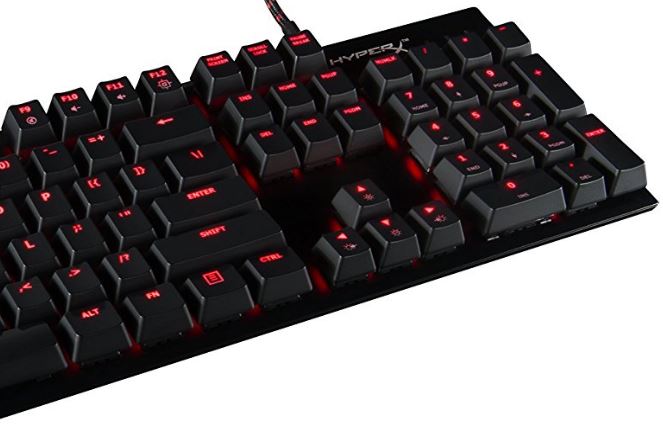 You know that gaming is all about muscle memory. When you need to perform an action, your mind converts that action into motions just as it's done 100 times before. But your muscles aren't great at determining when a key was pressed. With the Cherry MX Red switches, the tactile feedback will let you know the moment you've depressed the button, so you can move on to the next task. We've been using mechanical keyboards for a while, but the HyperX keyboard gave us the premium response that we are familiar with from testing a whole range of high end keyboards. Having tried several economy models, we could tell right away that this was in a league ahead of similarly prices keyboards.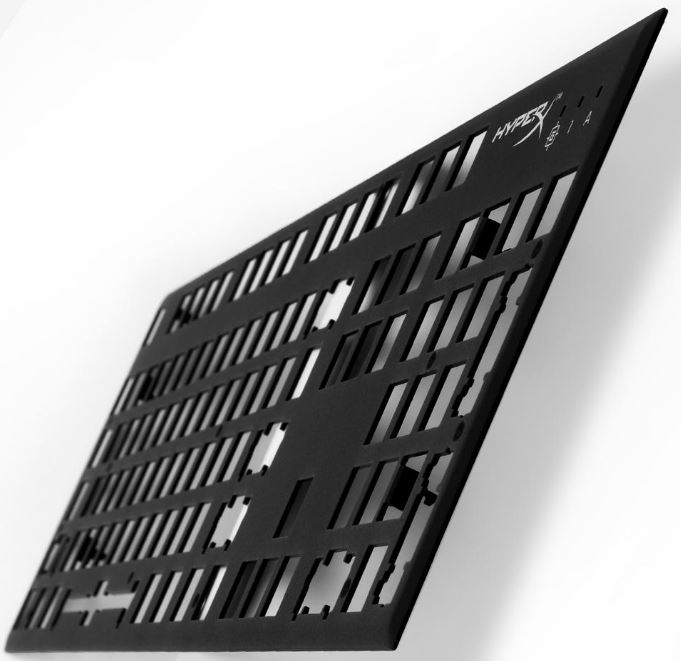 Build Quality
This keyboard is very utilitarian. It's essentially a metal slab with a layer of keys along the top. But every component is incredibly well made. There's no questionable plastic here, nothing but lightweight aluminum alloy that can stand up to any form of abuse. Another great feature is the keyboard comes with a removable, roped USB cable. Roped cables are significantly stronger than plastic ones, as each wire is individually insulated inside. The fabric casing keeps everything protected, and prevents any kind of knotting or tangles.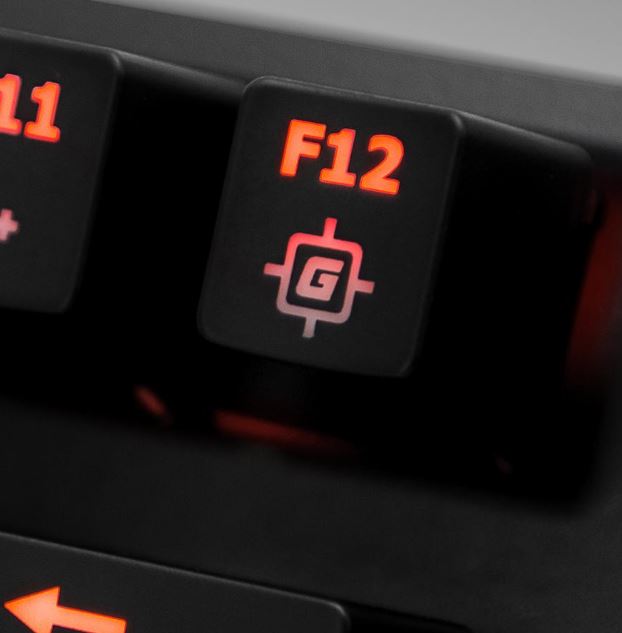 As for the switches, these aren't just the standard Cherry MX Reds. These are the higher end version that use Cherry's gold crosspoint technology. The spring is made out of a heavier metal and gold plated. Because it's heavier, it's able to give an identical tactile response while remaining a little thinner. This means that dirt and debris aren't going to get all caught up in the inner workings. Essentially, it's a self-cleaning switch that won't require any work to keep it running smoothly for many years.
Portability
It can be a real challenge to find a high quality, portable keyboard for gaming. Most portable keyboards have to make sacrifices to the performance in order to get them to fit in a nice compact space. But the HyperX Alloy has a 100% full size key space, so there's not going to be any awkward adjustment time of frustrating hand cramping as you hit the wrong keys. The base is very thin and lightweight. Not only does this make it look incredibly sleek, but it's cut down the weight to the bare minimum.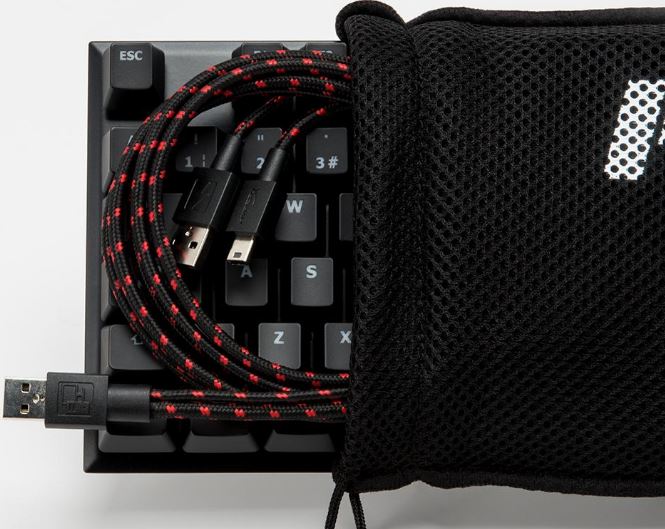 Next is the included mesh travel case. This surprisingly high quality pouch is designed to hold the keyboard so that you don't accidentally knock off any of the key caps or damage it during travel. This is another reason why the removable USB cable is great. You won't have to awkwardly wind it around the keyboard, leaving the end stretched out. Instead, you can just remove it and coil it properly to prevent damage.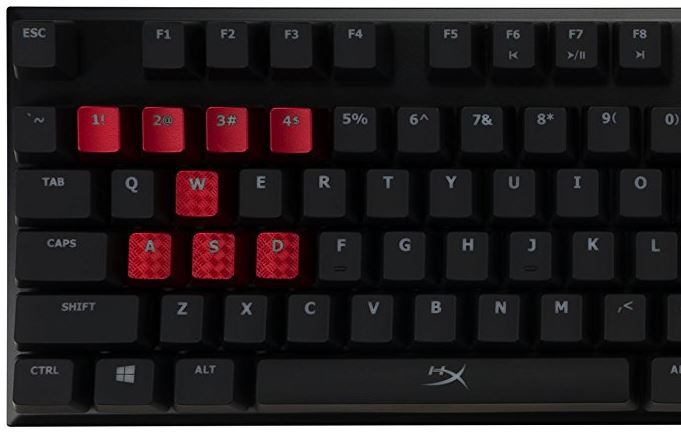 Performance
There are two primary problems that plague affordable keyboards. Usually, when you're buying something in this price range or lower, these are a common and serious problem for gamers. The first is ghosting. Keyboards essentially use a grid or array to determine when a certain key is pressed. This means that if you were to press two keys at exactly the same time, it's possible that one will not be detected. This problem is caused by the way the keys are laid out – when one is depressed, some signals to other keys can be blocked. But the HyperX Alloy has 100% independent key sensors, so ghosting is a thing of the past.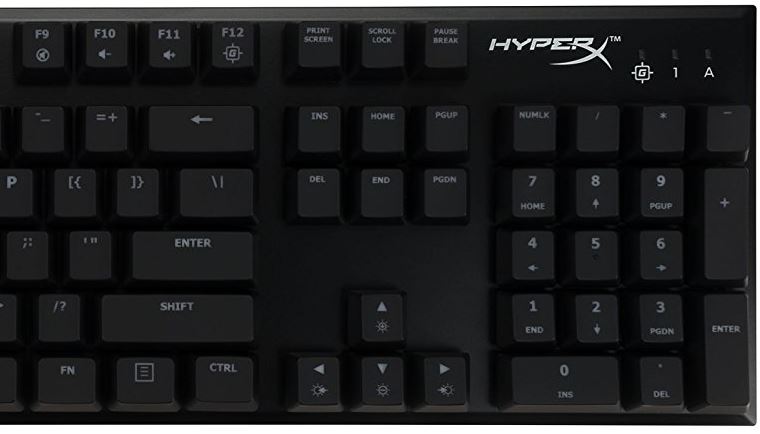 The next problem that keyboards have is what's called N key rollover. Some keyboards can only send a certain number of presses to the computer at once. So if the N rollover was 5, holding down 5 keys would mean that you can press any other one you want, and it will never be properly detected. But this keyboard doesn't have any rollover at all. You could hold down almost every key on the board, and the last one would still work.
But the most important thing about the entire keyboard is how much your individual performance will improve. Generally, typists can expect 20 to 30% improvement in their typing speed when using mechanical switches. Gaming is no different. Because this keyboard uses such high quality switches, the performance improvement you'll notice will be identical to that of any other high end gaming keyboard.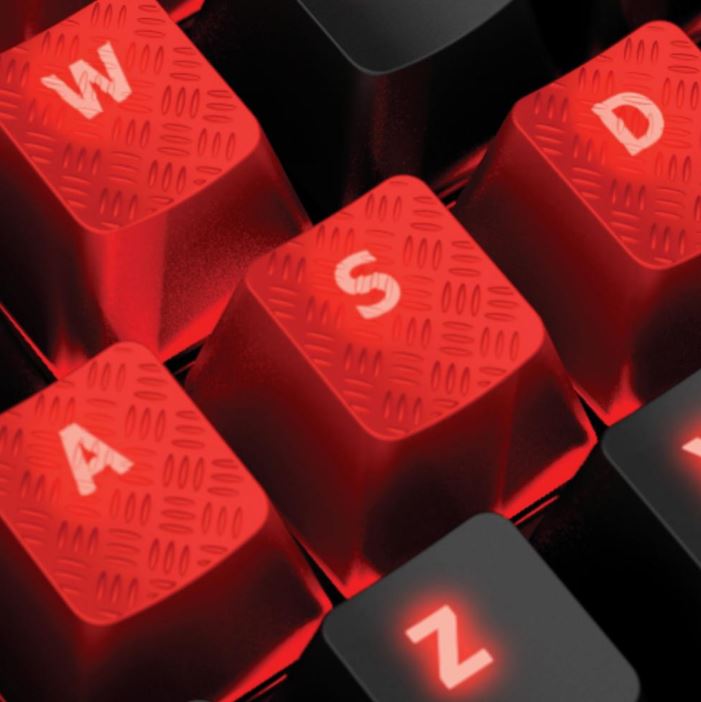 Features
There are a few handy little bonus features that take this keyboard from "good" to "great". First, they've included a USB port on the upper part of the keyboard. This is incredibly useful for quickly throwing in your flash drive, or maybe charging your phone. Next, you'll notice that the red LED back-lighting doesn't just look good, it also makes the keyboard easy to use at night. Finally, they've included a handy key-puller so you can remove the caps in the event you want to clean up debris from in between your keys. Overall, this keyboard has everything you'd expect to see in a model that costs twice the price.
So, Should I Get It?
We regularly review electronics from off-brand manufacturers that manage to hold their own against name brand merchandise. But rarely do we see such a prestigious manufacturer release something that is just as good as competing products, but at a significant discount. After reviewing every little detail of the HyperX Alloy FPS Mechanical Gaming Keyboard, there's only one small flaw we could find: It doesn't include a wrist wrest. But realistically, the included ones are usually pretty poor anyway. Our recommendation is to pick up a high quality keyboard wrist wrest, and pair it with it to have a top of the line unit at an incredibly cheap price.
The only reason you might want a more expensive keyboard is because you like the look of it better. As keyboard enthusiasts ourselves, we can understand the appeal. However, we think it's important to consider how the keyboard is used. If you're the kind of hunt-and-peck typist that's looking at it all the time, maybe design is important for you. But most of the time, we've got our eyes glued to the screen anyway. Our recommendation is to save your money. This keyboard will hold its own against most others on the market, and you can put your savings toward a high quality gaming mouse or other upgrade that'll improve your game play.
Meet Derek, "TechGuru," a 34-year-old technology enthusiast with a deep passion for tech innovations. With extensive experience, he specializes in gaming hardware and software, and has expertise in gadgets, custom PCs, and audio.
Besides writing about tech and reviewing new products, Derek enjoys traveling, hiking, and photography. Committed to keeping up with the latest industry trends, he aims to guide readers in making informed tech decisions.