If there's an unsung hero on every computer desk it would be the keyboard wrist rest. Whether you're a gamer or a remote worker, having a good keyboard rest can make all the difference between maximum comfort or a bout with carpal tunnel syndrome.
There are a lot of keyboard wrist rests on the market, and they all bring at least some degree of relief. However, not all wrist rests are created equally. There are some wrist rests that have the perfect amount of firm support and soft relief. But there are others that are made with cheap materials and don't actually help relieve any tension.
If you spend long hours at the computer and need more comfort then you're in luck. Here are five different keyboard wrist rests that you can choose from to match your work or play style.
Best Overall: Gimars Keyboard Wrist Rest Pad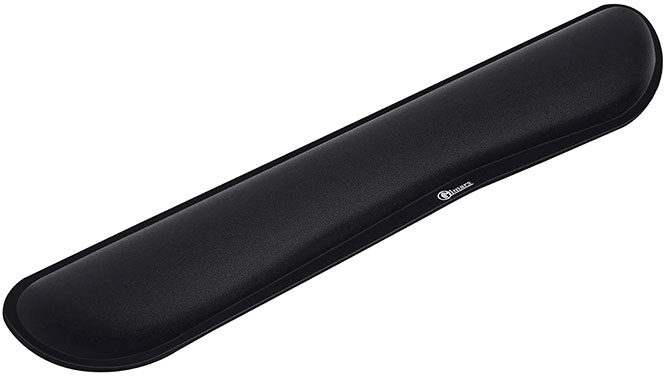 Dimensions: 17.3" x 3.4" x 1".
Material: 63D memory foam.
Our overall best keyboard wrist rest pad goes to this option from Gimars. The Gimars Keyboard Wrist Rest has a plethora of features that make it a great addition to any computer desk.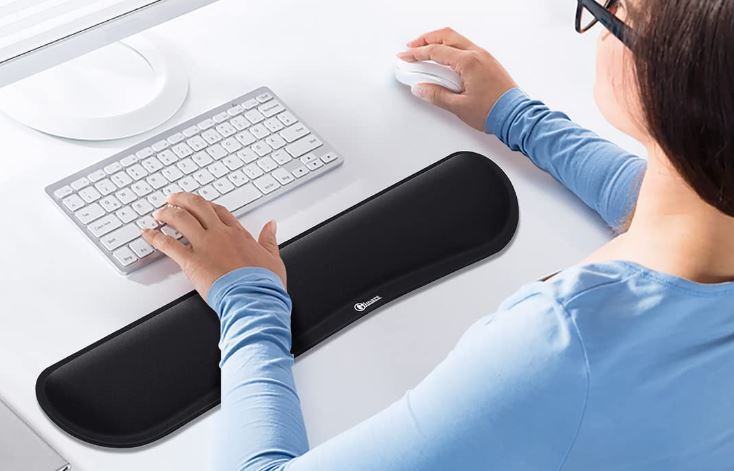 Right out of the gate the first thing you'll notice is that it features an ergonomic "wave" shape that has the perfect spot to place your wrists. This gives it a nice feeling, as though it has already been broken in for you so you do not have to spend any time in discomfort.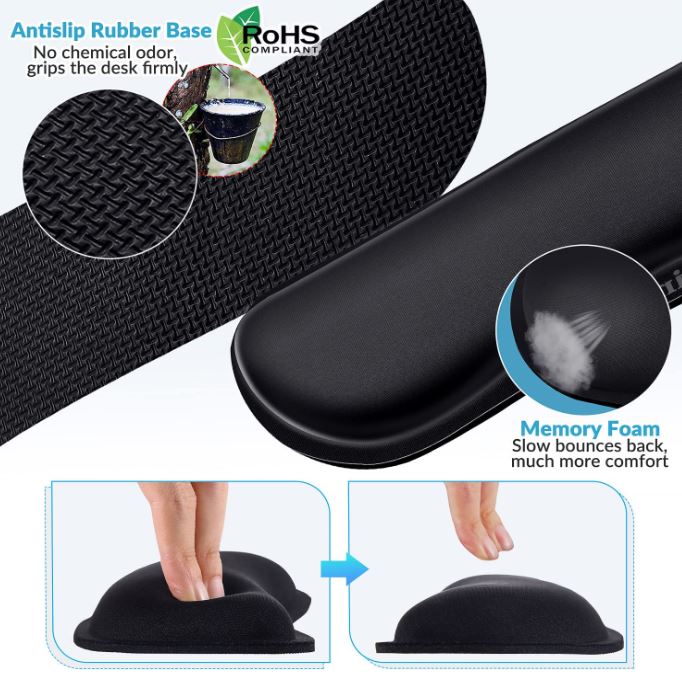 There's textured rubber on the bottom of the pad to prevent any unwanted movement while you're using it. It features a 63D high-density memory foam which is soft enough to make your wrists comfortable but with enough support that it doesn't feel like your wrists are resting on a big marshmallow.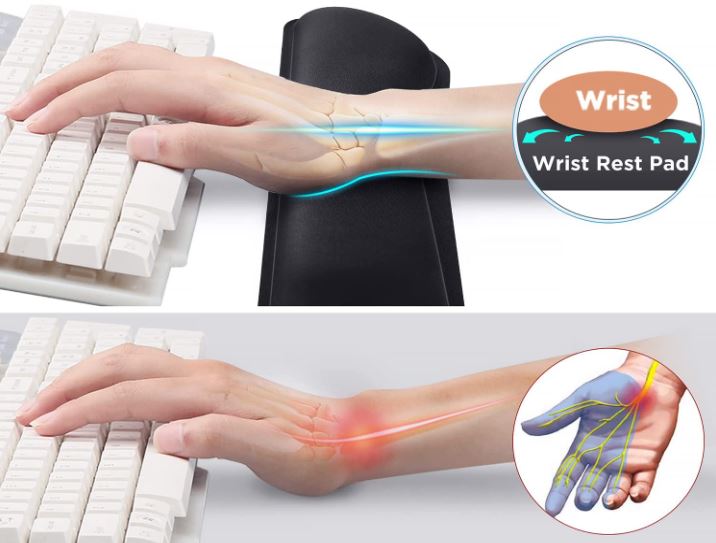 If you're prone to sweating after long periods of keyboard use, there may be times when the lycra material on the outside of the wrist pad can feel uncomfortable. This is a relatively minor issue. Otherwise, the lycra material allows for the wrist pad to breathe and not trap heat for long periods of time. This is especially helpful if you work remotely with your keyboard for a living.
What we liked:
Ergonomic "wave" shape that has an "already broken in" feel.
Memory foam build that has perfect melding of comfort and support.
Breathable lycra exterior that doesn't trap heat.
What we didn't like:
The lycra material, at times, feels uncomfortable.
Best for Gamers: ASUS ROG Gaming Wrist Rest

Dimensions: 14.57" x 3.35" x 1.18"
Material: Rubber
In the world of products designed for gamers there can sometimes be an emphasis placed on aesthetics, sometimes to the detriment of a product's performance. This is, mostly, untrue of the ASUS ROG Gaming Wrist Rest.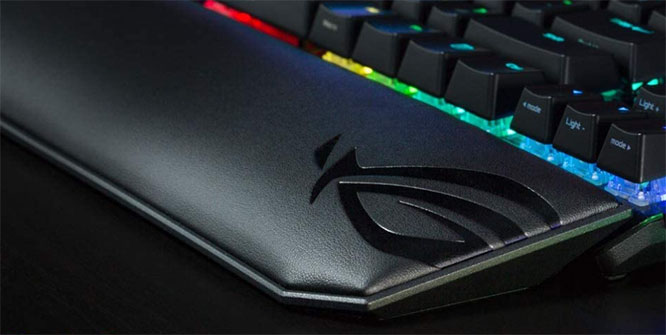 This wrist rest has a high level of durability, making it perfect for those ever-so-rare rage-quit moments. It utilizes an elevated design that provides comfort right out of the box. You may have to break this wrist rest in a little bit before you achieve maximum comfort. This is not a detriment, however. This means that the foam padding will conform to the user's wrist shape over time.
One of the best features of this wrist rest is the leatherette material that covers the padding. Not only does that material give the rest a slick feel, it's also liquid repellent. This means that if you were to spill a drink on it, you could have it cleaned up in no time at all.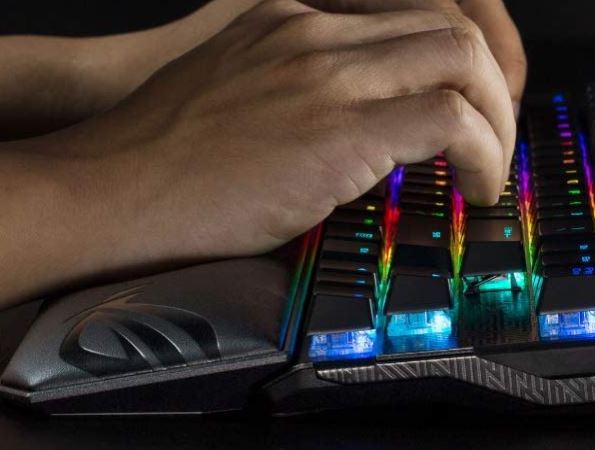 This wrist rest is designed to fit the ROG line of gaming keyboards made by ASUS, so in a way you can think of it as a proprietary wrist rest. This is a bit of a bummer as it means that there are many users who won't gain the full benefit of using it. That's not to say that using it with other keyboards is impossible. In fact, this pad is compatible with numerous other mechanical keyboard models and brands. Rather, it simply means that it was designed with a specific line of products in mind.
What we liked:
Sturdy build.
Lightweight design.
Nice leatherette texture.
Rubber feet grips kept the keyboard wrist from moving around.
What we didn't like:
Designed with only the ROG line of keyboards in mind.
Branding borders on being obnoxious.
Best with Mouse Support: Gorilla Grip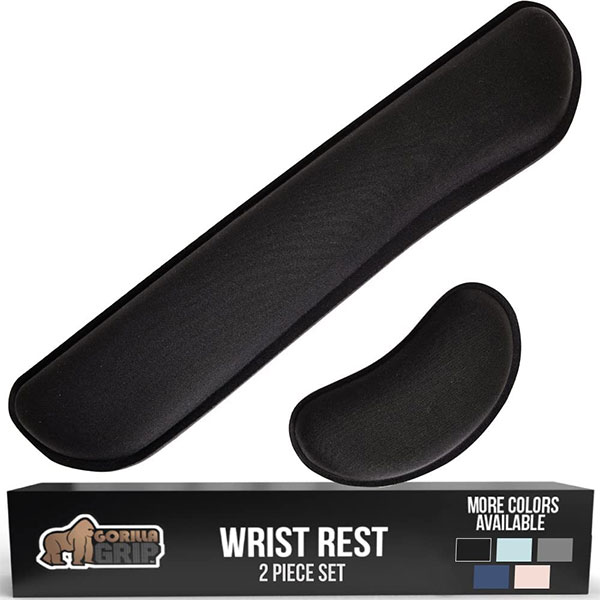 Keyboard Rest Dimensions: 17″ x 3.5"
Mouse Rest Dimensions: 6" x 3.3"
Material: Rubber, foam, spandex.
There have been some pretty great duos throughout history. Batman and Robin, Starsky and Hutch, and peanut butter and jelly just to name a few. In our humble opinion, a keyboard wrist rest with matching mouse support belongs in that pantheon as well, particularly this set from Gorilla Grip.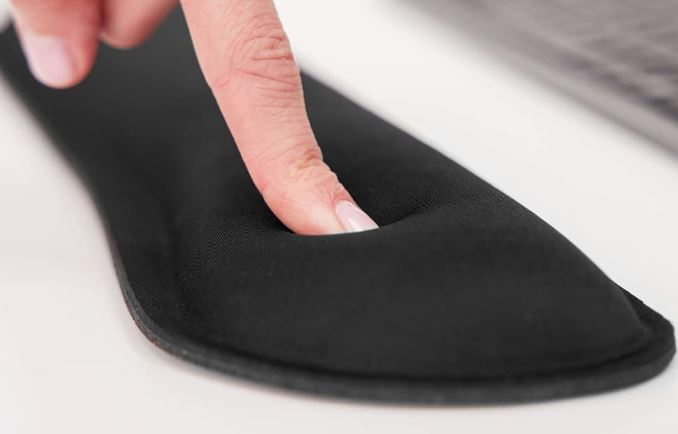 Not only do you get a comfortable memory foam wrist rest for typing, you get a smaller rest designed for mouse use. This is a great value because you're getting two items for the price of one. On top of that, the set comes in different colors, should aesthetics matter to you.

The mouse wrist rest is a smaller version of what the keyboard wrist rest offers, which would be a problem in other models. It's rare to find a keyboard and mouse wrist rest combo where both rests are optimized for keyboard and mouse height. Fortunately, Gorilla Grip's combo has that rarity.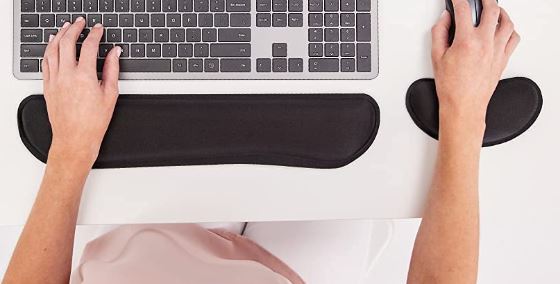 We have all made the mistake of having a drink too close to our keyboard and mouse and dealing with a spill. One bad spill can ruin some wrist rests. The Gorilla Grip keyboard and mouse wrist rests do not have that problem thanks to their liquid repellent exterior. If you should have that unfortunate rare spill occur, you can easily wipe your wrist rest clean with minimal effort.
What we liked:
Great value.
Water repellent.
Foam is at optimal height for keyboard and mouse use.
What we didn't like:
The memory foam is almost too thick.
Best for Compact Keyboards: ENHANCE TKL Wrist Rest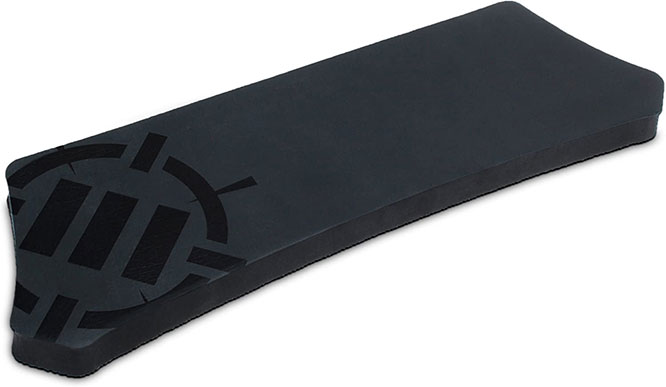 Dimensions: 12" x 4" x 0.8"
Material: Rubber
Compact keyboards have seen a surge in popularity over the last few years. They take up less space, which makes them just about perfect for users who are on the go or users who are trying to get the most out of a limited amount of space. The ENHANCE Tenkeyless Keyboard Wrist Rest is a good option for anybody who utilizes a compact keyboard.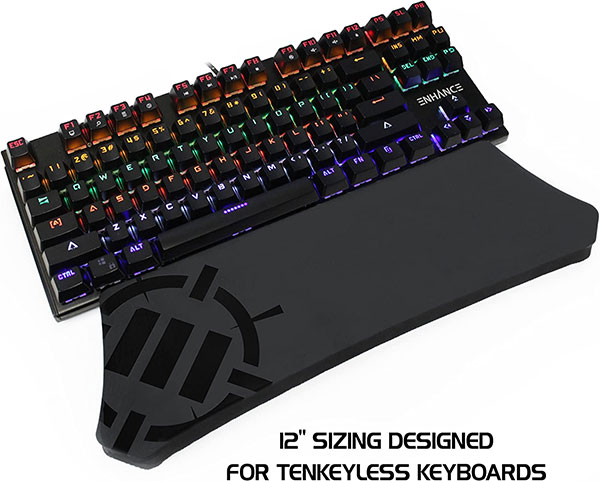 The ENHANCE wrist rest features a durable, thick foam that offers plenty of support. One of the more interesting features is the inward curve at both ends. This curve is designed to accommodate a wrist rest for a mouse, which can "lock" into place on the keyboard.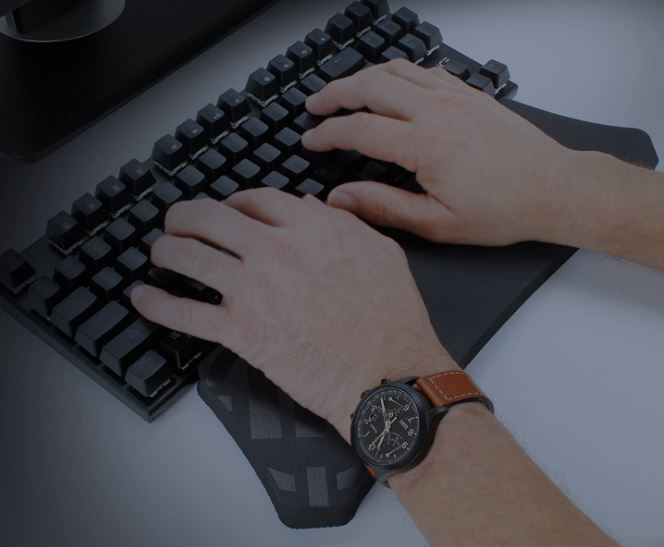 This wrist rest is designed to measure up with most compact keyboards on the market. However, if your compact keyboard is not particularly thick you'll have a small adjustment period due to the thickness of the foam. That's not to say that the foam itself is overly thick. In truth, the foam is less than an inch thick. However, that's thicker than some of the most compact keyboards on the market.

This wrist rest does not have a cloth skin covering the foam. This presents problems because the foam surface can sometimes be "grabby" on the skin, making adjusting over time more frustrating than it should be. This would be a bigger problem if it didn't look so cool. In fact, some would argue that it looks a little too cool. If you're a stickler for form always following function, this may not be the one for you.
It needs to be said that the ENHANCE wrist rest was more expensive than others on this list. This is likely due to it being more specialized in nature compared to others. The quality of the pad is not in question, but your mileage may vary as to whether or not the price is justified.
What we liked:
Interesting "locking" feature for mouse wrist support.
Good foam thickness.
Space saving design.
What we didn't like:
Style over function.
Lack of cloth layering.
Best for Budget: VECUU Keyboard Wrist Rest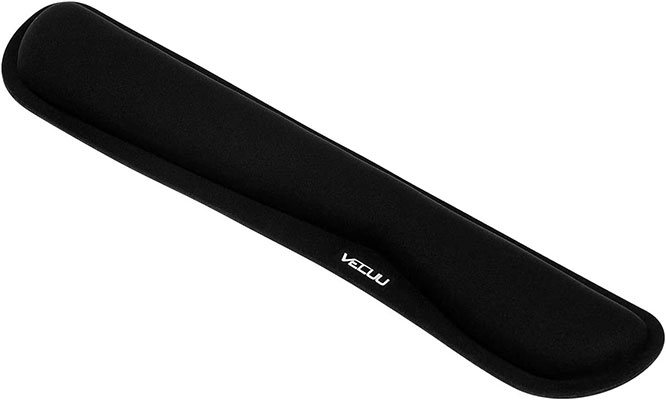 Dimensions: 3.15″ x 0.98″ x 16.9″
Material: Memory foam
At the end of the day it stands to reason that there is only so much innovation that can be had from a foam wrist rest. Sometimes you just need something basic, without any frills. Sometimes you just want to save some money on something that works. This keyboard wrist rest from VECUU fits the bill, as we think it is the best choice for anyone who is on a budget.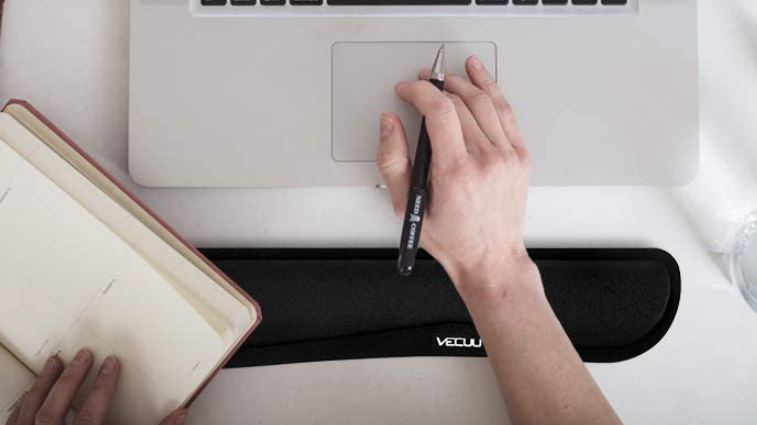 This option features an ergonomic design, something that more expensive options inexplicably don't have. There are grooves where one's wrists would set, so you do not have to worry about breaking it in. It features a 10mm thick, 63D memory foam interior, offering that perfect blend of comfort and support. It is wide enough to accommodate most keyboards at 16.9 inches long, so you will have plenty of room to work with.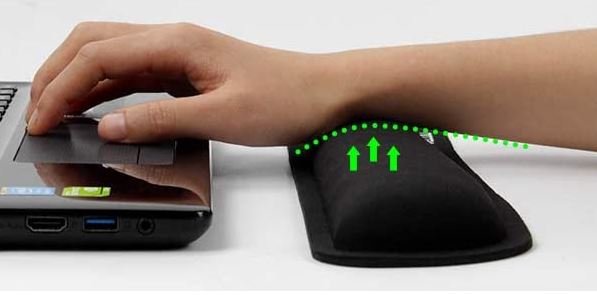 The exterior of the pad has a great non-slip surface that means your wrists won't be slipping and sliding all around the pad. The only drawback is that the texture on the bottom of the pad does not prevent slipping as much as one would want. Adjustments still need to be made when it moves around on the desk.
What we liked:
The price is just right.
Ergonomic design.
What we didn't like:
Bottom texture does not prevent slipping as much as desired.
Factors to Consider When Picking a Keyboard Wrist Rest
Each wrist rest on this list brings something unique to the table, or rather desk. Choosing the right one means taking a closer look at your own computer use and typing habits. When you stop and consider those factors it should become easier to make a choice that will bring you optimum comfort. Here are some factors that may not have occurred to you.
Keyboard size
Having a large keyboard wrist rest certainly may seem like a benefit. However, if it's longer than your keyboard you may find it to be unwieldy on your desk. Having a pad that's too small for your keyboard may cause discomfort such as cramps. Make sure you have the right dimensions for your keyboard before committing to any specific option.
Materials
It doesn't matter how high quality a material may be, if you find that particular material unpleasant, you won't want it on your wrist rest. Make sure that you know beforehand what materials are used.
Foam density
There's sometimes confusion between foam thickness and foam density. Thickness can certainly affect how a foam may feel on the wrist, but density is arguably more important. If the foam density is too low it won't offer enough support. If it's too dense it won't be comfortable.
Meet Derek, "TechGuru," a 34-year-old technology enthusiast with a deep passion for tech innovations. With extensive experience, he specializes in gaming hardware and software, and has expertise in gadgets, custom PCs, and audio.
Besides writing about tech and reviewing new products, Derek enjoys traveling, hiking, and photography. Committed to keeping up with the latest industry trends, he aims to guide readers in making informed tech decisions.