EcoFlow Delta 2
Pros
Powers 12 devices simultaneously.
Extremely fast AC input for recharging.
Decently lightweight for its capacity.
Rated for 3,000+ duty cycles.
Impressive 5 year warranty period.
Cons
Two-sided design can be awkward.
Solar charging is a bit slow.
Relatively expensive.
These days, we put a lot of stock in our electronic devices. If you were born in the mid-1980s or earlier, you probably remember when a power outage was no big deal. You just lit some candles. And if the power outage was particularly long, you went down to the store for some ice for your fridge.
But today, a power outage is a bigger deal. For one thing, old-fashioned landlines didn't require power to operate. Unless the phone line was also down – a distinct possibility – you could still make emergency calls. If you're not able to recharge your smartphone, you risk being truly out of contact. Add to that our laptops, tablets, and medical devices like CPAP machines, and a backup power supply makes sense.
Today, we're going to review the EcoFlow Delta 2. This is a robust portable power station that can power 12 devices at the same time. But there are many factors that go into a good power station, and that's only one of them.
To find out if it's the right fit for you, you'll need to know a lot more. Let's take a deep dive into the Delta 2's design and features. After that, we'll have enough information to deliver a verdict.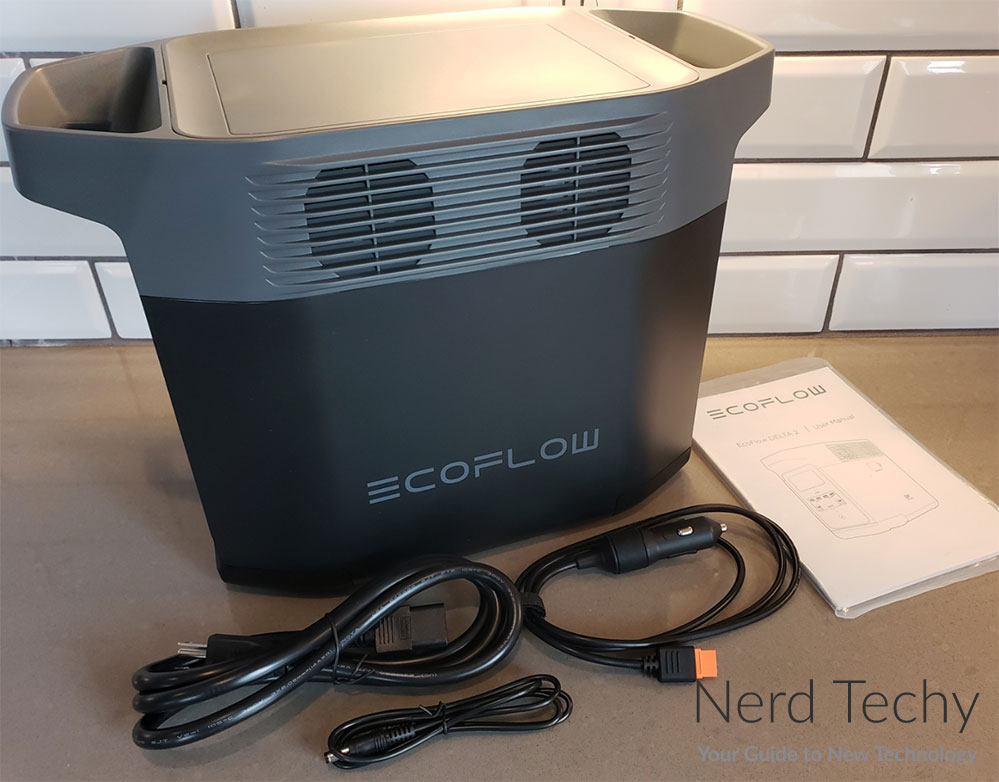 Design and Durability
The EcoFlow Delta 2 has a sturdy, heavy-duty plastic housing with an inner metal frame. The lower portion is matte black, while the upper portion is steel grey. It's more or less rectangular in shape, although the corners are rounded off. It measures 8.3 inches wide, 15.7 inches deep, and 11.3 inches tall. And at 27 pounds, it's not too heavy to carry around with you. The upper part of the housing also sports a pair of molded handles at the front and back. These make it even easier to transport.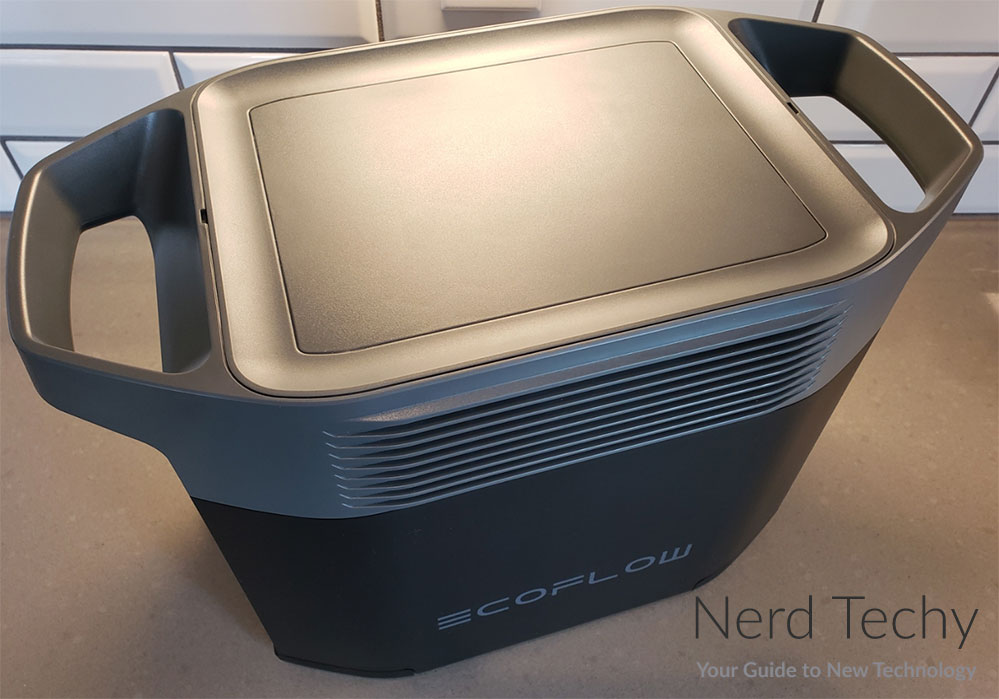 The general design of the power station is a bit unusual. Instead of a broad front panel with all of the ports on it, the broader panels are on the sides. The ports themselves are split between the narrower front and back, which can make placement a challenge. You need to keep all four sides clear to allow for ventilation and still access all the outlets.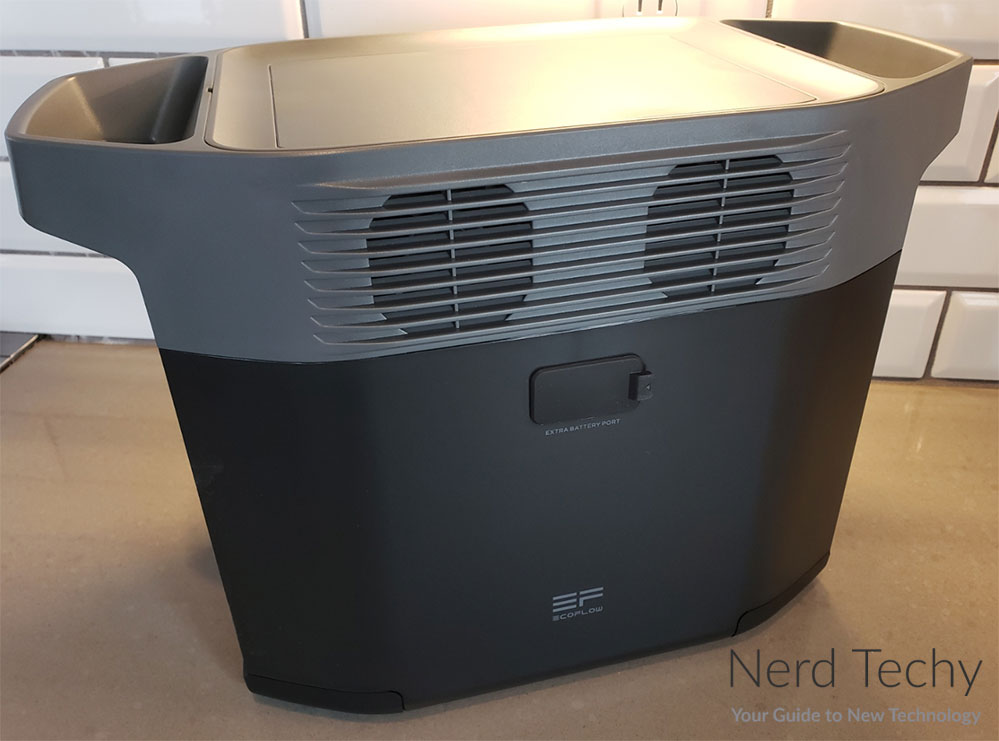 The sides of the housing each have a set of large vents near the top. These are designed for cooling, so air can flow through the unit and cool the internal components. There's a pair of built-in fans to help with this, and they kick in when the battery is under heavy load. They work well, but they also get a bit loud, which can be annoying. In addition, you'll see a single proprietary port on the right side of the housing. We'll get back to it later.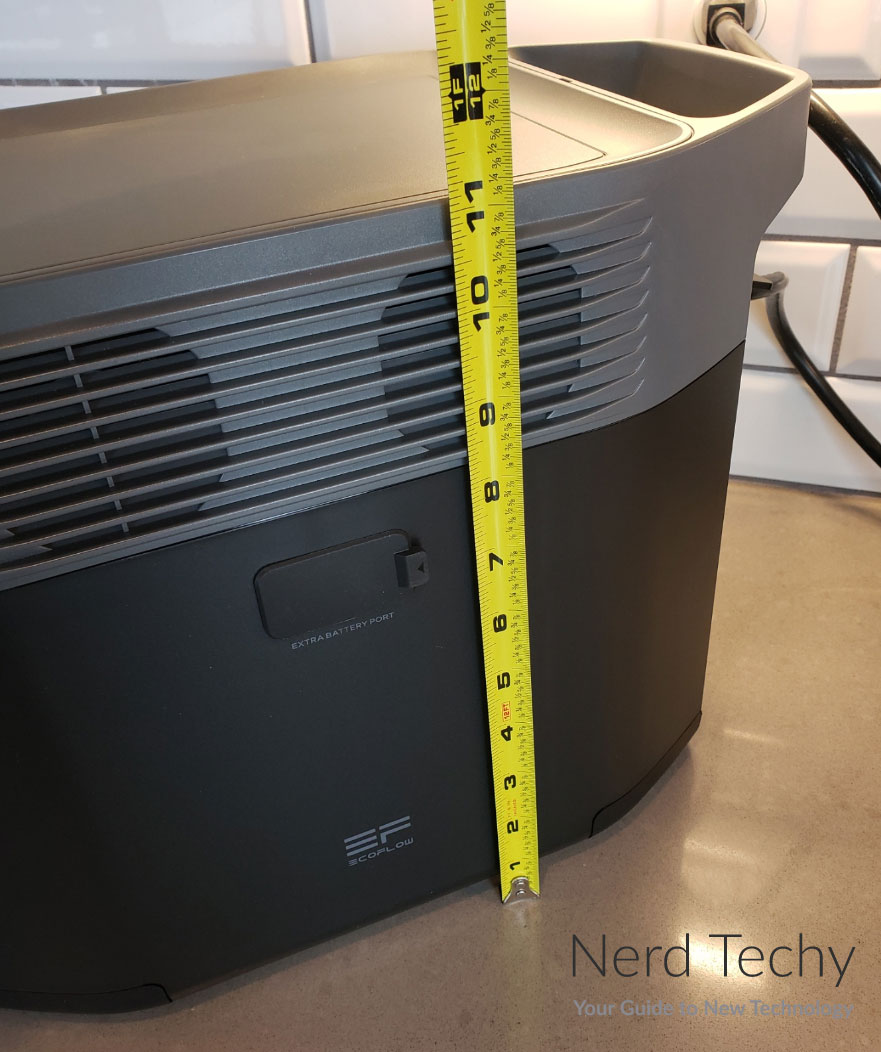 The Delta 2 is backed by EcoFlow's 5-year warranty, which is among the best in the industry. It's a particularly great value for heavy users, since you know you're getting a reliable power supply.
We already mentioned that this is an easy-to-transport power station. But what if you want something even lighter? In that case, the EcoFlow River Mini is a solid choice. It's ultra-compact, and supports wireless charging as well as wired. Then again, it also has far less battery capacity.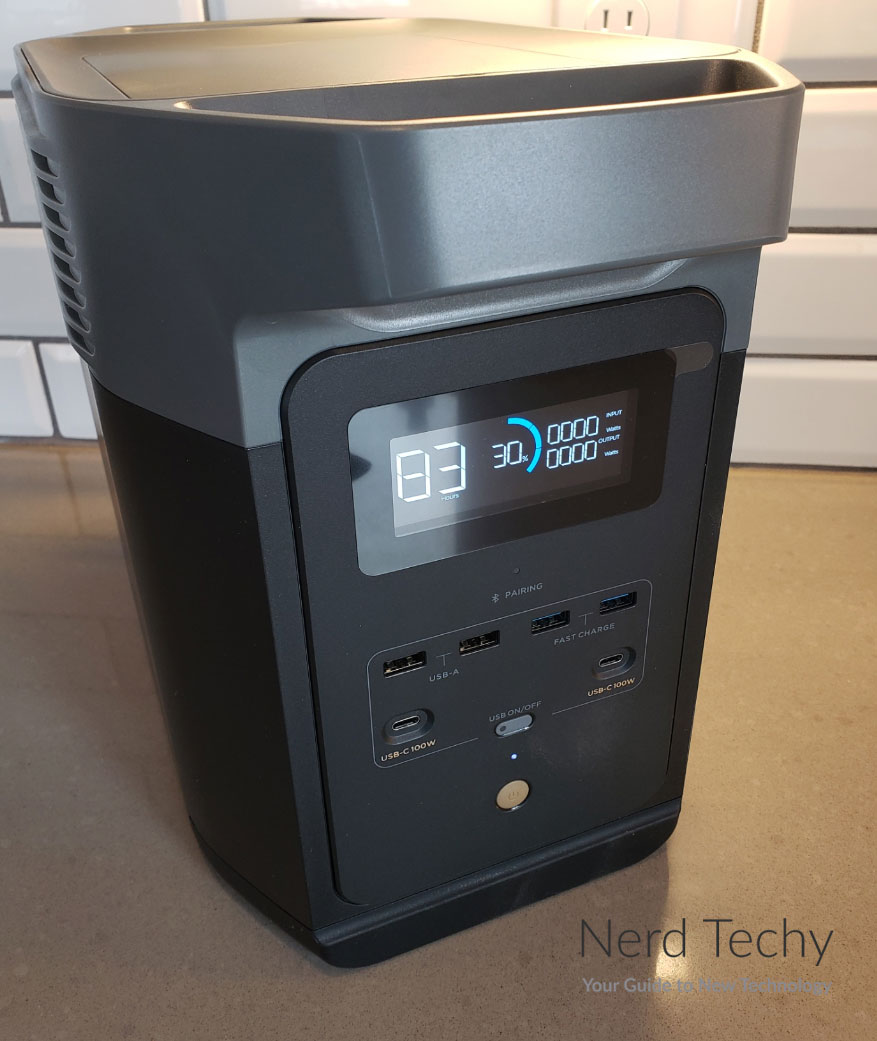 Ports and Display
The front of the Delta 2 sports an easy-to-read LCD display. Smack in the center is the current battery percentage, with a blue visual battery meter ring around it. To the left is your estimated remaining time. This can go up or down as you plug in or unplug devices. To the right is the incoming wattage, as well as the outgoing wattage. Just beneath the screen is a blue pip that lets you know when the Bluetooth is connected.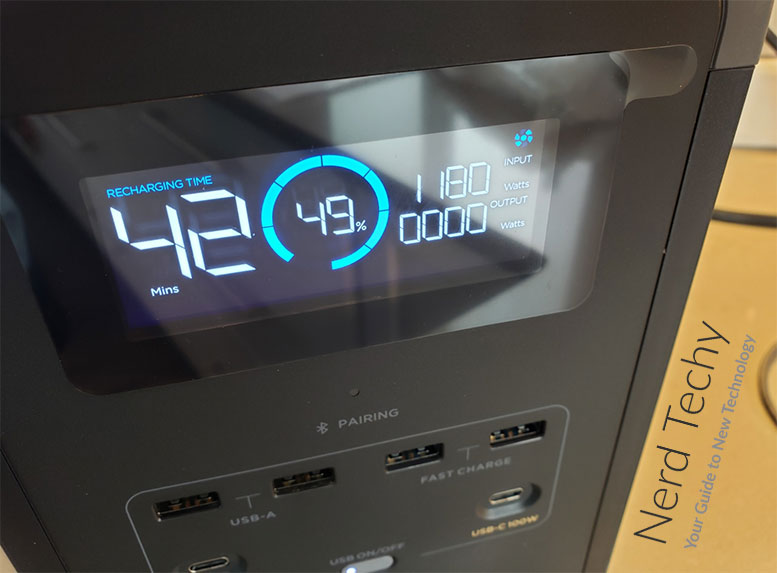 Beneath this Bluetooth indicator, you'll find the USB ports, starting with a row of four USB Type-A ports. The two on the left are standard USB ports with black inner tabs. The two on the right are quick charge ports with blue tabs. Beneath the Type-A ports is a pair of USB Type-C ports, spaced out to the sides.
At the bottom of all this is a grey control button with a built-in LED. This button allows you to turn the USB ports on or off as a group in order to save power. Even if nothing is plugged in, the ports can still draw "vampire power" if they're not turned off. The large yellow main power button at the very bottom turns the whole power station on and off.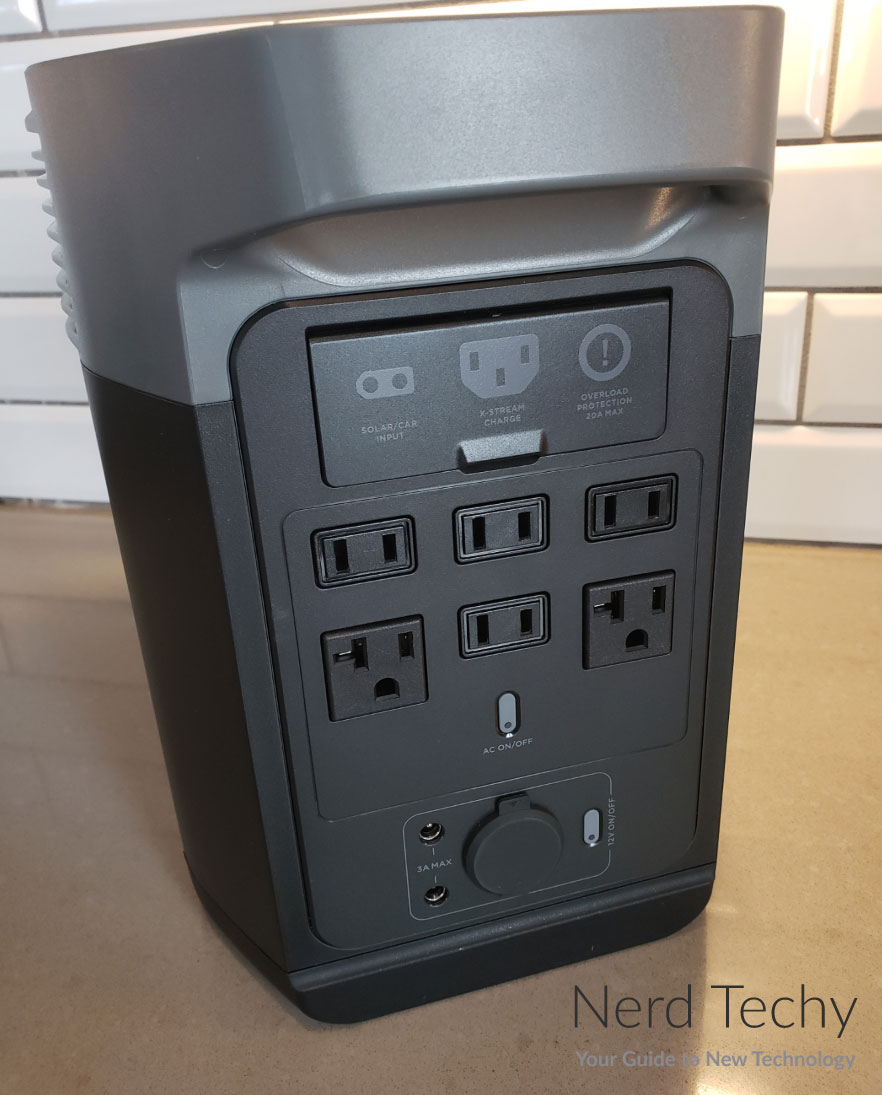 The rest of the ports are located on the back of the housing, starting with the charging inputs at the top. These inputs are shielded by a flip-up plastic cover that keeps them safe when they're not in use. There's also a yellow warning border around them so you know not to use them for charging your devices. In all, there are three ports: a solar input at the left, an AC port in the center, and a DC port at the right.
Beneath this, you'll find the AC power outlets. There are four un-grounded outlets, along with a pair of three-prong grounded outlets. At the bottom is a pair of barrel-shaped DC ports, along with an automotive DC power socket. Both the AC and the DC outlets have separate group control buttons, each with an indicator LED.
Battery Capacity and Recharging
The Delta 2's internal battery has a capacity of 1,024Wh. That's enough to charge an iPhone 14 approximately 75 times! You can run a fridge for around 8-12 hours depending on the size, and a car fridge for more than a day. A large CPAP machine will have enough charge for two nights, and a small one will last for three. That's a lot of juice, and it's all the more impressive when you consider the relatively small size.
You can charge in three ways: via AC power, DC power, or solar. AC charging is exceptionally fast, with 1,200 watts of maximum charging power. This will charge a dead battery to 80% within 50 minutes, with a full charge in less than 90 minutes.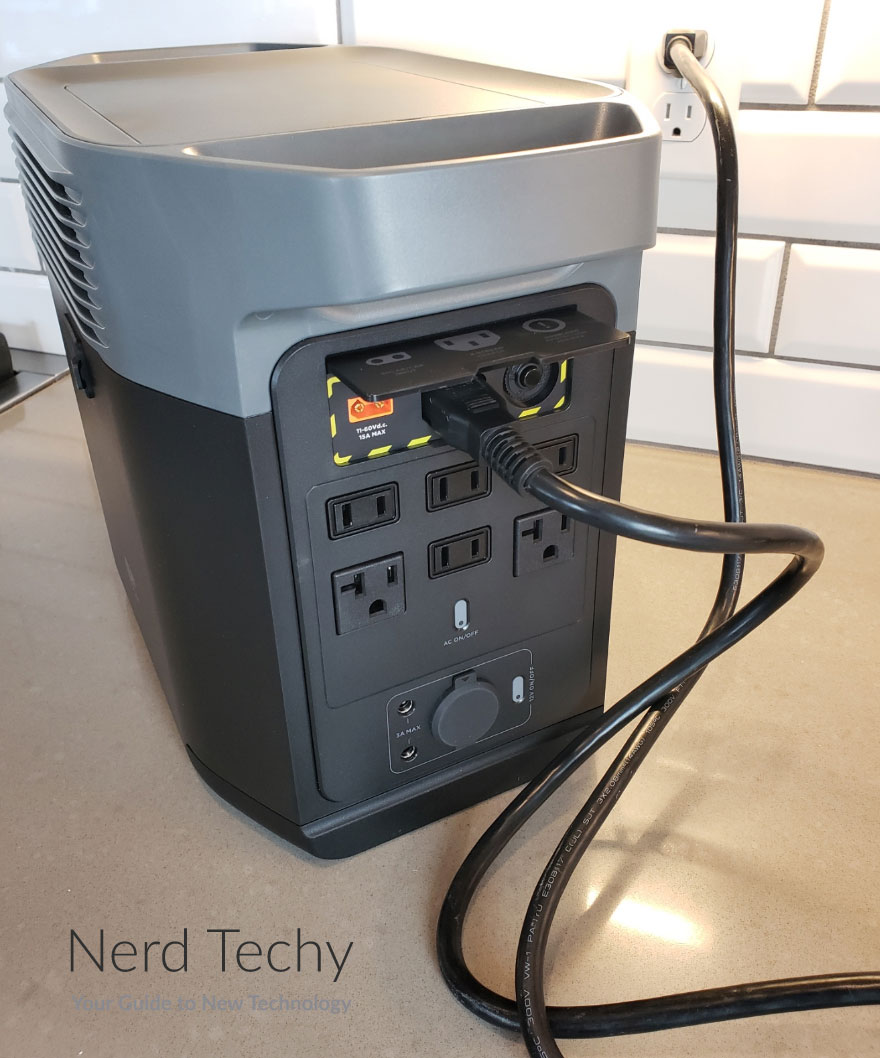 The theoretical maximum for solar charging is 500 watts, which could charge the battery in three hours. In practice, you'd be hard-pressed to get anywhere near that. For one thing, you'd need an array of five 100-watt solar panels. For another thing, you'd need those panels to be running at peak efficiency under full sunlight. In reality, solar charging tends to be on the slow side, especially in winter.
DC charging takes longer than AC charging, but it's a convenient option when you're on the road. The kit includes an AC power cable, a DC automotive cable, and a barrel-shaped to barrel-shaped adapter. There's no solar adapter, but that should come with your solar panel anyway.
You can expand up to three times the capacity by adding one or two extra batteries. These connects to the ports in the sides with a proprietary cable. In this way, you can potentially triple your capacity to 3,072Wh.
If you need even more capacity, check out the EcoFlow Delta Max. It holds 2,000Wh of power all by itself, and it can expand to 6,000Wh with extra batteries. It also has a higher discharge rate, but it's big, heavy, and bulky.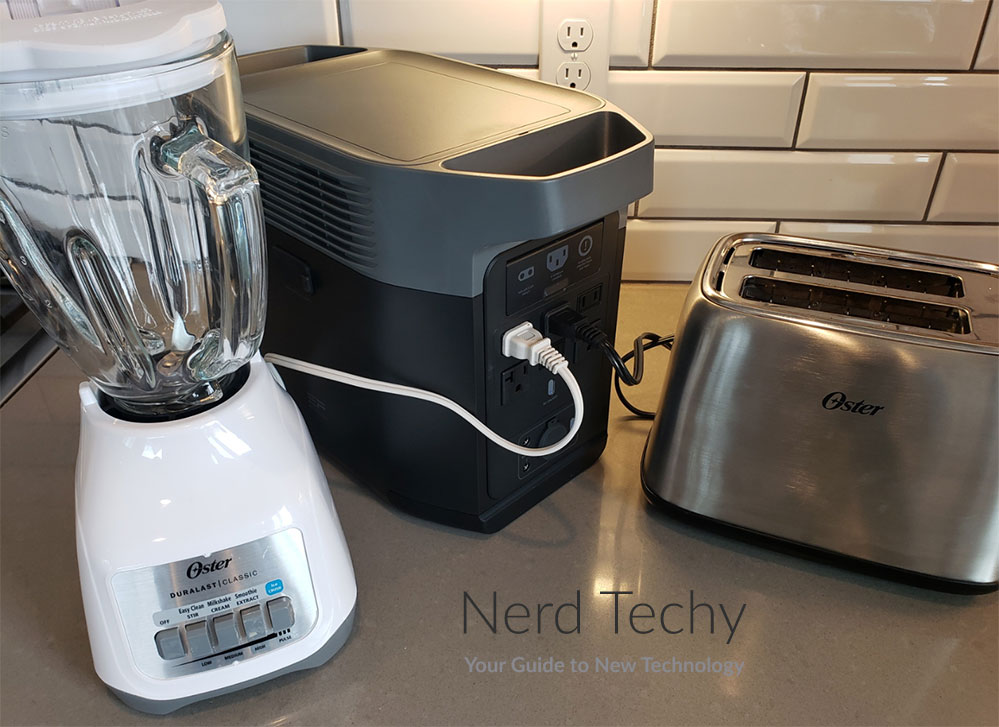 Charging Capabilities
The Delta 2 has a maximum total discharge rate of 2,200 watts. That's a total between all outlets and ports. For any individual AC outlet, you can draw up to 1,800 watts. However, the 3-prong outlets are 20-amp circuits, and all of them have a surge rating of 2,700 watts. This means you can run compressor-driven devices like fridges and coolers.
The ordinary USB Type-A ports are 12-watt ports, while the quick charge ports provide 18 watts. That's 50% more charging power for many common smartphones. The USB Type-C ports are even more powerful, with up to 100 watts of PD current. That's the fastest possible power delivery available right now, and it can run even the most demanding laptops. You can charge your MacBook Pro 16" and use it at the same time.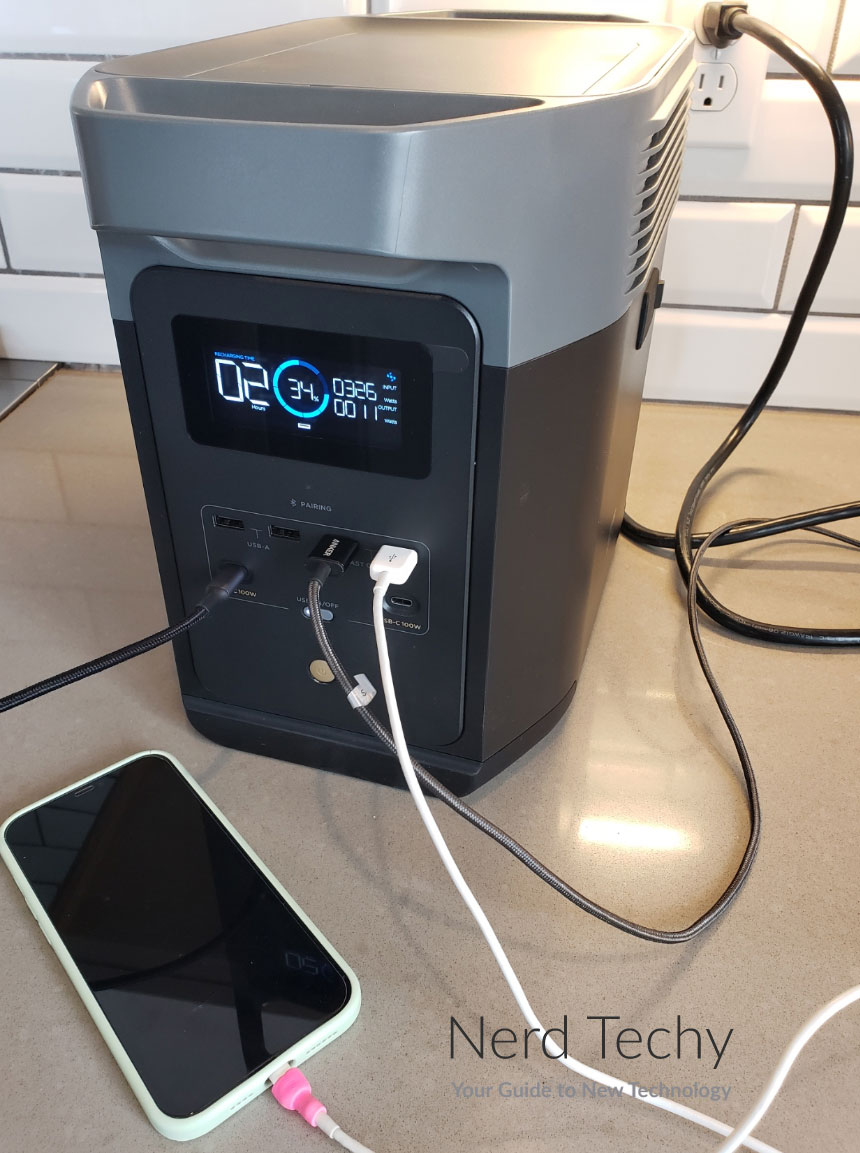 The DC automotive port supplies standard automotive power. You can use your car vacuum or similar device without turning on your engine. The barrel-shaped DC ports provide 36 watts, the standard wattage for drones.
Safety and Extras
The Delta 2's battery uses LiFePO4 cells, which are the safest, most efficient technology available. They're also incredibly long-lasting, with a duty rating of 3,000 cycles. This means that after 3,000 charges and discharges, the battery will retail 80% of its original capacity.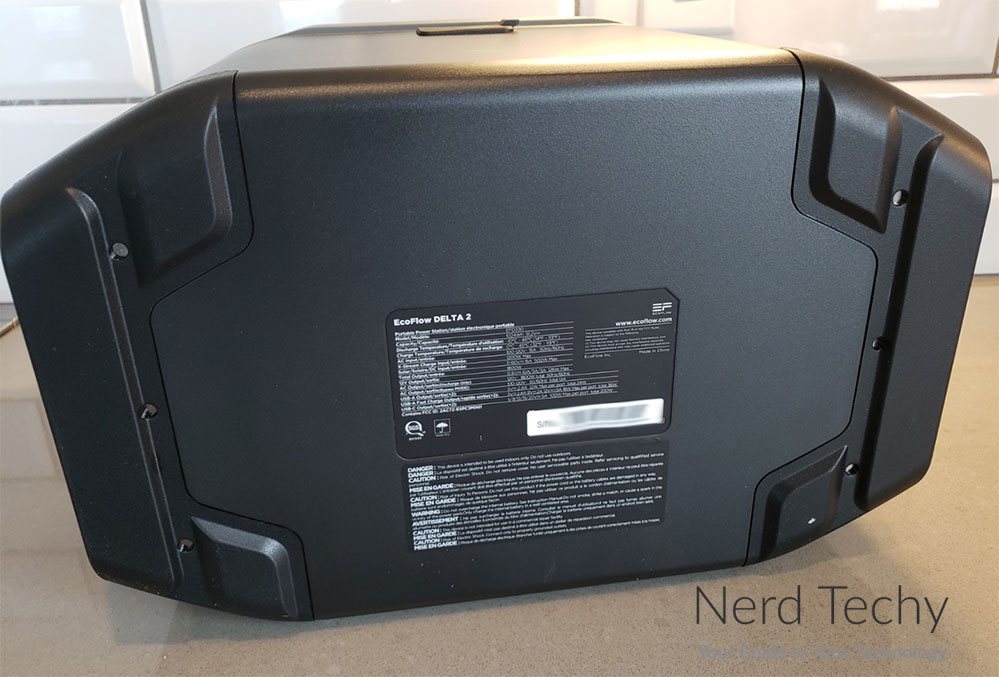 In addition to that, there's a battery management system with a number of safety features. Short-circuits and other hazards pose no danger to your devices. And with pure sine wave power, the AC outlets are safe for your most sensitive devices. They won't damage your CPAP machine like many inverters will.
This system can also be used as an uninterruptable power supply. Plug a device into it, and plug the power station into the wall. The wall power will simply pass through into your device. If the power goes out, the Delta 2 will instantly kick in, so your device continues to draw power.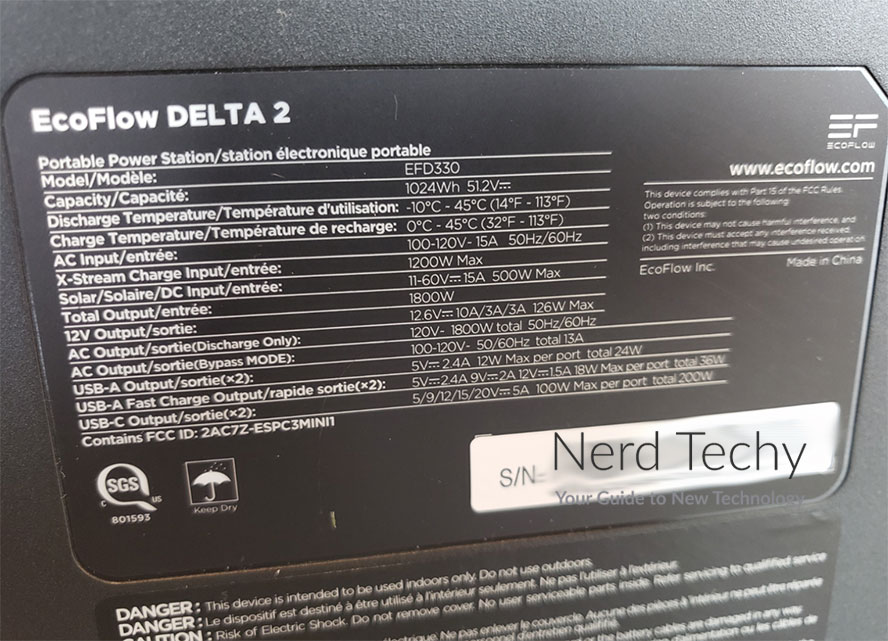 You can download an optional smartphone app to get more control over the power station. It has a straightforward interface, with much of the same information and controls as the on-board display and buttons. However, you can also customize the wattage on individual ports. This is a power-user feature and not something most people will do every day. But it's still nice to have the capability.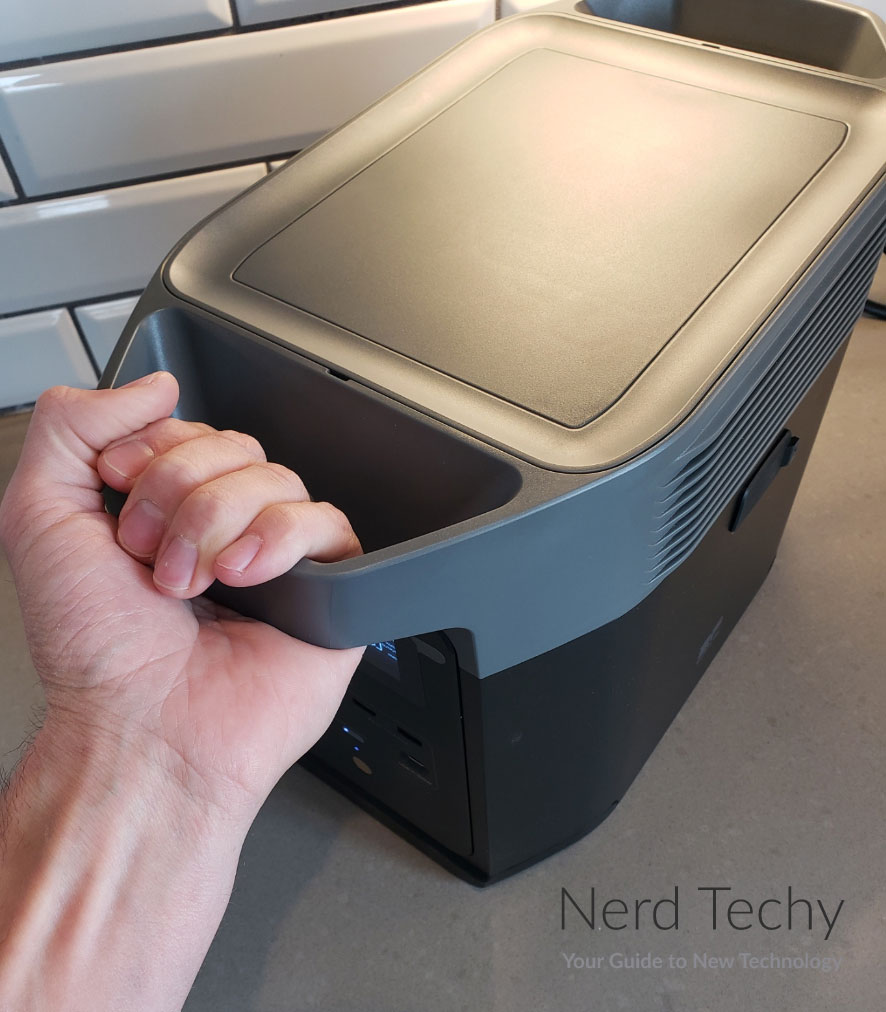 Final Verdict
The EcoFlow Delta 2 packs a lot of power into a small package. Despite being relatively portable, it delivers 1,024Wh of power at a rate of up to 1,800 watts. It can recharge in 90 minutes or less via any standard wall outlet, and also via solar or a vehicle's 12v port. And with plenty of safety features, it's a reliable backup system in the event of an emergency.
In our opinion, the Delta 2 is one of the best new-release portable power stations available. The combination of features with the overall build quality is superb. If you have the budget, it's definitely a worthwhile investment.