Dreo Macro Max S
Pros
Removes even the tiniest particles.
Very large coverage area.
Attractive design with a unique lighting effect.
Simple, straightforward operation.
Runs quiet.
Cons
Cannot replace individual filter stages.
Smells like plastic the first time you run it.
In the past several years, people have become more conscious of their indoor air quality. Part of this is due to Covid, but that's a more recent phenomenon. The fact is, people have been becoming more health-conscious for some time. But there's another, equally important trends: the way we build our homes.
Energy efficiency improvements have been good news for the environment. In today's world of rising energy prices, it's also good news for your budget. But it also means that there's not a lot of fresh air getting into your home.
Note: At no extra cost to you, we may earn a commission for purchases using our links. Learn more.
Old drafty windows are out and double-paned glass is in. We use better weather-stripping around our doors, and all new homes have home wrap applied. Mold, pollen, and other irritants can get trapped inside and build up over time. If you don't have a good air filter, you may find yourself dealing with allergies or other health issues.
Today, we'll be reviewing the Dreo Macro Max S. This is a mid-sized air purifier with an outsized filtration capability. But every house is different. Is this the right purifier for yours? To find out, we'll need to dig deeper into its features, benefits, and drawbacks. Once we have a clearer handle on what we're dealing with, we'll deliver our verdict. Let's begin!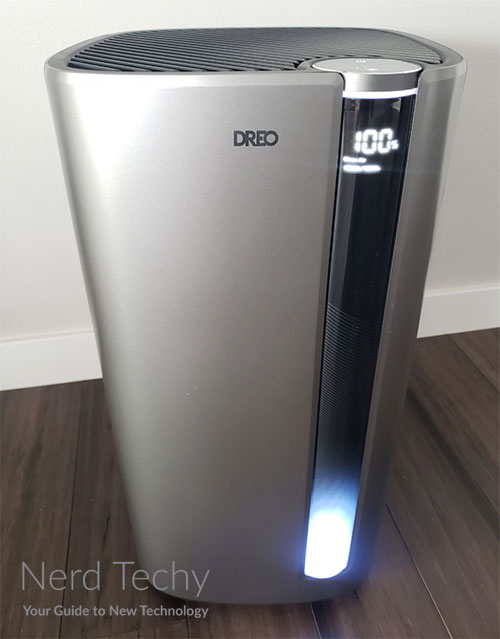 Overall Design
The Dreo Macro Max S is constructed from a matte grey finish. The plastic is smooth and durable, and it's easy to dust off. The overall shape is rectangular, with a square footprint. It measures 11 inches square, with a height of 21 inches, and weighs in at 11.62 pounds. This makes it reasonably lightweight and easy to move around, especially considering the size. The base is black, and slightly smaller than the main housing. This helps to keep the grey portion elevated when it's sitting in a carpet, and it's very stable.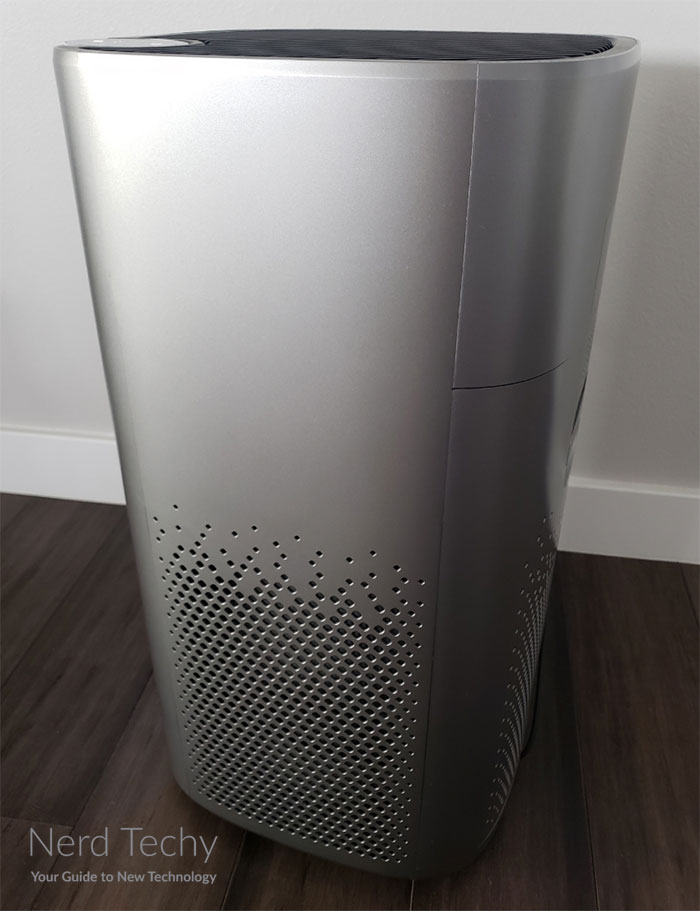 The intake vents are located on the sides and back of the housing. The vents are a grid of diamond-shaped holes, which taper to smaller holes towards the top. These allow air to flow in from all three sides. Meanwhile, the outflow vents are located on the top. This is a black panel with diagonal louvers which support a high air volume. The bad news is that you can't obstruct any of the sides during operation. The Macro Max S works best when it's positioned in the middle of a room. Or at least away from the wall a bit. That way, there's plenty of clearance around all the vents.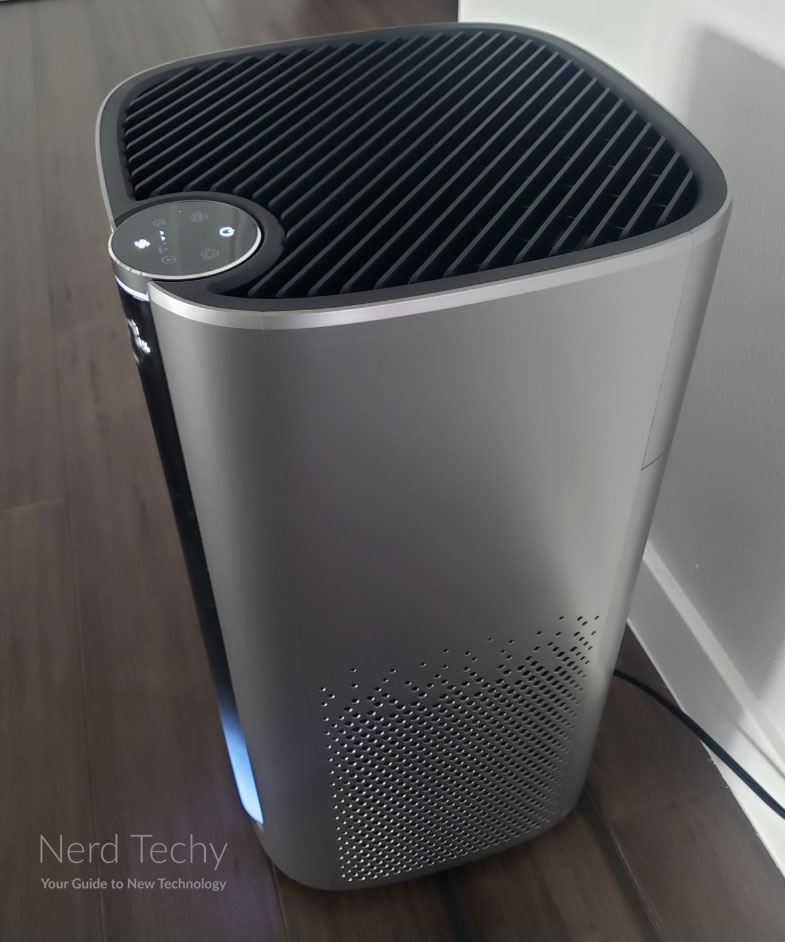 On the front of the housing, you'll notice a distinctive vertical black bar. The top, black portion is a display panel, which we'll get to momentarily. But the lower, colored portion functions as a visual air quality indicator. When the quality is bad, it shines red. As the quality improves, the bar will turn to orange, then teal, and eventually blue. If you want a quick look at how your air is doing, you've got it.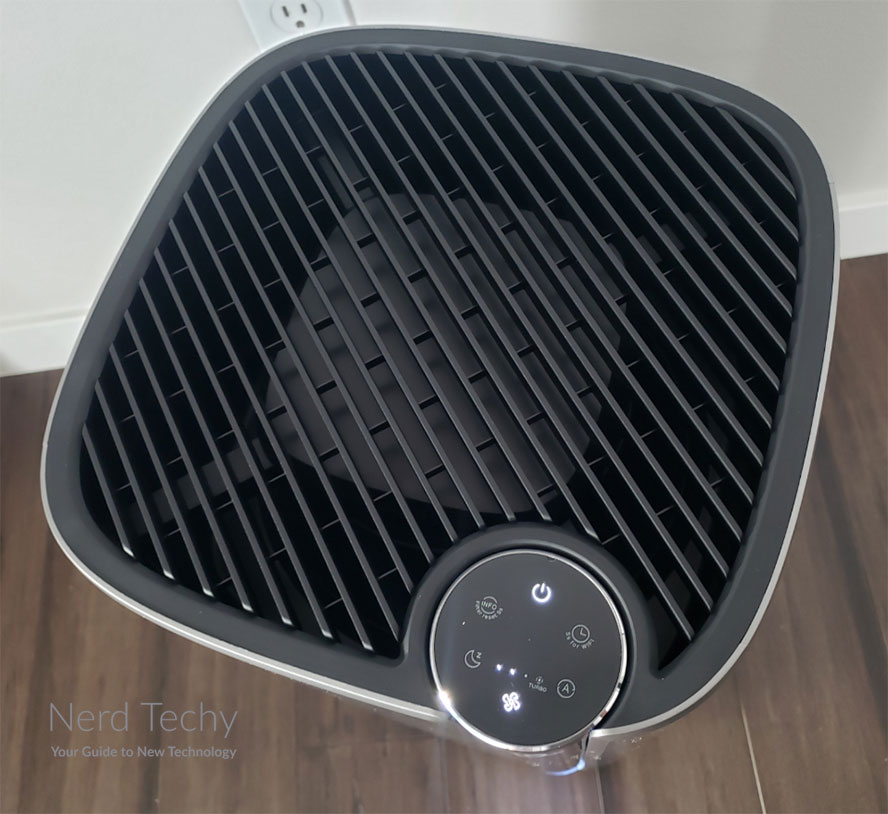 Controls
The display panel gives you an even more accurate measure of your air's quality. Instead of four colors, it will show a percentage readout. The higher the percentage, the cleaner your air. Beneath this is a little bar indicator that shows your estimated remaining filter life. Under the filter life bar is a series of further indicators that let you see your current settings. You'll be able to see what mode you're running, and whether the child lock is engaged. There's also a filter replacement light.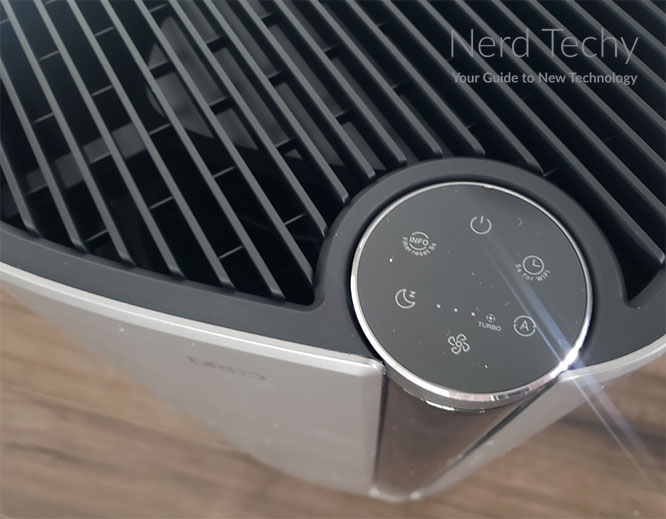 At the top of the housing, on a small disc, you'll find a set of soft touch controls. These are easy to operate, and beep to let you know they've been actuated.
To begin with, there's a power button, which should be self-explanatory. The timer button with the little clock icon can adjust the timer between 1 and 12 hours. Or you can leave it on and keep it on. A fan speed button allows you to adjust the power or activate auto mode. A set of pips indicate your current speed, so you can see it at a glance. There's also a reset button for the filter indicator light.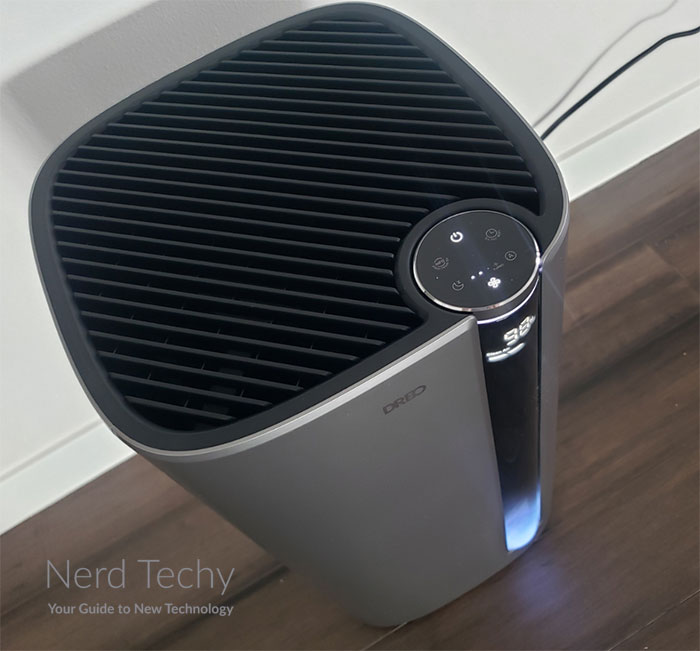 If you prefer, you can use Amazon Alexa or Google Home Assistant to control the filter. This is convenient, since you don't have to be in the same room. As long as your smart home assistant can hear you, you can change your filter's settings.
Dreo is well-known for their air moving technology. If you don't need to clean your air, just move it around, check out the Dreo Pilot Max. It's a powerful bladeless tower fan, and it comes with its own set of app controls.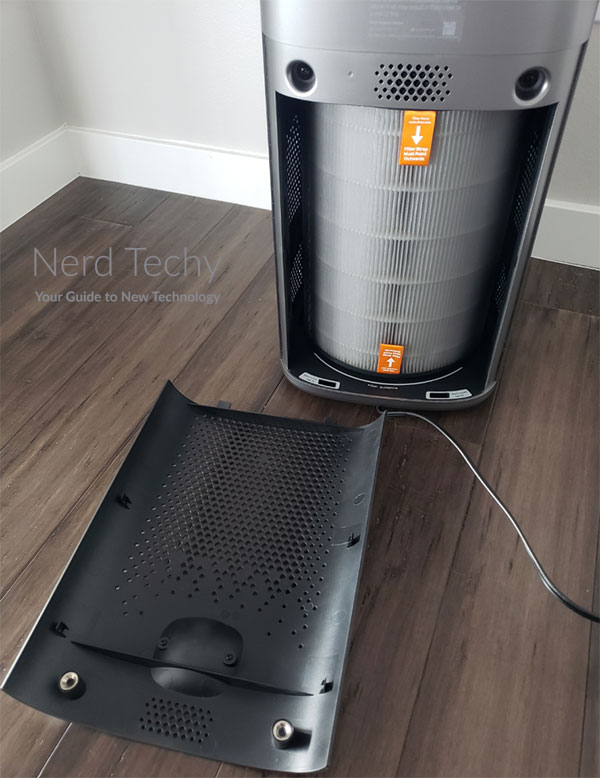 Filtration System
The Macro Max S utilizes a three-stage filtration system. It's a large cylinder, with a mesh pre-filter layer around the outside. Inside of the pre-filter is the True HEPA filter, which is the white accordion-style layer. In the very center is the activated carbon filter. The all-in-one design is convenient and easy to change. However, you have to change all three layers even if only one of them is saturated.
If you're looking for a more modular filter system, consider the Okaysou Apollo 818. It's a four-layer air purifier with a cold catalyst layer to remove more odors and VOCs. More to the point, each layer is individually replaceable. But it's a bit on the large side, and it also doesn't work with any smartphone app.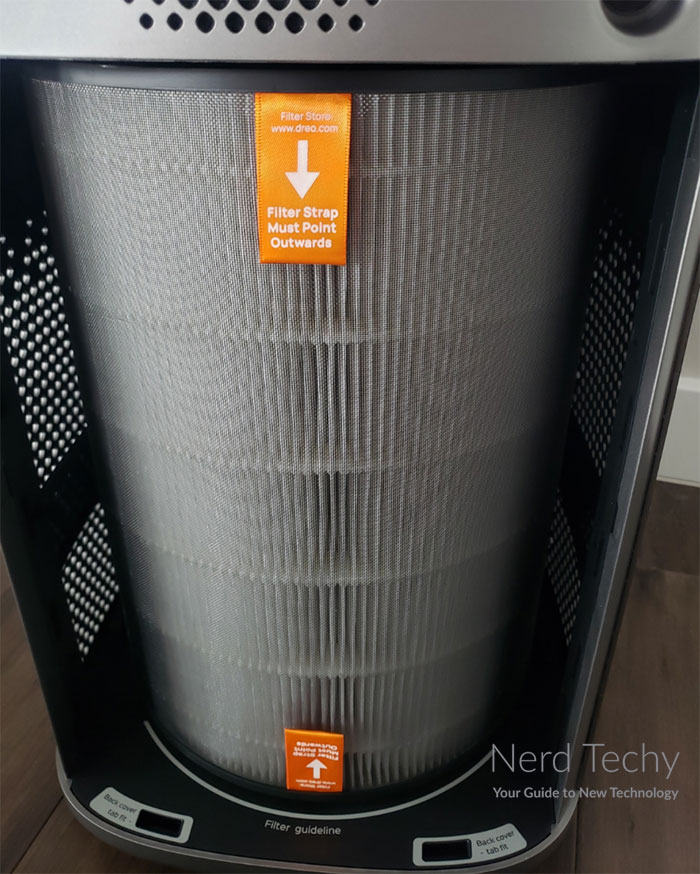 The Macro Max S can operate in a few different modes. By default, it will run in auto mode. In this mode, it will automatically adjust the fan strength based on the air quality. As an alternative, you can choose your own settings. Low, medium, and high mode will provide corresponding levels of power.
There's also an ultra-quiet sleep mode, which produces only 24dB of sound. That's softer than a whisper. Alternatively, you can activate turbo mode to max out the fan speed. This mode will produce 50dB, so it's noticeably audible. But it provides an incredible amount of purifying power.
One thing we did note is that the air from the filter smells funny at first. This plastic-like odor smells like the packaging material, and it will go away after a few days of ordinary use. To get rid of it immediately, leave the filter out of the housing and run the motor on turbo for an hour. That will clear the smell, and you can get to purifying your air.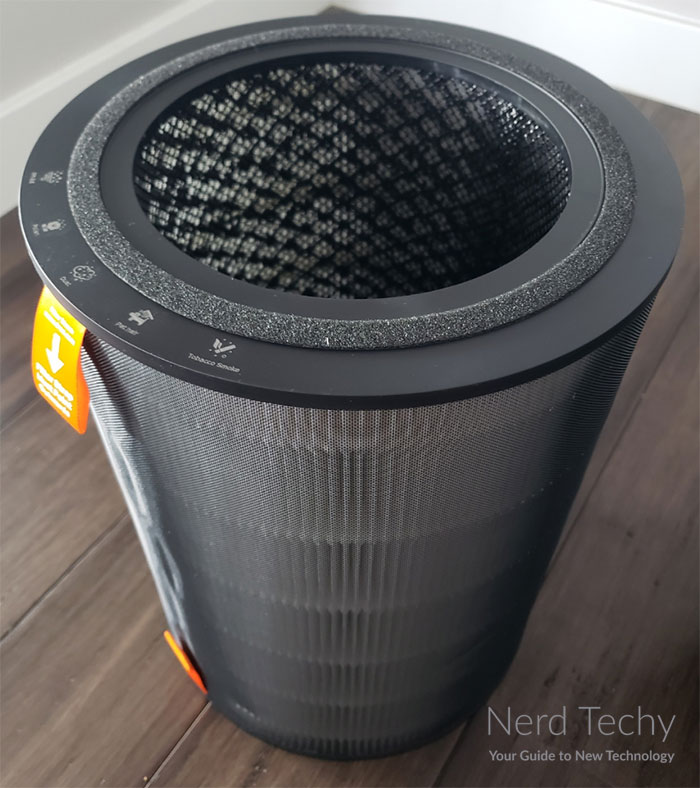 What Does it Remove?
So, what is the Macro Max S capable of removing? To begin with, the pre-filter moves any larger debris that gets into the housing. Cat hair, large pieces of dust, and similar detritus gets caught in this layer.
Anything smaller gets sucked into the HEPA filter. This is an H13 HEPA filter that can remove 99.985% of particles as small as 0.3 microns. This includes almost all particulate allergens that people are sensitive to. Pet dander, pollen, and mold spores will all be captured. Smoke particles will be gone. The fibers can even capture some bacteria and larger viruses.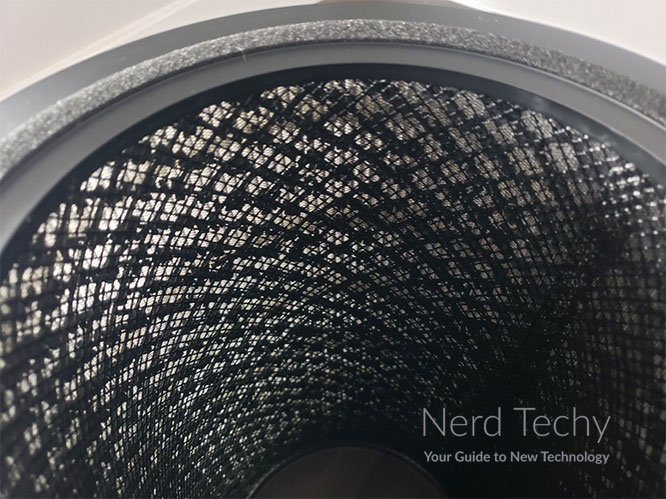 The final, carbon layer is made to remove unpleasant odors and VOCs. Food smells, pet odors, and formaldehyde from outgassing upholstery will all be removed. What comes out is as close to pure air as you can reasonably expect.
The motor is rated to exchange the air 4.8 times per hour in a 423 square foot room. That assumes a standard eight-foot ceiling, so your mileage may vary. That said, it can cycle the air in a 2,000 square foot house at least once per hour. In other words, you can conceivably use it as a whole-house filter. Just don't expect it to clean the air as quickly.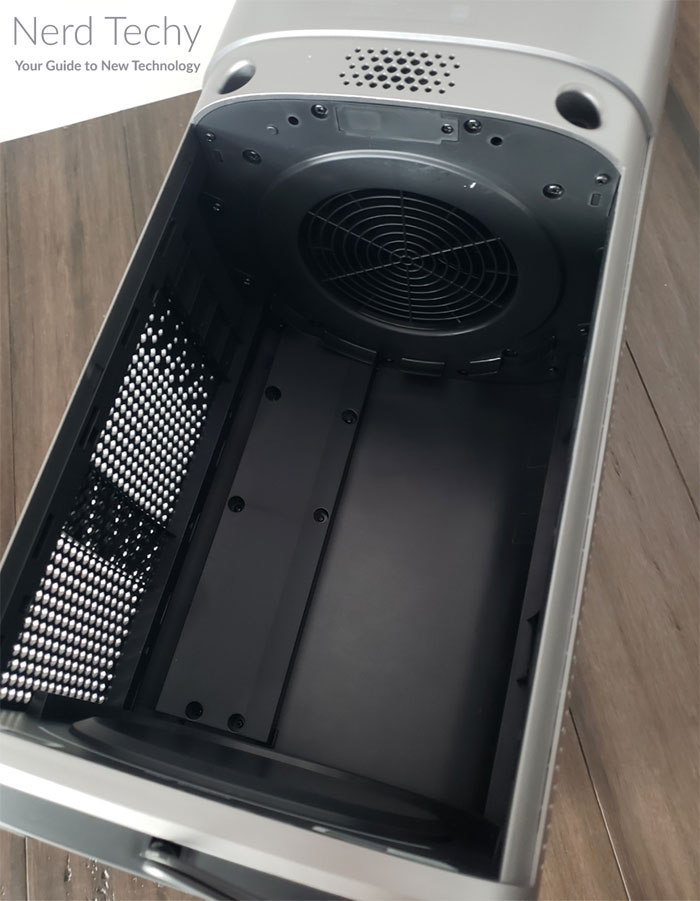 Carpets are another common source of allergens. While you're investing in a purifier, you might want to give your vacuum a good look. The Dreo PowerLeap Cordless Vacuum is an excellent choice, with a powerful motor that cleans even deep pile carpets.
Maintenance and Extras
A built-in sensor monitors filter usage and accounts for air quality. This smart system won't trigger prematurely for a clean filter or remain inactive for a filthy one. The reminder will come on at exactly the right time, so you know it's time to change.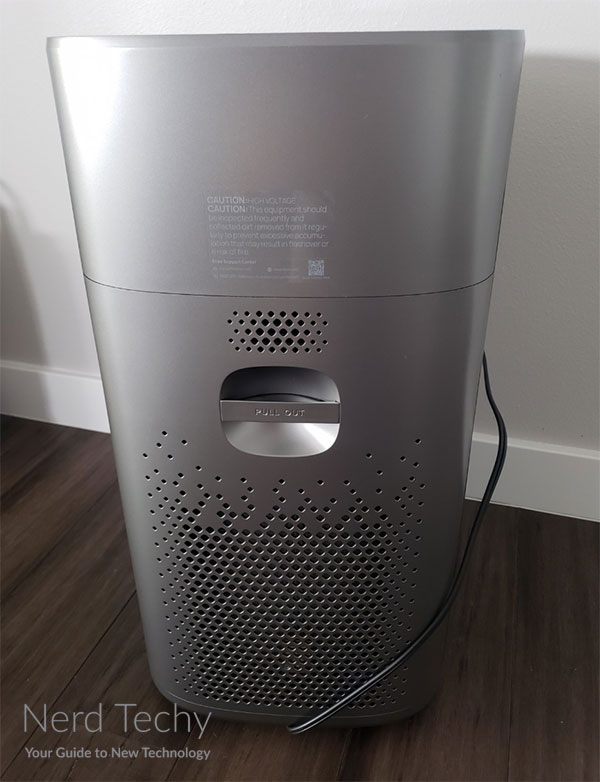 The filter cartridge is easy to swap out. On the back panel, you'll notice a built-in handle towards the bottom. Pull it, and it will remove a panel that covers the filter compartment. Pull out the old filter, and put the new one in its place. It can be wise to have a trash bag handy to dispose of your dirty filter. Put the panel back into place, press the filter reset button, and you'll be good to go.
The Macro Max S doesn't require an app for operation. But you can download an optional app for free on Android or iOS. Through the app, you can unlock extra capabilities, such as fully customizable speed settings. You can also view historic reports on your air quality, so you can identify trends and monitor the purifier's performance.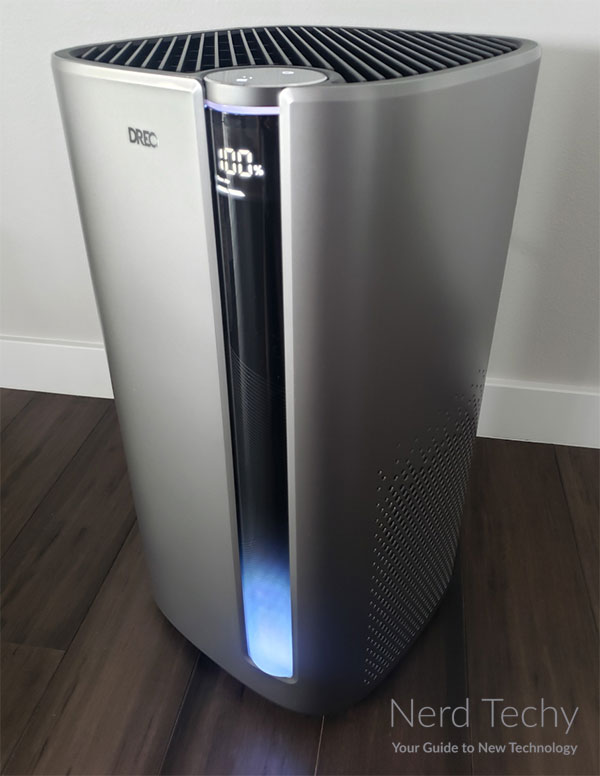 Final Verdict
The Dreo Macro Max S is one of the most powerful home air purifiers available on today's market. With the ability to cover a 2,000-square foot home, it's enough for the whole family. The H13 HEPA filter is incredibly effective, especially as part of a three-stage system.
We liked the control system a lot. Despite not having many buttons, the system is straightforward and easy to operate. Adjusting the operating mode or fan speed is a no-brainer. For power users, the app provides a lot more opportunity for fine-tuning. Set your own custom fan speed, or monitor your home air quality from the road.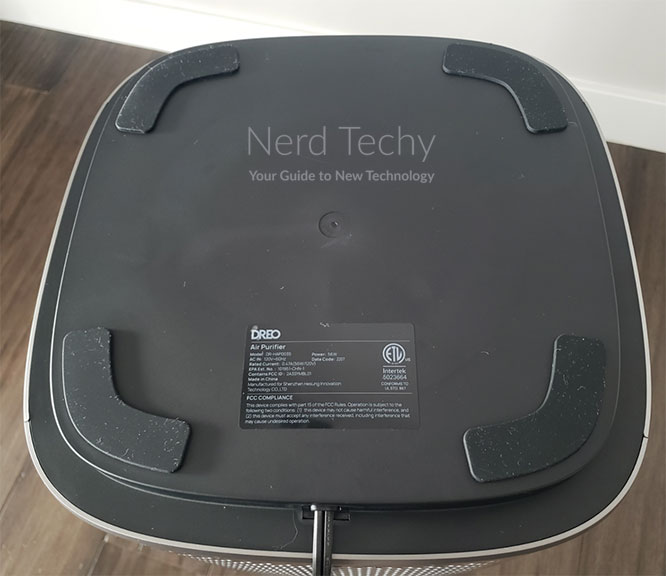 Operation is quiet, even on higher settings, and the physical design is well thought-out. The single-piece filter is not as affordable as a multi-piece filter, but it's very easy to change. All in all, there's a lot to like here.
Please consider sharing:
Note: At no extra cost to you, we may earn a commission for purchases using our links. Learn more.