It's summertime, and the temperatures are getting hotter. That's great news if you love swimming and other summer activities. But sometimes, you just want to cool down. Air conditioning is great, but it's also expensive and bad for the planet.
A lot of people set their thermostat to a temperature that's barely tolerable. Then, they turn on a fan to make up the difference. A fan uses way less energy, along with air circulation. So not only are you keeping yourself cool, you're breathing fresher air.
Most indoor fans are oscillating fans. This is the classic design with a circular blade pattern, which sits on a vertical stand. As the fan runs, it swivels back and forth to blow air in different directions.
It's a tried and true design, and it gets the job done. However, the design is inherently top-heavy. You need a big, wide base that takes up a lot of space. Otherwise, the fan is liable to tip over.
However, modern technology has allowed manufacturers to design new and innovative fans. Vertical blades allow for a bottom-heavy design with the motor at the bottom of the machine. You can move the same amount of air with a much smaller footprint.
Not only that, but today's fans come with smart features that didn't even exist a few years ago. If you haven't looked at a new fan in a while, now is your chance.
Dreo Pilot Max Tower Fan
We're about to review the Dreo Pilot Max Tower Fan. This is a narrow, oval-shaped fan that has a compact footprint. It runs quietly, and there are multiple customization settings. You can also choose to control it with on-board controls, a remote, an app, or with voice controls.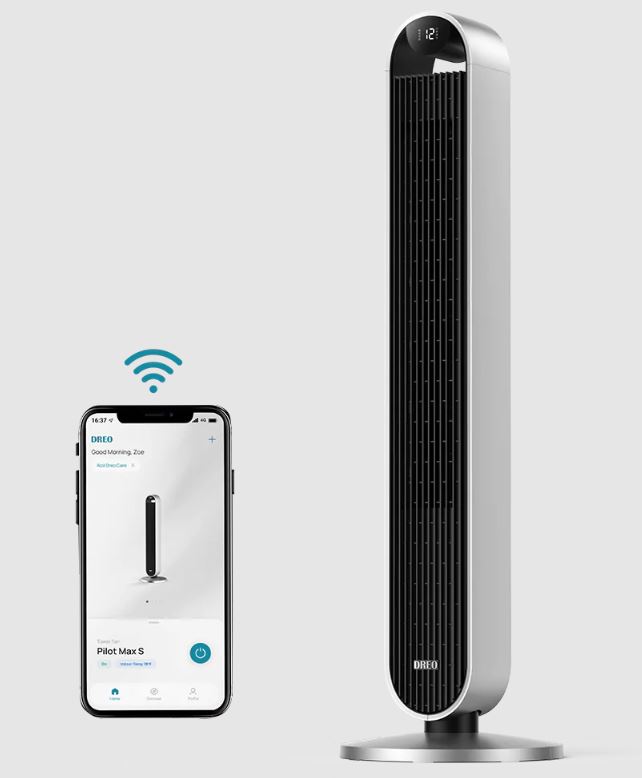 But that's just a broad overview. To find out how good this fan really is, we'll need to take a much closer look. We'll need to discuss the physical engineering, and how it's put together. We'll have to talk about the different settings and what each of them means. In addition, we'll need to evaluate the motor's performance and how much air it can move. After we've looked at these and other features, we'll be able to make a fair judgement. Let's dig in, and see what we discover!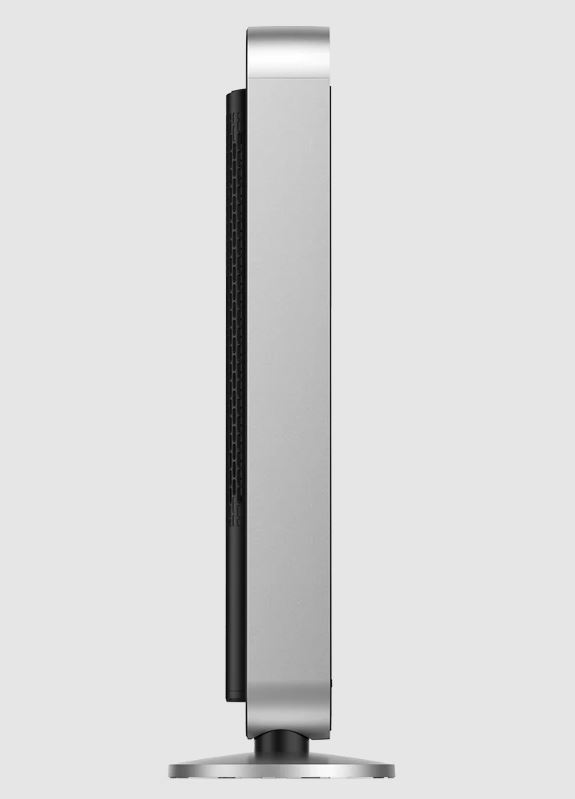 Overall Design
Dreo is an up-and-coming company with a reputation for moving air. Not long ago, we reviewed the Dreo PowerLeap Cordless Vacuum. We were impressed with its powerful suction, and with the overall high quality of the engineering. When we saw that they also make fans, we decided to check this one out.
The first thing you'll notice about the Dreo Pilot Max is the contemporary design. When you think of a vertical design, you probably picture something rectangular. The Pilot Max, on the other hand, has a long, tall, oval-shaped profile. The outer oval ring is made from a silver-grey plastic that's reasonably durable.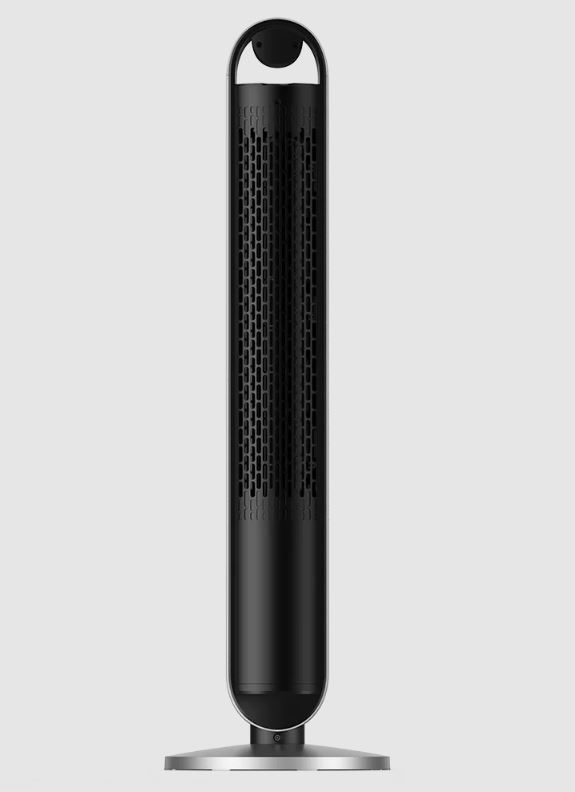 The fan housing is black, and sits inside the oval. It sports vertical louvers on the front where the air flows out. On the back is an oval-patterned intake grille. The design speaks for itself, and there aren't any unnecessary frills. Even the branding is minimalist, limited to a small "Dreo" imprint at the bottom of the front.
The base is a small silver-grey circle that matches the outer oval ring. It comes in two halves that snap together, and assembly takes less than a minute. It's tough enough to do the job, but it's a lightweight plastic. It could potentially get damaged if you're not careful while handling the fan. That said, it's large enough to be stable while maintaining a small footprint, with a diameter of just 11.81 inches.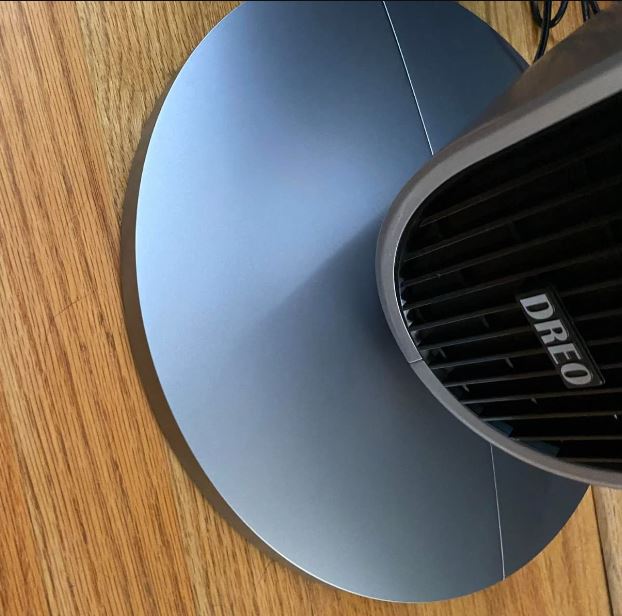 The fan as a whole stands 36.22 inches tall, and weighs only nine pounds. The top of the inner black housing is flat, leaving a gap in the top of the oval. An LCD display occupies much of that space, but there's room to the sides for your fingers. Just use it like a handle to carry your fan around.
Controls
Across the top of the oval, there's a set of soft touch buttons for operating the fan. These are six little circles, arranged in two rows of three. The power button is located at the front center. To the left and right of it, you'll find the oscillation control and timer control respectively. In the back row, there are "+" and "-" buttons to the right and left. These are used to adjust the motor speed. The menu-style button in the back center changes between fan modes.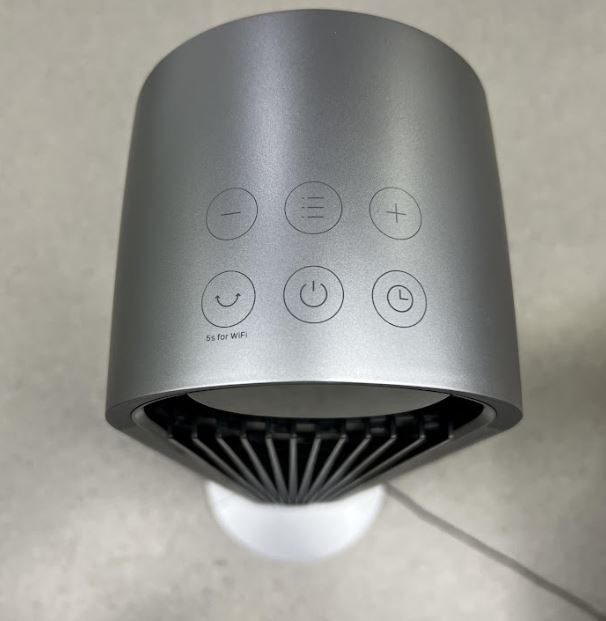 As we mentioned, there's an LCD display under the top of the oval frame. This will show your fan speed in large numbers in the center. If you're using the timer, it will instead show how many hours are remaining. On the left, there's a row of four small icons that indicate the current operating mode. Icons to the right let you know if you're using the timer, mute function, or other features.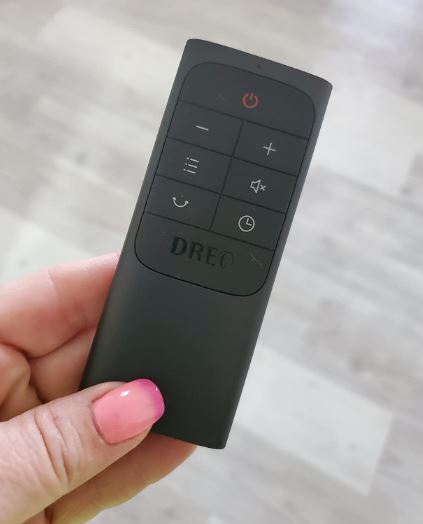 In addition to the on-board controls, you'll also get a small handheld remote. It comes with the battery already installed. Just pull out the little tab and it will start working. The buttons are big and rubbery, so they're easy to press.
You get all the same functions you get from the on-board buttons. However, there's also a "mute" button that temporarily shuts off the motor. This isn't the same as turning off the motor. If you have a timer running, it will continue to count down. That way, you don't have to reset your timer when you turn the motor back on.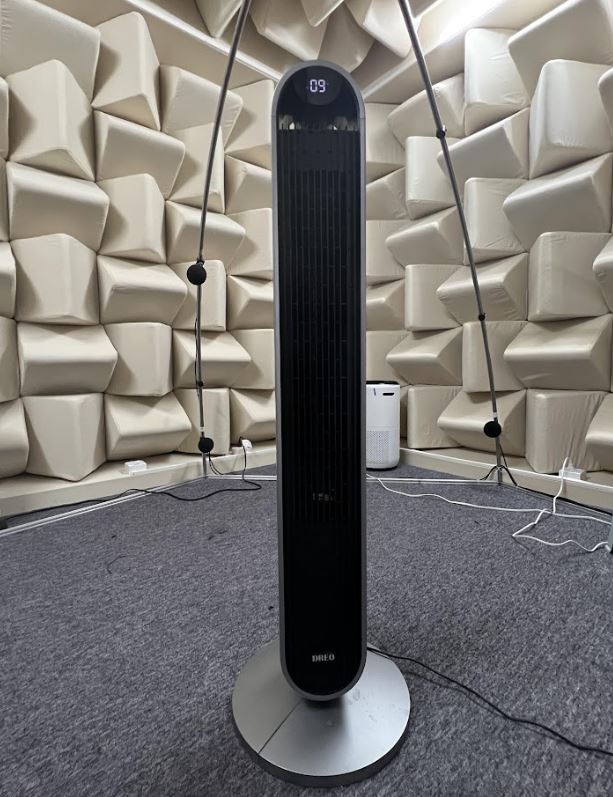 Basic Operation
The Dreo Pilot Max has 12 speed settings. At the lowest setting, it's just a gentle flow of air, like the lightest of breezes blowing past a window. At the highest setting, it's as powerful as a small box fan. You can move up to 1,475 cubic feet of air per minute, the volume of a 184 square foot room.
Being able to adjust the speed is standard on any fan, but 12 settings is impressive. Dreo continues that trend with the oscillation function. Most oscillating fans can either oscillate or not. But the Pilot Max can oscillate across four different ranges: 30, 60, 90, or 120 degrees. Set it narrow for a more directed air stream, or wide to cover an entire room.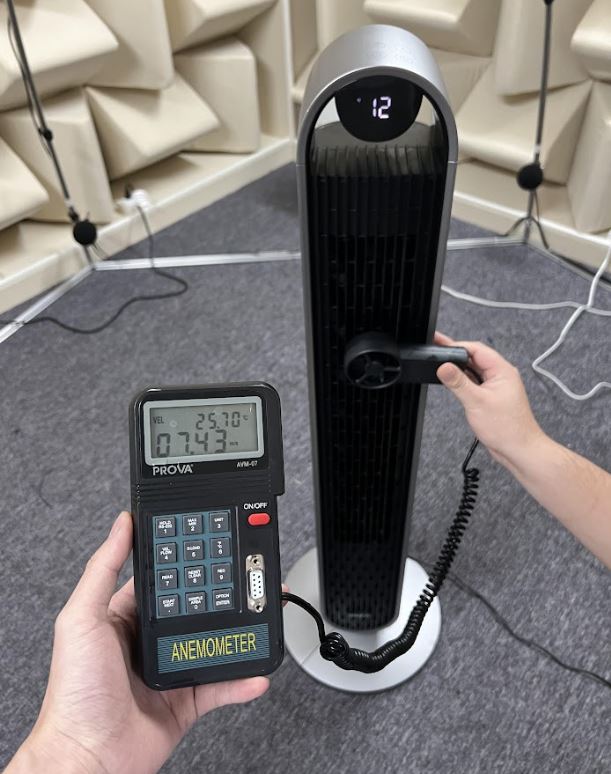 One thing we loved about this fan is the motor technology. Instead of a traditional motor, Dreo has used a brushless motor, which is much quieter. At the highest setting, it produces 48dB of sound. That's lower than the volume of ordinary conversation. On the lowest setting, it's only 25dB, literally quieter than a whisper.
This is a well-engineered fan, but it's also pricey as fans go. If you want something a little more affordable, consider the Grelife Tower Fan. It's also a smart device with similarly wide control options. That said, it has fewer features overall, and a much weaker maximum setting.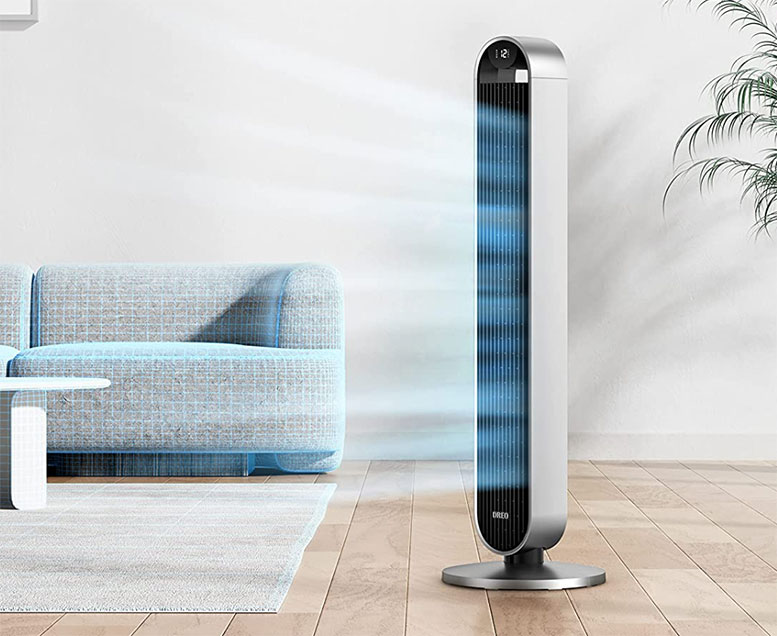 Fan Functions
Besides adjusting the Pilot Max' speed, you can also set it to multiple modes. The first, "Normal" mode is exactly what it sounds like. The fan runs at a steady, consistent pace, just like any other fan.
Natural mode is designed to feel like you're outdoors. This is a love it or hate it kind of thing. On the one hand, it's kind of cool to feel the intensity wax and wane at random. However, the effect may be too pronounced for some people's tastes.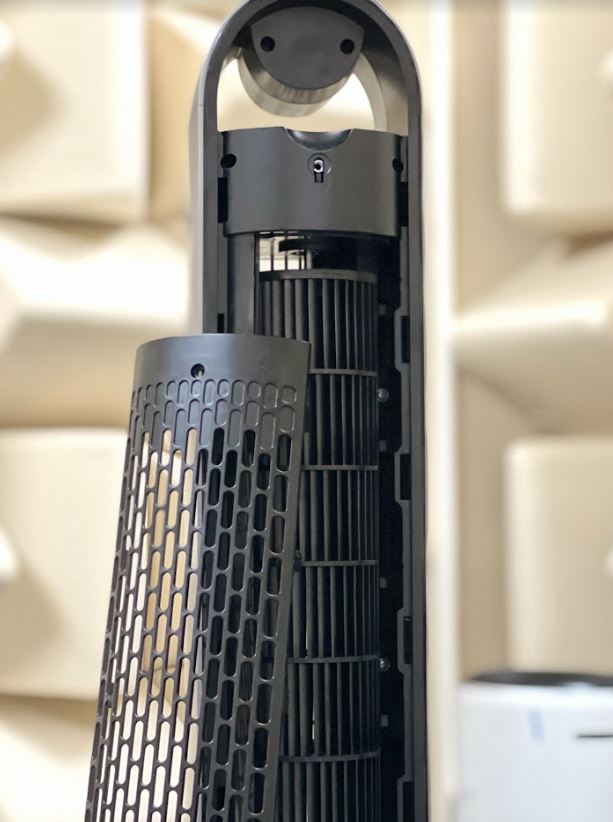 Sleep mode sets the motor to its lowest setting. This is different from turning it down, because the fan will remember where it was when it went to sleep. Go back to normal mode, and it will instantly return to the original speed. That's faster than hitting the "+" or "-" button several times.
Auto mode utilizes the fan's internal thermostat to adjust the speed automatically. In a cool room, the motor will run slowly. In a warmer room, it will pick up speed to compensate.
You can set the timer by pressing the timer button repeatedly. Each press will add one hour to the timer, up to a maximum of 12 hours. When the timer runs down, the fan will automatically shut off.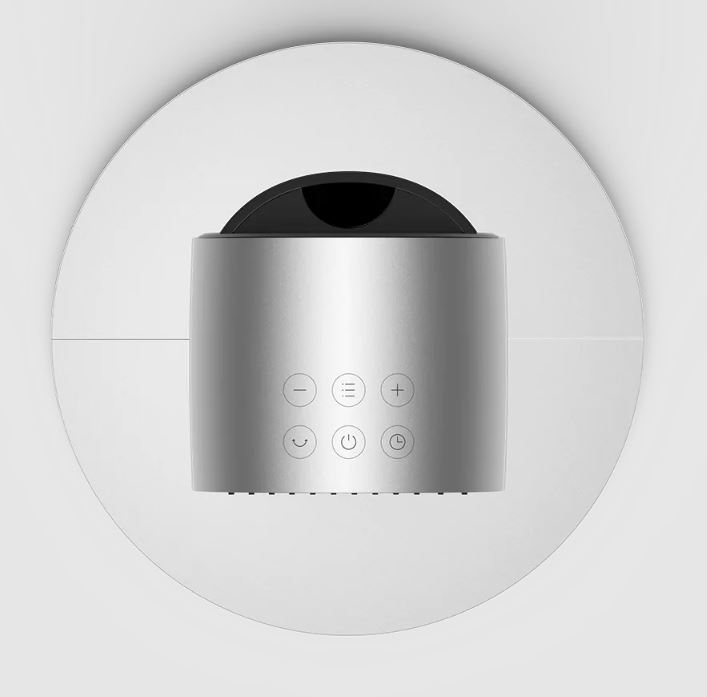 Extra Features
As we mentioned at the outset, you can control the Pilot Max with a smartphone app. The Dreo Home app is free to download on Android and iOS, and it's easy to pair with your fan.
Once the app is installed, press and hold the oscillation button on the fan for five seconds. This will activate WiFi pairing mode, and you can complete the process via the app. After that, the app controls will work whenever the fan is turned on and connected. You can also use the app to set up voice controls with Amazon Alexa or Google Assistant.
Even without the timer mode, this fan has a 15-hour auto-off function. This ensures that it won't waste power or pose a hazard if you forgot about it. Another feature we appreciated was the removable rear grille. Fans collect dust over time, and it can clog them up and degrade their performance. The removable grille makes the Pilot Max extremely easy to clean.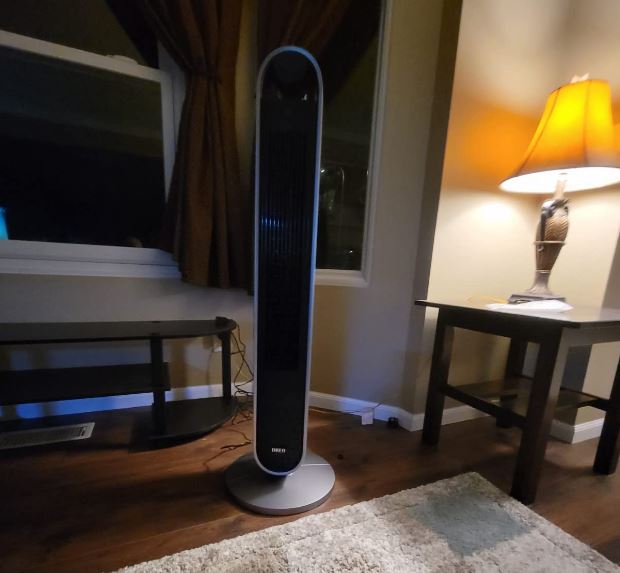 Final Verdict
The Dreo Pilot Max Tower Fan is an attractive, contemporary smart fan. With 12 speed settings and four operating modes, you can customize it to meet your needs. The adjustable oscillation is a great feature, and the app is easy to set up and use. If you're looking for a full-featured smart fan, you've found it.
Meet Derek, "TechGuru," a 34-year-old technology enthusiast with a deep passion for tech innovations. With extensive experience, he specializes in gaming hardware and software, and has expertise in gadgets, custom PCs, and audio.
Besides writing about tech and reviewing new products, Derek enjoys traveling, hiking, and photography. Committed to keeping up with the latest industry trends, he aims to guide readers in making informed tech decisions.