Some technologies are more exciting than others. Whenever Apple releases a new iPhone, tech journalists spend weeks examining its every feature. To some extent, this is understandable. You use your smartphone constantly every day, for all kinds of things.
And many of those things make you feel good. You use your phone for social media, taking photos, and maybe even gaming. If your new phone can make those experiences even better, that's going to get your interest. The same principle applies to game consoles, laptops, and smart TVs. All of these devices are fun to interact with.
However, technologies that help us complete basic chores are also very valuable. A vacuum cleaner is a great example. If you're like most people, you probably don't get excited about vacuuming your floor. It's a chore. It's an item on your to-do list that needs to be checked off before you can relax for the evening. Nobody lies awake at night fondly daydreaming abut using their vacuum.
Those are all fair points, and they're good reasons to invest in a good vacuum. A better vacuum helps you get the job done faster, so you'll get through your to-do list much more quickly. Does it make vacuuming fun and exciting? No. But it helps you finish the job and move on to things you enjoy.
That alone makes it a good investment. But a better vacuum can also get your house cleaner. A weak vacuum, on the other hand, will leave more dust and allergens trapped in your carpet. If your carpet is making you sneeze, a new vacuum might just be the solution to your problem.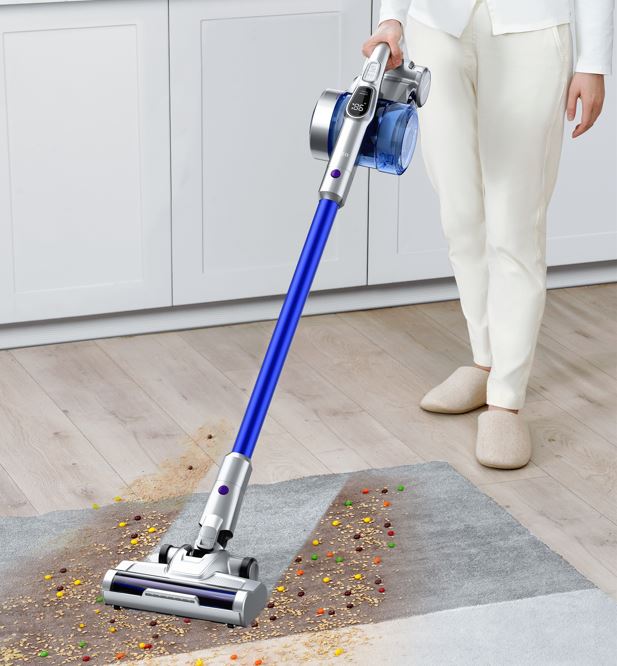 Dreo PowerLeap Cordless Vacuum Cleaner
Today, we're going to review the Dreo PowerLeap Cordless Vacuum Cleaner. This is a battery-powered vacuum with a unique horizontal motor and multiple attachments. It's also quite powerful, with a maximum suction level of 25,000 Pascals (Pa), and an automatic carpet sensor.
To find out whether this vacuum is worth its salt, we'll have to dig a little bit deeper. We'll have to talk about how it's built, and how you operate and empty it. We'll need to look at the various suction settings, as well as all the attachments. And of course, we'll discuss the battery life, as well as anything else you need to know. After we've considered all these things, we'll be able to make a fair judgement. Let's begin!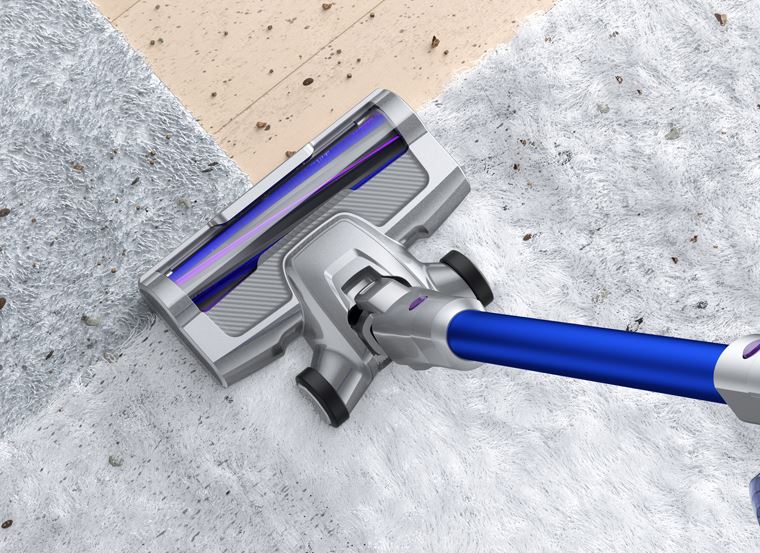 Controls and Grip
The Dreo PowerLeap Cordless Vacuum Cleaner has a grey plastic housing with a metallized appearance. It's slick and smooth, with a high gloss that's easy to dust off. The handle has a forward-swept design, and sits over the top of the motor. It points forwards at the back, then angles downwards towards the front, so there are two grip positions. Depending on the angle you want to work at, one or the other may be more ergonomic.
Towards the front part of the grip, you'll find a pair of buttons. These are white and rubbery, and are slightly recessed into the handle. Despite their rubbery appearance, they provide good tactile response, so you can feel when you change settings. The button at the back turns the vacuum on and off, while the front one controls the suction setting.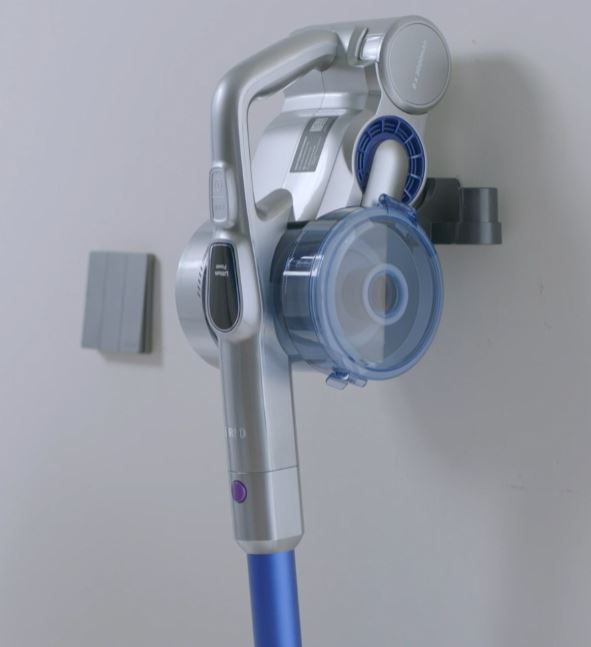 Forward of the buttons is an LCD display. This is a small black panel, with white lettering and numbers. Most of the screen is taken up by the battery percentage display, with its large, easy-to-read numbers. At the bottom of the display, your current suction setting will be shown in smaller letters.
One downside of the PowerLeap is its weight – 14 pounds in total. It's not absurdly heavy, but it could be awkward to use overhead. If you want a more lightweight vacuum, consider the Dreametech P10 Pro instead. It offers similar suction in a slimmer, lighter package, although it also has a shorter battery life.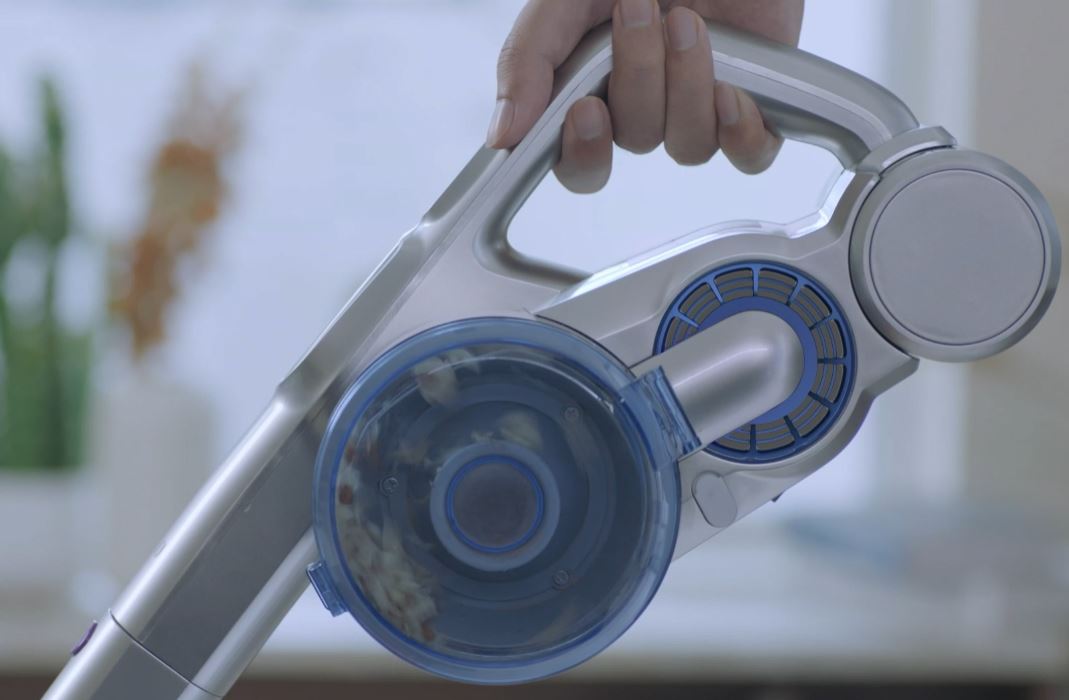 Motor and Housing
The vacuum housing itself is unique, because the motor is oriented to the side. Most cordless vacuums have the motor oriented vertically, so the entire body is one long cylinder. Instead, the Power Leap has a flatter, wider profile. The battery is cylindrical, and sits on its side behind the motor. With the motor and battery both near the back of the housing, most of the weight is located to the back. It's right under the handle, so you don't feel the weight as much as you would if the vacuum were front-heavy.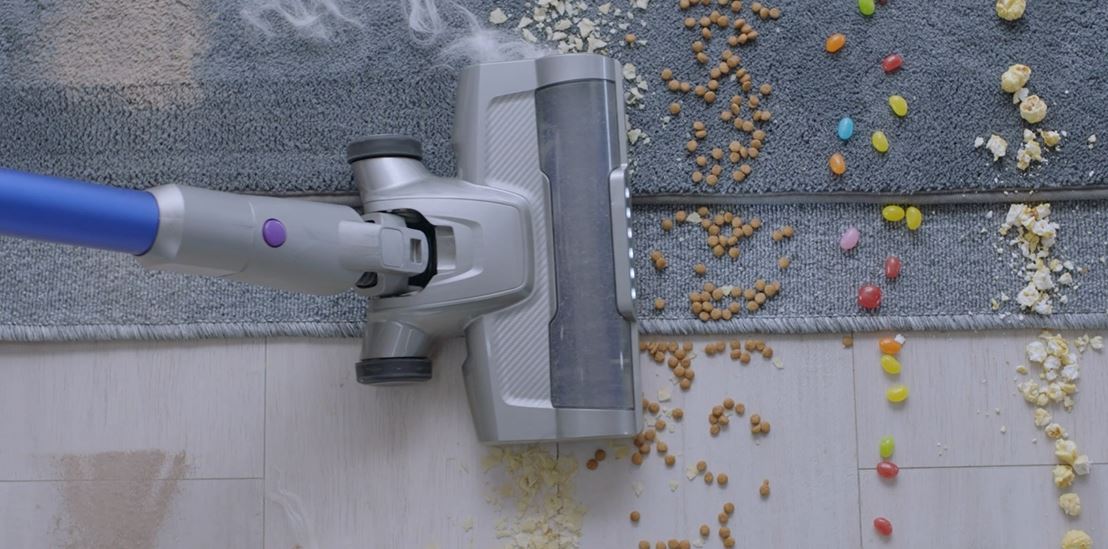 The dust canister is located in front of the motor, and is much wider and taller. It's a horizontal cylinder, and is transparent blue on the left side. The right side is solid grey plastic, just like the rest of the housing. Through the transparent portion, you can see when the canister is full. You can then push a small button to open up the end, and dump the dirt out into your trash. This makes it easy to empty compared to many other vacuums.
The kit includes a wall mount, where you can hang your vacuum and all your attachments. There's a template for drilling holes and mounting, so it's pretty easy to hang. You'll also get a charging cable, which plugs right into the wall mount.
Suction Power and Main Roller
At the front of the housing, there's a blue aluminum rod, which extends down to your main roller attachment. There are two disconnect points on the rod, one at each end. You can remove the main roller from the end and use it with another attachment. Or you can remove everything and put your other attachments right on the tip of the housing.
The main roller has a broad, grey housing, with the same finish as the main vacuum. A pair of large wheels extend from the back, and they sit wide to the sides to provide excellent stability. There's a light bar at the front bottom, which makes it easy to see under furniture. The front top, meanwhile, is transparent, so you can easily identify jams. The brush itself is a double-spiral, with long bristles that will dig down deep into carpets.
There are three different suction settings, with a maximum of 25,000Pa. That's almost twice as powerful as most battery-operated vacuums. Alternatively, you can put the PowerLeap in auto mode. In that mode, it will automatically reduce suction on smooth surfaces, and turn it up on carpets.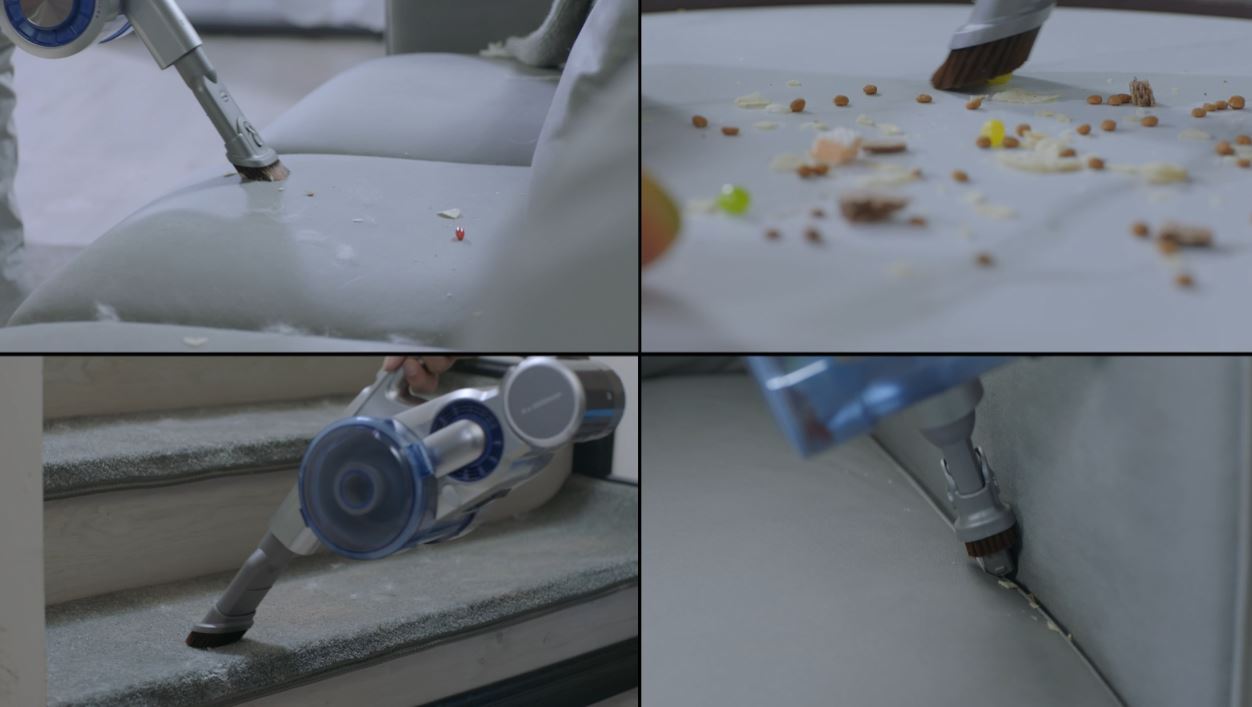 Attachments
As we've already mentioned, there are a few other accessories included in the package. The first is standard brush attachment, much like you'll find on many vacuums. It's a short rectangle, slightly angled for cleaning keyboards and similar surfaces. The second is a long, narrow brush that's meant for curtains and drapes. The crevice tool is long and slender, like you might expect. However, it also has short brush bristles at the tip. This is a bit quirky, but it's good for delicate surfaces.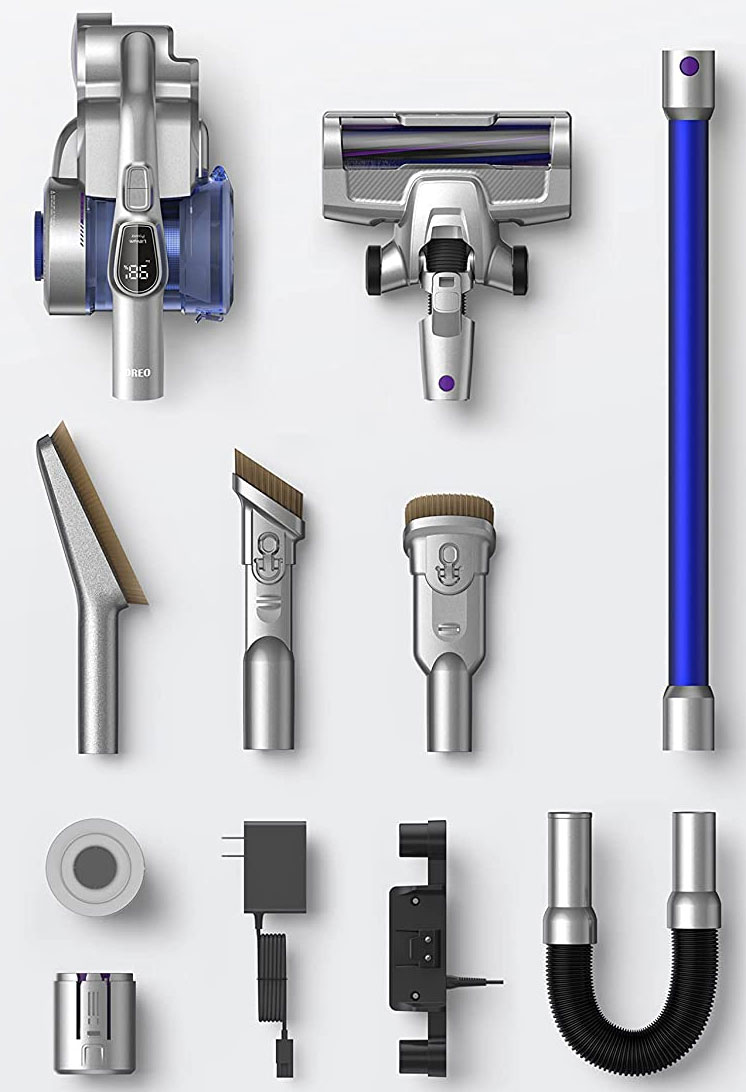 You'll also get a stretchy, flexible hose. This hose has similar releases as the aluminum rod, so it's easily interchangeable. It makes it easy to work in cars and other locations where getting the vacuum inside would be awkward.
One thing you won't get is a mini roller for upholstery and automotive use. If that's what you need, check out the Ultenic U11 Cordless Stick Vacuum. It comes with a mini roller, as well as a unique free-standing charging station. On the downside, it offers poor battery performance.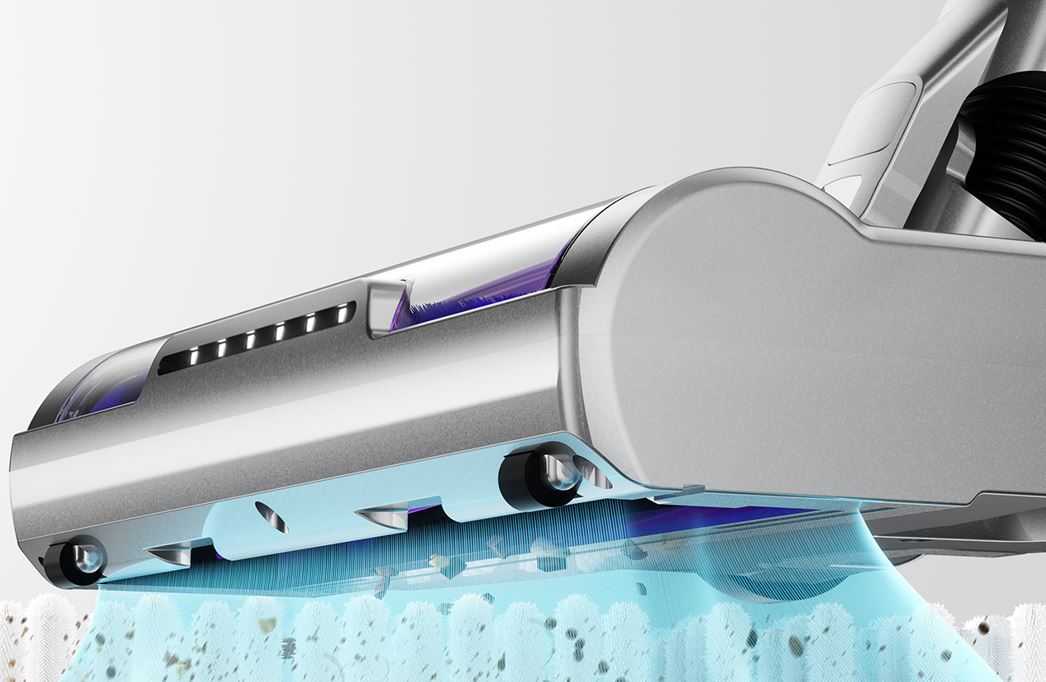 Battery and Charging
Like any cordless vacuum, the PowerLeap's battery will last shorter or longer depending on how you're using it. In theory, it can run for as long as 60 minutes on a single charge. But that only happens when you're using the vacuum on its lowest setting.
On medium power, that drops to 30 minutes. On maximum power, it lasts for a little over 15 minutes. Auto mode performance will vary depending on what surfaces you're cleaning. Regardless, this is in line with your typical cordless vac.
The 3,000mAh battery will charge automatically on the wall mount, as long as the mount is plugged in. If you prefer not to use the wall mount, you can also remove the battery. It will charge directly from the charge cable, without the need for any aftermarket parts.
Not only that, but you can actually order extra batteries. You can leave one plugged in while you use the other, then switch them out. With two batteries, you'll effectively double your cleaning time.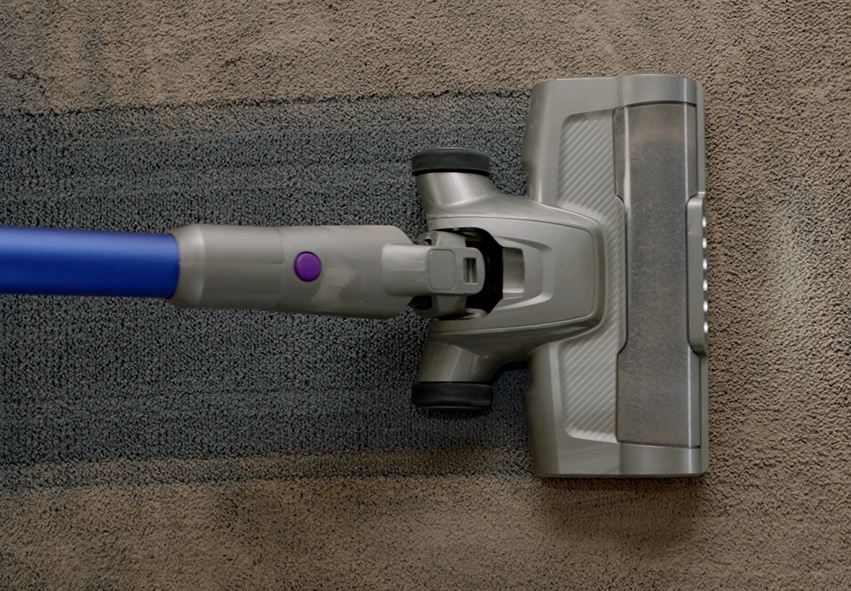 Filter and Extras
The Dreo PowerLeap sports a powerful HEPA air purifier. Most vacuum filters are designed to capture particles large enough to damage the motor. This HEPA filter captures much finer particles and allergens, leaving your house significantly cleaner.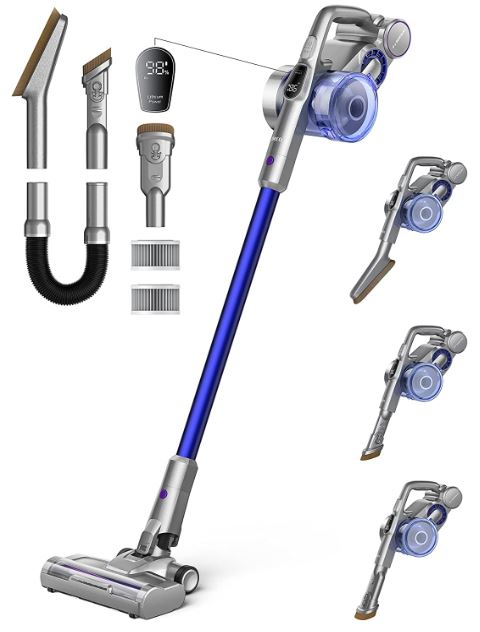 Dreo recommends cleaning the filter every three months. But if you use your vacuum a lot, you may want to clean it even more often. Pop open the lid on the dust bin, and remove the grey cover at the back end. Inside, you'll find the filter, which is a puck-shaped white unit with a ribbed outer edge. Wash the filter and cover under lukewarm water, and let them dry thoroughly. A single filter should last for years, but Dreo includes a second one, just in case.
As you can see, this vacuum is very easy to maintain. But if you want a truly hands-off option, take a look at the Yeedi Vac Station. It's a self-emptying robot vacuum that stores your dirt in a large dust bag in the base station. Once you program it, all you have to do is empty the bag every few weeks.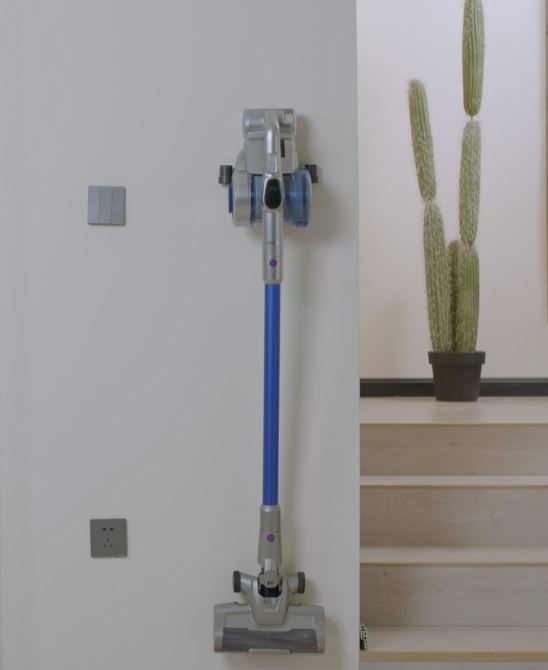 Final Verdict
The Dreo PowerLeap Cordless Vacuum Cleaner is one of the most robust robot vacuums on the market. It's a bit heavy, but that's a small price to pay for 25,000Pa of suction and a large dust canister. We also appreciated the removable battery, which is far more versatile than an internal battery. Wrap that up with a no-nonsense filter and a high-quality wall mount, and there's plenty to love.
Meet Derek, "TechGuru," a 34-year-old technology enthusiast with a deep passion for tech innovations. With extensive experience, he specializes in gaming hardware and software, and has expertise in gadgets, custom PCs, and audio.
Besides writing about tech and reviewing new products, Derek enjoys traveling, hiking, and photography. Committed to keeping up with the latest industry trends, he aims to guide readers in making informed tech decisions.