Dreametech P10 Pro
Pros
Very powerful suction.
Well-engineered cleaning attachments.
Easy charging and storage.
Removable, washable filter.
Lightweight, well-built design.
Cons
Standard version has no mini roller.
Battery life is only so-so.
When we think about the most powerful new technologies, it's easy to focus on the more exciting gadgets. For example, bloggers will write about the same game console for years. They'll do entire articles on some obscure feature of the graphics card, and other minor details.
And in a way, it's easy to understand why these devices get so much attention. They're a big part of our popular culture, after all. Moreover, they're something we look forward to using. When work is done and the dishes from dinner are clean, it's great to kick back with a favorite game. Other technologies, like Elon Musk's Starship, garner tons of attention because of the "wow" factor.
But advancing technology has impacted all aspects of our lives. Perhaps most important are the technologies that make our everyday lives easier. For example, a good dishwasher can save you time in the kitchen. Along the same lines, a good vacuum cleaner saves you time in cleaning. A sub-par vacuum might jam, or it might have weak suction and require multiple passes. In this case, it's not that you look forward to vacuuming. It's that you don't look forward to vacuuming, and want it to be as quick and easy as possible.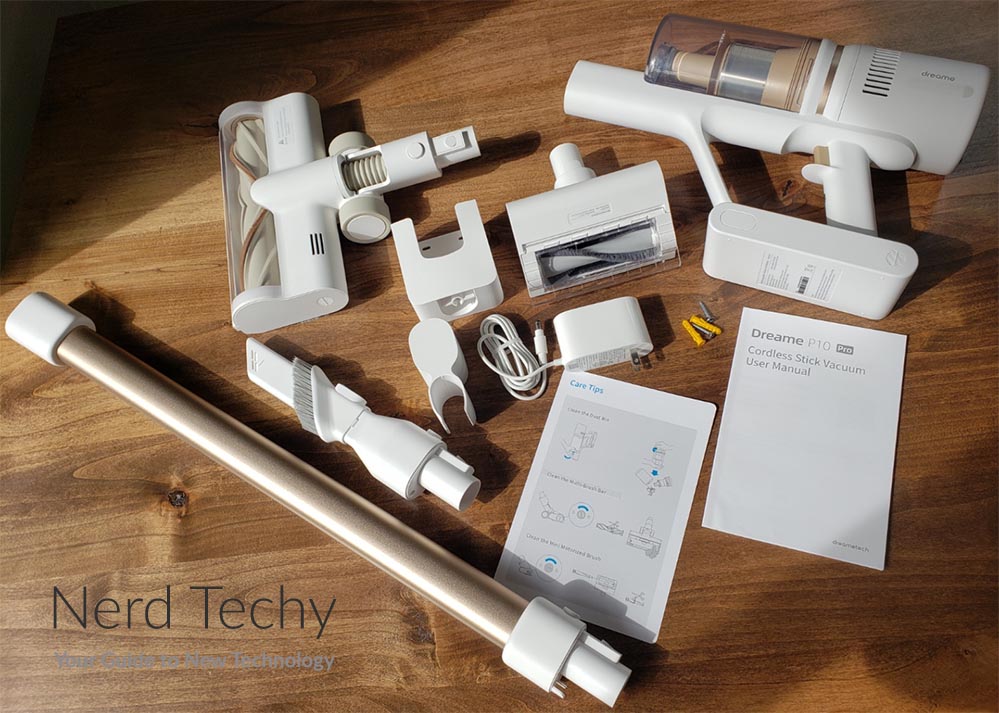 We're about to review the Dreametech P10 and P10 Pro. These are two versions of the same vacuum, and they have a lot in common, including the form factor. They're rechargeable, with a wall-mounted charging base. They even have most of the same attachments, including a high-quality main roller with a see-through brush cover.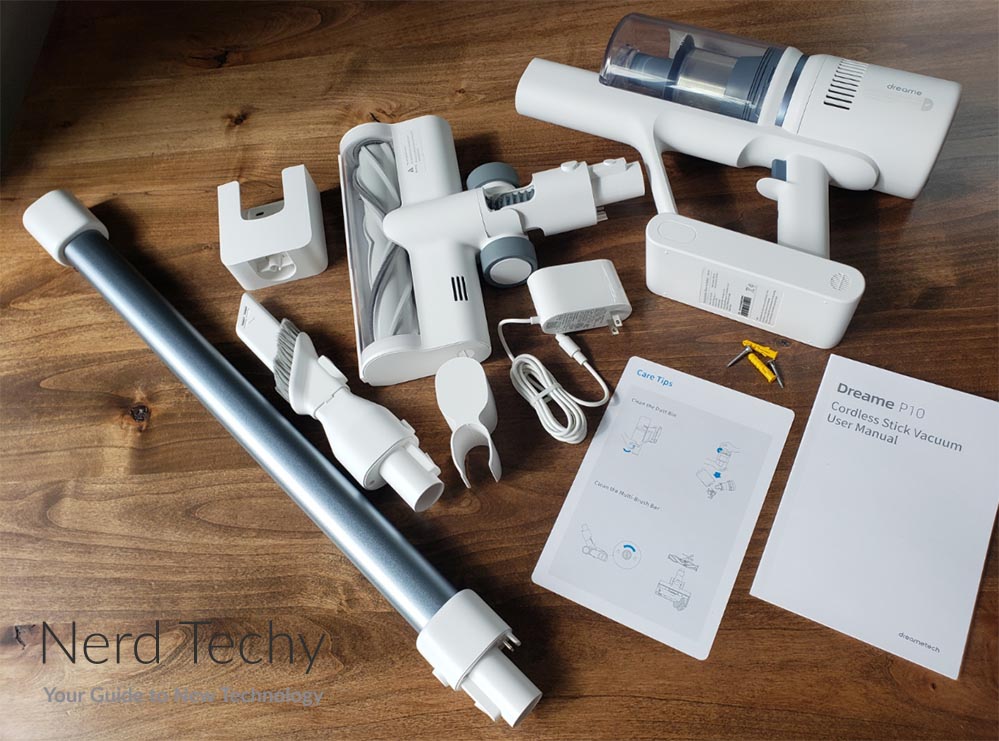 That said, there are also pretty significant differences between the two, which we'll need to discuss. The Pro offers more suction, a beefier motor, and longer battery life, to name a few differences. Let's take a closer look at both of these battery-powered vacuums, and see how they perform!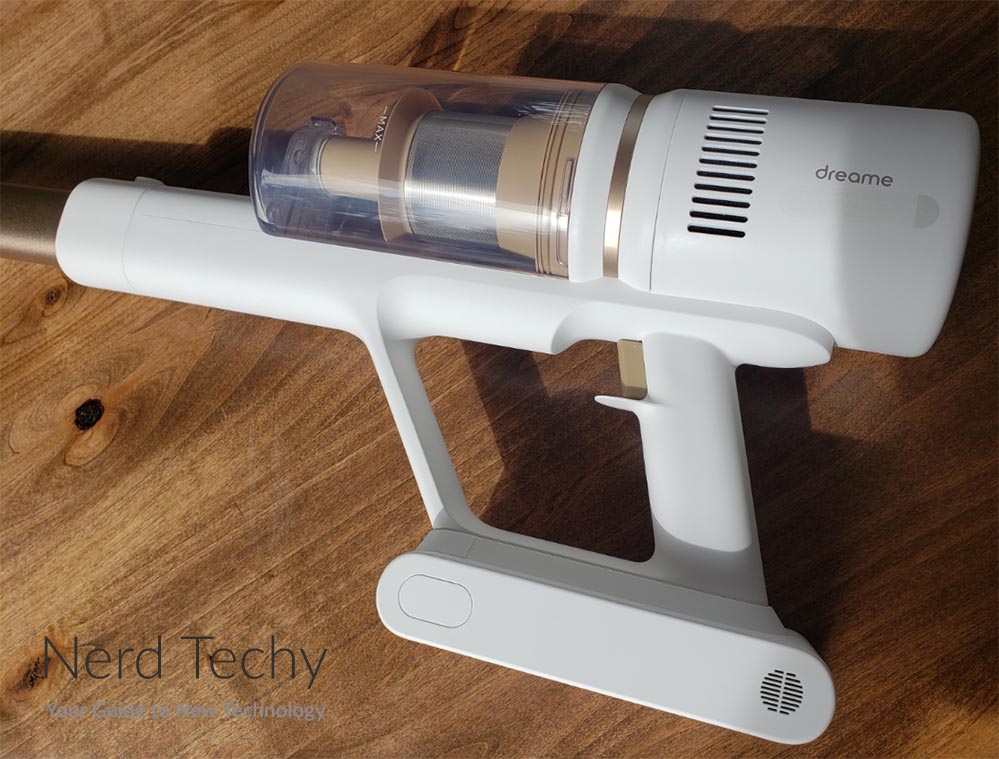 Design & Construction
The Dreametech P10 has a white main housing that contains the motor, grip, and controls. The material has a matte finish, which makes it easy to keep clean, and also resists fingerprint buildup. There's a vent on either side of the motor, which blows out air when the vacuum is running.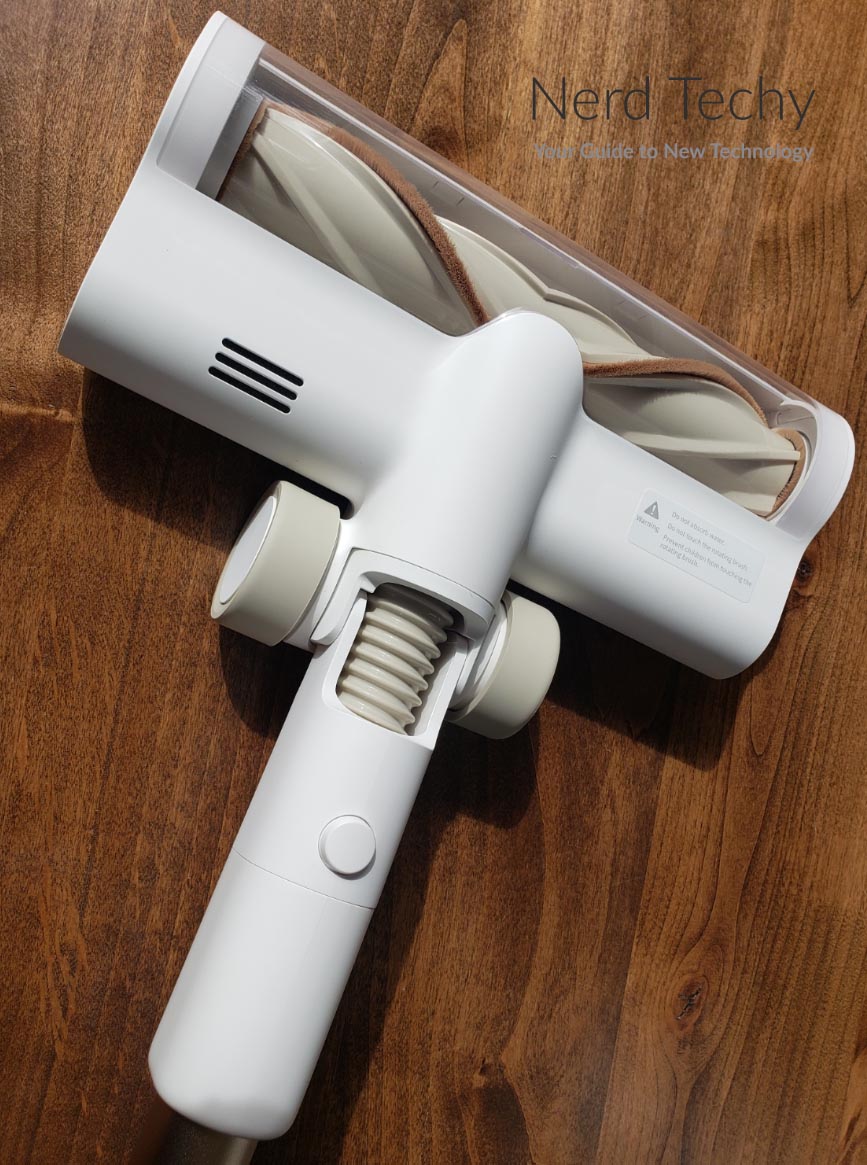 The grip is located right underneath, so you get a nice, slightly front-heavy balance. It's sloped forward like a pistol grip on a power drill with a trigger that activates the motor. Underneath the grip, there's a broad, flat battery pack. The battery pack provides even more balance, by adding weight below as well as above the grip.
The overall weight of the vacuum is 3.59 pounds, which makes it easy to manage. If you need to vacuum a valence or another overhead object, it's not too tough to reach. The control system is also simple and straightforward. Located on the back of the motor, at the top, there's a round lock button.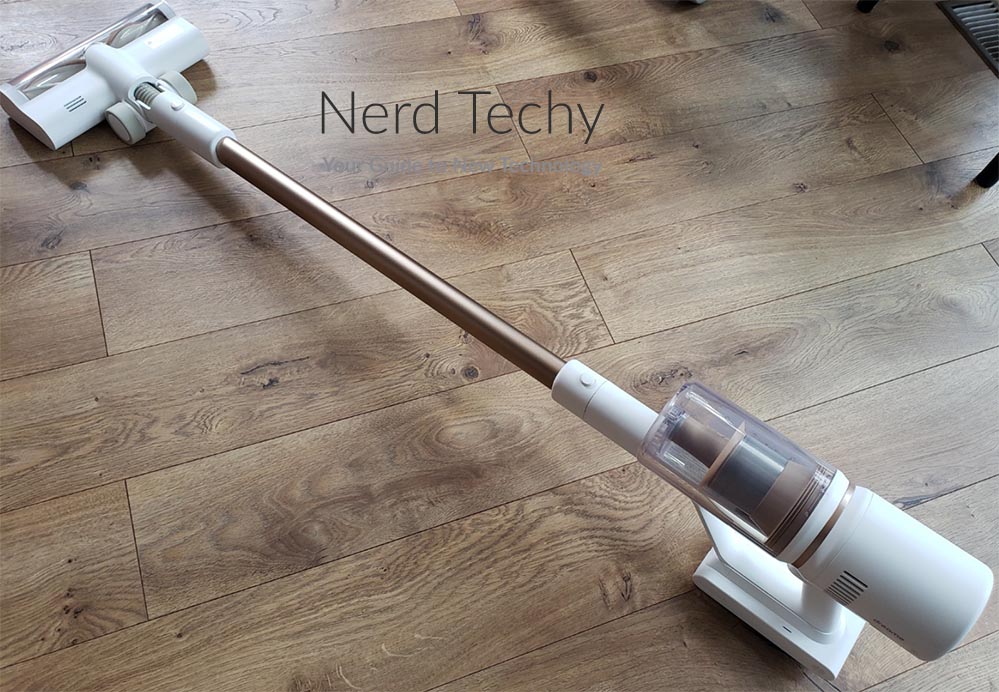 This can be used to lock the motor into its on state. That way, you don't have to hold the trigger down the entire time you're vacuuming. At the bottom, there's a second button, which changes the suction power level. The power level is indicated on an LED display in the middle, along with the remaining battery level. You'll also see some warning lights for issues like jams and low battery.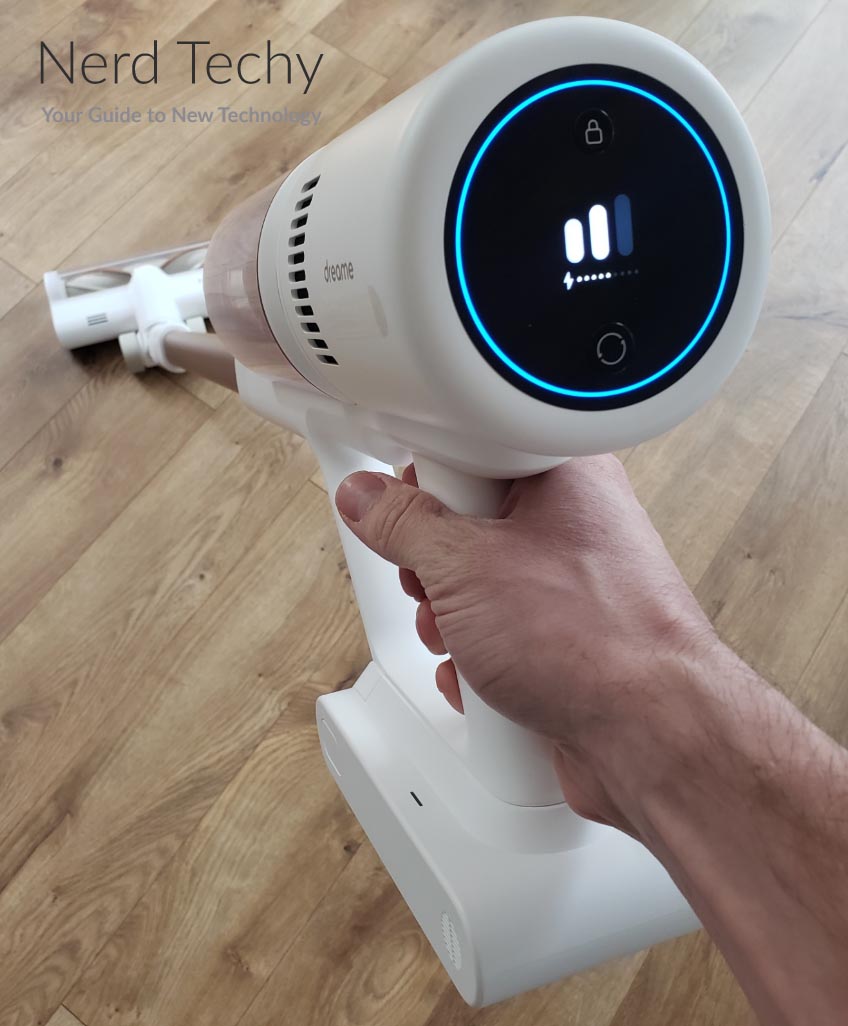 Located just forward of the motor, there's a clear cylinder with a large filter inside. This is the dust hopper, which has a capacity of 500ml. That's about average for a battery-powered vacuum, and it's enough for a lot of cleaning. Of course, that depends in part on the nature of your mess. If you're cleaning up a big bag of spilled rice, for instance, the hopper will fill up pretty quickly. It's also easy to empty. You just unscrew it, hold it over the trash, and release a catch to let out all the debris.
Purchase the P10 Pro from Dreametech's official website to save big. Order between April 10th and 17th for a 15% discount.
Along with the vacuum, you also get a simple wall-mounted charger. This is a white plastic box that you mount on your wall with screws. You plug it into an outlet, and hang your vacuum up when it's not in use. That way, you'll always have a charge when you need it. There's also a little plastic clip, which is used for hanging up the crevice tool.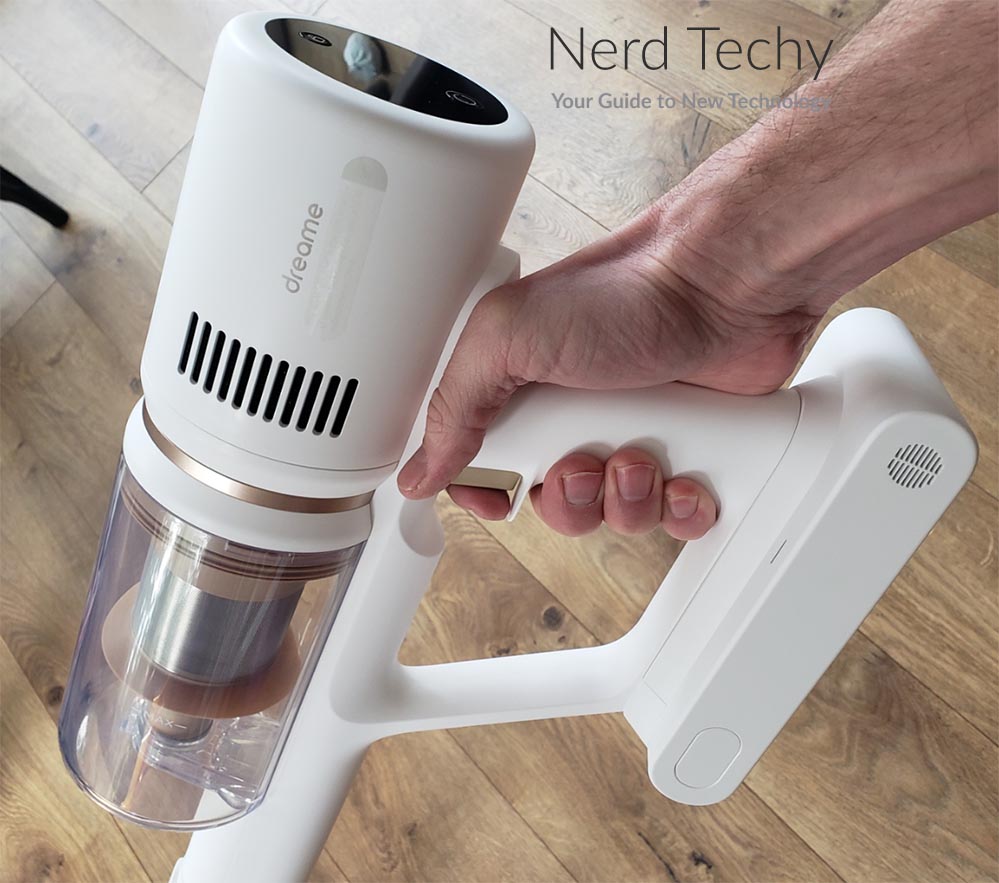 We already mentioned that the P10 is pretty lightweight. But what if you want an even smaller, more portable vacuum? In that case, consider the Dreametech T30. This is a compact vacuum that comes with both an extension rod and a flexible hose for awkward spaces. It also has very powerful suction, albeit with short battery life.
Cleaning & Accessories
So far, we've been able to talk about the P10 and P10 Pro as if they were identical. But when it comes to the cleaning performance, you're going to notice a difference. There are three different power settings on each: eco, medium, and turbo; but that's where the similarity ends.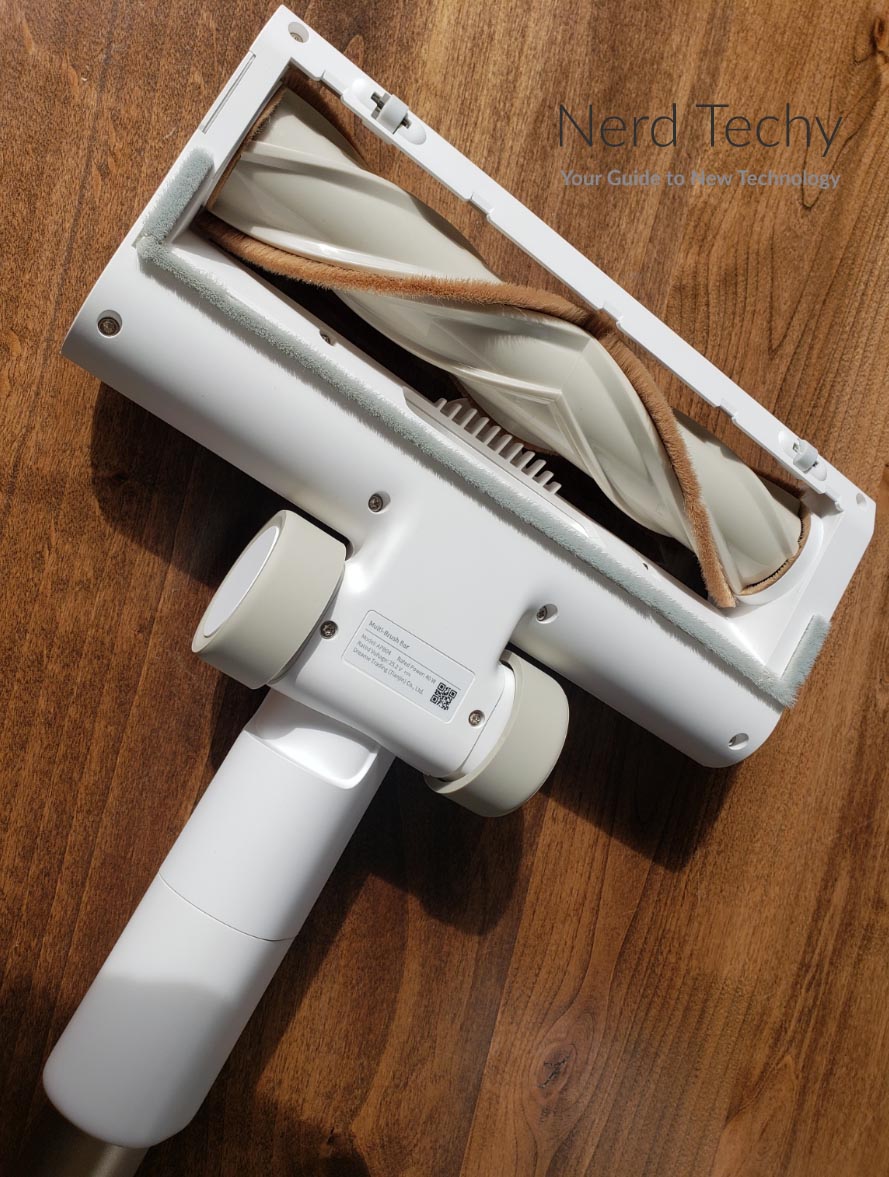 The standard P10 has a 350-watt motor, which is already pretty robust. However, the P10 Pro has a more powerful 410-watt motor. This translates to a difference in the maximum suction power. While the standard model maxes out at 10,000 Pascals (Pa), the Pro can reach 22,000Pa. By comparison, most stick vacuums have only around 14,000-16,000Pa of maximum suction.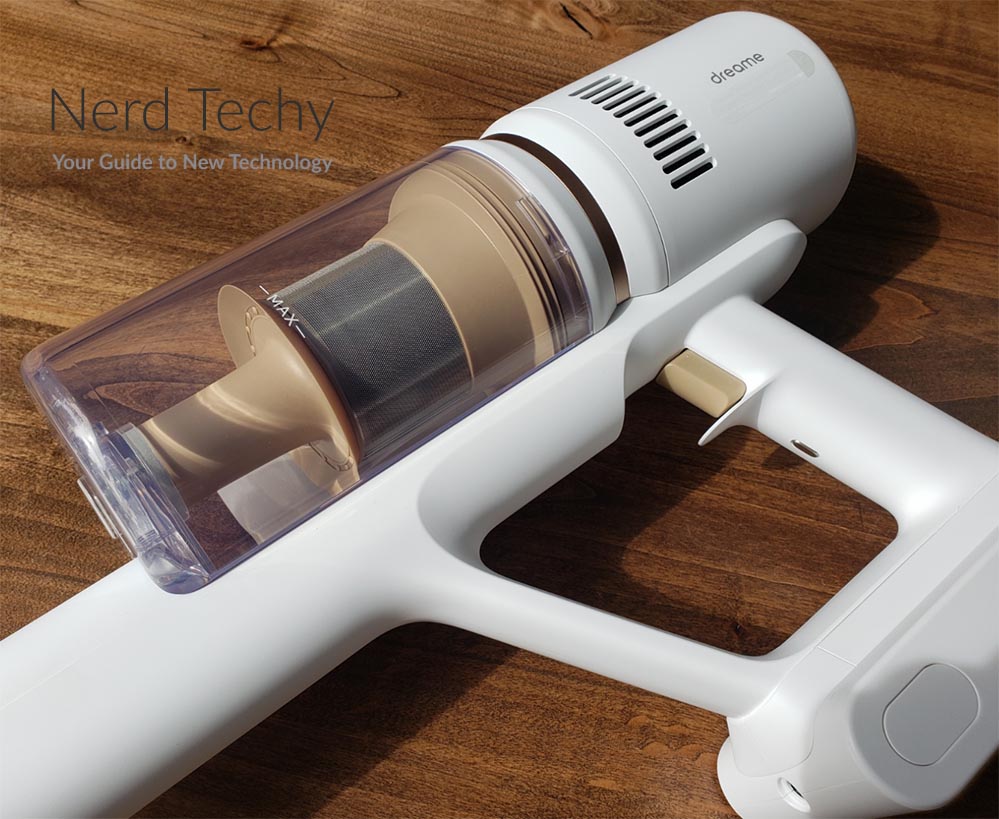 These vacuums have a modular design. If you're working in a tight space, you can mount the attachments directly on the front of the motor. Otherwise, you can put them on the end of a sturdy aluminum extension rod. The rod is grey on the standard model and coral on the Pro, but that's purely a cosmetic difference.
The main roller brush is big and beefy. It's constructed mostly from a white matte plastic that matches the main housing. There are big wheels on the bottom, which makes it easy to transit carpets and solid floors alike.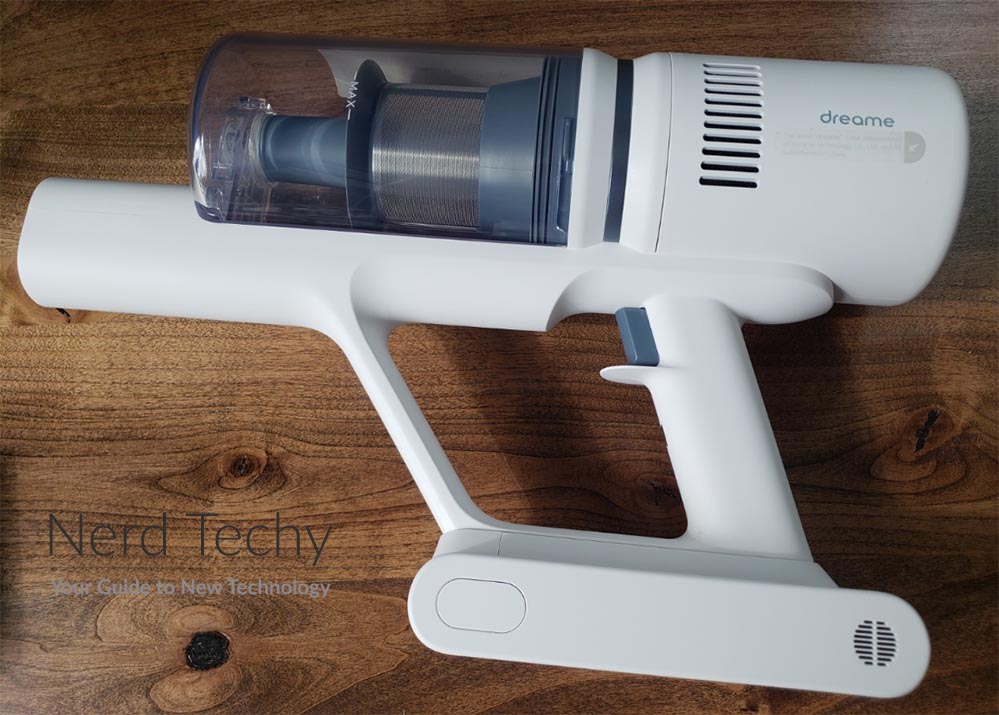 At the front, the brush is covered by a transparent plastic shield. This keeps debris from flying out of the machine. But because it's clear, you can easily identify any possible jams or tangles. Not that this is going to be a problem very often. The V-shaped brush does a pretty good job of staying tangle-free, although no brush is 100% tangle-proof.
Another thing we appreciated was the 2-in-1 crevice and brush tool. This is a plastic tube with a slanted tip, which is used to clean tight spaces. It's easy to clean between couch cushions, along baseboards, and in other nooks and crannies.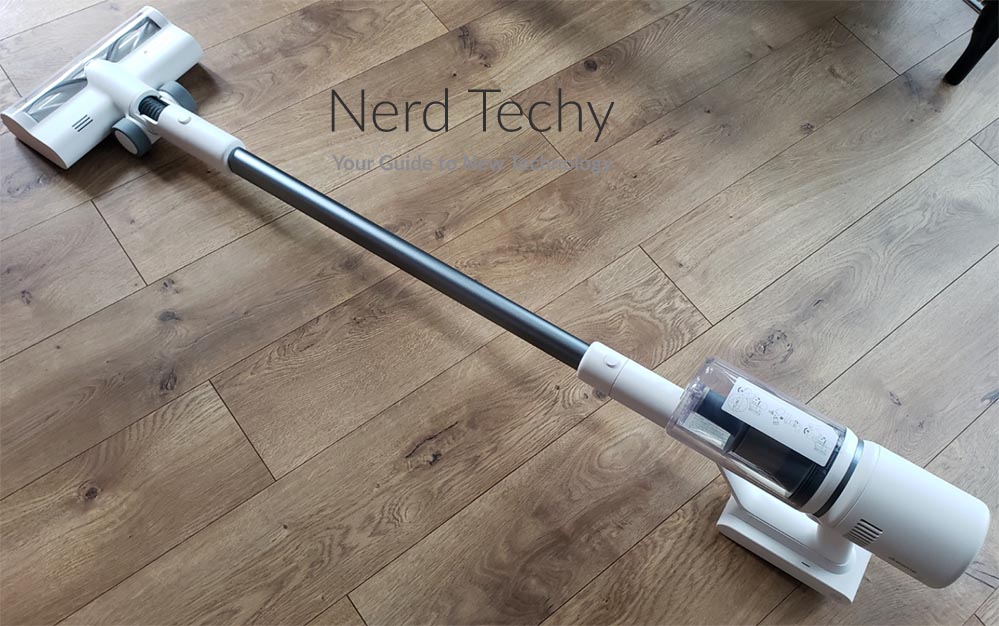 On the outside of the tool, there's a larger, hollow brush, which can slide up and down. When it's locked in the up position, the crevice tool works as normal. In the down position, the brush shields the opening from touching delicate surfaces. This is useful for cleaning keyboards and other electronics.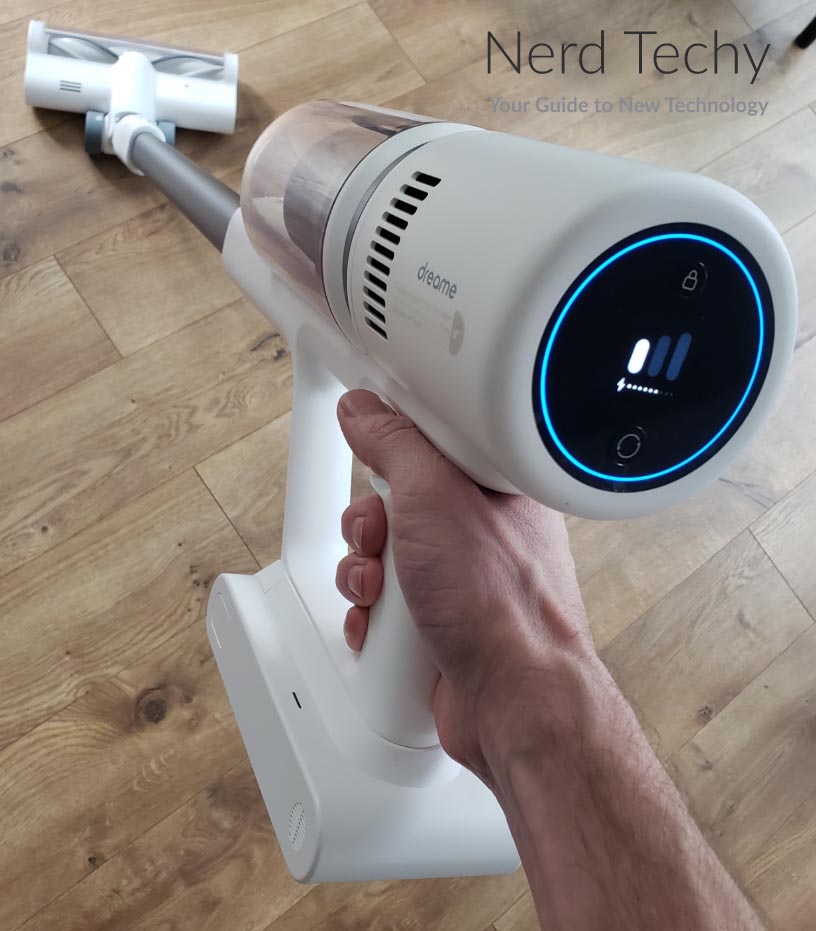 The Pro version of the P10 also comes with a mini roller. This is a compact version of the main roller that's just a few inches wide, with a solid white housing. It's made for cleaning upholstery, automobiles, and other surfaces where the big roller wouldn't be practical. And because of the smaller size, it's very easy to attach and use without the extension rod.
One thing the P10 won't handle is wet messes. For that, you're going to need a wet/dry cleaner, like the Dreame H11 Max. The H11 Max is big and beefy, and can handle almost any time of mess, wet or dry. On the downside, it has a relatively short battery life.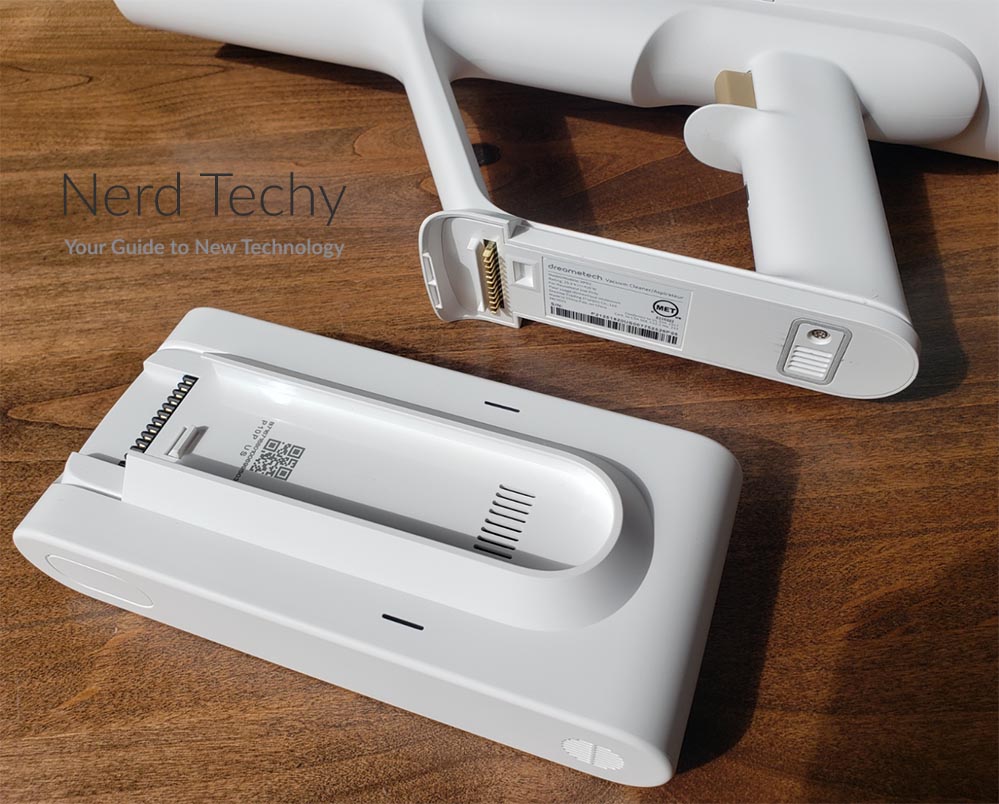 Battery & Filters
When it comes to battery life, you'll see another difference between the base P10 and the P10 Pro. The standard model's battery has an array of seven 2,000mAh cells. This is enough power for up to 50 minutes of cleaning. However, that 50 minutes is based on cleaning in eco mode.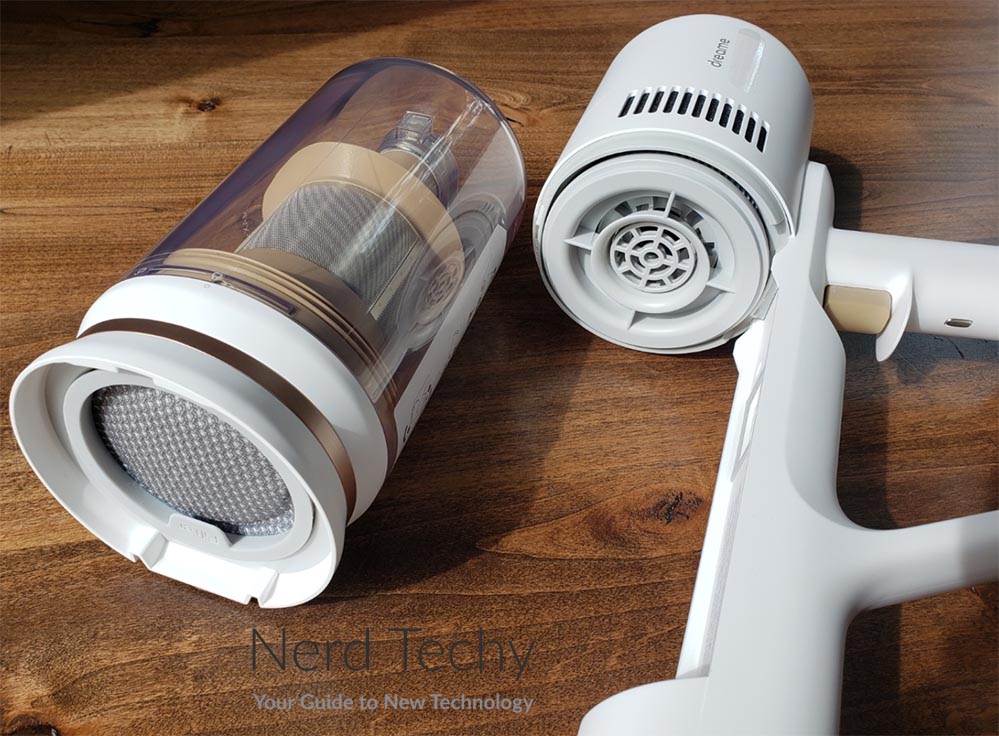 For more stubborn messes, you might need to use medium or turbo mode. These will give you 20 minutes and 8 minutes of cleaning respectively. That's still plenty to clean most rooms. But if you're cleaning the entire house, you might prefer a little bit more power.
The Pro model sports an upgraded battery with seven 2,500mAh cells, for 25% more power. This doesn't actually get you 25% more battery life, though. Keep in mind that the Pro has a beefier motor, which uses more power per minute. Even so, you're looking at a vacuum with a little more stamina.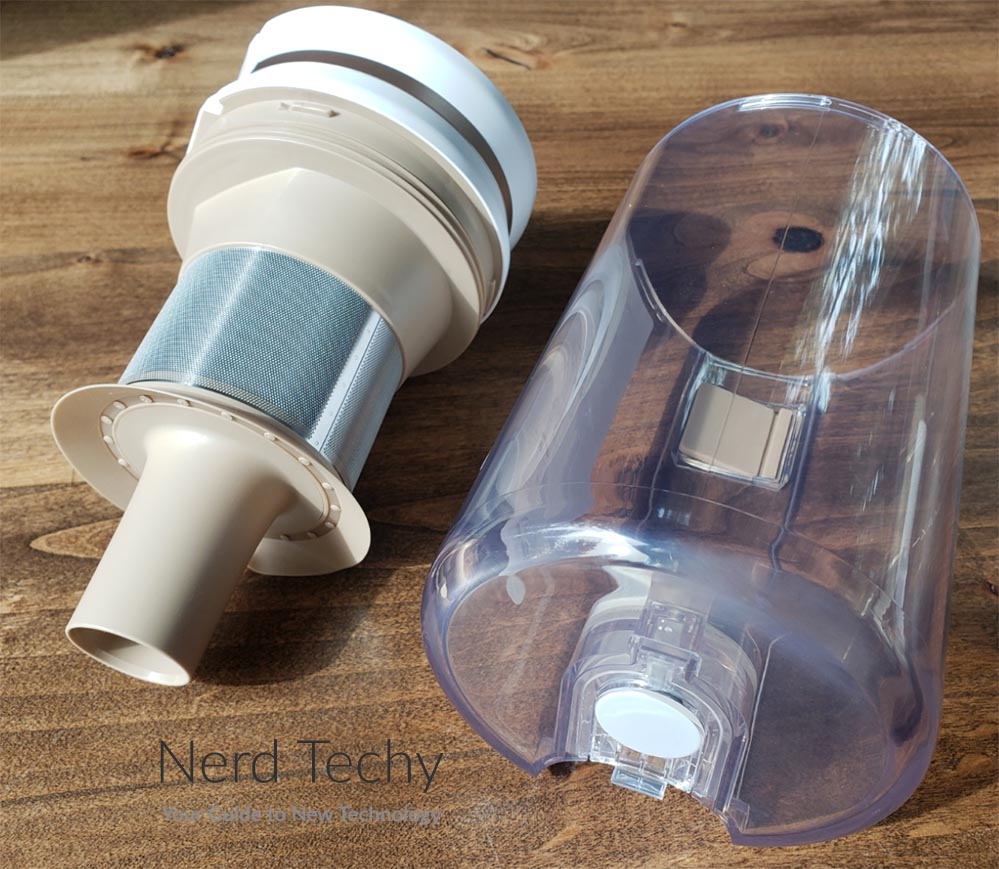 The turbo mode battery life is the same, at around eight minutes. But on medium, you'll get 25 minutes of performance, which goes up to 60 on eco mode. So you're still looking at plenty of coverage. That said, charging takes a bit longer on the Pro, thanks to the larger battery. The standard P10 will charge in about two hours, but the Pro can take as long as three hours.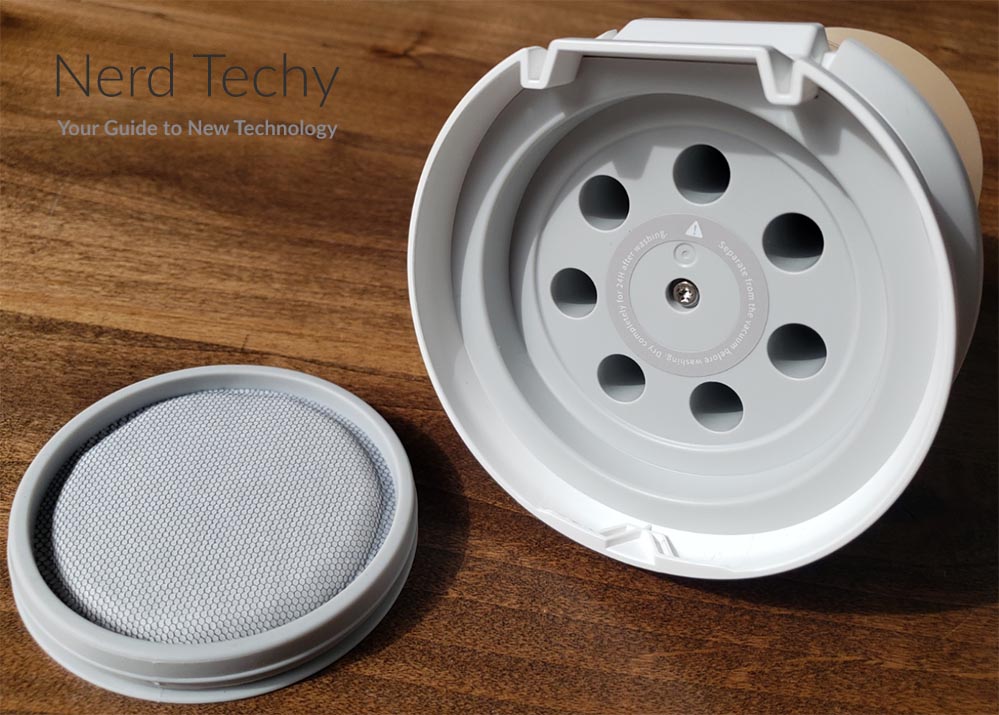 If you need an even longer-lasting battery, take a look at the Dreame Bot Z10 Pro. It runs up to 2 ½ hours, and it's also robotic, so it cleans your house for you. Then again, it doesn't have nearly as much suction as either version of the P10.
The filter inside the P10's dust hopper will eventually get clogged. Thankfully, it's entirely washable, so you don't have to purchase any replacements. Just take it out, run some water through it, and wait until it's dry. Despite its replaceable design, it's surprisingly effective. This filter removes 99.89% of particles as small as three microns. That's not quite HEPA-grade, but it's very close.
Final Verdict
The Dreametech P10 and P10 Pro are both powerful stick vacuums. With 20,000Pa and 22,000Pa of suction, they can handle almost any mess that life throws at you.
They're well-designed, with a nifty brush/crevice tool combo and a beefy main roller. And with the Pro version, you also get a convenient mini roller. You also get to take advantage of straightforward controls and a powerful filter. There's a lot to like here, and very little to complain about.
Meet Derek, "TechGuru," a 34-year-old technology enthusiast with a deep passion for tech innovations. With extensive experience, he specializes in gaming hardware and software, and has expertise in gadgets, custom PCs, and audio.
Besides writing about tech and reviewing new products, Derek enjoys traveling, hiking, and photography. Committed to keeping up with the latest industry trends, he aims to guide readers in making informed tech decisions.