Dreametech T30
Pros
Very powerful suction.
Innovative attachments, including a lighted crevice tool.
Built-in dust sensor.
Wall mount holds all the accessories.
Comfortable operation for people with joint problems.
Cons
Battery life is limited in turbo mode.
Expensive.
Modern technology, from smaller batteries to stronger electric motors, has changed much of everyday life. But when we think of technology, it's usually the sexier applications that come to mind. For instance, strong batteries and motors have given us Tesla and other electric cars. WiFi has given us streaming media and an array of smart home devices.
But sometimes, the best advancements aren't the flashiest or the most exciting. Sometimes, they're the advancements that make life more convenient and save you time. For instance, think of your vacuum cleaner. For most people, it's not something you're all jazzed up and excited to use. It's a tool you need to complete a household chore. But a better vacuum can still make a marked improvement in your like. The stronger the vacuum, the cleaner your home. And the easier it is to use, the less time you'll spend cleaning. So a good vacuum can be incidentally fun and exciting. The less time you spend vacuuming, the more time you have to do what you want to do!
We're about to review the Dreametech T30 Cordless Vacuum Cleaner. This is the latest of their line of cordless stick vacs, which started with the original T10. While the T10 was an entry-level vac, the T30 is one of the most high tech vacuums we've seen. It provides ultra-powerful suction, as well as an easy-to-read display and well-designed accessories. But how well does it work in practice, and is it worth the hefty price tag? To find out, we needed to put the T30 through its paces, and see how it stacks up to the competition. Let's get started, and see what we uncover!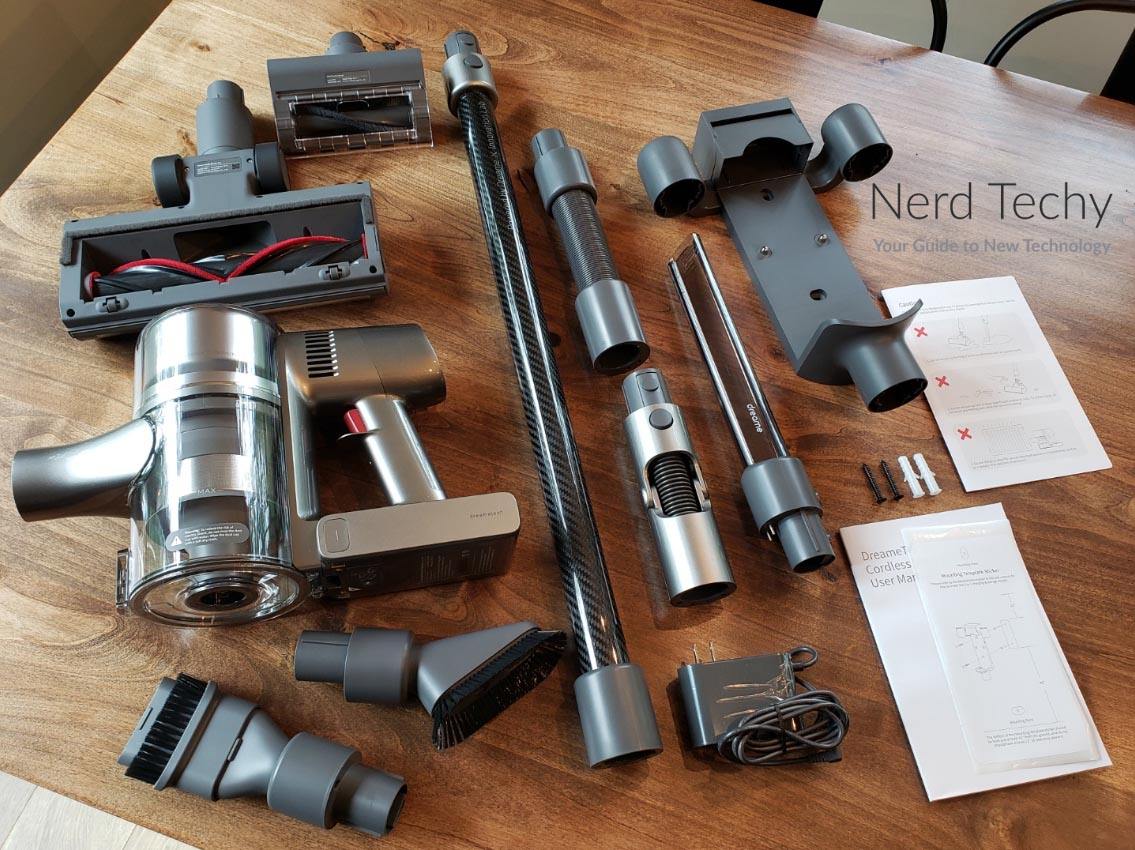 Design & Construction
The first thing we noticed about the Dreametech T30 is that it's very lightweight. Despite a large package that's necessary to hold all the components, it's easy to manage. This is thanks in large part to the carbon fiber extension rod. Lighter than steel and even aluminum, it's still strong enough to handle significant abuse. At the same time, it's easy to hold the vacuum overhead to access hard to reach places.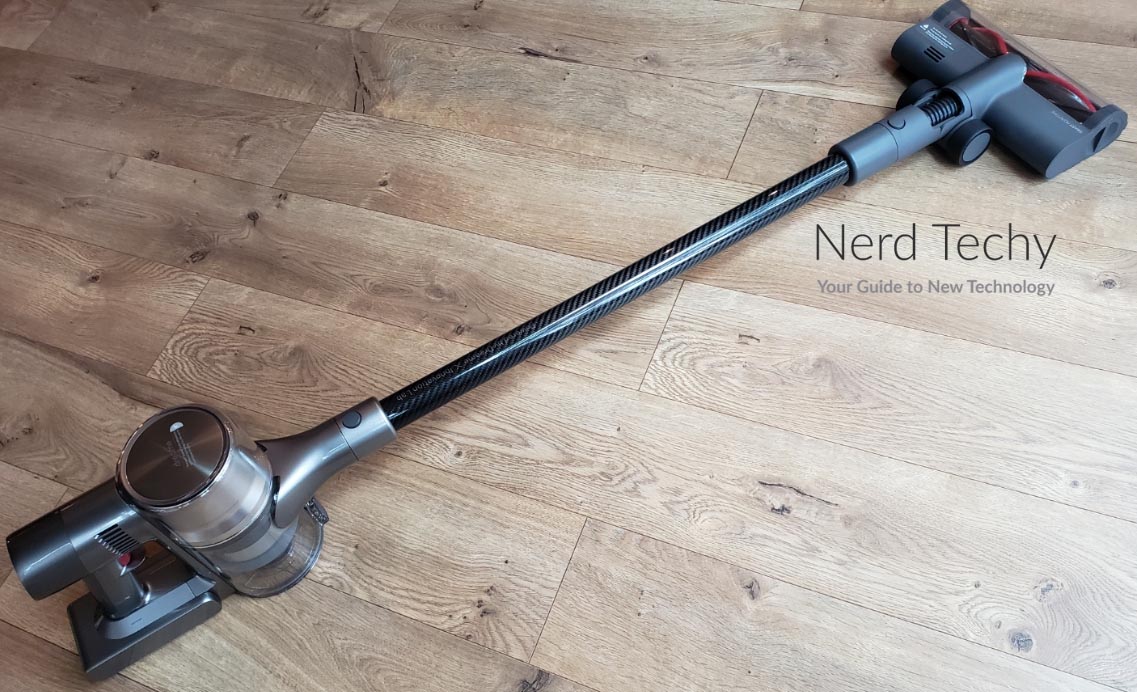 This is also thanks in part to the back-heavy design. The motor is located on top of a long pistol grip, with the battery at the bottom. And they're both positioned towards the back for ideal weight balance. The motor housing is cylindrical, and has a set of air vents towards the front to provide plenty of flow. The housing itself is a two-tone grey, with a darker color at the back and lighter grey towards the front.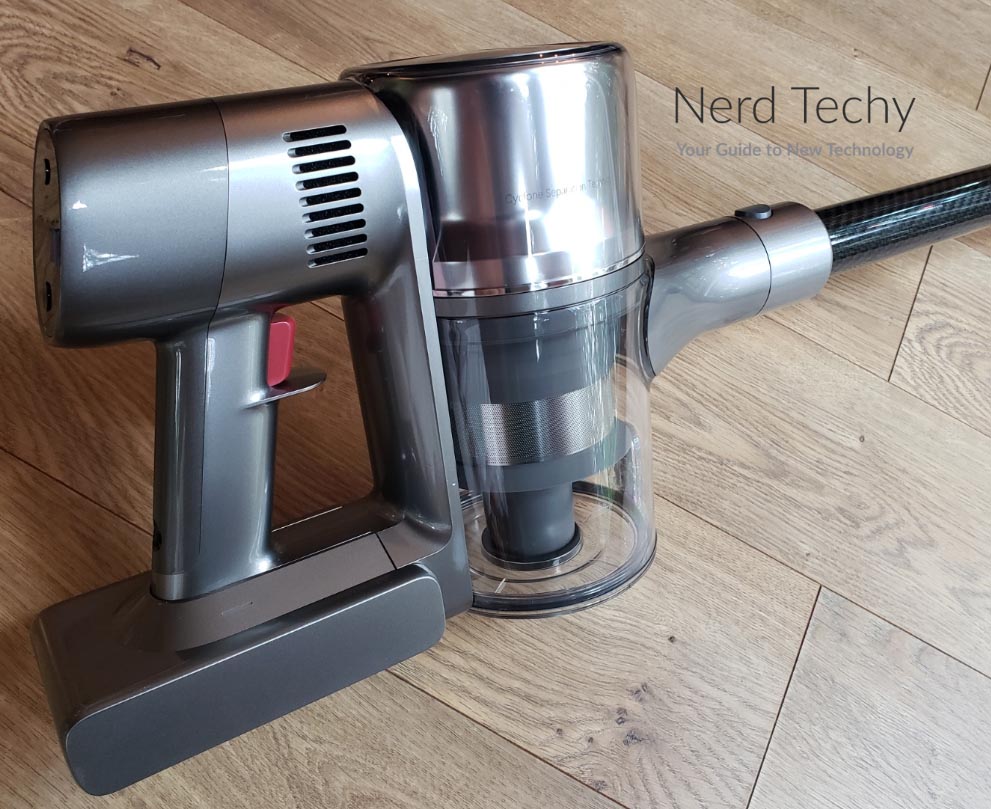 The controls consist of a pair of physical buttons on the back, along with a trigger. Much like a drill or another handhold power tool, you simply pull the trigger to start the motor. It's pretty straightforward. The top button can then be pressed to lock the trigger in place. This way, you don't have to hold down a trigger the entire time you're vacuuming. For many people, this won't make a difference. But if you suffer from arthritis or another joint issue, you'll appreciate the hand relief. The bottom button is used to cycle through speed settings, which we'll discuss more shortly.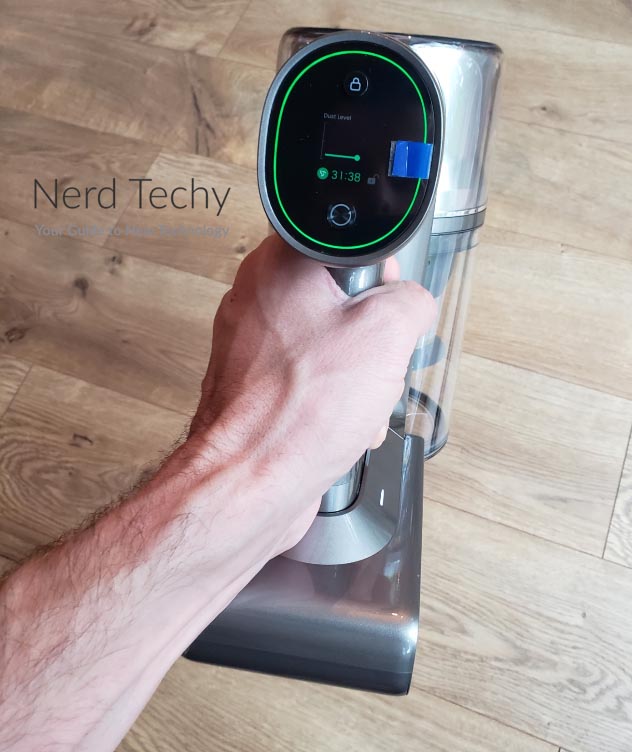 The LCD display on the back can also be used in a few different modes. First, it can show the current remaining battery life. This is an estimate, and will change depending on your motor speed and other variables. But providing you're staying on the same setting, it's generally fairly reliable. There's also an internal dust sensor. This allows you to see the concentration of dust in the air you're sucking up. You can view either the current concentration, or the concentration over time. In theory, this is interesting to look at. In practice, we found that the battery display showed the most useful information by far.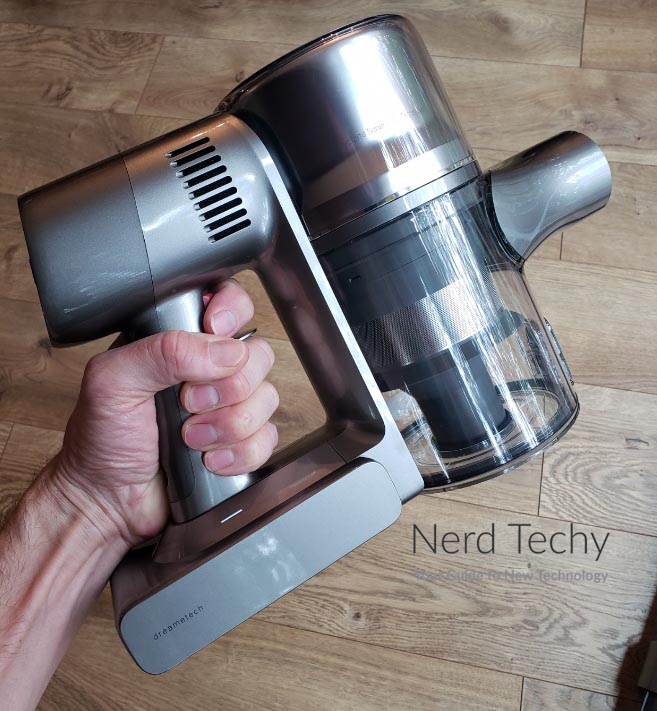 The dust collector is a transparent, vertical cylinder located just forward of the hand grip. It has a volume of 600ml, slightly larger than the average stick vac. And because it's transparent, it's easy to see when it's getting full. The dust bin is easy to empty, too. You just open the catch at the bottom, and dump the contents out into your trash. You can also remove the dust bin to clean it more thoroughly or to access the filter assembly.
The T30 comes with a wall mount that doubles as a charger. You hang it on your wall, plug it in, insert your vacuum, and watch it charge. Most stick vacuums have a similar charging mount. However, most of these mounts don't provide any space for your accessories, which creates the need for storage elsewhere. The T30's mount also has built-in brackets for all the attachments, so you don't have any storage issues.
The vacuum and accessories are all covered by Dreametech's 12-month manufacturer's warranty. This protects you from any defects in materials or workmanship. If you run into trouble, you can file a claim for a refund or replacement.
Cleaning & Accessories
The Dreametech T30 is capable of providing up to 27kPa of suction. That's nearly twice the power of the average stick vacuum, and is enough for even the toughest messes. Keep in mind, though, that maximum power comes with the downside of shortened battery life. So it's best to use the lowest power setting that's required for the situation. Unless you're spot treating a particularly stubborn mess, the middle setting is sufficient for most purposes.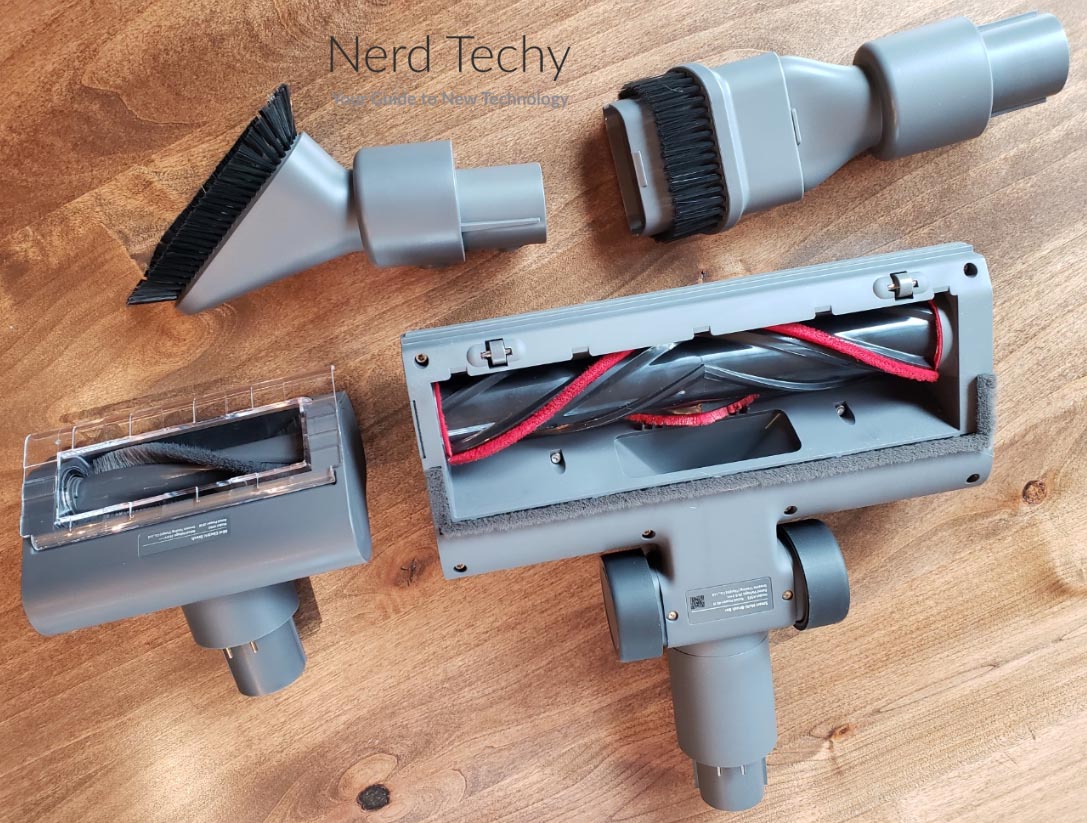 When you're using the main roller brush, this adjustment will happen automatically. The roller sports a built-in sensor that detects when more power is required. When you transition between carpets and floors, the suction will adjust up or down as appropriate. The roller itself is well-engineered, with a comb in front to capture hairs and a flexible joint at the base. This base makes it easy to maneuver under furniture, even at an awkward angle.
Along with the large roller, there's a mini roller that can be used for smaller applications. It's ideally sized for cars, or even for vacuuming a door mat without lifting it up from the floor. It can also be used for cleaning upholstery, although you'll want to use a lower power setting for that purpose.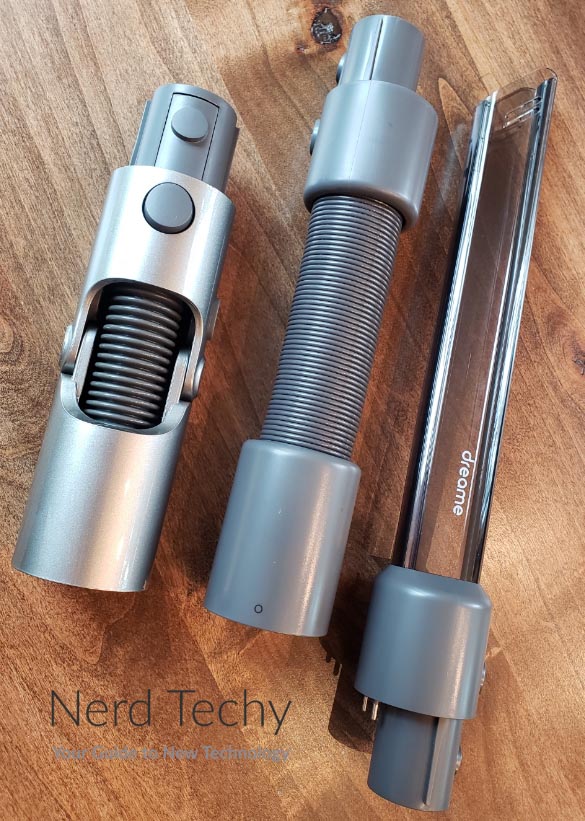 Most stick vacuums come with a brush attachment for delicate surfaces like curtains. The T30 comes with a pair of them. One is a straight attachment, and the other is built at a 90-degree angle. The 90-degree version works very well for curtains, since it's at a natural angle when you're reaching overhead.
The last attachment is a crevice tool, and we normally don't wax too poetic over those. They're slim plastic tubes for reaching hard-to-reach places. However, the T30's crevice tool is fully powered, with an LED light on the tip. This makes it easy to see under shelving, sofas, and other areas you're trying to clean out.
In addition to mounting your attachments on the carbon fiber tube or directly on the motor, there's a hose attachment. This makes it easy to set down the vacuum motor if you need to, to reach inside a car or around some furniture.
One thing the T30 won't do is vacuum your floor by itself. For that, you'll need a robot vacuum, such as the Dreametech D9. It's a round smart vac that maps your floor and utilizes a long-lasting battery. That said, it's not as powerful as most stick vacuums.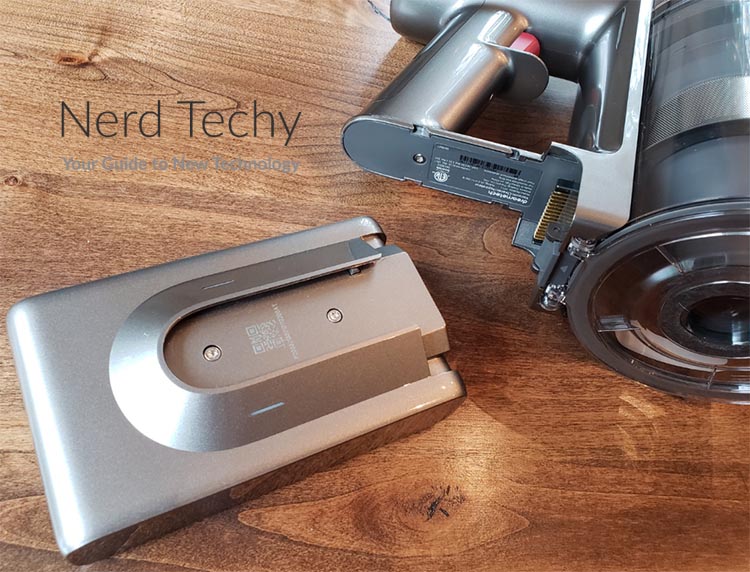 Battery & Filters
The Dreametech T30's internal battery has a capacity of 2,900mAh. How long this will last you depends on what speed the vacuum is set to. At the lowest power, it runs for 90 minutes. This is very long for a stick vacuum, and it's suitable for many applications. Particularly if you're cleaning hardwood floors, you may never need to exceed the minimum. On the medium setting, you'll get 35 minutes of use. This is sufficient for most carpets, and it's enough to clean a couple of rooms. Turbo mode is only ever necessary for the worst messes. On the downside, you only get 7 to 8 minutes of use on turbo mode. So you can clean serious messes, but not over a very large area.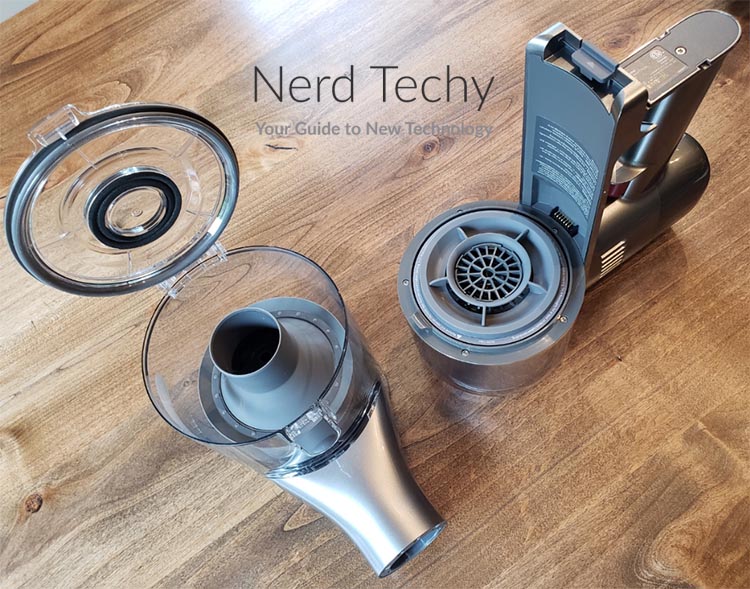 The filter system is reasonably effective. It consists of a mesh screen that's designed to remove particle and dust that might damage the motor. In other words, it's more than up to the job. That said, it's not a HEPA filter. If you're trying to remove allergens and very fine dust particles, it won't do much to help. On the other hand, HEPA filters need to be replaced on a regular basis. The T30's simple washable mesh filter can be reused more or less indefinitely.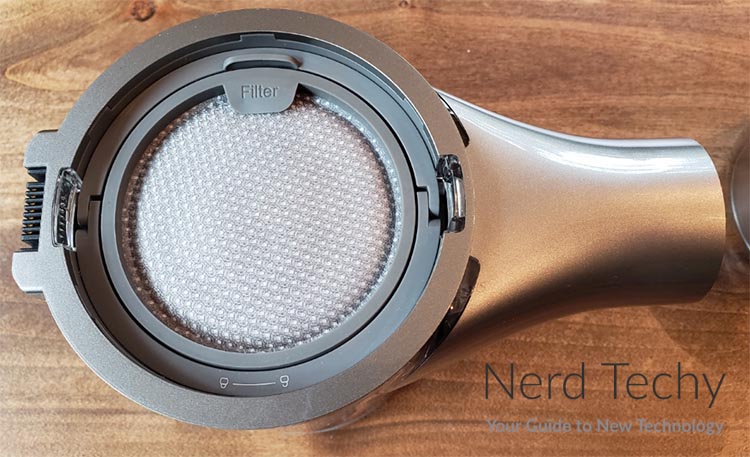 If you do need a vacuum with a HEPA filter, the Dreametech T20 is a solid choice. It's not quite as powerful as the T30, and the battery doesn't last as long. But it removes mold spores, pollen, dust, and other allergens that the T30 won't.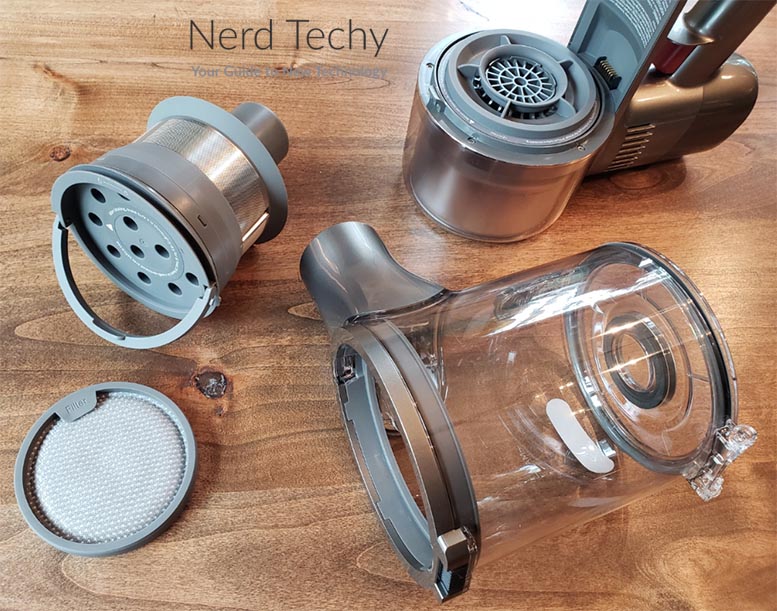 Final Verdict
The Dreametech T30 is one of the best cordless stick vacuums on the market today. For one thing, it's rare that you find a battery-operated with this type of power. For another thing, you get a good assortment of accessories. In addition to the standard options, the 90-degree brush and LED-lit crevice tool are welcome extras. To go along with this, Dreametech provides a large mounting bracket to hold all your attachments. This alleviates the need to find somewhere else to keep your stuff.
The main downside to the T30 is its price. It's definitely a bit more costly than your typical stick vacuum. But it's not your typical stick vacuum at all. It's a premium option that's designed with a slew of extra features. Considering what you're getting, the T30 is an excellent value, and performs admirably.
Meet Derek, "TechGuru," a 34-year-old technology enthusiast with a deep passion for tech innovations. With extensive experience, he specializes in gaming hardware and software, and has expertise in gadgets, custom PCs, and audio.
Besides writing about tech and reviewing new products, Derek enjoys traveling, hiking, and photography. Committed to keeping up with the latest industry trends, he aims to guide readers in making informed tech decisions.