Whether you're working or playing, a good keyboard is an essential part of a good computer system. Along with your mouse, it's one of two ways to control your game or app. And if you do a lot of typing, you know how much of a difference a mechanical keyboard can make. There's just no replacement for the tactile response of a high-quality board. Once you've used one, you'll never go back to using a cheap membrane keyboard again.
But just because a keyboard is mechanical doesn't mean it's automatically good. Sure, you'll probably get plenty of tactile feedback. But that's no excuse to accept a keyboard with a poor layout or cheap construction. You want a board with all the media functions you expect on a modern system. And for gamers, LED lighting is practically an essential. In the past, we've reviewed the Epomaker AK61, a compact, tenkeyless mechanical board. We liked what Epomaker is producing, so we were eager to review more of their keyboards.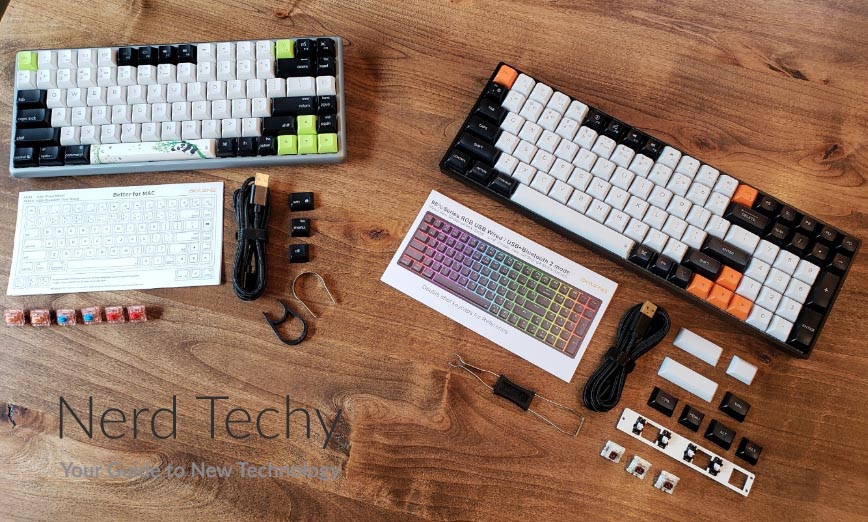 Today, we'll be looking at the Epomaker AK84S and GK96S. Both of these keyboards are optimized for Mac, but work fine with Windows or Android. The only real difference is cosmetic. There are Mac and Option keys instead of Windows and Alt keys. The AK84S is an 84-key tenkeyless keyboard that's designed to be compact without sacrificing the function keys. The GK96S is a slightly larger, 96-key board with a tenkey, but with a tight, space-saving layout.
So, how do they compare to other mechanical keyboards on today's market? To find out, we'll take a deep dive into all of their features. We'll start by looking at the physical design and general layout of each keyboard. Next, we'll talk about the keycaps, and the options you'll have for switches. Finally, we'll talk about RGB lighting and any other extras the boards offer. Let's get started!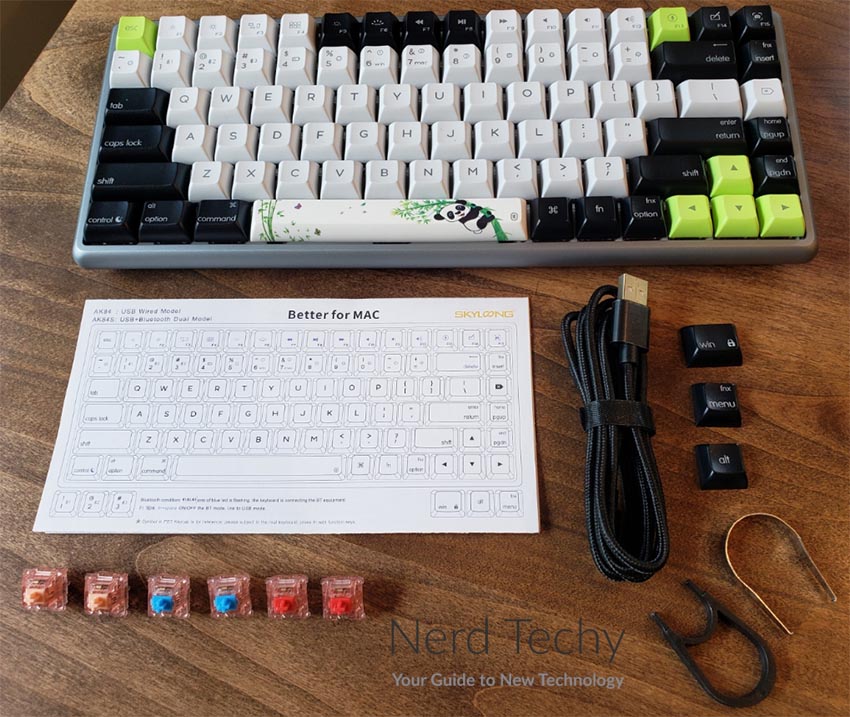 Epomaker AK84S
The Epomaker AK84S is available in four different color and material pairings. The first has a silver aluminum housing, which is rugged, but a bit heavier than plastic. The next has a transparent acrylic housing. This is surprisingly tough, and you can get some neat effects from your LED lights. The third and fourth options are black and white plastic. These options come with orange arrow, escape, and spotlight keys, while the others have lime green highlights. All the other keys are black and white on all housing types. As you can see, you get a fair number options when it comes to color and material alone.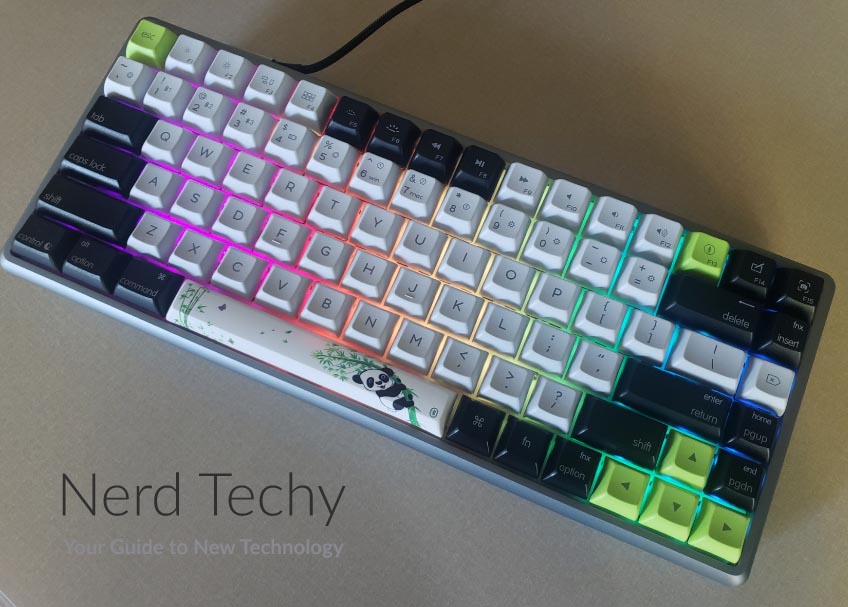 As we mentioned, this is a tenkeyless board that's optimized for Mac. However, there's a function button that allows you to switch to Windows mode at any time. It's also compatible with Android devices, so unless your allergic to Mac key symbols, there are no compatibility issues. That said, the tiny size is a love-it-or-hate-it thing. Either you want a tiny keyboard that's easy to carry, or you prefer a larger board with more real estate. If you prefer a different design altogether, why not consider a split gaming keyboard instead? We've reviewed several in the past, and there are plenty of good options.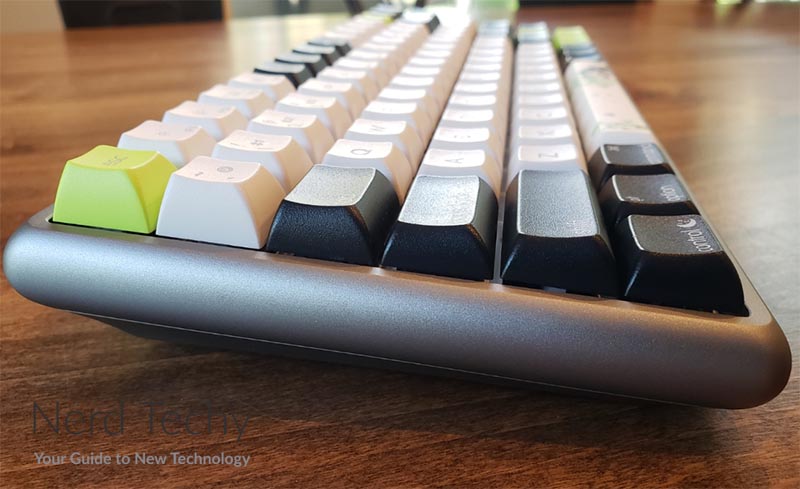 In terms of connectivity, the AK84S can connect via Bluetooth 5.1 or USB Type-C. This gives you the flexibility to choose a wired or wireless configuration to suit your needs. With the wire, you won't have to worry about batteries. Without it, you'll still get excellent performance. The internal 4,000mAh battery lasts for a minimum of two weeks on a full charge. With the LEDs active, that drops to a minimum of 20 hours. Even so, that's a lot of performance between charge cycles.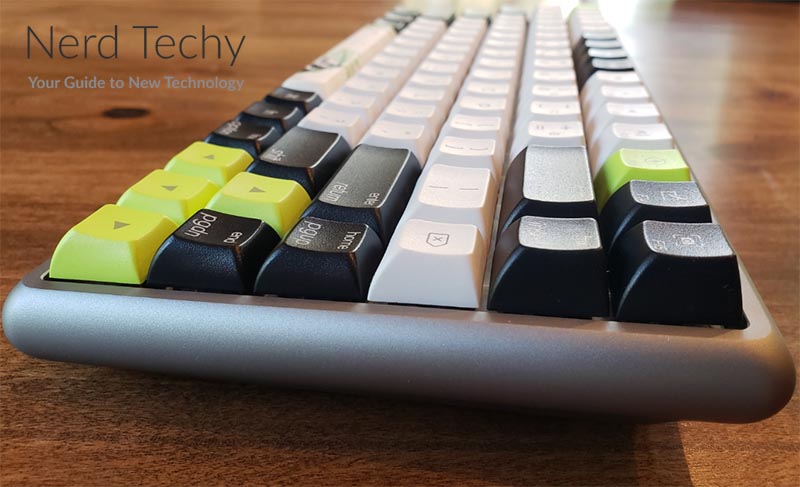 Along with the keyboard itself, you get a USB Type-C cable for connecting and charging it. You also get a keycap puller, which makes it easier to remove keys without damaging the stabilizers.
Keycaps and Switches
The AK84S comes with two complete sets of keycaps. The first is a set of PBT caps, which will come installed on the board. These are high-quality doubleshot keycaps, which means the symbols won't wear out with use. The PBT material also won't wear smooth like ABS keycaps will. It's a far superior grade of plastic, and it's what you want on a high-quality keyboard.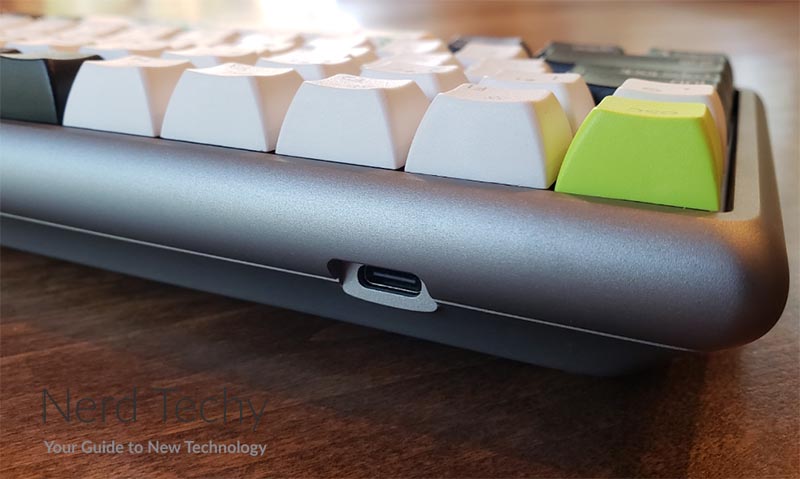 In addition to that, the AK84S also comes with a set of silicone keycaps. These are also doubleshot, so they won't wear out. However, the silicone material is softer and has more grip than PBT. It slightly reduces key impact without negatively affecting your typing. This set of keys comes with three different colored arrow, Spotlight, and Esc keys in red, orange, and green. In addition, the main keys are dark green and white instead of black and white.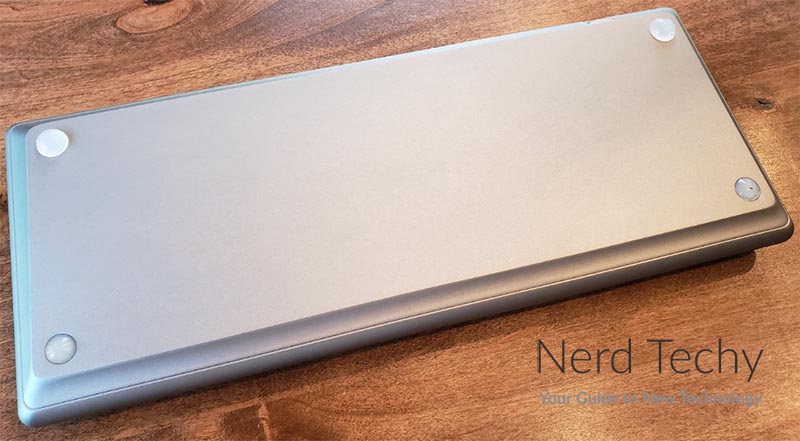 This keyboard uses Gateron switches, rated for a minimum of 50 million keystrokes. That's not quite as many as Cherry's 100 million strokes, but it's better than generic brands. You can order the AK84S with Blue, Brown, Black, Red, or Yellow switches in optical or mechanical. The optical keys have a lighter touch and higher sensitivity, but less tactile feedback. The exact level of responsiveness and feedback will also depend on the color. There are plenty of guides available if you're not sure which color will give you the feel you want. The point is, you have plenty of choices. Additionally, you can choose one of Epomaker's in-house Chocolate brand switches in the same colors. These seem to work just fine. But since they're a fairly new product, we can't vouch for their durability.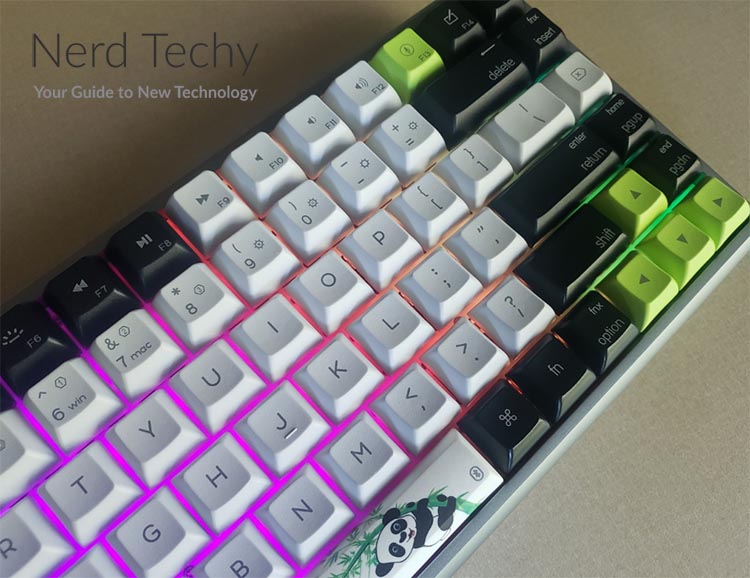 Extra Features
As with most modern keyboards, the AK84S includes a function key. This lets you adjust the brightness and volume, play or pause music, skip tracks, and perform other common tasks. You can also use some of these buttons to switch between three different wireless connections. This means you can be connected to three devices at the same time, or four with the USB cable. To switch from one device to another, simply press the buttons. This can be useful for any number of purposes. For instance, if you hate using your phone's onscreen keyboard, you can use the AK84S to fire off a text. You also won't have to worry about having to re-pair the Bluetooth. Use your keyboard on your PC at work. Come home, change to a different connection, and get going on your Mac.
The LED lights support the full array of 16 million colors, with limited default options. However, you can install Epomaker's software for free on Mac or PC, available on their official website. From there, you can choose a wider variety of patterns, or even create your own custom lighting. The default options then become a fallback if you're connecting to an unfamiliar device. Once again, the key point is that you get plenty of options. You're not locked into one or two choices.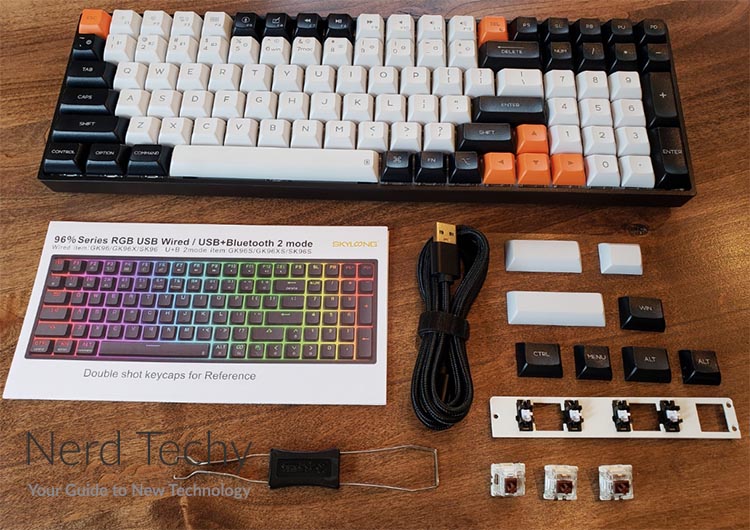 Epomaker GK96S
The Epomaker GK96S is a slightly larger keyboard with a tenkey pad. However, it's still made to be compact. The tenkey pad, arrows, and function keys are all tightly packed together with the others. The case itself is black plastic, with a very thin bezel. This keeps the form factor reasonably small, if not quite as small as a tenkeyless board. The keys themselves are black and white, with orange arrow, Esc, and Del keys.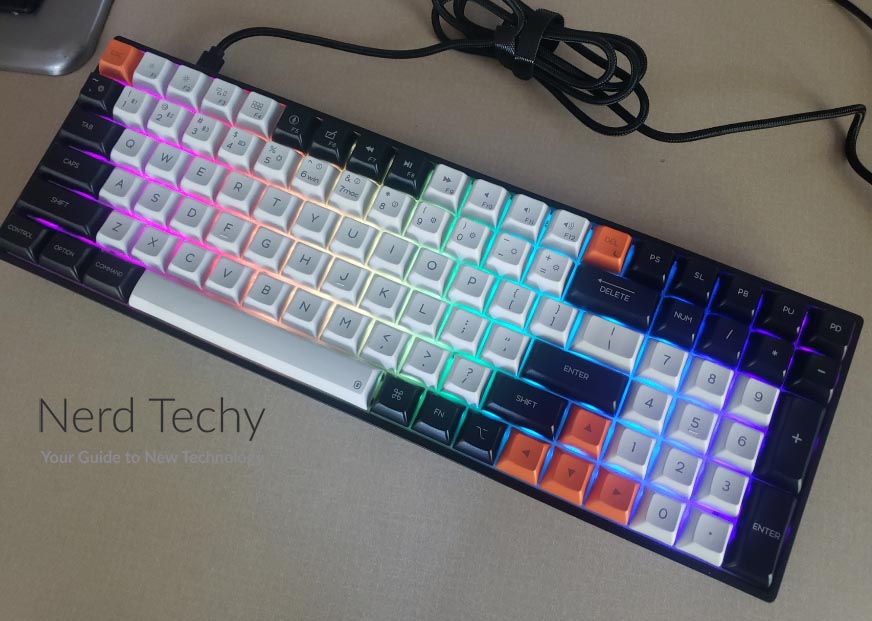 Besides that, the GK96S is much like the AK84S. It's optimized for Mac, but it's fully compatible with Windows and Android. It can also connect via both Bluetooth 5.1 and USB Type-C. It even has an identical 4,000mAh battery, with similar performance. The package includes a keycap puller, a USB Type-C cable, and a switch puller.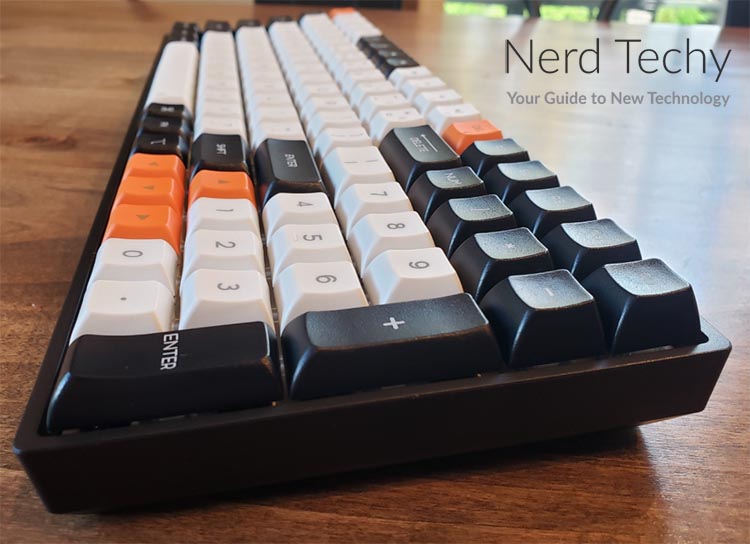 Keycaps and Switches
The default keycaps for the GK96S are the same GK1 PBT doubleshot keycaps the AK84S comes with. You also get the option to order it with ABS keys instead. At first, this might seem like a good way to save money, but it's actually a bad idea. The whole point of a mechanical keyboard is that you're investing in a nicer, longer-lasting keyboard. ABS keycaps will wear smooth after as little as a year of heavy use. This means you'll need to replace them years before you need to replace anything else.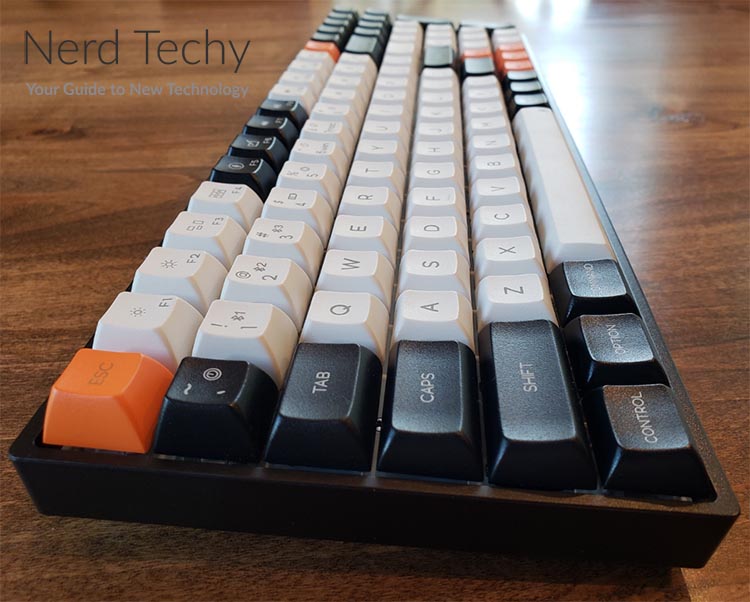 When ordering the GK96S, you can choose between Gateron mechanical switches in Yellow, Silver, White, or Green. This gives you a decent number of options for key travel, responsiveness, noise, and resistance. As an added bonus, the switches are hot-swappable. If you want to experiment with different types, you can change them over without soldering.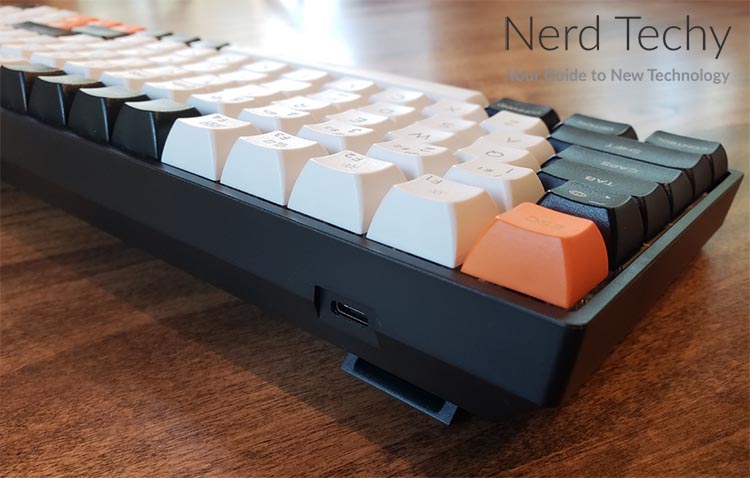 Extra Features
Like the AK84S, the GK96S has a function key with media and volume controls. It also supports up to four wireless connections as well as a wired one. That's a slight improvement over the AK84S, but not a huge one. Similarly, you get the same 16 million-color RGB lighting with software controls.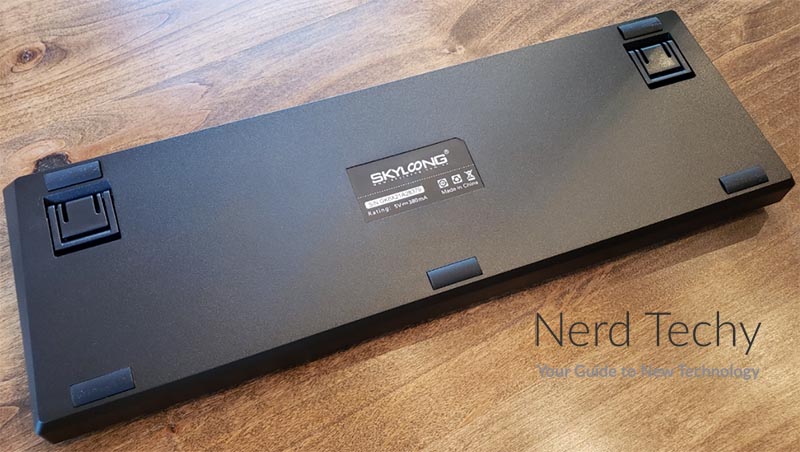 In addition to all that, you can choose between three keyboard layouts. The first is standard, and is not programmable. The second and third can be remapped to your heart's content. Want to experiment with the Dvorak layout? There's nothing stopping you! If you manage to confuse yourself, you can easily switch back to the standard layout.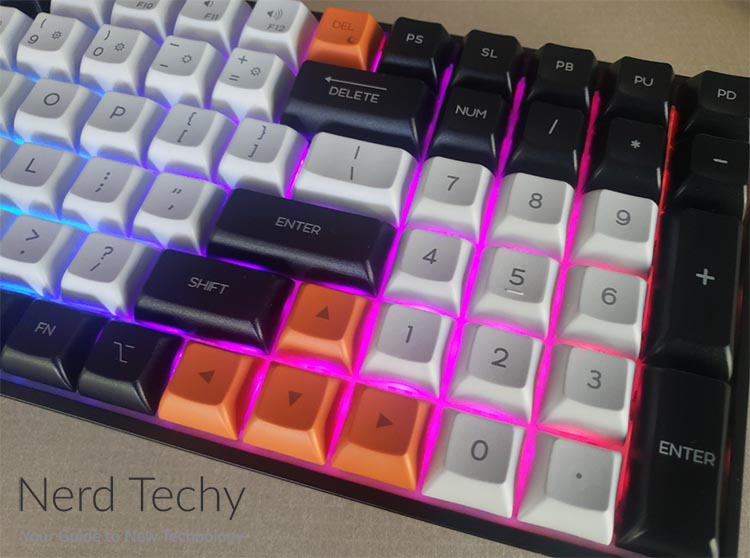 Final Verdict
So, which of these keyboards is the best for you? Let's start with the obvious. Both are compact, which makes them easy to transport. However, both of them are a bit more cramped than a full-sized keyboard. As for their differences, the most obvious is that the GK96S has a tenkey pad while the AK84S does not.
That said, there are other important distinctions. The Epomaker AK84S's alternate silicone keycaps are a great feature if you tend to hit the keys too hard. In addition, you get the option for optical as well as mechanical switches, and a variety of lighting options. The Epomaker GK96S, on the other hand, provides a different set of options. You don't get to order it with optical switches, but the mechanical switches are hot-swappable. You also get the ability to create a truly custom layout, so Dvorak typers can rejoice. Finally, the Southpaw version is a neat choice for left-handed users. You really can't go wrong with either one of these keyboards. But which one is the best will depend on how you want to customize your board.