If you're a PC gamer, your mouse and keyboard are essential to your experience. This isn't too hard to figure out; they're your control scheme. If your keys stick or the strokes don't register, it doesn't matter how good your skills are. You're not going to be able to perform to the maximum level. Of course, a keyboard that simply works is the bare minimum. Mechanical keys are a plus, since they're more durable and responsive, and less likely to stick. Macro options and media keys are also a big help, since they can simplify everyday tasks. Finally, you want to look for keyboards with anti-ghosting features.
Keyboard size is another related concern. If your desk is on the small side, a full-sized keyboard can occupy a lot of real estate. A tenkeyless, or TKL keyboard is an easy way to cut down on the size. For most games, you'll never need the number pad. And even if you do, any modern game will let you change the keybinding. So there is literally zero downside to using a TKL keyboard, at least as far as gaming is concerned.
Now, we're going to review three of the best TKL keyboards out there. We'll start with the Razer Huntsman Tournament Edition Tenkeyless Gaming Keyboard. This is a rugged board with doubleshot PBT keycaps. Next, we'll review the SteelSeries Apex 7 TKL Compact Mechanical Gaming Keyboard. This no-nonsense keyboard has an all aluminum frame, along with a magnetic wrist rest. Finally, we'll look at the PICTEK TKL Mechanical Gaming Keyboard. This keyboard has less features than the others, but it's one of the most affordable mechanical keyboards available. Once we've looked at all three options, it will be time for us to render our verdict. Let's get going!
Types of Keyboard Switches
Switches are the heart and soul of any keyboard. They're the part under each key that activates a signal to your computer. Different types of switches respond in different ways, so knowing what type your keyboard uses is essential. Most keyboards nowadays use some kind of membrane design. A membrane is simply a three-layer construction. The upper and lower layers are separated by a middle spacer, which can be compressed. When the upper and lower layers touch, they complete a circuit, and the keystroke is registered.
Membranes are rarely used on their own, although you'll find them in some folding and roll-up keyboards. They have a very soft feel, and should never be used for gaming. More commonly, modern keyboards have a dome-switch design. In this design, the membrane is positioned under a rubber dome, which is beneath a mechanical key. When you press the key, the rubber dome compresses. When you release, the dome expands and returns the key to its starting position. Dome-switch keyboards are affordable, but not terribly responsive or durable.
Many laptops use a scissor-switch design instead. These are similar to dome-switch keyboards, but they return via a scissor-style plastic spring. This design allows scissor-switch keyboards to be very thin, which is why they're popular in laptops. They're also more responsive and "clicky" than dome-switch keys. However, if the keycaps pop off, they can be very difficult to get back on.
Mechanical switches have a more robust design. Instead of a membrane, they use a larger switch in a plastic housing. Each switch has a spring-loaded stem, where the keycap mounts. This design makes the keys both clicky and responsive. Different mechanical keyboards have different key sensitivities and actuation points. Some are also louder or quieter than others. So while you'll ideally want a mechanical keyboard for gaming, you don't want just any mechanical keyboard. You want one that has the right sensitivity and noise level for your preferences.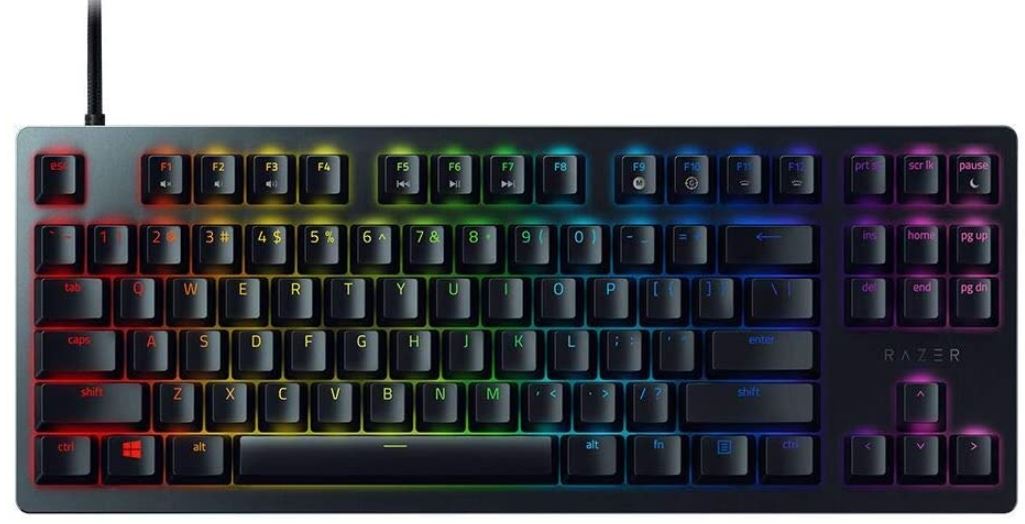 Razer Huntsman Tournament Edition Tenkeyless Gaming Keyboard
As a manufacturer of PC supplies, Razer is one of those companies that needs no introduction. They make everything from RGB light kits to speakers, and they have a reputation for quality. The Huntsman Tournament Edition Tenkeyless Gaming Keyboard is no exception. It has a durable aluminum build, which is virtually impervious to damage. It also has a matte black finish that's easy to keep clean.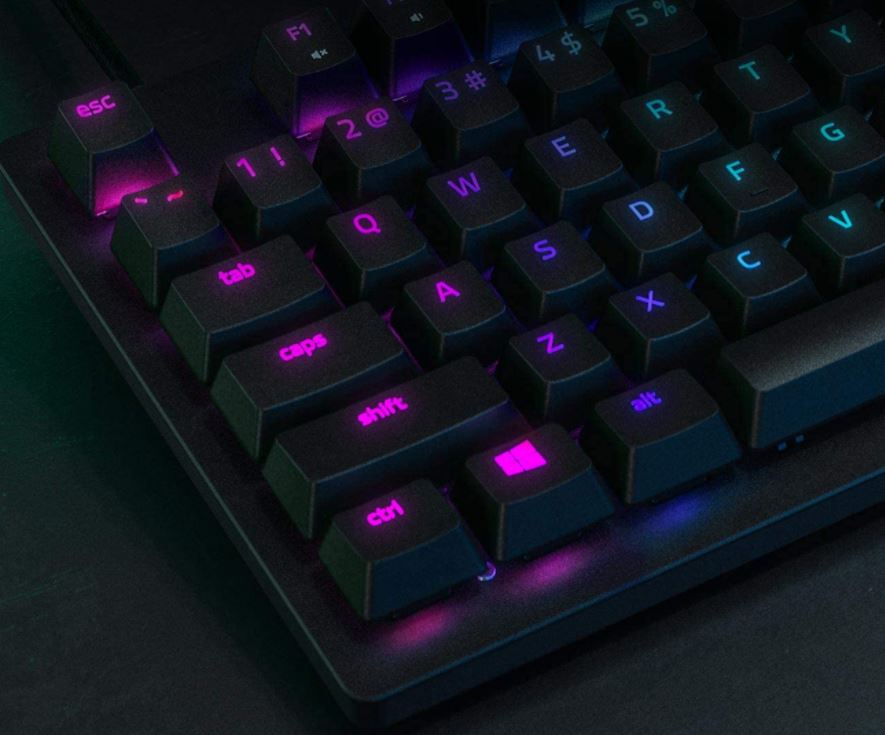 The tenkeyless design is nice and portable, so you can game at your friend's house with your own keyboard. Not only that, but the USB Type-C cable is removable. You can wrap it up separately from transport, and not have it sticking out the back of the keyboard. A removable cord also has an additional advantage: if it breaks, it's easy to replace. You don't have to worry about replacing the entire keyboard just because your vacuum ran over the cord.
The keycaps are made from PBT plastic, rather than ABS. PBT is a higher-quality plastic, which doesn't wear smooth and get glossy like ABS will. It also repels oil, so finger grease won't build up on the keycaps over time. The caps are double shot, rather than molded, with transparent lettering. This lettering will never wear, since the clear plastic runs the full thickness of the keycap. It also allows the RGB lighting to pass through, which looks beautiful.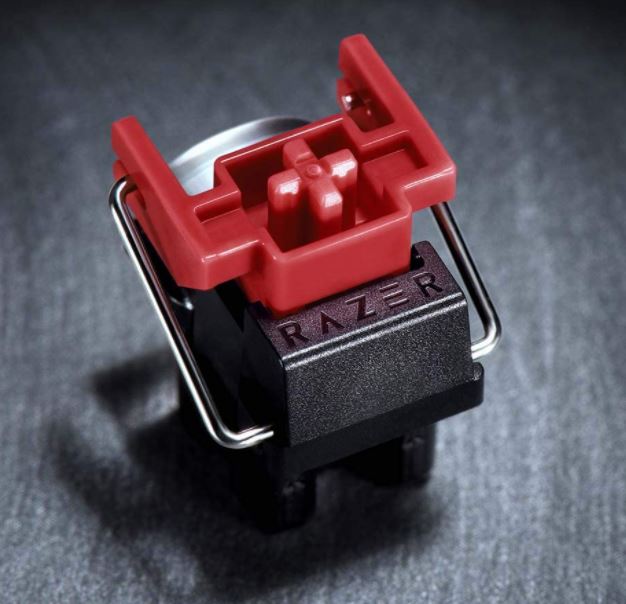 Key actuation is virtually instantaneous. Instead of physical contacts, the switch uses an optical beam to complete the connection. This makes for literally lightning-fast response times. Not only that, but it also allows for a shorter travel distance of 1mm, less than most mechanical switches. On the other hand, the keys are very loud. There's no way to game quietly on this keyboard.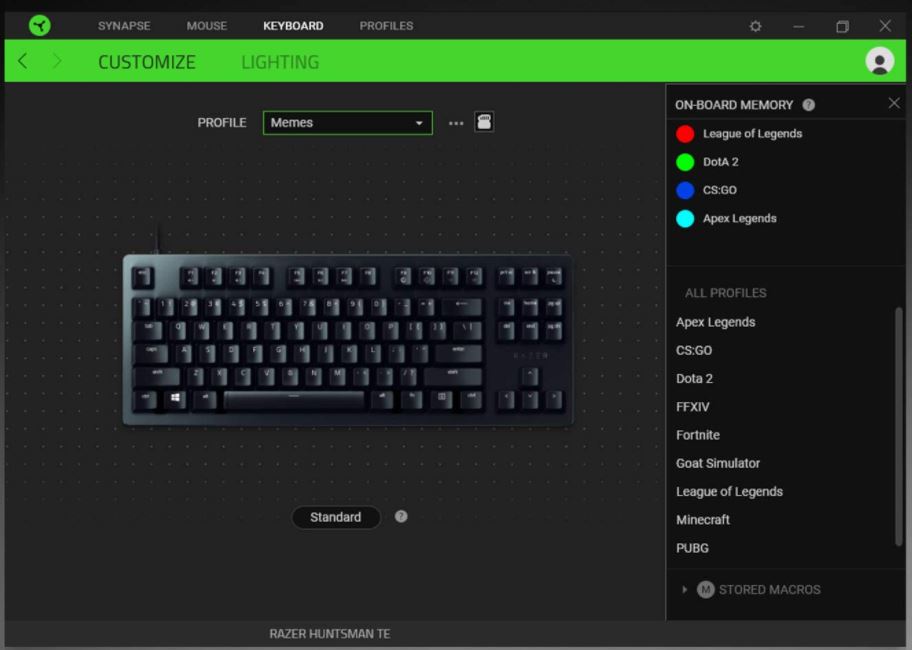 Other Considerations
The Huntsman Tournament Edition features N-key rollover. This means that no matter how many keys you press at the same time, it will register them. If you're using complex macros, you don't have to worry about your keyboard failing to do anything. To go along with this feature, you also get on-board storage for your settings. So if you have custom lighting and other options, you can take them with you on the road.
Along the same lines, the RGB lighting uses Razer Chroma technology. This allows the lighting to sync with most major games. It's also compatible with other Razer hardware and many third-party lighting controllers. That said, if you don't have a lighting controller, your options will be limited. To do anything other than turn the lights on and off, you need to use Razer's Synapse software. Thankfully, Synapse is a free cloud-based tool, so you don't even have to install anything.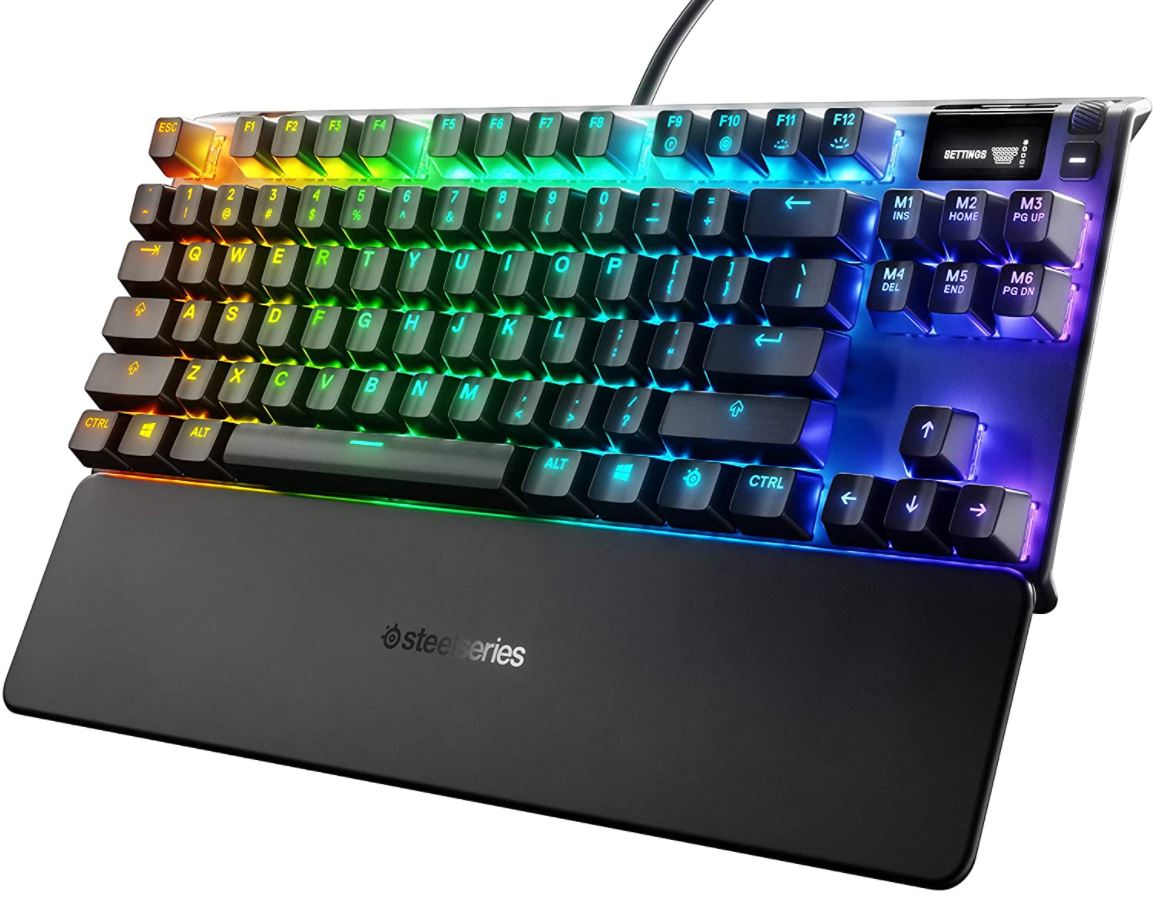 SteelSeries Apex 7 TKL Compact Mechanical Gaming Keyboard
SteelSeries is another well-known keyboard manufacturer. In fact, the Apex 7 TKL is just a smaller version of the SteelSeries Apex Pro, which we've already reviewed. But where the Apex Pro is big and beefy, the Apex 7 TKL is compact. It has an aluminum body, with a flat, angled back that gives it a striking appearance. It also includes a wrist rest, which attaches magnetically. This means the rest can be carried separately, or not transported at all if you so desire.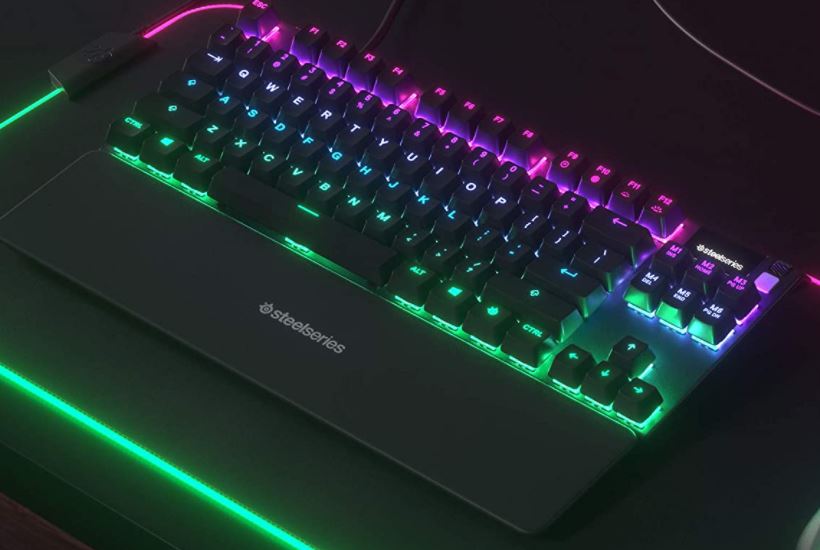 The switches are of the red variety, which means they move very smoothly. Low resistance makes them very easy to activate, as opposed to some heavier switches. The loudness is moderate, although a lot depends on how hard you hit the keys. They're guaranteed for 50 million keystrokes, in line with high-end Cherry MX switches.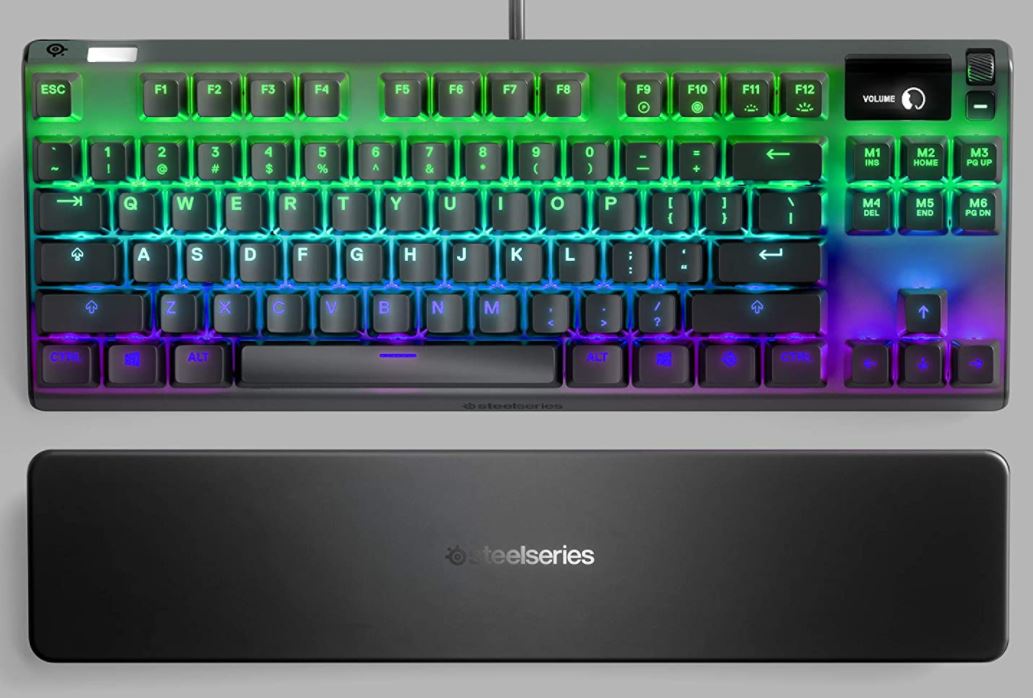 At the top right, you'll find dedicated media controls. There's also a built-in OLED display that shows your current settings. You can check your streaming status with different services, and change your settings right from the keyboard. This means you don't have to tab away from your game to perform common functions.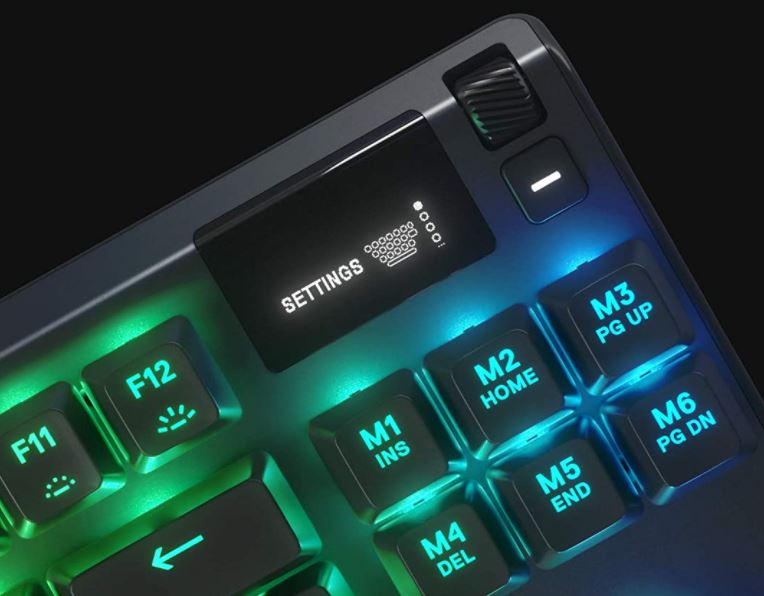 Other Considerations
The Apex 7 TKL actually connects wirelessly, so no cord is required for simple use. That said, connecting via a USB cable unlocks a couple of extra features. For one thing, the keyboard has a USB port at the top left. This is a simple pass-through port, and allows you to connect Bluetooth dongles or other accessories. For another thing, the RGB lighting runs on USB power, so you'll need a wired connection for that. When the RGB lighting is activated, you can save five different profiles directly to the keyboard. Choose the effects you like for your favorite games, and easily switch between them.
In addition to all that, the Apex 7 TKL also features 104-key rollover. At first glance, this might not sound as impressive as N-key rollover. But 104 is larger than the number of keys on the board, so it might as well be N-key rollover. You don't have to worry about executing complex macros or entering a ton of commands in quick succession.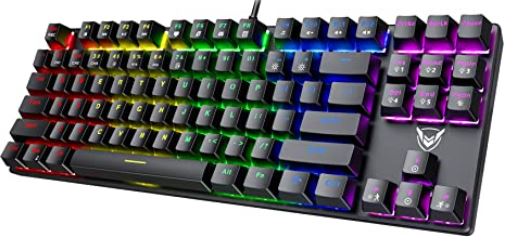 PICTEK TKL Mechanical Gaming Keyboard
The PICTEK TKL Mechanical Gaming Keyboard is surprisingly well-built for the price. It's made of plastic, not aluminum, but the matte finish looks surprisingly sharp. It has a compact, tenkeyless design, and has to be wired to your PC. The cord is built into the back of the keyboard, though. It's well-reinforced, but it can get damaged if you're not careful.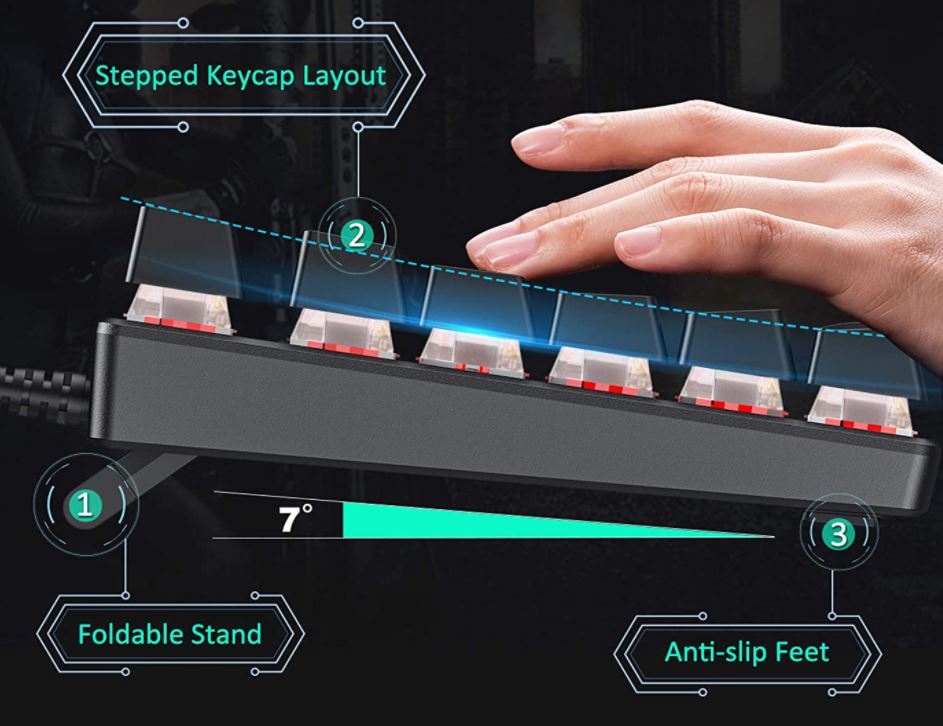 The keycaps are doubleshot injected, so the letters go all the way through the surface of the keys. They'll never wear off, no matter how much you use them. That said, the keycaps are ABS, not PBT. Over time, they will develop a shine as the surface wears smooth. The keyboard is protected by a 12-month manufacturer's warranty, as well as a 45-day money-back guarantee.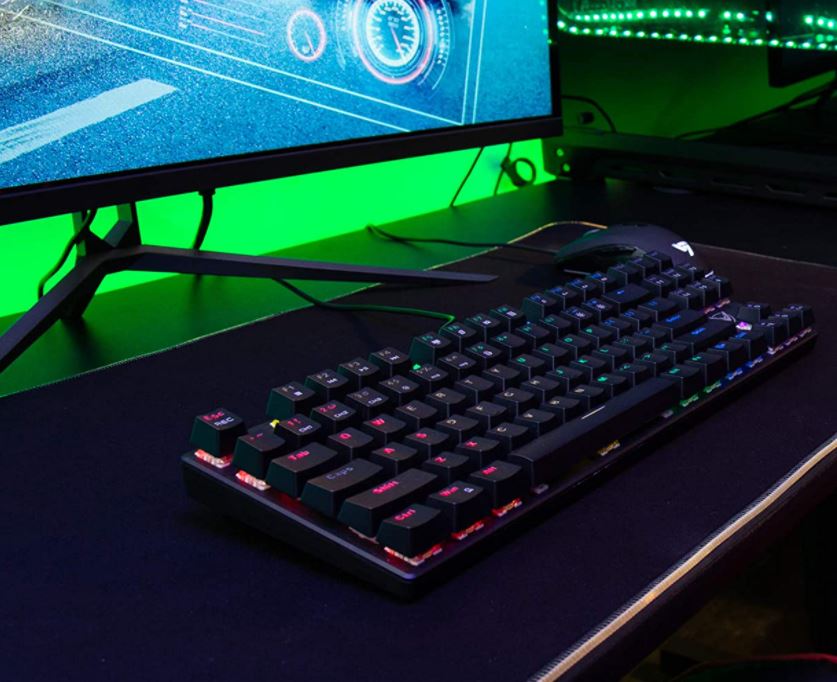 The switches themselves are blue switches, which are both affordable and durable. However, despite their popularity, they're not necessarily the best choice for gaming. They travel easily enough, but there's a noticeable "bump" at the end as the key is forcibly returned. This can become problematic if you're trying to hit the same key rapidly. You'll be slowed down ever so slightly. Noise is moderate, and is less of a concern, since some noise is inevitable on any mechanical board.
Other Considerations
The PICTEK TKL's LED lighting has five brightness levels and five breathing speeds, for a total of 25 modes. In addition, there are two special modes specifically for RTS and FPS games. Those are general categories, so your mileage may vary. Still, it's pretty cool to see the WASD keys light up on their own.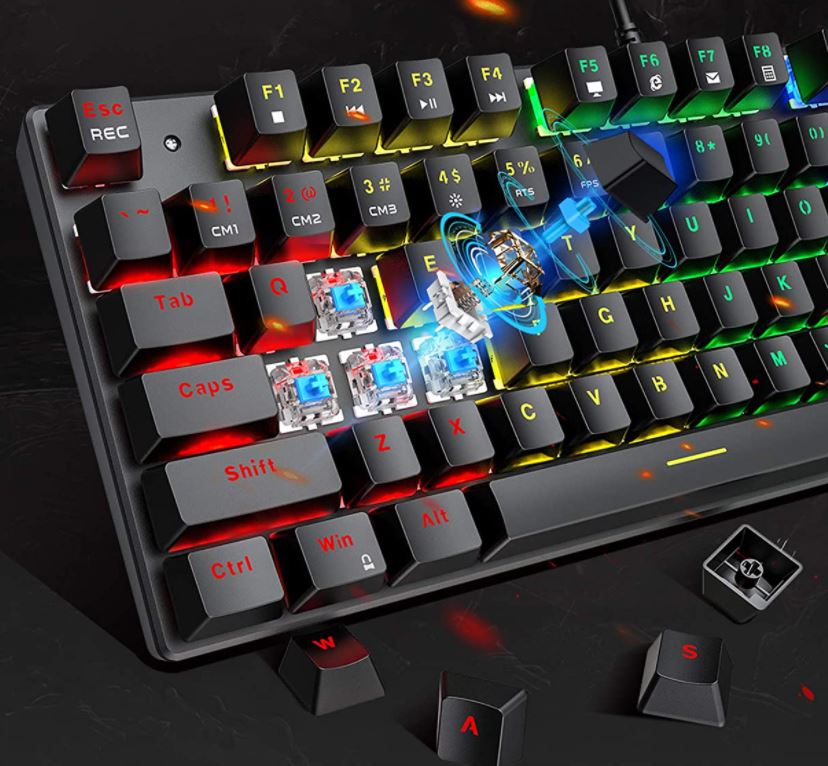 Like other good gaming keyboards, this one has full N-key rollover to prevent ghosting. There are also 12 multimedia keys for adjusting volume and other basic functions. Finally, you can use the function button to lock the Win key. This will prevent miskeys from taking you out of the game in the middle of a session.
Final Verdict
So, which one of these mechanical keyboards is the right choice for you? In large part, it depends on what you need. The Razer Huntsman is the most portable of the bunch. Its compact form factor makes it easy to move, but the removable cord makes it even easier. The build is also very nice, with doubleshot PBT keycaps and an all-aluminum housing. There are some minor flaws. We would have liked to see more lighting options on the keyboard, and the keys themselves are loud. That said, they actuate very quickly with a short travel distance, which is what most people prefer for gaming.
Next, we reviewed the SteelSeries Apex 7. This keyboard is the most rugged of the bunch, built like a brick. It's also highly responsive, with red switches that are smooth and don't have a ton of travel distance. Finally, it can be used wirelessly, or plugged in via USB for RGB lighting and USB pass-through. This makes it very versatile, as does the comfortable magnetic wrist rest.
The PICTEK TKL is the most affordable option of the bunch. The cord is built in, and the keys are a little springier than we would have liked. Still, it lets you get your hands on a mechanical keyboard for a reasonable price. And a few of the extra features are pretty impressive.