Due to the fast paced world we live in and the notoriously poor luggage services provided by airline companies, you're left without absolute assurance that your luggage will arrive with you when you land. Additionally, it can take a long time to find out where it is once you're at your destination.
When you travel to other counties, you may have already noticed that some of them present luggage delivery times accurate to the very minute, but there seems to be no way to rely on that happening every time, no matter where you go.
That's the exclusive advantage of a luggage tracking device, because you're in charge of the entire process and you'll always know in real-time, exactly where your luggage is. At the same time, if a luggage tracking device does not live up to this standard, it's overall quality is reduced dramatically. Even though they may have specific features built into them for your convenience to provide excellent tracking capabilities, it must be something that you can truly rely on.
There are other advantages in terms of performance and comfort that they can offer, to where your luggage is tracked anywhere all over the globe, and you receive live updates and alerts without ever having to manually check the status yourself.
We'll provide you with an accurate analysis of three different, high-quality luggage tracking devices, and we'll tell you exactly what their key strengths and weaknesses are.
Trakdot Luggage Tracker
The Trakdot Luggage Tracker is specifically designed for its purpose and provides exceptional performance and durability, however not without limitations.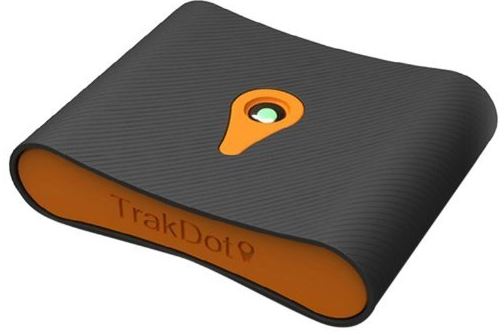 Compact, Comprehensive and Durable
One of the challenges with luggage and thus luggage trackers is finding a place to put them, when you're already thinking economically space-wise to store all of your clothes and personal belongings securely.
Measuring just 2.3 x 3 x 0.8 inches and weighing in at just under 12 ounces, the Trakdot is actually quite sleek and fits in any standard sized pocket. This means that you can simply place it in the last bit of remaining space in your luggage, and it should stay there comfortably, and ready to fully-function.
One drawback however, is that although it does indeed last long enough for an entire lengthy trip with full service on a single charge, it does require two AA batteries. This inherently increases the total cost of ownership, especially if you travel often and purchase durable batteries – but regardless, this shouldn't be that big of deal to most.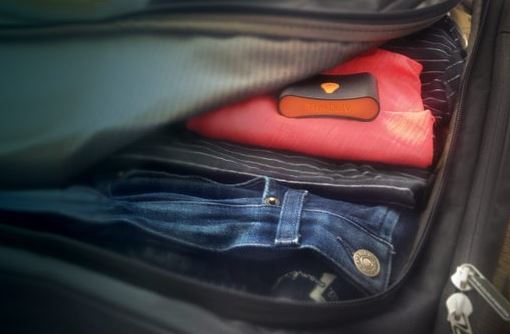 Smart Tracking Service
The Trakdot maintains a high-performance level by allowing you to track your luggage no matter where it is in the world, via its integrated GSM chip. What this allows it to do is use considerably less battery power with similar service to GPS, by using radio waves and cell towers. This means that you have global coverage, however certain remote areas may have a weak cell signal or none at all, which can be a potential disadvantage.
That being said, virtually every airport or popular destination should have a decent cell/radio signal, meaning that you should have coverage either way.
In terms of compatibility, the Trakdot will connect to any brand of mobile phone, and offers full service in any area that your cell phone has access to. It will even automatically text or email you with the location of your luggage when you land, even to multiple phones at once.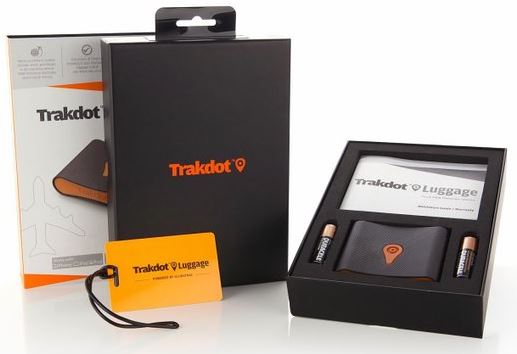 Pros and Cons
In terms of performance and comfort, the Trakdot is excellent, providing ease of use, global coverage and versatile compatibility with all of your mobile devices, however some may not be a fan of the requirement for two AA batteries.
In terms of economy, it's a great option since it's affordably priced, and although you are required to pay additional service fees, there's a very inexpensive one-time lifelong option.
Tile Mate
The Tile Mate is actually less of a luggage tracker and more of a short distance tracker that fits compactly on just about any product, and has a lot to offer.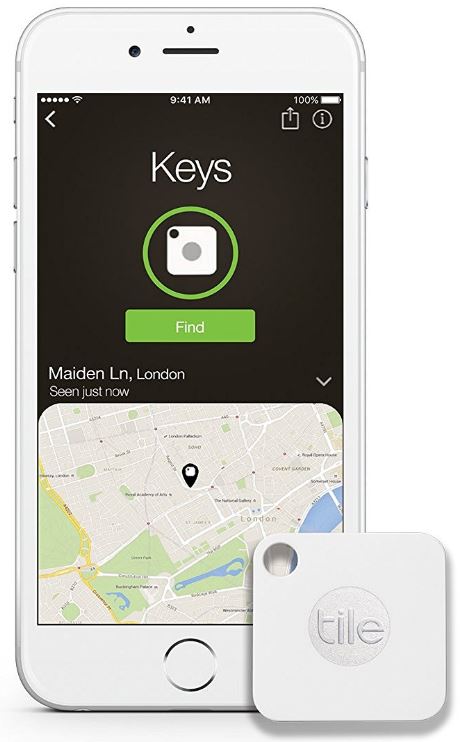 Small Enough to Put on Anything
It's noticeable that item trackers have uses far beyond the area of luggage, where you pay a considerable amount of money for something that you may only use once or twice a year.
One advantage that the Tile Mate has is that it's not only small enough to tag or put in the pocket of just about anything, it's also incredibly durable, making it very effective to use both outdoors and around the house.
For starters, it's waterproof, simple and strong so to where the battery can't even be tampered with easily or damaged by water. It's also inconspicuous to people with illegal intent.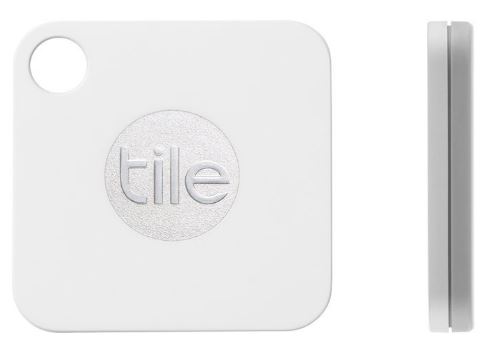 Another advantage is that it requires no maintenance at all and comes with small integrated speakers that play a loud tune, so it's always easy to hear.
Bluetooth Connection Capabilities
The Tile Mate offers a bit less performance than other models in terms of usable range, however it uses a reliable and efficient Bluetooth 4.0 signal that's compatible with virtually any smartphones or tablet.
There's a dedicated iOS and Android app that allows you to sync and label several Tiles at once, so if you lose an item, you can find it quickly. There's even a button on the Tile that will help you find your phone or paired device, even when on silent.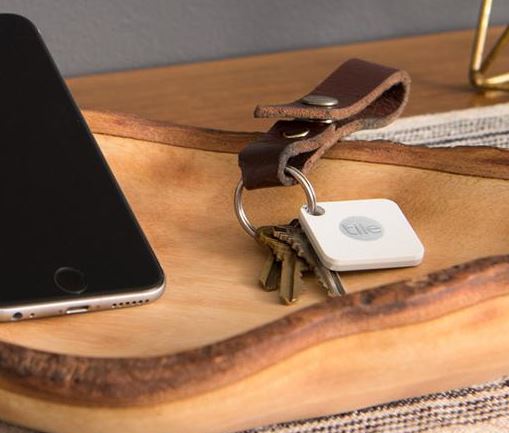 Pros and Cons
While there's little you can do if your luggage is sent to the wrong airport, the Tile doesn't have the range to tell you where in the world it is since it relies heavily on Bluetooth and doesn't use a GSM tracker like the Trakdot.
On the other hand it's incredibly fast and easy to find your luggage if it does end up in the right airport, due to integrated Bluetooth technology and reliable app. It's also an incredibly economic option with huge discounts available on bulk purchases of multiple Tile units at once.
LugLoc Luggage Locator
The LugLoc Luggage Locator is a luggage tracker that provides massive value through what it does. Being a leading model that's been on the market for many years, it offers unique advantages with a great amount of reliability.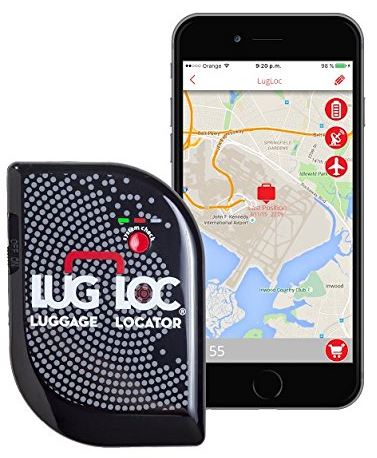 Rechargeable Battery with Long Lifespan
This one feature alone provides more comfort than many other luggage trackers, because if your battery dies all you have to do is recharge it. You're never left frantically searching for a set of fresh batteries, in case you forget to bring extra.
It's also guaranteed to last for 15 days of continuous tracking service on a single charge, which is more than enough time to get to your destination, no matter where you go in the world.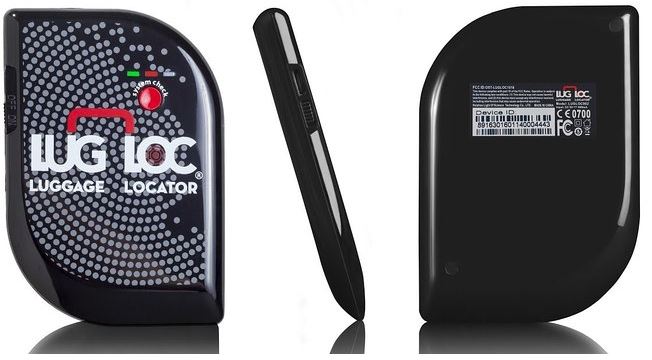 Advanced Connectivity and Access
There are a few major areas where the LugLoc offers superior performance and comfort through its connectivity and compatibility.
First, because it uses a GSM chip rather than GPS, you're pretty much guaranteed to always have a strong signal and reliable access to your luggage as long as it remains in the airport. It also features advanced Bluetooth technology to increase its range, save energy and provide secure tracking with your smartphone or tablet.
This also means that you'll always know whether or not your luggage made it with you safely, because you can search for it within the plane while it's stationary, after and before a flight, as well as when you're waiting for your luggage to arrive on the conveyor belt.
It's incredibly effective and user friendly, providing reliable real time information on where your luggage is, anywhere in the globe. It will even notify you via app alerts when the lithium ion battery needs to be recharged.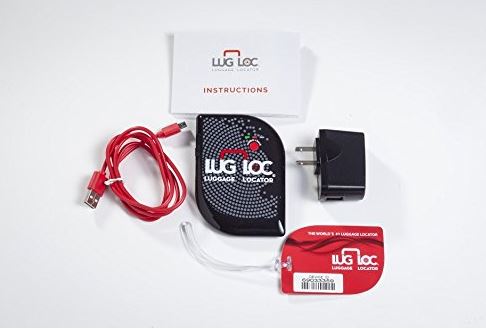 Pros and Cons
The LugLoc Luggage Locator out-values its competition in just about every area, including performance, comfort, durability and economy.
There are no service fees or charges for the first 30 days, and with superior Bluetooth and GSM connection reliability as well as a rechargeable battery, it's one of the easiest to use luggage trackers on the market that provides global, real time access and coverage.
Final Thoughts
Each of these luggage trackers offer unique advantages, although some are obviously better than others.
The Trakdot is a superior solution to many other models on the market with its GSM technology and global access with an easy to use smart phone app. However, it does not provide the advanced Bluetooth compatibility and rechargeable battery that the LugLoc has.
On the other hand, while the Tile Mate does not provide the global access that the Trakdot and LugLoc do, it's small, effective and durable with its Bluetooth and smart phone capabilities, making it a more useful and affordable product for short distance uses.
The LugLoc is decidedly the best luggage tracker available in terms of durability and useful features due to its built-in rechargeable battery. It has equal if not greater performance than the Trakdot, and they're both airline approved.
A major advantage is that LugLoc has superior qualities in the major areas of performance, comfort and durability as well as economic benefits, as they don't charge any service fees for the first 30 days of ownership.
Truthfully, either one of these three would make a great choice, but overall you'll need to determine which requirements you ultimately have and go from there.