Anyone who has done some research into personal care and wellness knows that a massage can go a long way. In fact, a lot of research indicates that regular massages can reduce muscle tension, stimulate the lymph system and increase joint flexibility. It can even decrease the production of stress hormones and improve recovery of soft tissue injuries.
We here at NerdTechy have covered several massagers in the past, such as the ExoGun Dream Pro and Taotronics. A massage gun is a perfect tool for when you need targeted massage localized in your back, legs, shoulders, or neck. They're sufficiently powerful to give a relaxing, deep=tissue massage wherever your aches and pains may call for it.
Note: At no extra cost to you, we may earn a commission for purchases using our links. Learn more.
Today we're going to take a look at and compare two massage guns – the Urikar Pro 1 and the HydraGun. We'll give each product a basic overview, talk about their features and then compare the two to see which one is superior. Without any further ado, let's get to it.
What Is a Massage Gun and Why Use One?
Most people are probably familiar with traditional vibrational massage machines but not massage guns. Vibration machines typically use some oscillating piece that creates lateral vibrations which you can press to the effective body part. The back and forth motion of the oscillating parts is what does the actual "massage" part.
Massage guns are a bit different. Instead of lateral vibration (side-to-side), massage guns have a piece that pushes in and out. In other words, a massage gun is kind of like a mini-jackhammer that can pound out the kinks in your muscles and tendons.
Now you're probably wondering, "Why on Earth would I want a mini-jackhammer ramming into my joints?" The main reason why is precision. Because massage guns oscillate up and down rather than laterally, they can penetrate the tissue to get at the deeper layers where muscle pains originate from. Lateral vibration is not as precise and can actually cause soreness around the area that you are trying to target. They put all that force directly into the area you are targeting so you get a deeper and more thorough massage.
Massage guns can also stimulate blood flow better than standard vibrational massagers. This means that they can be better for therapy and healing injuries since they increase blood flow to the injured tissue. Percussive massages also loosen muscle and reduce the risk of straining or pulling.
When it comes to electric massagers in general, one benefit is that they can operate continuously. A human masseuse would get tired and have to take breaks, not to mention the cost of regular masseuse appointments. So getting a machine to do the hard work is more efficient and cost-effective.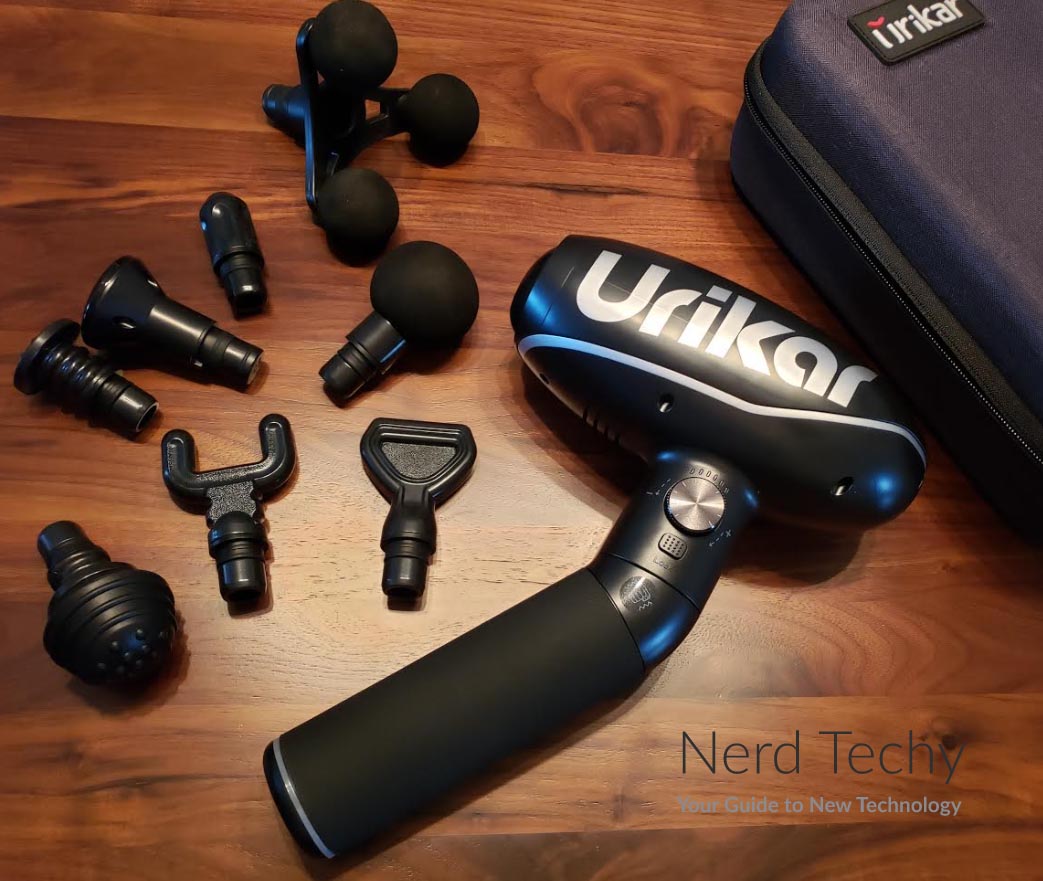 Urikar Pro 1
First, we'll cover the Urikar Pro 1. This massage gun comes with a protective case and 8 interchangeable massage heads, that can be switched out depending on the massage exercise you're doing. The entire gun weighs just over 2 pounds, so it's extremely light and not difficult to use at all.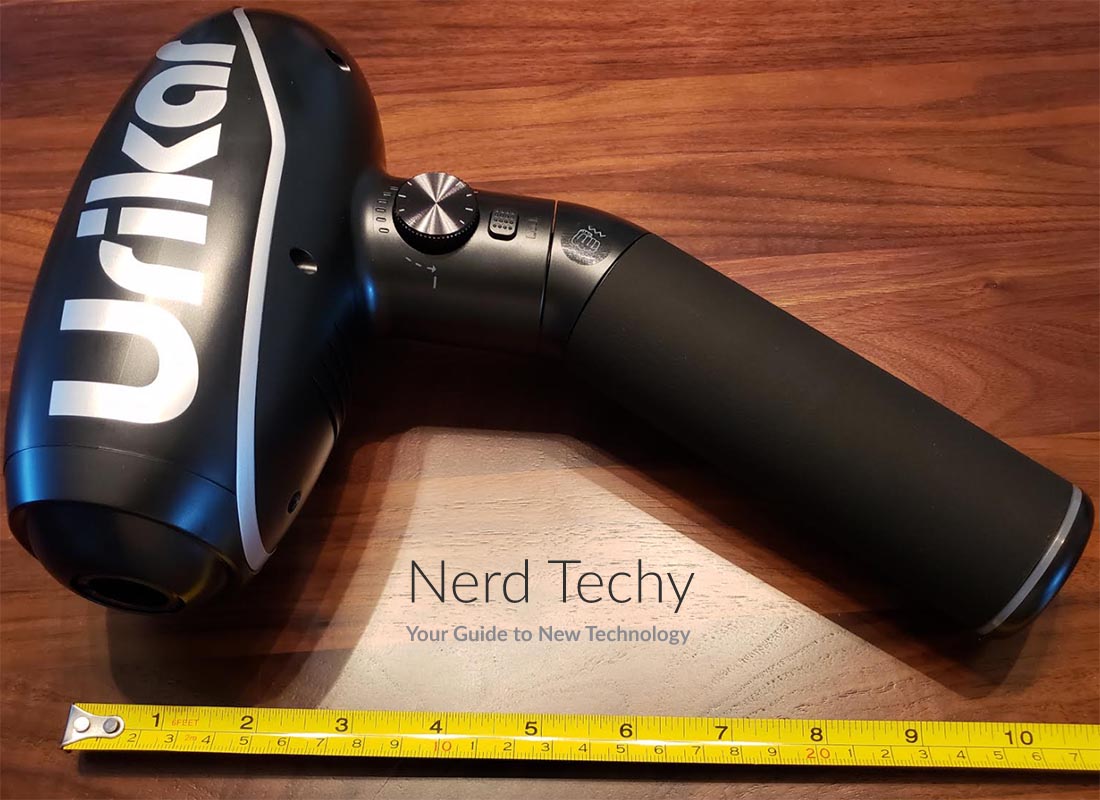 The handle of the Urikar Pro 1 has an angled shape that makes it easier to hold and position when you're trying to get to those hard-to-reach spots, like the middle of your back or behind your legs. Overall, the handle design increases reach flexibility by 30% and can be rotated by 180-degrees depending on where you need to use it. The handle itself has a tactile rubber grip so it doesn't slip while in operation and so it's soft to the touch. The overall ergonomic design makes it very comfortable to use for long massage sessions.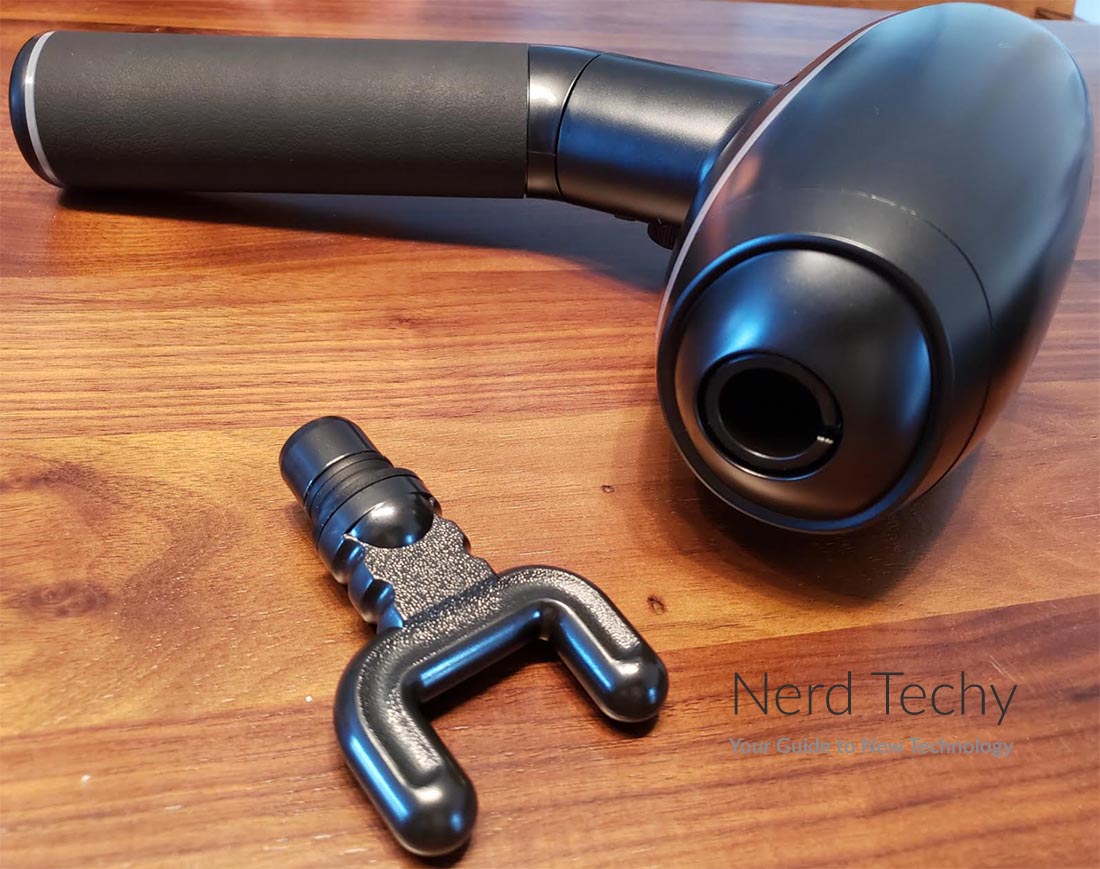 The main massage unit of the gun is the detachable heads. Each head is covered in a thick PVC rubber coating that is both firm and soft at the same time. You don't want a massage head to be too soft or else it won't be able to impart the right amount of force. The heads can be pulled off and pushed on so switching them out is very easy. Even better, the Urikar Pro 1 comes with a protective case so you have a place to store the heads when not using them.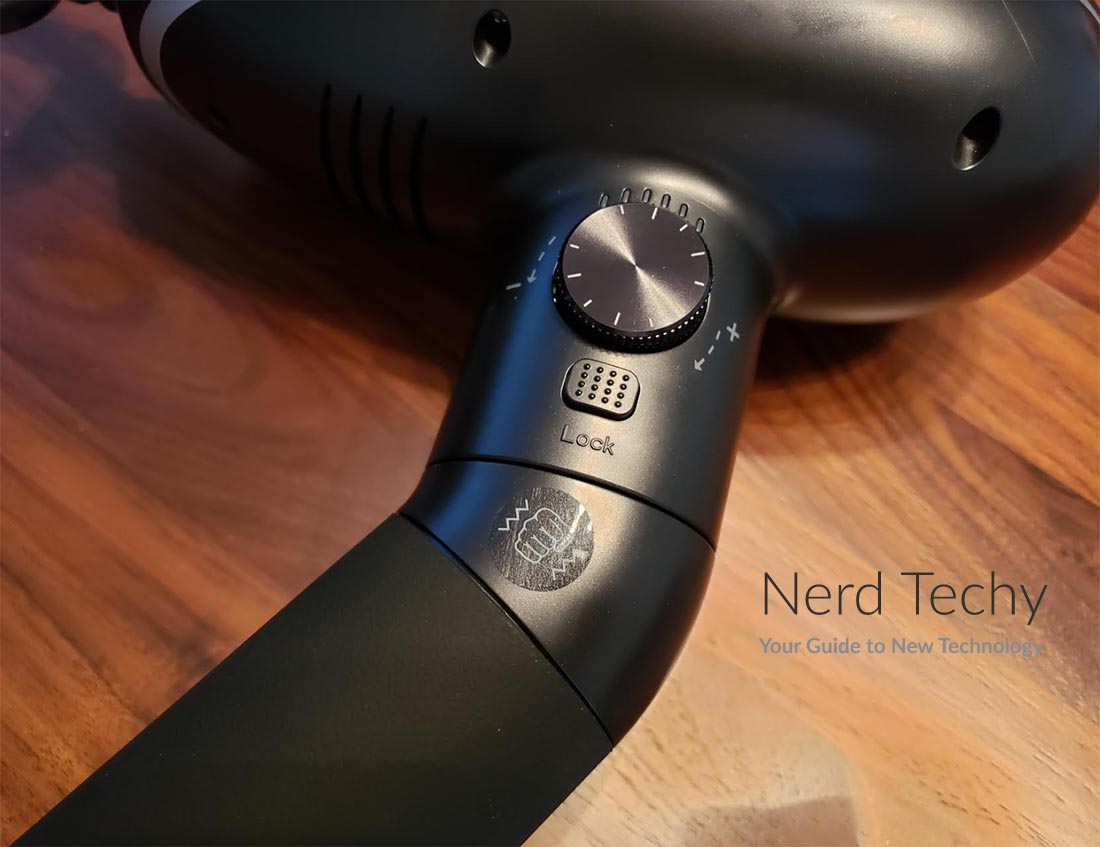 Operation and Battery
When the gun is turned on, the green light around the base of the handle lights up. When the battery falls below 20%, the light changes from green to red. You can charge the battery using the USB port located on the very bottom of the handle. The gun can complete a full charge in about an hour and can run for about 90 minutes continuously after a full charge. Like most chargeable devices nowadays, the Urikar uses a 2,600mAh lithium-ion battery.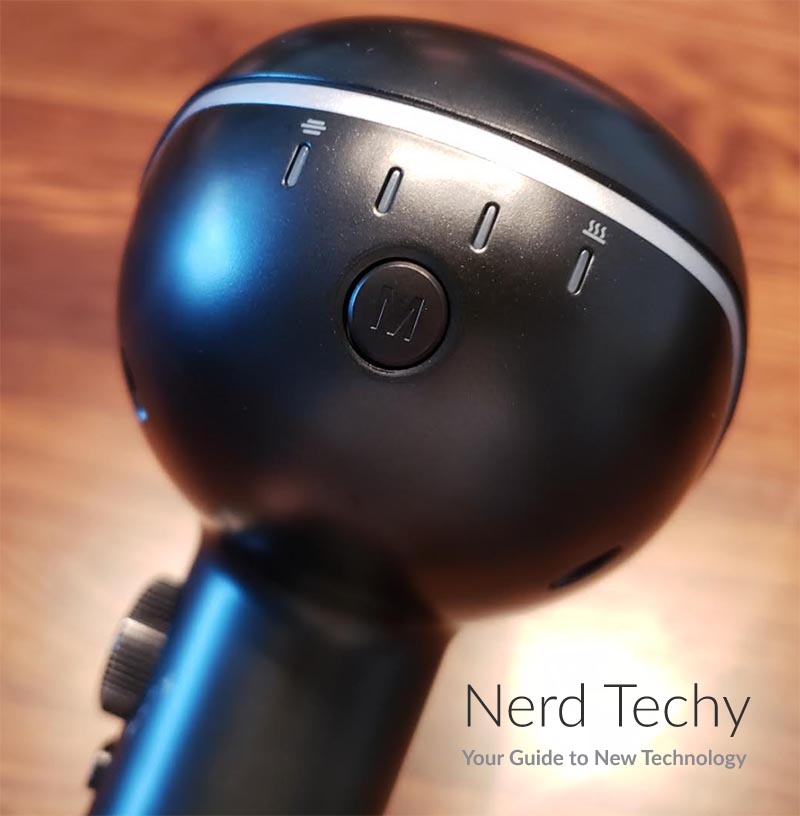 When turned on, the massage gun can put out a max of 60 pounds of force per square inch. That might sound like a lot, but keep in mind that that force is being concentrated into a small surface area, so it's not as powerful as it might sound. The Pro 1 is also relatively quiet. It has an operating noise of around 60 decibels which is about the noise level of a regular conversation.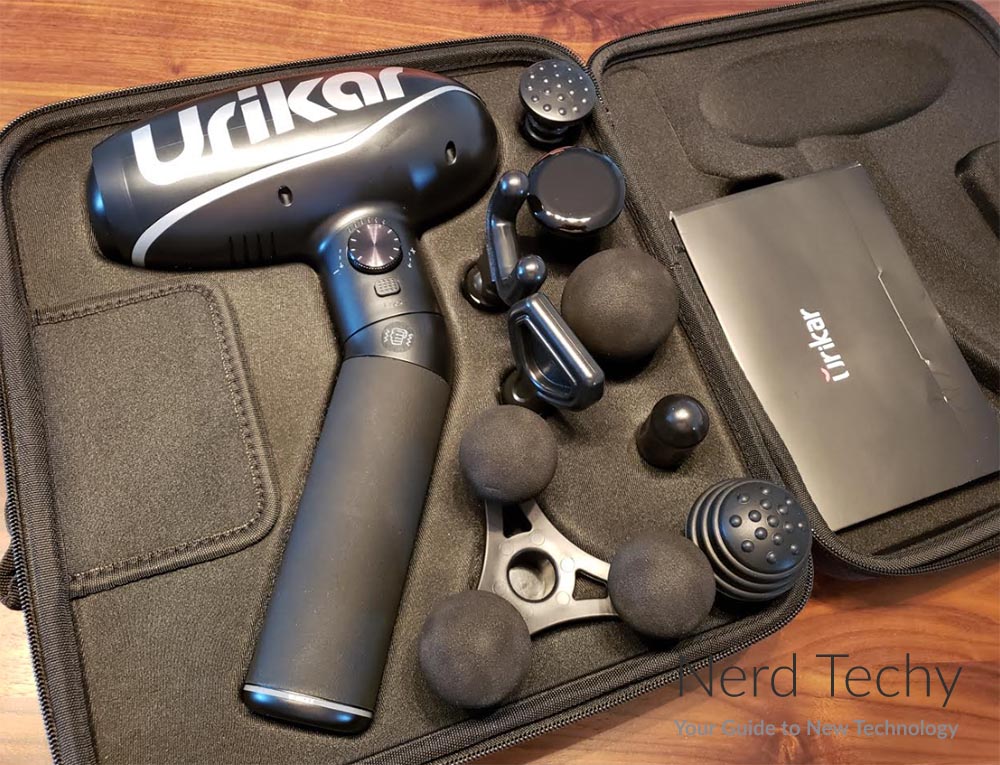 At the top of the handle is a rotary switch that lets you change between the 6 massage settings. Simply turn the knob to the next tick mark to activate the next setting. There's also a setting for heat if you have the heat-massage head attached next to the settings dial that you press to change the orientation of the handle.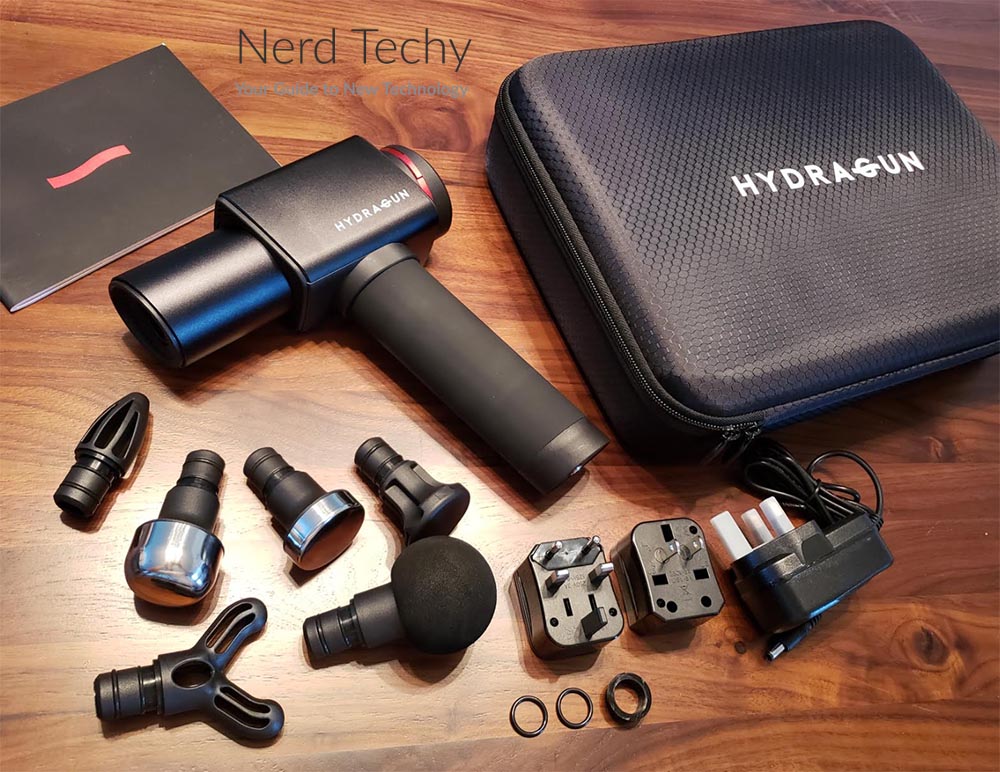 HydraGun
The HydraGun has a sleek and compact design that's perfect for traveling and use on the go. The gun itself has a smooth black matte finish that does not pick up fingerprints yet feels incredibly solid to the touch. You can tell just by holding it that it's well-made. In fact, it almost looks like a retro-futuristic ray-gun that you might've seen on Buck Rodgers or the Jetsons.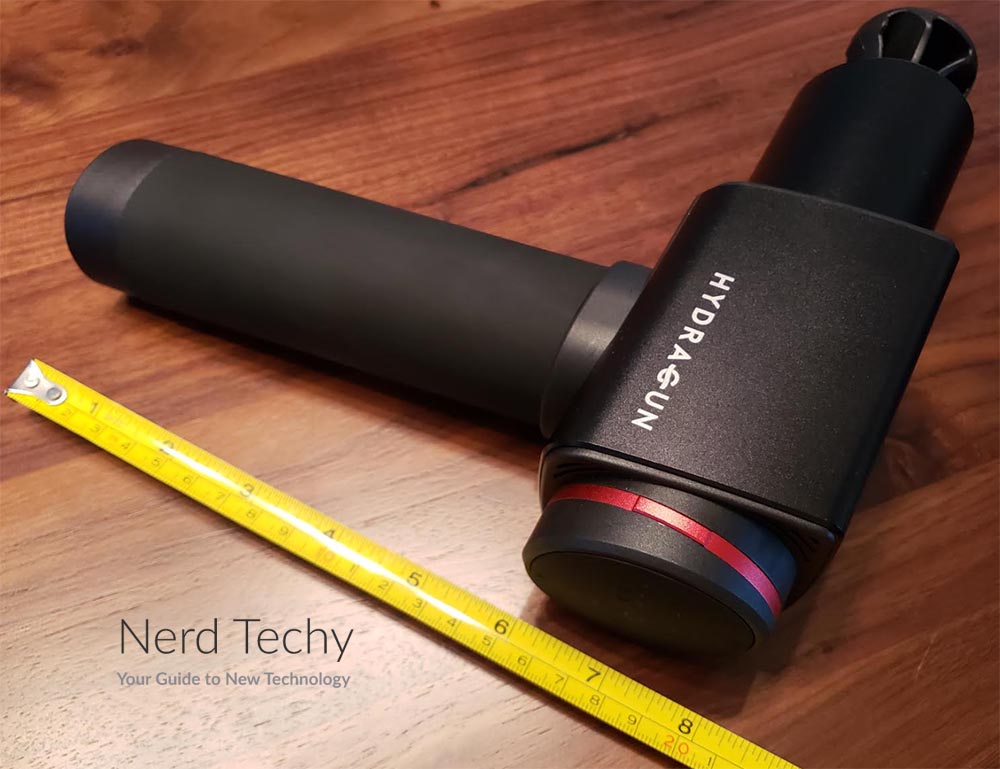 One of the first things you might notice is that the gun is somewhat heavy. This isn't a bad thing though because it ensures that it can put enough weight behind each pulse. The barrel of the gun is made from a sturdy aluminum alloy. In addition, the handle is covered in a durable rubber/silicone composite that has a comfy grip.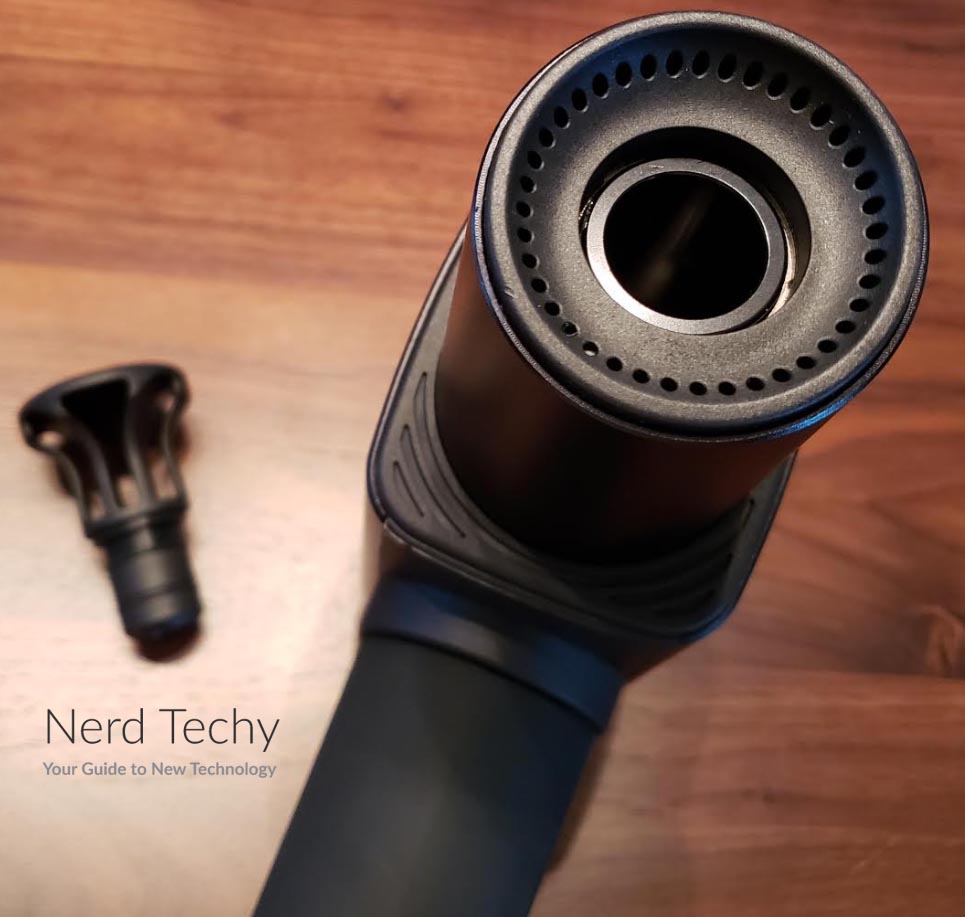 The HydraGun comes with 6 distinct attachments, including a flat head massager, a bullet massager for pinpoint accuracy, a fork attachment for dual-point targeting, and a simple ball head for larger muscle groups like quads, hamstrings, or your gluteus maximus (the technical term for your butt muscles). There are also two metal attachments, one flat and one rounded, in case you need a bit more force and a harder massage. The attachments are easy to put on and take off but won't come loose while using the gun.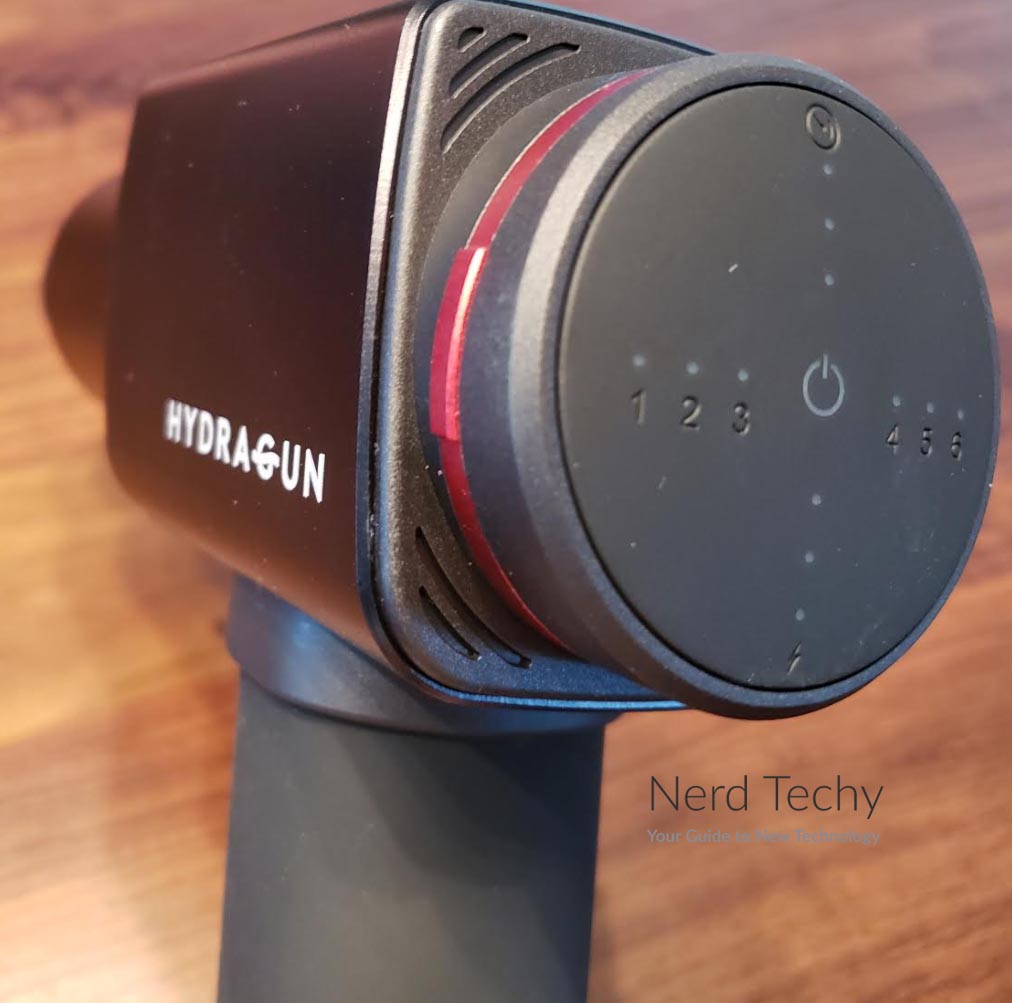 The backside of the gun barrel contains a wheel that lets you switch between the 6 massage speeds. You can switch between 1200 RPM all the way up to 3200 RPM in 400 RPM intervals. There's a wide enough range of speeds that you can do a light massage or something more heavy-duty if you have injuries.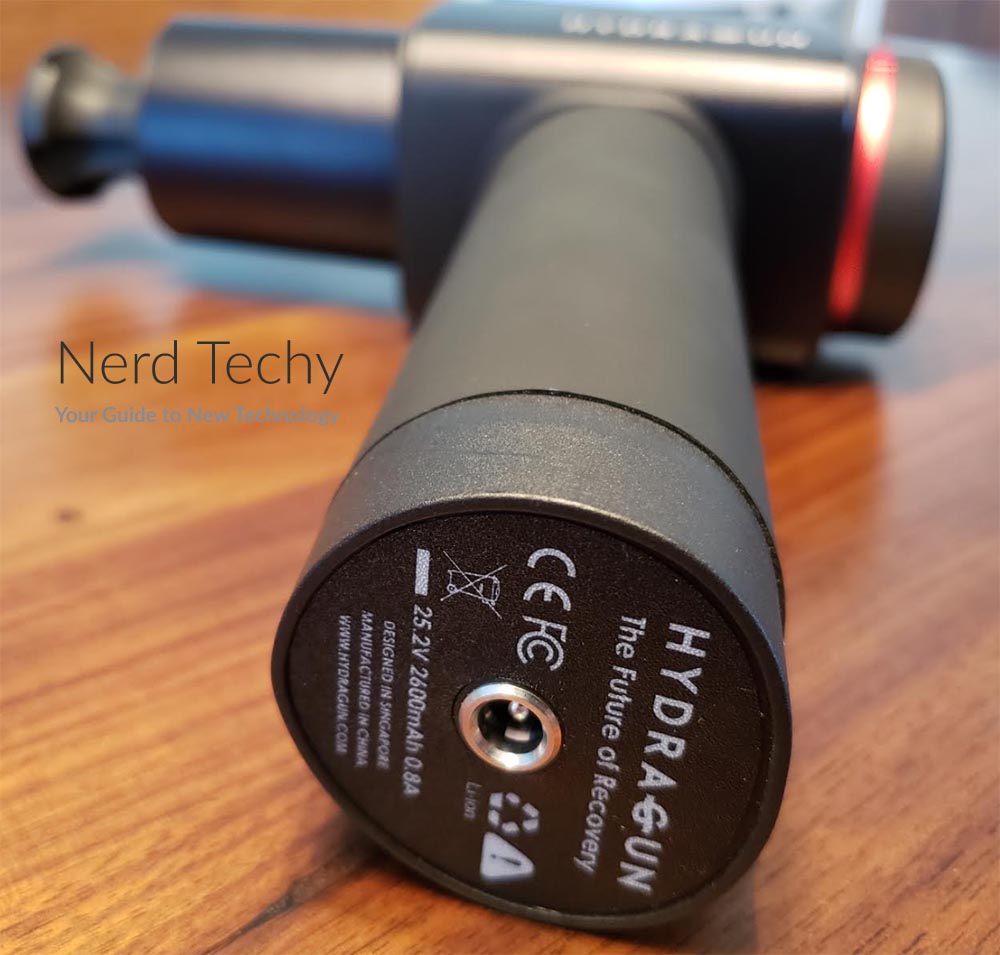 The Hydra Gun also comes with a convenient and good looking carrying case for storing the attachments when not in use. The case is pretty small so you can take it with you while traveling and it won't take up too much of your carrying space.
Operation and Battery
The HydraGun works like any other massage gun. You aim it at the part of your body you want treated, flip the switch on the back, and let it go. The gun runs on a single built-in lithium-ion battery that can run for about 3-6 hours on a full charge. That's a long time seeing as most other massage guns start to peter out after about an hour and a half or two hours. AS you might expect, the battery life is shorter if you run it at higher speeds. It also only takes about an hour to charge. Additionally, it comes with a charging block that connects to a port on the bottom of the handle.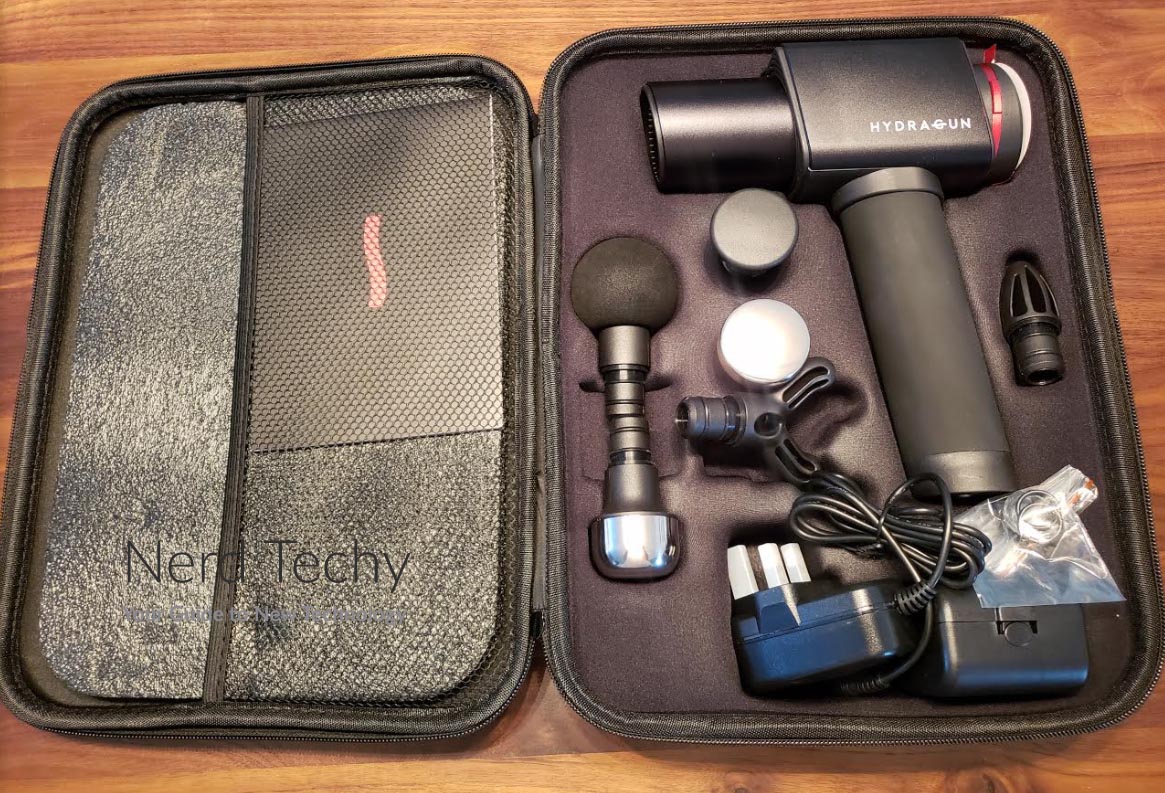 The HydraGun is fairly heavy-duty and is marketed towards athletes and other fitness enthusiasts, but that doesn't mean that it can't be used by a casual audience. One thing it's known for is muscle stimulation after workouts. There's a lot of evidence that regular stimulation and massages after workouts can increase muscle mass and muscle endurance. So if you're on a particularly stringent fitness regiment or want to build muscle mass and endurance, the HydraGun might be an excellent addition to your post-workout routine.
Final Verdict
As you can see, these two massage guns share a lot of features in common. Both guns have multiple speed settings, interchangeable heads, and an ergonomic yet attractive design. However, if we had to pick which one we think is better, our vote would have to go to the Urikar Pro 1. On paper, the HydraGun has a more powerful oscillator, longer battery life, and a more portable and travel-friendly design. However, the Urikar Pro 1 seems to be much more solid and better designed.
The Urikar Pro 1 is ahead in terms of ergonomics thanks to the 180-degree rotating handle. In terms of massage power and utility, we cannot forsee anyone needing any additional power. Overall, we think the Pro 1 offers a deeper massage with more-powerful oscillation that gives a true sense of relaxation. Although the HydraGun offers a bit more range in its interchangeable heads, despite having numerically fewer than the Urikar Pro 1, the attachments that are included with the Urikar Pro 1 are plenty sufficient.
Please consider sharing:
Note: At no extra cost to you, we may earn a commission for purchases using our links. Learn more.