For anyone who suffers from muscle stiffness, a good massage can be a welcome relief. Whether you're a regular gym goer or you're stiff from sitting at a desk all day, we're all in the same boat. Simply put, a good massage roller, vibrating massager, or massage chair is a blissful, soothing relief. These tools have been around for ages, but now, you can get a percussion massage right at home. Normally, a percussion massage requires a masseuse to provide deep pressure with a knuckle or Judo chop motion.
One of the manufacturers getting in on this new product line is TaoTronics. TaoTronics should be familiar to just about anyone who owns a gadget or two. They make everything from wireless earbuds to the percussion massagers we're about to look at. We'll start by reviewing the TaoTronics TT-PCA003. This is a mid-sized, handheld massager that includes six different tips. Next, we'll look at the TaoTronics TT-PCA004. This is a slightly more compact massager with the same tips, but different motor settings. Let's dig a little deeper, and see how they compare!
Note: At no extra cost to you, we may earn a commission for purchases using our links. Learn more.
Why Use a Massage Gun?
For some people, a massage gun might seem like a novel idea. Why would you want to use one before, say, a massage chair or an ordinary wand? The answer is that it all depends what you're trying to achieve. But the main difference between a percussion massage and an ordinary massage is the direction of the pressure. Most massagers work your muscles from side to side. This is great for relief of surface tension, or for alleviating pain from everyday bumps and bruises. However, it doesn't work deep into muscles and tissues. This is one reason many people still experience pain or stiffness after a regular massage.
Because a percussion massager moves vertically, it can loosen joints, and work deeper muscles other massagers can't. The first benefit of this is obvious. It relaxes muscles, which reduces stiffness and stimulates blood flow. Increased blood flow, in turn, allows your muscles to eliminate lactic acid faster, relieving cramps. As a result, a massage gun is a great tool after workouts. The faster the lactic acid and stiffness are gone, the faster your muscles can begin the recovery process.
Percussion massage is also a common tool for rehab. It helps break down scar tissue and relax overstressed tendons. As part of a comprehensive treatment plan, this allows for better range of movement.
Moreover, massage guns aren't just useful for home users. Because a deep percussion massage requires a lot of pressure, it can be uncomfortable for masseuses to perform. Proper manual technique requires putting a lot of weight into the massage. If you're dealing with your sixth client of the afternoon, you'll need a massage of your own afterwards. A massage gun, on the other hand, does the work for you.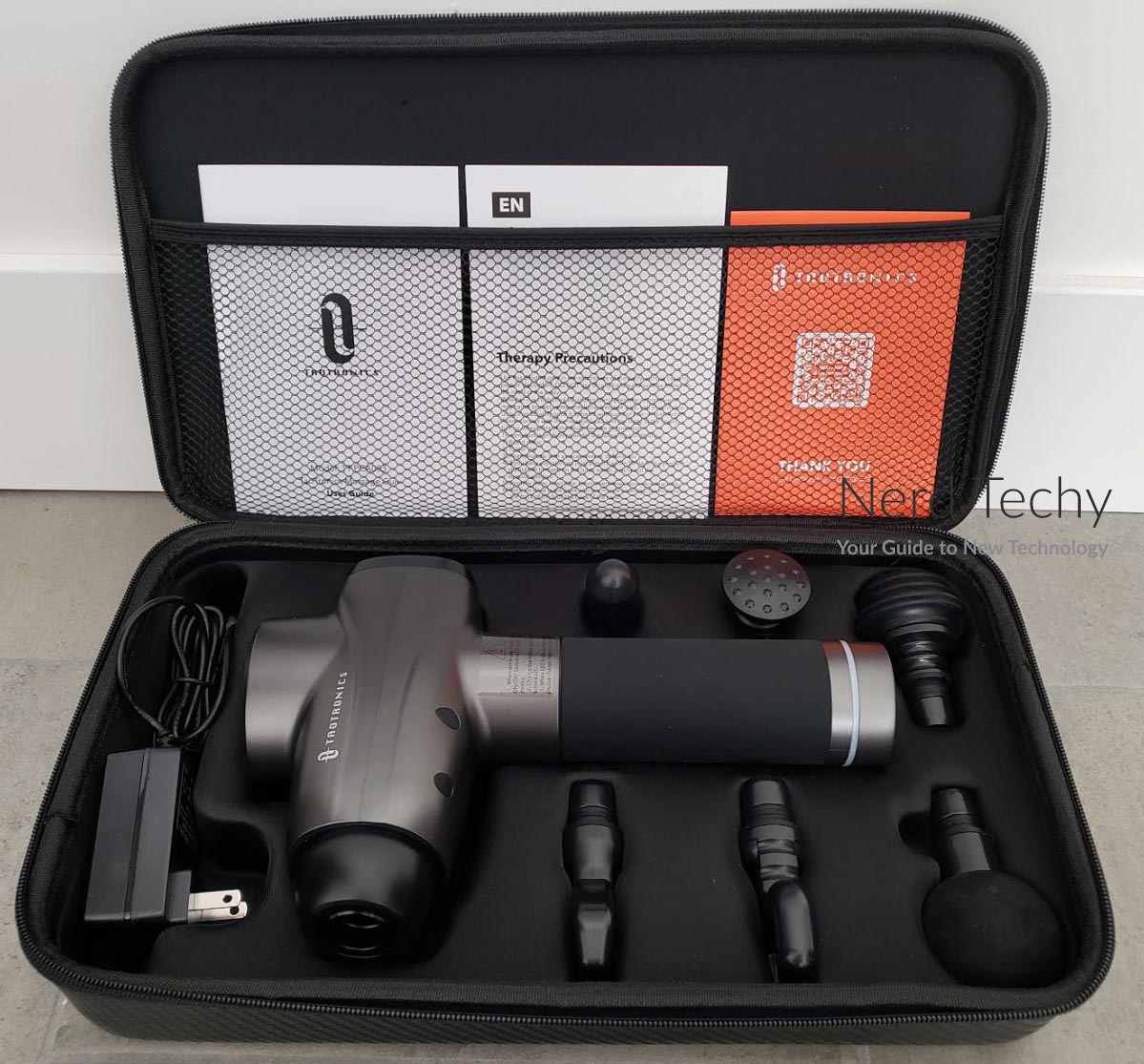 TaoTronics TT-PCA003
The TaoTronics TT-PCA003 is shaped a bit like a power drill, with a vertical handle and horizontal head. It has a sleek profile, with a charcoal grey case. The handle and head are black, providing an attractive contrast. The handle is also rubberized, which provides a secure grip even if your hands are sweaty. The weight of the whole unit is only 2.2 pounds, so it's easy to handle. Just turn it on, press down, and enjoy the relief.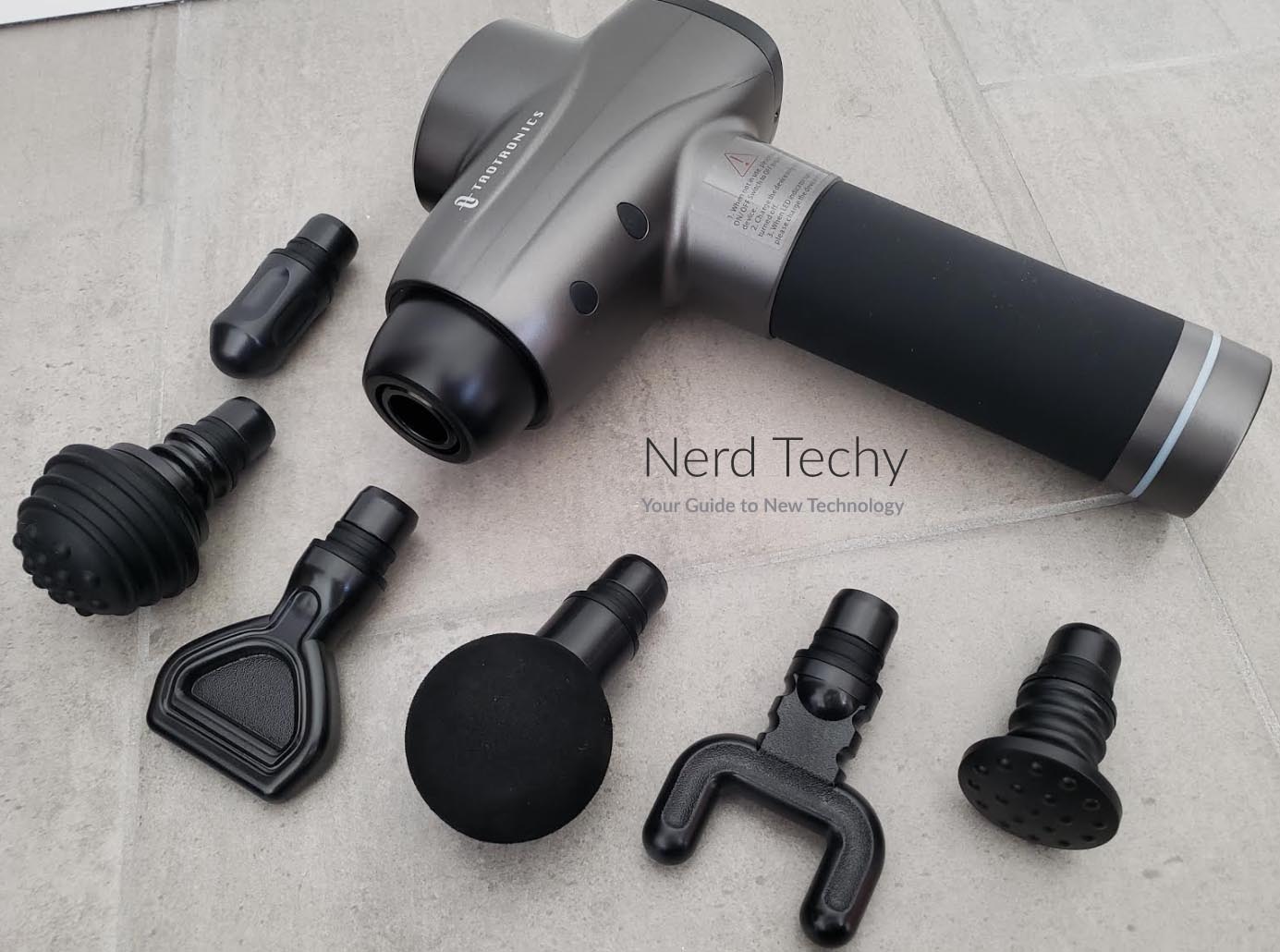 The controls are located on the back of the unit, just above the handle. There, you'll see an LCD display that shows the current massager status. On the left, you'll see the speed level, with the remaining battery on the right on a one-to-ten scale. The power button is in the bottom of the display, with up and down speed buttons located to either side. As a result, the controls are easy to operate with your thumb, even during a massage.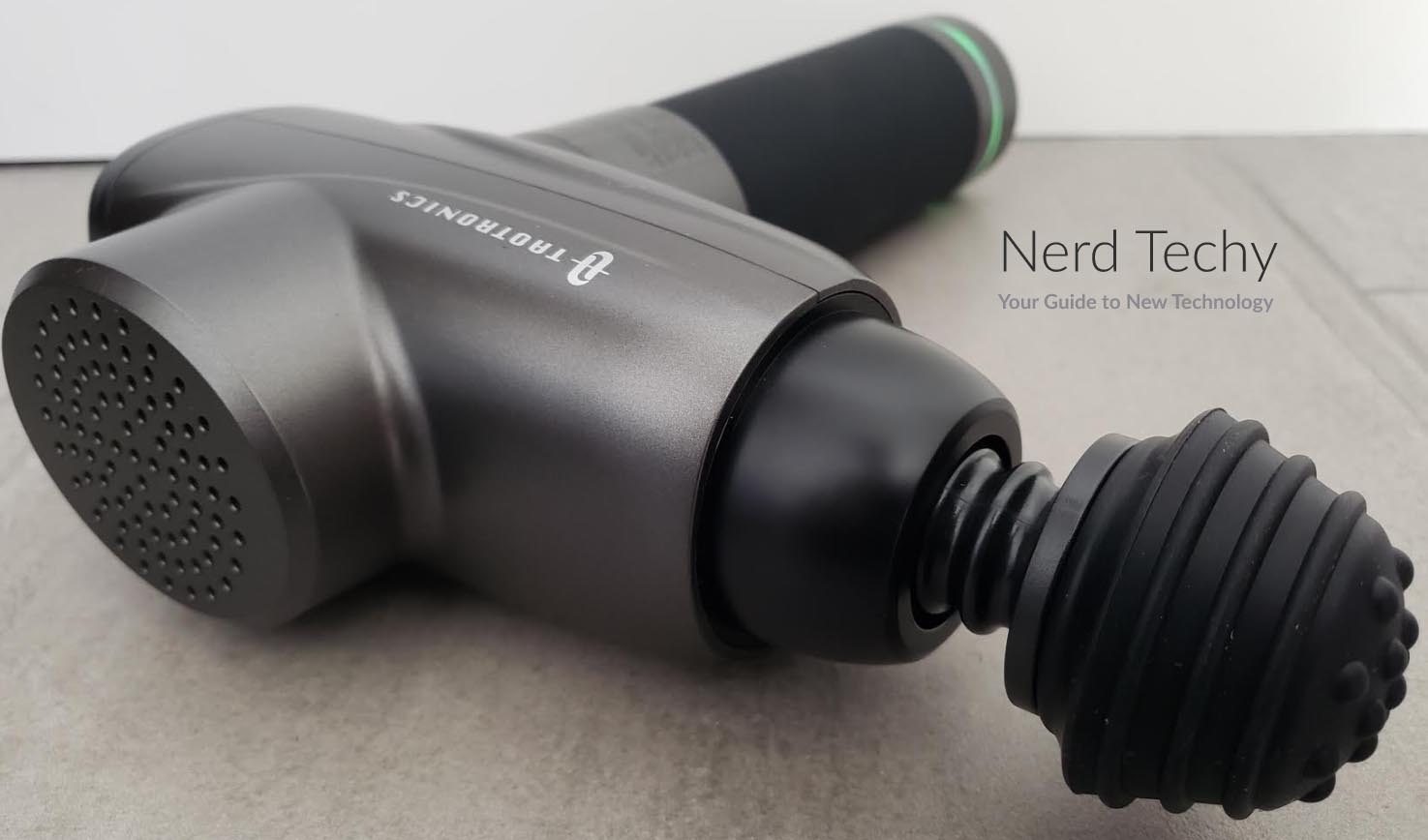 Along with the main unit, you get a set of six massage heads. They have a snap-on design, so switching between them is quick and easy. Among other heads, there's a round head for a gentler massage, and a forked one for joints. To keep all the bits and pieces together, the kit includes a black polyurethane case. It's not exactly tactical-grade, but it's good enough to keep everything organized.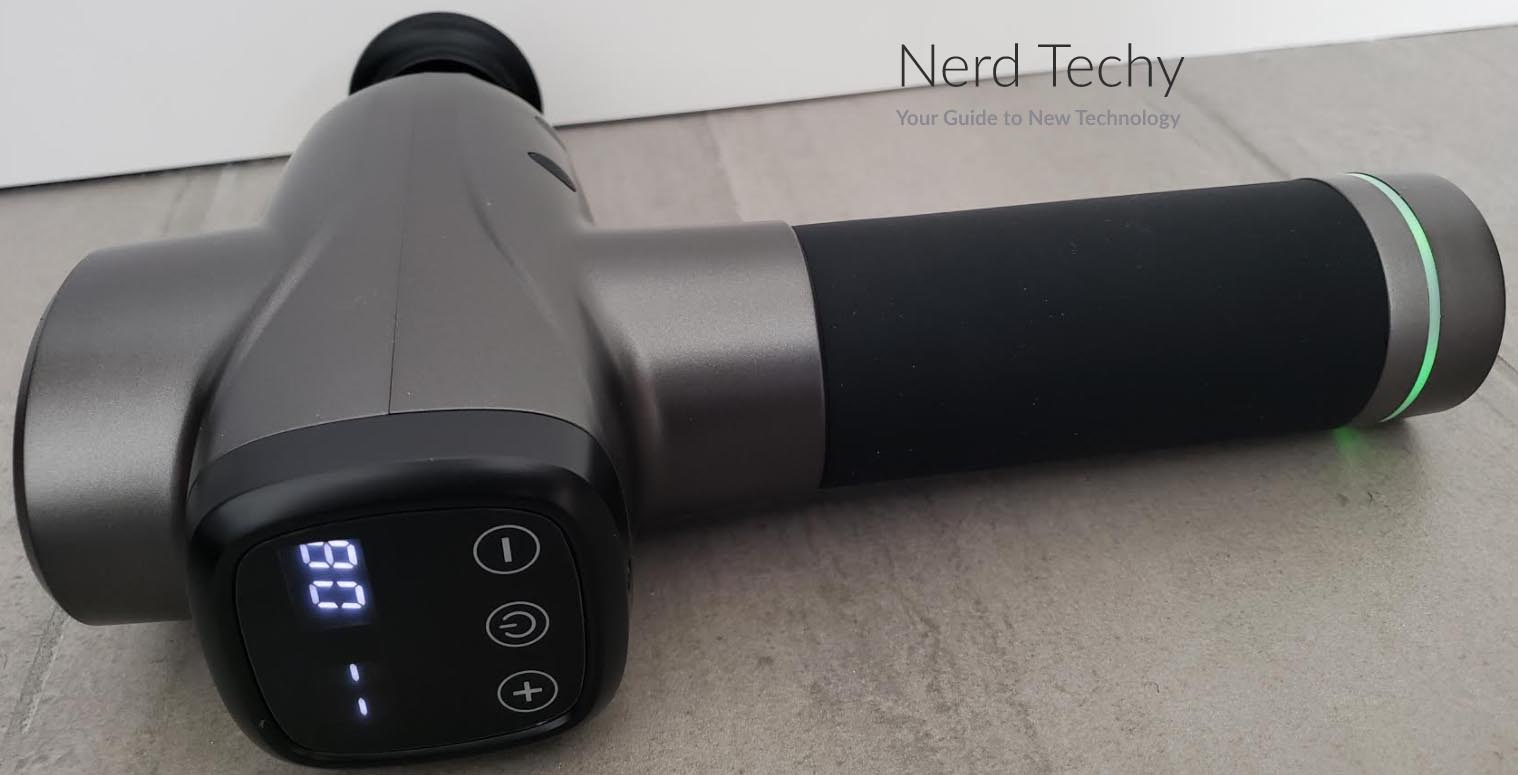 Operation & Accessories
The TT-PCA003 operates at 10 different speeds. It can range between 1,400 and 3,200 strokes per minute in 200-stroke increments. The lower settings are better for a more traditional massage. As you work up to the middle settings, they're better for lactic acid breakdown. As you go even higher, you get into the territory of deep tissue massage. The highest settings can reach tissue as deep as 12mm into the body, or a little under half an inch.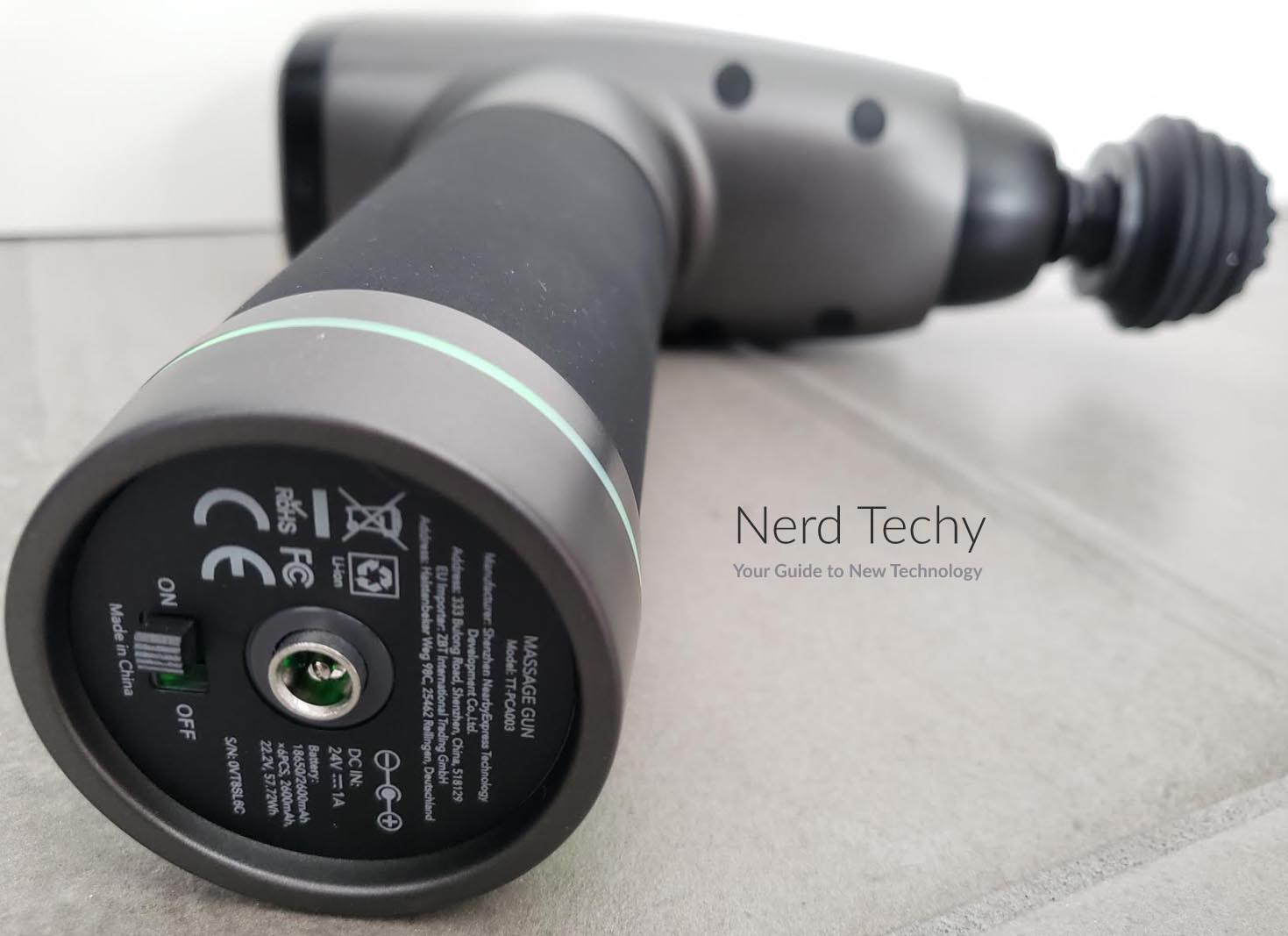 The motor noise from the TT-PCA003 is fairly quiet. Depending on the speed setting, it can range from 40 to 50dB. That's slightly quieter than the noise from an everyday conversation. In other words, it's audible, but not obnoxiously loud. There are microwaves louder than this massage gun.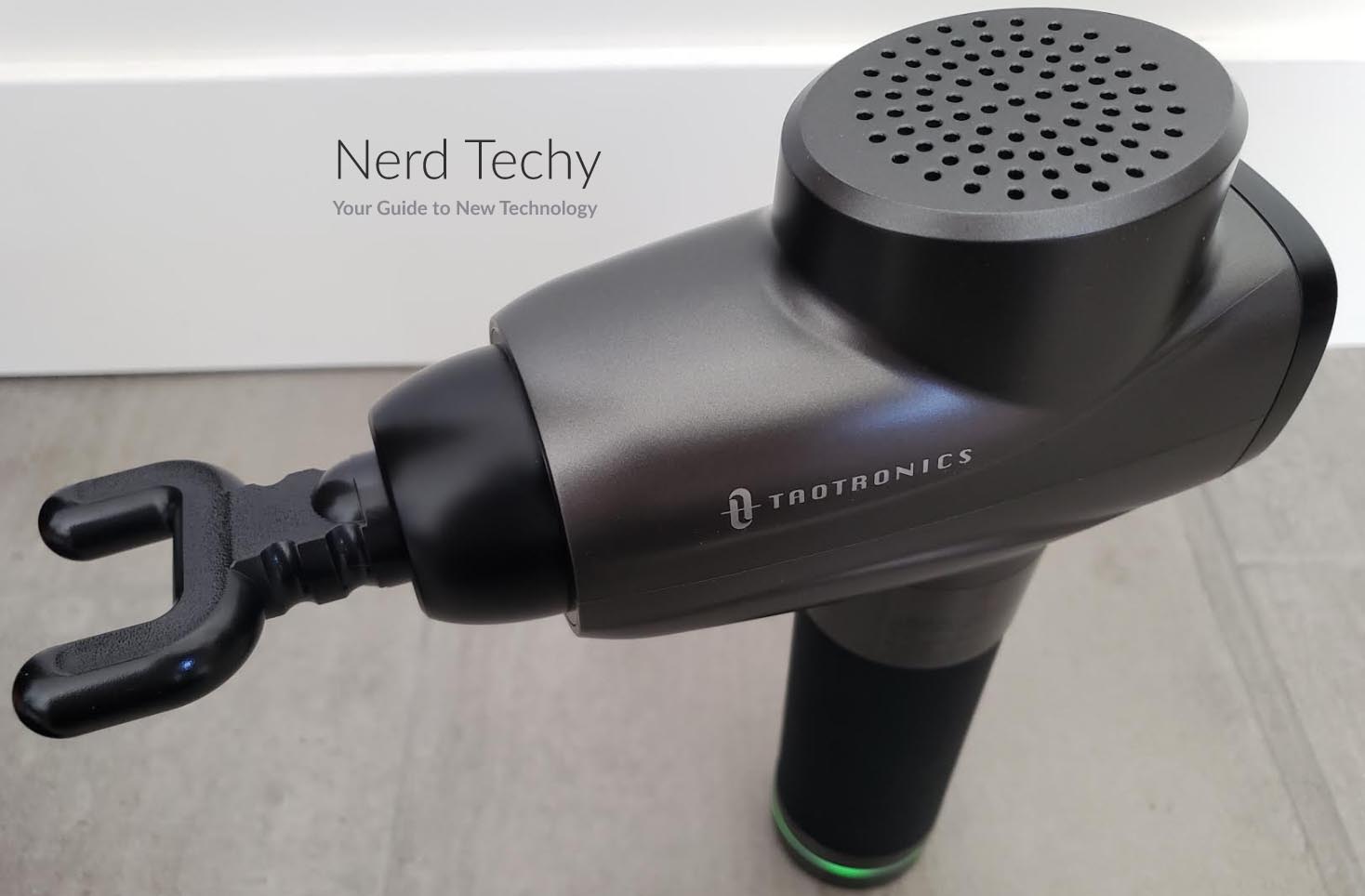 Battery & Charging
On a full charge, the TT-PCA003 has enough battery life to last for 10 hours. That's more than enough for any conceivable day, even for a professional masseuse. Not only that, but the battery will fully charge in about two hours. You can plug it in overnight, and it will be fully charged in the morning. Sure, there are edge cases where 10 hours might not be enough. Maybe you're taking a month-long vacation to an off-grid cabin in Wyoming. But under 99.9 percent of circumstances, 10 hours of battery life will be plenty. Better yet, the TT-PCA003 has a battery-saving auto-off feature. If you leave it on for 15 minutes, it automatically shuts down.
If you want something a little more affordable, the Saluko Percussion Massage Gun is an excellent choice. That said, it only comes with four tips instead of six, and only a five hour battery. Even so, it's a suitable home massager if you don't need the TT-PCA003's pro-grade performance.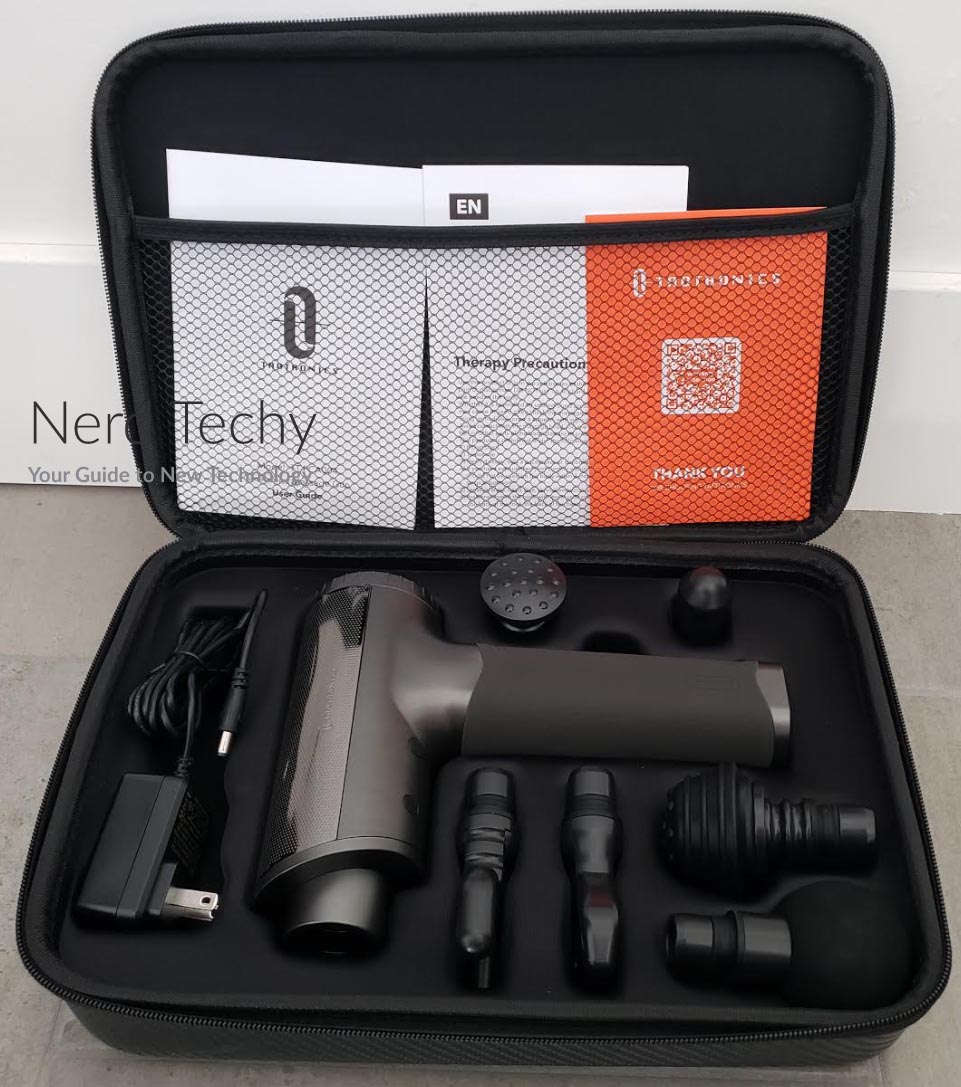 TaoTronics TT-PCA004
The TaoTronics TT-PCA004 is similar in design to the TT-PCA003. It has the same pistol-shaped profile, but it's a bit lighter and slimmer, tipping the scales at only 1.6 pounds. This makes it somewhat more manageable. But given the already-lightweight design of the 003, there's not much of a difference here. The aesthetic is a bit different, with a glossier silver-grey case and a textured finish. This texturing is also found on the rubberized handle, so it grips even better than the 003. Again, though, this is a matter of degrees. The original already has a pretty good grip.
The LED display is a bit more basic. It doesn't show the battery level, only the speed. Still, it's easy to read. Not only that, but it has similar easy-to-use buttons to the TT-PCA003. The massage heads are also virtually identical, with six different easily-interchangeable options. There's a round head, a flat head, three different bullet points, and a forked tip. This way, you can work on just about any area of your body. The kit includes the same poly case as the 003. You can easily carry around the massager, the tips, and the charger without anything getting lost.
Operation & Accessories
The TaoTronics TT-PCA004 has the same maximum RPM level as the 003, at 3,200 RPM. However, it has a lower minimum, at only 800 RPM. This makes it more versatile, since it can more easily be used for regular massage as well as deep tissue. To compliment this wider range, the TT-PCA004 has twice as many speed levels. In all, there are twenty speed settings, in increments of 120 RPM. Moreover, the motor itself is fairly powerful. It has a stall force of 33 pounds, which should be more than you ever need.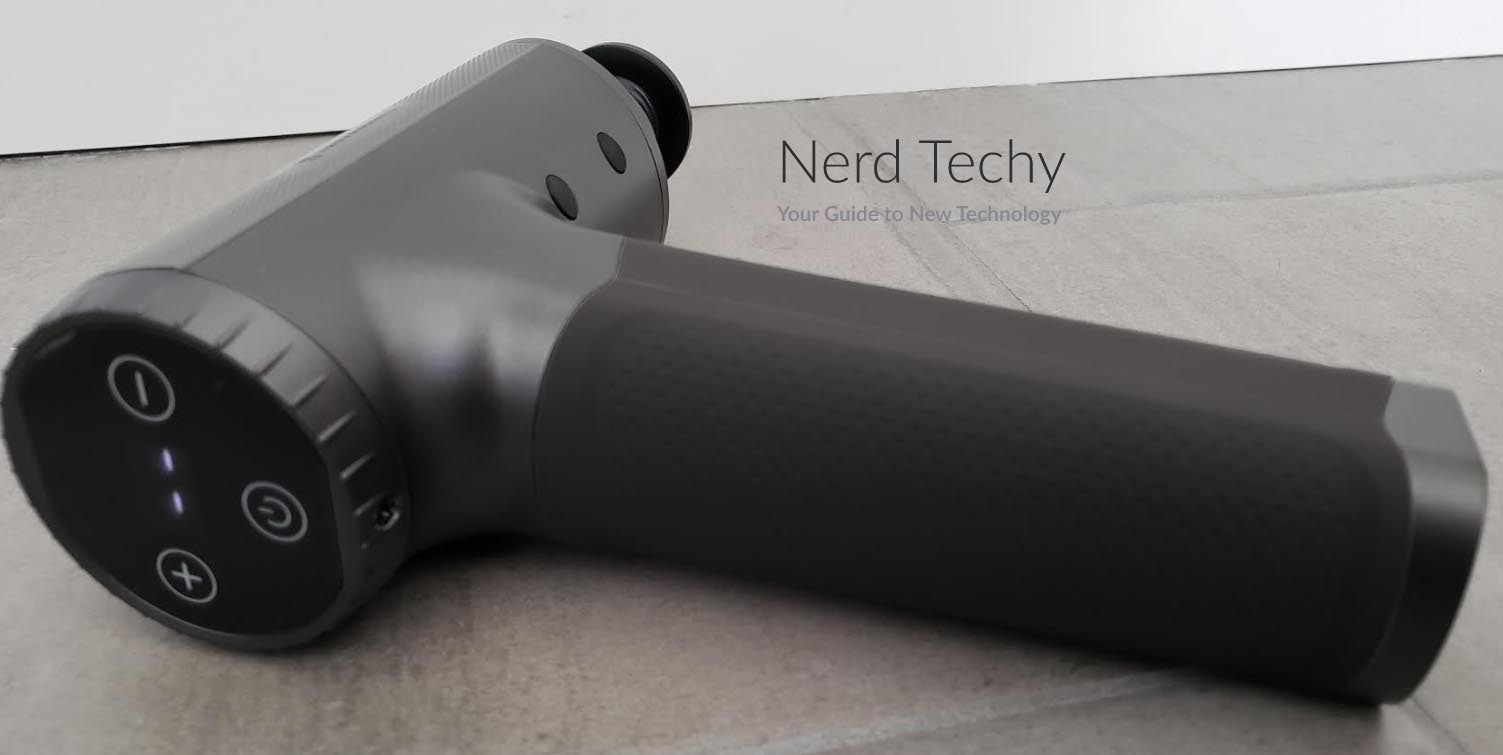 The TT-PCA004 has a slightly lower noise rating than its bigger brother, at only 35dB. However, this is a bit deceiving. The lower decibel level is due to the lower minimum motor speed. At full speed, both massagers are essentially the same volume.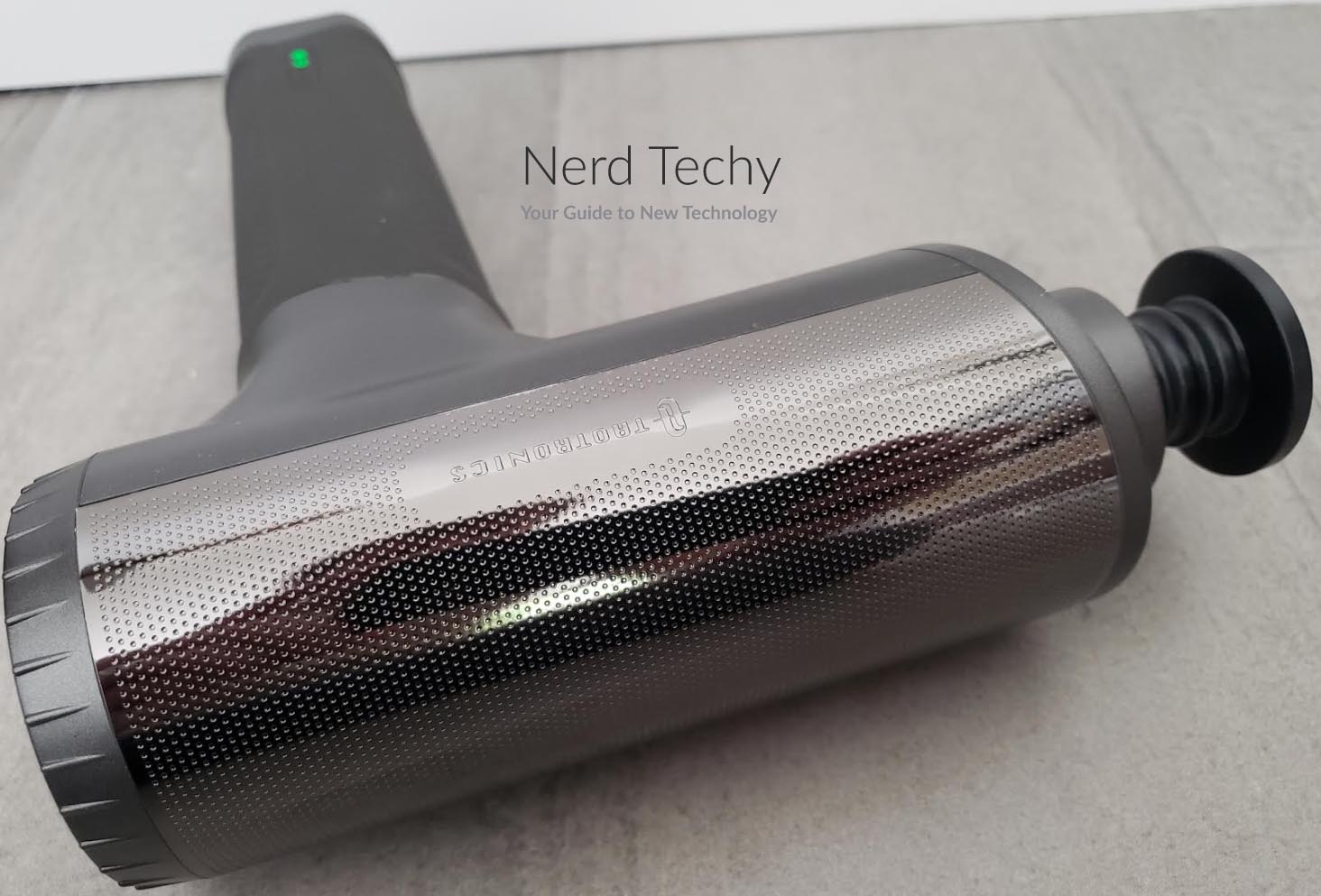 Battery & Charging
The TT-PCA004 massage gun has the same battery life as the 003. It will operate for up to 10 hours on a single charge, so it will basically never run out. Considering that it recharges in just a couple hours, even massage professionals will be able to use it every day. That said, the power management feature is a bit more advanced than the 003's. Instead of turning off after 15 minutes, it shuts down after only three minutes of no inputs being made. If you set it down to take a phone call, or even if it's accidentally activated, your battery will remain intact.
Final Verdict
So, which one of these massage guns is the best? In most regards, they're very similar. This shouldn't be surprising, since they're in the same product line. However, there are a few significant differences we should point out between the two. We started out by reviewing the TaoTronics TT-PCA003. This is a full-featured massage gun that meets a wide variety of needs. With six massage heads and ten speeds, it can work any part of your body and relax tissue at any depth. It also has a long-lasting battery, easy charging, and a portable design. The carrying case is a great added value for anyone who needs to take their massager on the go.
The TaoTronics TT-PCA004 comes with a few minor changes. Cosmetically, the case is a bit brighter and a tad smaller. But the main difference is in the motor. You get twice as many speed options, and a lower minimum speed. Not only that, but the battery-saving function kicks in a bit faster. If you want a more lightweight option for lower-speed operation, it's a great choice.
Please consider sharing:
Note: At no extra cost to you, we may earn a commission for purchases using our links. Learn more.