The most successful companies in the world place value in creating an employee-oriented environment. This means putting health first by creating a comfortable work environment.
As a work space, an office is inherently harsh on your overall health. It requires long term use of computer screens, and extended periods of time spent sitting. Thankfully, many offices (including those of the at-home, single dwelling type) are adopting equipment that encourage health-positive work spaces.
One popular example is the height-adjustable desk. Many people are now familiar with the advantages of a standing desk. They can reduce back and neck pain, improve posture and core strength, and help you burn calories while you work. Of course, standing for extensive periods of time can also have negative effects. These include fatigue and wear on your knees, increased exertion and pressure on your feet, and an overall impact on your posture. Whether you work on your feet at a stand-up desk or a restaurant, these impacts can have negative health consequences. The solution to these consequences is extremely simple: Anti-fatigue standing desk mats.
Anti-fatigue floor mats are an extremely simple solution that allows you to enjoy all the advantages of standing at work without suffering the potential consequences. They work by taking unwanted pressure off your feet, knees, back and shoulders. Additionally, they allow you stand for extended periods of time for days on end without wearing out your joints or deforming your posture.
An anti-fatigue mat is an absolute must-have to accompany your stand-up desk. Without an anti-fatigue mat, the benefits of a stand-up desk are limited, and can actually end up having negative consequences. Given the importance of an anti-fatigue mat, it's equally important to ensure you pick one that works. A low-end one is not only useless; it can actually negatively impact your overall health.
A good mat should be comfortable, easy to clean and maintain, function in a way that meets your specific needs, and come at a price you can afford. No one wants to learn the hard way that their anti-fatigue mat is poor quality. That's why we have done the hard work for you and tracked down the best anti-fatigue mats on the market for anyone's needs.
Topo by Ergodriven
The Topo by Ergodriven anti-fatigue mat is an ergonomically designed, highly functioning mat that is perfectly suited for long term users of stand-up desks. It allows you to fully enjoy the advantages of a stand-up desk without wearing out after short periods of time. By subtly encouraging movements of your feet, it comes with the added advantage of burning calories and encouraging healthy posture changes.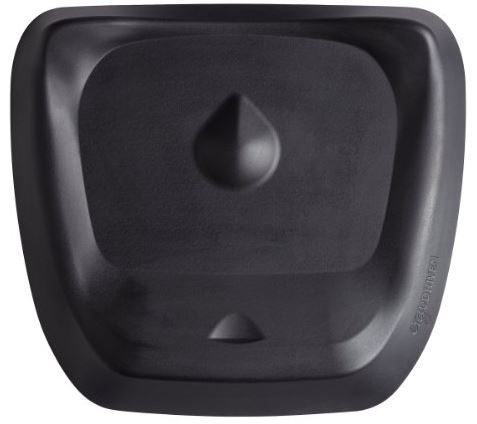 Comfort
The Ergodriven anti-fatigue mat by Topo is designed with long term comfort in mind. Built specifically for stand-up desk users, it's the ideal mat for people have a height-adjustable desk that is tried and true. The cushion is thick and well balanced, promoting active, varied stances that reduce stress on the joints and let you stand for hours on end without discomfort. It's made with comfortable polyurethane foam that's both sturdy and soft. Plus, you can easily re-position the mat when you switch between sitting and standing. It slides easily with the push of one foot, but sticks well enough so that it doesn't slide around while you're standing. For stand-up desk fans, the Topo by Ergodriven has no competition when it comes to comfort.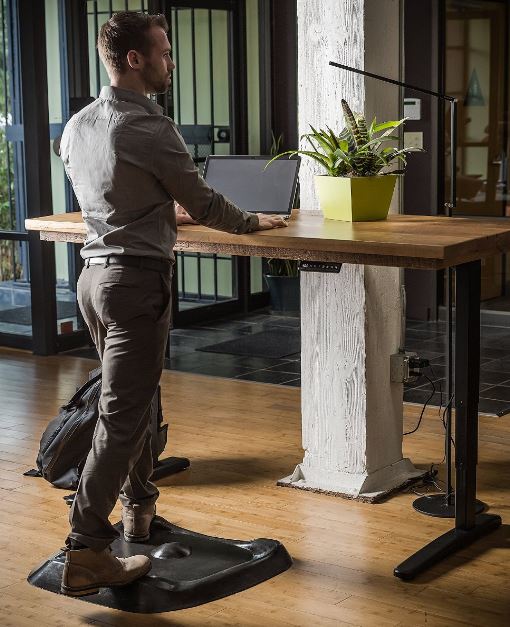 Features
Topo's Ergodriven anti-fatigue mat is built with subtle features that make it the ideal mat to accompany any stand-up desk. Its unique design is meant to work in conjunction with your stand-up desk. The cushion terrain promotes subconscious movement of the feet that not only reduces tension, but also burns calories subtly and effectively. Unlike a balance board that can be distracting and overly-forgiving with its mobility, the Ergodriven mat promotes movement without you even realizing it. By subconsciously engaging your feet, the movement required to keep your posture-related health intact at the office is employed successfully and smoothly.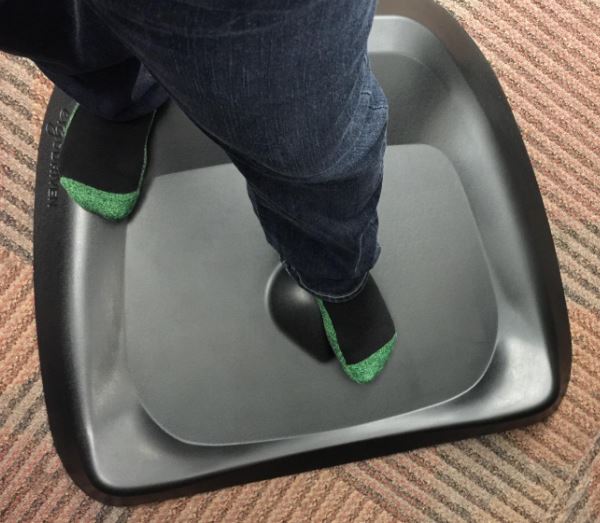 Value
The Topo Ergodriven is a must have for stand-up desk users. Cleaning and maintaining it is extremely easy, because you don't need any materials beyond a cloth and some warm water. Coated with a pebbled, integral skin gives the mat strength and durability, so it'll last for as long as you need it. This is a product that not only enhances the benefits of your stand-up desk, but is one you'll use every day, making it indescribably valuable.
Sky Solutions USA Sky Mat
The Sky Solutions USA Sky Mat is an anti-fatigue mat that anyone can benefit from. Whether you work in a coffee shop or an office, or spend long hours on your feet at home, the Sky Mat can improve your posture-related health throughout the day. The Sky Mat can be used not only at the office, but also at home or in any work setting that involves being on your feet.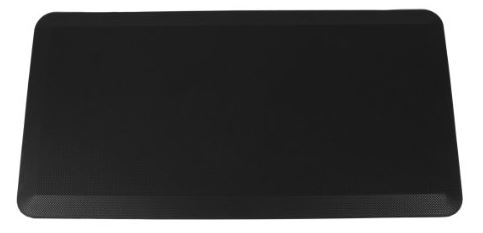 Comfort
Sky Solutions USA's Sky Mat is one of the most multi-functional anti-fatigue mats on the market. It's designed with commercial grade thickness that is highly supportive. This mat can reduce pressure on your feet, knees and lower back by up 32%. Manufacturers claim this is equivalent to feeling as though you've lost 60 lbs compared to standing on the hard ground. This mat provides soft stability on your feet so 8 hours of standing at the office or restaurant will have a minimal impact on your posture related health. Plus, the mat is wide, so it gives you a wider range of motion while you're standing, giving you comfort for as long as you need.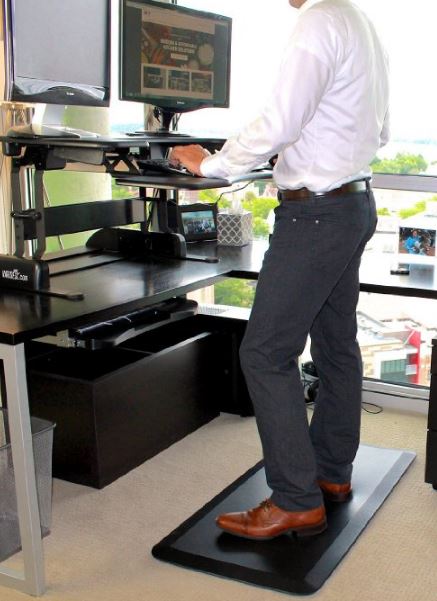 Features
The Sky Mat is designed to be used in a variety of settings from kitchens, to coffee shops, to the office. Sky Solutions USA understands that long hours standing, regardless of where they take place, can be hard on your feet, ankles and back. Why use an anti-fatigue mat at work, only to come home and spend hours working in the hard surface of the kitchen? The Sky Mat can help you improve your health at work and at home. It's made with durable materials that won't break down or over-compress. Additionally, it's also built with a beveled edge design that prevents tripping in a busy work space, such as a coffee shop. This is an anti-fatigue mat that can be used in any setting safely and with huge health advantages.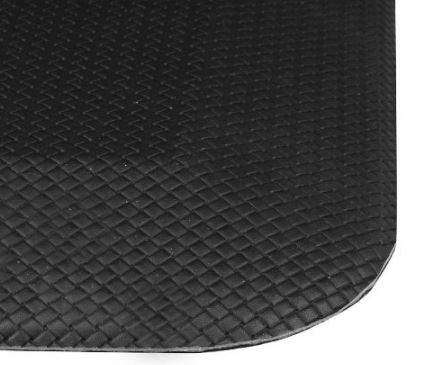 Value
The Sky Mat is an extremely effective anti-fatigue mat that anyone can afford. It's a mat you'll want to use both at home and at work.  You can easily purchase more than one so you can take full advantage of the Sky Mat anywhere you need it. It's built with eco-friendly materials that don't give off a toxic smell. It is a durable, functional mat that will continue to last and impress.
Imprint CumulusPRO
The Imprint CumulusPRO is one of the best rated anti-fatigue mats on the market. It's durable, functional, and boasts features that make the mat ideal for a wide range of users. This mat is thicker than many of its competitors, and is one of the most eco-friendly anti-fatigue mats available.
Comfort
Anyone who suffers from flat feet knows how important an anti-fatigue mat can be, and also how difficult it can be to find one that keeps you comfortable all day. It's up to 97% thicker than other mats, so anyone can enjoy the benefits throughout their day. At the core of its comfort is the Imprint CumulusPRO Cushion-Core Technology that reduces fatigue while improving comfort and productivity. The Cushion-Core Technology ensures that even flat footed users will see noticeable benefits after their first use. Most tellingly, this mat is tested and certified by the National Floor Safety Institute & an American Chiropractic Association (ACA) Partner.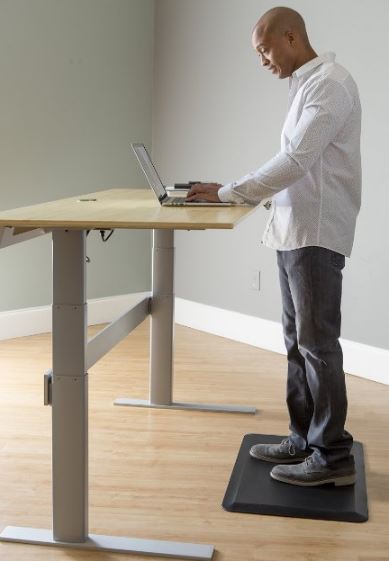 Features
The Imprint CumulusPRO has a single piece, polyurethane construction and high density core that prevents the mat from deflating over time. It's an environmentally friendly option that's made with non-toxic materials. Plus, it's completely phthalate free, making it perfectly safe to use at home around children or pets. As an added benefit, it's designed with a contoured beveled edge design to prevent tripping. The non-slip bottom also keep the mat in place, which is both user friendly and an extra safety feature. These features make it perfect for use in any work or home space. Additionally, it's wide design offers more mobility than others, a feature that is especially beneficial for busy, on the move workers.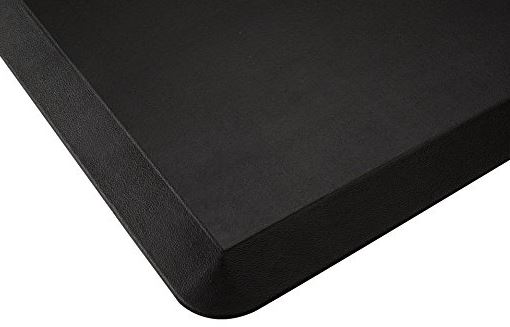 Value
The CumulusPRO was designed with serious users in mind. It's clear that Imprint intended for this mat to be a serious contender as the best anti-fatigue mat on the market. With features like this, you can be assured that Imprint is confident in their product. This is reflected in the fact that they offer a full lifetime warranty, though we doubt users will ever be tempted to return it. Better yet, this is a highly affordable mat that comes with features most other anti-fatigue mats in its price range don't offer.
Which Standing Desk Mat Should I Use?
When you're on your feet all day long, the last thing you want is to get the wrong mat. The three we've reviewed today are great for the majority of consumers, but each of them has one unique feature that sets it apart.
For Stand-up Desk Users:
If you're a long term stand up desk user who is searching for the best anti-fatigue mat to compliment it, there is no better product than the Topo by Ergodriven. This mat is designed specifically to help users take full advantage of their stand-up desks, while also promoting subtle foot movements that keep you moving throughout the day without distraction.
For Users Who Value Multi-Functionality:
If you are a hard worker who is on your feet all day and understand the many benefits of an anti-fatigue mat, you should definitely consider the Sky Mat. The Sky Mat is designed for users who want a multi-functional mat they can use anywhere and everywhere. From top to bottom, this mat is designed for comfort, functionality and safety. It's a mat you'll find a hard time buying just one of, since it is perfectly suited for any room at home or at work.
For Flat Footed Users Who Have Families or Pets:
Users with flat feet have a harder time than most finding products that offer them true, long lasting support. This is an especially frustrating problem for people who work on their feet or who want to experience the advantages of a stand up desk. The Imprint CumulusPro, one of the most highly rated anti-fatigue mats on the market, it especially perfect for these users. It's the thickest anti-fatigue mat available, and highly sturdy and durable. For environmentally conscious users or people with children or pets, the CumulusPro can't be beat. It is made with materials that can make you proud to own it, and is safe for any environment.