Offices around the world are becoming more and more aware of the way desk-work can impact a person's health. Everything from the length of time spent on the computer to the kind of chair used can have long term consequences. Employers and employees alike are becoming increasingly conscious of these effects, and taking important measures to combat them. For example, some offices have emphasized getting high quality office chairs or exercise balls for posture related health.
Similarly, standing desks have been shown to have significant health benefits. A stand-up desk can reduce back and neck pain that can lead to serious injury or chronic pain. They also improve posture and core strength. In fact, people who use standing desks burn up to 40% more calories on a daily basis, and are also more focused and productive at work.
Offices with stand-up desks have now come to reflect a health conscious, employee-oriented office that makes the well-being of their employees a top priority. So not only can they help you as a worker improve your wellness, they can also be a good way for employers to demonstrate a high level of care and responsibility toward their employees.
One of the major difficulties is knowing what makes a good standing desk. If your stand-up desk is unstable, lacks ergonomics, or is poorly aligned, the effects can be more negative than positive. One of the most important factors is the ergonomics. While working at a standing desk, your posture is extremely important. Your elbows should be at an almost 90-degree angle, and your eyes should be about 20-28 inches from your monitor screen. It should support this stance in order to function properly. Additionally, it needs to be properly positioned and properly adjusted in order for the benefits to be realized.
Clearly, it's crucial to select a high-quality standing desk. It can be hard to weed out the poor-quality options, so we have done the hard work for you and selected our three most highly recommended choices for 2017.
VARIDESK Pro Plus 36
The VARIDESK Pro Plus 36 is perfect for those who require a large workspace or a dual-monitor setup. It's a portable standing desk that you can use on any existing surface, and has an adjustable height that can accommodate your every need. If you're a busy worker who needs a lot of space and functionality, this one is right up your alley.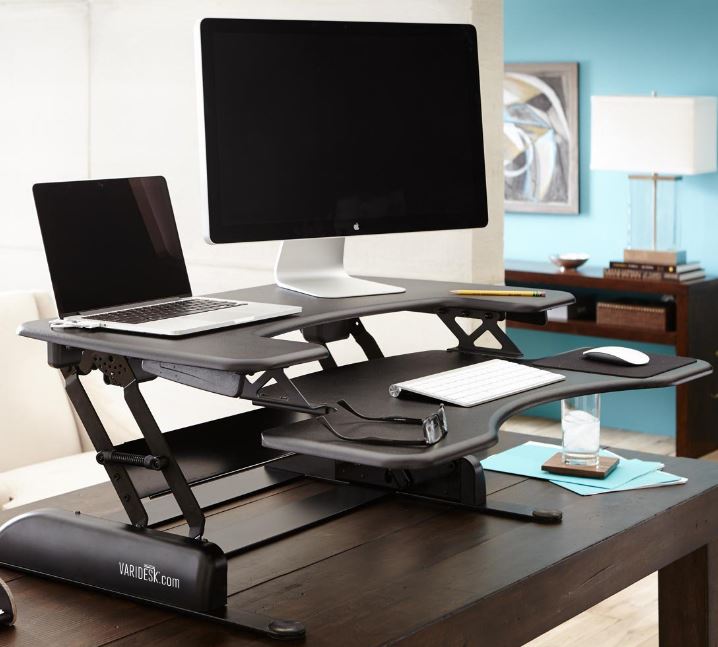 Design
With its two-tier design, the VARIDESK Pro Plus 36 is perfect for users with multiple monitors or who otherwise require more space than usual. The upper tier is large enough to fit two computer monitors side-by-side, while the lower tier is designed as a keyboard and mouse deck, with ample space for glasses, pens or other accessories. The height is adjustable depending on your requirements. While adjusting, the movements are smooth and the desk remains sturdy even when fully extended. It also comes with a patented spring-loaded lifting mechanism that can lift up to 35 lbs in 3 seconds. This allows users to stand up or sit down at their discretion without breaking their concentration. All these features make the VARIDESK Pro Plus 36 a highly functional desk that is perfect for busy, multi-monitor users.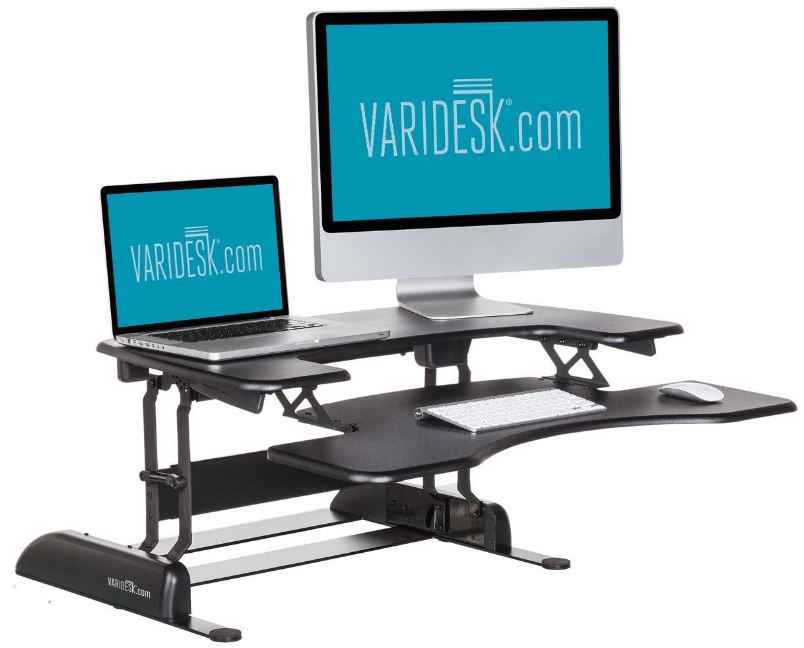 Specifications and Ergonomics
The VARIDESK Pro Plus 36 is not a full sized desk, but is designed to sit on the surface of another desk. This is a great advantage because it negates the need to completely replace your existing desk, while still offering all the benefits of a stand up desk. This desk offers 36" of working space on both the top and bottom tiers, and an extension height of 17.5". At only 52.5 lbs, the desk is relatively easy to transport between surfaces if need be. You can adjust it to 11 different positions for the most ergonomic comfort possible, allowing you to ensure the perfect working posture.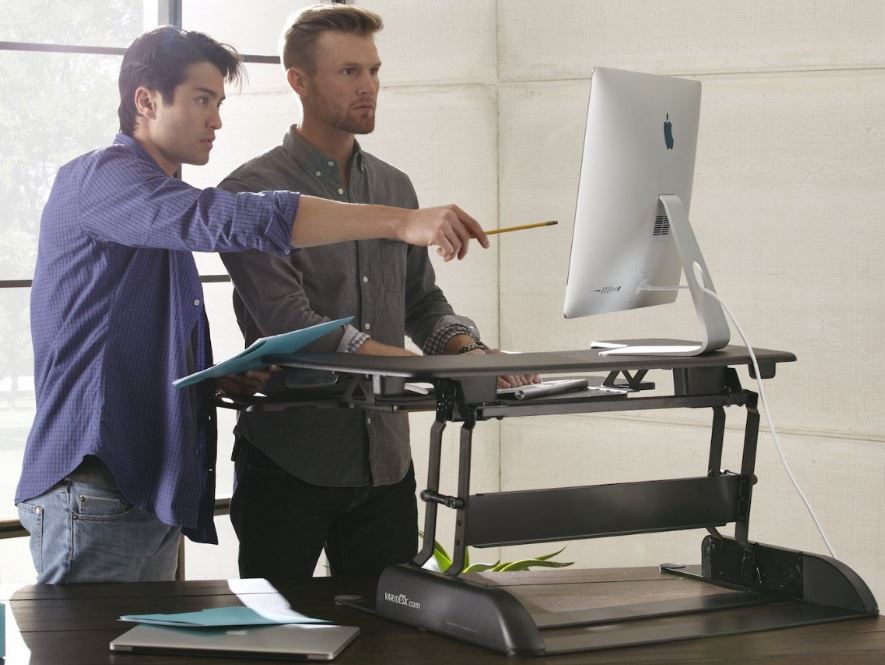 Value
There are a wide range of standing desks on the market, and their price range varies greatly. A budget priced desk is often reflective of a poor-quality product, but spending thousands of dollars on a desk usually ends up feeling unnecessary. The VARIDESK Pro Plus 36 is a multi-functional stand up desk that won't leave you feeling cheated.
ApexDesk Electric Height Adjustable Standing Desk
The ApexDesk is a great multi-functional desk that you can use for either sitting or standing. It is built with high quality materials and ergonomically crafted for the efficiency-driven worker. This professional looking desk has more to offer than just its height adjustability, and suitable for anyone who values a good desk and a good price.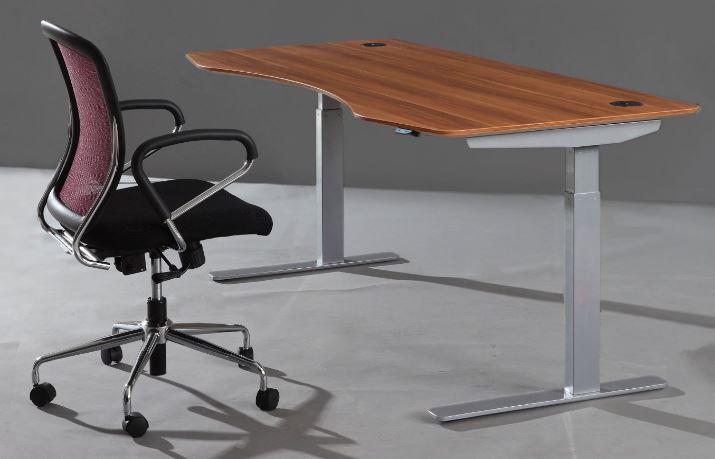 Features
The ApexDesk boasts some impressive features that you don't often see at this price range. It's a full-size desk that you can fit all of your personal office goods without any space constraints. The desk is built with premium materials typically reserved for high end products. Most desks in its price range are built low-density particle board, but the Apex test is built with MDF (Medium Density Fiberboard), making it lightweight but reliable. It also has scratch resistant, high pressure laminate that helps it withstand even the toughest environments. It can easily be set up within 30 minutes and is built with a single-piece fixed steel beam for ultimate stability. This is a high-quality option that offers every advantage of a height adjustable desk without sacrificing anything in the way of stability.
High quality materials are always appreciated, but perhaps the most impressive feature of this desk is the motorized stand. Likely, you'll have monitors, paperwork, and all kinds of heavy items on your desk. Who wants to struggle to lift then when you're ready to stand up? Thanks to the dual 235 lb. motors installed in each leg, this desk adjusts itself all on its own. All you have to do is push one of the conveniently located buttons on the face of the desk.
Specifications/ Ergonomics
The ApexDesk can be used while sitting or standing, making it the perfect multi-functional desk for people who want the benefits of a stand-up desk without the full-time commitment. Its height can be adjusted from 24" to 50" at a rate of 1.3" per second, and remains stable regardless of the height setting. The MDF core is a full inch thick, with diameters of 71" x 33". Additionally, it's ergonomically shaped to make desk work flow as smoothly as possible, and there's no crossbar impeding on your leg room while sitting. It's a heavy desk weighing in at 142 lbs, but this says more about its excellent stability than anything else.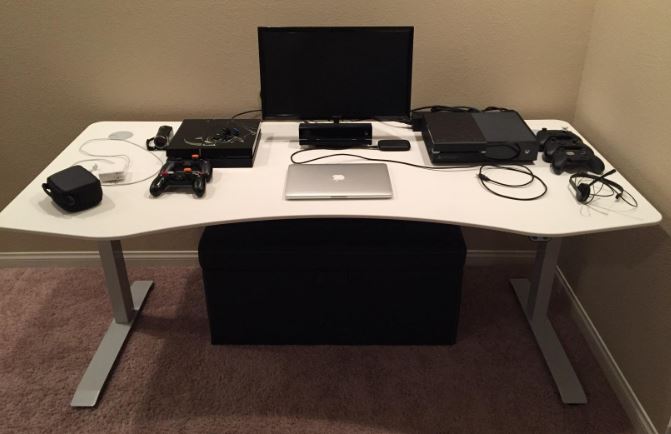 Value
The Red Apple top and Grey frame gives a sophisticated look to this multi-functional, ultra-sturdy, height adjustable desk. The quality of its build materials are impressive given its price range, and the fact that you are practically getting two desks in one make it even more astounding. Even without the height adjustability, this is an excellent desk that was built with ergonomics and craftsmanship in mind. The ability to adjust it between seated or standing work allows you take full advantage of the benefits of either setting.
Luxor Crank Adjustable Stand-Up Desk
If you spend a lot of time at your desk, you'll appreciate the professional craft and care that Luxor took when designing their Crank Adjustable Stand-Up Desk. They didn't make any sacrifices, ensuring they used the highest quality construction and materials. With a nice large workspace, you'll have room for all the office materials you need.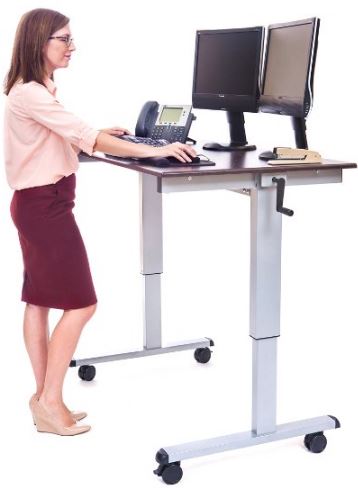 Features
When you change to a standing desk, you're given flexibility. No longer restricted to a certain position, you're able to work in a manner that's natural and doesn't strain your posture. All standing desks are flexible in height by nature, but the Luxor Crank Adjustable Stand-Up Desk gives you much more. There are solid wheels on the bottom, making it easy for you move. Each wheel has a foot operated brake, keeping it secure while you're using it. This makes it perfect for an office or educational environment. Need to give a presentation? No need to transfer everything to your laptop, just roll your desk!
Since moving it around is going to put some additional strain on the desk, Luxor has gone through and reinforced every mechanical part of the desk. As soon as you see it, you'll realize that it's much more industrious than your typical unit.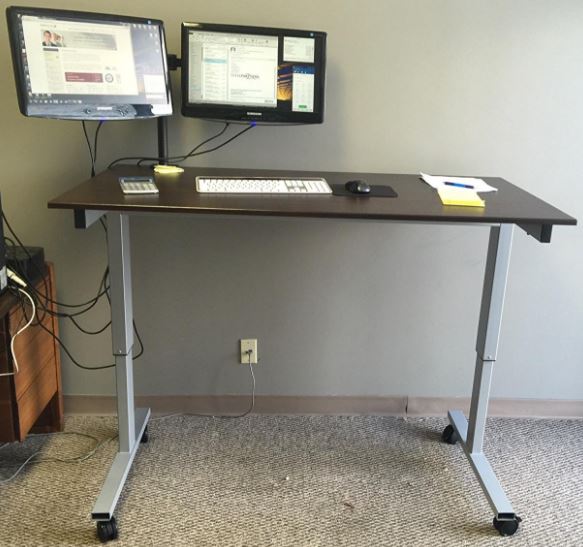 Specifications/ Ergonomics
This desk measures 47" by 25" on the top, and is adjustable from 29" all the way up to 42.75." Even if you're a very tall person, you'll still be able to stand comfortably at it. One of the things we appreciated most about this desk is the steel frame. When lowered, the upper sleeve of the frame rests on the base, giving it a very sturdy feel that we don't often see adjustable desks like this.
Thanks to the 3" castor wheels, moving it is comfortable and easy. They rotate easily, allowing you to maneuver it smoothly through the hallway, avoiding any possible obstacles in your way.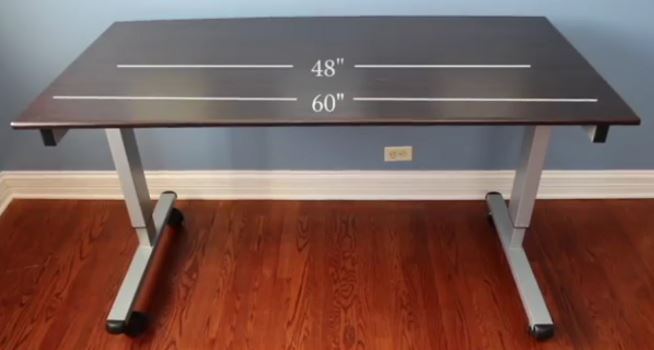 Value
It can certainly hold its own against any other adjustable standing desk on the market. The only area it's not competitive in is price. We're used to seeing manufacturers charge significant markups for the features found on this model, and yet they've managed to sell it at a discount to all other options. It's pretty safe to say that this is one of the best deals you're going to find.
Which Standing Desk Should I Buy?
If you've decided to make your health a priority by purchasing a standing desk, you'll likely be happy with one of these models. But they each come with their own sets of pros and cons, so the one you choose will be dependent on your needs.
If you've already got a nice desk, there is no need to throw it out. The VARIDESK Pro Plus 36 is designed to pop right on top of your existing one, and features a large enough surface area to accommodate dual monitors. If you're looking for an easy way to get started, it literally couldn't be easier!
Perhaps your desk is getting a little tired, and you're ready to step into something with a more executive feel. Well, ApexDesk has just the thing for you. This spacious desk is made from premium materials, and features dual motors that will automatically adjust the height for you. Its stylish design means that it looks just as good as a standard desk, making it the perfect addition to any office.
For an office environment, you'll likely prefer the Luxor Crank Adjustable Stand-Up Desk. This model is designed to be a little more durable than your average desk. Combined with the fact that it's completely portable, it's the ideal option for a busy office environment.
No matter which you choose, make sure you supplement it with a handy anti-fatigue standing desk mat. This way, your feet will be just as comfortable as your back!