The smart home revolution is taking the world by storm. Things that used to be nothing more than mindless appliances are now digitally connected and accessible from the palms of our hand. As technology advances, we're now able to make almost any device in our home smart. We've got everything from smart locks to smart garage doors. But there's just one problem, there's no simple way for us to control everything.
Sure, most products have their own application. But what's the benefit of an advanced, connected ecosystem if we can't control them from one place. This is where the smart home hub comes into play. A smart home hub is a device that networks with all of your smart devices, providing you with a central location to operate them from. There are a few different versions of these hubs, but each of them are designed to favor the products made by its manufacturer. TCL may be one of the first manufacturers to create a complete, all-inclusive smart home hub. To make things better, they've even added in some great features that put it ahead of the competition. Let's take a look and see how it performs.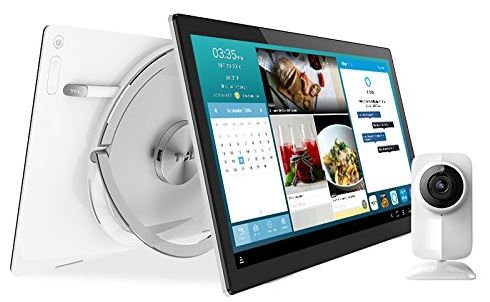 First Look
The TCL Xess Smart Home Hub is based on a large-screen 17.3″ Android tablet. Just by looking at it, you can tell it's one high tech piece of equipment. The design is sharp, sleek, and purely modern. From the face, you get the standard glass face and black border. But from the back, it really is something to marvel at. The TCL logo is made from a small metal puck that rests on the back, encircled by a mirror-finish metal band. The bottom of the band is hinged, allowing it to fold out and act as a little kick stand for the tablet. Aside from this circle, the tablet is incredibly thin, possibly one of the thinnest tablets we've seen. But it's not the design that really sets this smart home hub apart from the competition, so let's see how it performs.
Compatibility
One of the most important parts of any smart device is its compatibility. There are plenty of great products on the market, but if you can't integrate them with your existing ecosystem, they're not of much use. This is where the Xess comes in. This advanced tablet is compatible with almost every smart device on the market. The only requirement is that it has an Android application. Some smart home hubs act as an intermediary. They connect to all your devices, then you use their special app to connect to it. But the Xess is much simpler than that. It acts as a third-party controller for everything in your house, and doesn't attempt to replace any of your existing functions. For consumers, this is beneficial. You're not buying into someone else's design; you're simply purchasing something that expands the current capability of your smart home. In our opinion, this is the way it should be.
There is one extra feature on here that we were very excited about. Amazon Alexa. This is Amazon's voice activation service. You can speak naturally to your computer and search the web, send messages, or send a specific command to any of your smart devices. Alexa really improves the features of this tablet, and takes it to the next level.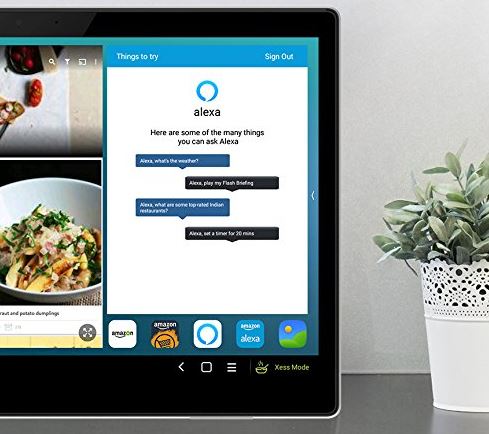 Hardware
For connectivity, the Xess is equipped with 802.11ca Wi-Fi and Bluetooth 4.1. With so many smart devices now coming Bluetooth enabled, we're happy to see that it's included. The 17.3" screen is a large 1080p model, made using IPS technology. This was something we were quite excited about, since many tablets are still using TN or OLED displays. But both display types have their own sets of issues (poor color reproduction and burn in, to be specific) making IPS the best on the market. For users, this means more accurate colors, sharper text, and all around better imaging.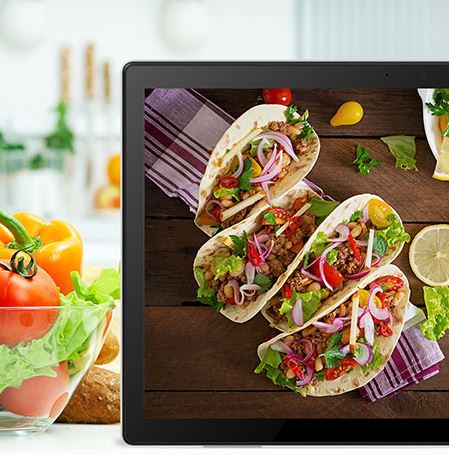 At the heart of the system is an 8 core MediaTek processor clocked at 1.5 Ghz. For a tablet like this, the design makes sense. Users who are gaming or using demanding applications might prefer fewer cores with a higher clock speed, but this CPU is built for multitasking. Since this hub will be managing several applications at once, this keeps its performance snappy. This processor is bundled with AMDs mobile graphics system, which is more than suitable for the modern apps of today. The included 3GB of ram certainly isn't the largest on the market, but it's still more than adequate for its purposes.
With such a nice screen, you know that this is the perfect device for media lovers. That's why Xess includes two high quality JBL speakers and an SD card slot that supports cards up to 128GB.
Using the Antutu benchmark, the hardware scored a little over 40,000. This puts it in line with most entry level tablets. Perfectly adequate for controlling your home and enjoying multi-media, but certainly not a gaming hub.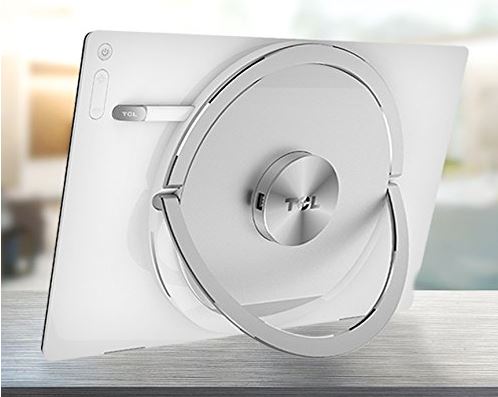 Software
While the hardware lays the foundation for the impressive performance of this hub, it's the software that really makes it shine. At its foundation, you've got a stock copy of Android 5.1 Lollipop. You can access the familiar dashboard at any time when in Android mode, but you'll probably want to use it in Xess mode. The way they've got the software laid out, you'd think that Xess mode was an entirely different operating system. But instead, what they've actually done is created a beautiful, large-screen interface you can use to access all your favorite apps, media, and smart home settings. Since you can run all android applications from the Xess interface, we really don't see any reason to stick with stock android.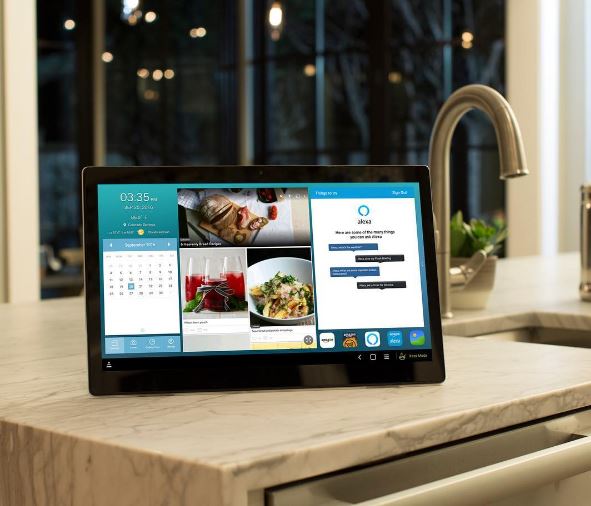 Usability
One of the best features of this tablet is the beautiful interface. It's divided vertically into three sections. In the center, you've got a section which keeps you up to date with the latest recipes. Just like the rest of this device, it works intelligently. You can keep track of your shopping list and current food inventory. This way, it will only show you recipes that you can make now, or recommend ones that you might just be missing one or two ingredients. On the left, they've got what they call a "flex zone." Essentially, you can put anything you want in here.
Widgets, apps, shortcuts, or calendars are all available. On the right, you have your app drawer and the Alexa interface. Alexa is really what makes this tablet so powerful. You don't have to dig around for the latest apps. Just say "Alexa, turn the heat down a bit." And it will automatically do so with any smart thermostat. The interface really is unique, and perfectly suited for the large 17" screen.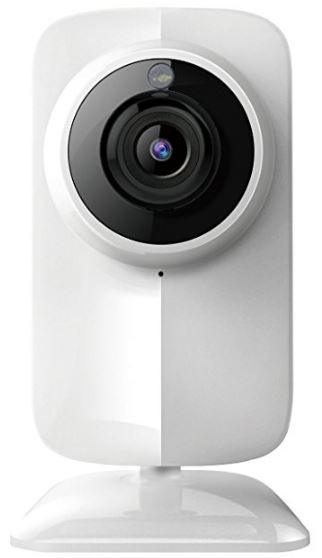 Remote Camera
One of the most unique bonus features of this hub is the included IP-Camera. It's got a microphone and two-way communication with the hub itself. Using one of the flex zones, your video stream is always just the touch of a button away. The camera is very high quality, so the possibilities for it are virtually endless.
Final Thoughts
The TCL Xess Smart Home Hub is much more than just an Android tablet. It's a fully featured way for you to stay connected with your entire household. With this is mind, it's got a specific market in mind.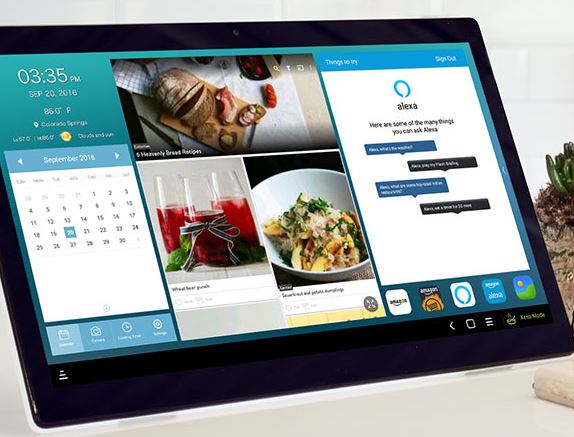 If you're just looking for a way to watch movies around the house, then you'd be wasting your money with this hub. This is designed to be left in a common area of your house. Somewhere it can be used by all. Backing this up is the large screen and beautiful design. It almost looks like a piece of art. After all, would you want a clunky old iPad sitting in your kitchen with one of those plastic kick stands?
If you do decide to put it in the kitchen, you'll certainly get the most use out of it. It's shopping list and food tracking options are incredibly useful, so you'll never have to wonder what you should make.
As for value? On paper, the Xess Smart Home Hub is a little more expensive than its equivalent tablet. But you get so much more. The large screen, the incredible interface, and the ability to connect centrally to every smart device in your home. In our opinion, this is the best smart home hub on the market.