Whether you're a daily or casual music listener, you likely understand the importance of a high quality set of headphones. The market is saturated with literally thousands of different options, so it's no surprise that it can be difficult to determine which pair of headphones are right for your specific needs.
We're all familiar with popular name brands like Sony, Panasonic, Beats, Sennheiser, etc. However, there are lesser-known manufacturers that are still very capable of producing headphones that deserve attention. Take Noontec for example. You may have never heard of them before, but don't let that scare you away.
We had a unique opportunity to get to know the brand a bit better by testing out a pair of their ZORO II wireless headphones, and were pleasantly surprised. They were kind enough to send us a free pair in exchange for an honest, thoughtful and fair review. We'll take a look at how they fit, perform and function and set out to see if they're a worthy investment or if they should be passed up.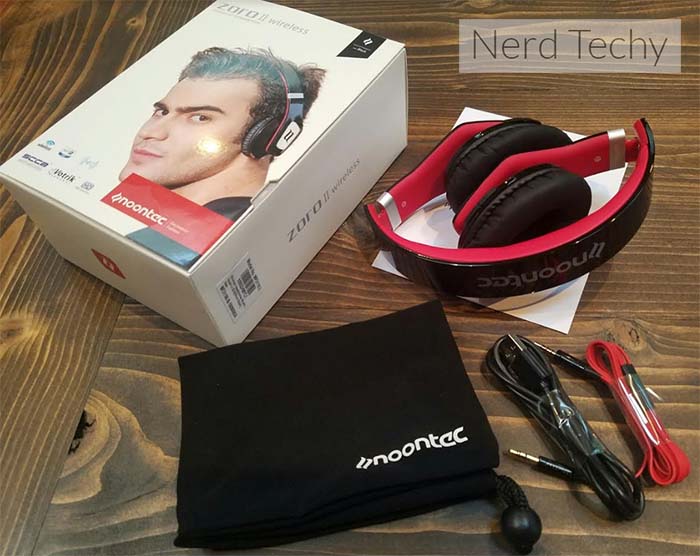 First Look
Upon opening the box, we were immediately excited to see that the Noontec ZORO II Wireless Headphones boasted a surprisingly compact form factor. There's a locking hinge on each side of the headband so you can fold them up into a smaller size that's much more manageable for storage and transportation. Additionally, the ear cups measure only 3″ x 2.5″ – much smaller than any of the other over-ear headphones we've reviewed in the past.
Finding the right fit was an easy and painless process that only took a few seconds. They adjust freely to expand to the appropriate size you need in order for the ear cups to fully encapsulate your ears, and lock firmly in place. Trying them on, we noticed that they have a tighter, snug fit. Although this may be problematic for those with larger heads, this is actually a very good trait for a pair of headphones to have. You want a snug and secure fit, but not one that's going to be painful. These seem to be the perfect medium.
It's also worth mentioning the accessories that are packed within the box. These include a micro-USB charging cable, 3.5mm auxiliary cable, instruction manual and a cloth carrying case. With that in mind, let's move on to see how they sound and perform.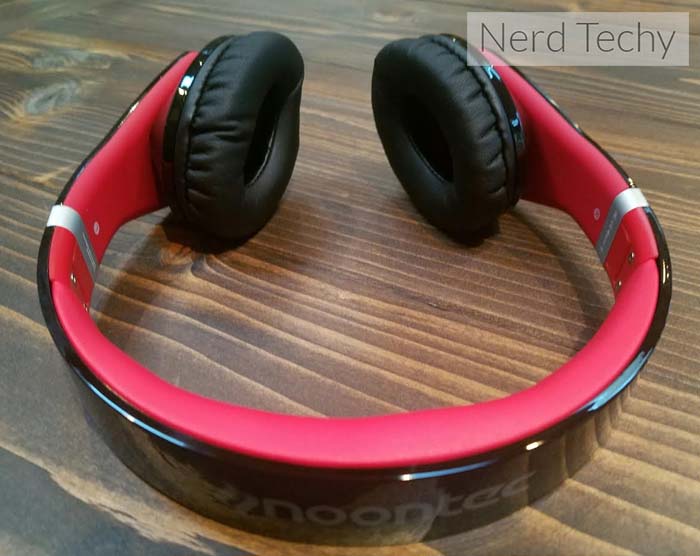 Pairing and Setup
Since the Noontec ZORO II's offer a completely wireless connection, you'll need to pair them with your smartphone or tablet to take full advantage of them. Although you can always manually connect the included 3.5mm auxiliary cable for a wired connection, wireless is definitely the preferred way to go. First, make sure that Bluetooth is enabled on your device. Next, press and hold the "play/pause" button located on the left earcup for 3 seconds. You should then hear the headphones say "power on". At this time, scroll down the available Bluetooth connections on your smartphone or tablet and you should see "ZORO II wireless". Select it and you're paired.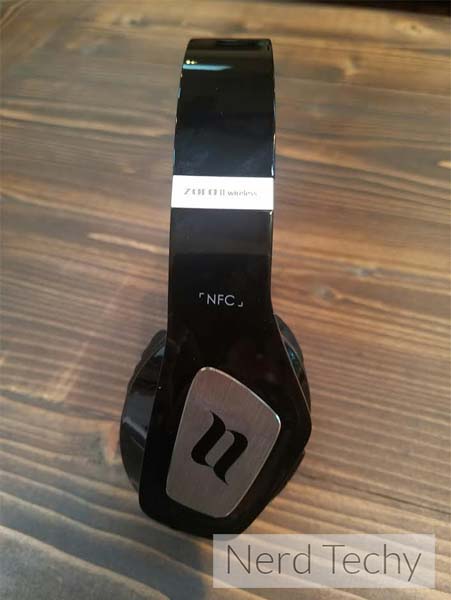 Sound Quality
Right away, we fired up our Spotify playlist and were immediately impressed with both the clarity and bass that these headphones provide. The sound is seriously phenomenal, especially considering the smaller size of the earcups that were were initially hesitant about. Typically, over-ear headphones have over-sized designs and bode well for them, so we were reluctant at first.
After listening to the ZORO II's for a couple of hours, it's clear that they perform well for all genres of music by providing high-fidelity sound. Rap and electronic dance music sounded great – we're big fans of the deep bass that isn't distorted in any regard. Country and rock sounded great as well. The treble is right on-key and lets the clarity of the lyrics come out without overshadowing it with a deep and thunderous bass. We really have no complaints about the sound, especially for price-point that these fall under. They're not exactly budget-headphones and they're not exactly audiophile grade either. In any regard, we're confident that most users would agree with us.
Sound is a very difficult thing to describe, especially via text. It's one of those things that you'll ultimately need to determine if it's suitable. But we can confidently say that these wireless headphones definitely live up to their expectations.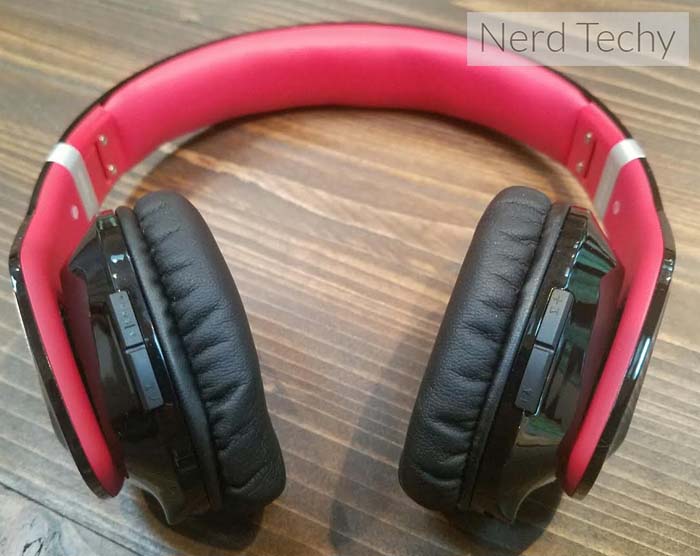 Battery
Since the Noontec ZORO II's are wireless, they rely on an internal lithium battery to provide power. This is the same kind of battery you'll find in most modern-day gadgets that provides exceptional longevity between charges. Although they come charged up and ready to listen to right out of the box, we recommend giving them a full charge before you plan on using them to their full advantage. To do this, simply plug in the included micro-USB cable and let them sit for roughly 2 hours.
One of the most incredible "features" of these headphones is their advertised 35 hour battery life. 35 hours for any rechargeable electronic is impressive, especially for a pair of headphones, so we knew that we needed to test this. After we fully charged them, we let them continuously play to see how long they lasted. At a normal volume level and with only a couple feet between the music source and the headphones, they were still playing after 24 hours. At just over 30 hours, they emitted a low battery warning and at 33 hours they shut off completely. Pretty impressive in our opinion!
We were glad to see that they actually provided over 30 hours of battery life. This is downright phenomenal since most headphones don't last more than 12 to 15 hours on a single charge. Now keep in mind that we tested them in under ideal conditions with minimal wireless distance, indoors and with a lower volume than some may listen to. However, even under ideal conditions, the battery life is truly remarkable.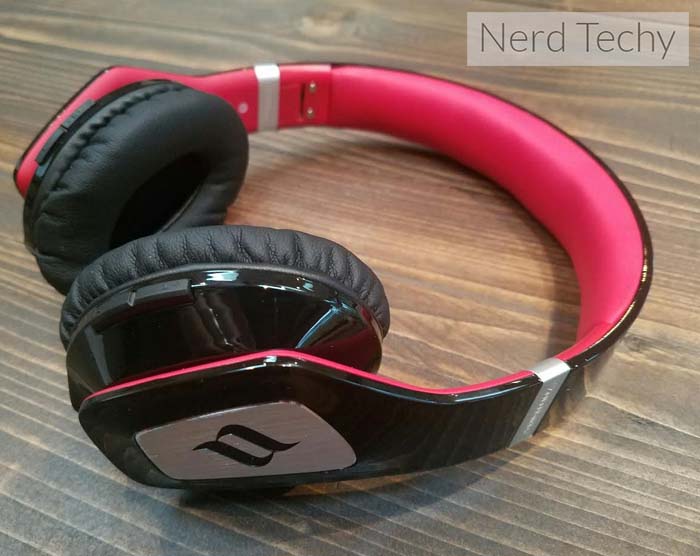 Wireless Range
Offering 10 meters or approximately 30 feet of wireless range, the Noontec ZORO II headphones boast a typical range for any Bluetooth connected device. Bluetooth technology is naturally somewhat limited in range, so Noontec is limited a bit on the range they can offer in this regard. Nevertheless, the range is acceptable and standard while remaining very functional for just about any realistic scenario.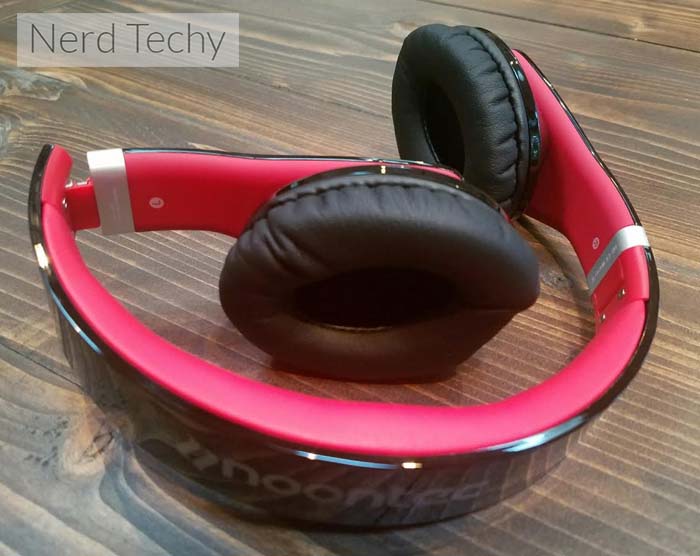 Controls
The buttons that make the headphones function are minimalistic but very straightforward and to the point. Located on the left earcup is the play/pause button that also functions as the power on/off and phone call button. Right above that, there's a small 4-dot LED indicator that reflects the remaining battery life when plugged in. As we mentioned earlier, holding the play/pause buttton will turn them on/off, but if you tap it twice, it'll display the remaining volume of the battery.
Located on the right earcup are two more small buttons that adjust both the volume and skip/previous tracks. By tapping them, you can adjust the volume, but when you press and hold for a second, you'll skip or move to the previous track.
Microphone
If you're someone who enjoys making hands-free phone calls, you're in luck. The Noontec ZORO II headphones have an integrated microphone that lets you make and receive phone calls when paired to your smartphone. This can surely come in handy when you're busy or on-the-go as you can immediately reject or accept the incoming call with the "call" (play/pause) button on the left earcup. We tested it on an iPhone 6 and a Samsung Galaxy S7 and didn't run into any issues with it. The microphone seems to work perfectly acceptable, although this isn't a feature that we always typically require.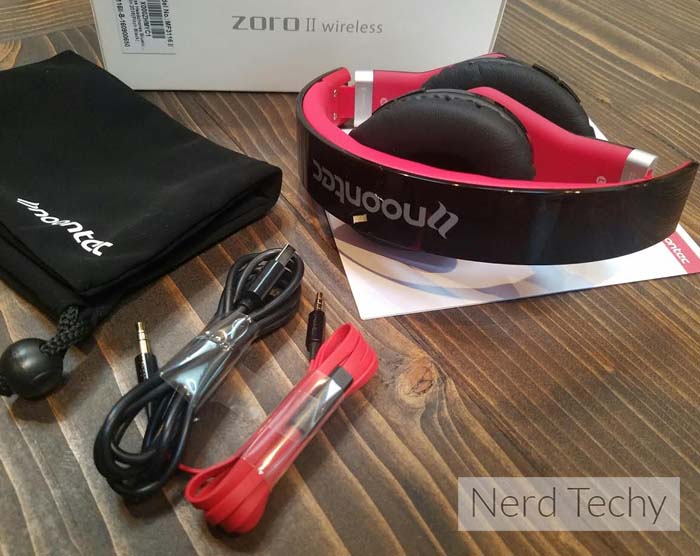 Final Thoughts
Overall, we feel very confident in saying that the Noontec ZORO II Wireless Headphones are an exceptional choice for those who desire high-end sound without a bulky design. They feel nice on your head and are fully adjustable in most regards. The only thing that would be nice is if you could adjust the curvature of the headband. It's a bit on the smaller side so if you have a large head, you may be unimpressed. Otherwise, we feel that they hold up well in all other regards.
The sound quality is what you'd expect in a pair that costs over $100, and the build quality is right up there with it. Although they're heavily comprised of plastic, they're structurally reinforced with a rigid metal frame that should hold up well for years to come. Needless to say, they're definitely a very nice pair of headphones that we wouldn't hesitate to recommend to anyone looking for high-end audio at an impressive price-point.