Boscam K7 Pro
Pros
Easy to use and operate, even for novices.
Easy to install with no headache.
Customizable display that shows a bright picture.
Minimal wiring required.
Cons
No collision-detection or anti-theft features.
No video storage.
These days, most modern vehicles come with a backup camera. A good backup camera will help you avoid silly fender benders while parking. It's not going to help you avoid a massive accident, but it will save you some headache and small expense. Even better, depending on your insurance provider, a backup camera can save you money on your monthly car insurance bill.
Of course, not all vehicles have a backup camera pre-installed. Maybe you're driving an older car or truck. Or maybe you had to sacrifice the backup camera feature for something like a GPS. On many models of car, it's one of those "either-or" options. If you've chosen a different option, you'll need to install a third-party backup camera.
That said, not all backup cameras are equally well-designed. For instance, some are easier to install than others, and some are more durable. You also have different resolutions, storage options, and extra features. If you want the best possible backup camera for your money, you need to take all these things into consideration.
We're about to review the Boscam K7 Pro Wireless Backup Camera. This is a compact, easy-to-install backup camera that displays in 720p. But how well does it compare to the competition? And how easy is it to install? We'll take a close look at all of its features, starting with the physical design and installation. Next, we'll examine the video quality, and how easy it is to review. Finally, we'll talk about how it works, and any extra features it offers. Once we've looked at all those factors, we'll have a complete picture. Let's take a closer look!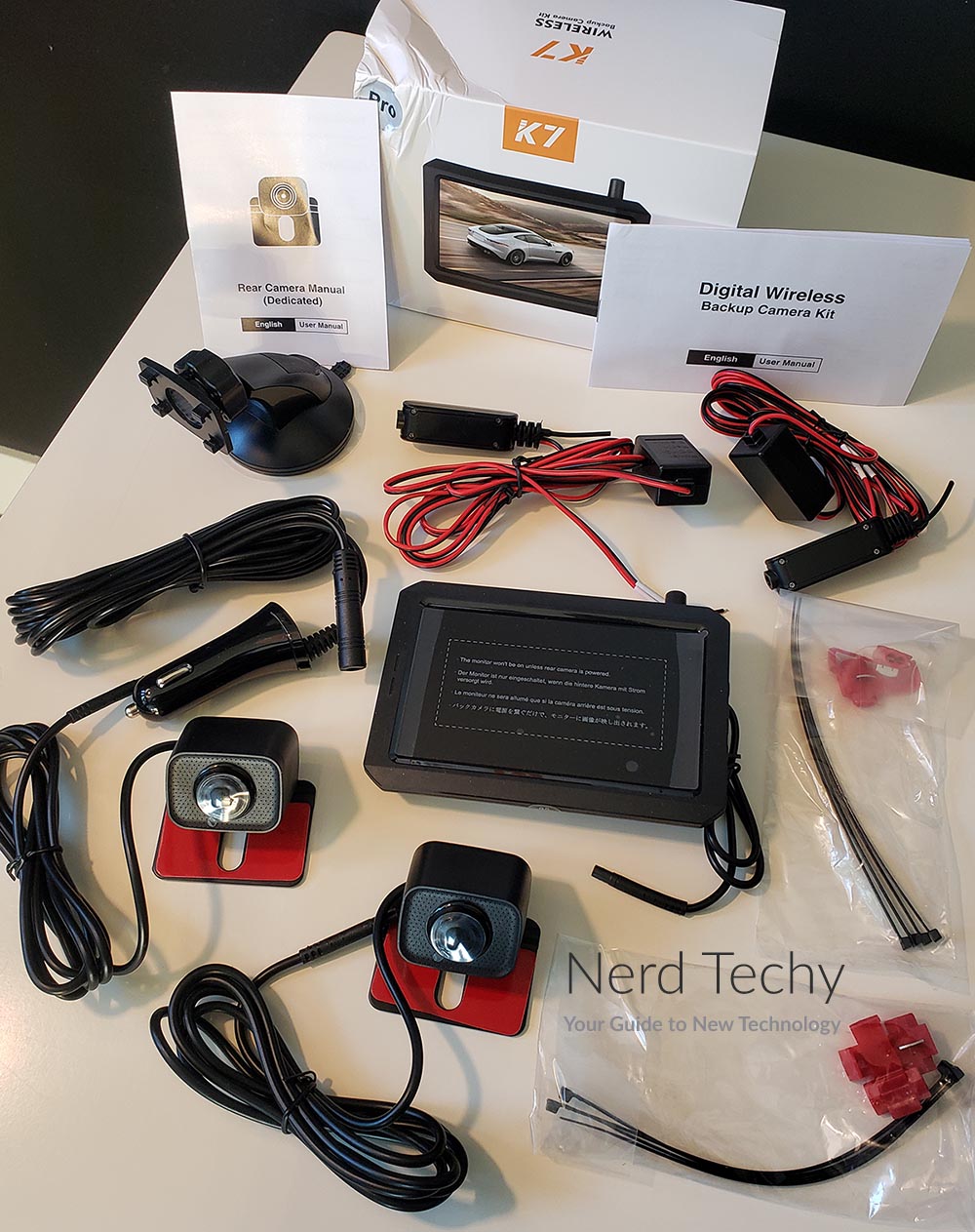 Design & Installation
Like most aftermarket backup cameras, the Boscam K7 Pro is a two-part unit. It consists of a dashboard monitor, along with a camera unit for the rear of your vehicle. The monitor is constructed from charcoal ABS plastic, with a rectangular profile. The bulk of the monitor consists of a five-inch LCD display, with a resolution of 720p. This might sound low, but it's not really. Considering the small size, it might as well be 1080p. Due to the high pixel density, your eyes wouldn't be able to tell the difference. The frame is fairly narrow, without a lot of space wasted on the bezels. A small antenna nub protrudes from the top, the only thing that disturbs the plain rectangular profile.
The K7 monitor can be mounted on either your windshield or your dashboard. It attaches with a large silicone suction cup, which provides plenty of security. However, if your dashboard is heavily textured, the suction cup might not stick. In that case, you could always use some 3M tape. But the suction cup offers some significant benefits of its own. Not only is it very secure, it's also easily washable and reusable. Switching it from one location to another takes only seconds. By contrast, if you're using adhesive, removing the residue can require a lot of elbow grease.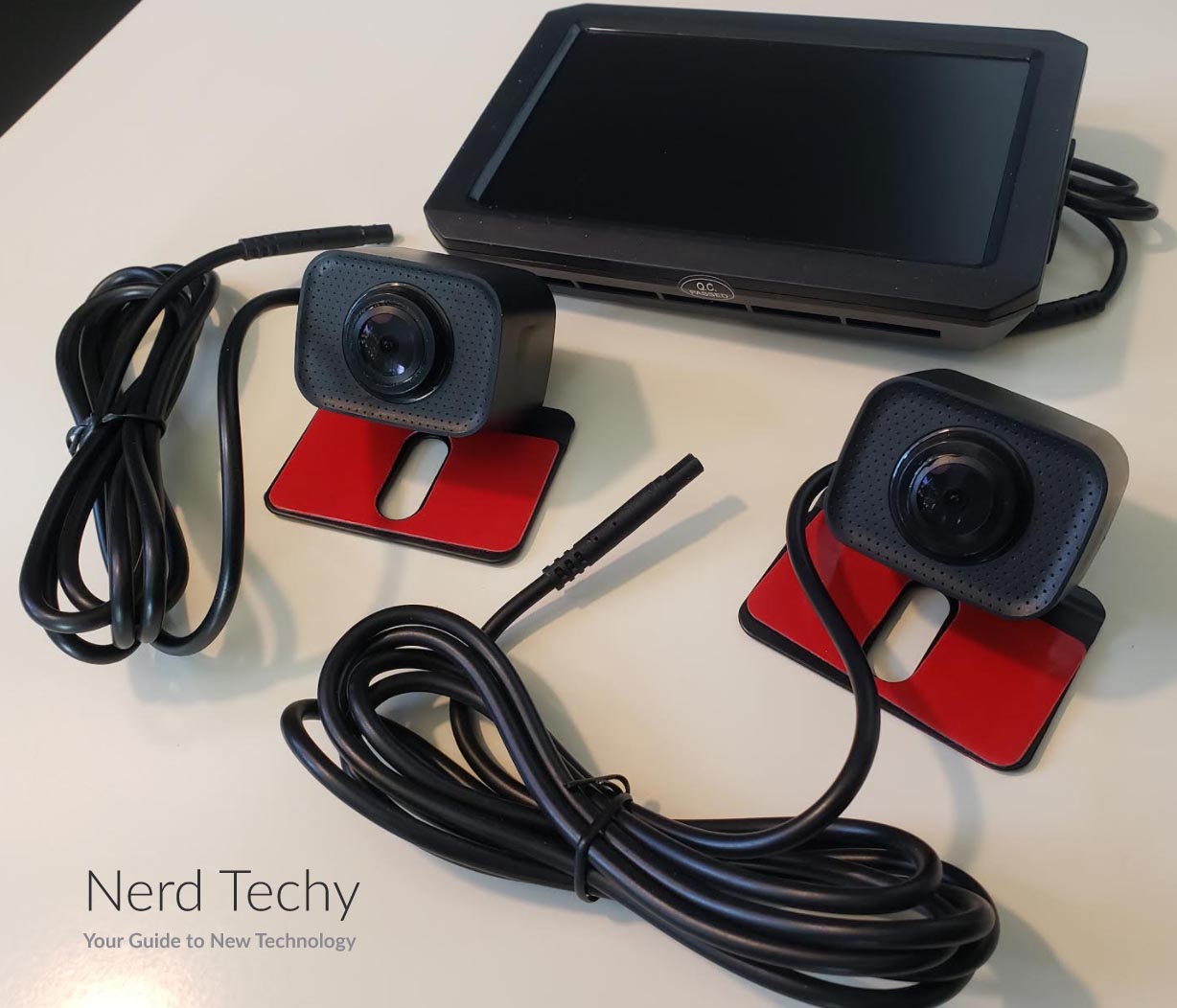 The monitor is powered by your vehicle's 12-volt power outlet. It has a six-foot cord, with a 12-volt plug at the end. The plug also features a built-in USB port, so you can charge your smartphone or other devices. The rear camera, on the other hand, requires a bit of installation. It's designed to mount on your license plate frame, so attaching the camera itself is fairly painless. That said, it needs to be hardwired into your car. The wiring harness is designed to wire directly into your reverse light circuit. This means you don't have to run wires all the way to the front of your vehicle. This cuts installation time from hours to minutes, even for an inexperienced user.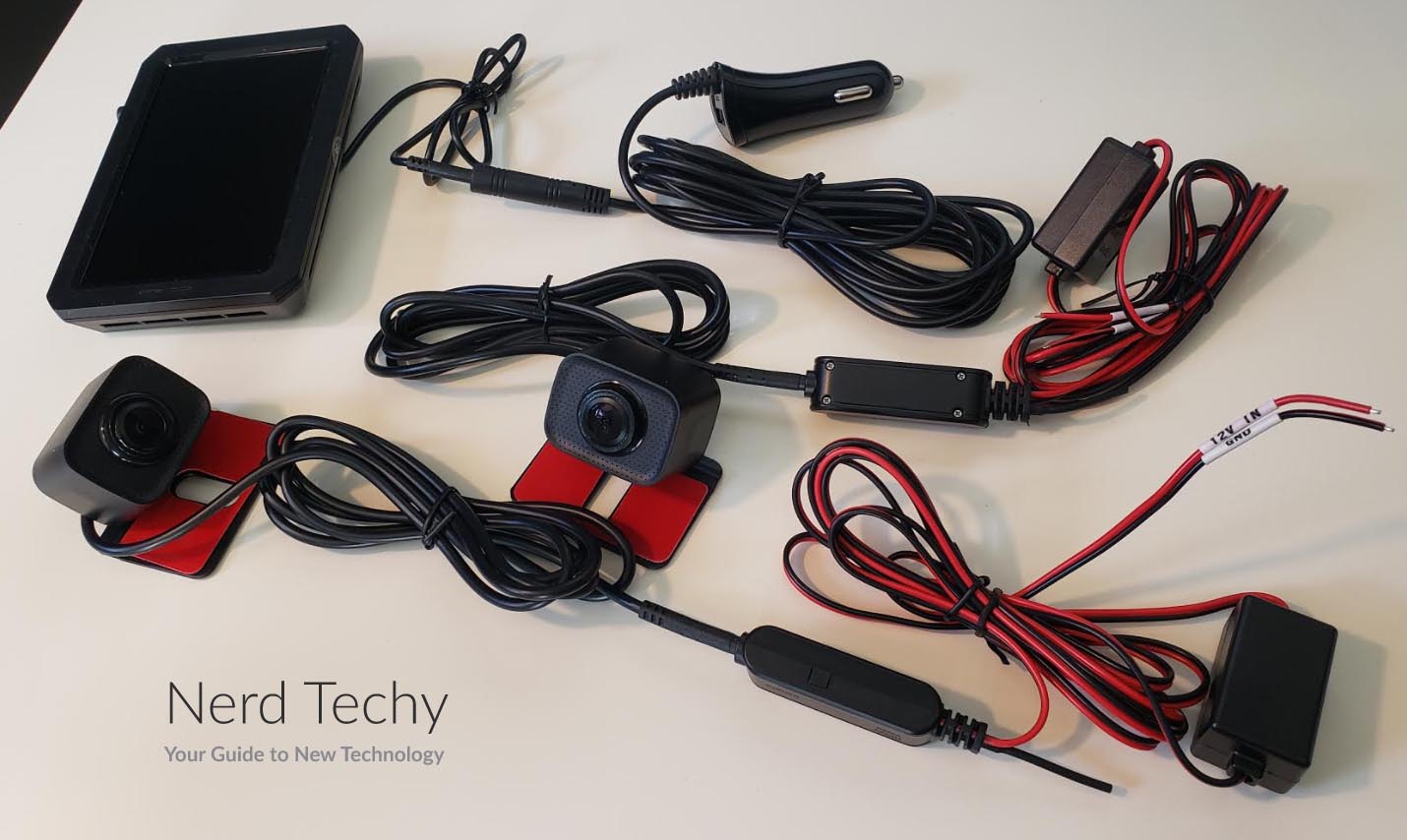 The display can be set to mirrored mode or normal mode, and can mirror on the vertical or horizontal axis. This makes it easy to position the camera however you need to. You can flip it upside-down if necessary in order to get it to fit on your car. You can even mount it on the front of your car to function as an ordinary dash cam. This is obviously a secondary option, but it's good to have choices. Moreover, the monitor controls are easy to operate. There are three large buttons on the side, which are easy to operate, even when you're driving. Additional functions are performed on the touchscreen itself, by tapping or swiping. Operation is easy and intuitive, with a learning curve of just a few minutes.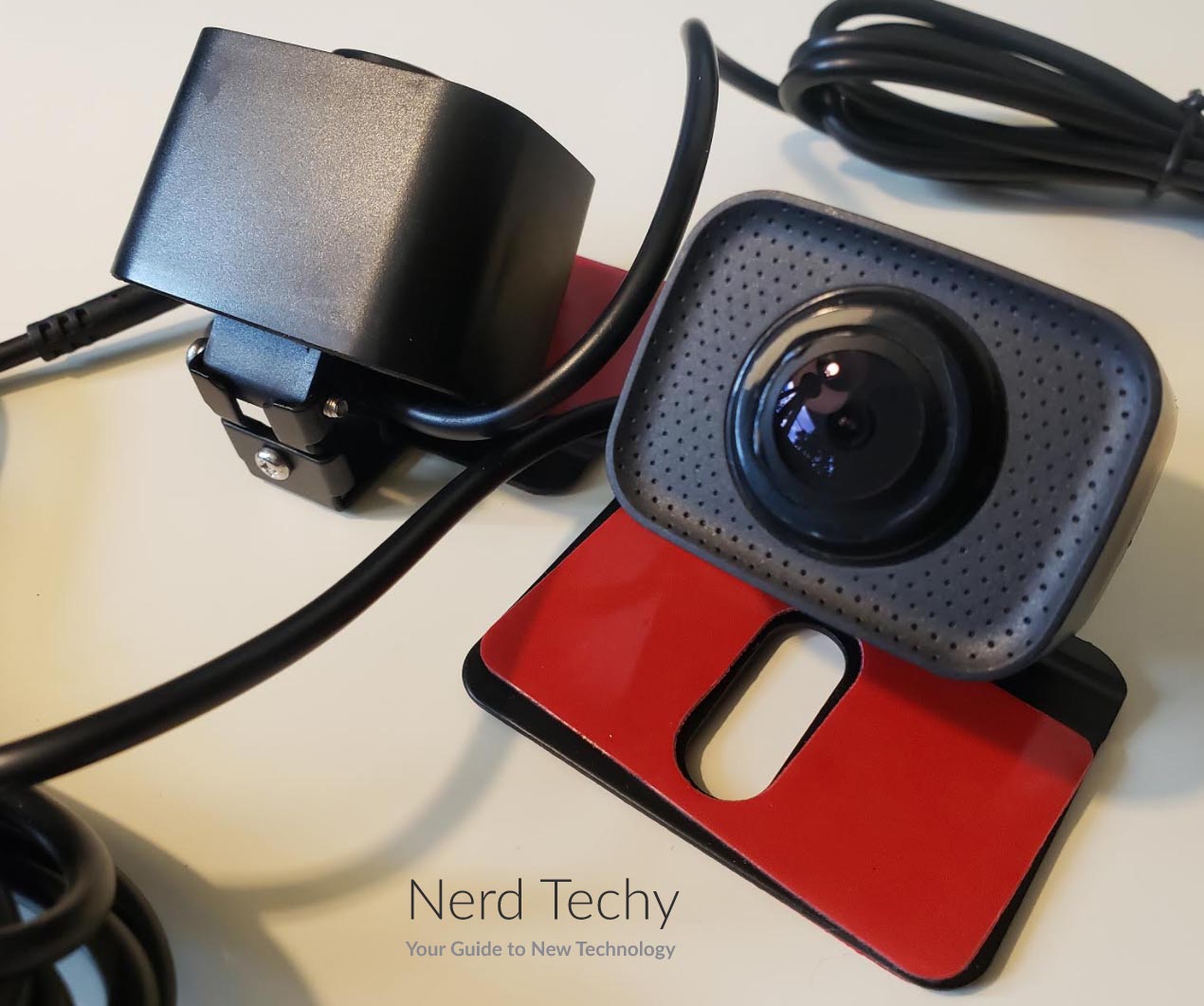 Not only can the camera be positioned anywhere you want, but it can also handle a variety of conditions. It's water-resistant, so it won't fail in rain or even when you're off-roading. It can also function well at most temperatures. The K7 camera will continue to work anywhere from -7 to 140 degrees Fahrenheit.
If you want an even more compact camera, consider one with no footprint whatsoever. The Auto-Vox T1400 replaces your rearview mirror, rather than using a separate display. This keeps your windshield as uncluttered as possible.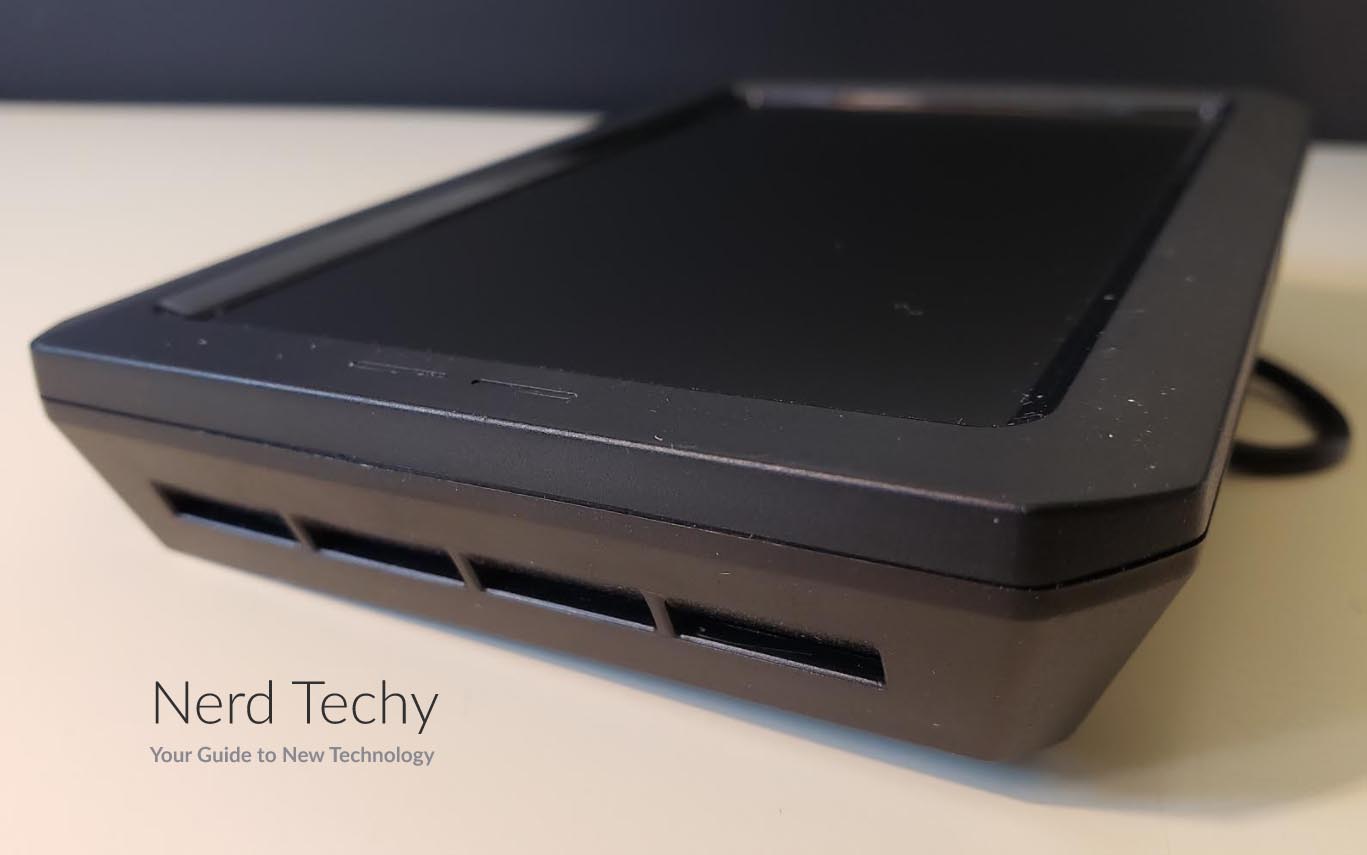 Video Quality
The Boscam K7 Pro has a wide field of view. In total, it can view a horizontal angle of 110 degrees, and a vertical angle of 140 degrees. This somewhat distorts the vertical height of objects, but preserves horizontal dimensions. As a result, it's not really suitable for use as a general-purpose camera. Objects appear obviously shortened particularly when they're close to the lens. But that's not what it's meant for. It's meant for parking, and the vertical field of view allows you to avoid more hazards. Meanwhile, the preserved horizontal dimensions make it easy to steer.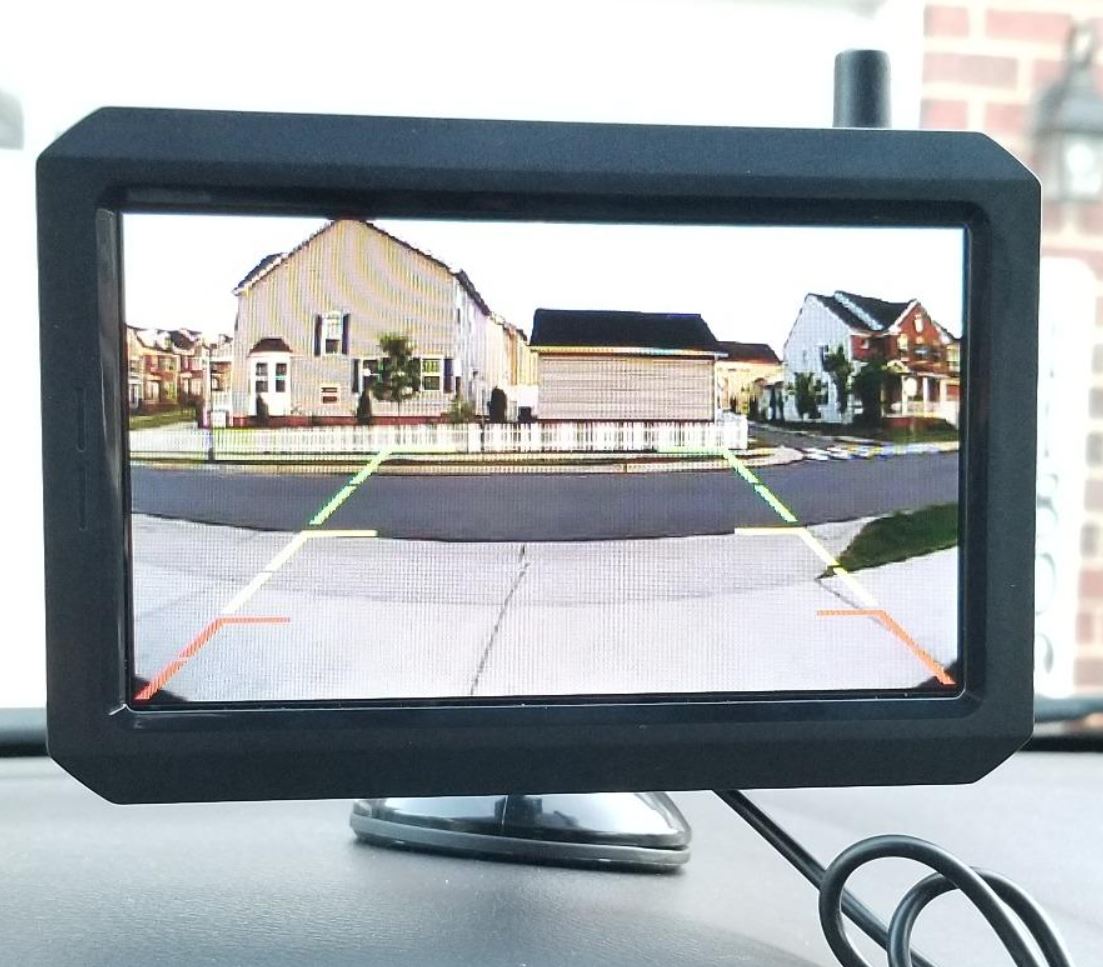 On the monitor, you can choose between six different sets of adjustable guidelines. This makes it compatible with almost any vehicle on the market. To get the most accurate guidelines, you might need to do some experimentation. But whether you're driving a big, heavy truck or an economy car, you'll find a set of lines that works.
The K7 Pro camera provides full color video, even in low-light environments. This provides far better visibility than old-school, grainy night vision. It won't work in total darkness, though, and it won't work at long range. It relies on the limited illumination from your reverse lights, as well as other ambient light.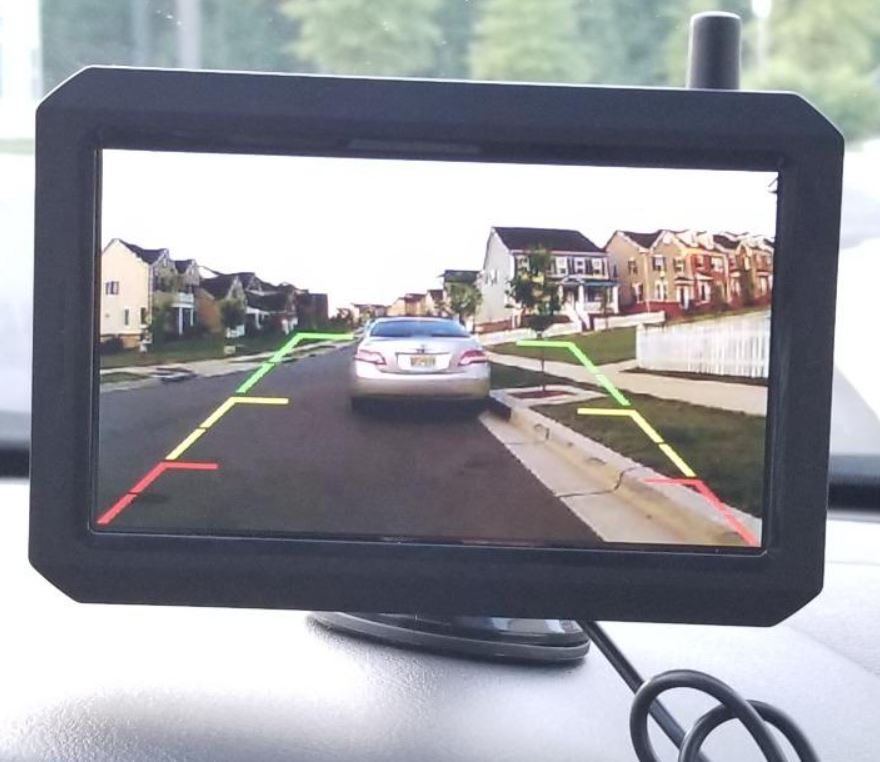 With all of that being said, the video resolution is only 720p, not full HD. As we already mentioned, this isn't an issue on the dashboard monitor. But it does still run you into some limitations. For instance, you can't zoom in. With a higher-resolution camera, you can zoom in and see more details. On the other hand, it isn't a dash cam, and it's not made for seeing fine details. It's designed to let you see well enough not to back into your mailbox or your neighbor's car. If you need higher-resolution video, your best bet is to use a traditional dash cam. For example, the Aukey DR02 records in full 1080p, and stores videos for later review.
Connectivity, Storage, & Extras
The Boscam K7 Pro camera connects to the monitor via a 2.4GHz wireless connection. This is the same type of signal that's used for home WiFi networks, and has similar performance. It doesn't have infinite range, but it will work just fine from the back of a long trailer or an RV. Not only that, but the signal is encrypted. This isn't just useful for privacy. It also helps to prevent interference from other devices.
It's actually possible to connect two K7 Pro cameras simultaneously. This might not seem useful at first, but there are a couple of reasons you might want to use two cameras. First, you could put one on the front of your vehicle and one on the back. This would allow you to use it more like a traditional dash cam. Keep in mind that this is not its intended purpose. However, if you want to use it that way, you can.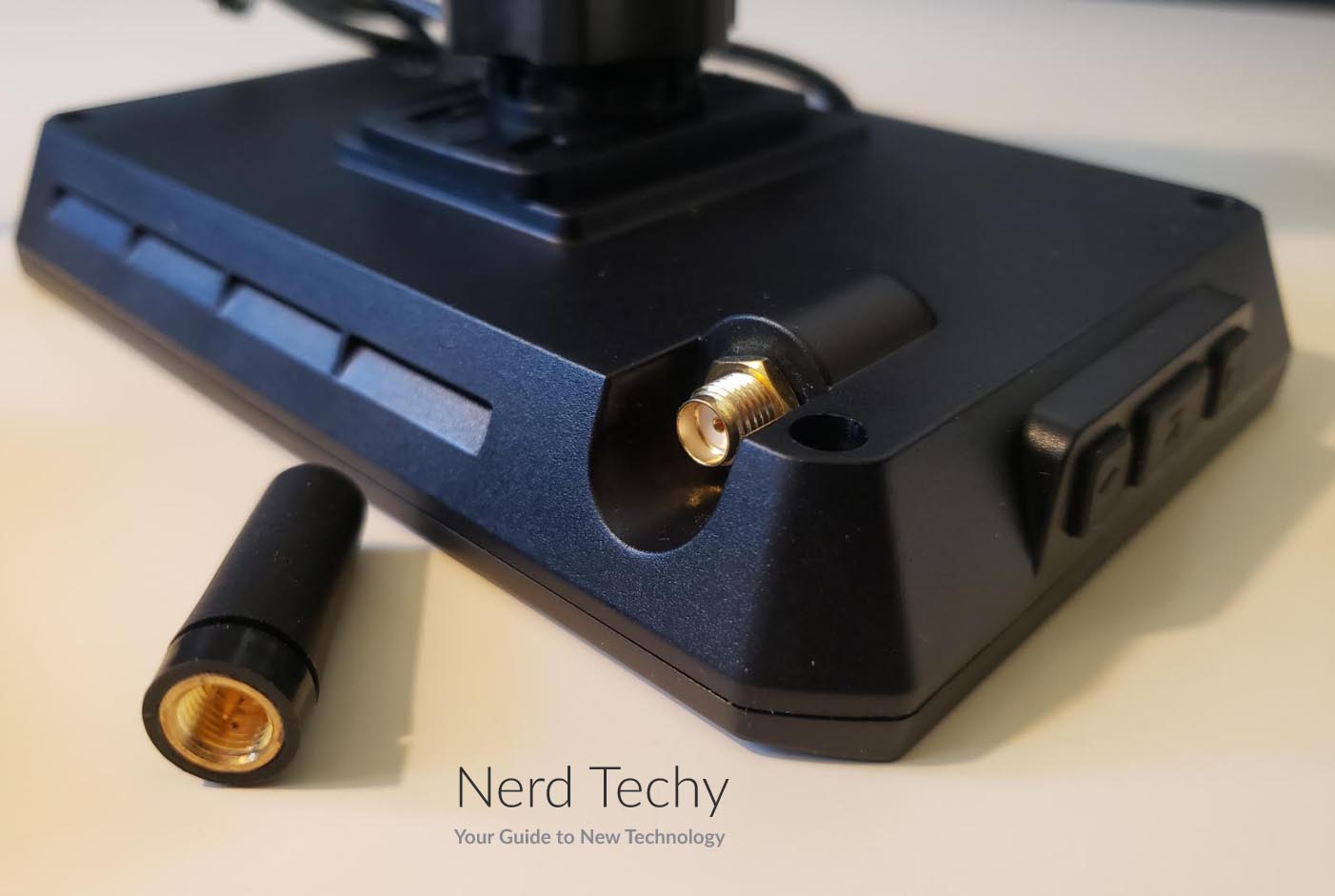 A more practical reason to use two cameras is if you use a trailer. You can put one camera on the back of your truck, and the other one on the trailer. That way, you'll have a functional parking cam whether or not your trailer is hitched up. Switching between the two cameras is easy. You simply select them on the touchscreen, or switch between them by tapping a button. Additional K7 Pro cameras are available separately, and include wiring harnesses.
The K7 Pro does not have any on-board storage, so there's no way to review footage later. There is also no collision detention function, and there are no mobile alerts. It's just a backup camera, with zero traditional dash cam features. If you want collision detection, recording, and other perks, read our review of the JOMISE D530 Dual Dash Cam. It looks both forwards and backwards, and offers a ton of extra features.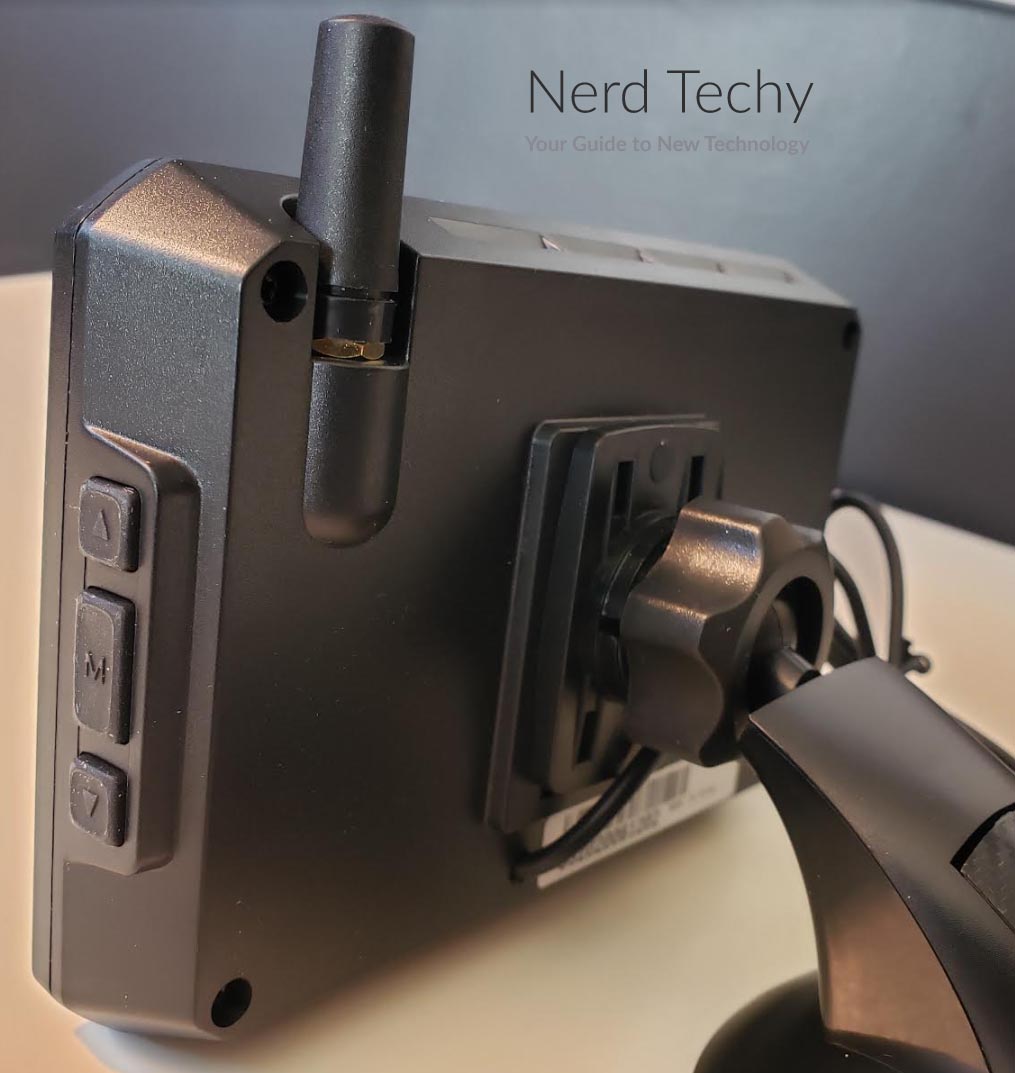 Final Verdict
As you can see, the Boscam K7 Pro Wireless Backup Camera is a bit of a mixed bag. On the one hand, it doesn't come with a bunch of bells and whistles. There's no collision detection, not even basic video storage. This means it's not useful for insurance claims or many other reasons people ordinarily use a dash cam. That said, it's not a dash cam. It's a backup camera, and an affordably-priced one at that. Considering what it's made to do, it actually performs very well.
For one thing, the screen itself is well-constructed, and it's easy to mount. It also doesn't occupy a bunch of space and block your view. The narrow bezels keep the form factor only slightly larger than the screen. Furthermore, the camera itself is easy to install. Because it's wireless, you don't have to run a wire all the way to the front of your vehicle. Instead, you just have to reach into your reverse light circuitry. This is especially useful for beginners, who may not be comfortable routing a wire through the whole vehicle.