Unless you're a multi-millionaire, your car is one of your most valuable investments. When you buy one, you expect it to last for years. At the very least, you don't expect your insurance to go up for no good reason. Unfortunately, other drivers aren't always as honest as you are. People will back into your car in a parking lot, look around for witnesses, and drive away if no-one saw them. Without video evidence of the crash, you could be left in the lurch.
And that's just if you're dealing with a garden variety dishonest driver. Things can get a lot more complicated in a hurry if you're dealing with an insurance scammer. One common scam is for a fraudster to cut you off in traffic and slam on their brakes. Even if you're paying attention and have fast reflexes, the laws of physics take over and you rear-end them. You both pull over, and you call the police. Meanwhile, another driver pulls over and tells the police they saw the whole thing. According to their story, you were driving way too fast and tailgating, and caused the accident. Unbeknownst to you, this "bad driver" was actually a criminal, and the "witness" is their accomplice. Worse yet, it's your word against both of theirs.
With a good dash cam, you can defeat this kind of scam. With video evidence on your side, you'll easily win your case in court. The fraudsters will be caught, and your insurance rates won't go through the roof. Of course, this assumes the dash cam is performing up to expectations. If your shoddy dash cam fails at the crucial moment, you'll be left holding the bag. We're about to review the JOMISE D530 Dual Dash Cam. As its name implies, this is a dual dash cam. This means it has cameras at both the front and rear of your vehicle. But will it get the job done when you need it most? And how good is the video quality? We're about to take a deep dive, to answer these questions and more.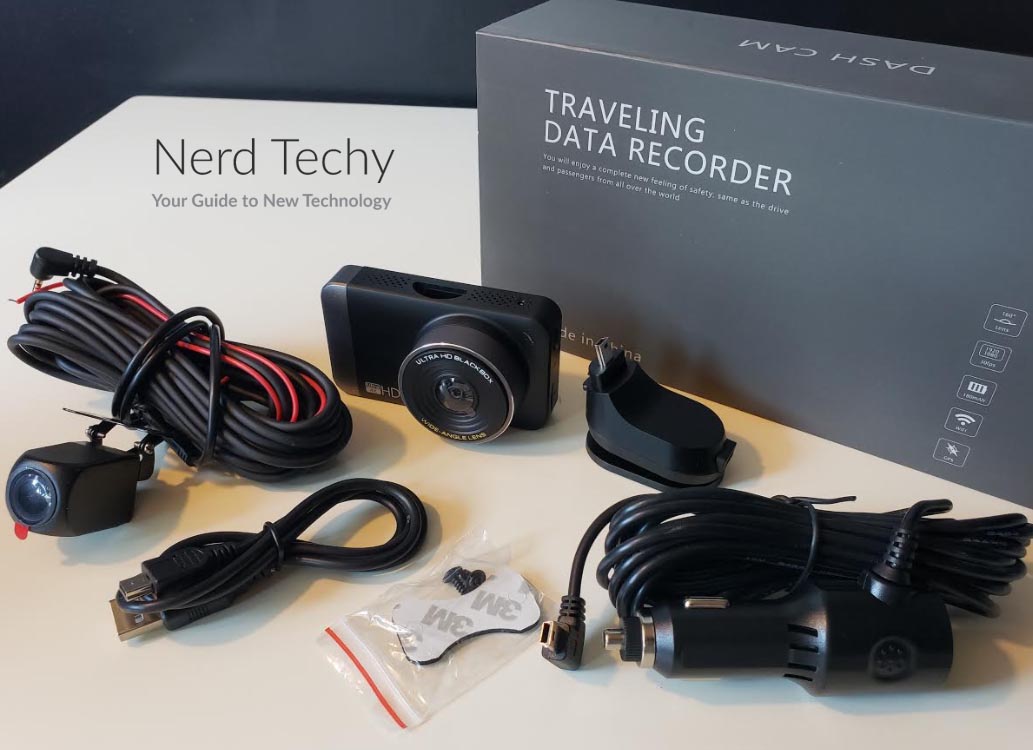 Overall Design
As a dual dash cam, the JOMISE D530 has two primary components: the front camera and the rear camera. The front camera has a rectangular design, and looks like a handheld digital camera. At least, it would, if it weren't for the large mount protruding from the top. This mount has a swiveling design, which provides some limited mobility. Still, placement is key, since there's a limit to the pivot's range.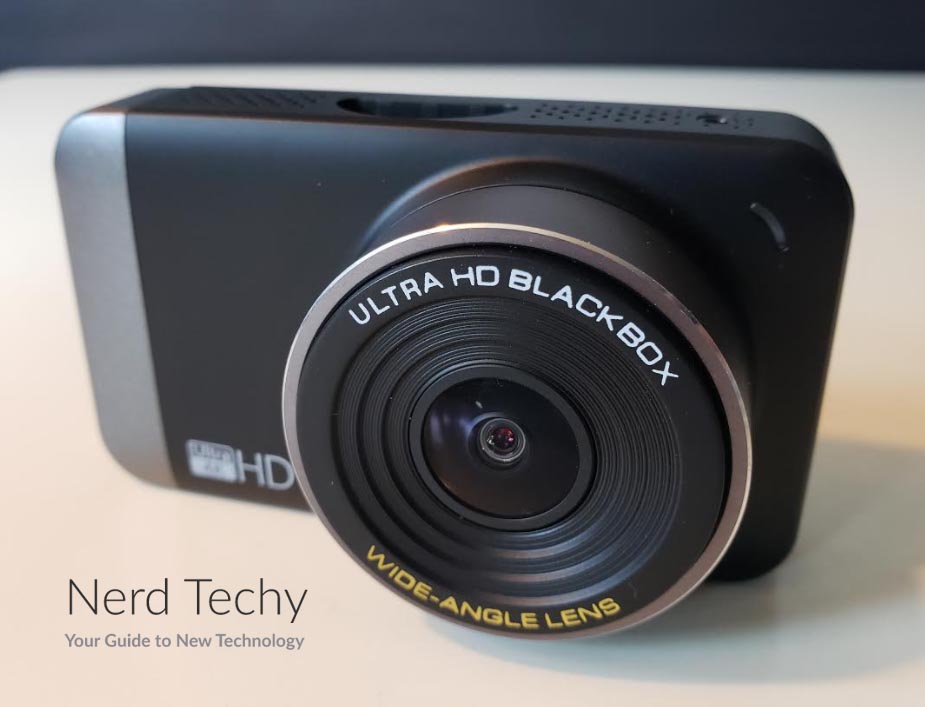 The camera is housed in mostly black ABS plastic, with a silver highlight on the right side. This side houses some basic controls, along with the SD card slot. The lens protrudes slightly from the front, but not so much as to interfere with placement. The front of the camera sports a wide display, with more controls on the right. These are soft touch controls, so they don't require a lot of effort to operate. The display will show the view from the front camera by default, but can be switched to display the rear. Alternatively, there's a picture-in-picture option where the rear camera appears in the top left corner.
Because the back camera doesn't require a display or housing, it's considerably smaller. Measuring just over an inch on each side, it has a similar black housing to the main camera. However, it's also water-resistant, which you should expect from anything that goes on the outside of your car. It also has a 21.3-foot cable, which is designed to be wired into your car.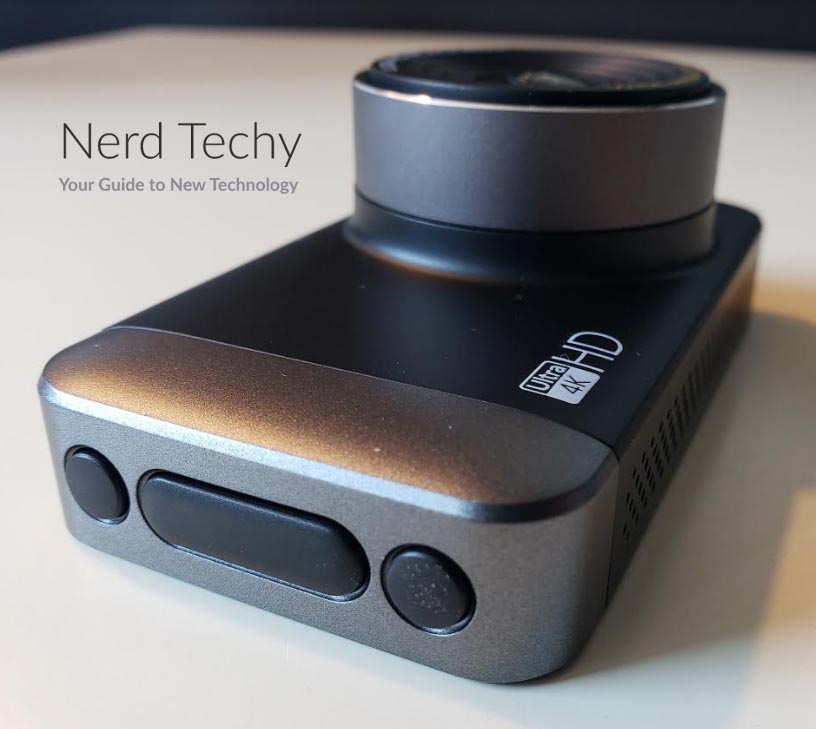 Along with the cameras, you get everything else you need to get started. There's an 11.5-foot power supply cable that plugs into your cigarette lighter outlet. There's a 3M adhesive for mounting the main camera, and a Mini USB cable for charging or connecting to a PC. Finally, JOMISE includes a 3-year warranty. This warranty covers any defects in materials or workmanship, and also includes a 30-day money back guarantee. If you don't like the camera for any reason in the first month, it can be returned for a full refund.
Installation
As we mentioned in passing, the package includes a 3M adhesive. This is used to mount the main camera, and takes less than five minutes to use. That said, you'll also want to keep in mind we said about front camera placement. If you put it in the wrong spot, you'll have to scrape it off. Then you'll have to go to the local hardware store to buy more adhesive. In other words, it's well worth it to take a second to make sure you've got the right placement. After that, all you have to do is plug the camera in.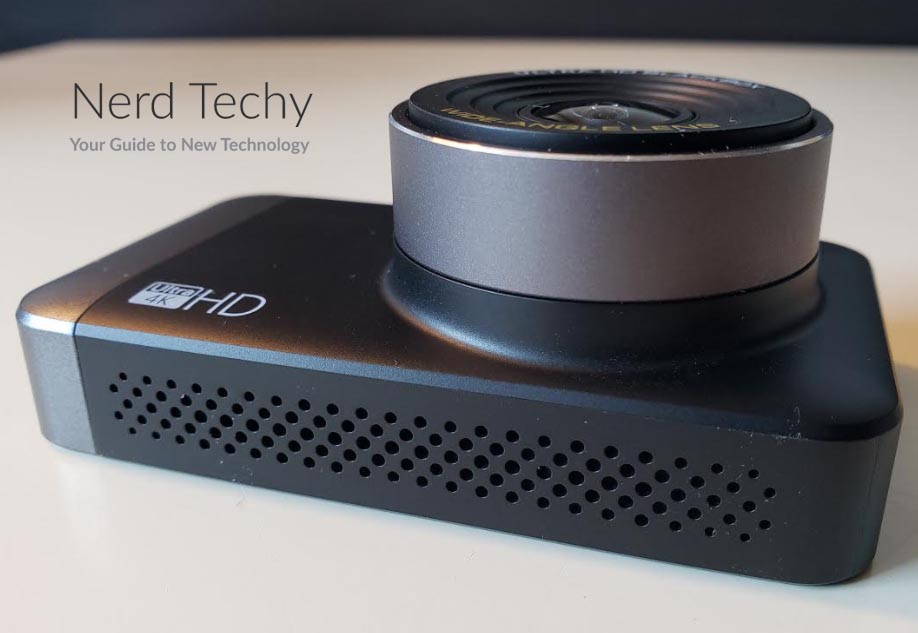 The rear camera installation is a bit more complicated. Because it's designed to mount outside your vehicle, you'll need to run a wire into the car. In most vehicles, you can avoid drilling a hole by running the wire through your license plate light. However, depending on the configuration, this isn't always feasible. Either way, once the wire is through, it's more than long enough to route to the front camera and connect.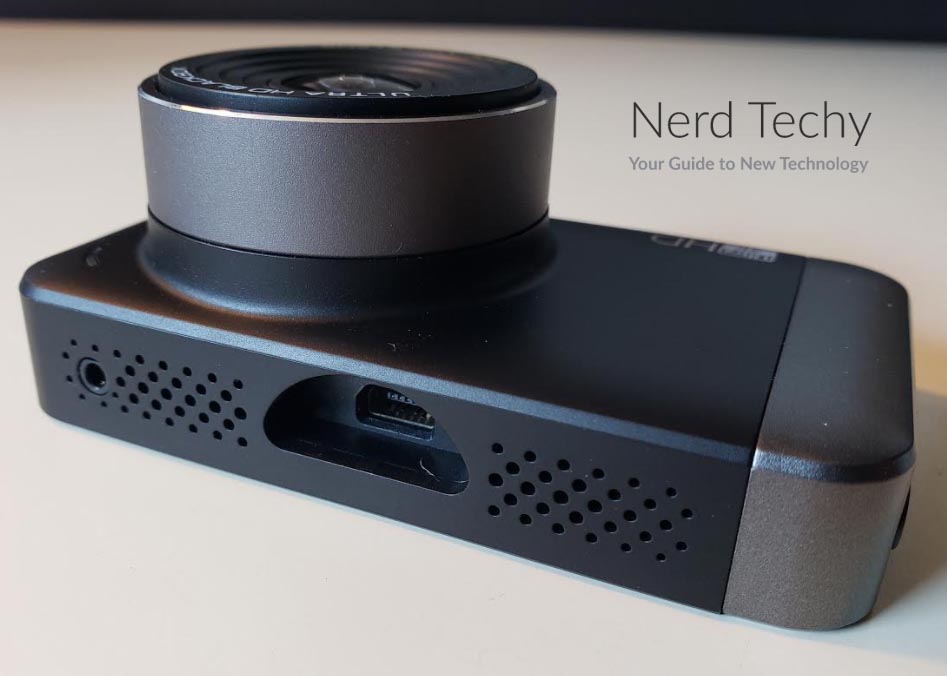 There's also a red wire that splits off from the main cable. This is designed to attach to the wire for your reverse light. In most dual dash cams, this would automatically activate the rear camera whenever you go in reverse. But in the D530, it doesn't appear to do anything. Maybe there were issues and JOMISE will be fixing the problem with a later firmware update. We're not sure. But for now, the reverse light wire doesn't appear to serve any actual function.
If camera size or visibility is a concern, you may want a different installation option. In that case, consider the Acumen XR10 Mirror Dash Cam. It's designed to replace your rearview mirror, so it won't block any more of your view than necessary. On the other hand, it doesn't come with a rear camera, and there's no companion app.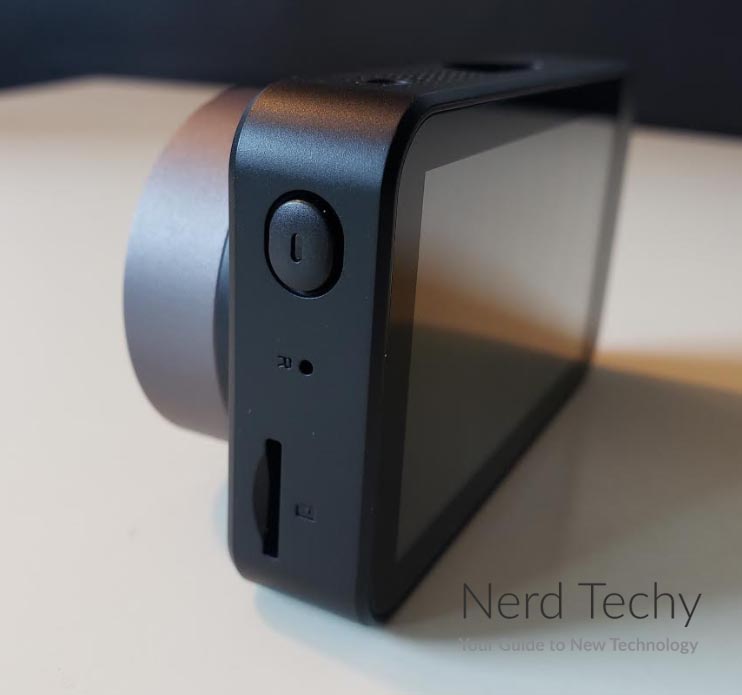 Video Quality and Storage
The main attraction of the JOMISE D530 is the powerful, 4K front camera. This equates to a resolution of 3,840 x 2,160 pixels, or four times the resolution of 1080p. With 4K, you can read a license plate from more than 100 yards away. If you absolutely need to see this kind of detail, you can record in 4K at a full 30 frames per second. However, in this mode, you won't be able to record anything from the rear camera.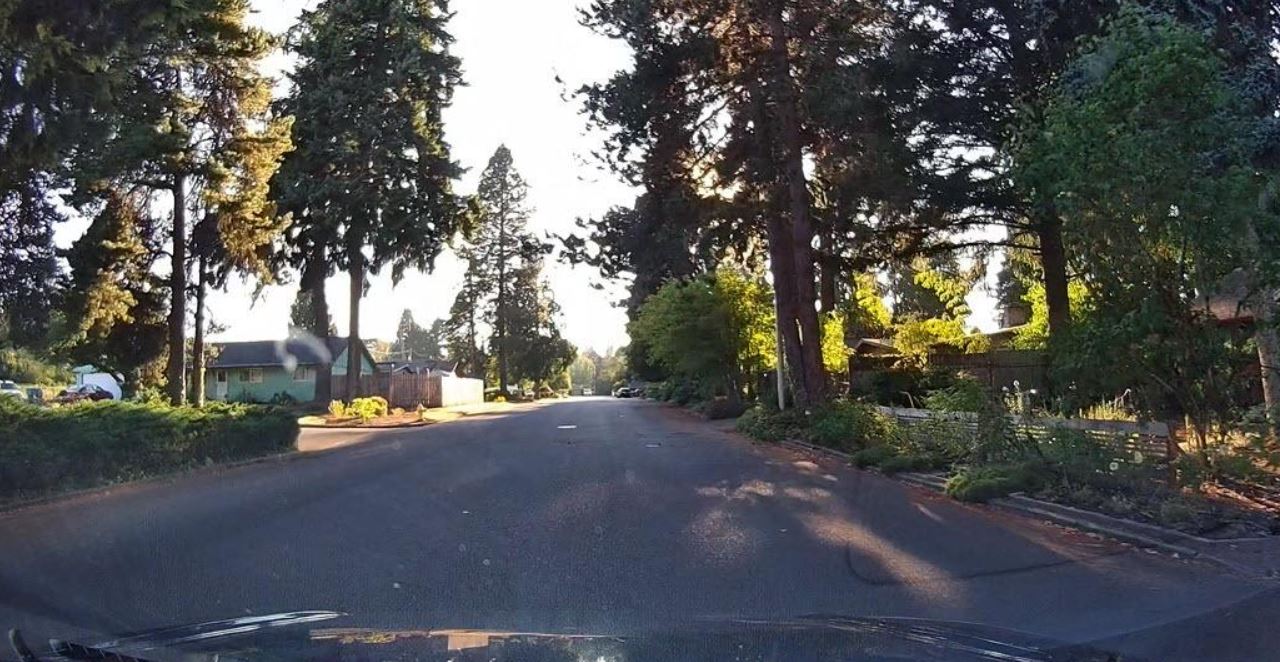 When recording both cameras simultaneously, the front camera resolution drops to "only" 2,560 x 1,440 pixels. The rear camera, meanwhile, records in standard 1080p. The front camera has a field of view of 170 degrees, and the rear camera sees 150 degrees. The combination of these cones means that you'll only have a small, 20-degree blind spot on each side.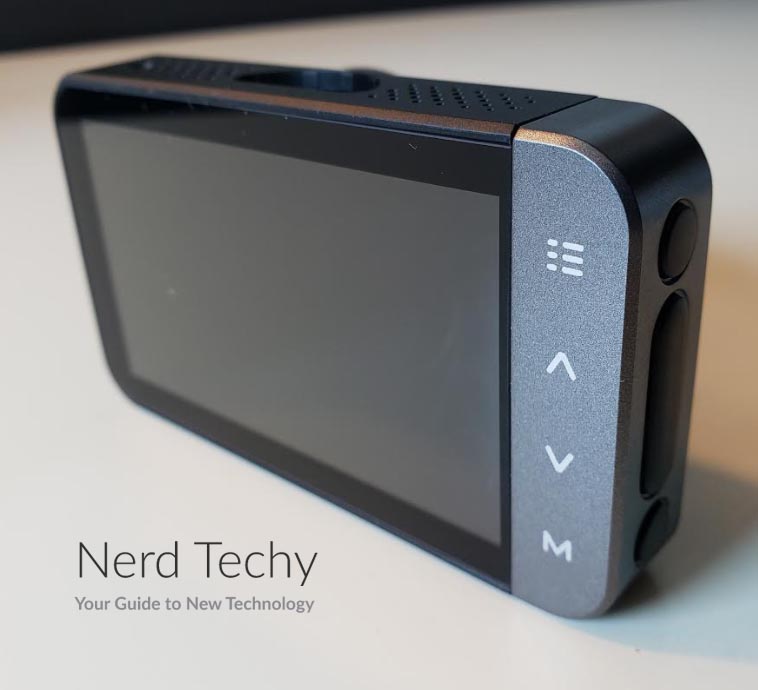 At night time, you'll hardly even realize it's dark out. The night vision is extraordinarily crisp, and displays in full color. Furthermore, the lens sports seven layers of coating, which reduces headlight glare to near zero. The night vision quality on the rear camera isn't quite as bright. But it's still more than good enough for parking, or for reading a license plate at rear-ending distance.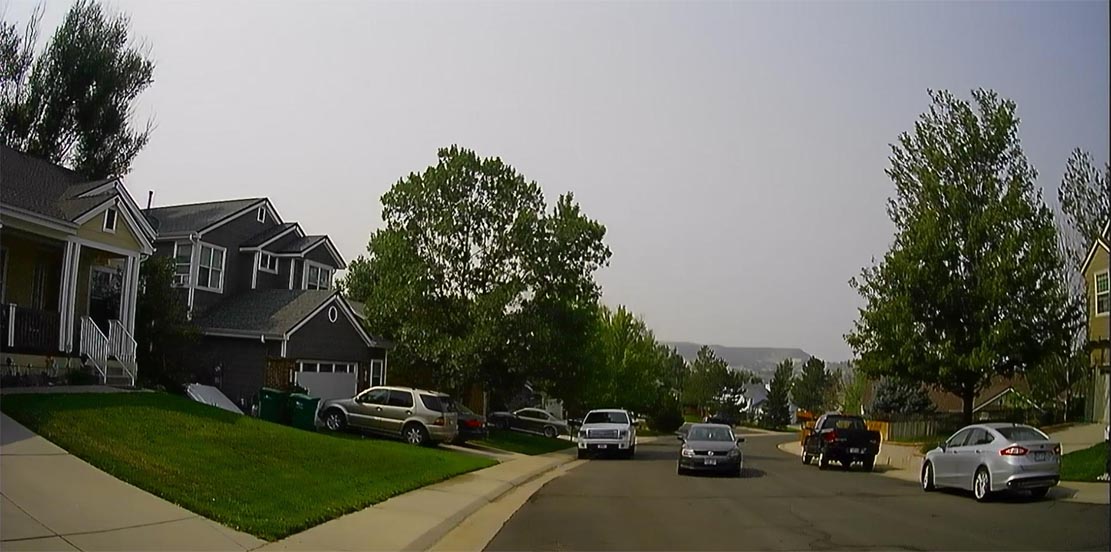 Recorded video is stored on a local SD card. None is included with the kit. You can install an SD card with up to 128GB of capacity, which is enough for over a week of video. Since this is probably more than you need, you can save money by using a 64 or 32GB card instead. That said, if you prefer cloud storage, you're going to need a different camera. Take a look at the Auto-Vox AD2 dual dash cam. It supports both cloud and local storage, but the front camera only records in 1,080p.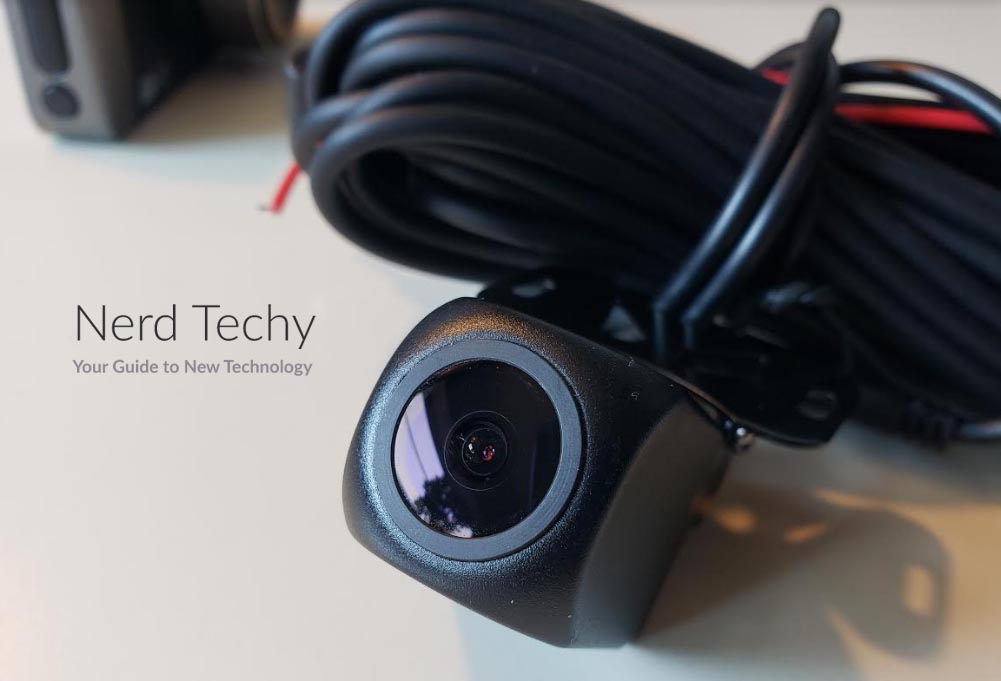 Extras
The D530 has a built-in G-sensor that detects sudden shocks, such as an accident. When the sensor activates, it will automatically "lock" the next 15 seconds of video. This means that those 15 seconds will not be overwritten unless they are manually unlocked. If it turns out there was an accident, you won't have to worry about overwriting your evidence. This mode can be left active 24/7, serving as a parking monitor. However, this requires a reliable, constant power supply that won't fully drain your battery. You'll need a hardwiring kit or a third-party external battery to use this mode.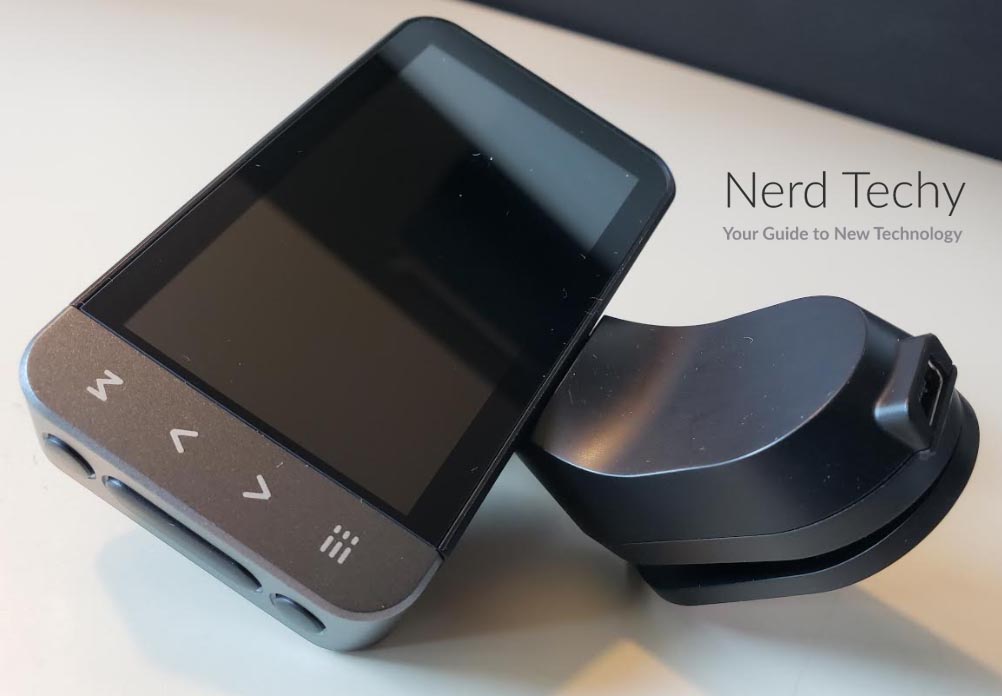 The D530 also has a built-in GPS, which can be set to geotag all your videos. Not only that, but it will display your current direction and speed. Unfortunately, the speed will only support metric measurements unless you update the firmware. To do this, you'll have to download the LUCKY PLAYER app for iOS or Android. Once that's installed, you'll be able to pair with your camera via the built-in WiFi card. Connecting to your camera in this way also allows you to download footage without removing the SD card. If you frequently share footage on social media, this can be a big time saver.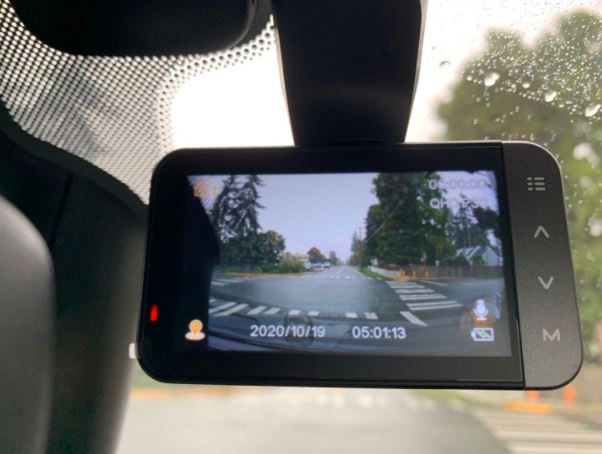 Final Verdict
So, is the JOMISE D530 Dual Dash Cam worth your time and money? For most purposes, it's an excellent choice. To begin with, you get 4K Ultra HD definition on the front camera. This allows you to make out fine details at unparalleled ranges. Not only that, but even when recording with both cameras at once, you still get 1080p front and rear. That's not too shabby, especially considering the wide field of view.
The only real reason to avoid the D530 would be if you're looking for a parking camera. The reverse function doesn't work right, so it's not really useful for backing up. But other than that, it provides everything you want from a quality dash cam. With a hardwiring kit, it even works as a parking camera. For any kind of security purposes, the JOMISE D530 is an excellent choice.