These days, it's impossible to be too careful about your car's safety. There are many hazards on the road, and unfortunately, some of those hazards are other drivers. We're not just talking about bad drivers, either, although they can also ruin your day. No, we're talking about scammers. The kind of people who will intentionally cause an accident and make it look like your fault. Or even the kind who makes an honest mistake, but lies about it afterwards to keep their rates down. In either of these cases, it's your word against the other person's.
Considering that you may be liable for damages, it makes a huge difference if there's video evidence proving your case. But if you have a sub-par camera, the evidence could be worse than useless. If the video is blurry or shaky, for instance, you might not be able to read a license plate. This would leave you with no options if you're the victim of a hit and run. Some cameras provide less than stellar storage options, or aren't water-resistant. On the other hand, many cameras are great.
Today, we're going to review the Auto-Vox AD2 WiFi Dash Cam. This camera is designed specifically to be easy to install. If you want a dash cam but don't want to drill or saw at your car, the AD2 will be right up your alley. But how well does it perform? Is the video quality good, and is it easy to use? Or should you choose a different dash cam? We're about to take a deep dive into the AD2's features, benefits, and drawbacks. After that, we'll know everything we know to render a final verdict. Let's get going!
Overall Design
Like most dash cams, the Auto-Vox AD2 WiFi Dash Cam is a two-part unit. The first portion is the front camera, which also doubles as a touchscreen display. It has a hinged design, with a small bracket on top and the main unit underneath on a hinge. This makes it easy to fine-tune your camera angle after installation, since it can always be adjusted.
Both the camera and the mount have a matte black ABS plastic case, which is easy on the eyes. The camera design is laid back for such a large model, with a lens on the right and mic on the left. Other than that, the front of the case is more or less bare. This is just fine, since it's better if your dash cam doesn't attract a lot of attention. The 3-inch touchscreen display covers the entire back of the unit, so it's easy to see without being overly large.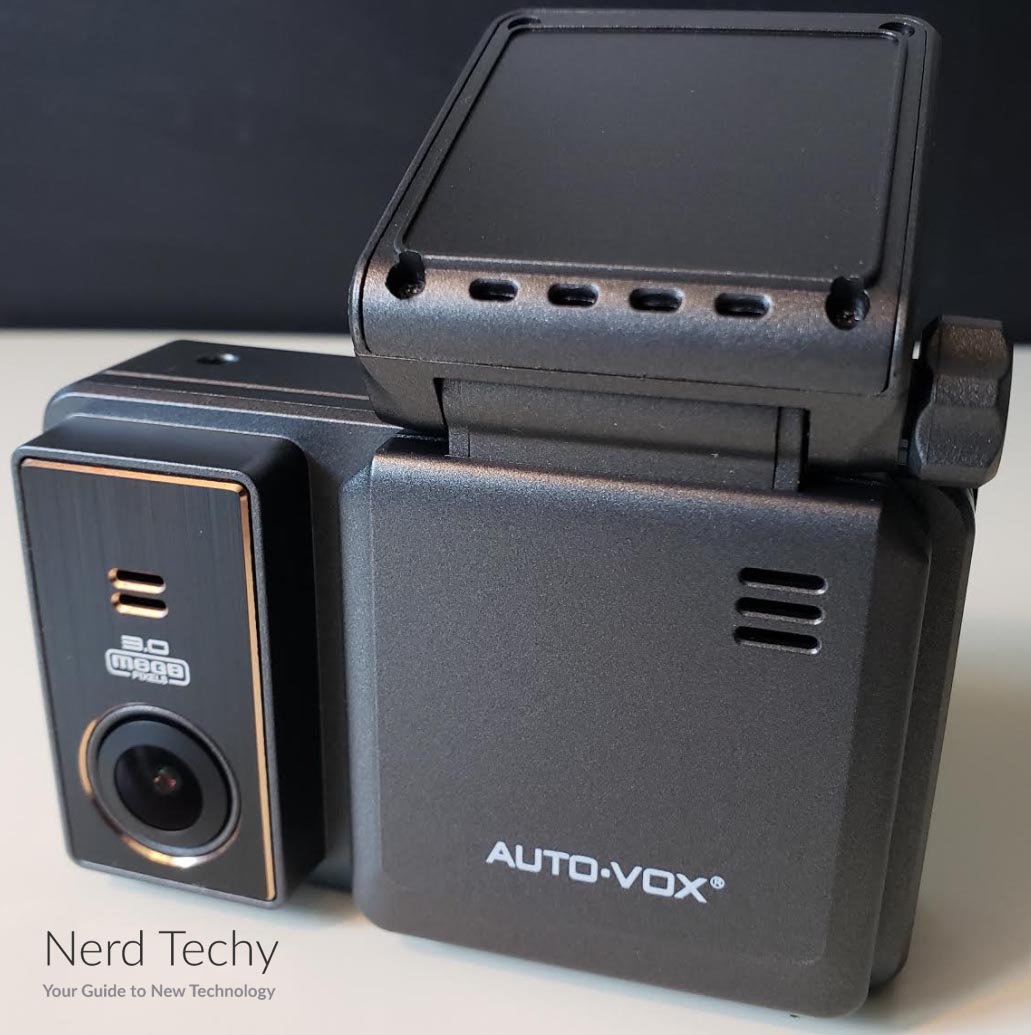 The rear camera is a compact unit that's virtually invisible when it's mounted in your rear window. This is a great benefit, since it won't block your view. Like the front camera, it has a hinged design. However, the camera is simply built into the bracket instead of hanging from it. Since there's no screen, any other design would make the camera unnecessarily large. Both cameras will work in temperatures from -4 to 140 degrees Fahrenheit. Obviously, this will work in all but the coldest areas. But be careful in warm areas, too; your car interior can easily rise over 140 in a sunny parking lot.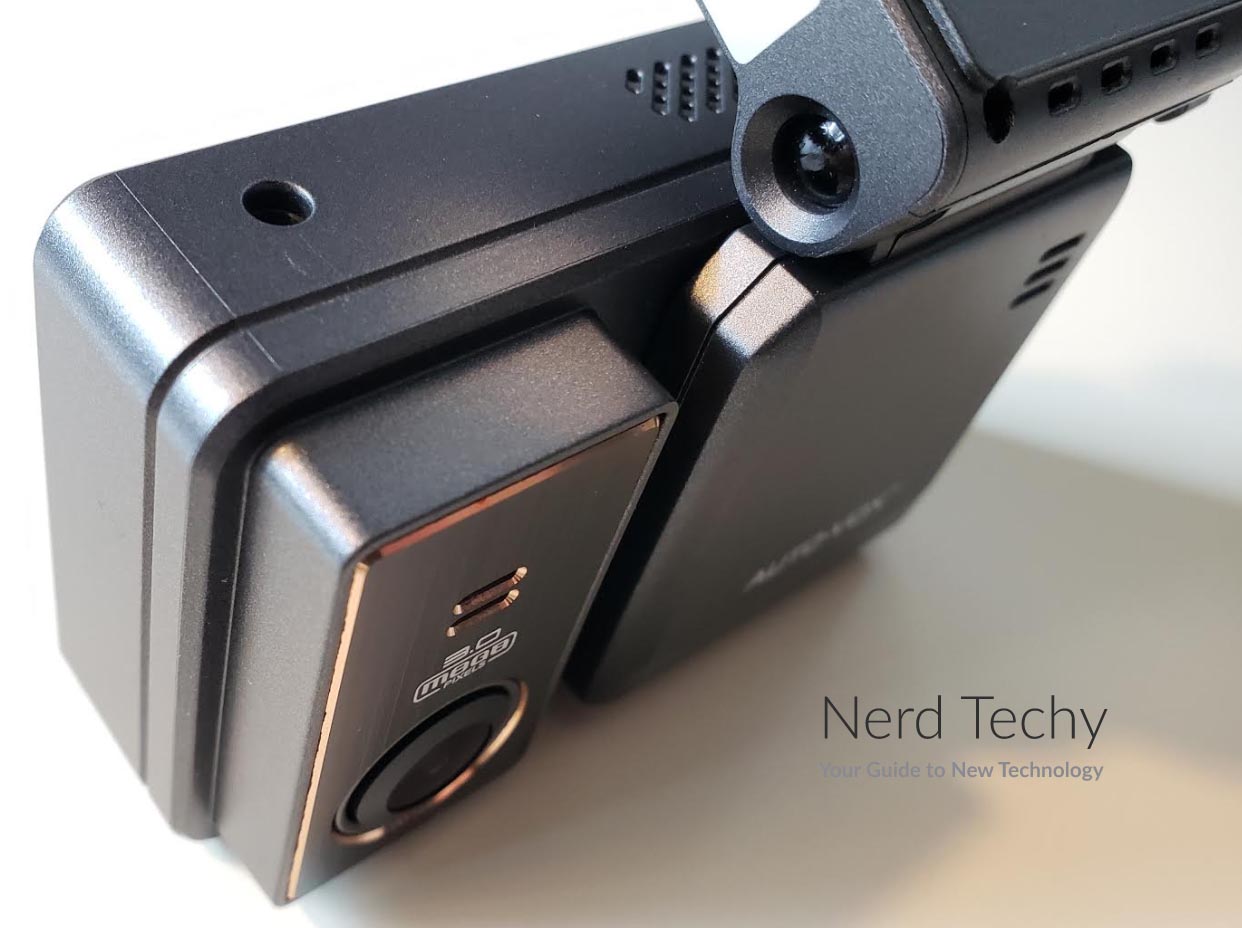 Along with the cameras, you also get all the hardware you need to install them. There's a 21-foot rear camera cable that's long enough for installation in almost any vehicle. There's a long, 11 ½-foot power cord that plugs into your car's DC outlet. Finally, there are 3M adhesive strips for mounting both of the cameras. Right from day one, you've got everything you need to install your new dash cam.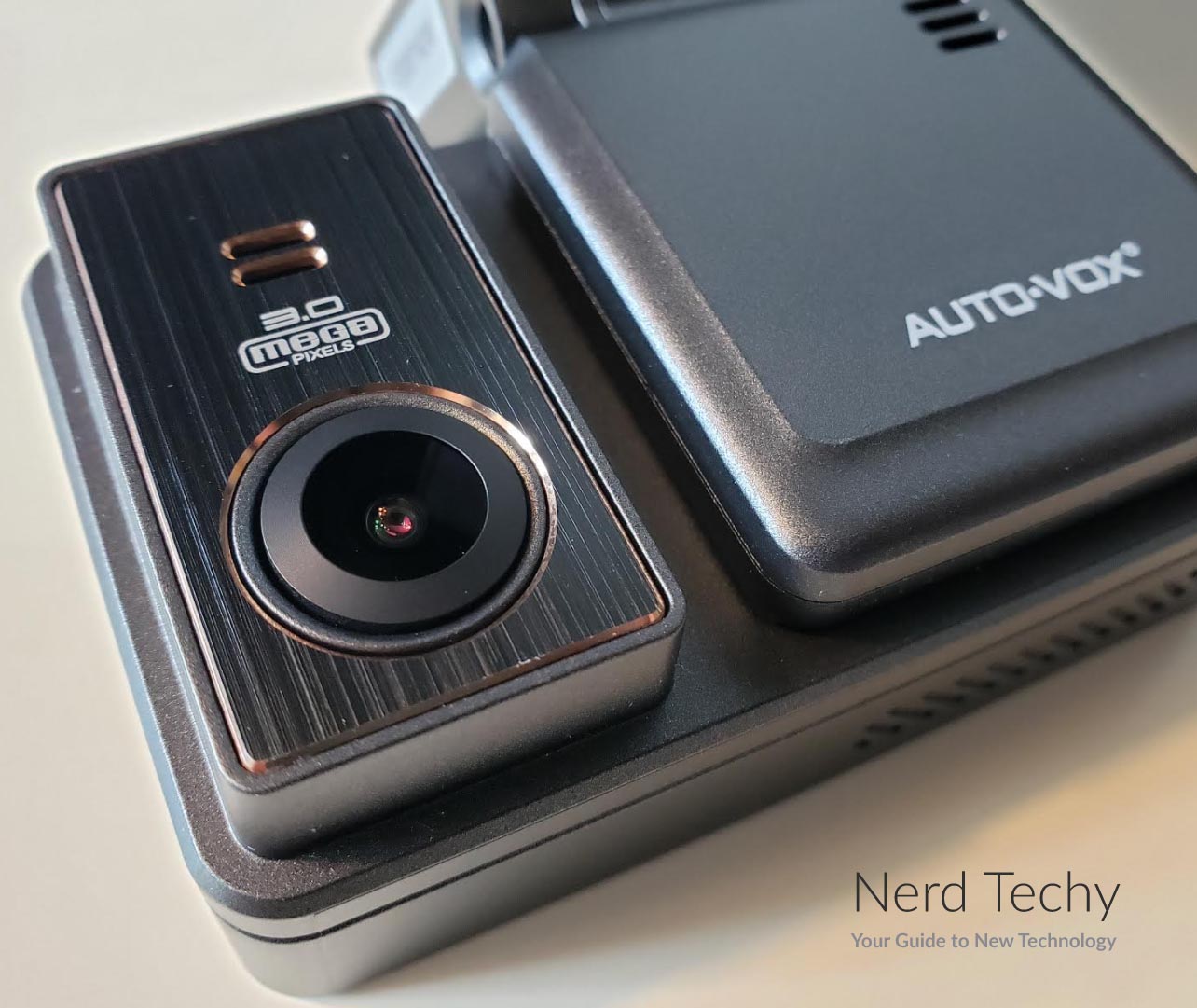 Auto-Vox makes several dash cam models, with plenty of innovative designs. If you want a different type of construction, check out the V5 Pro, which replaces your rearview mirror. For a slightly less radical option, the Auto-Vox T1400 straps over your rearview mirror, so it's easier to remove.
Installation & Storage
Perhaps the best feature of the Auto-Vox AD2 is that it requires no drilling or sawing for installation. This makes it significantly easier to install than most other models. The AD2 is able to achieve this by mounting the rear camera inside the car instead of outside. As a result, you don't even need any tools for installation. However, you might still want to grab a screwdriver. The wire harness for the rear camera has a second cable that connects to your reverse lights. The camera will still work without this cord connected. However, if the cord is connected, the front display will switch to the rear camera when you're in reverse. So for the cost of a little elbow grease, you get a working backup camera along with your dash cam.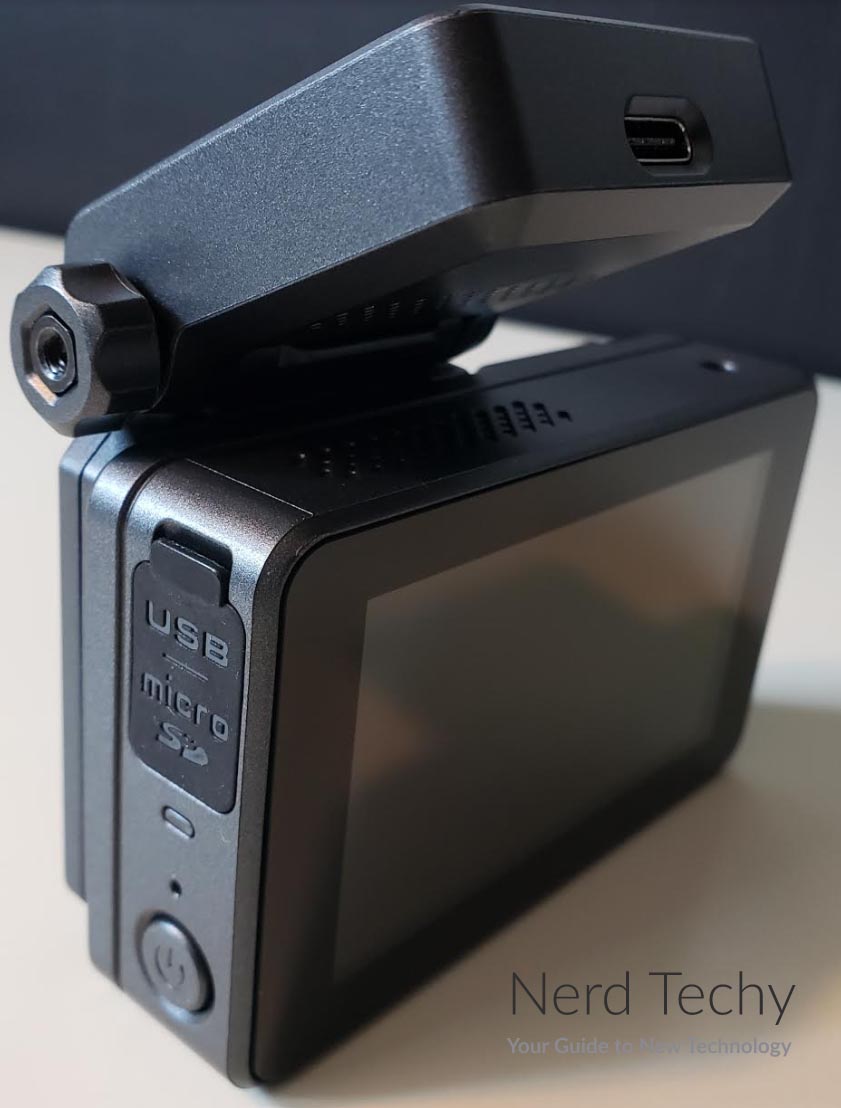 Both cameras mount with simple 3M mounting tape. This means you don't have to do any screwing to mount them. Just wipe down the surface with alcohol, wait a minute for it to dry, apply the tape, and you're good to go. When it's time to remove your camera, cleanup is easy. Most of the adhesive will scrape off with a simple putty knife. Any residue can be removed with a shop towel and rubbing alcohol. As adhesives go, the 3M mounting tape is exceedingly easy to clean up, but it's also powerful. You don't have to worry about the cameras vibrating loose while you're driving.
Once you've captured video, you'll need to save it somewhere. There are two options: on-board and cloud storage. For on-board storage, the AD2 supports 64GB to 128GB SD cards. This allows for dozens of hours of recording, and should be more than enough for most people. However, on-board storage has its weaknesses. For instance, if someone steals your car or your camera, they've also taken any footage of them.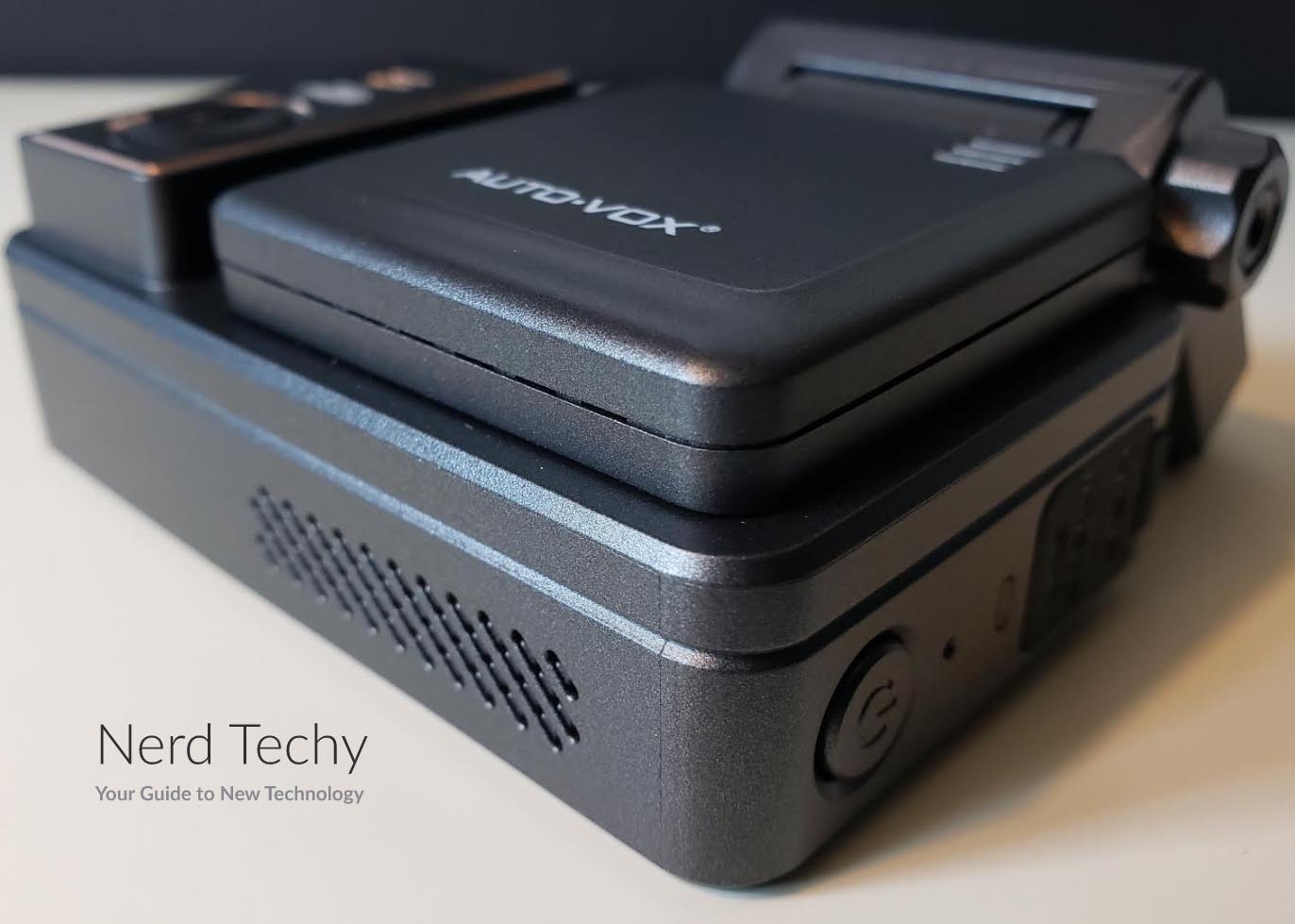 For a more robust option, you can connect your AD2 camera via WiFi. This requires you to be in range of a WiFi network or your phone's mobile hotspot, so it won't work everywhere. But when you're connected via WiFi, you can record to the cloud via the free RoadCam app. This allows you to watch recordings remotely, anywhere you have an internet connection.
All AD2 recordings are geotagged by default. For most people, this is a no-brainer, since it's one more detail you're able to document. That said, if you have privacy concerns, geotagging is easy to disable through the AD2's on-board menu.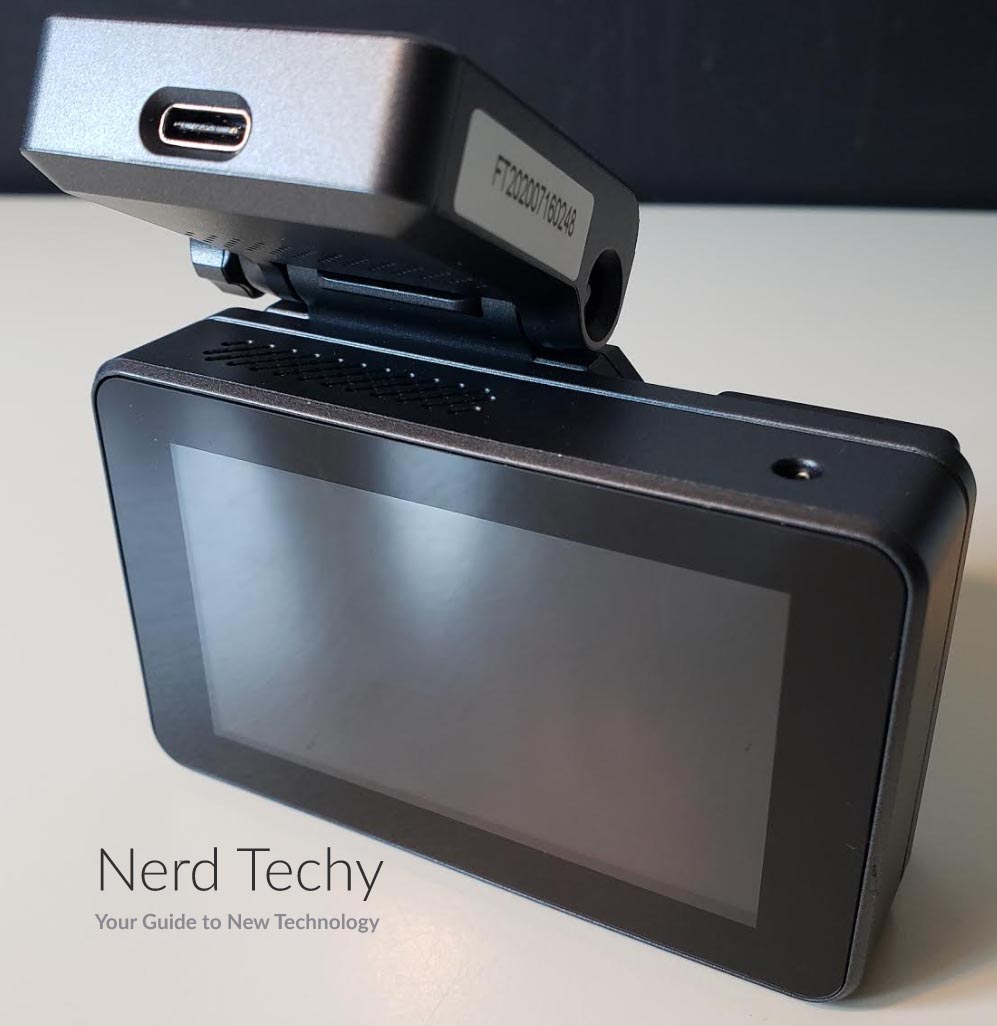 Video Quality & Extras
Both the front and rear cameras record the road in full 1080p, at a framerate of 30 frames per second. For most purposes, this is going to be more than good enough. Indeed, it's tough to imagine ever needing more than 1080p on a rear camera. On the front camera, we would have liked to see 2K or 4K for better long-range detail. Regardless, you're getting plenty of visibility for almost anyone. The cameras ride nice and smooth, so the video isn't shaky. The color and lighting are all true as well, so there isn't any distortion.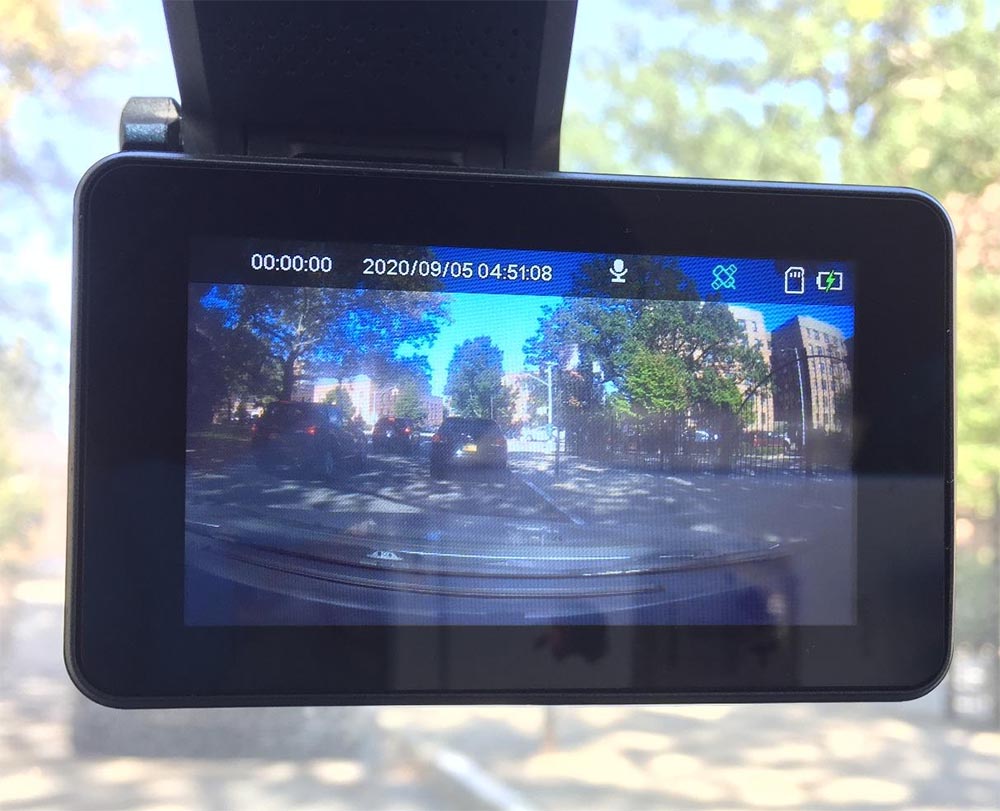 The front AD2 lens has a 127-degree field of view, which is more than enough. The rear view lens is similarly generous, at 115 degrees. That's plenty for parking, even if you need to watch out for obstacles. The only time the camera angles might not be enough is if there's a side-impact collision. In this case, the action is all going to be out of view of the camera. But side-view collisions are unusual enough that this is not a major consideration.
About the only major blank spot of the AD2 is your vehicle's interior. For most people, there's no reason to have a camera recording the inside of your car. However, if you're a rideshare driver, you might want to have video records of your drives. In that case, check out the Auto-Vox Aurora. It's made specifically for rideshare drivers, and has a discreet design that most riders won't even notice.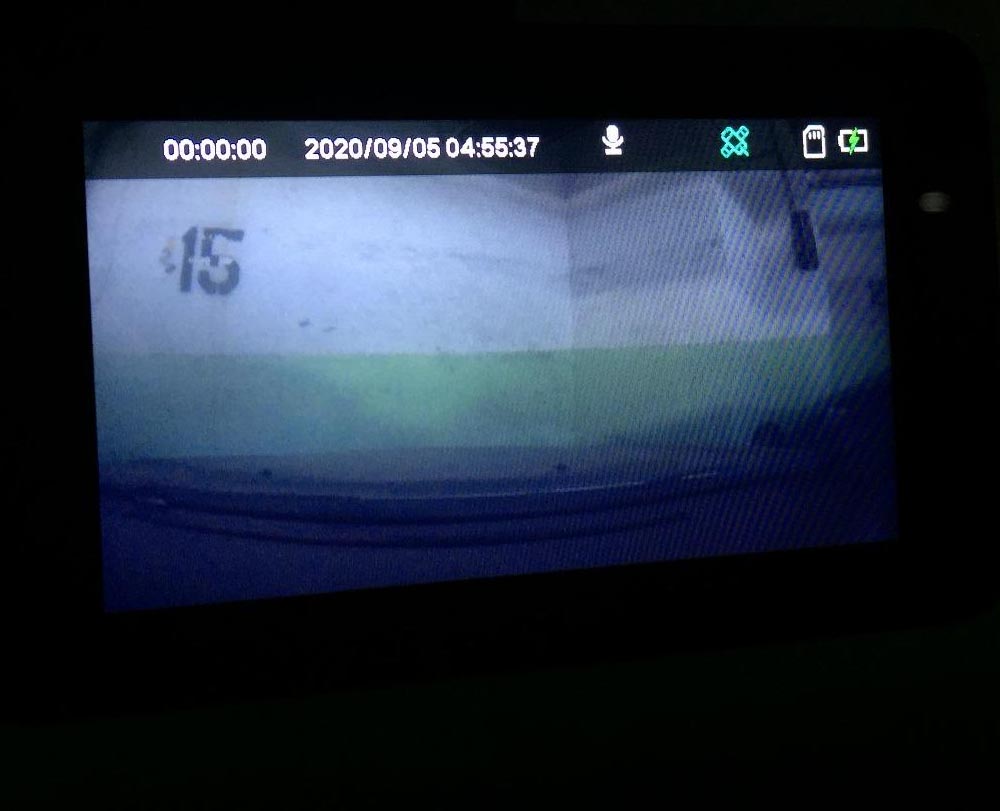 The Auto-Vox AD2 comes equipped with specialized Sony Starvis sensors. These are some of the highest-rated night vision sensors on the market, and are designed for full color video. Unlike traditional night vision, they won't work in pitch darkness. However, if you're driving, there are headlights or reverse lights at a bare minimum. That's more than enough for the Starvis sensors to get you a beautiful image.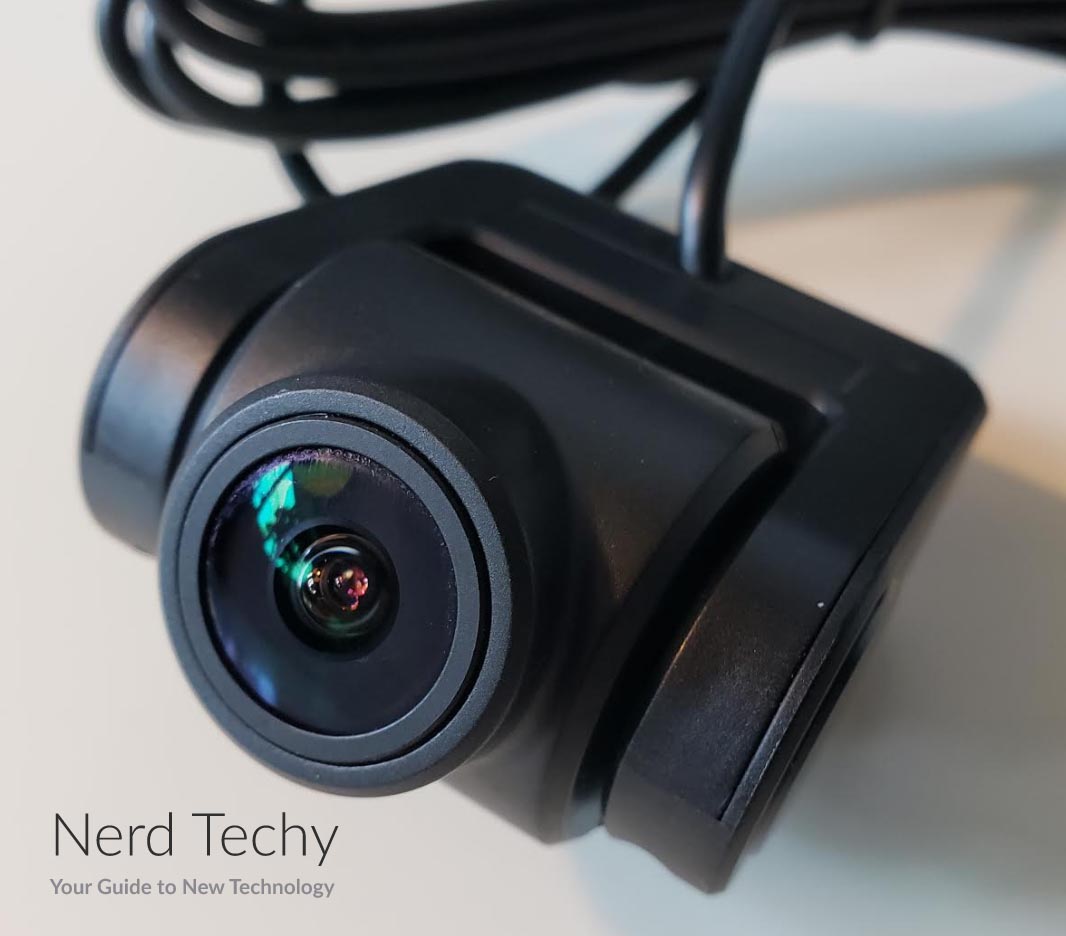 There are two ways to record video on your camera. The first is manual. Simply activate constant recording, and the camera will keep rolling. When your storage is full, it will simply start overwriting the oldest data. The other way is to use the AD4 as a dedicated parking or accident cam. In this mode, the cameras will automatically start recording when activated by the on-board accelerometer. When there's an impact, the cameras will automatically record 15 seconds of video. Even when your car is off, this can be done without hardwiring, and without killing your battery.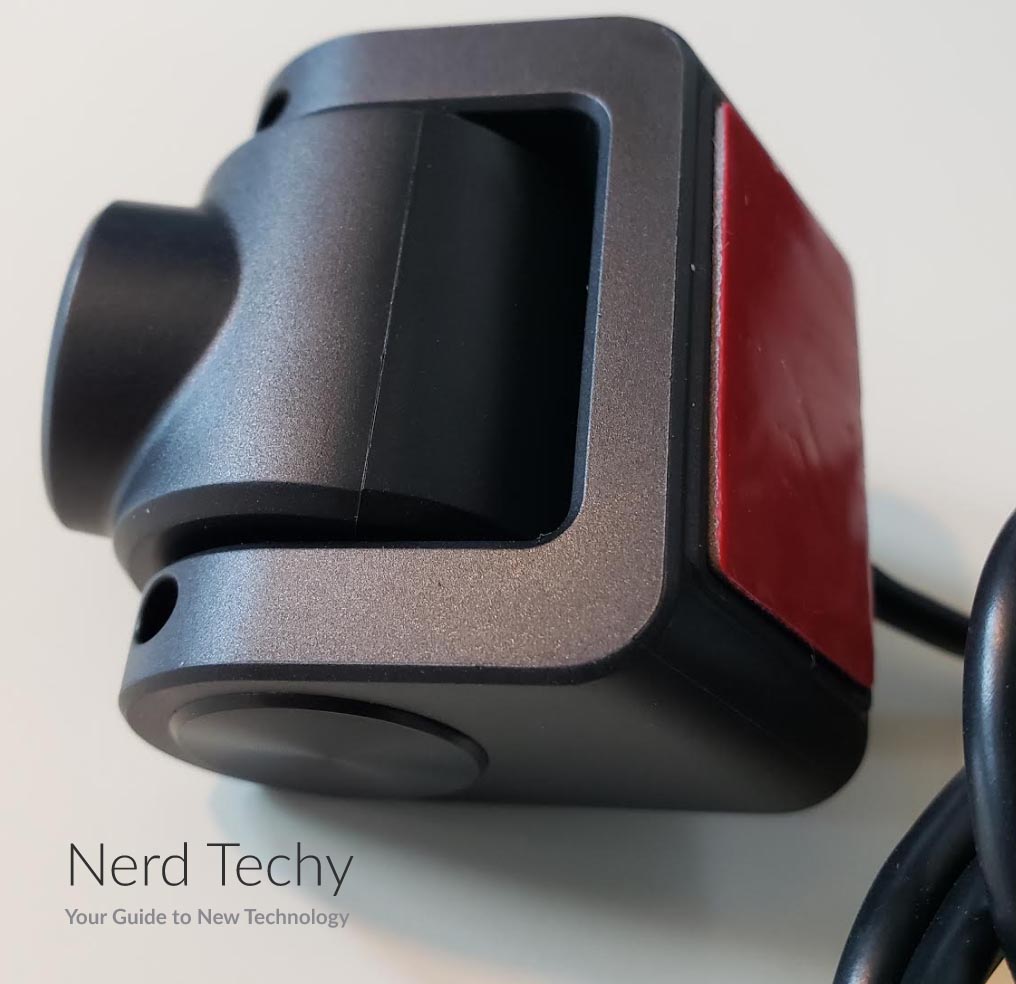 Final Verdict
So, is the Auto-Vox AD2 WiFi Dash Cam worth your investment? For most drivers, the answer is a strong "yes." To be fair, some people might want to splurge on a 4K dash cam. But most people will get everything they need from a 1080p camera. Moreover, the color night vision is beautiful. You won't have trouble spotting fine details in low light, so you get the best possible recordings.
Perhaps the AD2's most outstanding feature is the ease of installation. You don't have to drill, hack, or otherwise abuse your car for installation. This doesn't just make it easier to install. It also makes the AD2 suitable for leases, since it can be installed and removed without damage to the vehicle. Finally, you get two different options for storage. Whether you prefer an SD card or cloud storage, you'll be able to save your videos where and when you prefer.