These days, many cars come with a backup camera to assist with parking and reversing. This is a nifty feature, particularly if the thought of parallel parking makes you break out in a cold sweat. But what if your car doesn't offer this feature? It can be an inconvenience. Not only that, but a backup camera can help lower your insurance rate, depending on your insurer. In a world where every dollar counts, it can actually save you money over time.
Of course, backup cameras come with a variety of features, and not all of them are equally good. For example, some cameras offer night vision, while others rely on your vehicle's backup lights. They offer different resolutions, and different mounting options. Wiring can also be a concern. For example, if you need to run a wire all the way through your car's interior, it can be a real pain.
Enter the Auto-Vox T1400 Wireless Backup Camera. This camera uses wireless video transfer, rather than wired transfer. As a result, installation is relatively painless, and can be done in less than half an hour. Moreover, you're looking at a sturdy, resilient design that can be mounted on most vehicles. No matter what kind of car or truck you drive, the T1400 will install easily on your license plate bracket. But what else does it have to offer? Does it live up to the hype, or are you better up going with another option? We'll go over everything, from tip to tail. When we're done, we'll summarize what we've learned, and render a final verdict. Let's begin!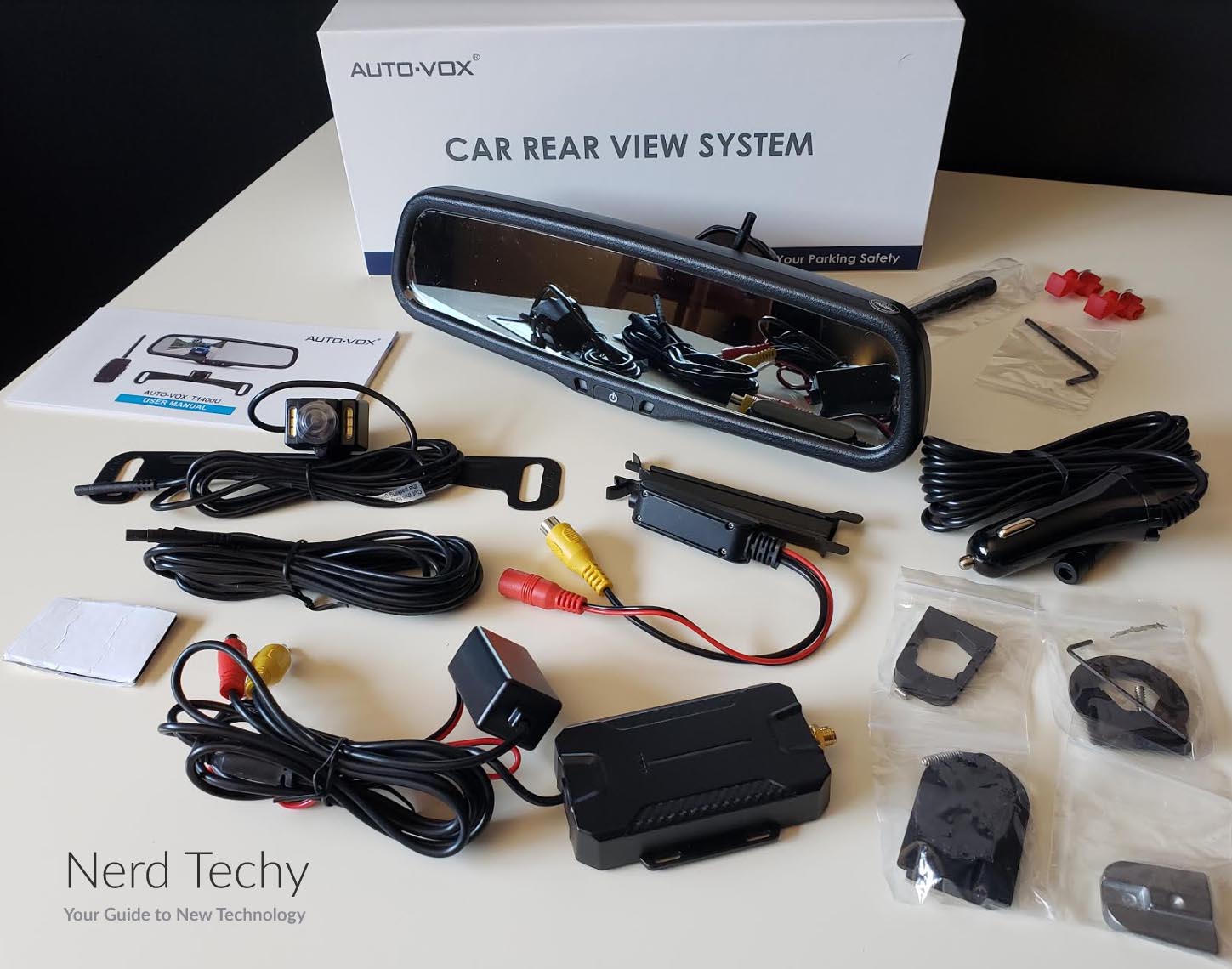 Overall Design
The Auto-Vox T1400 Wireless Backup Camera Kit has a three-part design. The first is the camera itself, which is mounted on a license plate bracket. The camera has a compact design, barely larger than a keyhole on the back of your trunk. It's encased in black ABS plastic, with a row of three infrared LEDs on each side. These LEDs are used for the camera's night vision, which we'll talk about more in a minute.
The camera is IP68 water-resistant, which means that it's capable of withstanding full submersion for up to 30 minutes. Even if you want to take your vehicle four-wheeling, the camera will stand up to the task. Moreover, it functions from -13 to 149 degrees Fahrenheit. In other words, it will work under virtually any circumstances. The mounting bracket is made of black stainless steel, sturdy enough to take a serious beating.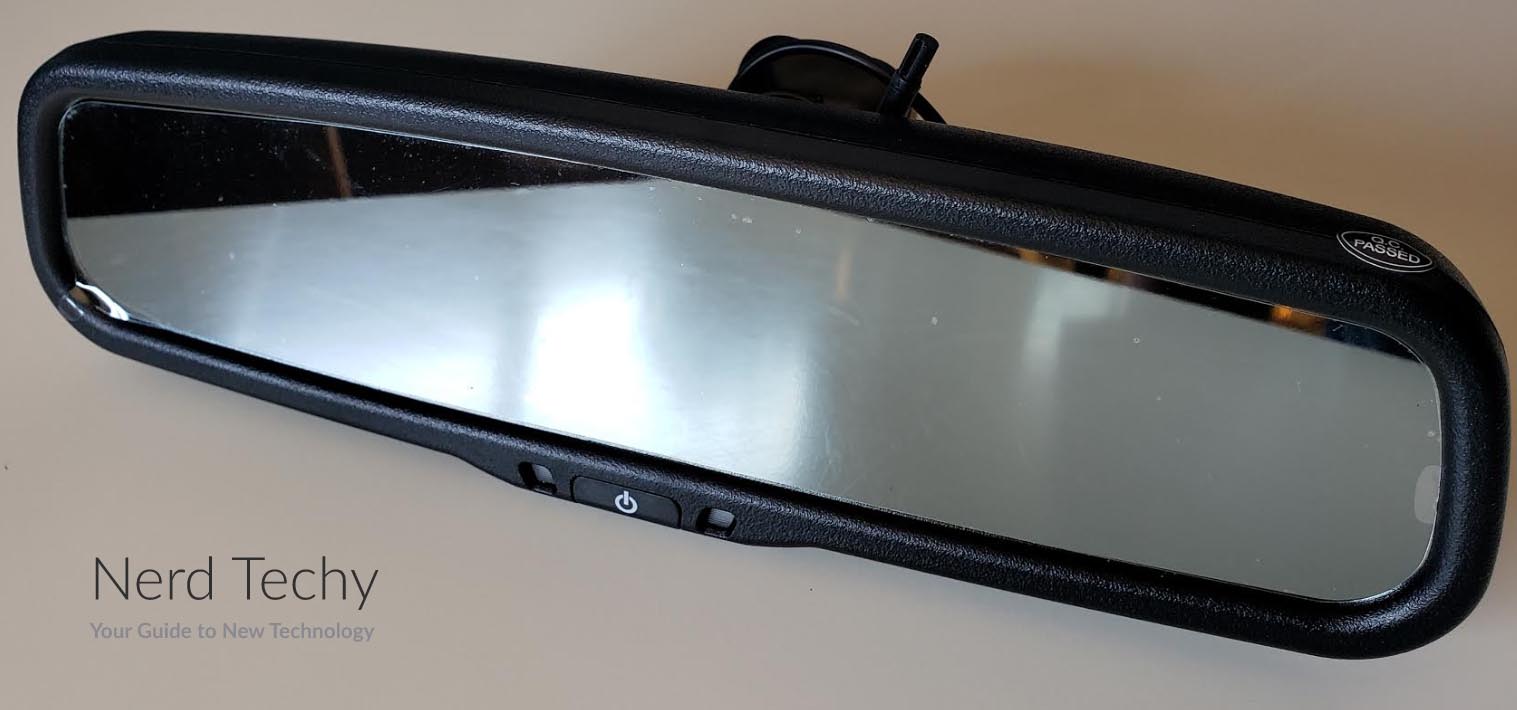 The next part of the kit is a wireless transmitter. This transmitter looks like a little walkie-talkie, complete with a six-inch antenna. It's constructed from durable polymer, so if it gets bumped or banged, it's not going to be easily damaged. On the other hand, it's not water-resistant, but it doesn't need to be. It's designed to mount inside your trunk or hatchback, so it will already be protected from the elements. It has a brass connector ring at the base of the antenna that's easy to screw and unscrew. So if the antenna ends up getting damaged, it will be quick and easy to replace.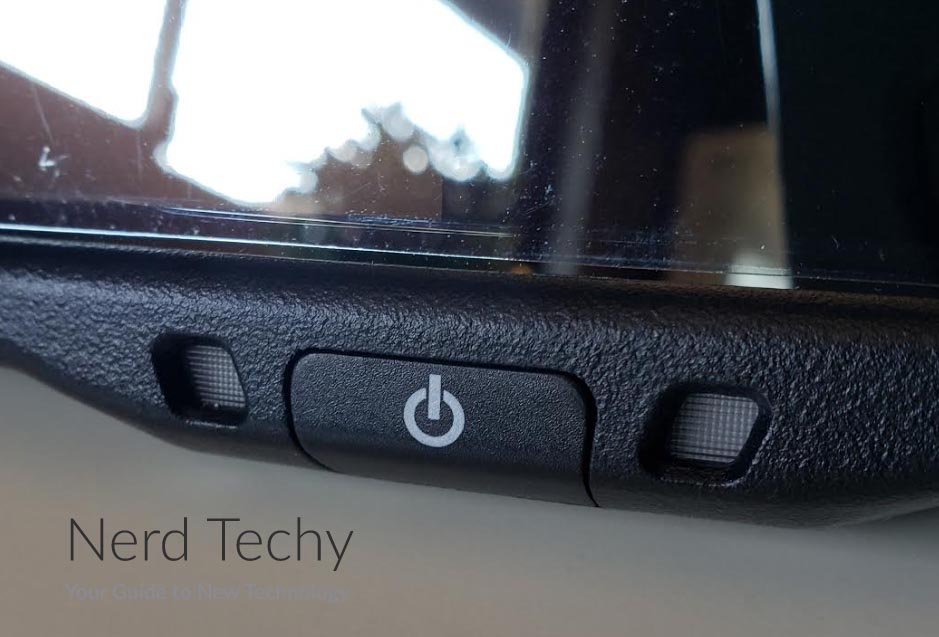 The final part of the T1400 kit is a replacement rearview mirror. It functions as a normal mirror, so you can still use it like one. You can even pivot it to avoid glare and other issues. There's a small power button near the bottom of the mirror. Press it, and the LCD monitor will activate. The monitor measures 4.3 inches on a diagonal, and occupies most of the left half of the mirror. It reverses the image, just as you'd expect from a backup camera. It also sports backup lines for easy parking. Keep in mind that the backup lines are not adjustable. As a result, if your license plate bracket isn't centered, you may have some issues.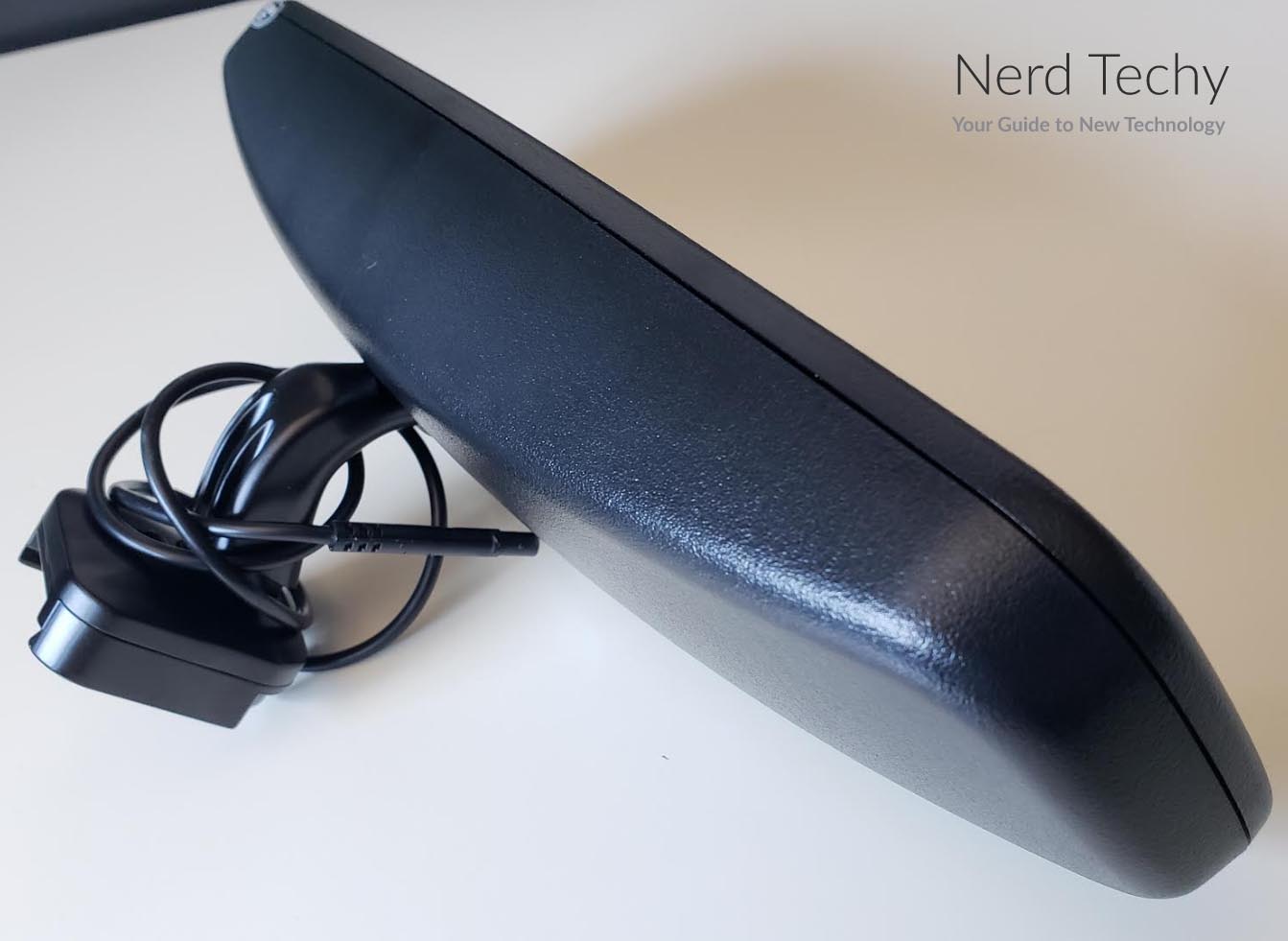 This design is easy to use, and should be appealing to most people. However, you may prefer to have a monitor that's separate from your rearview mirror. In that case, read our review of the Auto-Vox Solar Wireless Backup Camera Kit. It has a similar license-plate mounted camera, with a dashboard-mounted monitor and a solar panel for power.
Use code "JZBPE59B" on Amazon.com for 10% OFF the Auto-Vox T1400
Installation & Storage
Installing the Auto-Vox T1400 Wireless Backup Camera Kit is relatively simple. You'll still need to do some wiring. But you won't have to run a wire all the way from the back to the front. The first step is to install the backup camera itself. Depending on your vehicle, you may need to switch the camera to a different bracket to match the screw holes. Thankfully, there are four brackets in the kit in total, so you're virtually guaranteed a secure fit. If your license plate screws don't have nylon washers, it would be a good idea to buy some. They only cost a few pennies, and they do a great job at preventing vibration.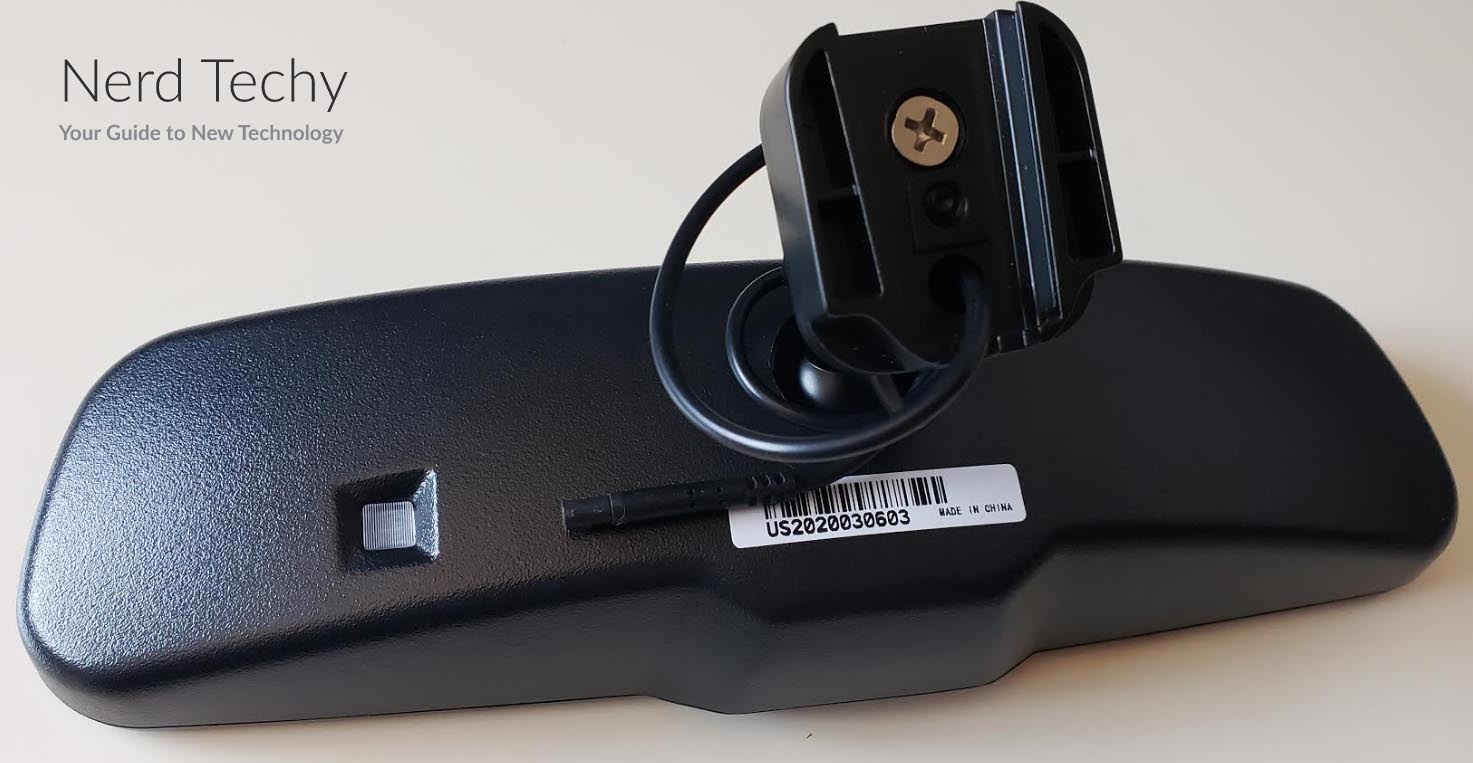 Once you've done that, you'll need to mount the wireless transmitter inside your trunk. You've got a bit of leeway here, so choose a location where it's as out of the way as possible. It's ideal to screw it into a metal part for security. But if you buy a different set of screws, you can also mount it in plastic or upholstery. Next, use the RCA cables to connect the camera to the wireless transmitter. Unless you want a wire running around the bottom of your trunk, you'll need to drill a hole to do this.
The extra black wire should be connected to any metal ground screw, and the red wire to your reverse light. If you're not sure which wire your reverse light is, consult your owner's manual. This design will supply power to your backup light and transmitter whenever your reverse light is activated. Conversely, it will ensure that your camera isn't drawing power when it isn't needed. The transmitter will broadcast over the 2.4GHz band, eliminating the need for further wiring. Furthermore, it has a theoretical range of 100 meters (about 333 feet). This means that even if there's local interference, you'll still have a good signal.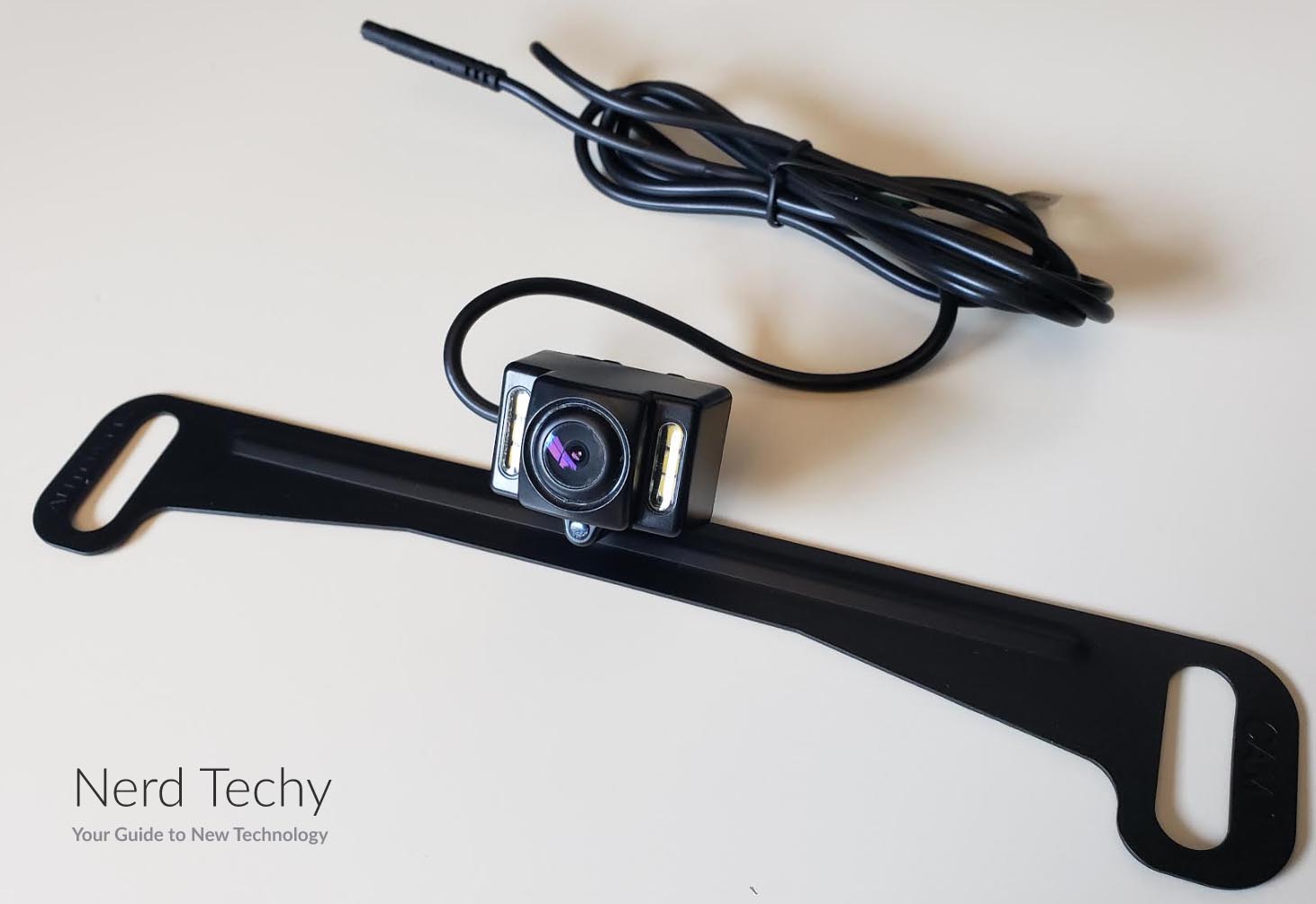 The last step is to install the monitor itself. This means carefully removing your old rearview mirror from its mount. If it doesn't come off easily, check your manual or an internet guide for instructions. Depending on your vehicle, you may need to replace the mount. The key point here is to use caution, and go slow. Once that's done, connect the monitor's wire to your car's 12-volt power port. It's best to take the time to tuck it behind your windshield's trim, so you don't have a wire dangling around.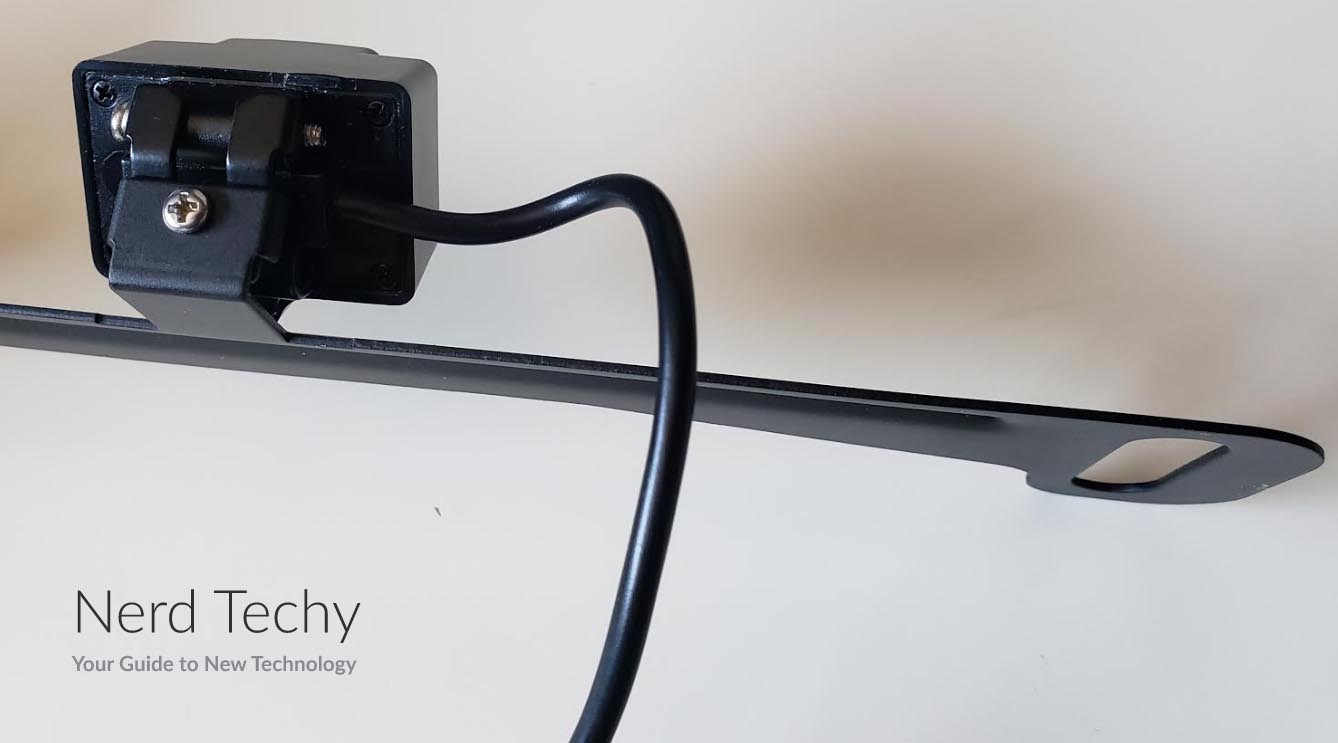 One thing the T1400 doesn't offer is video storage. For most purposes, this shouldn't be necessary. After all, this is a backup camera, not a dash cam. But if you need recording, consider the Auto-Vox V5 Mirror Dash Cam. It mounts over your mirror without replacing it, and automatically records while in operation. That said, the camera and the monitor need to be hardwired together.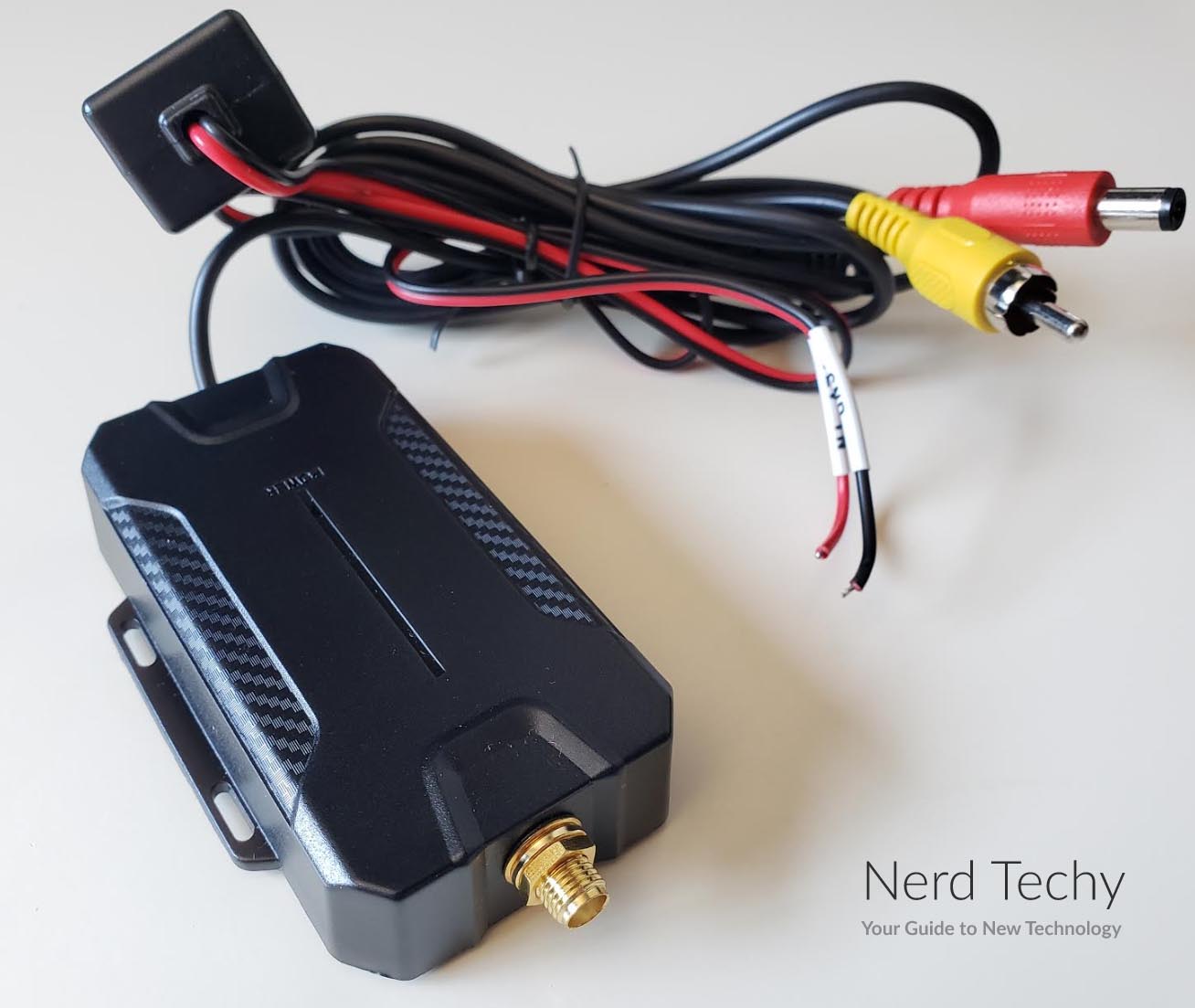 Video Quality & Extras
The Auto-Vox T1400 Wireless Backup Camera has a resolution of 480 x 272 pixels. This is a very low resolution, not suitable for reading license plates or making out fine details. That said, as we've already pointed out, this is a simple backup camera. It's not designed for reading license plates or capturing high-quality recordings. It does offer a 170-degree field of view. This is great if you're trying to turn while backing up, such as while parallel parking. You can easily spot trash cans, fire hydrants, and other potential obstacles.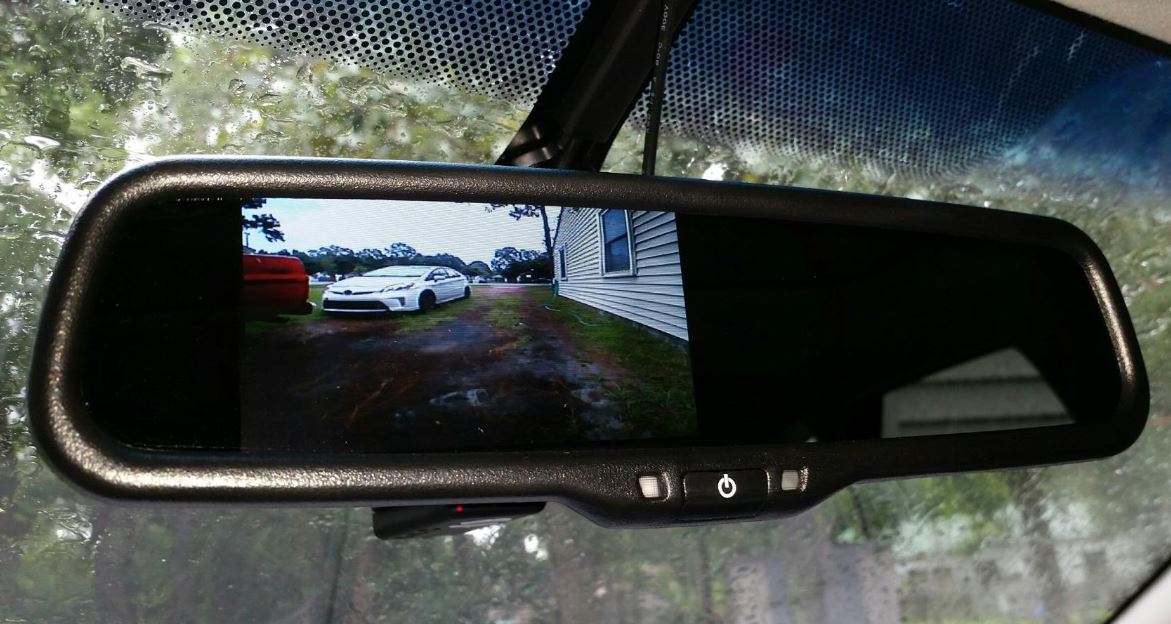 The camera's night vision mode will activate or deactivate automatically. When it's light out, you'll see a normal, full color image. When it's dark, the six LEDs will turn on, and the image will switch to black and white. Either way, you'll get a clear image at any time of day or night. The screen brightness will also adjust automatically. In daylight conditions, it's nice and bright, so you don't have to squint to make out any details. At night, it dims substantially. This way, it won't blind you and mess up your night vision when it's turned off.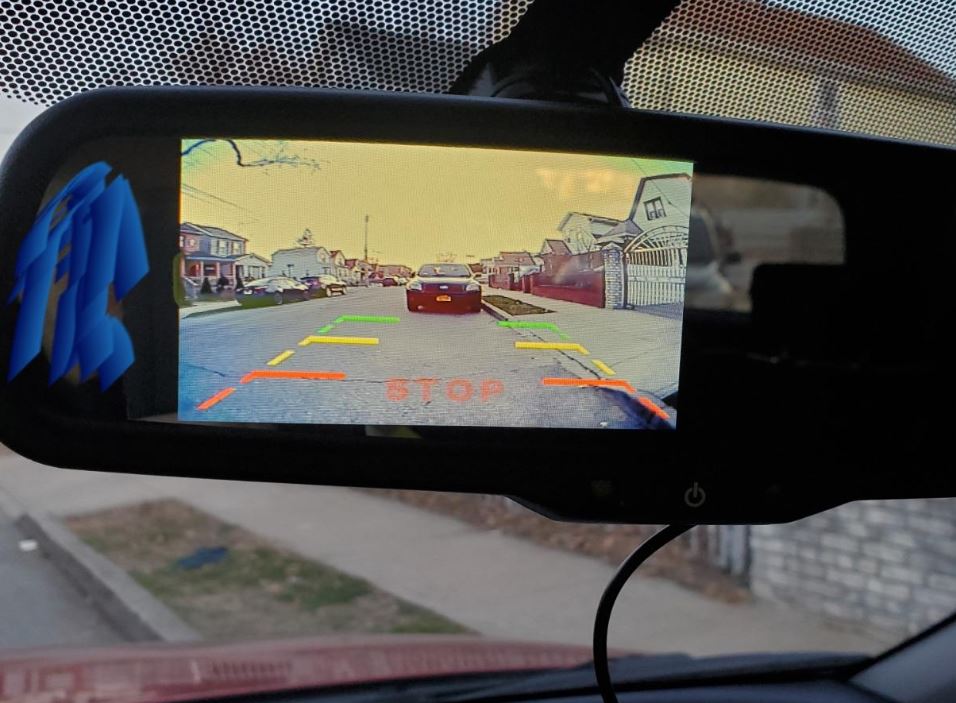 As we mentioned earlier, the T1400's overlay lines aren't adjustable. This might pose some issues for certain vehicles. If you have an off-center license plate mount, you may prefer the Auto-Vox CS-2 Wireless Backup Camera Kit. It requires hardwiring, but allows you to switch between six different overlay light options. On the other hand, it doesn't have night vision; you'll rely on your backup lights for illumination.
The Auto-Vox T1400 has one other feature worth mentioning. The 12-volt DC plug sports a USB outlet. As a result, your plug isn't going to be out of commission. You can still charge your phone, even while using the camera.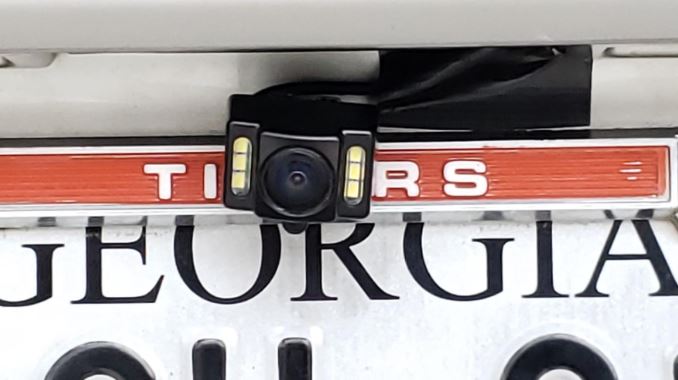 Use code "JZBPE59B" on Amazon.com for 10% OFF the Auto-Vox T1400
Final Verdict
Clearly, the Auto-Vox T1400 Wireless Backup Camera Kit has a lot to offer. To begin with, the installation is easier than most backup camera kits. You don't need to run a wire the whole length of your car. You'll still need to do a little drilling and wiring, but nothing absurdly invasive. The wireless signal is very strong, which means interference is a non-issue. Once it's installed, you won't notice a difference performance as opposed to a wired camera.
The video quality leaves a bit to be desired. That said, video quality isn't as much of a concern here as it would be with a dash cam. You're looking at objects that are close to the camera, and for that purpose, it works well enough. Moreover, once installation is done, the design doesn't clutter up your windshield or dashboard. The display is located inside your new rearview mirror, making it a lightweight solution. The night vision and brightness adjustment are great features, since the camera is suitable for any conditions. Not only that, but it carries the highest water-resistance rating available, and works at almost any temperature.
Meet Derek, "TechGuru," a 34-year-old technology enthusiast with a deep passion for tech innovations. With extensive experience, he specializes in gaming hardware and software, and has expertise in gadgets, custom PCs, and audio.
Besides writing about tech and reviewing new products, Derek enjoys traveling, hiking, and photography. Committed to keeping up with the latest industry trends, he aims to guide readers in making informed tech decisions.