Most people are familiar with Panasonic as a brand. That said, many people don't know they make earbuds and headphones. They're mostly known for their cameras and video equipment. But in fact, they also produce some quality audio equipment. We've even reviewed some of their earbuds in the past (like the ErgoFit and Wings). Now, we're going to review a couple of Panasonic's full blown over-the-ear headphones. We got our hands on the Panasonic RB-M500B and RB-M700B Deep Bass Wireless Headphones. We've checked out all their features, and now we'll tell you everything we learned.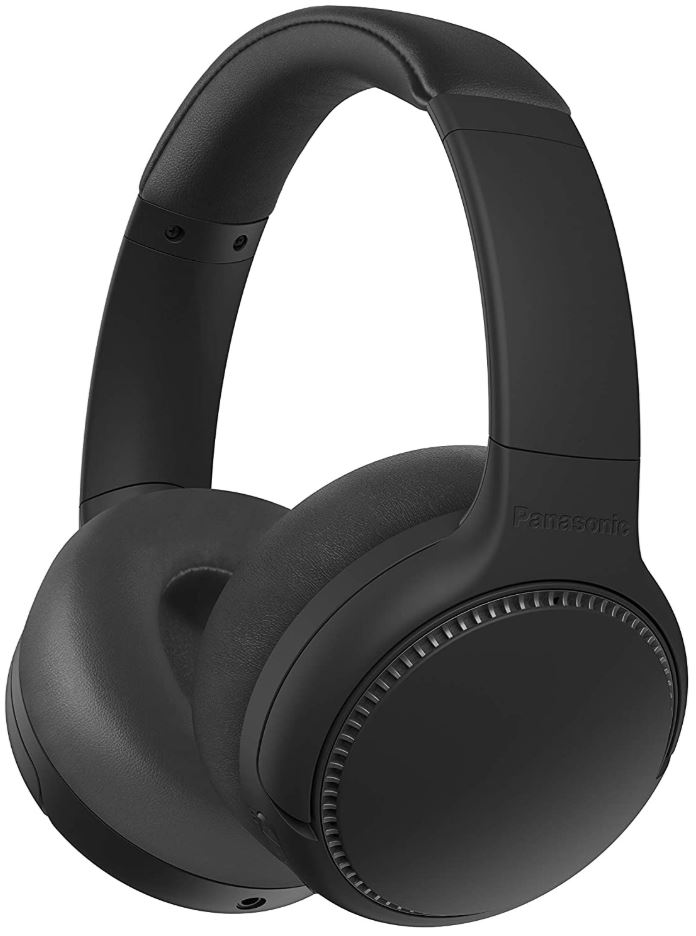 Panasonic RB-M500B
The Panasonic RB-M500B headphones are designed primarily for comfort and a good fit. At only 1.56 pounds, they won't weigh down your head, but they're still sturdy and powerful. The headband is adjustable, so it can fit most sizes of head. It's also well padded, with soft leather cushions across the top and sides. Both the headband and the backs of the ear cups are constructed from matte ABS plastic, with internal aluminum reinforcement. The matte finish is easy to keep clean, and won't collect fingerprints like a glossy finish will.
The ear pads are made of soft PU leather, with plenty of cushion for comfort. They're thick and lush, and even though the headband is fairly stiff, they're plenty comfortable. Even if your ears are fairly sensitive, you'll appreciate the fact that the ear pads apply even pressure. There are no pressure points to cause bruising or circulation loss. The cups can also pivot. This allows them to fit a wider variety of face shapes and sizes.
On the bottom of the right ear cup, you'll find all the RB-M500B's controls. Towards the front, there are buttons to skip forward, skip backward, or plan and pause music. The play/pause button also doubles as a button to answer and end phone calls. Towards the back, you'll find the volume buttons. All the buttons provide plenty of tactile feedback. You won't have to deal with wondering if your soft touch button has actuated or not. Between the two buttons, there's a USB-C port for charging, along with a Bluetooth indicator light.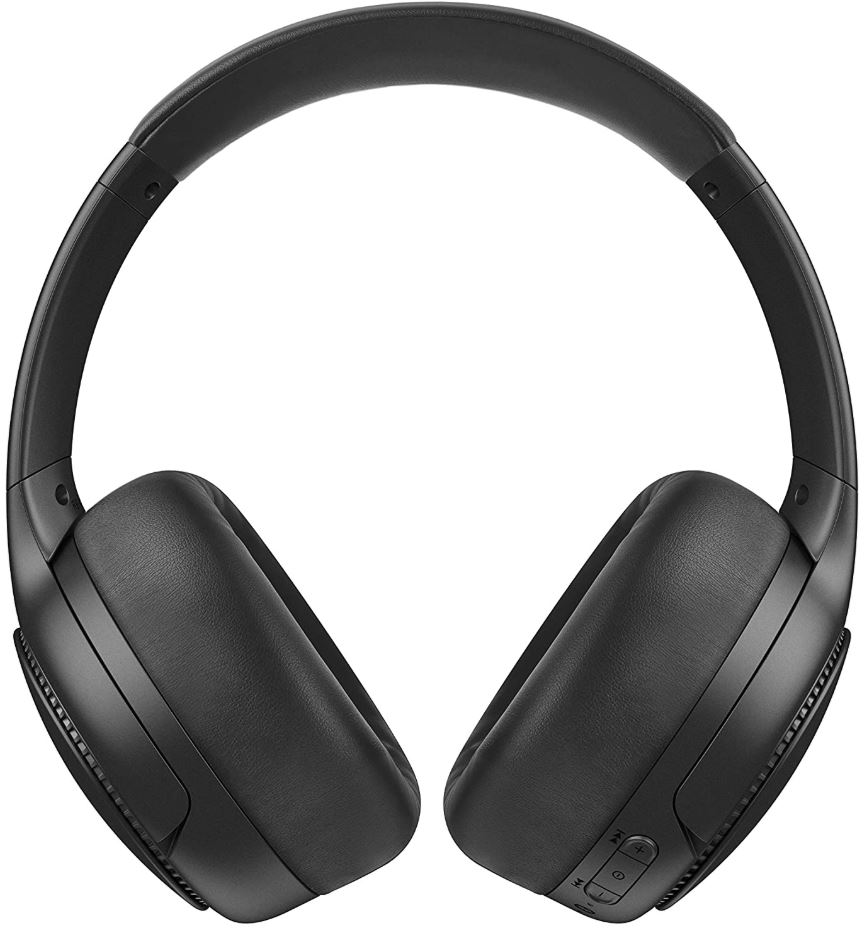 On the left earbud, there aren't any controls. There is, however a 3.5mm audio port on the bottom. To compliment this port, the RB-M500B comes with a 6.6-foot 3.5mm aux cable. You also get a 1.6-foot USB-C cable for charging.
Battery and Connectivity
The Panasonic RB-M500B Deep Bass Wireless Headphones come with a battery capacity to match their large size. On a single charge, they provide up to 30 hours of playback. Now, we should point out that this is a manufacturer rating. It's based on playback at medium volume, so you'll get less playtime if you like to crank up the volume. Even so, you're looking at a battery life of 25 hours at minimum. For a powerful set of headphones, that's not half bad. Recharging is easy. With the USB-C cable, you'll be able to recharge the batteries in just over two hours.
The RB-M500B headphones connect to your phone or MP3 player via the USB 5.0 protocol. This is the latest version of Bluetooth, and offers significantly better performance than older iterations. To begin with, it allows for high-bitrate audio. You can even listen to .wav files without any loss in quality. Secondly, it's more stable than other protocols. You can listen to music or watch a video without worrying about the audio cutting out. Finally, it offers much less latency than older protocols. So if you want to watch a movie, you won't have to deal with lag between the video and audio. Everything will be in sync.
As we already mentioned, the RB-M500B headphones also have a 3.5mm jack. At first, you might wonder why you'd want a wired option on wireless headphones. But in fact, there are several advantages. To begin with, a wired connection won't drain your battery. So if your battery dies, you won't have to stop listening to recharge. If you're on a long plane ride, why not use the wire and save your battery for later? In addition, a 3.5mm wire allows you to connect to older, non-Bluetooth devices. You can plug into an old stereo set, an older laptop, or a TV. Keep in mind, though, that the volume and other buttons require power. On a wired connection, you won't be able to use the headphone's buttons.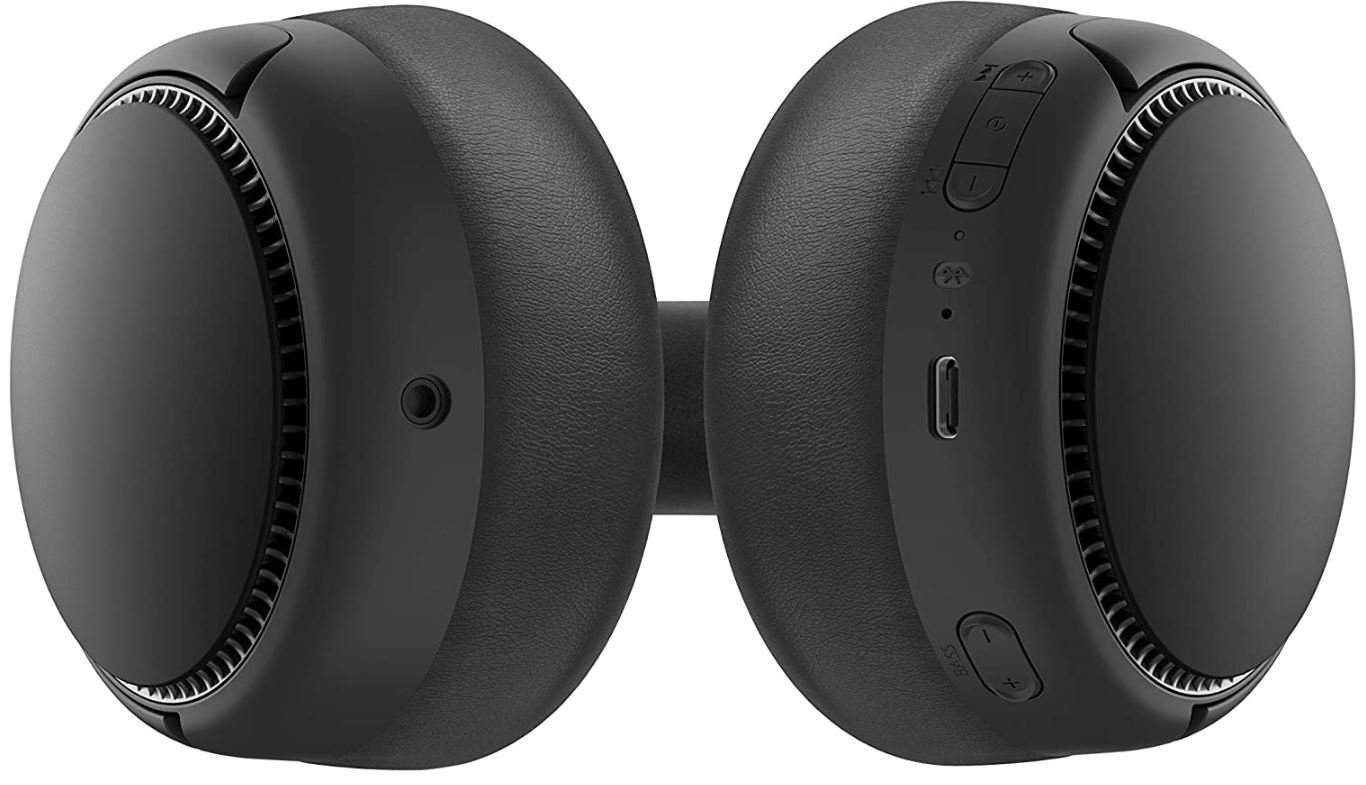 Sound Quality
The RB-M500B headphones boast a pair of 40mm Neodymium drivers. These drivers are truly state of the art, allowing for excellent sound quality. To begin with, you get a top-tier soundstage. There's a wide separation between the instruments. The bass doesn't muddy up the vocals, and the highs don't cause any unwanted sizzle. All of the instruments will come across clearly, so if you're an audiophile, you're going to be pleased. Moreover, the large drivers allow for very loud volumes. If you want to crank the volume up to the max, you can just about rupture an eardrum. Okay, it's not quite that loud, but you get the idea.
In terms of actual quality, the RB-M500B headphones perform very well across the spectrum. The highs are clean, clear, and shimmery. Both high hats and high synths will come across just fine, adding plenty of sparkle to your music. Mids are equally clean and clear. Since this is the range where vocals fall, you'll be able to enjoy vocal-heavy music like country and rap. Finally, as you might imagine from the "Deep Bass" designation, the bass is very powerful. There's actually a built-in bass reactor that further amplifies the existing bass. Drums come through with plenty of punch, so dance music and hip hop will sound fantastic.
The RB-M500B headphones aren't primarily designed for phone calls. That said, call quality is adequate. The dual mics provide plenty of pickup for your voice. And the Bluetooth 5.0 connection allows for lag-free calling.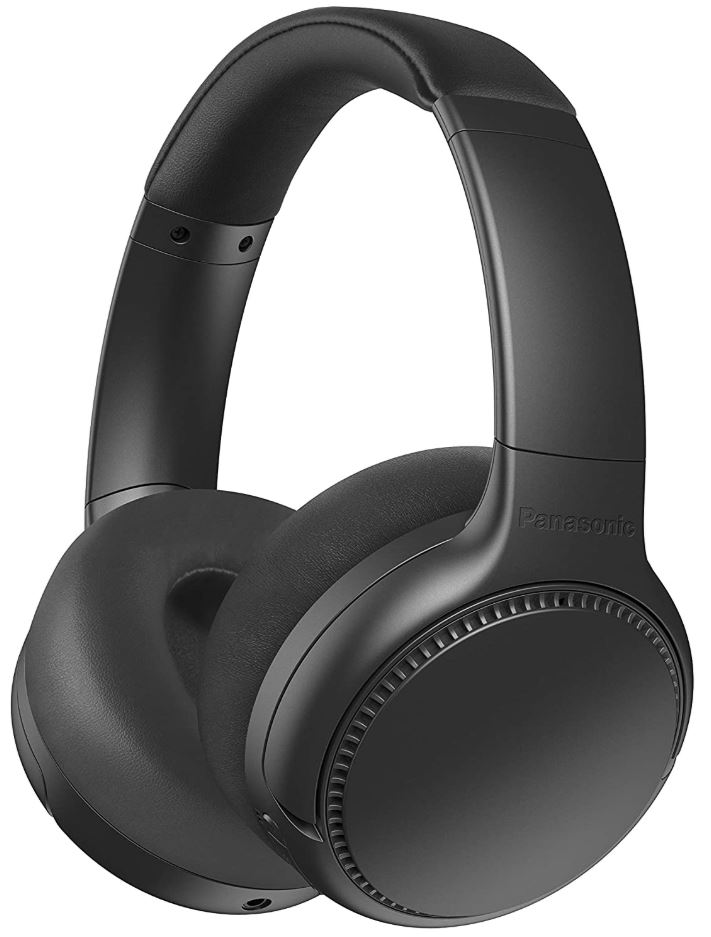 Panasonic RB-M700B
The Panasonic RB-M700B headphones have a similar sturdy, comfortable design to the RB-M500B headphones. They're constructed from a matte ABS plastic, with an internal aluminum frame in the headband. The total weight is 1.57 pounds, basically identical to the RB-M500B. The headband itself is well padded, with soft PU leather cushioning at the top. It's fully adjustable, and provides plenty of tension without being so stiff as to cause discomfort.
One major difference between the RB-M700B and the RB-M500B is the build of the ear cups. Not only can they pivot, they can also swivel. This allows for even more versatility when it comes to fitting different head sizes. It also makes the headphones easier to store and pack up for transport.
The controls are located on the bottom of the right headphone. The volume controls are located towards the back, for easy operation with your thumb. Towards the front, you'll find the forward and backward buttons, as well as a play/pause button. As with the other headphones, this button is also used to answer and end phone calls. Near the volume buttons, there's a switch that toggles the active noise cancelling (ANC) mode. Between, you'll also find a USB-C charging port and a Bluetooth indicator light.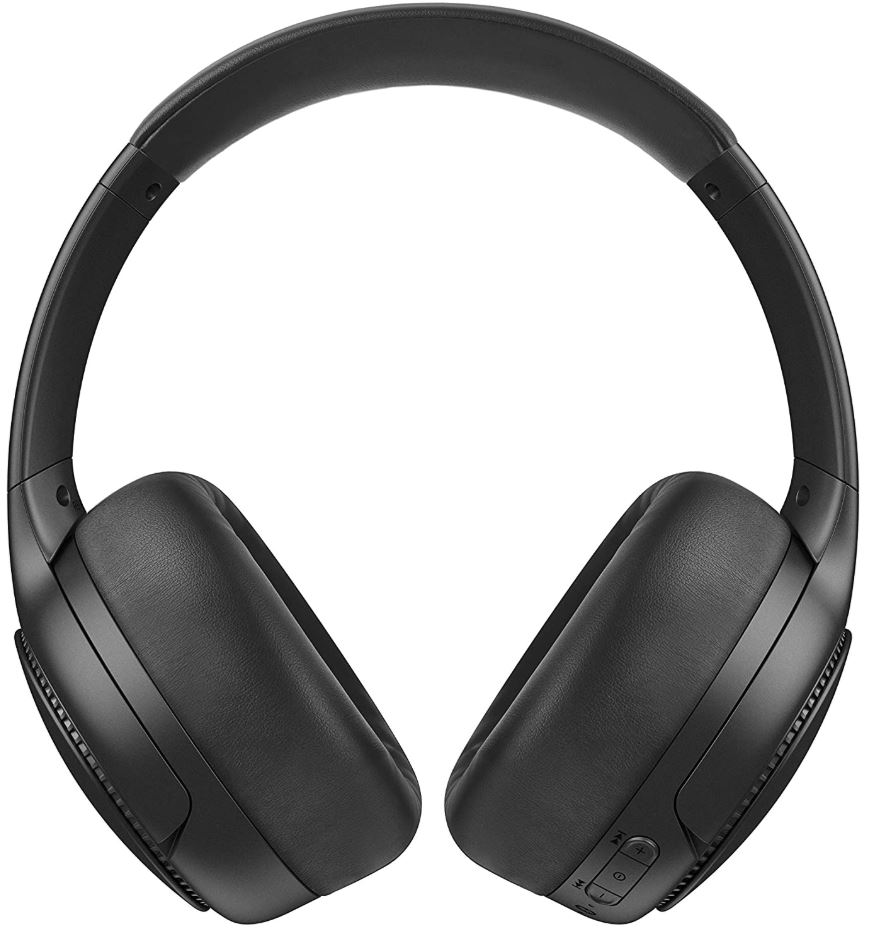 As on the RB-M500B, the left ear cup of the RB-M700B houses a 3.5mm audio jack. You also get the same 6.6-foot aux cable and 1.6-foot USB-C charging cord. In this regard, the two headphones are basically identical.
Battery and Connectivity
The RB-M700B offers slightly less playtime than its little brother, at just 24 hours. Still, this should be more than enough for most people's purposes. It's also based on using the headphones with the ANC mode activated. With ANC turned off, you can expect to get longer life. That said, with ANC on and the volume cranked up, your battery life will be somewhat shorter. Either way, you can take advantage of the RB-M700B's handy quick charge mode. Plug the headphones in for half an hour, and you'll get five hours of use. Not bad!
Like the first headphones we looked at, the RB-M700B headphones use Bluetooth 5.0. You also get the same option of using a 3.5mm jack to save battery life. Regardless, you've got plenty of options for connectivity, and battery life is less of an issue.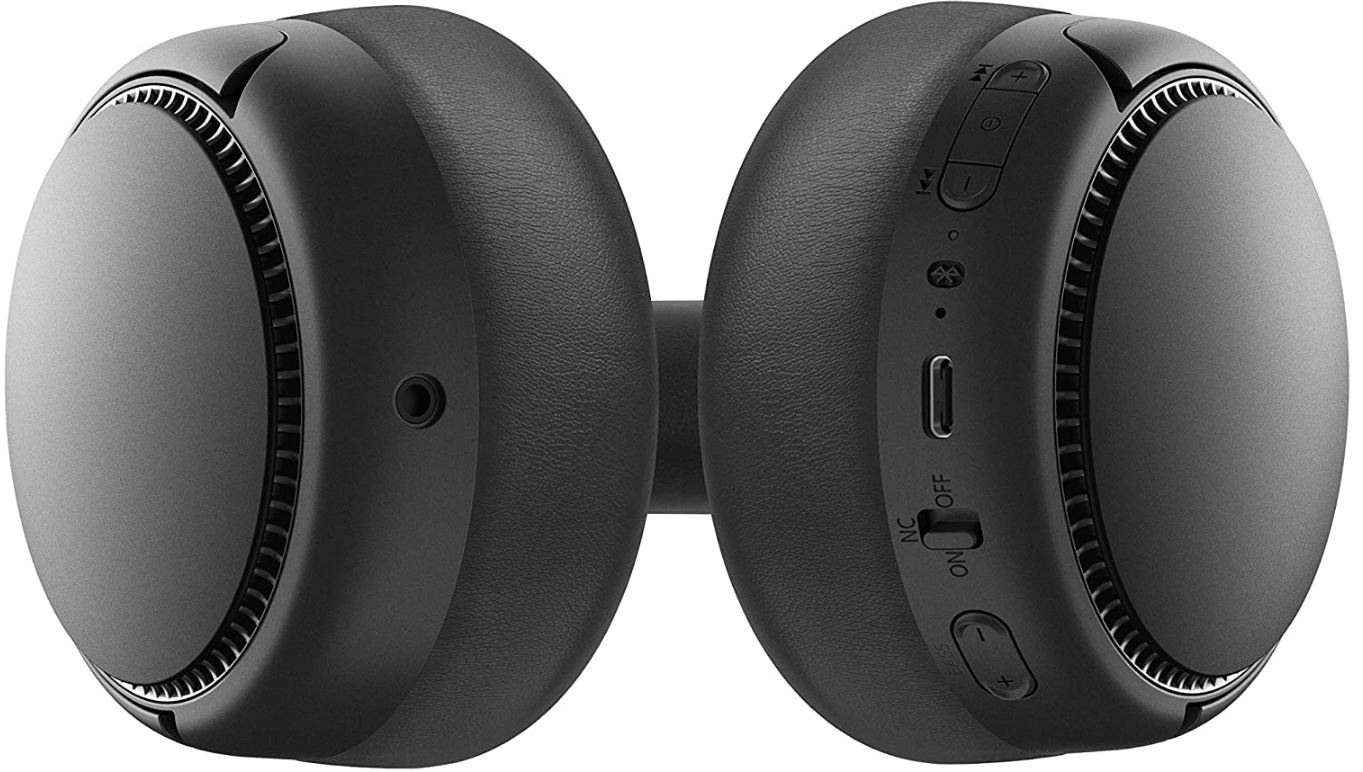 Sound Quality
The Panasonic RB-M700B headphones contain the same 40mm Neodymium drivers as the RB-M500B. They provide the same high-quality audio experience, with a wide soundstage to match. If you want top-tier bass response, you'll also be very satisfied. That said, the RB-M700B also includes ANC technology. You can enjoy audio in complete privacy, without distraction from external noises. Fly on an airplane or ride a train in peace, enjoying your favorite tunes.
Call quality on the RB-M700B is excellent. It's not primarily made for this purpose, but it holds up well. Dual mics do a fine job of picking up your voice with perfect clarity. As always, how well you hear the other person will depend on the quality of their mic. But if they have a decent mic, you'll hear them very clearly.
Final Verdict
So, which one of these Panasonic headphones is the best? The RB-M500B Deep Bass Wireless Headphones are the more affordable option of the two. They're comfortable to wear, and they have a very sturdy build. The sound quality is also excellent. With powerful 40mm drivers, you'll get the wide soundstage and thumping bass you desire. Not only that, but you get superb battery life. With up to 30 hours of playtime, you can listen all day and still have several hours to spare.
The Panasonic RB-M700B Deep Bass Wireless Headphones cost a few more bucks. But you get a few added benefits for your extra money. For one thing, the ear cups swivel as well as pivot, so the fit is more versatile. For another thing, you get active noise cancelling. If you're a frequent flyer or ride public transportation, you're going to appreciate this feature. That said, the battery life is a bit shorter, at only 24 hours. But considering the ANC feature, this is to be expected.