Repairing or maintaining your own game console can be an intimidating task, even if you're familiar with PCs. The main reason for this is that many of the connections are non-standard. For example, the front panel on the Xbox One uses a unique ribbon connector that's easy to break. Get too rough with the delicate plastic tabs, and you can kiss your front panel goodbye. The PlayStation 4 poses some similar challenges. To be fair, neither Sony nor Microsoft intended for consumers to repair their own boxes. Instead, they're covered by warranty, and designed to be repaired by professionals.
But there are several reasons you might want to work on your own game system. Perhaps the most common mechanical failure on both systems is the disc drive. Early PlayStation 4 drives will often fail, ejecting discs at random, even in the middle of a game. Early Xbox One consoles often eventually fail to read discs altogether. Both manufacturers have addressed these issues in their newer consoles. But if you were an early adopter, your box may ultimately fail. And unfortunately, since these are early consoles, you're probably out of warranty. This means you either need to buy a new console, pay someone to fix it, or do it yourself. Another more pedestrian reason to disassemble your own console is a simple dust cleaning. Again, this is most often needed on older, out-of-warranty consoles.
There's one thing we should point out before we continue. Opening up your Xbox One or PlayStation 4 will void your warranty. So if your warranty is still active, it makes more sense to file a warranty claim. Both Sony and Microsoft offer excellent warranty service, and will take care of you.
That said, if you're going to move forward with a home repair, you're going to need the right tools. Today, we're going to look at the three best Xbox and PlayStation screwdriver sets on the market. First up, we'll look at the WIREHARD 62 in 1 Precision Repair Tool Kit. This is a large kit, suitable for a wide variety of electronics, and even for eyeglasses. The next kit is the TECKMAN 10 in 1 Torx Screwdriver Set. This kit has fewer screwdrivers, but it does include some nylon spudgers for working with ribbon cables. Finally, we'll check out the Klein Tools 32585 Multi-bit Precision Screwdriver Set. This is a portable, pocket-sized kitt, but offers fewer options than the others. Let's take a closer look, and see how they stack up!
Tools Needed For Xbox One and PlayStation 4 Repair
So, what tools do you need to open and repair a modern game console? For the Xbox One, you'll need the following tools:
A T8 Torx driver
A T9 Torx driver
A T10 Torx driver
A nylon spudger (or small flathead screwdriver)
An Xbox One pry tool (or small flathead screwdriver)
Meanwhile, the PlayStation 4 requires a slightly different set of tools. These include the following:
A T8 Torx driver
A size 0 or size 1 Phillips driver
A plastic prying tool (or small flathead screwdriver)
Tweezers (optional)
Now that we know what we're going to need, we can evaluate these kits. Let's get started!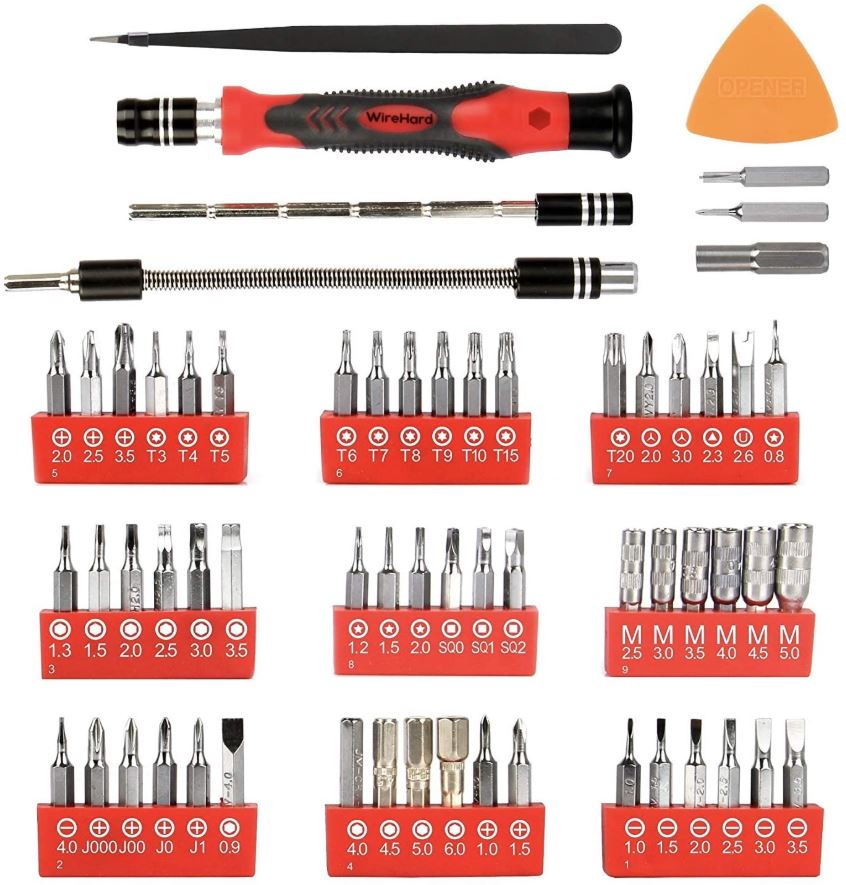 WIREHARD 62 in 1 Precision Repair Tool Kit
The WireHard 62 in 1 Precision Repair Tool Kit is perhaps the most comprehensive kit on our list. As its name implies, it includes 62 different tools. To begin with, you get a basic hex-shaped hand driver handle, complete with a locking ring. This ring securely retains your tips, regardless of what you're doing. This should be more than sufficient for console repair. However, you also get a couple of useful attachments that can help with repairing other devices. First, there's a six-inch straight extension shaft for reaching tight places. Second, there's a flexible six-inch extension shaft that's great for reaching around corners. Both of these shafts are magnetized, so they retain your bits easily.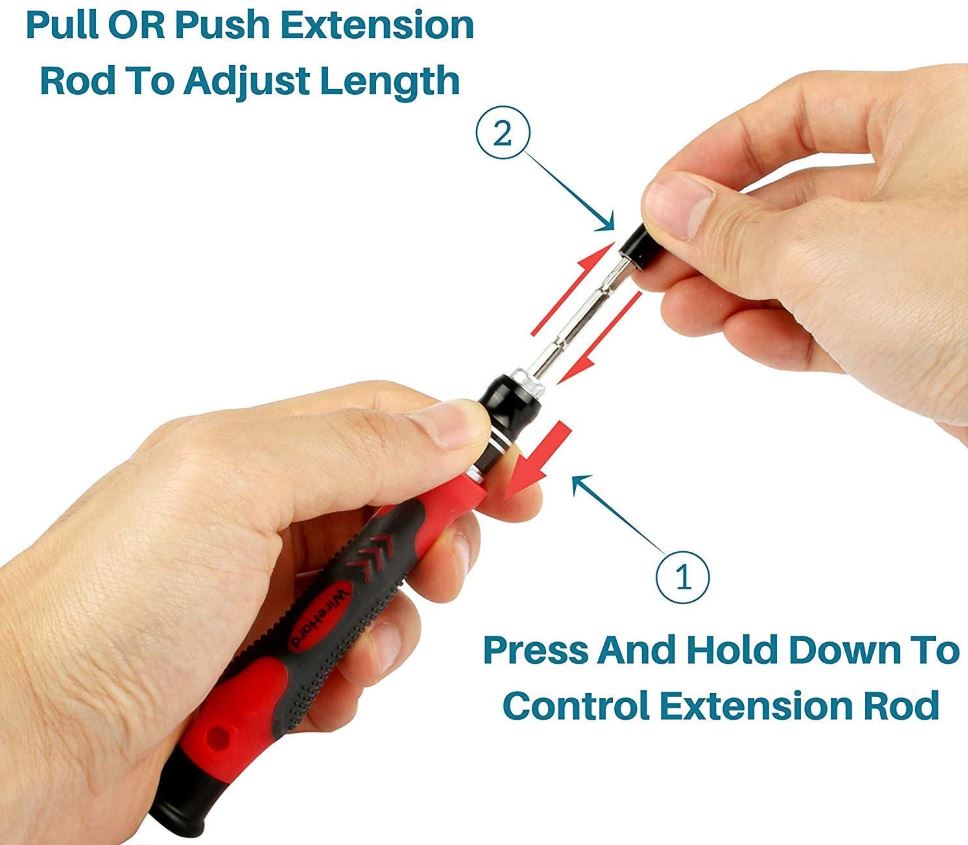 Other specialty tools in the kit include a pair of tweezers, along with a plastic pry tool. But the main attraction here is the sheer number of bits. In total, you get 56 of them, in just about every size imaginable. You get 2.5, 3, 3.5, 4, 4.5, and 5mm sockets. You get 0.9, 1.3, 1.5, 2, 2.5, 3, 4, 4.5 5, and 6mm hex (Allen) keys. You get T3, T4, T5, T6, and T7 Torx keys, along with T8, T9, T10, T15, and T20 Torx Security keys. There are 1, 1.5, 2, 2.5, 3, 3.5, and 4mm flathead drivers. There are size 1, 1.5, 2, 2.5 3, and 3.5 slotted drivers. For Phillips drivers, you get sizes PH000, PH00, PH0, PH1, and PH2.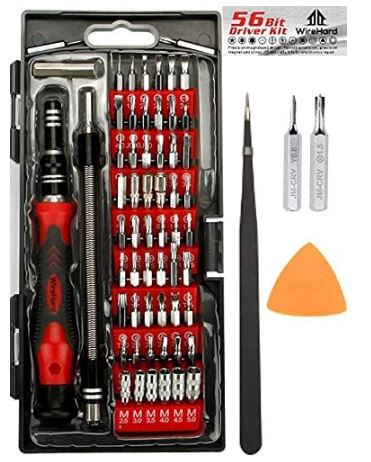 Along with all of this, you get some more obscure drivers. The kit includes four pentalobe drivers, two tri-points, and SQ0, SQ1, and SQ2 square drivers. There are also a pair of drivers that are unique to the iPhone. And there's a ¼-inch adapter for connecting your driver tips to an electric screw gun. This isn't just a game console kit. It's an all-around electronics repair monster, with a convenient carrying case. That said, as you might expect from the low price point, the bits themselves are soft and easy to strip. But WIREHARD offers a lifetime warranty, so you're covered for any potential damage.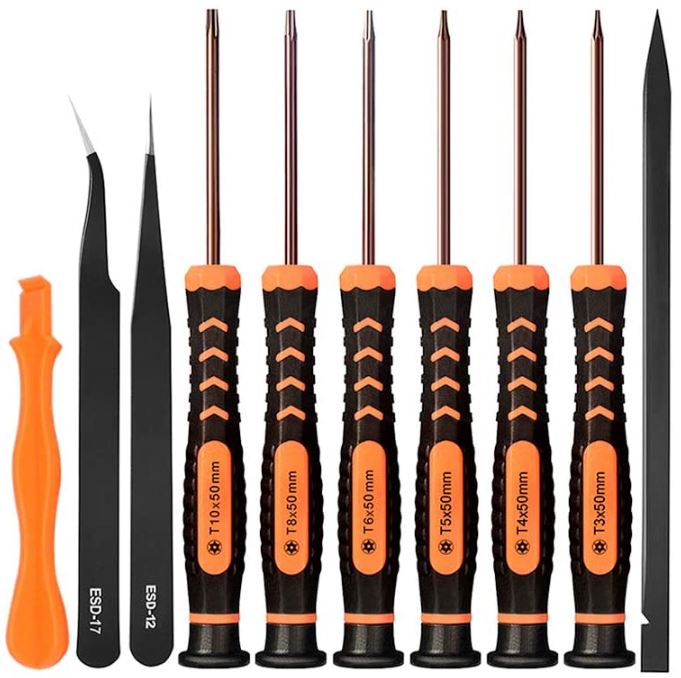 TECKMAN 10 in 1 Torx Screwdriver Set
The Teckman 10 in 1 Torx Screwdriver Set is a bit more understated than the Wirehard set. Primarily, it consists of a set of T3, T4, T5, T6, T8, and T10 Torx drivers. These aren't simple tips. They're full-on drivers, with handles and everything. The grips are sticky and rubbery, which makes them easy to hold on to, even when you're sweating. And if you think sweat isn't an issue, just wait until you're disassembling your game console. It can get stressful in a hurry. And having a quality grip to hold onto means there's one less bit of stress you'll need to worry about.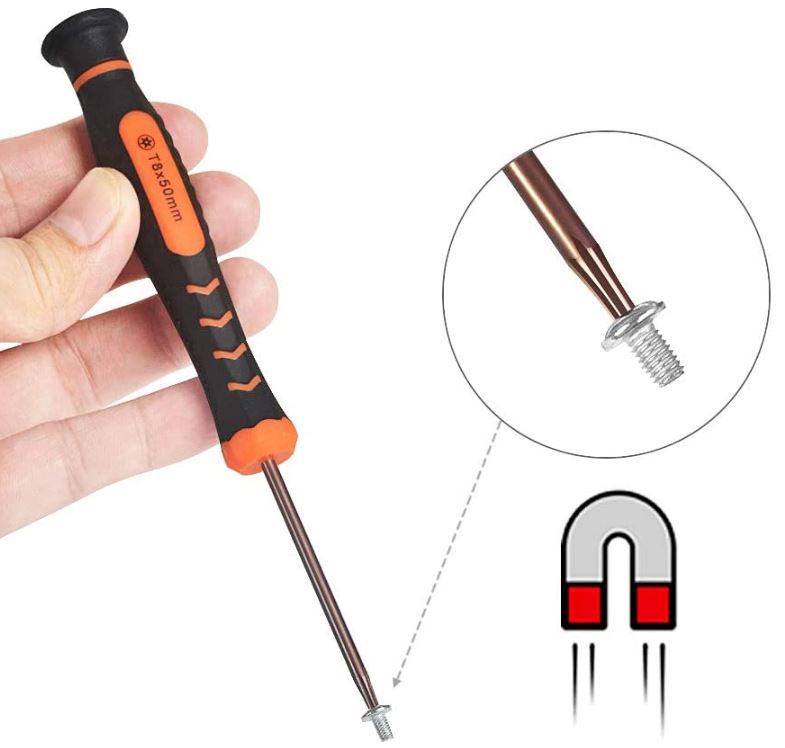 The driver bits are well-constructed, manufactured from hardened S2 steel. This means they're not likely to strip, even after dozens of uses. They're also magnetized, which reduces your risk of losing any screws. When a screw comes loose, it will cling to the end of your driver like a baby Oppossum to its mother. So when you remove 14 screws, you're guaranteed to have 14 screws to put back in. Moreover, the kit includes a sturdy plastic carrying bag, so you can keep all your drivers together.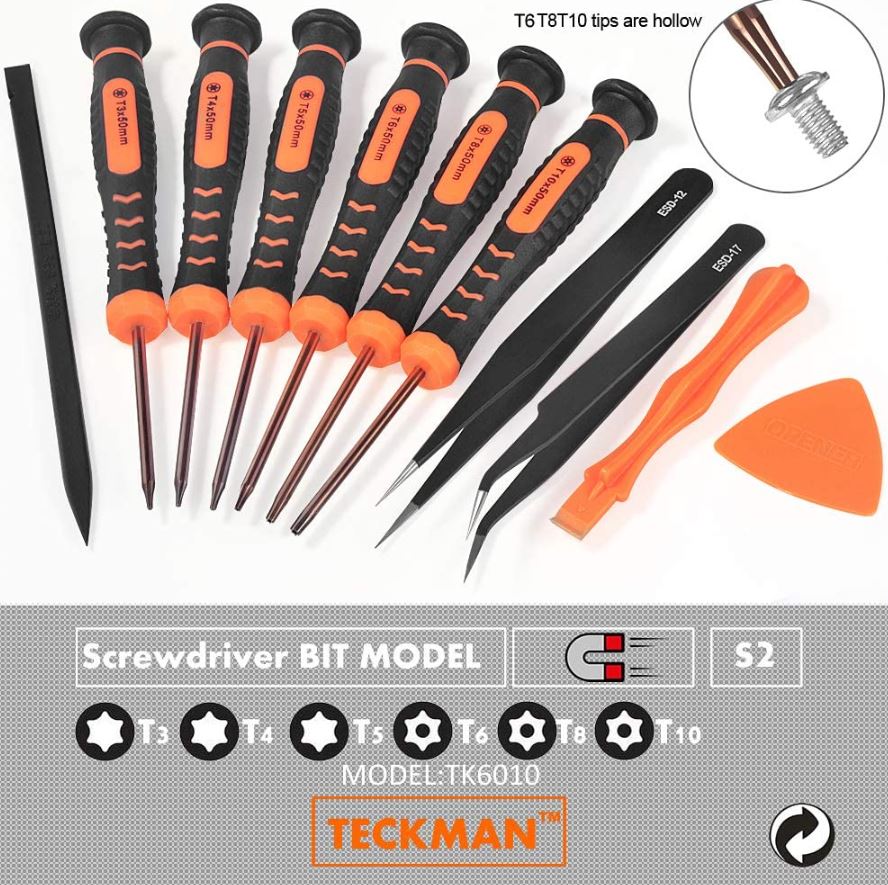 Along with the drivers, you get a few extra tools to assist with the repair. There's a pair of tweezers, both straight and curved. This makes for easy manipulation of the PlayStation 4's cables. You also get a nylon spudger and a specialized prying tool. These are great for working on the Xbox One's ribbon cables. That said, there are a couple of limitations to this kit. First off, you'll need a separate small Phillips driver for working on the PlayStation 4. Secondly, you'll need a T9 Torx driver for the Xbox One. That said, these are relatively affordable add-ons. Considering everything else that comes in the kit, you're already pretty well equipped.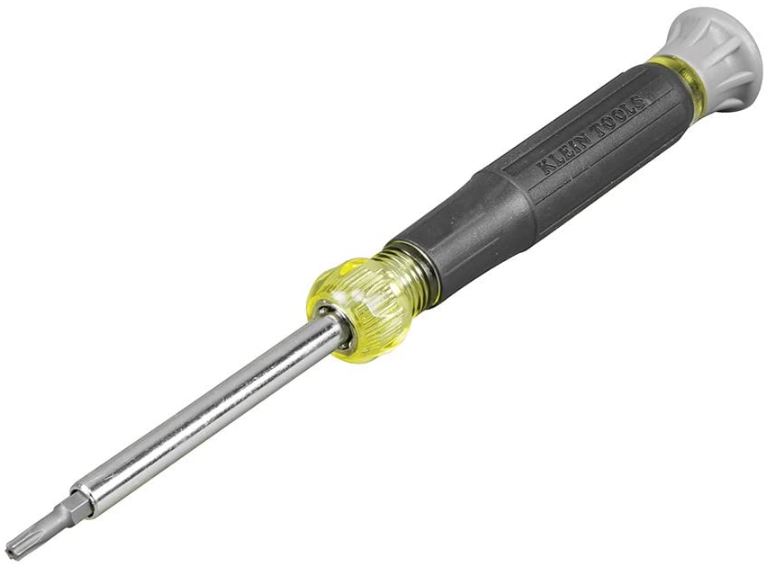 Klein Tools 32585 Multi-bit Precision Screwdriver Set
Klein Tools is a well-known manufacturer of electronic accessories. These include nifty tools like circuit breaker tracers, voltage testers, and GFCI outlet testers. As a result, we were excited to heck out the Klein Tools 32585 Multi-bit Precision Screwdriver Set. It's the most basic set on our list, but it's also the most well constructed. With a chrome-plated barrel, it's resistant to corrosion and other damage. This makes it a great choice for long-term storage and use. So you can throw it in your tool chest when you're done with it and forget about it. When you come back to it a few years later, it will still be in excellent condition.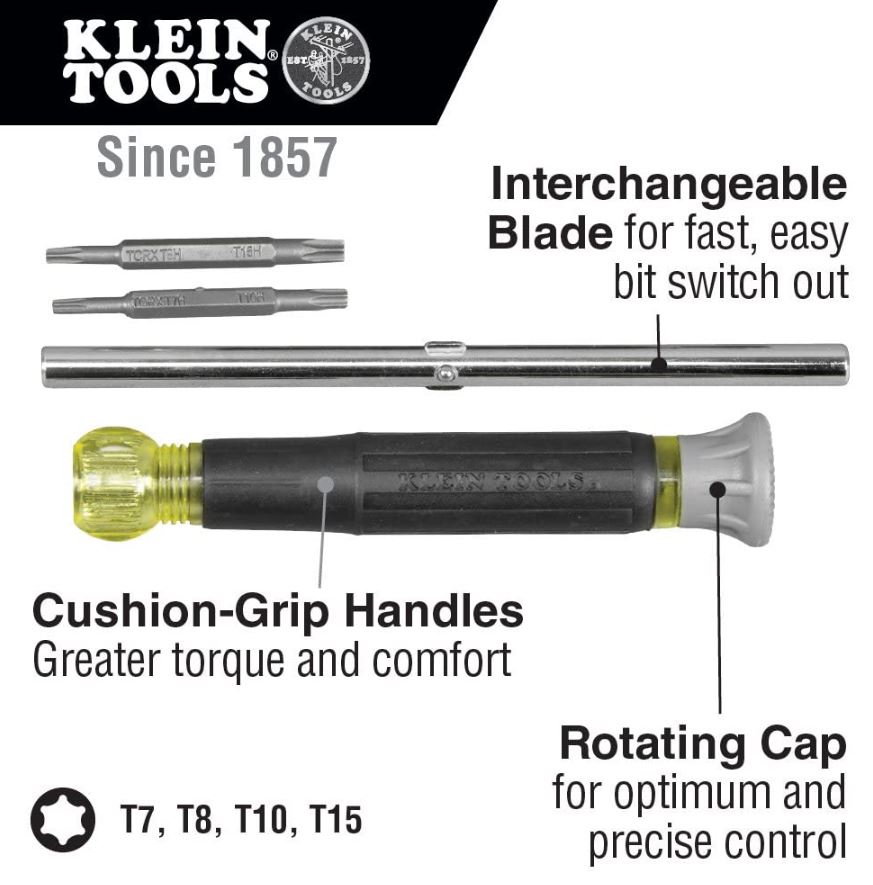 The barrel stores all four bits. The bits are double-sided, with a T7/T8 and T10/T15 respectively. They fit in each end of the barrel, which is also reversible. As a result, you get a single, pocket-sized unit that's highly versatile. The tips are heat-treated steel, which ensures that they won't strip under normal circumstances. The handle itself is also well-constructed. It has a cushioned, rubberized grip that prevents slippage. It also sports a rotating top cap, which makes it easy to manage in tight spaces. This is ideal for working on any electronics, including game consoles.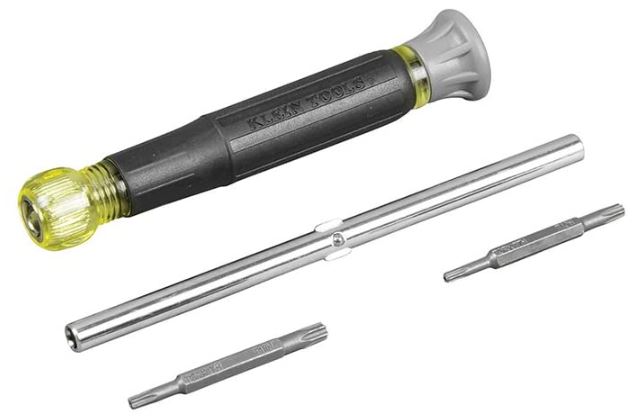 That said, the Klein Tools kit comes with a few limitations. To begin with, there's no T9 bit. This means that you'll need another driver to repair an Xbox One. Similarly, there's no small Phillips bit. So you'll need to buy one separately to repair a PlayStation 4. There's also no nylon spudger, or other ancillary tools. But given the low cost of any of these items, that's not really a major concern. You're still getting a high-quality Torx set at a very reasonable price.
Final Verdict
Which one of these kits is the best will depend primarily on what tools you already own. If you literally own nothing, the WIREHARD 62 in 1 Precision Repair Tool Kit is an ideal choice. It comes with just about everything you need, both for consoles and for other electronics. You might want to invest in a nylon spudger, but that's purely optional.
The TECKMAN 10 in 1 Torx Screwdriver Set provides a more affordable, and higher quality, option. The individual drivers are tough and durable, and they're also magnetized for easy use. A nylon spudger is included. But you'll need a T9 driver for an Xbox One, or a Phillips 01 bit for a PlayStation 4.
The Klein Tools 32585 Multi-bit Precision Screwdriver Set is the most minimalist of all. In a single unit, you get four high-quality Torx bits. The bits are high-quality, and won't strip during any normal use. But you don't get a T9 Torx bit or a Phillips 01 bit. You also don't get a nylon spudger or other accessories. Still, these are low in cost, so they're easy enough to add on.
Meet Derek, "TechGuru," a 34-year-old technology enthusiast with a deep passion for tech innovations. With extensive experience, he specializes in gaming hardware and software, and has expertise in gadgets, custom PCs, and audio.
Besides writing about tech and reviewing new products, Derek enjoys traveling, hiking, and photography. Committed to keeping up with the latest industry trends, he aims to guide readers in making informed tech decisions.