We've all got GFCI receptacles in our home, but many of us aren't aware of what they do. GFCI receptacles are the power outlets that you'll commonly find in your bathroom. They can be identified by two buttons on the face: Test and Reset.
GFCI stands for Ground Fault Circuit Interrupter, and they are an essential safety device for any home. Basically, when electricity flows through your devices it starts at the hot terminal, and returns through the ground. What the GFCI receptacle does is compare the electrical current leaving the hot terminal and compares it with the current returning on the neutral. If there's a large discrepancy between the two currents, the outlet knows that electricity must be leaking from the circuit in an unwanted way. If something was to short out from water damage, or if you were to electrocute yourself, the GFCI receptacle would shut off the current to prevent any harm from coming to you.
Since there's a test button on the front, many people don't believe that these outlets need to be tested. But the test button is only to verify operation of the mechanical reset switch, and does not determine if the outlet is operating properly.
A GFCI receptacle tester can simulate the electrical environment that would trip the GFCI receptacle. They can tell you when the wiring is wearing out, or if it's time to replace the receptacle.
Whether you're trying to verify the operation of your outlet or wire one up yourself, a GFCI receptacle tester is an essential thing to have. But what kind of features do you need? We took a look at the three best receptacles for 2017. We'll help you understand the differences between them, and find the one that best suits your needs.
Sperry Instruments GFI6302 GFCI Outlet Tester
Sperry is a well known brand in the electrical industry. Their products are used for verifying and diagnosing electrical problems, with most of their clients being professionals in the QA/QC industry. But the GFI6302 is simple and easy to use, making it suitable for both consumers and professionals.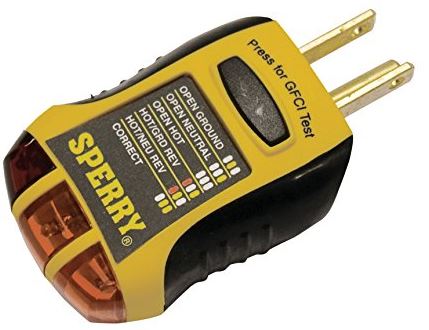 Design & Durability
The bright yellow enclosure of the Sperry Instruments GFI6302 stands out from your common electrical components, which should serve as a reminder not to use it unless you're prepared to cause a controlled ground fault.
This is something that is commonly used in a construction environment, and its extreme durability indicates this. The tester is made from a thick plastic that can withstand all kinds of use and abuse. Whether you accidentally drop it or chuck it in a tool bag full of heavy items, this isn't something that you need to worry about damaging.
There are three indicator lights along the bottom of the tester. Each of these are wired to one of the prongs on the plug. On the face of the device you'll see a diagram that helps you understand what each combination of lights mean. This allows even beginners to diagnose wiring issues, and saves professionals from having to memorize a long list of light combinations.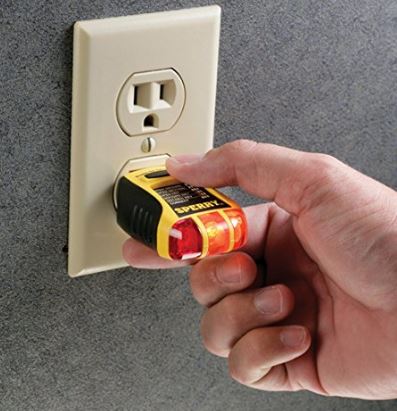 Features & Operation
Using the GFI6302 is very straightforward. You simply plug it into an outlet, and push the large black button on top. You'll then hear a solid "click" sound, and the lights on the bottom will illuminate.
The nice thing about this particular tester is that it's wired to test both GFCI receptacles and outlets. GFCI outlets look just like a standard outlet, but the ground fault circuitry is stored in your fuse panel rather than on the socket themselves.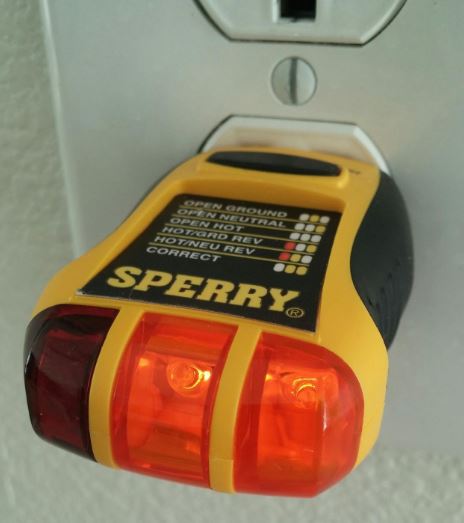 The most common fault you'll find on these outlets is an open ground. This means that the electrical connection to ground was either installed incorrectly, or the electrical wiring has degraded over time. Both of these flaws are commonly found in older homes. It happens when somebody upgrades the older style two prong connectors to a modern socket without adding the additional wiring. It also happens when grounds, which are commonly copper rods, oxidize and restrict current flow.
The tester will also indicate common wiring issues, like swapping to connections. This makes it a must have for anyone who will be performing electrical testing.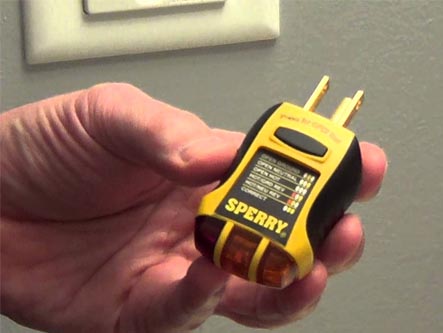 Reliability & Safety
With the enclosure manufactured from a high impact plastic case, you don't have to worry about drops that could knock connections out of place. If you are trained in electrical diagnostics, the case can be taken apart to quickly verify and repair any issues that may occur.
Another important safety feature is the rubber grips. This allows you to get a firm grasp on the tester while you're plugging it in or removing it, and helps keep yourself isolated from the circuit.
Klein Tools RT210 GFCI Receptacle Tester
Klein manufacturers a wide range of tools that are used in the electrical industry. From linesman pliers to powerful multimeters, a large number of the worlds electricians trained on Klein equipment. For consumers, this means that Klein products are both affordable and reliable, something that we're always looking out for.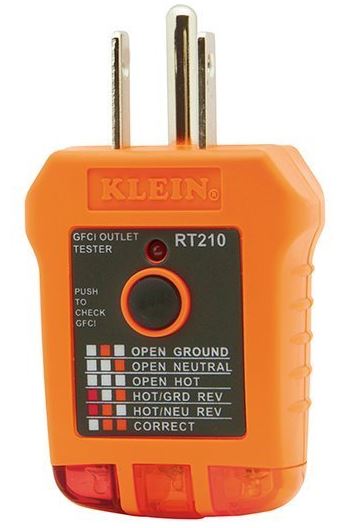 Design & Durability
The Klein Tools RT210 is extremely lightweight and compact. It's not durable enough to survive abuse in a touch industrial environment, but it's more than suitable for household use. The plastic is thick, and the enclosure fits together nicely. We were happy to find that it's glued together, which prevents any of the high voltage contacts from being exposed.
Like many GFCI receptacle testers, this one can help to diagnose a number of electrical problems. Three lights on the bottom indicate the status in each wire, and the diagram above will help you to understand what the indicator lights mean. This tester uses LED lighting, so indication lights are extremely bright and easy to see. This makes it easy to use in a bright environment, preventing any misreads from occurring.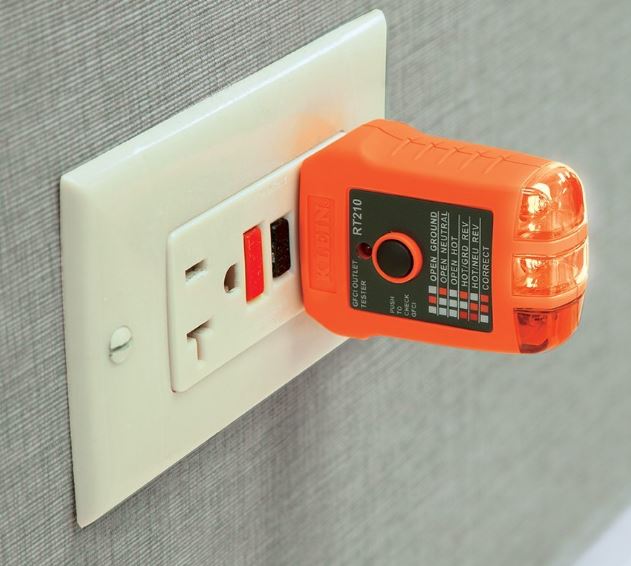 Features & Operation
There are two types of GFCI testers on the market. While all of them simulate a ground fault condition, some of them won't actually trip the outlet. Those testers are good for testing remote mounted GFCI's where the breaker is located in your panel. This model actually creates a ground fault. Technically, it can be used on both types. But it's preferable to use this on receptacle outlets so you can quickly reset the breaker.
The RT210, aside from testing that the breaker operates correctly, can also diagnose a few wiring issues. Open ground and Open neutral indicate that the wires are either connected incorrectly that there is a problem with the wiring. Wiring being reversed between the hot, ground, and neutral cables can be indicated. If everything is correct, the two orange lights will illuminate to show this.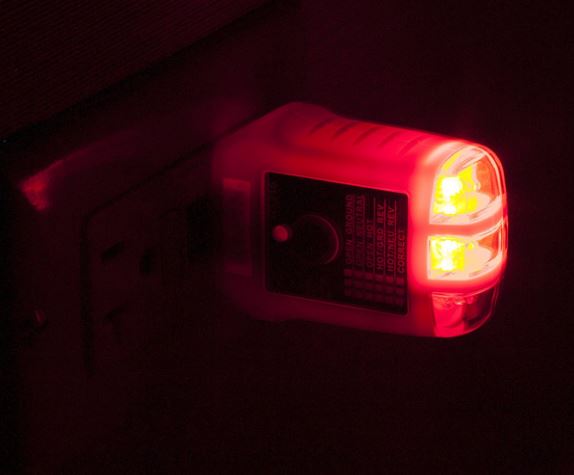 Reliability & Safety
For any standard electrical outlet, it's unlikely that you'll run into any problems. The tester has everything we'd look for: proper insulation, high quality connections, and a button that is physically isolated from the hot lead. There are, however, a few precautions you should take while using this tester. You shouldn't have other devices connected in the same circuit. If you're testing the receptacles in your kitchen or bathroom, simply unplug everything else from the wall.
While this tester isn't mean to be abused, when used correctly it meets all the safety requirements for professional use. The one extra thing that Klein did was upgrade all of the internal wiring to 14AWG. This means that it's using nice large cables. They could easily have gotten away with smaller wiring, but doing so would increase the chance of an incorrect test.
Amprobe ST-102B Socket Tester with GFCI
While Amprobe isn't one of the most well known brands on the market, their engineering department has been working hard to create professional grade products at an affordable price. This might not be the cheapest tester on the market, but you get a lot more for your money.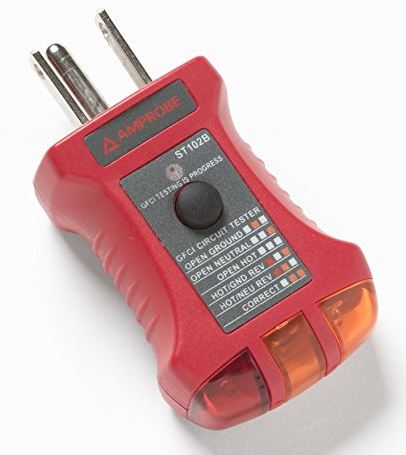 Design & Durability
It's hard to miss the bright red enclosure of the Amprobe ST-102B. You'll never find yourself walking around at the end of a shift wondering which outlet you forgot your tester in. The layout is pretty standard with the lights on the bottom and the diagram above. But the one stand-out feature of the ST-102B is it's extremely thick enclosure. This is, by far, the strongest model we've come across. You can drop it, step on it, or leave it plugged into a live circuit or a long period of time without causing any damage to it.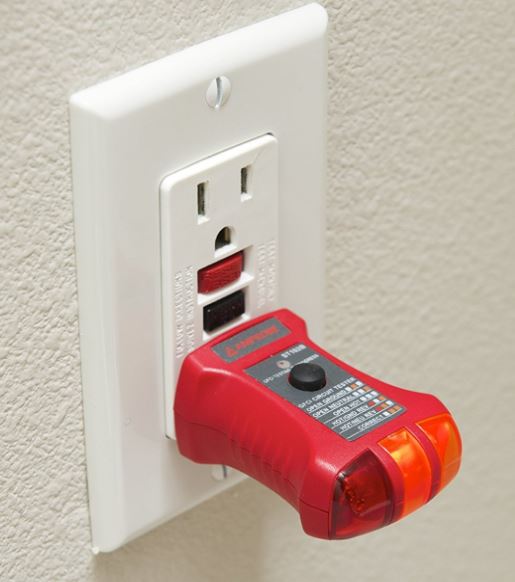 Features & Operation
If you're been following us this far, you already know how to operate the Amprobe ST-102B. Just plug it in, push the button, and watch for the two orange lights to make sure everything is wired up correctly. This model tests for five different wiring issues. Errors are indicated by a red light, while missed connections only show a yellow light to identify the missed connection, or no lights for a missed hot lead.
One of the unique things about this tester is that it supports a wide range of voltages. Most households have 120V outlets, but if you're working in an off grid environment that uses generators or solar panels, this tester is capable of handling the small voltage variations that can occur.
This tester can also be used on non-GFCI outlets. With these, operation is simple. Just plug it in, and the light will illuminate automatically. You do not have to press the test button. Doing so won't harm the outlet, but will not cause anything to happen.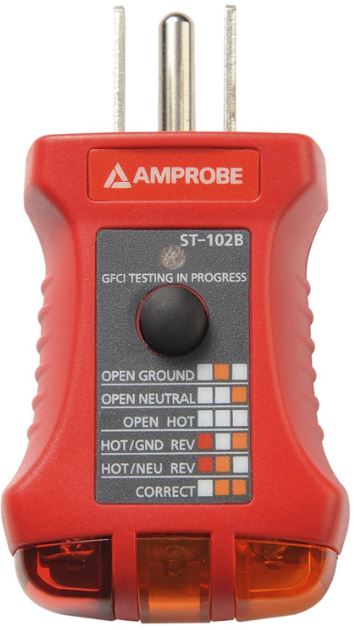 Reliability & Safety
This is the safest and most reliable testers on our list. It's been tested by both UL and CSA and earned certifications by both of these accreditation bodies. If you're using the tester professionally, this is essential.
Which GFCI Receptacle Outlet Tester is Right for Me?
Which model you choose depends entirely on how you intend to use it. GFCI receptacles are commonly used to upgrade ungrounded outlets to connect to grounded appliances. If this is a job you're planning to do yourself, you'll want to make sure that it's done correctly. In this case, the Sperry Instruments GFI6302 is a great choice. It's extremely affordable, and can be used to test any GFCI receptacle outlet.
If you're using this tool professionally, you might want a little more functionality. The Klein Tools RT210 is a professional grade product that will trip both receptacle GFCI outlets and remote mounted ones.
Both of the above testers are capable of identifying common wiring issues, but only the Amprobe ST-102B is capable of being used with standard outlets. This makes it a bit of a "jack of all trades" outlet tester. We'd recommend this to anyone who is planning to do their own electrical work. You might not need to test standard outlets, but for just a few dollars more you can have a tester that allows you to comfortably wire up any outlet in your home and verify functionality before plugging anything in. For professionals, it has both the UL and CSA safety rating that many environments will require.